Real Estate Softwares are highly exciting analysis tool for gathering data and information regarding property and investment options in your target area. Nowadays, real estate is a popular form of business in every country where millions and billions of dollars are invested every year. Investors can also use CRM software to close real estate deals successfully.
Top real estate market analysis tools are crucial to executing successful real estate deals. There is top real estate market software that assists users in every aspect to conduct the analysis before making an investment. The latest list of real estate market analysis tools helps you with the different approaches for analysis in 2022 and 2023. 
You need to know about real estate market analysis and its importance before knowing the top real estate software. You can contact the leading and rapidly growing marketing firm Makaan Solutions for further details and assistance.
What is the Importance of Real Estate Software for Market Analysis?
---
Real estate market analysis is a common practice in the property market in which you gain a deep understanding of the market to determine a good time for investment. Many experts also define this term as an analysis of property market performance.
Real estate software is very helpful for competitive market analysis in which you compare your selling or buying property to the current property value in the market. Moreover, this analysis helps homeowners who are looking to rent out their property.
Real estate firms and real estate agents gather data and information with the help of the best real estate software or analysis tools to create reports in this process. This real estate industry analysis software helps sellers and buyers to agree on the right price for their property according to the current value in the market.
Following are the reasons why we should do a real estate market analysis:
It will help you to know about a good time to invest in the market.
This analysis provides the updated prices of property.
This process provides the expected future value of the property in the current market.
We are sharing the illustration which helps you to conduct the real estate market analysis by using different real estate software: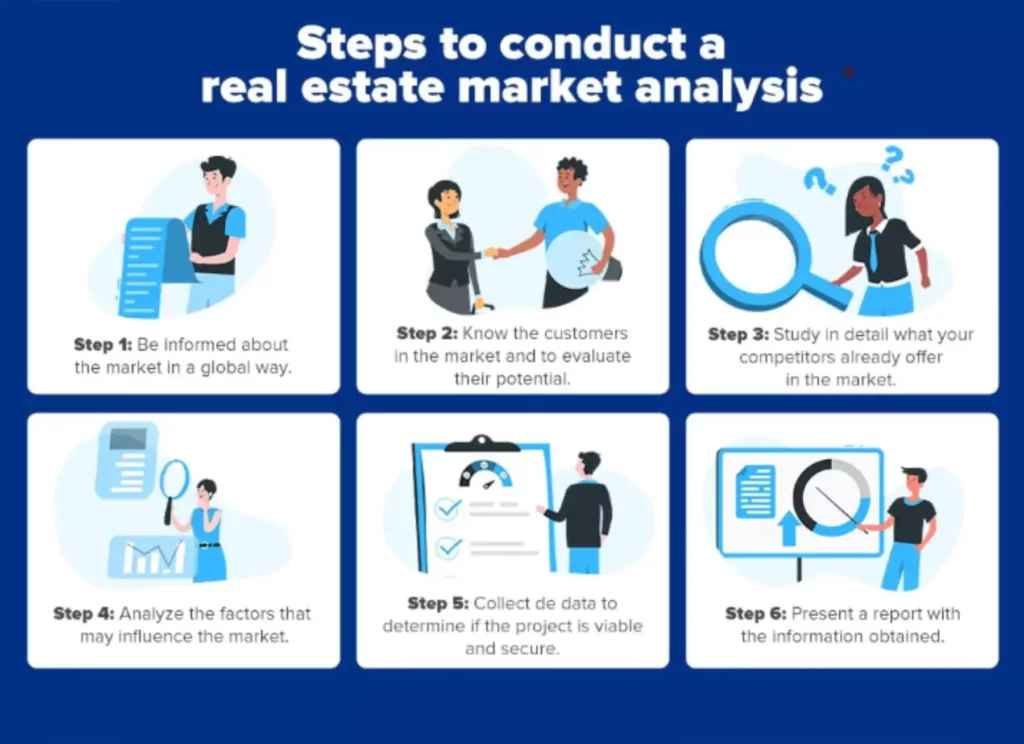 List of Best 5 Real Estate Software for Market Analysis
---
The top 5 real estate software are used to collect data and information from the market. These tools help thousands of firms and agents around the world.
Buildium
---
Buildium is not only at the top of our real estate software list. It is the most commonly used real estate property software globally. Moreover, it is an American-based property management software company that has introduced cloud-based real estate software.
This is a simple and professional property management software to allow real estate firms and professionals to deal with property operations, portfolios, leasing, and accounting.
The built-in accounting tool of this software is used for recording deposits and payments, processing fees, and performing refunds. Therefore, Buildium is used in small and large real estate companies.
Pros
Tailor-made for real estate analysis 
Performs accounting activity
Automates business processes for boosted efficiency
You can use the trial version of this software
Cons
You cannot connect and integrate this with other real estate software
DealCheck
---
DealCheck is one of the leading real estate software that is used for analysis. Moreover, it offers the fastest and simplest way to compare and analyze investment properties. The best option provided by the developer is that you can use an app on your smartphone or tablet. Therefore, this is an ideal software for real estate firms and agents and property owners.
The software could be used for residential flips as well as for commercial complexes. Moreover, users can calculate the cash flow and identify attractive real estate deals through its features. The main characteristic of this software is to help you for searching the property address, description, estimated rent, and price list. 
You can use a free or a demo version of this software with limited features.
Pros
The flexibility for property analysis of different types
A necessary tool for real estate analysis
It is compatible with tablets, smartphones, and computers
The installation of this software is quite easy
Cons
Users of this software cannot extend the capability through further integration
RealNex
---
RealNex is one of the top-notch real estate software that provides you freedom in your workplace to hunt commercial and residential property. This real estate analysis tool has countless features to provide you with all the required information about real estate. It is a cloud-based and core CRM tool that helps investors in their investment decisions. 
RealNex allows its users to save the collected data and information in a database with the flexibility of easy use. It has a special feature, "Transaction Manager", that helps you to deal with your overseas clients and provides you with a smooth interaction during the sale or in a purchase.
Pros
It allows you to use the demo account free for a while
You will adore the scalable feature of this software
It is a built-in database real estate analysis tool
The CRM Module offers client management capability
Cons
Maintenance of this real estate analysis tool is expensive
Zilculator
---
This powerful real estate analysis software is also known as the "Zilculator Real Estate Analysis" to help stakeholders in this specific sector. It is considered the most powerful tool among analysis tools due to its several features. Moreover, it guides and helps real estate investors, agents, and wholesale buyers.
Zilculator does all its jobs in a proficient manner and professional real estate dealing structure. It is one of the best real estate software that helps millions of investors around the world to make better investment decisions at the right time. Moreover, it has features that allow you to download data for storage and for social media accounts.
With the calculation feature, you can easily calculate the million dollars investment.
Pros
Most trending real estate software with high versatility for multiple stakeholders
A simple method to calculate values and amounts
The flexibility of downloading the reports
Facility of demo-free version
Cons
The trial period of this affordable real estate market analysis tool is short
RealData
---
RealData is on the list of top-rated real estate software for real estate professionals to help them in evaluating potential investments before transactions. Both real estate investors and developers can use this software. Moreover, this real estate market analysis tool has special features to determine the value of a property, evaluate the feasibility, and calculate the monthly cash flows for investors and sellers. 
This real estate analysis software provides the operational and financial condition of your real estate firm. Moreover, it provides you with logical and high-quality information to assist you in your investment decision.
Pros
A useful and versatile tool to analyze the financial condition of your business
Determination of multiple values because of cash-based factors
The trial version is available free of cost
Cons
It has a short trial period
Final Thoughts
---
The above-mentioned top 5 real estate software offers a better understanding of your real estate concerns and financial transactions. You must analyze your requirements along with the pros and cons of choosing the perfect real estate analysis tool. It is important to remember that proper use of these real estate market analysis tools helps you in profitable decisions. Moreover, you can also contact Makaan Solutions for useful real estate suggestions.
Top 5 Real Estate Software for Market Analysis in 2023?
If you want to know about the Top 5 Real Estate Software for Market Analysis in 2023? Contact Makaan Solutions. Our Sales Executive Officer will provide you with all the latest information. Starting from consultation to choosing the property, and from booking to owning your dream property. For further details, please do not hesitate to contact us with the below-given information: