Spring Apartments Lahore is the ideal destination for customers who are looking for modern living standards in the presence of the best services. Therefore, every person who wants to live in Lahore must consider Spring Lahore because of its high potential in the real estate industry.
Spring Apartment Homes Lahore is a gated community in the prime location of Canal Bank Road to ensure the easiest access. There is a reasonable payment schedule for available properties in the presence of brilliant facilities and amenities.
Where is the Location of Spring Apartments Lahore?
---
Spring Apartments Lahore location is on the main Canal Bank Road, close to Thokar Niaz Baig. It has become a premium project adjacent to the DHA Lahore EME Sector. Moreover, Spring Lahore is located just a few kilometers away from M3 and M2 Motorways.
The prime location of this apartment project is situated close to Bahria Town Lahore and Izmir Town. Moreover, this beautiful project is easily accessible from the Orange Line and famous markets. Therefore, it is an easy-to-access project in Lahore because of its premium location.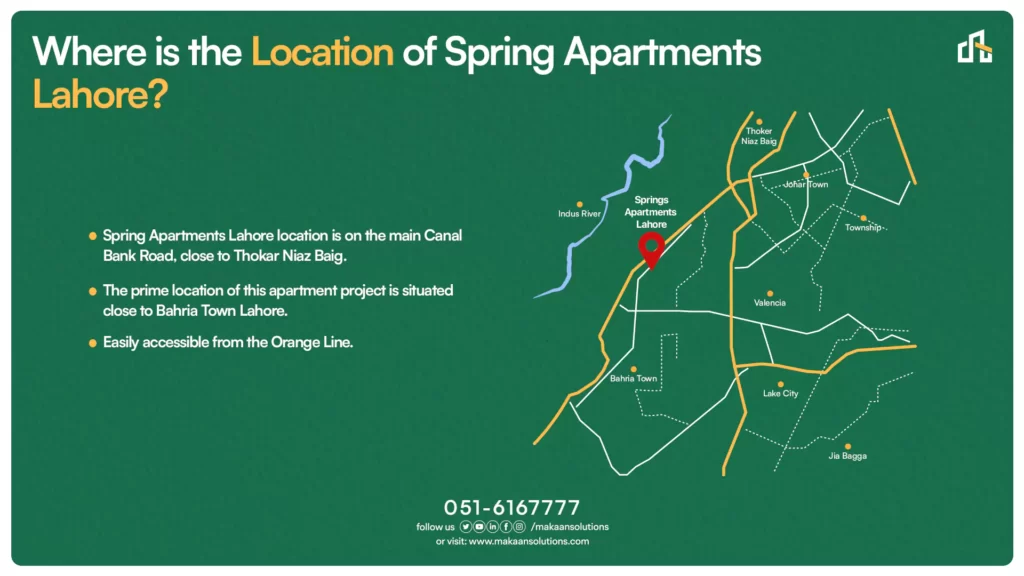 Spring Apartments Map
---
You can view Spring Apartments on Google Maps.

How Affordable is Spring Apartments Lahore Payment Plan?
---
The payment plan of Spring Apartments Lahore has been very affordable, which allows potential clients to own their apartments in the elegant location of Lahore. Therefore, middle-class people can own valuable properties at reasonable prices.
You have to make a downpayment to reserve your apartment. Moreover, you need to follow monthly and quarterly installment plans. There is also a payable possession payment for available apartments. Therefore, the Spring Apartments price list has been very affordable for you.
Spring Apartments Lahore Floor Plans
---
The designers have used their elegant skills to design the floor plans for Spring Lahore. The plans for floors allow the potential customers to understand the worth of this project. These floors include different kinds of villas and apartments to offer a luxurious lifestyle.
Floors
Ground Floor
Mezzanine Floor
Level-1 Floor
Level-2 Floor
Level-3 Floor
Level-4 Floor
Level-5 Floor
Level-6 Floor
Level-7 Floor
Blocks
Block 1
Block 2
Block 3
Block 4
Property Type
Apartments
Studio Apartments
Suite Apartments
1-Bed Apartments
2-Bed Apartments
3-Bed Apartments
4-Bed Apartments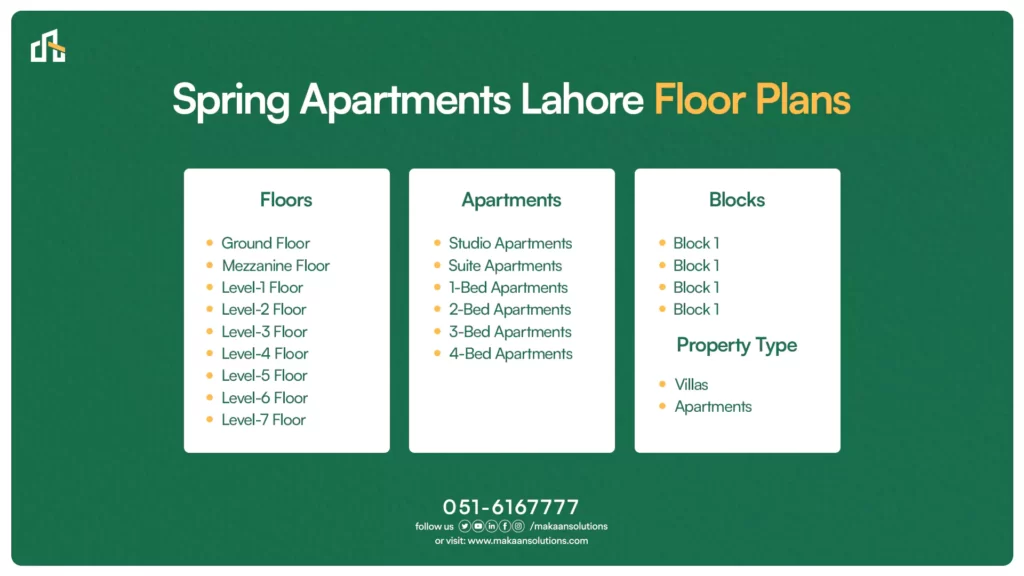 What is the Legal Status of Spring Apartments Lahore?
---
Spring Apartments doesn't need any NOC status because it is spread over only 86 Kanals, and legal approval is necessary only when a project has land over 100 Kanals. Therefore, it is a great update because customers don't need to worry about the legal status of this project.
Spring Lahore has become a world-class project because of its legal status. There will be no legal action against this project from any government authority. You can own your property in this legal apartment project on Canal Bank Road.
Facilities & Amenities
---
Royal Club
The presence of the Royal Club in this project ensures phenomenal relaxation. Therefore, you must enjoy the available services of this Royal Club. This is a brilliant approach by the developers to facilitate the members in this high-profile project.
Food Court
The availability of a food court in this residential project offers a magnificent dining experience. You can enjoy a variety of meals in this food court. You can get the brilliant experience of enjoying your food in world-class restaurants.
Gym
The gym allows residents to workout regularly to become active and fit members. There is the presence of necessary equipment to ensure the best gym experience for users. This magnificent amenity is available at a little distance.
Swimming Pool
The presence of a swimming pool in this housing project allows the users to enhance their swimming skills. Therefore, you don't need to go outside this project to experience a phenomenal swimming experience.
Cinema
The management also offers the cinema in this society, allowing members to enjoy their favorite movies and shows on the big screen in a fabulous environment. Therefore, you don't need to travel outside this real estate project to watch your desired movies.
Car Parking
There is an ample car parking space in this apartment project to allow members to easily park their vehicles. Therefore, you will not face any problems related to parking your vehicle in this fabulous residential project.
Housekeeping
The management also provides magnificent housekeeping services to every member of this project. Therefore, you're able to get fabulous services to keep your house clean and neat in the presence of a fantastic environment.
Coffee Shop
A top-rated coffee shop is also part of this magnificent project, enabling members to get the magnificent experience of enjoying their coffee. Therefore, you will not regret the importance of this magnificent coffee shop in this project.
Super Store
A superstore is available in this project to offer an excellent grocery experience of grocery for the members. You can shop for your desired products from top-rated brands at pocket-friendly prices in the presence of a peaceful environment.
Community Center
There is also a community center in this project, allowing potential members to collaborate with each other in an eco-friendly environment. You can share your ideas with other members to bring improvement in this society.
Security
It is a gated project in the ideal location of Lahore to ensure maximum safety for members. There is an experienced security staff with the presence of a modern technological system to ensure a secure environment.
How to Book an Apartment or Villa in Spring Apartments Lahore?
---
The booking process for a villa or apartment has become very easy with the assistance of Makaan Solutions. You can get assistance from our experienced team to own your property easily. You need to bring the following documents, and the rest of the process will be done by our team.
Client's 2 CNIC copies
Client's 2 passport-size images
Next to Kin's 2 CNIC copies
NICOP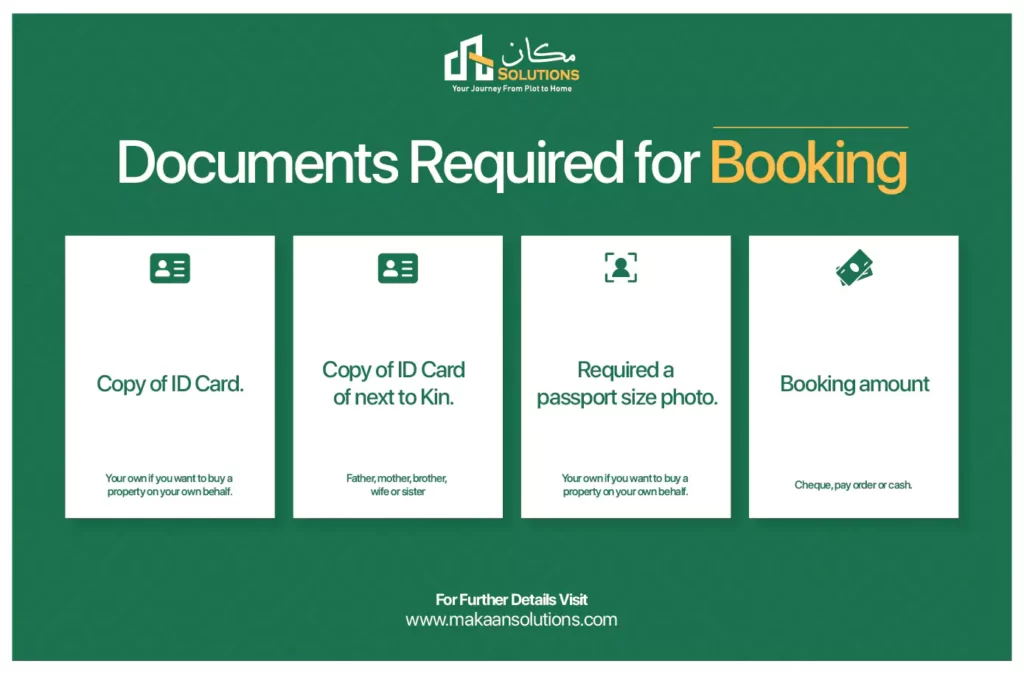 Final Thoughts
---
Spring Apartments Lahore has become an ideal real estate project in the presence of a reasonable payment plan and an ideal location. You can book your property with the help of Makaan Solutions.
Spring Apartments Lahore
If you want to know about Spring Apartments Lahore, contact Makaan Solutions. Our Sales Executive Officer will provide you with all the latest information. Starting from consultation to choosing the property, and from booking to owning your dream property. For further details, please do not hesitate to contact on the below-given information: