Faisal Hills Block C is the project's prime pick for investors and prospective homeowners. There's an undeniable hype around this new development inside Faisal Hills. Faisal Hills block c location is strategic for residential and commercial plots.
It is the largest block of this whole housing society that has captured the attention of clientele. Furthermore, developers offer a bonus prize to the first 500 Block C house builders. Hence, it is a premium opportunity for you to get a plot in the early phases of this block to get special benefits.
Why Faisal Hills Block C is in High Demand:
---
Faisal Hills Block C is getting a lot of traction lately due to fast-paced development. The investors are procuring land to build commercial buildings & houses. The reasons behind such a high demand are as follows:
Location & Accessibility
---
Faisal Hills Block C is located right next to Margalla Hills on the sidelines of the housing society. It is built in the north of the society near the Multi-Professional Cooperative Housing Society (MPCHS) in the B17 sector, Islamabad.
Block C has a better location than other blocks since it will connect to the M1 Motorway after the interchange is completed. Moreover, this location has a better landscape due to Margalla Hills on the sidelines.
Faisal Hills Block C Master Plan
---
The master plan of Block C is exceptionally well-planned. It contains residential and commercial plots. Most investors are flocking to build their businesses here as well. Block C has a 225-foot-wide boulevard named MR-08.
A fully functioning park is already part of this master plan. It contains graveyards, educational institutes & sports complex as well. Detailed analysis of the master plan is as follows:
Residential Plot Sizes:
---
5 Marla
8 Marla
10 Marla
1 Kanal
Note: 2 Kanal plots are being demarcated, and soon will be developed
Demarcated Area for Park:
Demarcated Area for Educational Institutes:
Demarcated Area for Commercial Plots:
This master plan is designed very meticulously. The vision of the developers is to make it a complete package.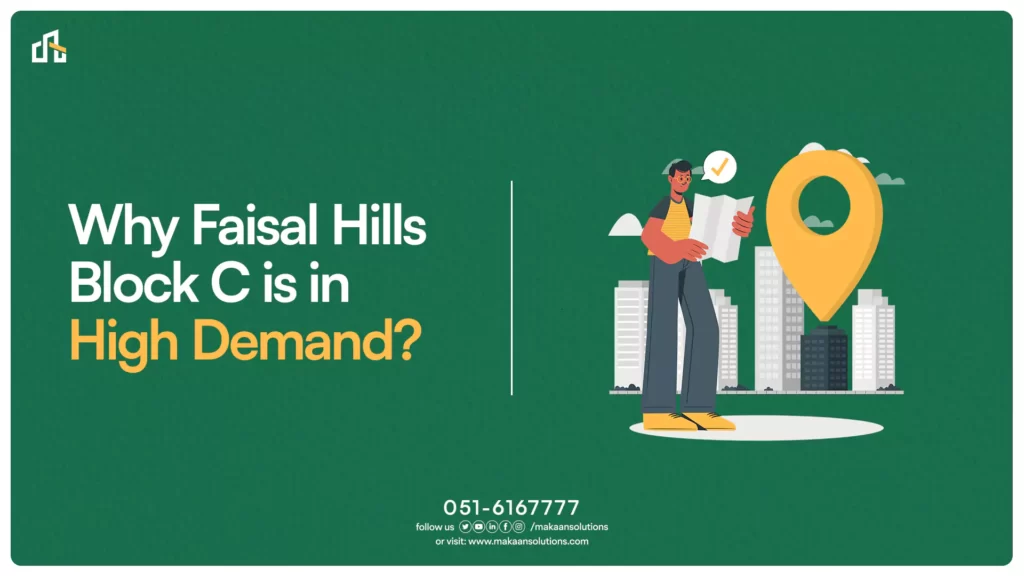 Faisal Hills Block C Map
---
The Faisal Hills C block map has been released after most of the development is done. For your convenience, we have attached the exact map below:

Faisal Hills Plot for Sale Block C
---
Faisal Hills Block C's price depends on the size of the plot and its location. The plots located on the main boulevard MR-08 are more expensive than the rest. This block offers diverse plot sizes. However, the Faisal Hills C block 5 Marla plot for sale is the favorite among buyers.
There are no official prices available for these plots. We collected data from online property listings to compile a comprehensive plot price list for this block.
Faisal Hills C Block 5 Marla Plot for Sale:
| Lowest: 3,400,000 | Highest: 5,000,000 |
| --- | --- |
Faisal Hills C Block 8 Marla Plot for Sale:
| Lowest: 4,500,000 | Highest: 5,000,000 |
| --- | --- |
Faisal Hills C Block 10 Marla Plot for Sale:
| Lowest: 6,000,000 | Highest: 7,000,000 |
| --- | --- |
Faisal Hills C Block 1 Kanal Plot for Sale:
| Lowest: 9,500,000 | Highest: 10,000,000 |
| --- | --- |
Note:
These prices are subject to change due to high demand in the market
7,900s series plots in block c are non-possesionable plots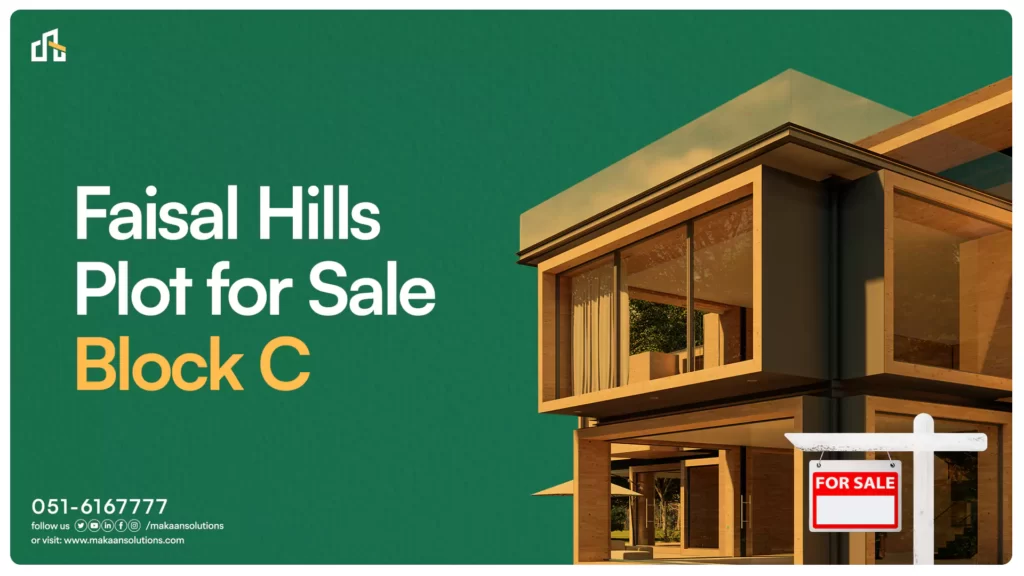 Faisal Hills Block C Booking Procedure:
---
There is no booking procedure available for plots right now. However, you can buy a plot here with cash. If you are confused about making a purchase here, contact Makaan Solutions for a calculated decision. For buying any sort of property in Pakistan you would need the following documents:
CNIC Copy
2 Passport-sized Photos
CNIC Copy of 'Next to Kin'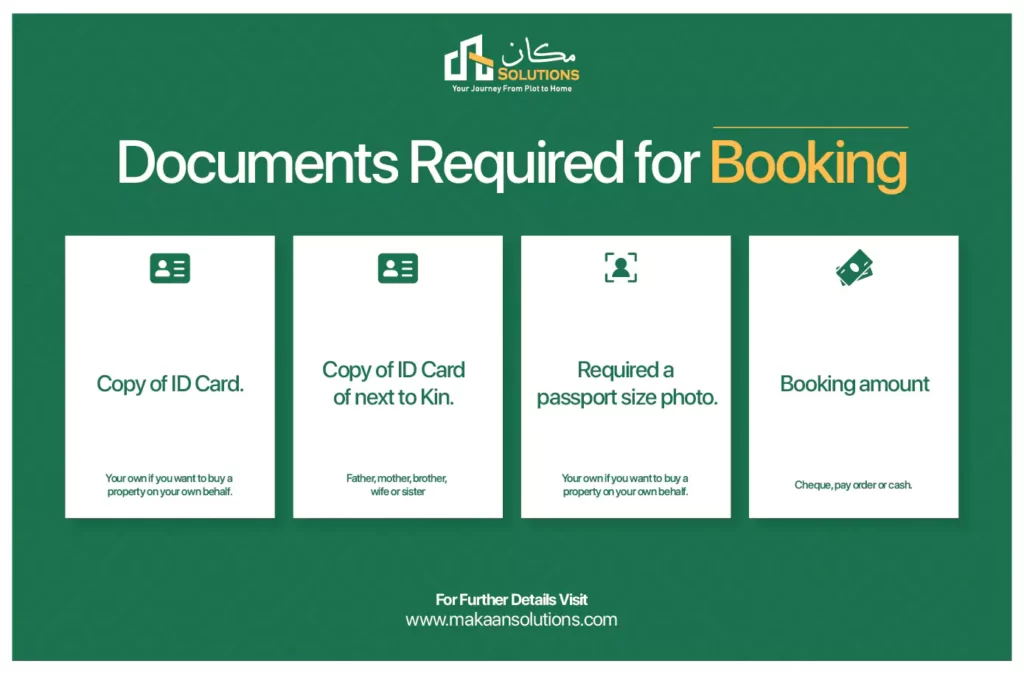 Faisal Hills Block C Special Amenities
---
Block C is a complete package in itself, it offers a number of amenities that are not present in other blocks. Some of the best amenities are as follows:
Sports Complex
Only two blocks have sports complexes in Faisal Hills: Executive Block & Block C. This sports complex will include indoor games, sports courts, gymnasiums, cricket & football fields. The area for the sports complex has already been demarcated, and soon the work will start.
Education Hub
The housing society of Faisal Hills already has Roots International on the premises. However, this block will have 12.25 Kanal land just for educational institutes of various sorts. The kids or grown-ups won't have to leave the block for their educational needs.
Parks & Gardens
There are various small parks surrounding residential plots in this block. These parks will provide a healthy environment for jogging and outdoor exercising. In addition, there is a huge fully operational park for kids and families which is built to cater to recreational activities.
Graveyard
The land for the graveyard has already been procured by the developers of Faisal Hills (Zedem International). This graveyard holds a unique significance within the housing society.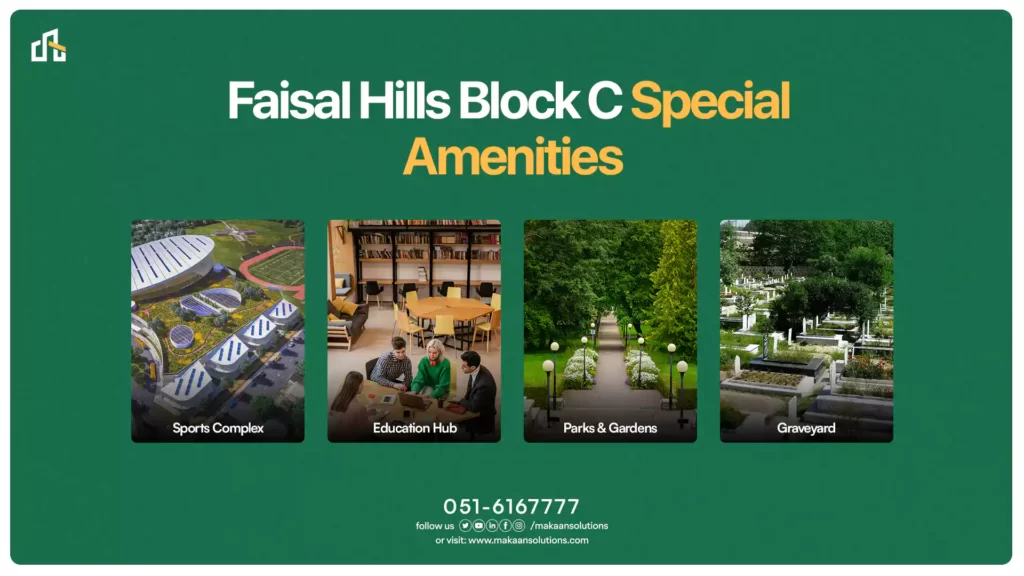 Conclusion:
---
Faisal Hills Block C is an exceptional block that offers more than other blocks. If you are looking for a perfect block inside this housing society, it will be the best option for you.
Moreover, villas are being built in this block already and people are moving in. The developers are encouraging homeowners to complete construction and enjoy benefits.
This housing society has the potential to provide good ROI to early investors. The landscape surrounding this society is dotted with housing projects such as Faisal Margalla City & Multi Cooperative Housing Society. The location of this establishment is prime since it is built in close proximity to D12 Islamabad.
However, if you want to explore more housing projects in Islamabad, consider Capital Smart City. It is also a major housing scheme that has great prospects.

Faisal Hills Block C: The Top Choice for Investors
If you want to know about Faisal Hills Block C: The Top Choice for Investors, contact Makaan Solutions. Our Sales Executive Officer will provide you with all the latest information. Starting from consultation to choosing the property, and from booking to owning your dream property. For further details, please do not hesitate to contact on the below-given information: