Lahore is a modern city and hub for renowned businesses. The best software houses in Lahore offer innovative and excellent software products to potential customers globally.
Software houses have an important role in economic growth by offering digital solutions for problems.
What is Software House?
---
A software house is basically a company that involves the development and selling of software products. These products are available in the form of applications to be used on web platforms, mobiles, and computers.
The top 10 software houses in Lahore consist of the software developers to develop and maintain the software products. These software houses also provide custom software development services with consultation.
The pros and cons of running software houses are mentioned below:
Pros:
Smooth collaboration
Good Control
Subject-matter experts
Skilled and experienced development team
Commitment to every particular software project
Excellent agility in the project
Flexibility in hand the errors
Cons:
Expense
Staff churn
Talent shortage
List of software houses in Lahore
---
NETSOL Technologies Inc
Mindstorm Studios
Systems Limited
Arbisoft
10Pearls
CureMD
TechAbout
TRG Tech
Q Soft Technologies
Afiniti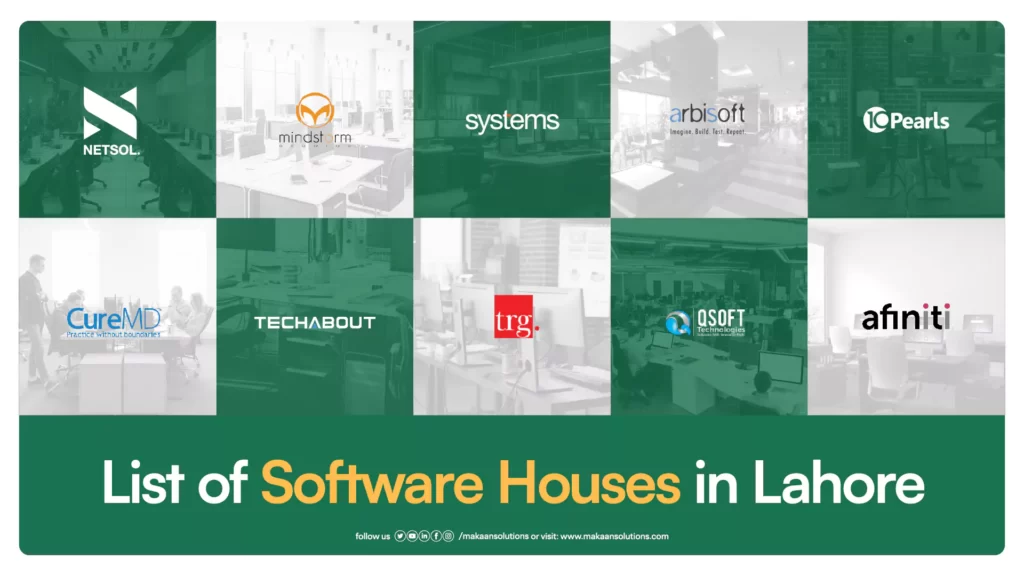 NETSOL Technologies Inc
NETSOL is a famous software house that has been providing the best software solutions to the finance and lease industry since 1997. It is one of the software houses in Lahore with more than 1,0000 customers from 80+ countries.
Mindstorm Studios
Mindstorm Studios is one of the top 10 software houses in Lahore, which has been famous because of producing the best games, characters, and animations. The experienced development team has created top games like Lord of Crime, Pic The World, and Tetra Defense.
Systems Limited
It is one of the best technological houses in Lahore to offer software solutions to local and foreign customers. Systems Ltd offers the best services of BPO, IT consultancy, and software development.
Arbisoft
Arbisoft has been providing IT consultancy and software development services since 2002. This software development company is famous because of using agile methodologies to offer successful projects for retail, financial, and healthcare services.
10Pearls
10Pearls was founded in 2003 to provide the most demanding software solutions with IT services. This fast-growing software house offers digital transformation with custom software development.
CureMD
CureMD has become one of the top 10 software houses in Lahore by offering phenomenal software to manage healthcare digitally. The energetic team offers innovative healthcare systems to the customers.
TechAbout
TechAbout is one of the software houses in Lahore that is committed to offering fabulous software solutions for healthcare and education. The qualified team utilizes cutting-edge technology to ensure technical consultancy for customers.
TRG Tech
TRG Tech offers different IT services to the clients, such as system integration and automation, Web solutions, and design & development. Therefore, it is included in the list of software houses in Lahore.
Q Soft Technologies
Q-Soft Technologies is a leading software house because of top-notch consultancy and programming services. The technical team helps the clients to use the newly developed software to bring a digital transformation.
Afiniti
This software house uses machine learning and artificial intelligence to boost business performance with smooth customer interaction. They are offering their services in healthcare, financial services, and the telecom industry to boost revenues for their customers.
Software Houses in Johar Town Lahore
---
Johar Town has become the paradise of software houses to offer top-quality software solutions to clients with excellent custom service. The available software houses in Johar Town are mentioned below:
Nextbridge Private Limited
ArhamSoft Private Limited
NorthBay Solutions
Strategic Systems International
Invo Zone
Pixelpk
Esipick Pvt Ltd
Technovation
Software Houses in Bahria Town Lahore
---
There are brilliant software houses in Bahria Town Lahore to provide fantastic software solutions to clients. These software houses also provide magnificent services in the presence of experienced developers.
Developers Wise Solutions
Yactech
Vector 3 Solutions
Webfalcons
Digital Innovation Private Limited
WebHike Solutions Pvt Ltd
Software Houses in DHA Lahore
---
DHA Lahore is the ideal place for software houses to start a software development company to facilitate the users with the best solutions. The list of software houses is available below:
Systems Ltd
Mindstorm Studios
Q-Soft Technologies
VentureDive
Brain Logix
TechAbout Private Ltd
ClickSoft
Softicks
Software Houses in Gulberg Lahore
---
Gulberg Lahore is a prime location that is considered the best place for software houses to start their startups. There are different top-notch software development companies to offer brilliant solutions. The best software houses in Gulberg Lahore are given below:
Conrad Labs
Confiz Limited
Infotech Pvt Ltd
10Pearls
Avanza Solutions Pvt Ltd
Folio3
Amtech Software House
Rana Technologies
Pak Developers
KodeInn Technologies
QuanticSol
Techtics
Webo
Software Companies in Lahore
---
There are several software companies that have become famous globally for offering phenomenal solutions. These software companies are providing a range of software to different businesses.
IT Genesis
Petsaal Technologies Private Limited
Logix Lobby
Abode Pvt Ltd
Key2code
Arbisoft
Techlogix Pakistan
Final Thoughts
---
Software houses in Lahore are popular around the different countries of the world because of the smooth software solutions. These software houses offer the best services along with the software to global clients.
Top 10 Software Houses In Lahore 2023
If you want to know about Top 10 Software Houses In Lahore 2023, contact Makaan Solutions. Our Sales Executive Officer will provide you with all the latest information. Starting from consultation to choosing the property, and from booking to owning your dream property. For further details, please do not hesitate to contact on the below-given information: