The new merging policy of Faisal Town Phase 2 Islamabad has been great news for customers. File merging policy 2023 will take place in accordance with the new terms and conditions.
The file merging process in Faisal Town Phase 2 will be carried in the presence of the specific guidelines. This policy for merging files will be effective from August 2023 to facilitate the customers effectively.
File Merging Details for Faisal Town Phase II
---
Every client needs to know the comprehensive details about merging different files. You can easily explore information about merging plot files in the presence of applied laws and regulations.
Rebate Files Merging
Customers need to know the details of the merging process for rebate files.
You can integrate one or two rebate plot files after the removal of rebates without service charges.
The collected amount will be charged for 5% service charges after deducting rebates for less than or more than five files.
The obtained amount will be 10% reduced for 6-8 files after the removal of rebates from the files.
No-Rebate Files Merging
1-2 files will be merged without any rebate, and the clients pay only a 5% service fee.
There are 10% service charges for 3-5 files.
There is only a 10% service fee for 8-10 no-rebate file merging.
Escalation Charges
This housing project offers excellent facilitation to customers in paying their escalation fee in cash.
There is a facility for escalation fees in accordance with the members' cases to merge their plato files.
There is also a 5% discount for members who have followed the payment plan for merging files.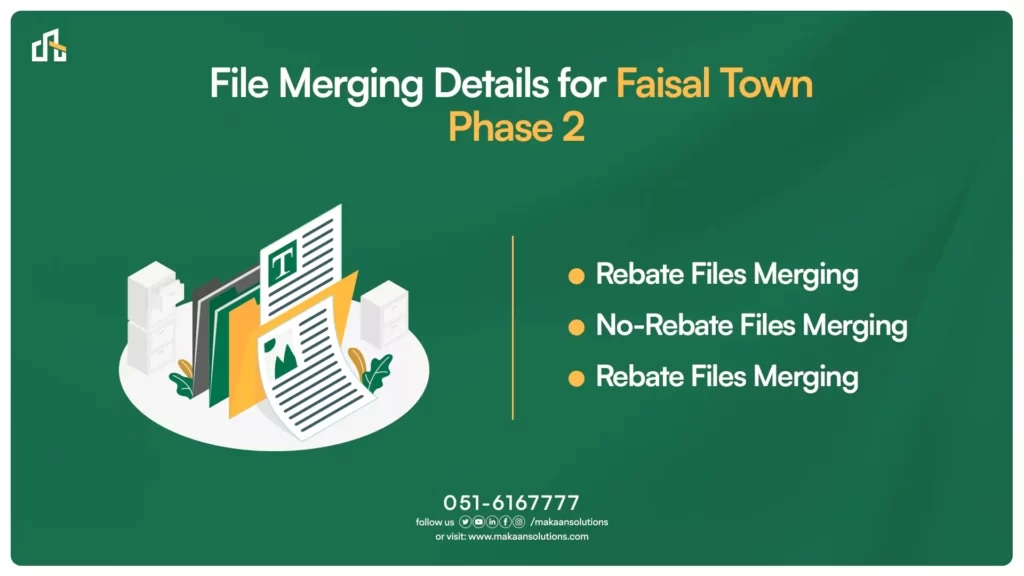 Benefits of Merging Files
---
The new merging policy of Faisal Town Phase 2 Islamabad has several benefits. Therefore, you must know the potential advantages of the new merging policy for plot files in Faisal Town Phase II.
Increased Land Area
The first advantage of merging files is the increased area with great opportunities for excellent development in the presence of magnificent landscapes and infrastructure.
Excellent Use of Land
The merged plots enable you to use the combined lands effectively. Therefore, you will get a good choice of designing the layout plans.
Boosted Property Vale
The merged property also increases value because of the large space to facilitate the customers. Therefore, it is beneficial for customers who are looking for a large area of land.
Regulatory Hurdles Reduction
The merging files have also simplified the regulatory procedure, which allows you to navigate the legal approval easily.
Economic Growth
It has become economically valuable for working on a single large property compared to different small properties. Therefore, it is a good source of economic growth for the clients.
Layout & Design Flexibility
The merging of different plot categories allows customers more freedom for the layout plan and infrastructure design.
Future Subdivision Potential
There is a high potential for subdivision in the future in accordance with the future requirements. It brings flexibility to potential customers.
Development Potential
The merging of plot files also brings new possibilities for development in a large space.
Improved Aesthetic
You can start development work on a merged plot because of the wide space to build an attractive property.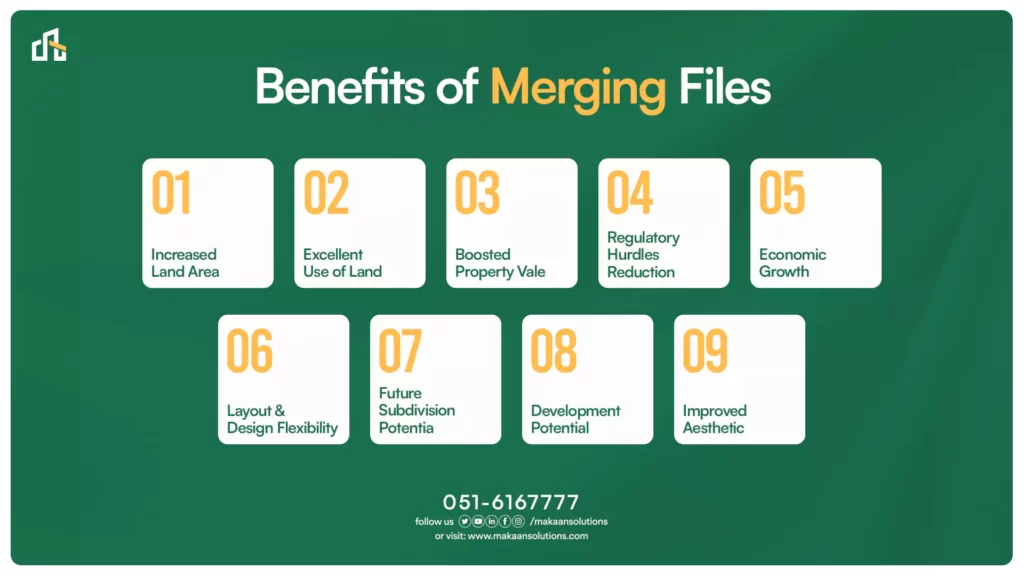 Final Words
---
File new merging policy of Faisal Town Phase 2 Islamabad offers the ultimate flexibility to customers who are looking to merge their plots. Moreover, you can also own your properties in Capital Smart City and New City Paradise with the assistance of Makaan Solutions.

File New Merging Policy of Faisal Town Phase 2 Islamabad
If you want to know about File New Merging Policy of Faisal Town Phase 2 Islamabad, contact Makaan Solutions. Our Sales Executive Officer will provide you with all the latest information. Starting from consultation to choosing the property, and from booking to owning your dream property. For further details, please do not hesitate to contact on the below-given information: