Capital Smart City Developers and Designers have made society the 1st smart city in Pakistan and 23rd globally. It is essential to mention here that the community has not been designed and developed only by national companies but by some foreign companies too. Therefore, the experience and value they add to the project are no less than a blessing.
The prominent Capital Smart City Islamabad designers & developers include:
Surbana Jurong Pvt. Ltd.
---
Surbana Jurong has had a record of project delivery since 1960. It is headquartered in Singapore. The company provides consultation in the fields of real estate solutions, project and construction management, infrastructural development, urban planning, and sustainable design technologies. Surbana Jurong has some member companies that include AETOS, Atelier Ten, Prostruct, SAA, and Sino-Sun. They are working in more than 120 offices in over 40 countries. The company designed master plans in more than 30 countries and developed over 100 industrial parks. It has some success stories in Pakistan. As the master planner of Capital Smart City and Lahore Smart City is Surbana Jurong.
Cracknell
---
Cracknell is in the designer team of Capital Smart City Islamabad. It is famous for planning, architecture, and urban design planning since 1987. It started its operations in London city. But now, its record includes the delivery of many projects in Africa and the Middle East. For instance, Burj Boulevard Downtown Dubai, Victory Heights Dubai, Burj Khalifa Development, Burj Al Arab, Sheraton Park, Doha Qatar, etc.
Interestingly, all these successes of Cracknell go to a team of 240 individuals from 26 different nationalities worldwide. Cracknell is famous for its specialty in landscape architecture, urban design and planning, construction supervision, and project management.
DSA Architects International
---
DSA Architects International started its work in 1985. It is an architectural practice with proficiency in creative, sustainable, and innovative designs. It offers multi-disciplinary management and consultancy services in various locations, like Africa, the Middle East, Asia, and Europe. DSA Architects International won notable awards due to the consultancy services it provided to its clients. Such as International Property Award, World Travel Awards, and Architect Awards.
The company has completed projects in more than 30 countries with the highest creativity, technical excellence, and innovation level. Like Torres Rani Towers Mozambique, Capital Smart City Islamabad, Burj Square Central Dubai, and the Crescent Gate Precinct, Baku.
Designmen Consulting Engineers
---
Designmen Consulting Engineers is a collection of engineering skills providing its services to the challenging market. It was established in Pakistan in 1982. Designmen aimed to facilitate the engineering sector, and serve individual demands with no limitations to the size and scale of the projects. It provides professional services in sectors like infrastructure development, water resources, electrical engineering, and hydropower development.
Some significant clients of the Designmen include the World Bank, CDA Islamabad, TOBISHIMA corporations, and Capital Smart City Islamabad. The Designmen success stories include vetting of structure for the Mall of Islamabad having mixed-use development, planning and design of a 500-bed hospital in Balkh province Afghanistan, etc.
Ecologia Soluzione Ambiente (ESA)
---
ESA Ecologia Soluzione Ambiente was established in 1966. The company is headquartered in Italy. Initially, it provided wastewater treatment services. However, ESA has transformed over time and become a five-unit institution. Now it offers a wide range of solutions for the problems of public administrations, multi-utility businesses, companies, and citizens in five different macro-areas. The areas include waste, depuration, services plus, and Reclamation.
Moreover, ESA also provides environmental services. Like the management and maintenance of the dumpsters and containers, computerized monitoring of the waste collection chain, assisting in implementing new services, etc. It is one of the major development partners of Capital Smart City Islamabad.
Mövenpick Hotels & Resort
---
Movenpick Hotels and Resort was established in 1948. Since its establishment, the Movenpick has expanded its international presence. Today, it manages more than 20,000 rooms in above 82 hotels in Asia, Africa, European countries, and the Middle East. However, it wants to achieve the target of operating 125 properties.
The company has a global workforce of 16,000 professionals. It is reported that they host about 7.5 million guests every year. It is because their excellence, career background, and their hotel services have always remained consistent, intuitive, personal, and unique. In Asia, Movenpick has hotels in Pakistan (Capital Smart City Islamabad), China, Indonesia, Malaysia, Sri Lanka, Thailand, and Vietnam.
Freij Entertainment
---
Freij Entertainment started its operation in Europe in 1987. It is specialized in traveling, amusement rides, circuses, and outdoor events. Freij started its presence in the Asian market in 1989. It began in Thailand and continued with Malaysia, Singapore, India, China, and Hong Kong. However, the company plans to present its services in the Middle East region and the Arab Gulf.
Freij has its corporate head office in Cyprus and satellite offices in the UK, Hong Kong, Thailand, Dubai, and Italy. It has about 500 amusement rides, 30000sqm indoor tent exhibitions, more than 800 skill games, 50,000 sitting galleries, ten traveling circuses, and 12 varieties of stunt shows.
Harradine Golf
---
Another name in the designer list of Capital Smart City Islamabad is Harradine Golf. It was established in 1929 by designing its first course in Switzerland. However, Harradine Golf is currently active in France, Germany, India, Kazakhstan, Pakistan, Qatar, Russia, Saudi Arabia, and UAE. It designed, constructed, and supervised more than 200 golf course projects in Europe, Africa, Asia, and the Middle East. The Harradine Golf specialty is in golf course design, drawings, zoning plans, supervision, and renovation.
Meanwhile, the company deals with 14 projects in 11 countries of the world. These projects include Capital Smart City Islamabad Golf Club Pakistan, Golf Club Seefeld Austria, and Legends Golf Course UAE.
Troon Golf L.L.C.
---
Troon Golf combines four brands devoted to facilitating the friendliest hospitality and club management services. Interestingly, Troon is not a single brand but it is a family of brands. It is a group of four brands that aims to provide club management services.
Troon Golf is responsible for the execution of daily fees and resort facilities. Troon Prive has a specialty in carrying out individually and member-owned private clubs. Troon International deals with the management services for all club types beyond the Americas region. Lastly, Indigo Sports is responsible for developing fun and enjoyable experiences. It is one of the development partners of Capital Smart City Islamabad.
Trivelles Smart Homes
---
Trivelles Smart Home has a professional history in the property market in the UK and abroad. The company has specialization in different services, like student accommodations, buy-to-let apartments, hotels, and serviced apartments. The Trivelles Smart Home has a track record of more than £100 million worth of property profile. It has completed projects for luxury residential, commercial, and leisure sectors in different cities of the UK. Luckily, Trivelles presents you with Pakistan's 1st ever smart home in Capital Smart City Islamabad. It is called Smart Villas. The company is also associated with some other trusted property companies. Like Future Developments Holdings, Habib Rafiq Limited, and Engineering Dimensions Limited.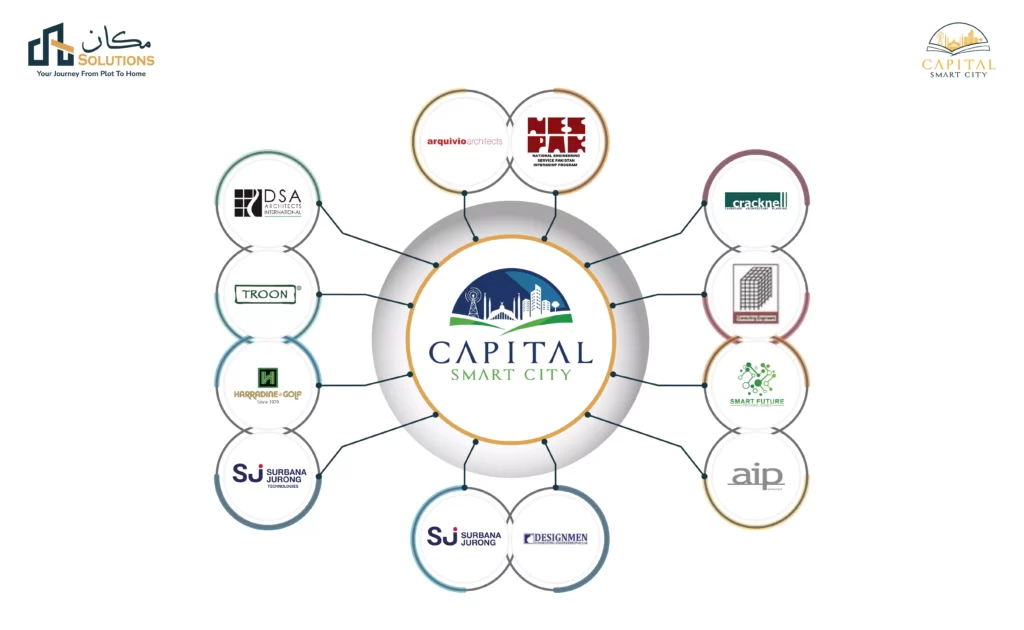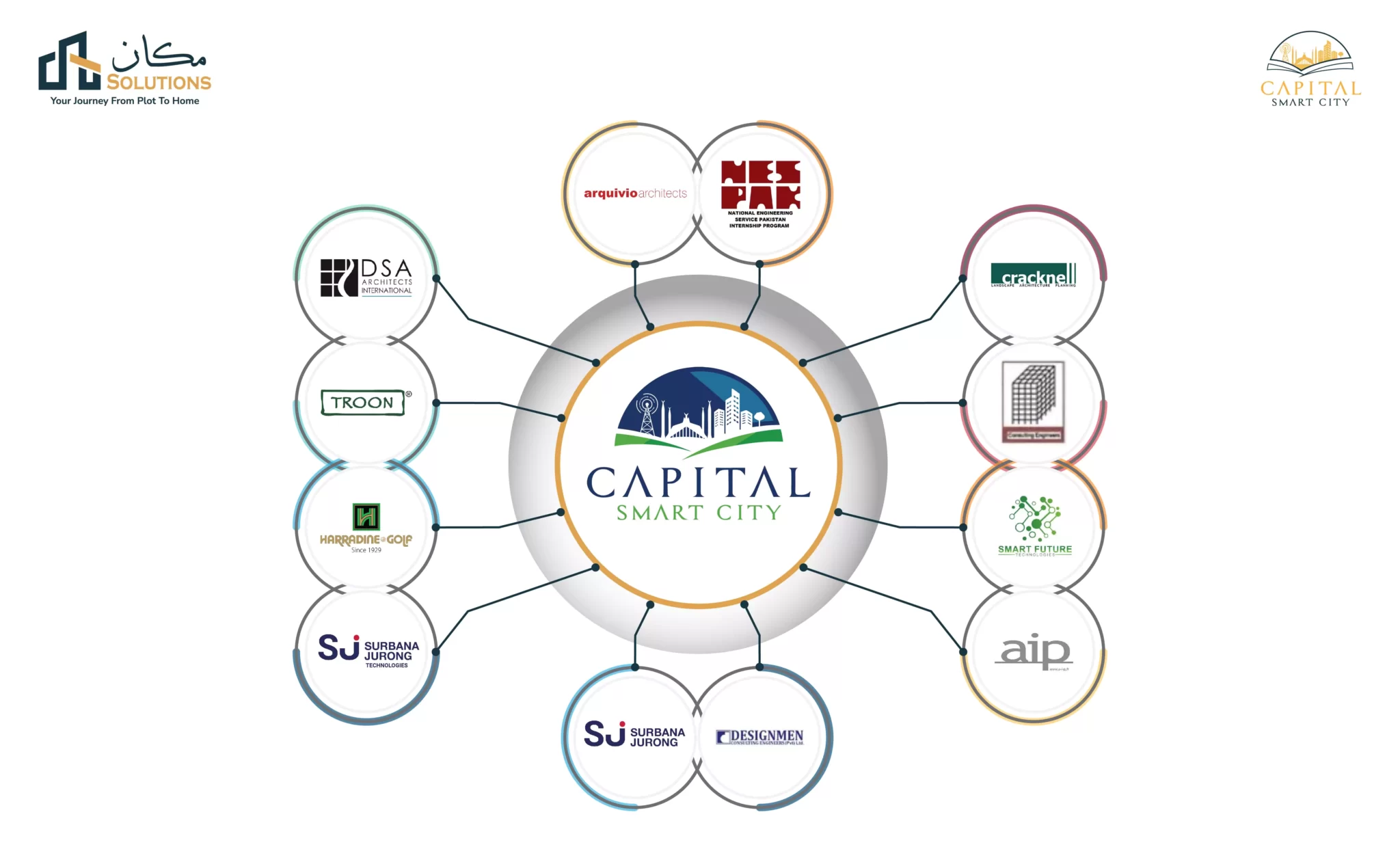 Capital Smart City Islamabad Development and Designer Partner
If you want to know about Capital Smart City, contact Makaan Solutions. Our Sales Executive Officer will provide you with all the latest information. Starting from consultation to choosing the property, and from booking to owning your dream property. For further details, please do not hesitate to contact on the below-given information: