Century Town Islamabad
Century Town Islamabad is a master-planned housing project by Vadi Developers to offer world-class facilities and amenities to customers. This housing project is located on the main GT Road near prominent landmarks. The affordable payment plan enables you to own your property with the assistance of Makaan Solutions.
Century Town Islamabad: introduction
---
Century Town Islamabad is a luxurious housing project in the developing regions of Islamabad and Rawalpindi. The merging of nature, modernity, heritage, and technical features to offer a modern living standard in the presence of brilliant architecture and topography.
Century Town in Islamabad consists of contemporary amenities to ensure an affluent lifestyle with business growth. The management has a significant portfolio of developing residential and commercial projects.
Century Town Islamabad Location
---
The location of Century Town Islamabad is on the main GT Road opposite DHA Islamabad Phase 3. The location of this residential project has become premium because it is located near Bahria Town Rawalpindi.
Century Town is located near Giga Mall and T-Chowk Islamabad to offer the best access from the twin cities of Pakistan. It is at a distance of a few kilometers away from Saddar Rawalpindi and Downtown Islamabad.
Nearby Landmarks & Places
Accessibility
Islamabad Expressway is 2 minutes away
T-CHowk is 3 minutes away
Rawat is 4 minutes away
Saddar Rawalpindi is 20 minutes away
Faizabad Rawalpindi is 25 minutes away
Downtown Islamabad is 32 minutes away
Islamabad International Airport is 42 minutes away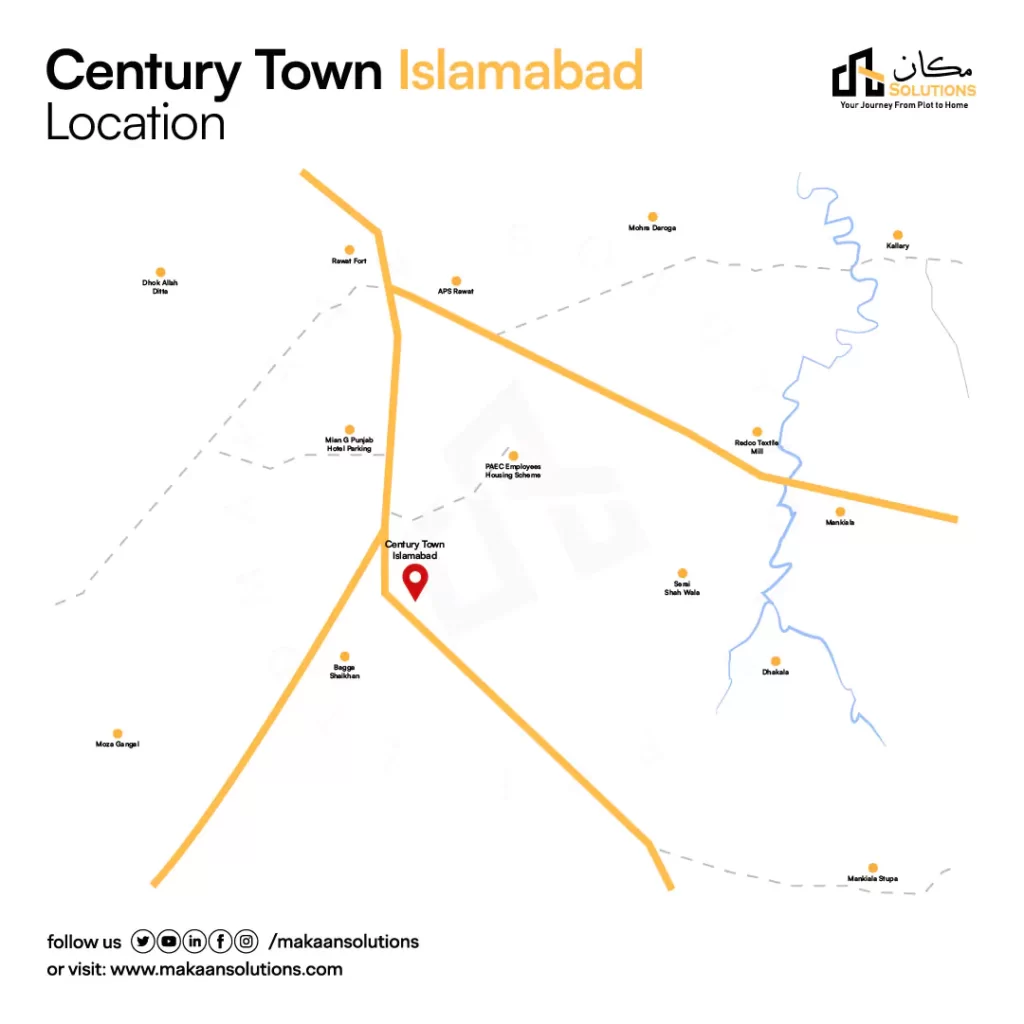 Century Town Islamabad Payment Plan
---
| Residential Plot Size | Down Payment | Total Amount |
| --- | --- | --- |
| 5 Marla | 400,000 | 2,250,000 |
| 10 Marla | 700,000 | 4,200,000 |
| 1 Kanal | 1,050,000 | 7,200,000 |
5 Marla Payment Schedule
32 monthly installments of each 19,000
6 half-yearly installments of each 85,000
The balloting amount is 361,000
The possession charges are 371,000
10 Marla Payment Schedule
32 monthly installments of each 38,000
6 half-yearly installments of each 195,000
The balloting amount is 550,000
The possession charges are 564,000
1 Kanal Payment Schedule
32 monthly installments of each 59,500
6 half-yearly installments of each 290,000
The balloting amount is 1,253,000
The possession charges are 1,253,000
Important Notice Regarding Century Town Payment Schedule
---
The above payment plan is exclusive of development charges
There is a 5% on making lump-sum payment
10% extra charges on the preference of plots
The official management of the society releases the Century Town Islamabad payment plan. A 3-year installment allows the customers to make monthly and half-yearly payments for their reserved plots.
There are 5 Marla, 10 Marla, and 1 Kanal plot for sale in Century Town Islamabad. Every middle-class person in Pakistan can purchase the desired plot category within their minimal budget. Century Town plot prices are also very affordable for overseas Pakistanis.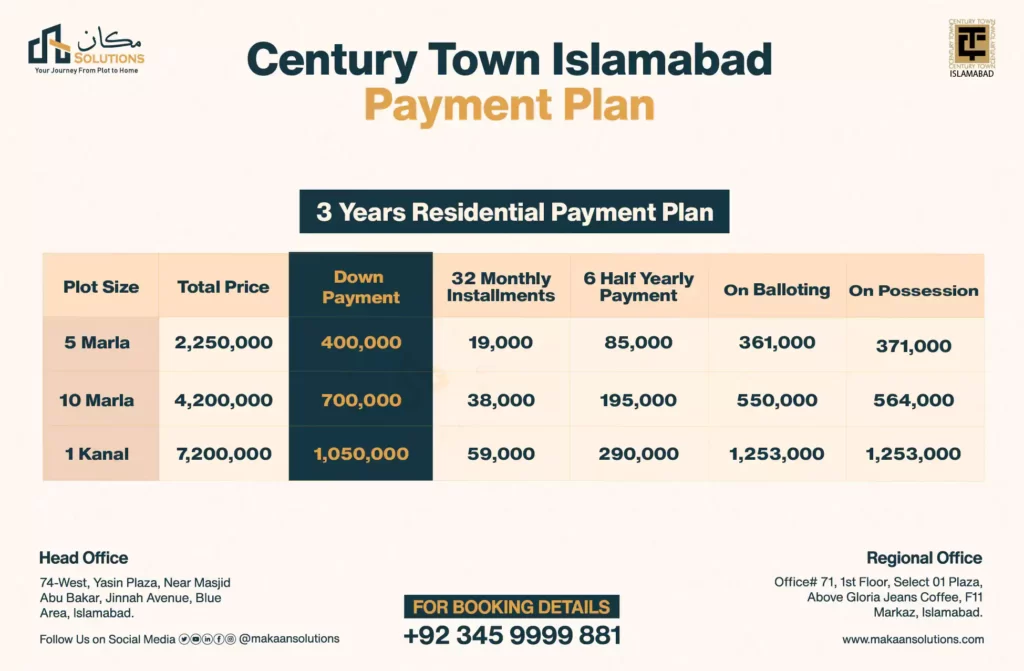 Benefits of Investment in Century Town Islamabad
---
Every person wants to get all perks by investing in Century Town Islamabad. The magnificent advantages of real estate investment have also urged overseas Pakistanis to make profitable investments.
Potential ROI
Century Town offers a high return on investment to customers who want to profit by purchasing real estate properties. You can invest in Century Town to earn a good amount of money quickly.
Financial independence
The properties in this new housing project offer financial Security to the clients who buy the properties timely. You can become financially independent despite high inflation because of the reasonable plot prices, which will be boosted in upcoming times.
Passive Income
Century Town plots have become a fantastic way of making continuous earnings in the high inflation of Pakistan. Therefore, you can easily rent your property in this society for a monthly income with a yearly rental increment.
Valuable Real Estate Asset
Every plot in Century Town has become a valuable asset for every customer who wants to survive the current economic crisis. The value of your property will be boosted gradually to ensure financial Security for you in times of inflation.
Century Town Islamabad Master Plan
---
Qualified designers design the master plan of Century Town Islamabad, focused on including the best layout plan. They have considered including top-notch amenities for the customers who want to enjoy the international living standards.
Century Town layout plan includes information on accessibility from the different nearby landmarks. Moreover, you can view the streets and roads of society easily. The master plan also lets you know the society's available plot sizes.
Plot Sizes
The residential plots are available in the following sizes: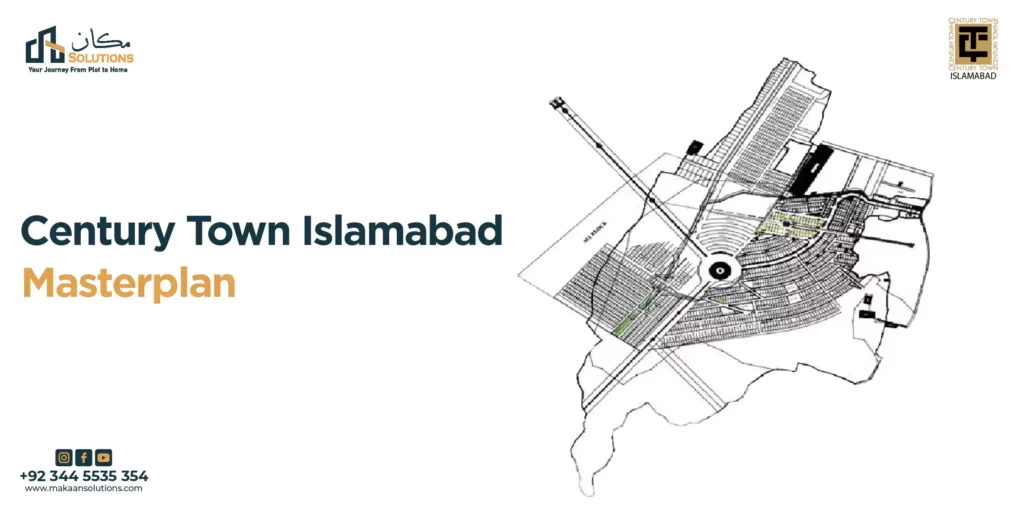 Century Town Islamabad NOC Status
---
The NOC Status of Century Town Islamabad has yet to be approved by the Rawalpindi Development Authority (RDA), a government authority to authorize housing projects in the Rawalpindi division. The management is awaiting the NOC approval status of Century Town.
RDA will approve this residential project's legal status soon because the management submitted the required documents. The personnel of RDA are verifying documents to grant NOC-approved society status. Therefore, it will become an RDA-approved society in the future.
Total Area
The management has acquired over 3,000 Kanal in Rawat to develop a world-class housing project conveniently accessible from joint cities. The land area of society will consist of the different plots in blocks.
Century Town Islamabad Owner & Developers
---
The owners and developers of Century Town Islamabad are Vadi Developers, who have started this fantastic project in the region of Rawat to offer the different plot categories with phenomenal services.
Mr. Aoun Malik is the CEO of Vadi Developers, who has a vision of offering a luxurious lifestyle with profitable investment opportunities in a premium location at affordable plot rates. Aoun Malik has a mission of developing this housing project with international infrastructure.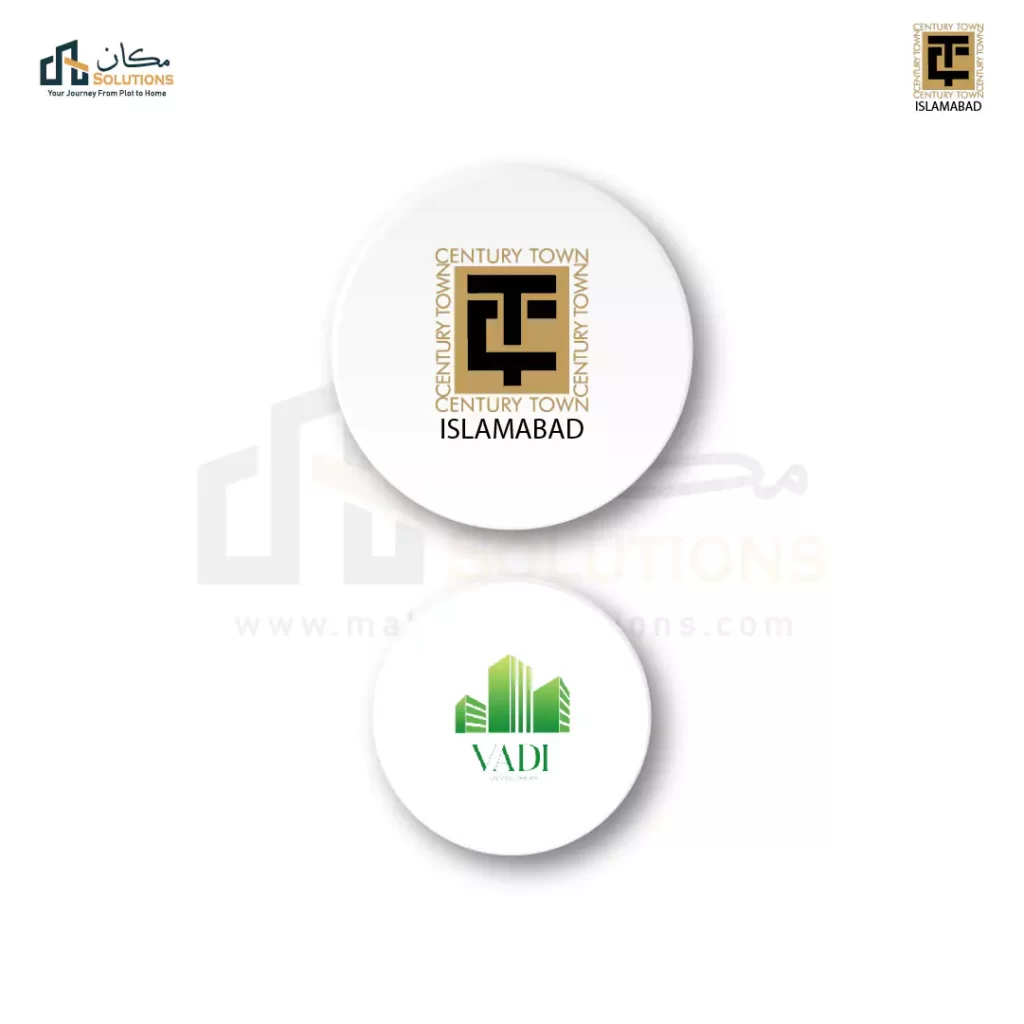 Century Town Islamabad Development Status
---
The development status of Century Town shows that Vadi Developers have started the essential pruning and leveling work in society. They are following a modern development strategy to develop a society with modern infrastructure by using advanced technology.
Century Town Islamabad Latest News
---
The latest news reveals that a payment plan for the available inventory of plots has been launched. Unfortunately, the latest updates indicate that the legal status still needs approval and processing.
Facilities & Amenities
---
The management of the new housing project in Rawat is trying to include phenomenal amenities to facilitate the customers. Vadi Developers ensures the availability of magnificent facilities for every user in society to maintain an international lifestyle.
Medical Complex
The development of medical complexes in society offers advanced medical facilities to users within walking distance. Qualified doctors with other medical staff will be available to ensure medical treatment 24/7 for medical emergencies.
Mosques
The society includes small mosques in every block, with a grand mosque in the center of society. It enables Muslims to offer their religious duties in a peaceful environment. Therefore, a mosque consists of every amenity necessary for offering religious tasks.
Business Center
This residential project also includes a dedicated business center that allows you to take your business to the next level of profitability. The business will consist of all commercial facilities for fast business growth.
24×7 Security
The management knows the worth of a secure housing project. Therefore, a security system with advanced technology is available to protect the residents from security issues. The qualified security staff will be patrolling in society to ensure safety.
Educational Institutes
Century Town in Islamabad also consists of educational institutes like schools and colleges to offer the residents an international standard of education. Therefore, the qualified teaching staff will educate the students in the presence of an international standard syllabus.
Resort Hotels
The world-class hotels will be available in society to offer residents a range of national and international food experiences. Therefore, you can enjoy your lunch, dinner, or fast food with your loved ones at your favorite restaurant or resort.
Sports Centers
The society has phenomenal sports centers enabling residents to play games like cricket, football, hockey, tennis, etc. The playing areas are spacious, allowing residents to play their favorite games with their friends.
Water, Gas, Electricity
These are basic amenities that are being provided by the qualified management. The management making sure to offer a seamless supply of gas and electricity with the backup options. Moreover, you will be able to use the filtered water.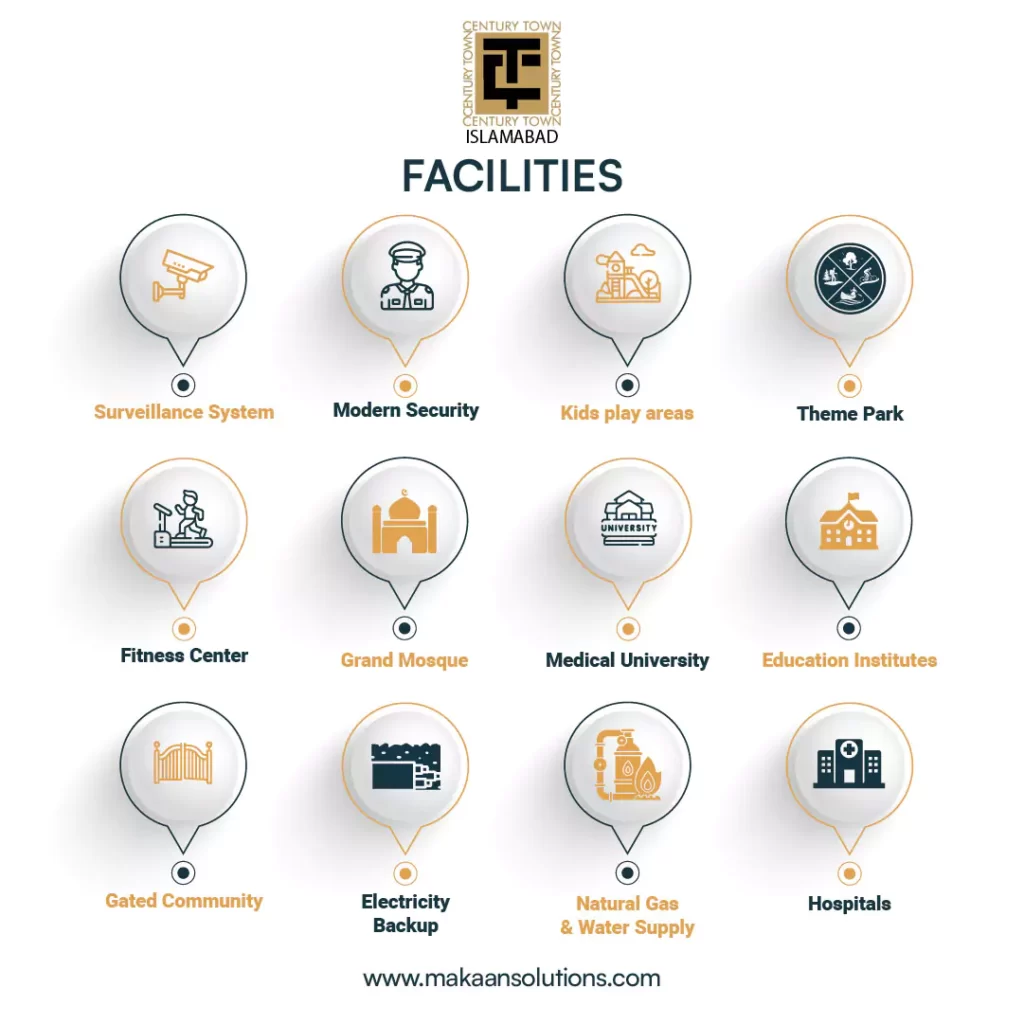 Pros & Cons
---
Pros:
The qualified developers
The premium location
A master-planned housing society
The affordable payment schedule
The smooth and fast development
Modern amenities and facilities
Cons:
The legal status still needs to be approved.
Conclusion
---
Century Town Islamabad is a fabulous housing project with an affordable installment plan in the ideal location. You can own a plot with the assistance of Makaan Solutions. Moreover, we also help customers to reserve properties in Capital Smart City and New City Paradise.
FAQs
---
What is Century Town Islamabad 5 Marla plot price?
5 Marla plato'sPlato price in Century Town is only 2,250,000.
Which plot sizes are available in Century Town?
5 Marla, 10 Marla, and 1 Kanal plot sizes are available in society.
How to invest in Century Town?
You can invest in Century Town with the consultancy of Makaan Solutions.
Who is the developer of Century Town?
Vadi Developers are developing this phenomenal residential project.
Where is Century Town located in Islamabad?
It is situated on GT Road in Rawat near the famous housing projects.
What is the legal status of Century Town?
It is an unapproved housing society by RDA.