DHA Islamabad-Rawalpindi
DHA Islamabad is a government residential project in collaboration with Habib Rafiq Private Limited for its quality development services. This project has a modern master plan, easy payment plan, world-class facilities, and a prime location in Islamabad. You can make investments in DHA phases to get a higher return on investment.
DHA Islamabad-Rawalpindi: Overview
---
DHA Islamabad, often known as the Defence Housing Authority, is the largest housing society in Pakistan. This first beautiful housing society is located in the metropolitan area of Islamabad-Rawalpindi. This society is extended to the border of Punjab. Commercial and residential plots have a magnificent return on investments.
The Welfare Department of Pakistan Armed Forces developed this society in 1975 for military personnel. Both militaries and civil citizens can buy their properties and reside within this society. DHA Rawalpindi Islamabad serves as the most residential area in Islamabad and Rawalpindi.
It is also one of the most expensive communities in Pakistan that provides world-class facilities to its customers. There is a boom in Defence Housing Authority society because business giants and overseas Pakistanis have a keen interest in this top-notch real estate project. Having a location between the twin cities of Islamabad and Rawalpindi, DHA Rawalpindi has immense importance in the Real Estate industry of Pakistan, especially Islamabad.
DHA Islamabad-Rawalpindi: Owners and Developers
---
The world-class owners always hire world-class development companies for their societies' fast and smooth development. Everyone knows Habib Rafiq Private Limited is a symbol of high-quality real estate development work in Pakistan. Therefore, DHA Rawalpindi-Islamabad has hired Habib Rafiq developers based on their extraordinary development work in different housing societies. Habib Rafiq group is doing a magnificent development in this top-notch housing society of Islamabad.
Pakistan Armed Forces are the owner of this modern and elegant housing society in the joint cities of Islamabad and Rawalpindi. The current brigadier of the Pakistan Army is leading DHA in Pakistan under the Rehabilitation and Welfare Directorate of Armed Forces. They have the following successful real estate projects:
DHA Karachi
DHA Lahore
DHA Peshawar
DHA Quetta
DHA Islamabad
DHA Gujranwala
DHA Bahawalpur
DHA Multan
It is also a fact overseas, and local Pakistanis have more trust in DHA, similar to Bahria Down, compared to other housing societies in Pakistan. As DHA is part of a government department, people find this society a reliable place for businesses and residency. Therefore, Pakistan's DHA society is always considered the No.1 legal society.
DHA Islamabad-Rawalpindi: NOC Status
---
When you are in the real estate business for several years, you already know the value of NOC for a housing society. However, a new investor needs to know the importance of NOC in a real estate property because NOC status is crucial when starting an investment in society.
In Pakistan, investors and residents trust the societies with a NOC status because no one wants to invest in an illegal society. The NOC status helps developers deliver the development work within a given timeline. Therefore, every real estate property gains value with NOC approval.
DHA Islamabad doesn't need any NOC status from any government development authority as Defence Housing Authority is a government project. So, DHA has a legal status in Rawalpindi Development Authority (RDA). Therefore, you can make your investment in this society without worrying about its legal status.
DHA Islamabad-Rawalpindi: Location
---
Location is fundamental to know after knowing about the owners, developers, and NOC status of society. No investor indeed wants to invest in a property that has an inconvenient location. However, the word inconvenient location is far away from DHA Islamabad, which has a prime location in the famous area between Rawalpindi and Islamabad.
DHA is a gated community that is located in the metropolitan area of Islamabad Capital Territory. This luxurious housing society is linked to GT Road near Bahria Town Rawalpindi. The location on GT Road makes it a brilliant option for investment. Moreover, a neighborhood of brilliant housing society Bahria Town also increases its worth.
Bahria Town Islamabad is near the DHA Islamabad which is also the best housing society in Pakistan and provides a richer and exceptional lifestyle to citizens of Karachi, Lahore, Islamabad, etc. Countryside Farms Islamabad is an affordable housing project located near DHA. You can buy a Farmhouse here at very reasonable prices. Makaan Solutions is the platinum sales partner of DHA, Bahria Town, and countryside farm Islamabad.
Adjacent Places
These places are nearby DHA Islamabad-Rawalpindi:
N-5 National Highway
Bahria Town
Expressway
Kahuta Triangle
Shopping Center Sadar
Giga Mall
Fosters Academy
Zero Point
Access Points
You can access DHA through
Expressway (27 minutes away)
N-5 National Highway (13 minutes away)
Zero Point (40 minutes away)
International Airport (60 minutes away)
Faisal Masjid (46 minutes away)
Faizabad (39 minutes away)
DHA Islamabad-Rawalpindi: Master Plan
---
The master plan is the essential factor to consider when analyzing a society for investment and plans. Before investing, you must know about the master plan. The DHA Rawalpindi master plan gives a clear idea about the return on your investment in a residential and commercial area.
The developers have a superb and attractive master plan for residential and commercial plots in this premium society of Pakistan in the capital city. This master plan encourages the investors to earn a good profit. Moreover, the DHA master plan also ensures a quality living style for those who are looking for residence because it is an ideal place. Magnificent horticulture and green belts are also part of this master plan.
Army officers are also buying their plots to motivate civilians to buy their properties in the high-profile society of Rawalpindi. The creative master plan greatly values every sector in this DHA society. Every phase has several modern-style blocks with wide carpeted streets and roads for smooth traffic. Society has also dedicated areas for sports and parks.
DHA Islamabad-Rawalpindi: Layout Plan
---
The layout plan is the actual deployment of the master plan for every society. This plan specifies different plots. Every commercial and residential plot has a distinctive layout plan. For example, a 5-marla layout plan in one phase can be distinctive from a 5-marla residential plot in another phase of DHA society.
Every real estate investor knows that plot layout plans for residential and commercial plots differ. DHA has launched five phases and Valley in this beautiful society. There are different sizes of plots available in both commercial and residential areas. So, residents will have all facilities within this society. The layout plan for phases is given below:
DHA Islamabad-Rawalpindi: Phase 1
---
The layout plan of DHA Phase I describes the magnificent design and plan to provide the international standard lifestyle to DHA Phase 1 residents. This phase is a semi-mountainous place with a beautiful view. Bahria Intellectual Village, Fauji Foundation Hospital, and Imtiaz Mega are easily accessible from Phase 1.
– DHA APS
The government-based society by the Pakistan Army, Army Public School, and College, known as APS&C, has a premium location DHA Phase 1. The society built this APS&C in 2012 to provide exceptional quality education to the residents. The high-qualified team has a vision of providing an excellent education to each student.
This educational institute also connects the teachers, students, and parents to ensure the quality of education. In this way, APS&C staff is developing curricular and extracurricular activities for students to progress their studies in a healthy environment.
DHA Islamabad-Rawalpindi: Phase 2
---
According to DHA 2 Islamabad map, the dedicated land is around 15,000 Kanals to provide a magnificent living experience to residents. The sectors of this phase are urbanized and facilitate different residential families. Blueline Commercial District, Shop-A-Shop, Sector G Graveyard, and Jacaranda Family Club are the most important areas in Phase 2.
Residents have great peace of mind and convenience in this phase. Due to its attractive location, plots are for sale in this society.
– Jacaranda Family Club
A luxurious and magnificent club with modern facilities for families. This Jacaranda Family Club (JFC) is eco-friendly and perfect for residents. Moreover, there are 20 acres of a dedicated area for this club accessible from joint cities. There are modern hospitality products and services for businesses and individuals. JFC includes
Banquet Halls
Bowling Alley
Cineplex
Gym
Membership
Pool
Restaurants
Rooms
Squash & Spa
– Giga Mall
In DHA Phase 2 Islamabad, there is a multilevel and brilliant complex with over 150+ stores. This commercial complex includes a children's play center, a cinema, and a food court. Therefore, Giga Mall facilitates the residents with the best shopping experience. It is one of the largest malls in Islamabad. It is also an iconic and award-winning mall for fulfilling the customers' shopping needs.
– DHA APS School
The Pre-school system of APS is in Sector G of Phase 2. Moreover, The APS junior campus is in Sector C of Phase 2 of DHA Islamabad, and another junior campus is in Sector B. APS&C Senior Boys Campus is in Sector D of DHA Phase II. Moreover, the APS&C Senior Girls Campus is in Sector F of Phase 2.
DHA Islamabad-Rawalpindi: Phase 3
---
DHA phase III Islamabad is the most elegant phase with the modern commercial and residential plots in a foolproof security system. Phase 3 has developed an area of more than 3500 Kanals with magnificent landscapes. Zaraj Housing Society is near this phase. The phase has a prime location for those who are looking for apartments for rent in DHA.
– Great Prospect for Business Growth
Phase 3 is a game changer in DHA with the best facilities for enabling the investors to get a higher return on money than other phases. This phase includes the great prospect for the exceptional growth of the business.
DHA Islamabad-Rawalpindi: Phase 4
---
Phase 4 DHA Islamabad has a beautiful design covering the semi-hilly land to give residents an eye-catchy view of the magnificent landscape. Natural topography gives an excellent style to different sizes of plots in this phase. Bahria Expy and Intellectual Village are also prominent neighbors of this phase. House for sale in DHA Islamabad Phase IV to enable you to buy a luxurious home in this richer society.
– Police Station
This phase includes a police station to maintain the lawful situation through the phase. Therefore, this phase has become free of any crime to provide a peaceful living experience.
– Fire Station
There is an addition of a fire station to deal with the unfortunate conditions of a fire in this phase. The management is ensuring the best fire brigade service to provide exceptional safety to the residents.
– Telephone Exchange
In phase 4, there is a telephone exchange service to provide a smooth telephone facility to the users of commercial and residential areas.
DHA Islamabad-Rawalpindi: Phase 5:
---
DHA Phase 5 Islamabad map provides a magnificent deployment of layout plans for this phase. Commoner's Town is the older name of DHA Phase 5. This phase has more than 7000 Kanals of land with world-class facilities for residents. Natural beauty and great landscape are the prominent elements of this phase. You can easily access this phase through DHA LAK Boulevard and Expressway. Sector A, B, C, D, E, F, G & H. Phase-V is located on the main highway of Islamabad.
– PTCL and Transworld Services
The facility of Transworld and PTCL is the best available facility for the residents of DHA phase 5 Rawalpindi-Islamabad. Therefore, every resident can enjoy the fastest internet services to be connected with families and friends. Rawat Fort, Taxila Museum, and Bahria Town Zoo are the most famous near places in this phase.
Jungle World- Ayub National Park, Bahria Town Zoo, Taxila Museum, and Rawat Fort.
DHA Islamabad-Rawalpindi: Phase 6
---
DHA Rawalpindi-Islamabad has the latest design and infrastructure with magnificent development. This phase has a massive land area of more than 55,000 Kanals. Therefore, it is a magnificent phase of DHA society in Islamabad. This phase is on the bank of Sawan River near phase 5.
DHA Islamabad-Rawalpindi: Phase 7 (DHA Valley)
---
DHA Valley Islamabad map shows the magnificent layout plan to bring more success to DHA by getting a higher response from investors and residents. This Valley is known as phase 7, with brilliant valleys and landscapes. DHA Valley Islamabad plot for sale in a commercial and residential area. This society is near the most famous places such as Faizabad Rawalpindi, Chaman, Rawat, and Sarwal.
– Residential Plot Scheme
The developers have introduced the residential plots scheme in DHA Valley to enable the people with average income to their plots in this high-class society. Therefore, it is a great facility for middle-class people in Pakistan.
– DHA Homes
The facility of DHA Homes provides the users with great infrastructure through the built-up homes. Therefore, you don't need to buy a plot and build your home when world-class developers are providing the DHA Homes facility to every customer who wants to enjoy the richer lifestyle in DHA Valley Islamabad.
– Overseas Block
The society has built a dedicated overseas block within the DHA Valley to fulfill the expectations of overseas Pakistanis who want to enjoy an international lifestyle within their beloved country.
DHA Islamabad-Rawalpindi: Extension
---
The DHA Extension Islamabad is the latest and awesome phase of the Defence Housing Authority Islamabad. This phase covers around 15,000 Kanals area near to M-2 Motorway. DHA Islamabad Extension is coming soon. You can check DHA Islamabad Extension updates on Makaan Solutions.
DHA Islamabad-Rawalpindi: Plot Sizes
---
The management of the Defence Housing Authority has categorized the plots into commercial and residential plots. Commercial plots are the best places to grow the business to improve the economy of the beloved country Pakistan. DHA Rawalpindi-Islamabad also includes residential plots to provide a high-standard lifestyle to people of Pakistan living within the country or abroad.
DHA Islamabad-Rawalpindi: Residential Plots Size
---
DHA Islamabad plot is for sale in the following sizes:
– 3 Marla
DHA management initially launched three-marla plots in this society but has not allocated these plots to anyone. Therefore, this plot type is not available in this high-profile housing city.
– 5 Marla
You can buy your 5 Marla plots in DHA Islamabad, which is a good investment to enjoy the brilliant living standard with the elegant design for homes. You can easily purchase your plot in this society.
– 7 Marla
You can buy 7 Marla plots in DHA Rawalpindi to construct your home with your choice. This society brings innovation to the residents' lives with modern amenities and an eco-friendly environment.
– 8 Marla
Everyone wants to buy a reasonably priced plot but wants world-class facilities. Now, buying an 8 Marla plot in the DHA phase is easier to get the magnificent facilities to upgrade your living standard.
– 10 Marla
10 Marla plots are available in DHA Islamabad in different phases of this government-based society to enable the residents to proceed with their lives in the presence of modern technology.
– 12 Marla
It is always a dream for everyone to have a beautiful home in a top-notch society in the country. Therefore, DHA management encourages civilians to buy the plots such as 12 Marla in the modern community.
– 14 Marla
Dream comes true only when you take action at the perfect time with an excellent execution plan to improve your lifestyle by moving into the society that suits your needs. When you buy a 14 Marla in this largest housing society in Pakistan, the management will provide premium services.
– 1 Kanal
You can buy 1 Kanal plot in DHA Islamabad-Rawalpindi in the easiest buying procedure to build your home with an elegant design to make it prominent in society. This way, you will enjoy a luxurious lifestyle in the magnificent neighborhood.
– 2 Kanal
The price for 2 Kanal in DHA Islamabad is affordable in terms of the facilities and prime location. Therefore, people show interest in buying the plots in this luxurious society of Pakistan.
DHA Islamabad-Rawalpindi: Payment Plan
---
A payment plan has immense importance in closing a real estate deal. The payment plan of society helps the customers to understand their affordability. Therefore, every customer needs to know about the payment plan before purchasing a plot in this top-notch society.
It is true that the plot price in DHA Islamabad is a little higher than in other housing societies in Islamabad because of the exceptional and high-level living standard with all facilities. The plots in commercial and residential areas have already been sold out. However, you can get the plots from old owners.
Phases in this society are the best options for investment. Phase Buying a new or old property isn't an easy process in Pakistan without the help of real estate marketers for safe deals. Therefore, you must acquire the services of Makaan Solutions for buying your home in a secure way.
Why should I book a plot in Phase 9 DHA Islamabad?
Phase 9 is a new phase in Defence Housing Authority that brings innovation and the latest facilities for residential and commercial plots. This phase is in development, so the plot price in Phase 9 is very reasonable. Therefore, you must buy your favorite plot in this phase.
-Plot Booking Procedure
The plot booking procedure in DHA Islamabad is very simple for residential and commercial plots. These steps help you easily book your plot:
Getting and carefully filling the plot application
Attaching 2 passport-size photographs and copies of CNIC
Submitting the application
If you don't want to go through this procedure alone, you can ask Makaan Solutions to help you with the booking procedure, which has thousands of satisfied customers globally.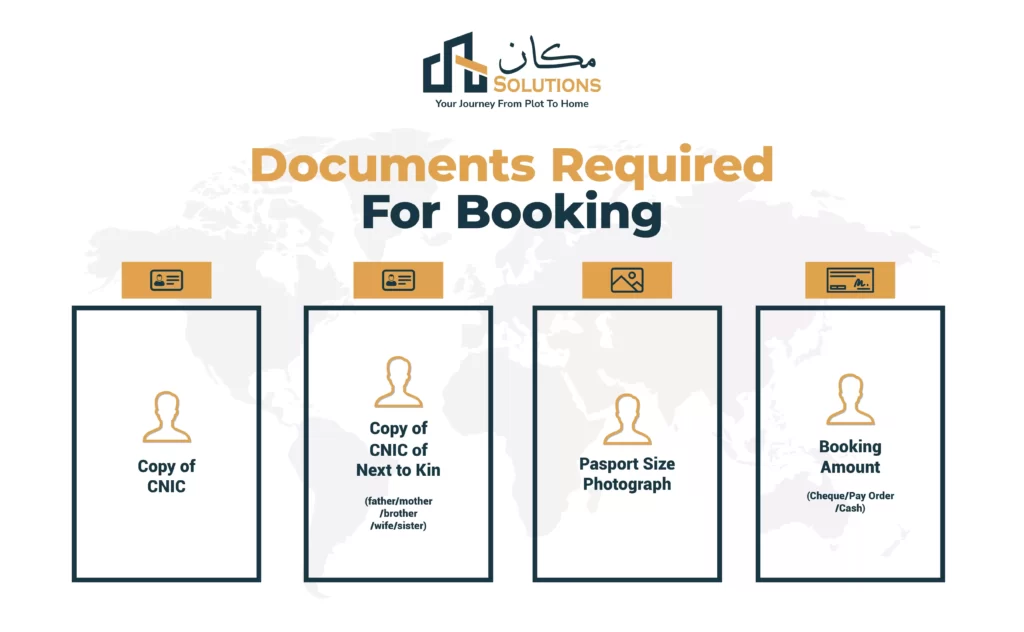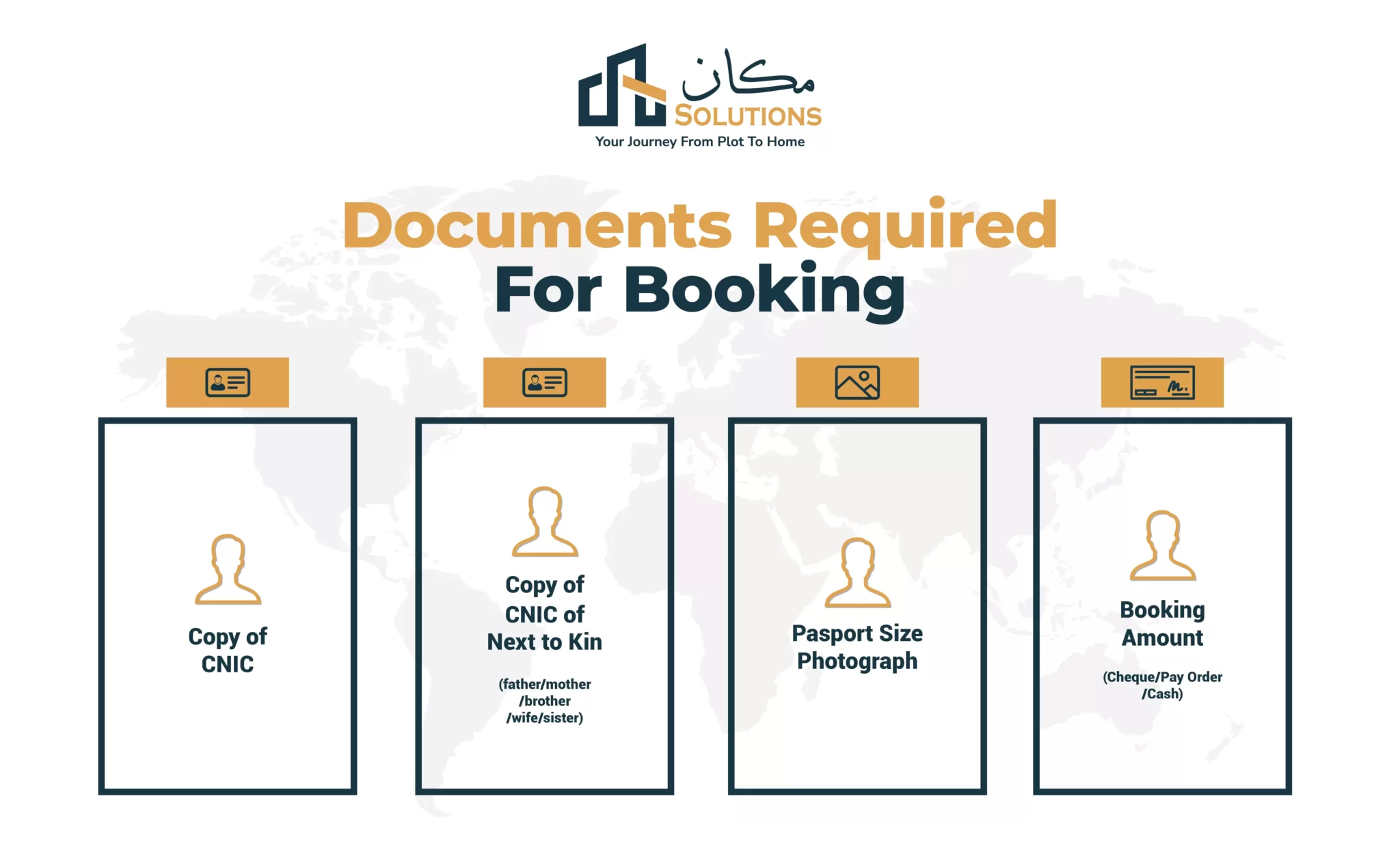 You can also book residential and commercial plots in other projects such as Sialkot Motorway City, Citi Housing Kharian, and Countryside farms.
Guidelines For Buying/Selling Plots in DHA Islamabad-Rawalpindi
---
In Pakistan, people lack guidance about buying and selling procedures in different societies, such as the Defence Housing Authority in Islamabad. Therefore, they must have reliable real estate sources such as Makaan Solutions to properly guide them about the real estate business with all aspects.
– Document Verification
The first and most important step is verifying documents of the housing society where you will invest your hard-earned money. The good news is that DHA Rawalpindi-Islamabad is NOC-approved, serving the nation for several years. So, you don't need to go a long way to verify the documents of this society.
– Payment Plan
The next step is going through the payment plan to understand the different plans such as down payment, balloting payment, and installment plan. The payment plan helps you understand which plot suits you in this society.
– Real Estate Property Visit
When you have made up your mind after verifying documents and analyzing the payment plan, you need to visit your property to make sure that you have got value for your money.
Benefits of Investment in DHA Islamabad-Rawalpindi
---
Do you ever think about the benefits of investment before purchasing residential or commercial property? Always think about if you want to become a top-notch investor in real estate property marketing.
– Long-term Asset For Future
A real estate property is always a valuable long-term asset for those who always make the perfect decision to purchase residential or commercial plots at the perfect time. Therefore, this asset can help you if you face any future financial challenges.
– Higher Return On Investment
DHA is a reliable government housing project facilitating the Pakistani nation in different cities. The management provides the best facilities to attract potential customers in the real estate market.
Pros & Cons of DHA Islamabad-Rawalpindi
---
Every society has different pros and cons that make a society distinctive from other societies. Therefore, you need to know the benefits and drawbacks of DHA in Islamabad.
| Pros | Cons |
| --- | --- |
| Reliable owner with years of real estate experience | High plot price for average people |
| Developers with magnificent development experience | |
| Eco-friendly environment | |
| Primary facilities | |
| Educational facilities | |
| Health facilities | |
| Shopping area | |
| Modern security system | |
DHA Rawalpindi-Islamabad: Facilities
– Health
Avicenna medical center has a location in DHA phase 1 Islamabad. Vice President of DHA Rawalpindi-Islamabad has inaugurated this medical center in Defence Park near Encanto Restaurant. The residents and employees can get the service of first aid and emergency surgery at any time.
This medical center includes emergency medicines and medical equipment. DHA Islamabad has already world-class outdoor medical services for employees. Therefore, you don't need to go outside the DHA because all modern-day medical facilities are available within the society.
These amazing medical facilities are available:
Awareness about the health
Magnificent service for family planning
Sanitation per quarter for residents of every phase in DHA Islamabad
Ante-Natal care for residents
Immunization service for kids
Availability of Ambulance
– Sports
DHA management has developed playgrounds in every phase to facilitate residents with healthy games and sports. These sports and games are necessary for every resident of the society. Therefore, you need to participate in different games that are perfect for your health.
The management has developed an elegant and world-class playground in DHA phase 2 Islamabad that will add value to games and sports in this specific phase and enable the residents of other phases of DHA in the capital city of Pakistan. The magnificent sports complex in Sector E the modern facilities for sports for residents.
– DHA Property Exchange
The management of DHA developed DHA Property Exchange back in 2008. The basic reason is to facilitate the customers with flexible property exchange assistance in a smooth process for selling, buying, and renting the properties in DHA Islamabad-Rawalpindi confidently and faithfully.
Best rates for property
Guidance about property price value valuation to buy or sell the property at the best time
End-to-end secured dealing system
Service charges for property exchange are one percent of the total price
– Online DHA Utility Bills
This modern society has a modern system for utility bills in all phases of DHA Rawalpindi Islamabad. Therefore, the modern online billing system has replaced the traditional one.
When you have business or residency within the society, you can access an online DHA utility bills system where you can pay bills online without visiting any place to pay your bills.
– DHA Education System
DES (DHA Education System) has an international standard of education to educate its students in a friendly environment. The staff work on building the character and personality of students so that they can become a useful asset not only in society but also nationally and worldwide. This education system is affiliated with Cambridge, and the curriculum is also based on CIE (Cambridge International Examination).
The teachers will use the latest teaching strategies with different activities to enable the students to create a magnificent learning environment for students. In this way, students will become problem solvers and creative thinkers necessary for their practical life. Some of the prominent features of DES are given below:
Arts and Craft
Football Club
Drama Club
Reading Habits
Orators Den
– Security
Security is an important concern for every society, including the residents of DHA Islamabad. World-class security is available 24/7. The security mobile patrolling also enhances the security system with wireless communication. The magnificent CCTV cameras connected with Smart Card and Central Fiber Network ensure the perfect security for a peaceful environment.
– Horticulture
Horticulture has the main role in every society, including DHAI Rawalpindi, because plants are necessary to enhance society's beauty for residents. Investors like to invest in DHA because of its magnificent horticulture system. The management of DHA gives immense value to horticulture.
– Complaint Management System
DHA has a fantastic automatic complaint management system to improve the quality of service for the residents. The prominent features are given below:
Residents can initiate a complaint with a registered phone number
Addition of ID for registration of complaint
Resource person SMS for complaint
Automatic resource issuance for complaint
Brilliant system to monitor complaints status
DHA Islamabad-Rawalpindi: Development Status
---
In DHA, development work is already done, and all phases are serving the businesses and residents. At present, developers and owners are developing DHA Phase 9 because all plots are reserved in already developed phases, but people have shown interest in buying a plot in DHA Islamabad-Rawalpindi. Therefore, the development work for the new phase will be started soon.
Conclusion
---
Being a top-notch housing society in Pakistan and Asia, management doesn't compromise on the quality of development and facilities. This society has a high standard in real estate Pakistan because of its exceptional services for its investors and residents.
Makaan Solutions is a prominent name in the Pakistan real estate market that aims to provide quality services to investors through the smooth investment process in DHA Islamabad, especially the upcoming Extensions. Our real estate firm is also dominating in Capital Smart City Islamabad & Lahore, Prime Valley Islamabad, Nova City Peshawar & Islamabad, and New Metro City Gujar Khan & Kharian.
Faqs About DHA Islamabad-Rawalpindi
---
1. Who is the owner of the Defence Housing Authority?
Pakistan's armed force is the sole owner of this project, whereas Habib Rafiq Group is the developer of this project.
2. How to buy/sell a plot in DHA?
Buying and selling a plot in DHA is easier with the help of Makaan Solutions that is a well-known real estate firm in Pakistan with thousands of happy clients in Pakistan and abroad. So, you can get a magnificent and smooth service for buying and selling plots in any phase of DHA Islamabad.
3. Why is DHA Islamabad the best option for investment?
DHA is a top-notch housing society in Pakistan with international standard facilities for its residents and investors. The interest of people in this high-profile housing project is increasing daily. Owners and developers are reliable in the real estate market in Pakistan.
4. What is the property transfer procedure in DHA Islamabad?
The property transfer is simple and efficient in DHA; the following documents are necessary to complete the transfer:
– Application filling
– Membership form
– Original letter of allotment
– Transfer Affidavit from seller end
– Undertake from buyer end
– Sale agreement
5. Why should I book a plot in DHA Extension Islamabad?
The extension is a new phase in Defence Housing Authority that brings innovation and the latest facilities for residential and commercial plots. This phase is in development, so the plot price in DHA Extension is very reasonable. Therefore, you must buy your favorite plot in this phase.
6. What are DHA Byelaws?
DHA Bylaws are the lawful actions for commercial and residential plots in society to ensure a world-class living style. Therefore, management strictly implements these laws to improve society and its residents.
7. How to rent property in DHA Islamabad?
In DHA Rawalpindi-Islamabad, renting a property is flexible, and both parties have to sign an agreement to make the renting procedure smooth for the future. Therefore, renting a commercial or residential property is not a long procedure.
[elfsight_whatsapp_chat id="1″]