DHA Phase 3 Islamabad
DHA Phase 3 Islamabad is a master-planned housing project by renowned owners and developers. It is situated on the main GT Road close to DHA Phase 2 and Zaraj Housing Society. There are several plots for sale in this exceptional residential project at a reasonable payment plan.
DHA Islamabad Phase 3
---
The management of DHA acquired Serene City in 2016 and named DHA Phase 3 Islamabad. It is a mega housing project with more than 3500 Kanals, including 958 commercial and residential plots. The modern infrastructure ensures phenomenal development.
DHA Islamabad Phase 3 is located on the main GT Road close to Garden City and Zaraj Housing Society. It has become the best investment option for local and overseas investors in the presence of phenomenal amenities and facilities.
DHA Phase 3 Islamabad Location
---
The location of DHA Phase 3 Islamabad is opposite to DHA Phase 2. You can easily access DHA Phase III from the main GT Road. It is situated close to Giga Mall and Bahria Town Islamabad. Therefore, the values of properties are boosted because of the ideal location.
DHA Phase 3 is located just a few kilometers away from Rawat and offers flexible access to the Islamabad Expressway. Therefore, you can easily access this society from Faizabad and N-5 National Highway within a few minutes.
Nearby Places
Bahria Town 
PWD Islamabad
Madina Town
Access Points
10 minutes away from N-5 National Highway
14 minutes away from Rawat
24 minutes away from Islamabad Expressway
30 minutes away from Faizabad
36 minutes away from Zero Point
45 minutes away from New Islamabad International Airport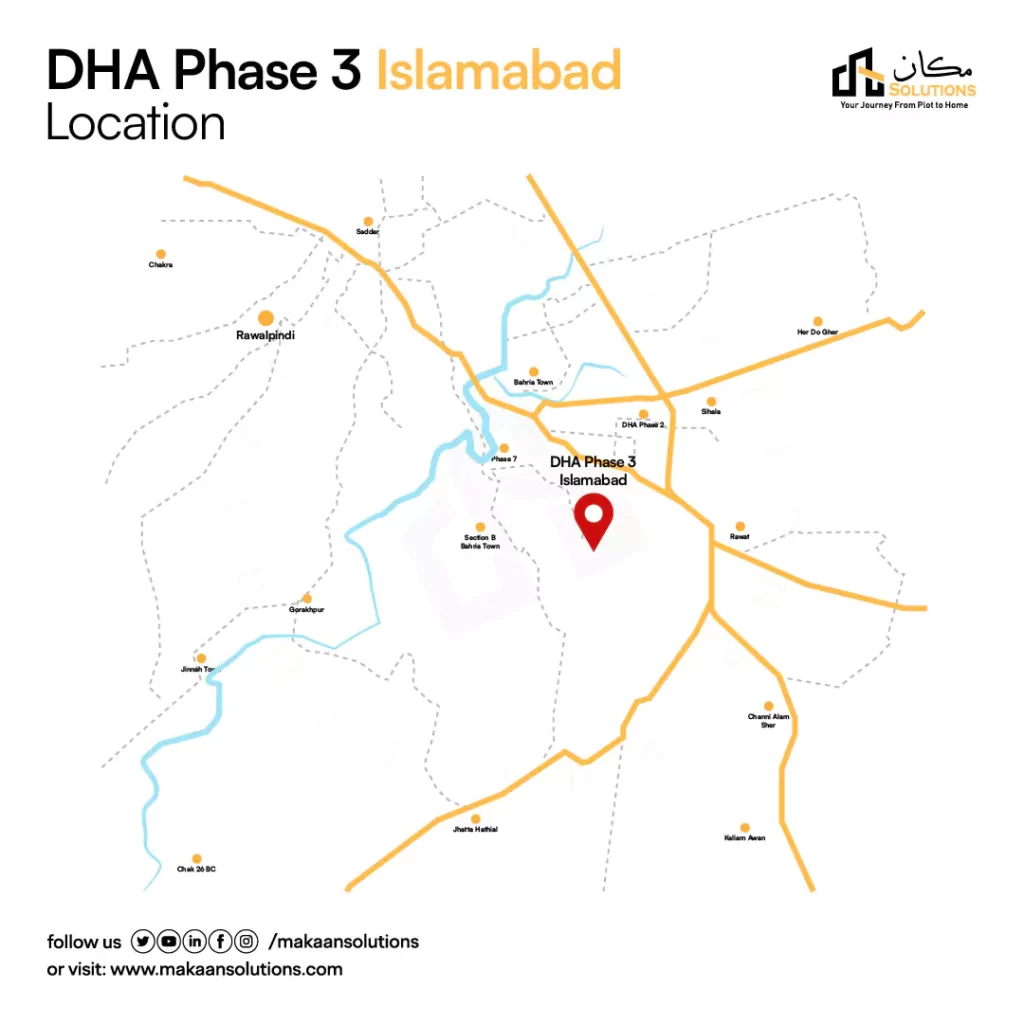 DHA Phase 3 Islamabad Map
---
The geographical location is available on Google Maps.
DHA Phase 3 Islamabad Payment Plan
---
| Plot Size | Total Price |
| --- | --- |
| 5 Marla | 6-10 Millions |
| 8 Marla | 8.5-12.5 Million |
| 10 Marla | 10.5-16.5 Million |
| 1 Kanal | 15-35 Millions |
The payment plan of DHA Phase 3 Islamabad was launched by the management to allow potential customers to purchase the properties. There are several plots available for sale and resale in this phenomenal phase of DHA Islamabad.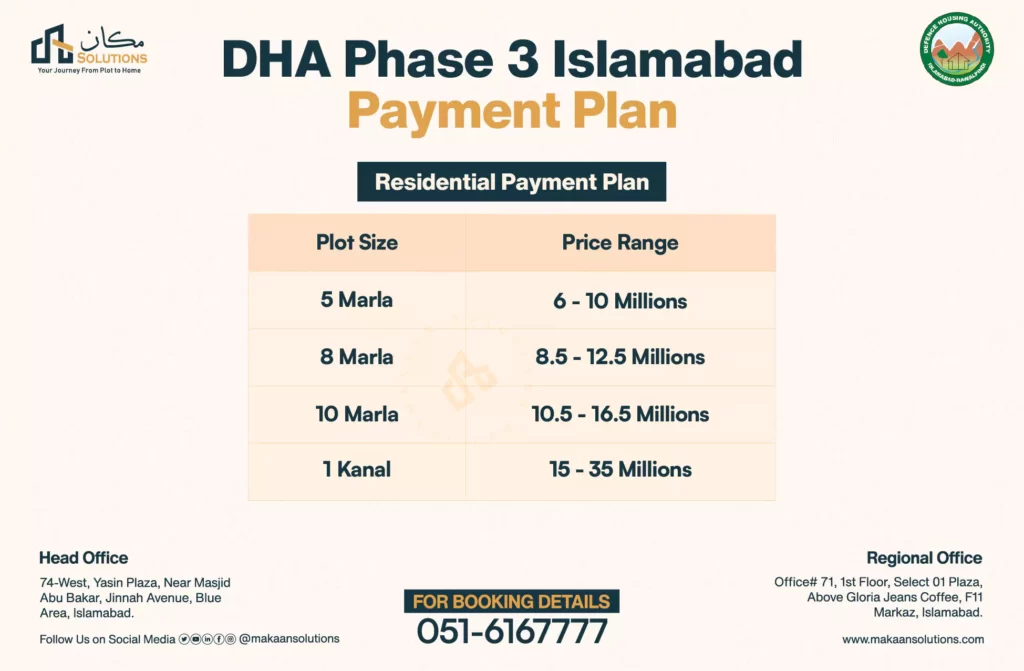 How to Book a Plot in DHA Phase 3 Islamabad?
---
Fill out the application form for DHA Phase III
Attach the necessary documents
Attach the receipt after paying the down payment
Submit the application form to the management
The management of society has kept a very simple booking process for people who are searching to reserve their properties. Moreover, Makaan Solutions is the ultimate source of booking your plot in this society.
Required Documents
The customer's 2 CNIC copies
Customer's 2 passport-size images
Next to Kin's 2 CNIC copies
NICOP
The required documents have a crucial role in the booking procedure of a plot in DHA Phase 3. You can collaborate with the experienced sales team of Makaan Solutions to get more information about the necessary documents.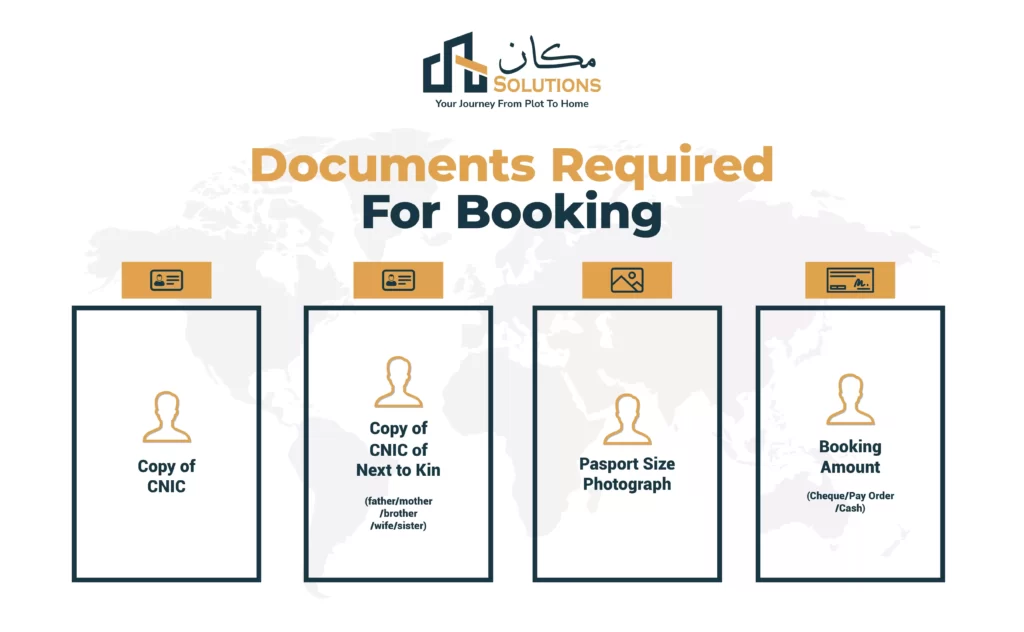 Benefits of Investment in DHA Phase 3 Islamabad
---
There are several advantages of investing in DHA Phase 3 Islamabad. You can also invest in this top-rated phase of DHA to get the marvellous perks of investment. It is necessary for potential investors to know about the benefits of investment.
High ROI
Every new and existing investor wants to get the highest returns on their investments. This appealing phase of DHA offers a high profit ratio to investors who want to make short-term and long-term investments.
Financial Freedom
The highly valuable properties in DHA Phase III Islamabad offer the ultimate financial independence to the investors. Therefore, you can also enjoy financial security by investing in this fabulous project in the heart of the Defence Housing Authority.
Passive Income
The available properties in this project are also the best ways of making passive income over time. You can reserve your property in this society and rent it out to potential tenants to earn passive income every month with yearly increments.
Valuable Asset 
Every property in DHA Phase 3 has become a valuable asset for the owners. You can also tackle financial problems when you own a property in this fabulous real estate project that helps you deal with inflation.
DHA Phase 3 Islamabad Master Plan 
---
The master plan of DHA Phase 3 Islamabad is designed by a qualified team that aims to ensure world-class infrastructure and development. The layout plan consists of the wide roads and streets to ensure the smooth traffic flow.
DHA Islamabad Phase 3 layout plan shows that the project includes different blocks to offer the best investment and residency options. There are various sizes of residential and commercial plots to ensure a world-class living and investment experience.
Blocks 
Block A
Block B
Block C
Block D
Block E
Block F
Block G
Block J
Residential Plots
5 Marla
8 Marla
10 Marla
1 Kanal
Commercial Plots
2.66 Marla
5 Marla
7 Marla
10 Marla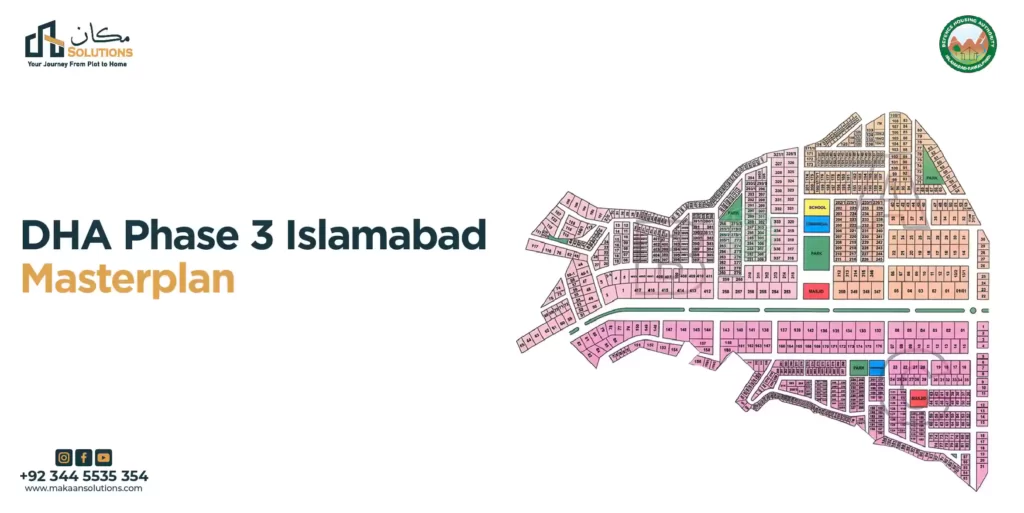 DHA Phase 3 Islamabad NOC Status 
---
The NOC status of DHA Phase 3 Islamabad is already approved because it is part of DHA, which is a government-based housing society. Phase III is a legal real estate project in DHA to offer new and improved living standards.
DHA Phase 3 is an NOC-approved housing project to ensure secure investment opportunities with the international lifestyle away from the hustle and bustle of the city. Therefore, you can buy your property in this legally approved project.
DHA Phase 3 Islamabad Owner & Developers 
---
The owners and developers of DHA Phase 3 Islamabad are very popular in real estate because they offer different property categories to potential clients. They have started this exceptional residential project to ensure the incorporation of modern infrastructure.
The dedicated developers and owners have a vision of ensuring brilliant living standards. Moreover, they ensure better investment opportunities for investors who want to make a good amount of profit.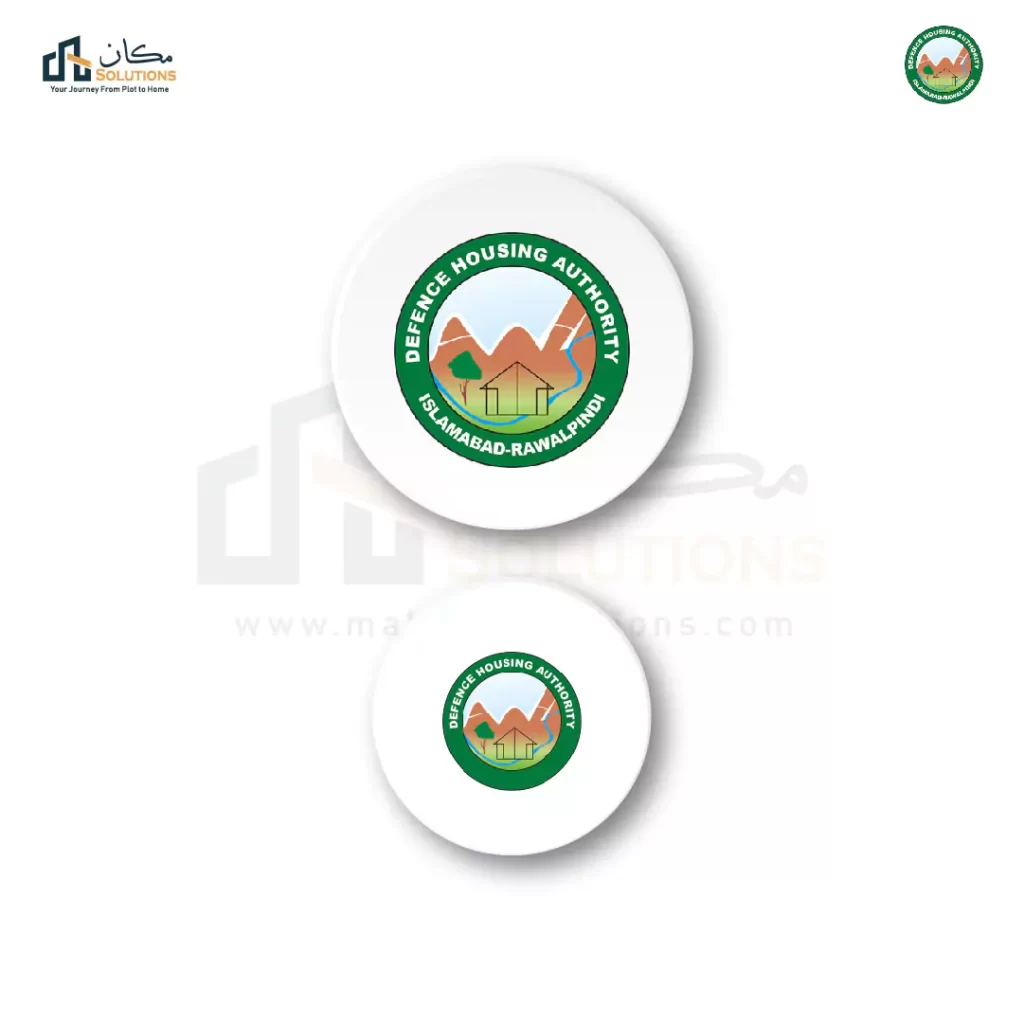 DHA Phase 3 Islamabad Development Status
---
The latest development updates show that Phase III is a developed project that includes a small community. The management of DHA is better known for completing the development within time to ensure the magnificent perks for residency and investment.
DHA Phase 3 Islamabad Latest News
---
The latest news of DHA Islamabad Phase 3 shows that management is dedicated to providing world-class services to the residents within the premises of this fabulous residential project. Therefore, you can enjoy a phenomenal lifestyle in the presence of modern facilities and amenities.
Facilities & Amenities 
---
The management is focused on offering phenomenal services to every customer who has reserved a property in this society. There are top-notch amenities and facilities to ensure a better lifestyle for the customers.
Cinema 
The management ensures the ultimate entertainment for the residents through the inclusion of cinema. You will be able to watch your movies and programs within the society without going outside for entertainment purposes.
Restaurants
The management wanted to provide an exceptional food experience to the residents in DHA Phase III. The developers constructed world-class restaurants to offer a variety of foods to the foodies.
Shopping Arena
The developers constructed the commercial sector in this phase to ensure a fabulous shopping arena. There are different local and international brands with world-class products to ensure a fabulous shopping experience.
Healthcare Facilities
The management offers top-notch healthcare facilities to the customers within the housing development. The availability of hospitals with qualified medical staff ensures the best treatment services to the residents.
Education Institutes
The owners and developers have included world-class educational institutes to ensure the international standard of education for residents in this housing project. Therefore, residents will be able to acquire modern education from the qualified teaching staff.
Power Supply
The developers ensured the ultimate power supply to offer peaceful living standards. The developers installed the best power supply system to provide a seamless power supply to every customer in society.
Recreational Activities
The management aims to provide world-class recreational activities to the residents. There are playgrounds and parks to allow the residents to breathe and play in the green environment.
Security
The management is visionary about the providence of advanced security systems in this residential project. The developers installed the CCTV cameras with the presence of qualified security staff to ensure a secure environment.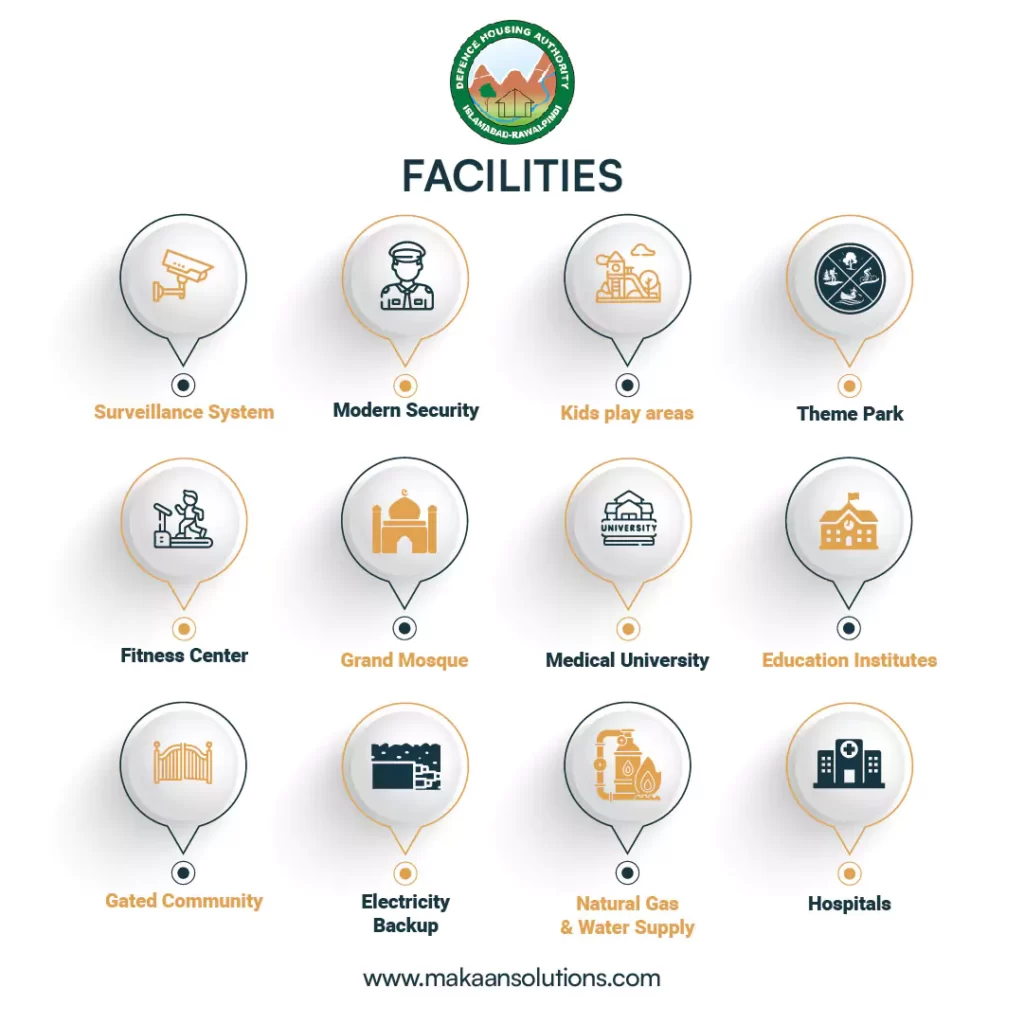 Pros & Cons
---
Pros:
The qualified and exceptional developers
A legal housing project
An ideal location with different access points
A master-planned housing project
A developed housing project with the presence of modern infrastructure
The providence of world-class facilities and amenities
Cons:
The plot prices are a little high.
Conclusion 
---
DHA Phase 3 Islamabad is the best residential project because of its premium location and flexible payment schedule. It is a developed housing project consisting of modern facilities to ensure the best lifestyle. You can also invest in DHA Valley Islamabad or Capital Smart City.
[elfsight_whatsapp_chat id="1″]