DHA Valley Islamabad
DHA Valley Islamabad is a top-notch residential project by DHA in collaboration with Bahria Town and Habib Rafiq Private Limited. It is situated on Islamabad Expressway close to the DHA Phase 2 Extension and DHA Expressway accessible from Islamabad Expressway and GT Road. There is an affordable payment plan for residential plots, commercial plots, and DHA Homes.
DHA Valley Islamabad: Introduction
---
DHA Valley Islamabad is a fabulous residential project by the management of the Defence Housing Authority. The management officially launched this top-notch residential project on 18th August 2008 to ensure the best residential options for the customers.
DHA Valley is located adjacent to DHA Islamabad to offer the best commercial and residential spaces to potential clients. It is a legal housing project that offers phenomenal facilities to ensure a luxurious lifestyle at reasonable plot rates.
DHA Valley Islamabad Location
---
The location of DHA Valley is on Islamabad Highway to ensure the easiest access from the different parts of Islamabad and Rawalpindi. It is located near DHA Phase 6 Islamabad to ensure a secure and peaceful living experience.
You can travel on the Islamabad Expressway or GT Road to reach DHA Valley because it is situated near the DHA Phase 2 Extension. Moreover, DHA Expressway enables you to access your property in this new DHA residential project easily within a few minutes.
Nearby Landmarks
DHA Islamabad
Giga Mall
Al-Qasim Town Islamabad
Accessibility
Mohra Bakhtan is 5 minutes away
Arazi Sohal is 10 minutes away
Sarwal is 14 minutes away
Kallar Syedan is 17 minutes away
Rawat is 21 minutes away
Chaman is 25 minutes away
Sihala is 30 minutes away
Faizabad is 35 minutes
New Islamabad International Airport is 40 minutes away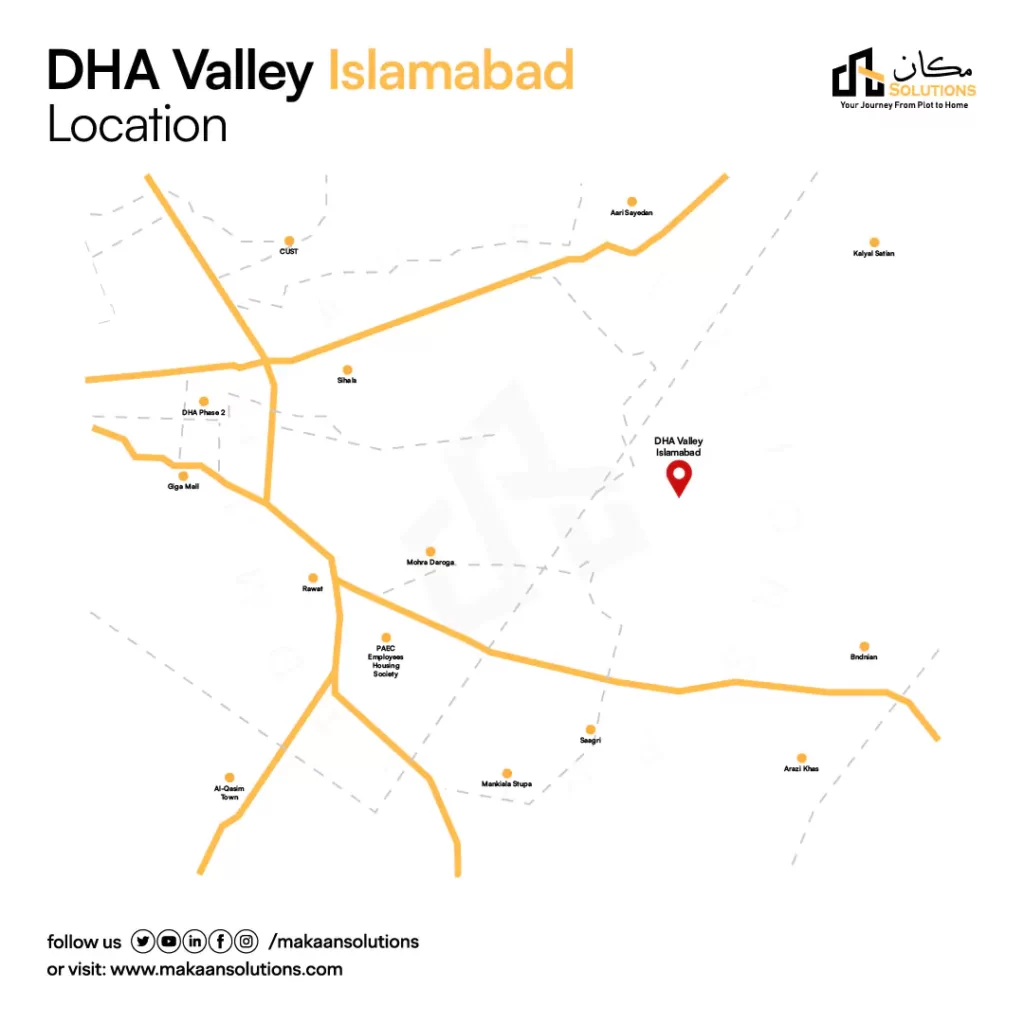 DHA Valley Islamabad Map
---
You view the map of DHA Valley to know the directions for accessing this society.

DHA Valley Islamabad Payment Plan
---
| Plot Size | Down Payment | Quarterly Installments | Total Installment |
| --- | --- | --- | --- |
| 5 Marla | 45,000 | 50,000 | 650,000 |
| 8 Marla | 48,000 | 69,000 | 880,000 |
The management launched the payment plan of DHA Valley Islamabad to allow potential customers to reserve their plots by making down payments. You will have to follow the installment plan after reserving your plot.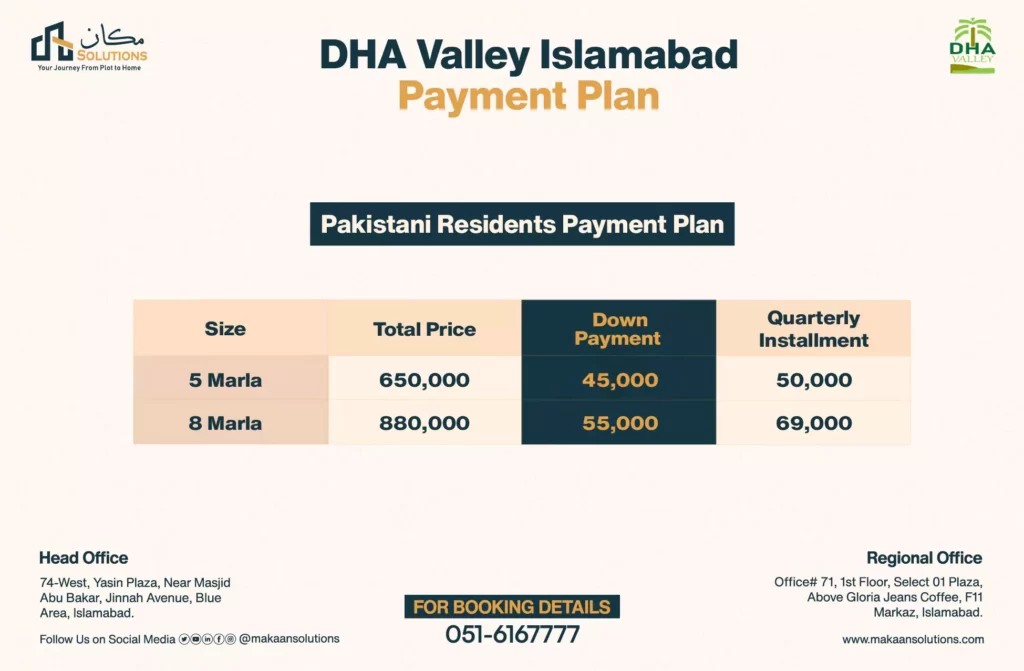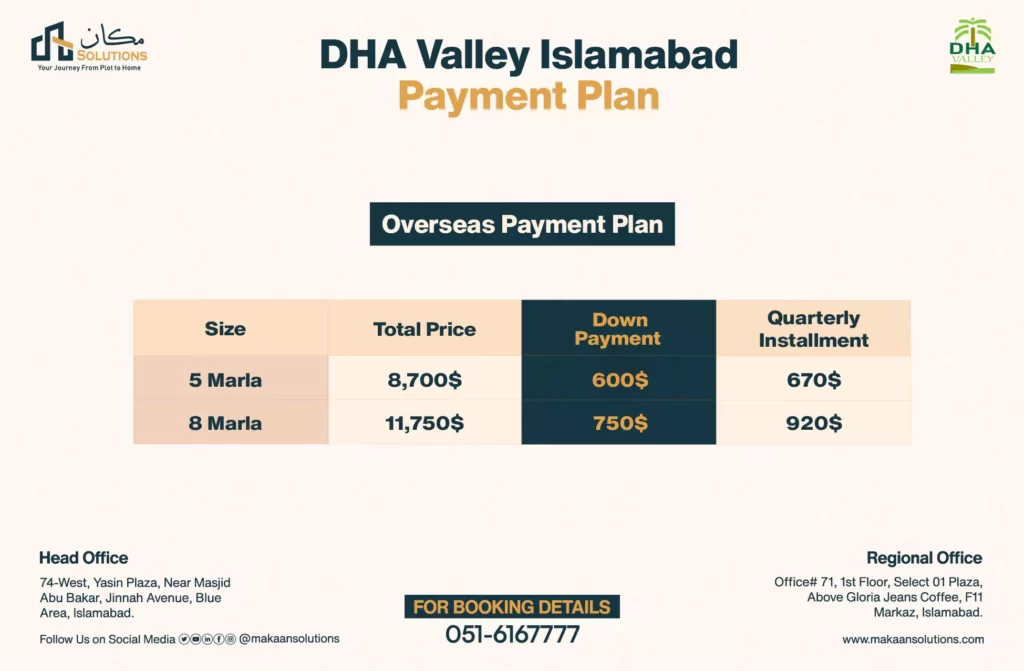 How to Book a Plot in DHA Valley Islamabad?
---
Fill out the application form for DHA Valley
Attach the required documents
Make a down payment and attach the receipt
Submit the application form
You can book your plot in DHA Valley with the assistance of Makaan Solutions. Our experienced team has mentioned all the crucial steps for the booking of properties. Therefore, it has been very easy for you to own your property by following the essential steps for booking a plot.
Required Documents
The customer's 2 CNIC copies
Customer's 2 passport-size images
Next to Kin's 2 CNIC copies
NICOP
The experienced team of Makaan Solutions listed down the important documents to own a property in DHA Valley. These documents are very necessary to book your plot by submitting the important documents to the management.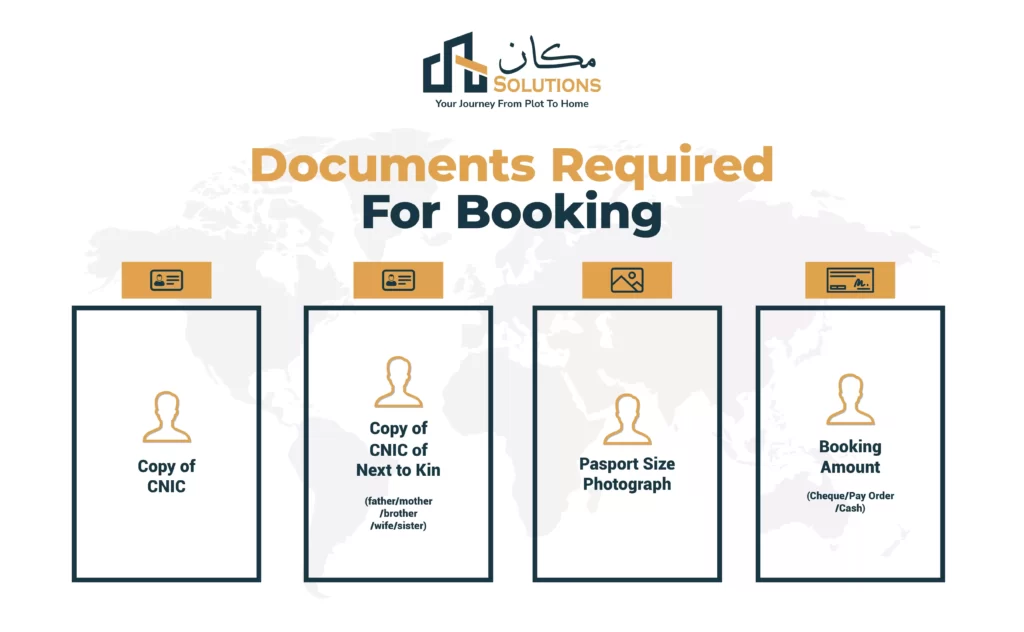 Benefits of Investment in DHA Valley Islamabad
---
There are various benefits of investing in DHA Valley Islamabad, which motivate potential investors to make profitable investments. You can also invest in this fabulous residential project to get the ultimate advantages of investment.
High ROI
Experienced investors know the importance of investing in this fabulous residential project. You can also invest to get the highest returns by buying the valuable properties. Therefore, a high ROI is the ultimate benefit for every investor.
Financial Independence
The management offers financial security to the potential investors because different plot categories are available in society. Therefore, you can also purchase your plot in this exceptional housing scheme to enjoy financial freedom.
Passive Income
The valuable properties in this phenomenal residential society offer passive income. The facility of renting out the properties allows you to earn passive income. There is always a 10% increase in the rental value every year.
Valuable Asset
The available real estate properties in this world-class housing project have become valuable assets for people who are searching to own profitable properties in the vicinity of Islamabad and Rawalpindi.
DHA Valley Islamabad Master Plan 
---
An experienced team of designers fabulously designs the master plan of DHA Valley Islamabad. The experienced designers of DHA have prepared a layout plan for more than 15,075 Kanal to ensure a brilliant lifestyle in a secure environment.
DHA Valley layout plan reveals that society is surrounded by an eco-friendly environment with the presence of phenomenal facilities. The master plan for this housing scheme ensures luxurious living standards for overseas and local Pakistanis.
DHA Valley Blocks
---
Commercial Avenue
DHA Homes
General Block
Overseas Block
DHA Valley Overseas Block
Bougainvillea Block
Sunflower Block
Magnolia Block
DHA Valley General Block
Bluebell Block
Daffodils Block
Daisy Block
Eglantine Block
Gloxinia Block
Iris Block
Jasmine Block
Lavender Block
Lily Block
Lotus Block
Marigold Block
Oleander Block
Rose Block
Snowdrop Block
Tulip Block
Zinnia Block
Residential Plot Sizes
Commercial Plot Sizes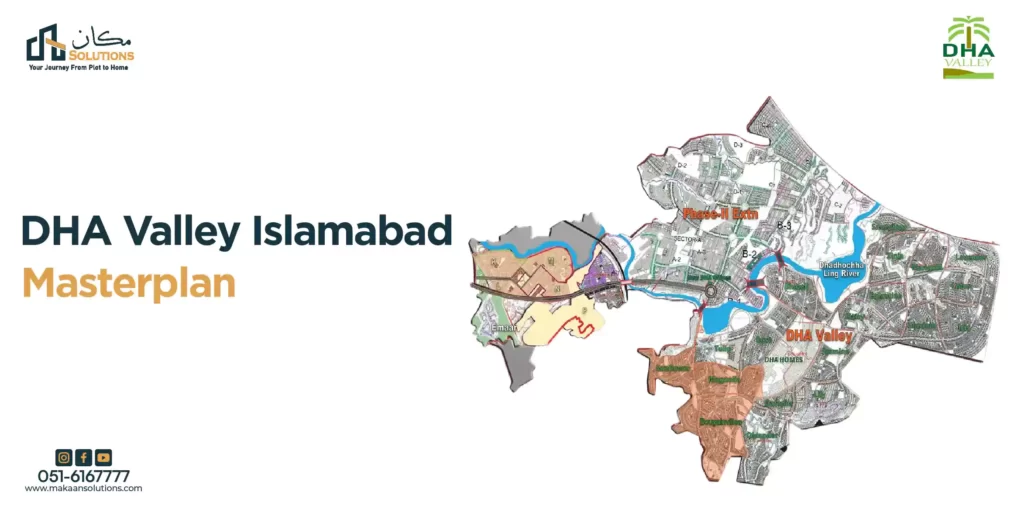 DHA Valley Islamabad NOC Status
---
The NOC status of DHA Valley Islamabad is already approved because it is a government housing project and doesn't need approval of legal status from any authority. It is an NOC-approved residential project in Islamabad that allows local and overseas Pakistanis to buy their plots.
DHA Valley is a legal housing project that offers secure investment opportunities with the highest ROI. Moreover, the residential plots in this legally approved housing society ensure a phenomenal living experience.
DHA Valley Islamabad Owners & Developers
---
The owners and developers of DHA Valley Islamabad are DHA, a well-known development company in Pakistan. They have a phenomenal vision of ensuring fantastic facilities to the customers in the presence of commercial and residential blocks.
DHA collaborated with Habib Rafiq Private Limited and Bahria Town Rawalpindi to initiate this fabulous housing project. They have joined hands to construct the best real estate project to offer phenomenal residential and commercial properties.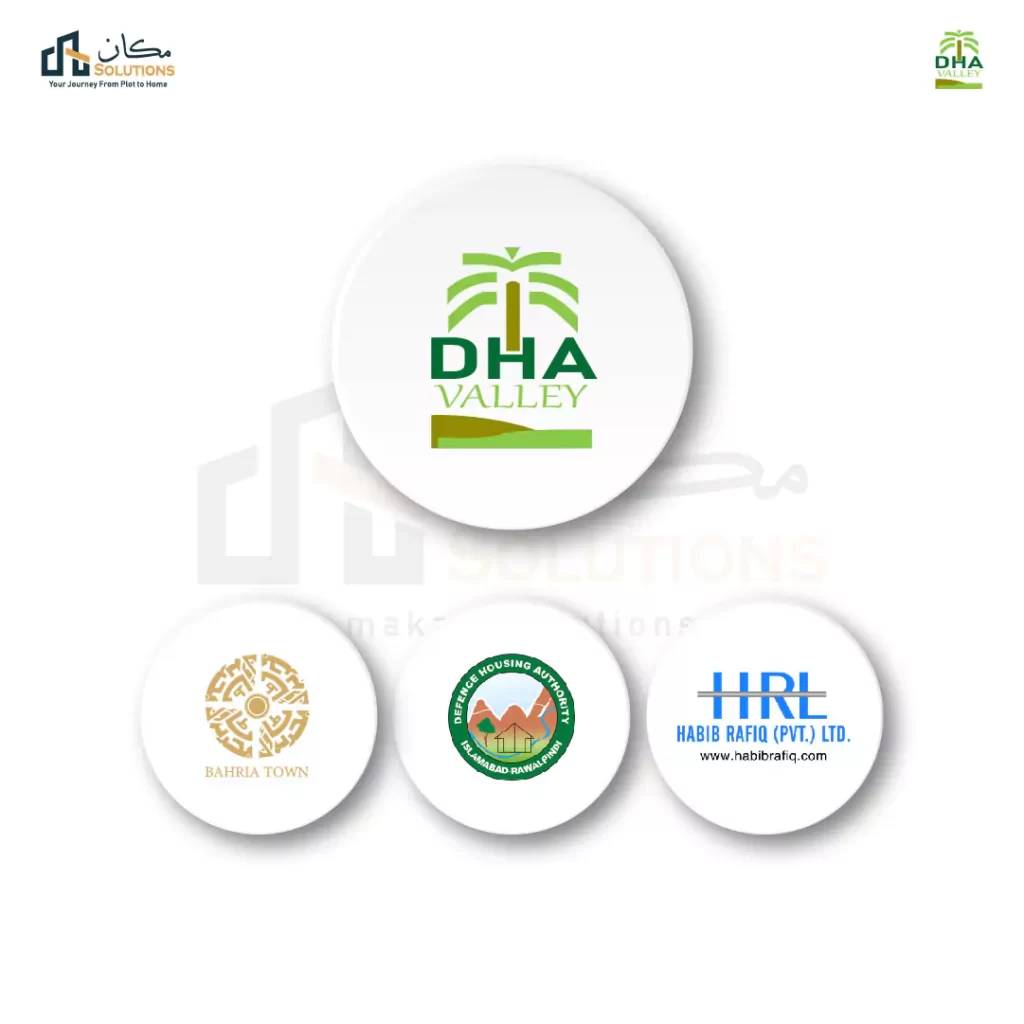 DHA Valley Islamabad Development Status
---
The recent development updates indicate that the residential project is experiencing smooth and fast development. The developers have already completed the development work for several blocks in DHA Valley, and they are completing the remaining blocks.
The development of Bluebell Block is finished, whereas developers are finishing the development work in Daffodils and Rose Block. Moreover, developers are also doing a phenomenal development job in Oleander Block.
The developers have completed the construction of DHA Homes, and several residents are already enjoying the best services. The development work in Lilly Block is in the initial phase, and developers are aiming to build this residential project as soon as possible.
DHA Valley Islamabad Latest News
---
The latest updates show that 5 Marla and 8 Marla houses are available for sale in DHA Valley. Therefore, you can also purchase the available houses and plots. The property prices will be revised with time.
Facilities & Amenities 
---
The management is known for offering top-notch facilities to every customer in this world-class housing society. Every resident in this housing scheme can utilize the phenomenal services to maintain a fabulous lifestyle with the high growth of business.
Best Security System
The management is providing the ultimate safety for residents in the presence of the best security system. The qualified security staff with the availability of advanced security systems like CCTV cameras to ensure the ultimate security.
Commercial Area
The society also consists of marvelous commercial space to ensure the rapid growth of businesses. Different businesses are operating in this project in the presence of magnificent commercial facilities.
Healthcare
There are the best healthcare facilities in this fabulous housing project to ensure a healthy living experience for the residents. The medical staff with modern equipment will be available 24/7 for the patients' treatment.
Education Facility
The owners and developers have been focused on ensuring phenomenal education services within society. There are top-notch buildings of schools and colleges in the educational complex to ensure the modern and best education for residents.
Water Supply
The management is on a mission to supply filtered water to every customer within this fabulous project. The purified water has become the ultimate need for every resident in this project. Therefore, you can use the purified water in your daily life.
Electricity and Gas
There is a continuous supply of gas and electricity in this modern residential project. The management ensures that every resident will be able to use these basic amenities without facing any interruptions. Therefore, management offers these basic amenities to customers.
Pros & Cons
---
Pros:
The experienced owners and developers
The premium location to ensure the easy access
A master-planned residential project
An affordable payment plan for the available properties
A legal housing project for end-users and investors
The availability of magnificent amenities and facilities
Rapid and smooth development work
Cons:
A little away from Islamabad Downtown
Conclusion 
---
DHA Valley Islamabad is a legal housing housing in a premium location to ensure flexible access from different landmarks of joint cities. There is a reasonable payment schedule for the available residential plots, commercial plots, and houses.You can own your property in DHA Valley with the help of Makaan Solutions. Our team also assists every client in booking a property in Capital Smart City and Avalon City Islamabad smoothly.
[elfsight_whatsapp_chat id="1″]