DHA 2 Islamabad
DHA 2 Islamabad is a premium housing project located close to the main GT Road and Islamabad Expressway to ensure easy access from the town cities. There are houses for sale and rent in DHA Phase 2 to attract potential clients due to the phenomenal facilities.
DHA Phase 2 Islamabad
---
DHA 2 Islamabad is one of the top phases in DHA Islamabad to offer the best business opportunities in the presence of different commercial areas. Moreover, it is the ultimate phase to ensure the best living experience for residents.
It is a developed housing project in the ideal location to ensure easy access to the different landmarks of joint cities. DHA Phase 2 Islamabad is available between the Islamabad Expressway and GT Road to increase the values of properties.
DHA 2 Islamabad Location
---
The location of DHA 2 Islamabad is between the main GT Road and Islamabad to offer flexible access from the different places of Rawalpindi and Islamabad. You can travel on these prominent routes to visit your property from nearby places.
DHA Phase II Islamabad is located in the premium spot to enable you to access society from Sihala and Rawat. You can also use the routes of Iqbal Boulevard and Jinnah Boulevard to visit this phenomenal housing project. Moreover, it is just a few kilometers away from Chak Beli Road.
Nearby Places
Bahria Town Islamabad
DHA Valley Islamabad
River Gardens Housing Scheme
Tehzeeb Bakers
Accessibility  
Zaraj Football Club is 2 minutes away
Bahria Golf Course is 5 minutes away
Sihala is 8 minutes away
National Logistics Cell (NLC) is 10 minutes away
Rawat is 15 minutes away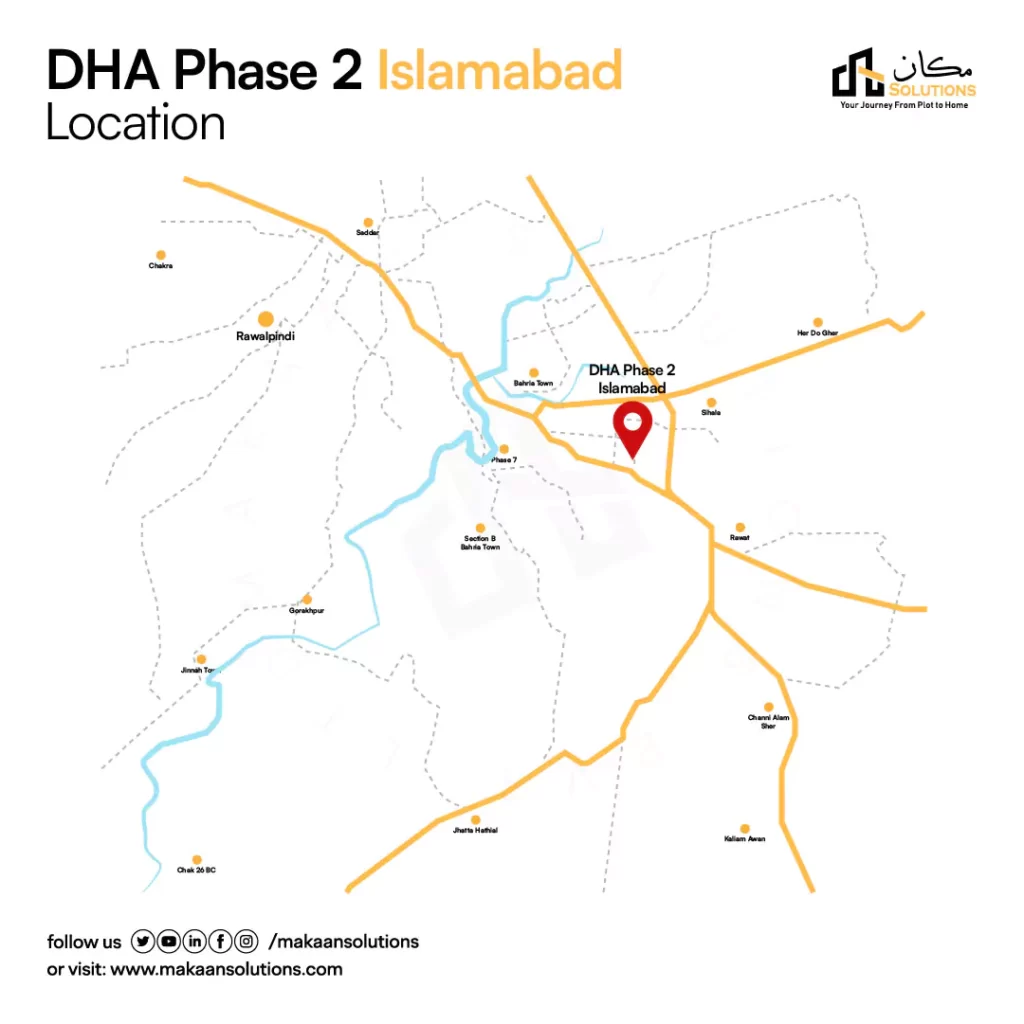 DHA 2 Islamabad Map
---
The location of DHA Phase 2 is easily available on Google Maps.
DHA 2 Islamabad Payment Plan
---
The payment plan of DHA 2 Islamabad was launched by management to allow potential customers to purchase their properties. There are plots and houses for sale in DHA Phase 2 Islamabad at the resale prices. Therefore, you can buy your plot in DHA Islamabad Phase II.
The plot prices were very reasonable when the management launched this phase in 1994. The potential local and overseas clients booked their properties at a reasonable payment schedule. However, prices of plots and houses have increased in this phase with time.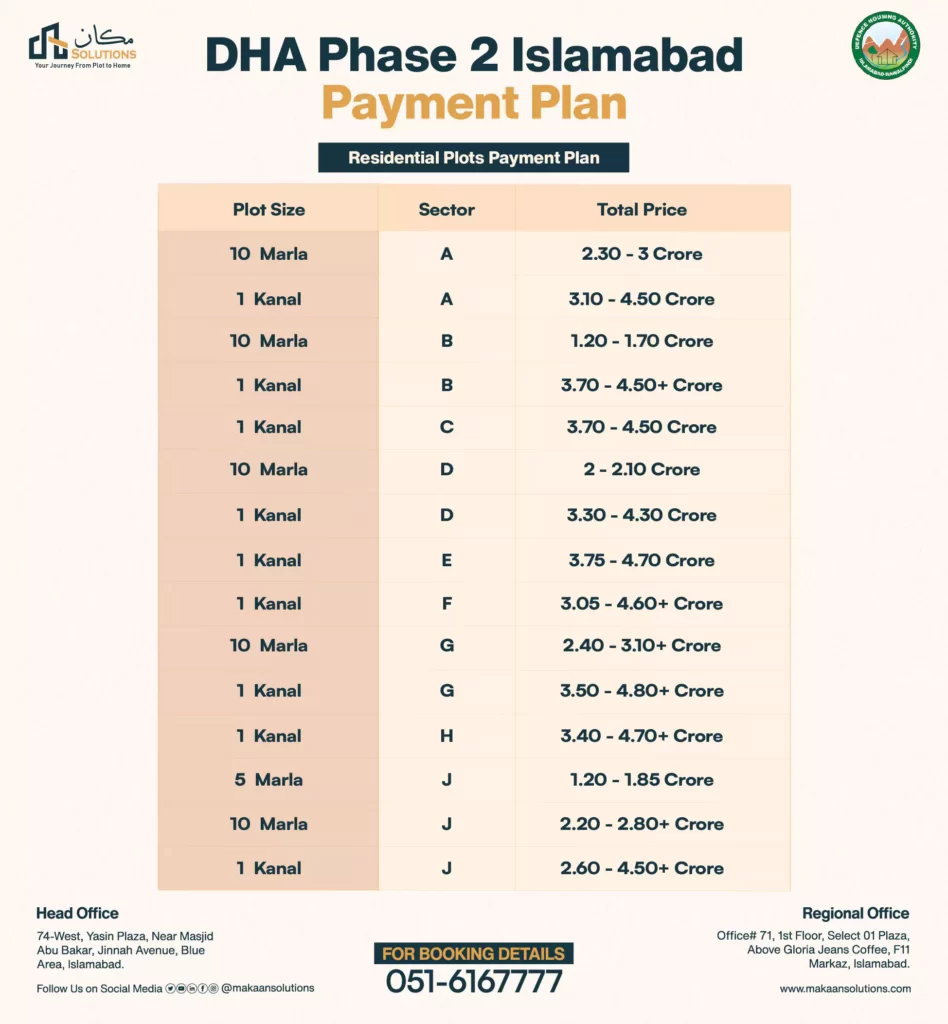 How to Book a Plot in DHA 2 Islamabad?
---
Fill out the DHA Phase 2 Islamabad application form
Attach the necessary documents
Attach the receipt after making the down payment
Submit the application form to the management
The plot booking process for DHA Phase II has been very simple and easy to follow for clients who want to own their properties. You can contact Makaan Solutions to reserve the available property in this beautiful phase of the Defence Housing Authority.
Required Documents
Buyer's 2 CNIC copies
Buyer's 2 passport-size images
Next to Kin's 2 CNIC copies
NICOP
Every customer who is interested in reserving a property in this society is suggested to bring up the necessary documents for the smooth booking process. Therefore, you need to forward the documents mentioned above during the booking procedure to own your property in this phase.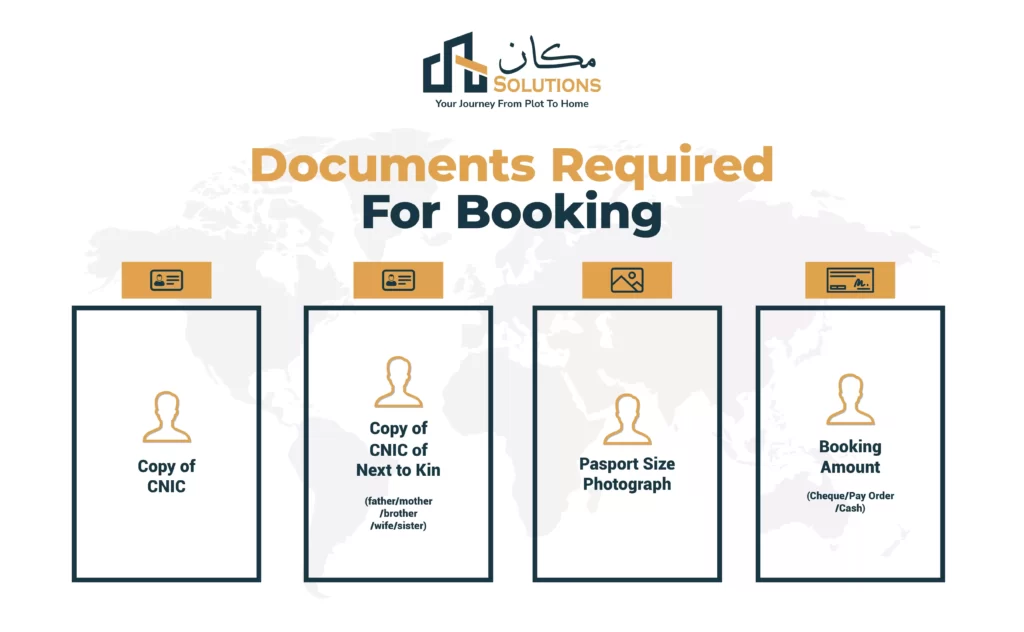 Benefits of Investment in DHA 2 Islamabad
---
There are various benefits of investing in DHA Phase 2 Islamabad, which inspire potential customers to buy their properties. It is a master-planned housing project with the ideal location to ensure the ultimate advantages of investment to potential investors.
High ROI
Every plot in this housing society has become a great source of high return on investment for investors who are looking to make the maximum profit within a short period. You can invest by considering the locality of property in society to earn a high-profit ratio.
Financial Security 
The residential and commercial properties are the best source of financial independence for local and overseas customers. You can purchase a property in this phenomenal residential project to become financially independent in the critical financial circumferences.
Passive Income
The available properties enable the clients to make passive income in the present time when everyone is struggling to earn in times of high inflation in Pakistan. Therefore, you can easily find out the potential tenants for your property to earn passive money with yearly increments.
Valuable Asset
DHA Islamabad Phase 2 offers valuable properties to clients who are looking to survive financially in difficult economic conditions. Therefore, you can own your desired property, which will be a source of relief for you in the different challenges of economics in Pakistan.
DHA 2 Islamabad Master Plan 
---
The master plan of DHA 2 Islamabad was done by a qualified team of designers who were focused on offering a phenomenal society to potential clients. This project includes several entrance and exit points on the different roads for the easiest access.
The layout plan for this housing project shows the available sectors in this society. There are different residential and commercial plots in sectors for investors and end-users. Therefore, you need to view the map of society to check the available amenities and facilities.
Residential Plots
Commercial Plots
2.5 Marla
4 Marla
5.33 Marla
8 Marla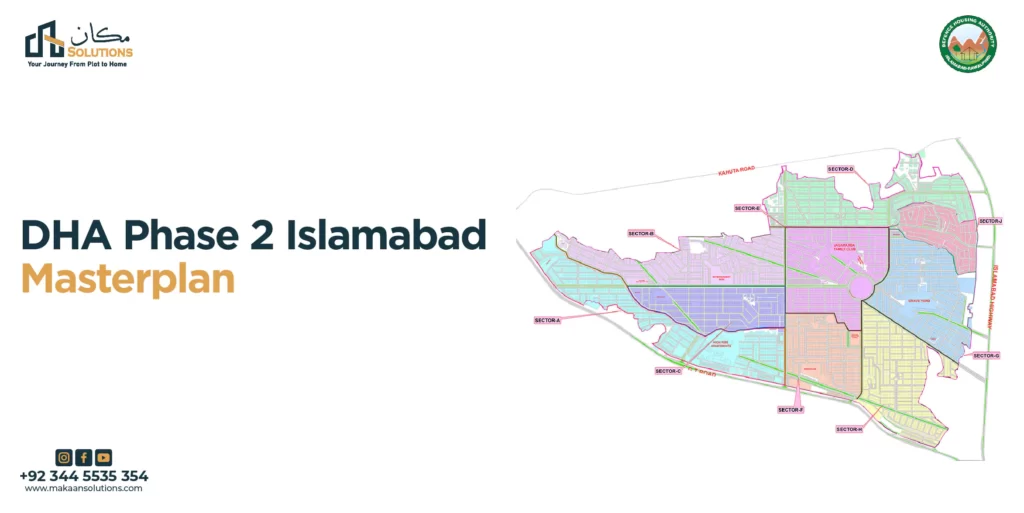 DHA 2 Islamabad NOC Status 
---
The NOC status of DHA 2 Islamabad is approved because it is a housing project by the government of Pakistan. It is a legally approved housing society that offers a secure living and investment experience to a lot of clients who are interested in this real estate venture.
DHA Phase 2 in Islamabad is an NOC-approved project to enable local and overseas customers to purchase the properties. This legal real estate project is spread over 15,075 Kanals to include commercial and residential properties.
DHA 2 Islamabad Owner & Developers
---
The owners and developers of DHA 2 Islamabad are DHA, which is a Pakistan Army real estate company that offers secure and prime housing options in Pakistan. It is a government-based developer that offers the phenomenal development of projects in Pakistan.
The developers have started this exceptional residential project with a mission of offering the best investment opportunities to overseas and local clients. They have developed this phase in accordance with the modern infrastructure to provide world-class services.
DHA Projects:
DHA Multan
DHA Lahore
DHA Peshawar
DHA Gujranwala
DHA Karachi
DHA Hyderabad
DHA Quetta
DHA 2 Islamabad Development Status
---
The latest development news of DHA Phase 2 shows that it is a fully developed real estate project. The developers have incorporated modern infrastructure with excellent development standards.
DHA 2 Islamabad Latest News
---
The latest news shows that DHA Phase II has become the hub for commercial activities. The availability of Giga Mall in DHA Phase 2 Islamabad offers the best business opportunities to potential clients.
Facilities & Amenities
---
The management offers world-class services to ensure an international living experience for local and overseas Pakistanis. The purpose of including the brilliant facilities and amenities is to attract potential customers from all around the world.
Health
The management offers world-class healthcare facilities to every resident at economical charges in the presence of modern medical equipment. The presence of qualified and experienced doctors and nurses ensures excellent healthcare standards for patients 24/7.
Security
There is ultimate security for residents in the presence of advanced security systems to ensure the required safety. The availability of well-trained and qualified security staff and the installation of CCTV cameras offer an excellent surveillance system.
Jacaranda Family Club
The presence of Jacaranda Family Club has become the best choice for every family that wants to spend quality time in the paradise of modern facilities. Moreover, you will get the different services under the roof of this phenomenal and elegant family club.
Sector Utility Area
Every sector in this beautiful phase includes different amenities to facilitate the residents. There are parks, playgrounds, and jogging tracks in this project. The mosque in this society has a capacity for more than 3000 practicing Muslims.
Family Park
There is a world-class family in Sector B of DHA Phase 2 Islamabad to offer the ultimate entertainment to the residents. You can enjoy the fresh air in the presence of an eco-friendly environment in the phenomenal real estate venture.
Educational Facilities
The management has made sure to ensure the best educational facilities for residents in this world-class residential project. There are different schools and colleges with a world-class education system to offer the best learning opportunities to every resident.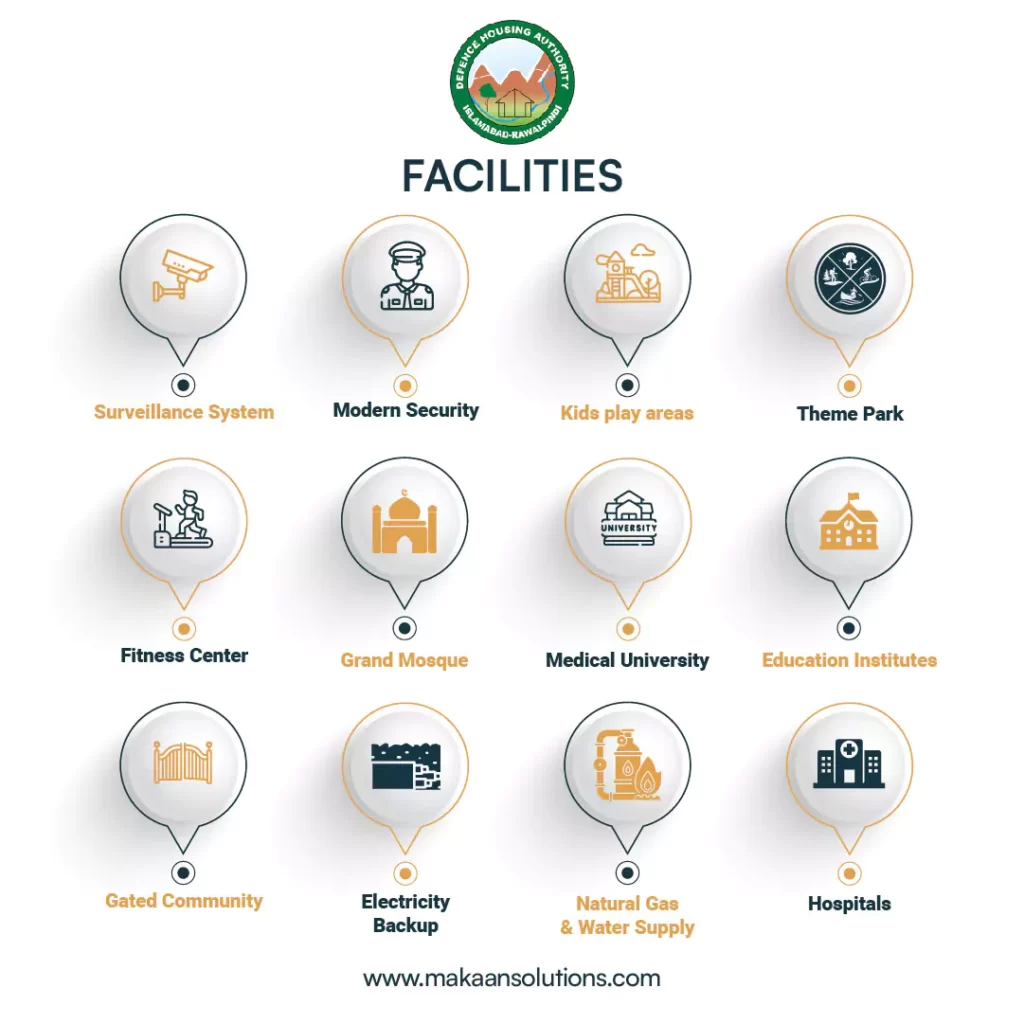 Pros & Cons
---
Pros:
Famous and experienced developers
The ideal location with several entrance points
A government-based legal housing society
A master-planned residential project
The availability of world-class amenities and facilities
Cons:
Currently, prices are high.
Conclusion 
---
DHA 2 Islamabad has become the most luxurious housing project for everyone who is looking to live in a secure and eco-friendly environment. This legal housing project in the premium location of Islamabad also grabs the investors' attention with promising high returns on investment.
It's your turn to purchase the profitable properties in this magnificent residential project. You can get the assistance of Makaan Solutions to buy your plot. Moreover, we also deal in New City Paradise and Capital Smart City.
[elfsight_whatsapp_chat id="1″]