Grand Orchard DHA
Islamabad
Grand Orchard DHA is a multi-purpose project by Premier Choice International. It is situated on the main boulevard of Phase 1 to offer commercial spaces and apartments to potential customers at an affordable payment plan. This master-planned project is being built in accordance with modern infrastructure.
Grand Orchard DHA Islamabad
---
Grand Orchard is a fabulous real estate project in the heart of DHA Islamabad. Therefore, Grand Orchard DHA is a great commercial and residential project to offer penthouses, serviced apartments, residential apartments, and shopping malls.
This top-notch project is ideally located in the heart of DHA Phase 1 to ensure the best facilities and modern architecture to captivate the residents. Moreover, it also offers a handsome profitability ratio to investors who want a significant ROI.
Grand Orchard DHA Location
---
The location of Grand Orchard is on the main boulevard of Defence Housing Authority Phase 1. It is located next to the main entrance from GT Road. Moreover, it is just a few kilometers away from Fauji Foundation Hospital.
This new residential project is started on a secure spot of Phase 1 to upscale the properties with the presence of top-notch amenities. The premium location of the project is situated near the different famous landmarks to ensure easy access.
Nearby Places & Landmarks
Bahria Town Rawalpindi
PWD Society
Gulberg Islamabad
Tab City
Accessibility
The main entrance of DHA Phase 1 is 1 minute away
GT Road is 2 minutes away
Fauji Foundation Hospital is 5 minutes away
Al-Shifa Trust Eye Hospital is 8 minutes away
Saddar Rawalpindi is 14 minutes away
PC Hotel Rawalpindi is 16 minutes away
Islamabad International Airport is 37 minutes away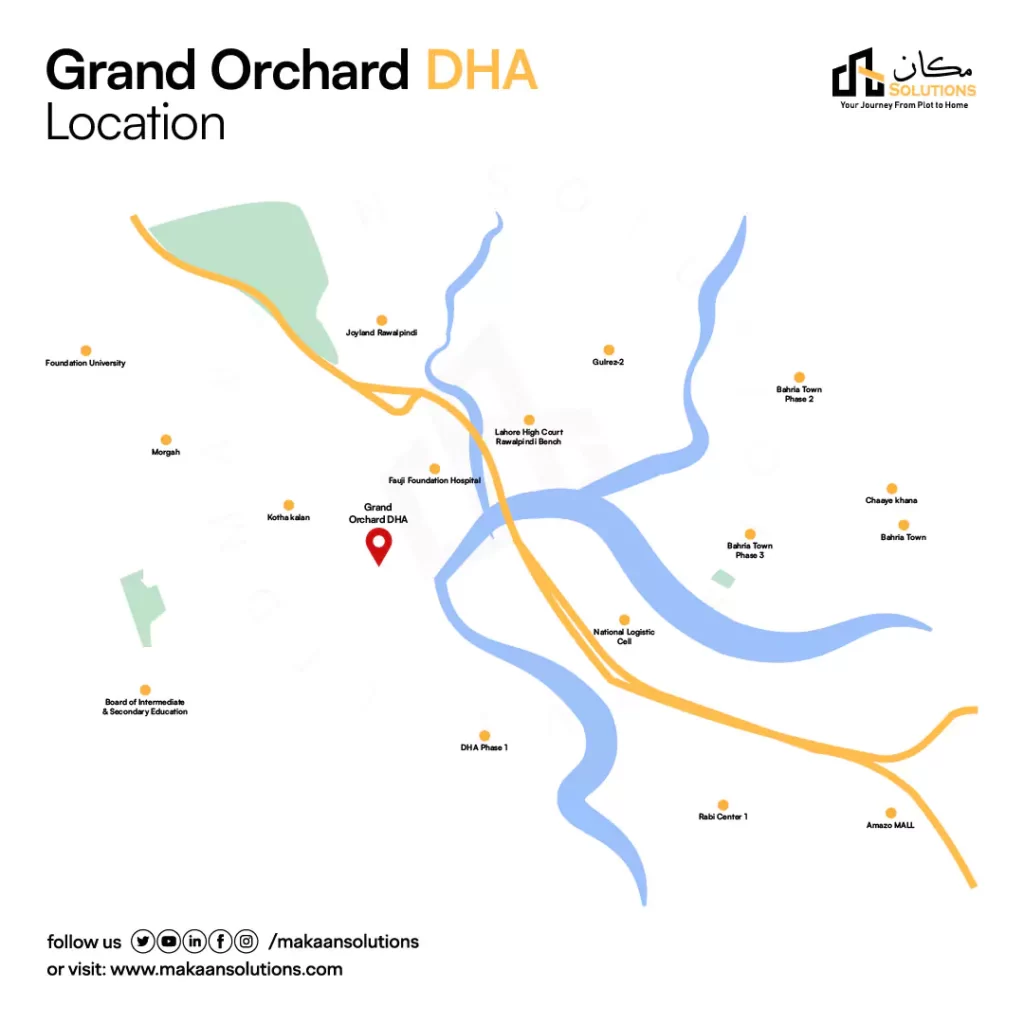 Grand Orchard DHA Payment Plan
---
| Floor | Unit Type | Price Per Square Feet |
| --- | --- | --- |
| Ground | Shops/Kiosks | 117,000/122,250 |
| 1st | Shops/Kiosks | 88,900/111,110 |
| 2nd | Shops/Kiosks | 78,000/100,000 |
| 3rd | Shops/Kiosks | 75,600/All Sold |
| 5th-17th | 1 Bed or Studio Apartment/2,3 & 4 Bed Apartments | 18,400/17,500 |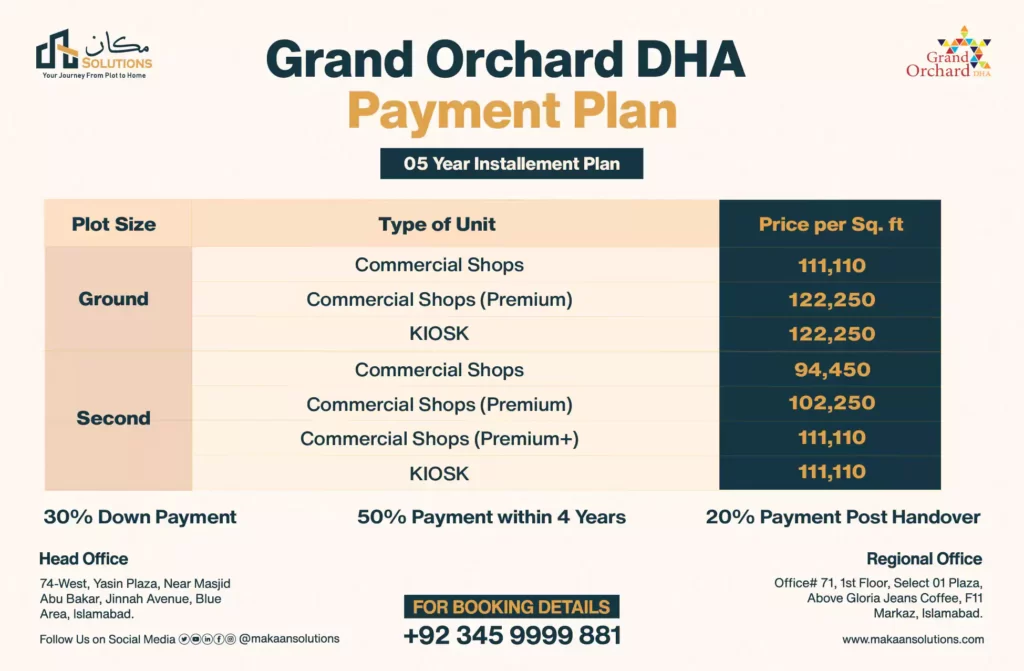 The payment plan of Grand Orchard DHA allows you to reserve a property with a 30% down payment. There are also 48 monthly installments. There is also a 10% possession fee with a 10% post-possession plan for 12 months.
You can pay the installments of your purchased unit in 5 years and get possession in 4 years. Moreover, the management enables you to buy your unit for as low as 3,000,000. There are also available discounts on limited units.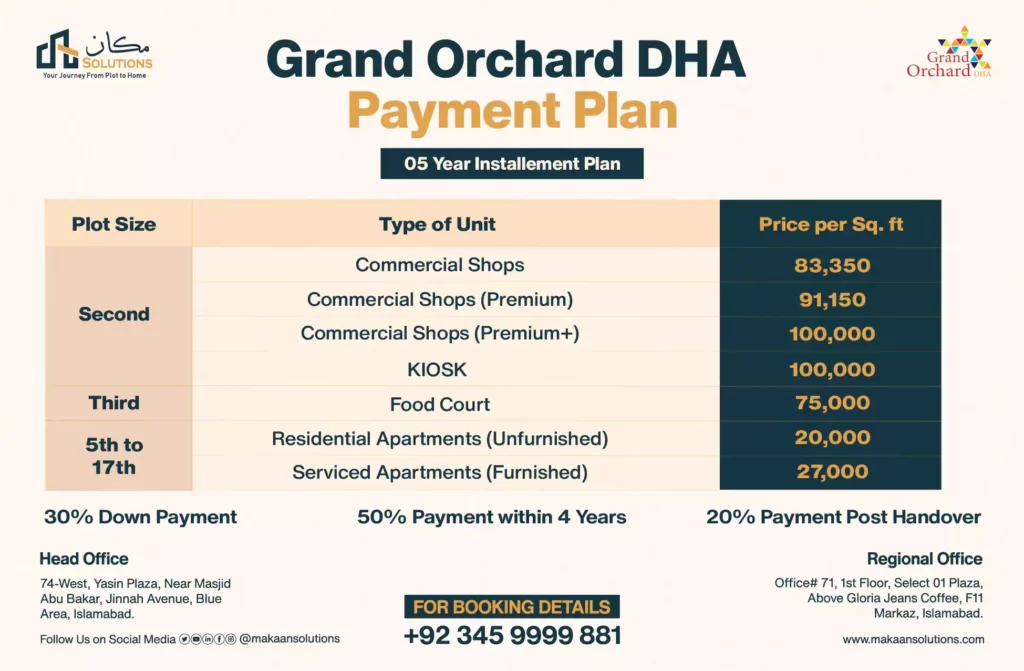 How to Book a Property in Grand Orchard DHA?
---
Fill out the Grand Orchard application form
Affix the crucial documents
Pay the down payment and affix the receipt
Send the filled form to the project
It is a step-by-step guide for customers who are looking to reserve a property in this magnificent project. Makaan Solutions is a top-rated real estate company that allows potential buyers to own properties with the assistance of our team.
Required Documents
Buyer's 2 CNIC copies
The buyer's 2 passport-size pictures
Next to Kin's 2 CNIC copies
NICOP is necessary for overseas Pakistanis
The experienced team of Makaan Solutions wants to provide customers with an easy way to book a property in Grand Orchard DHA. Therefore, we have mentioned all the steps for the reservation of a property with the help of our sales team.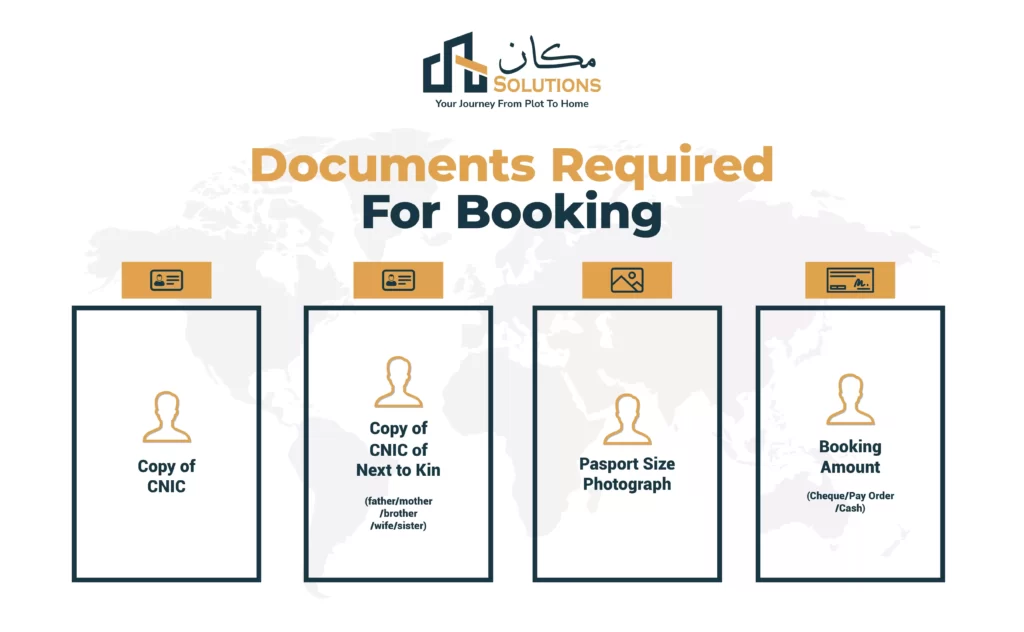 Benefits of Investment in Grand Orchard DHA  
---
DHA has been a branded society that attracts potential clients to invest with a prospect of high ROI. You can invest in Grand Orchard DHA to get the magnificent perks by reserving commercial and residential properties.
High ROI
DHA is a government-based housing project that has already offered significant benefits to the customers in the previous projects. Both residential and commercial properties have been the ultimate source of getting the maximum return on investment.
Financial Security
This real estate project in the heart of DHA offers financial independence to the customers. Real estate investment is the most profitable business for Pakistanis, which can not be underrated due to the different circumferences. Therefore, you can be financially independent by making an investment.
Passive Income
The properties in this phenomenal project offer passive income to clients who are looking to make money continuously. Moreover, rental values of properties increase by a significant percentage every year.
Valuable Property
Every property in this amazing multi-purpose project has great value because of its location in the premium society of Pakistan. Therefore, you can also own a commercial or residential property because values will increase with time.
Grand Orchard DHA Master Plan
---
The master plan of Grand Orchard DHA is designed by qualified designers to utilize the modern infrastructure in the project. The experienced team includes the planners, architects, and engineers, not only the designers.
Grand Orchard DHA floor plan shows that the project includes a 300-foot high-rise building consisting of multiple floors. There are 18 floors to include the commercial spaces and apartments. It has four basement floors to offer a magnificent place for parking.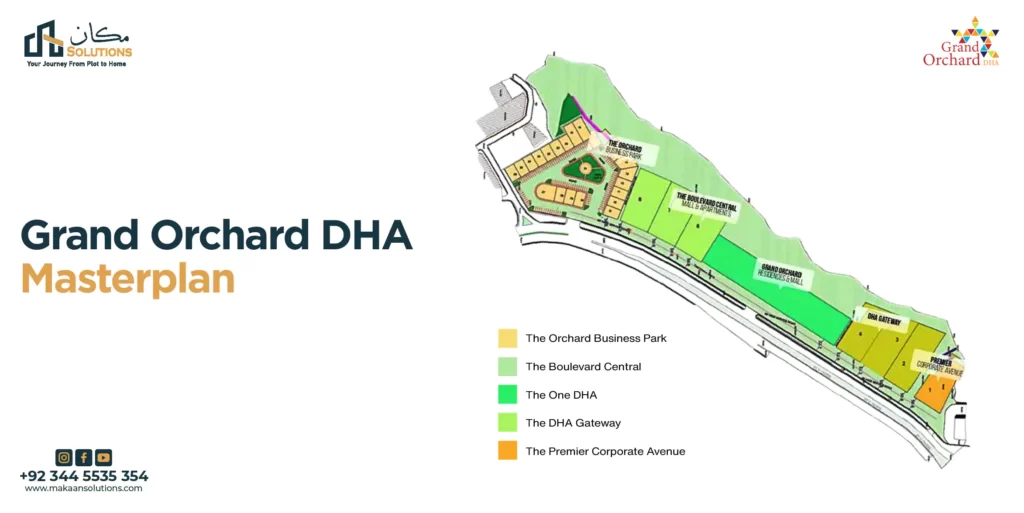 Grand Orchard DHA NOC Status 
---
The NOC status of Grand Orchard DHA doesn't need to be approved by any government authority because it is located in DHA, which is a government housing project. Therefore, it is a legal project to offer commercial shops and apartments.
This project is legally secure, which means you can invest with future trends of high profit because of legal status. Therefore, investors know the importance of this upcoming project within DHA Islamabad.
Grand Orchard DHA Owner & Developers 
---
The owners and developers of Grand Orchard DHA are Premier Choice International, which is a well-known development team. They have started this marvelous project with a dedication to ensure a modern lifestyle with fabulous business opportunities.
The management has a vision of facilitating the customers with top-notch business residential experience in the presence of a magnificent floor plan. Therefore, the developers are utilizing the modern infrastructure with advanced technology.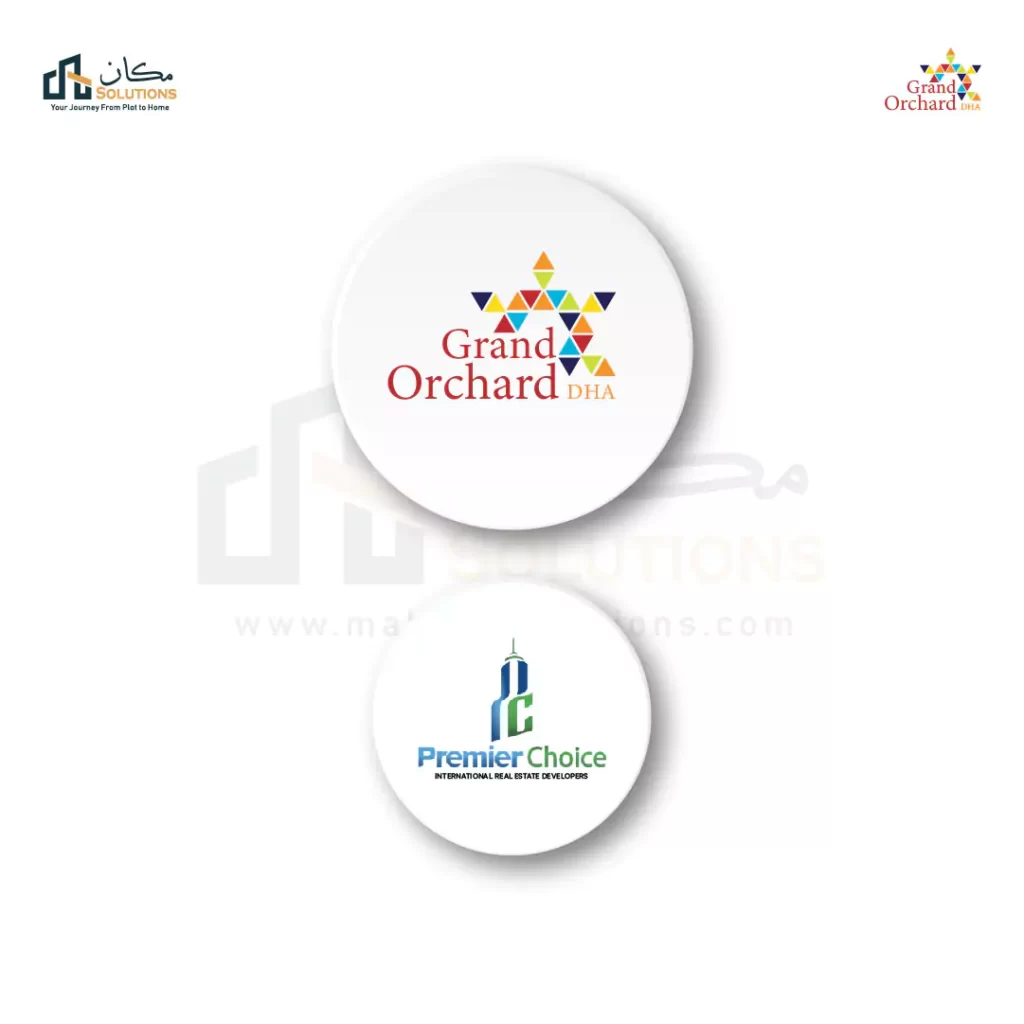 Grand Orchard DHA Development Status
---
The development updates of Grand Orchard show that developers had already started after the groundbreaking ceremony in January. Moreover, gray structures of a few floors have been completed in the first building.
Grand Orchard DHA Latest News
---
The latest updates of Grand Orchard reveal that development is going at a fast speed to deliver the project on time. Moreover, the booking for properties is still open with a discount policy.
Facilities & Amenities
---
The developers offer world-class facilities in this top-notch multi-purpose project in the heart of the Defence Housing Authority.
Shopping Mall 
The shopping mall offers a phenomenal shopping experience to the residents and visitors. There will be outlets of different brands to provide the original products at reasonable prices.
Luxurious Lifestyle
The developers offer the apartments to ensure a magnificent lifestyle for the residents. Moreover, they are ensuring to provide magnificent services to allow the users to enjoy a peaceful living experience.
Power Backup 
The management of this project has a power backup to facilitate the residents and businessmen in the circumference of the electricity breakdown. Therefore, life will be comfortable, and businesses will grow in the presence of electricity for 24/7 hours.
Swimming Pool & Gym
The multi-purpose project also consists of a gym and swimming pool. Therefore, every resident will be able to utilize the fitness center to build their body. The availability of a swimming pool enables you to relax after a busy day.
Cafes & Restaurants
There are also restaurants and cafes in this project to offer the best food experience to the customers. The famous cafes and restaurants offer you a range of different foods at economical rates.
Lifts & Elevators
The developers have decided to install the elevators and lifts because the building has several floors. These lifts help the residents to move easily without using the stairs. Therefore, it ensures a comfortable lifestyle.
Indoor Playing Area
The project also includes an indoor playing area to allow the residents to play different sports and games within a secure environment. Therefore, you can experience a magnificent playing experience with your friends and family.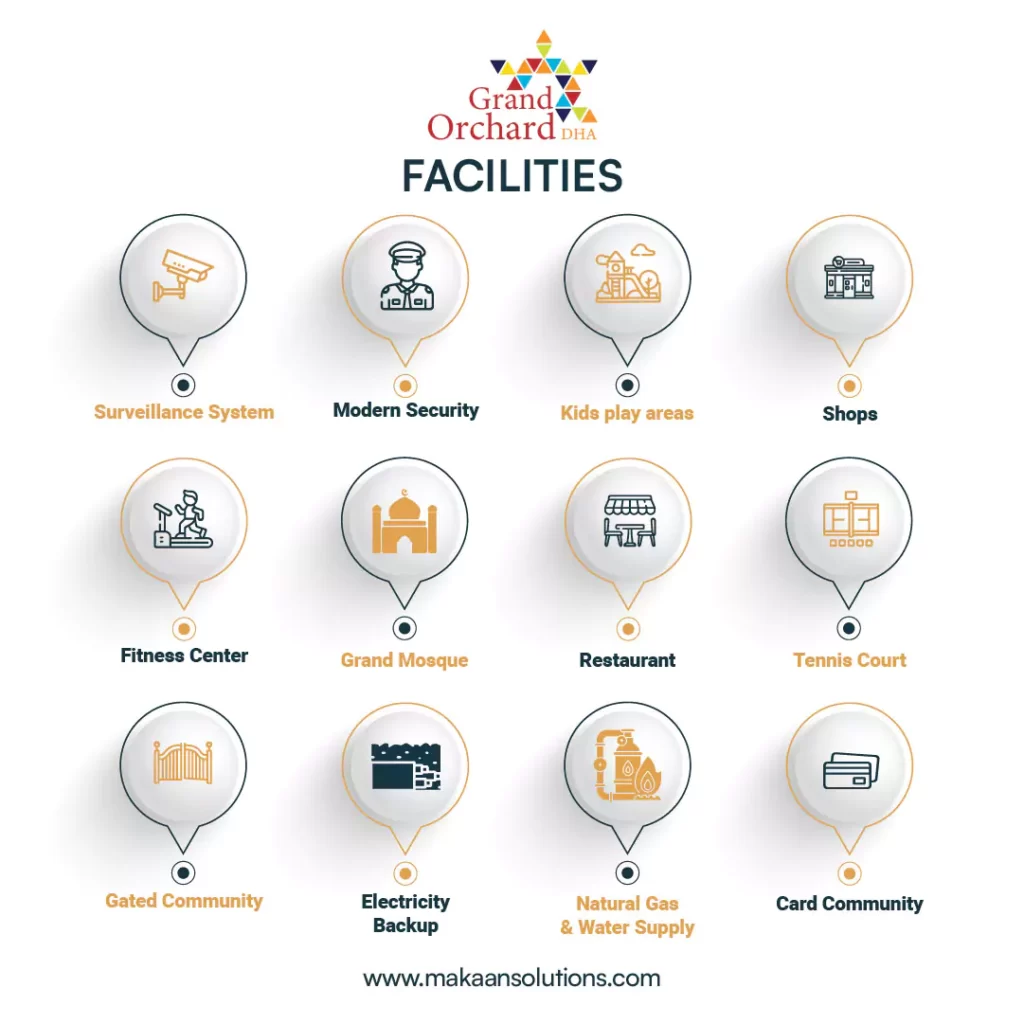 Pros & Cons
---
Pros:
The experienced developers
The legal project with modern infrastructure
Ideal location in Phase 1 of DHA Islamabad
The reasonable prices for the floors
The magnificent master plan with the layout of floors
The smooth development to complete the project on time
Cons:
Conclusion 
---
Grand Orchard DHA is a fabulous project with a premium location and affordable payment plan. You can book your apartment or shop with the help of Makaan Solutions. Moreover, we also assist clients in booking their properties in Capital Smart City, Blue World City, and New City Paradise.
FAQs
---
What is the Grand Orchard price?
The price of Grand Orchard is available per square foot, which varies from one floor to another.
Where is Grand Orchard DHA located?
Grand Orchard is located in DHA Phase 1.
Who are the developers of Grand Orchard?
Premier Choice International is the official developer of Grand Orchard Society.
What is the legal status of Grand Orchard?
It is a legally approved project because it is situated in DHA, which is a government society.
How to invest in Grand Orchard?
You can invest in Grand Orchard with the excellent sales services of Makaan Solutions.