Soul City Lahore
Marwa Developers & Builders started the Soul City Lahore, located near Halloki Interchange, to offer commercial and residential at an affordable payment plan with quarterly installments. You can reserve a plot in this premium housing project in Lahore to access modern amenities and facilities.
Soul City Lahore is an ideal housing scheme with a premium location and a reasonable payment plan. It is an exclusive housing project with world-class facilities and amenities to facilitate the residents and investors.
The aesthetic and spacious residential project offers an eco-friendly environment for the residents. You will get a peaceful and luxurious lifestyle in the presence of phenomenal services. Moreover, Soul City has become a hot cake for the investor because of its massive ROI.
Soul City Lahore Location
---
The location of Soul City Lahore is in Mouza Jhedu, part of Tehsil Model Town. Therefore, the society is located in a premium location of Jia Bagga Lahore near the Halloki Interchange.
Soul City Housing Scheme is connected to Ring Road and LDA Road to allow the residents to visit the nearby landmarks easily. Moreover, it is just a few kilometers away from Raiwind Road, allowing customers to reach their properties easily.
Soul City housing society is situated near the following famous places:
Bahria Town Lahore
DHA Lahore
Lake City Lahore
Fazaia Housing Scheme
Sharif Medical City
WAPDA Town
Johar Town
University of Lahore
Beaconhouse National University
Islampura
The access points for this residential project are mentioned below:
Lahore Ring Road is 3 minutes away
Ferozpur Road is 5 minutes away
Raiwind Road is 6 minutes away
Defense Road is 7 minutes away
M-2 Motorway is 15 minutes away
Raiwind Tablighi Markaz is 20 minutes away
Allama Iqbal International Airport is 25 minutes away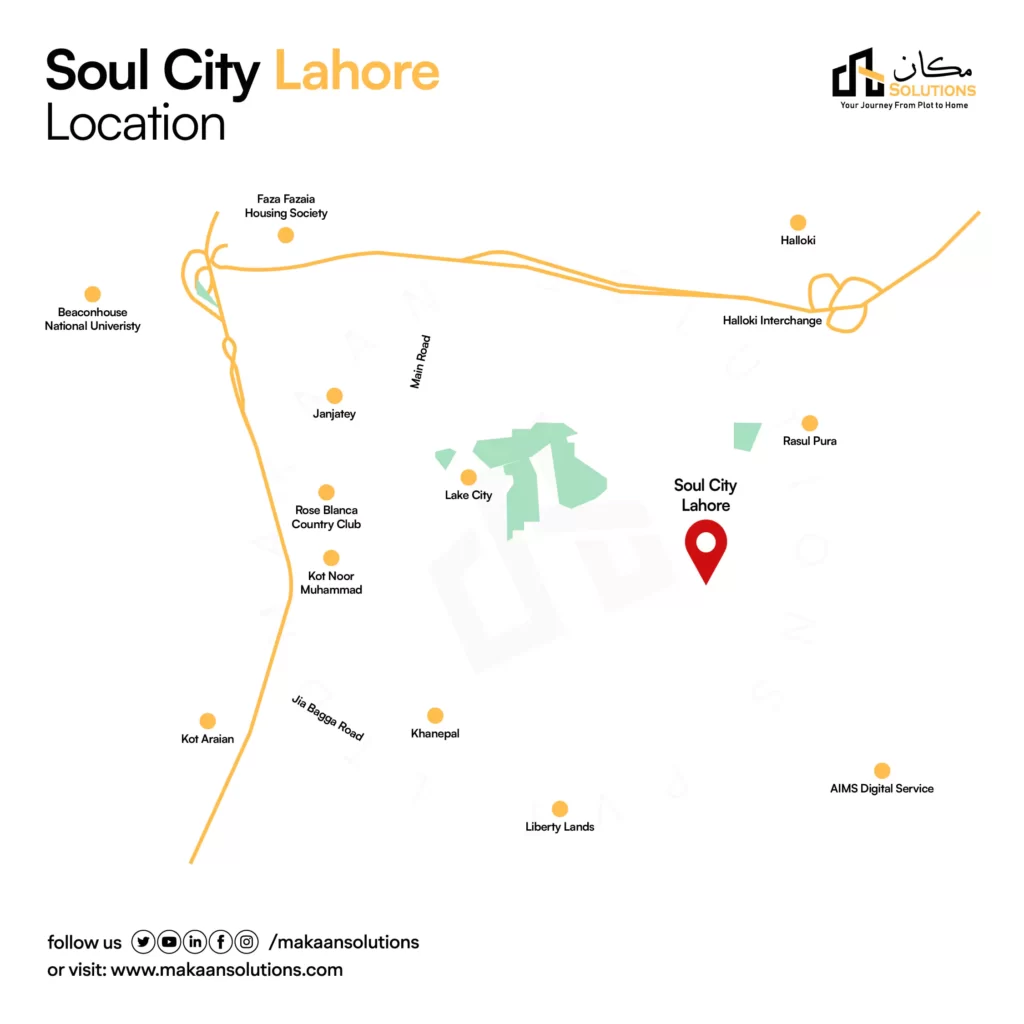 Soul City Payment Plan
---
| Residential Plot Size | Total Price | Down Payment |
| --- | --- | --- |
| 3 Marla | 2,695,000 | 404,250 |
| 5 Marla | 3,695,000 | 646,620 |
| 10 Marla | 6,995,000 | 1,049,250 |
| 1 Kanal | 12,495,000 | 1,874,250 |
3 Marla Payment Details:
10 quarterly installments for a 3 Marla plot are 175,175.
The balloting payment for a 3 Marla plot is 269,500.
A 269,500 amount is payable at the time of 3 Marla plot possession.
5 Marla Payment Schedule:
10 quarterly installments for a 5 Marla plot are 230,938.
The balloting payment for a 5 Marla plot is 369,500.
A 5 Marla plot possession is available at a payment of 369,500.
10 Marla Payment Details:
10 quarterly installments for a 10 Marla plot are 454,675.
The required balloting amount is 699,500.
The possession payment is also 699,500.
1 Kanal Payment Schedule:
10 quarterly installments for 1 Kanal plot are 812,175.
1,249,500 is payable to participate in the balloting procedure.
The possession payment is 1,249,500.
The payment plan of Soul City Lahore has been launched for the different plot categories to allow potential customers to reserve their properties. There are 3 Marla, 5 Marla, 10 Marla, and 1 Kanal plots for sale in the society to enable the end-users to build their houses.
The plot rates in Soul City are very affordable in the presence of a 2.5 year installment plan. Therefore, you need to follow the quarterly installments after booking your plot in this housing scheme near Halloki Interchange.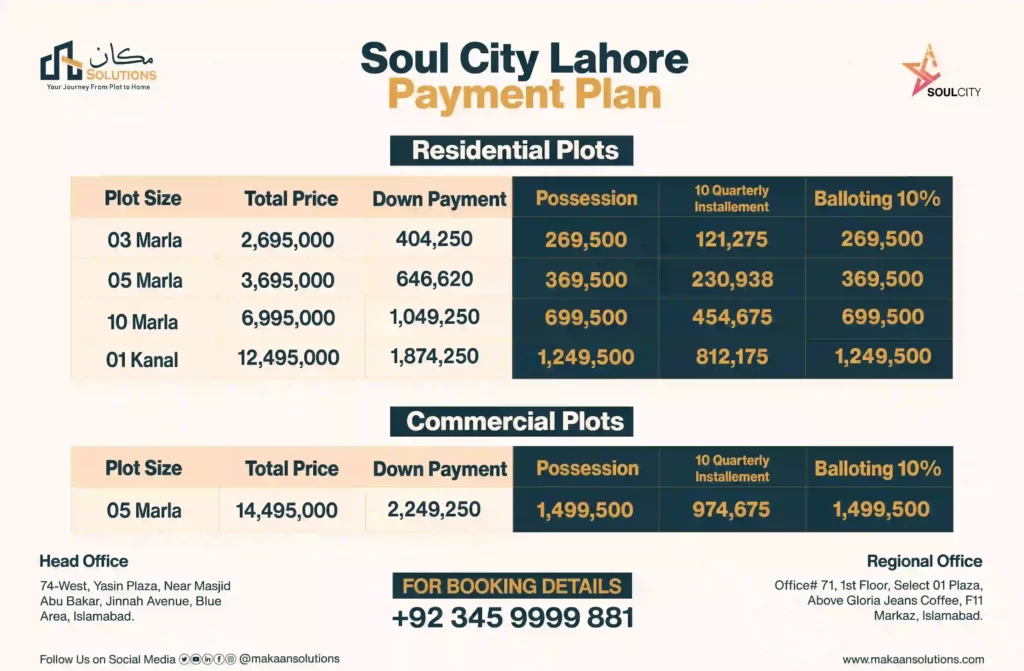 How to Book a Plot in Soul City Lahore?
---
Download and fill out the application form
Attach the required documents
Make the down payment to the bank account of society
Attach the receipt of paid payment as a proof
Submit the application form to the management
The steps for the Soul City plot booking process have been mentioned for the respective customers.
The plot booking procedure has been kept very simple and smooth by the management of society for customers with different backgrounds. They can reserve their properties in this residential project with the assistance of Makaan Solutions.
Required Documents
Client's two copies of CNIC
Client's two passport-size images
Next to Kin's 2 copies of CNIC
NICOP is necessary for overseas clients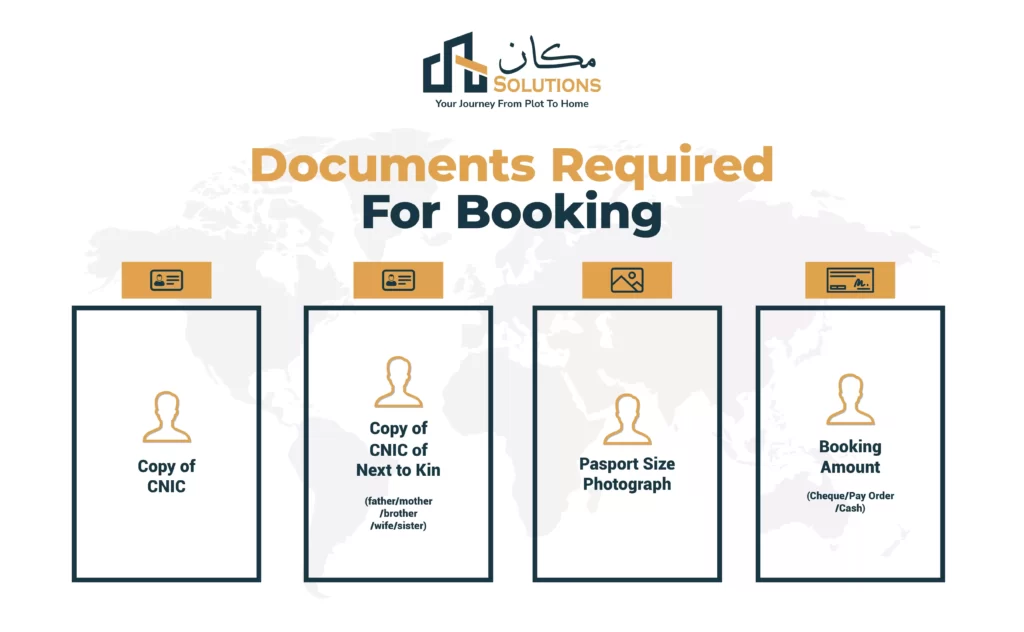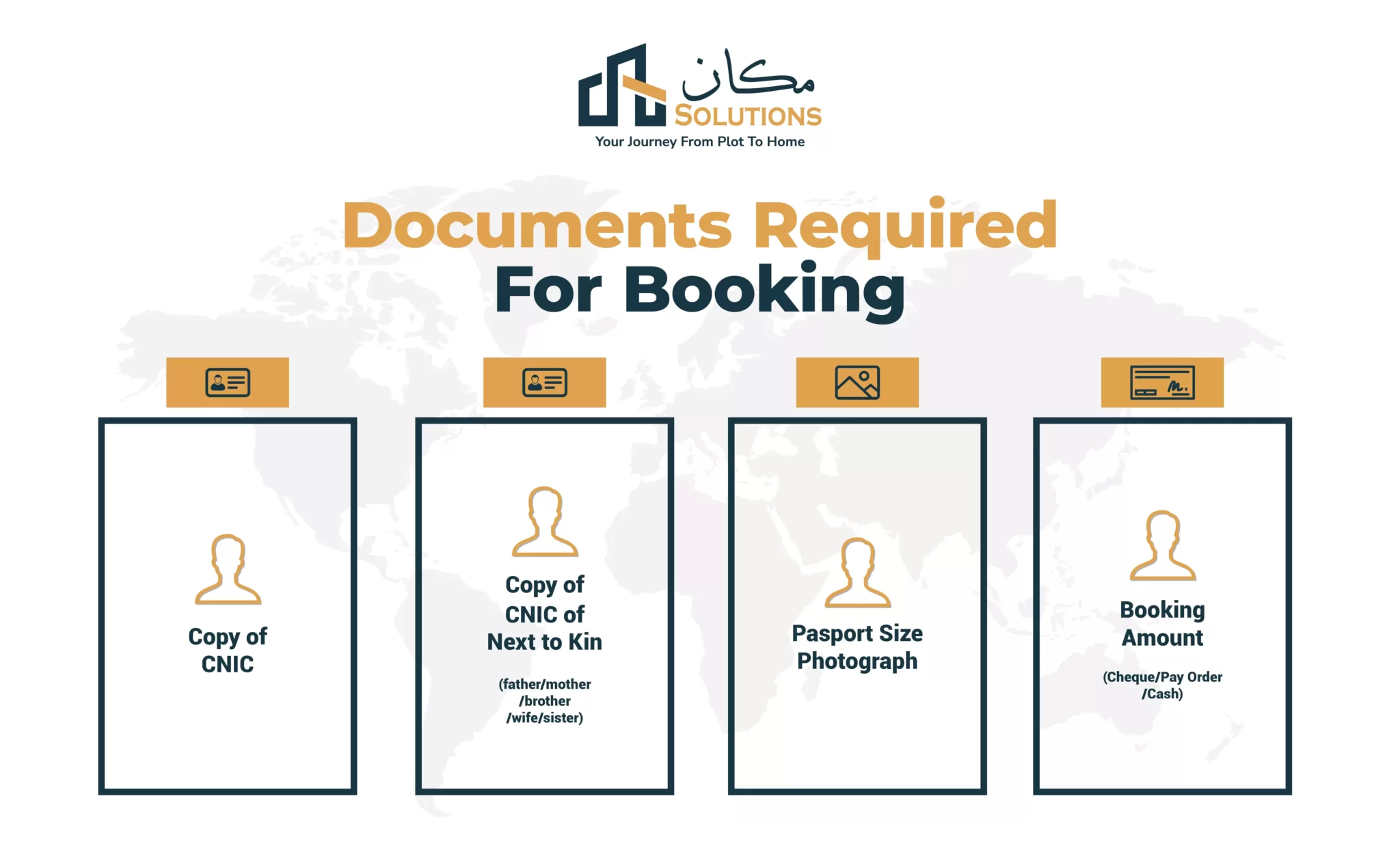 Benefits of Investment in Soul City Lahore
---
There are different reasons to invest in Soul City Lahore, which inspire potential investors to make profitable investments. These phenomenal benefits will be available for every investor who wants to make a magnificent amount of money.
High ROI
The highest return on investment is the potential benefit for investors who are looking for a good profitability ratio. You can also reserve a plot in this housing project to make a good profit over time.
Passive Income
You can purchase your favorite plot category with the prospect of earning passive income. It's flexible for you to rent out your property to earn a good amount of money. Moreover, rental income increases by some percentage every year.
Financial Independence
The reservation of a property is a great way of getting financial freedom. Soul City plot prices have been very reasonable to enable the customers for financial security. Therefore, it is the best way to become financially secure by owning a plot.
Valuable Asset
Commercial and residential properties in society have become valuable assets for potential clients. This valuable asset is a fabulous source for real estate customers in different financial circumferences.
Soul City Lahore Master Plan
---
The master plan of Soul City Lahore is designed by a certificated and qualified team of designers. The master plan for this housing society consists of commercial and residential plots with the availability of facilities.
The developers have collaborated with the designers to design a magnificent layout plan for society. There are different plot categories with the modern infrastructure in this housing project. Therefore, you can build a dream home in this society.
Residential Plots
3 Marla
5 Marla
10 Marla
1 Kanal
Soul City Lahore NOC Status
---
The NOC status of Soul City Lahore is approved for 1817.32 Kanals by the Lahore Development Authority. This LDA-approved society includes 461 commercial plots and 1578 residential plots. The legal status is approved for blocks: A, B, C, D, E, F, G, H, J, and K.
It is a NOC-approved housing scheme in Mauza Jhedu to ensure secure investment opportunities for investors. Moreover, the end-users can build their beautiful homes in this secure residential project.
Soul City Lahore Owner & Developers
---
The owners and developers of Soul City Lahore are Marwa Developers and Builders. They are experienced developers to offer new living standards with phenomenal investment opportunities to the customers.
A qualified team of developers utilizes magnificent development standards to ensure 100% satisfaction for the customers. They have a vision of developing society with phenomenal development standards to facilitate the residents with international services.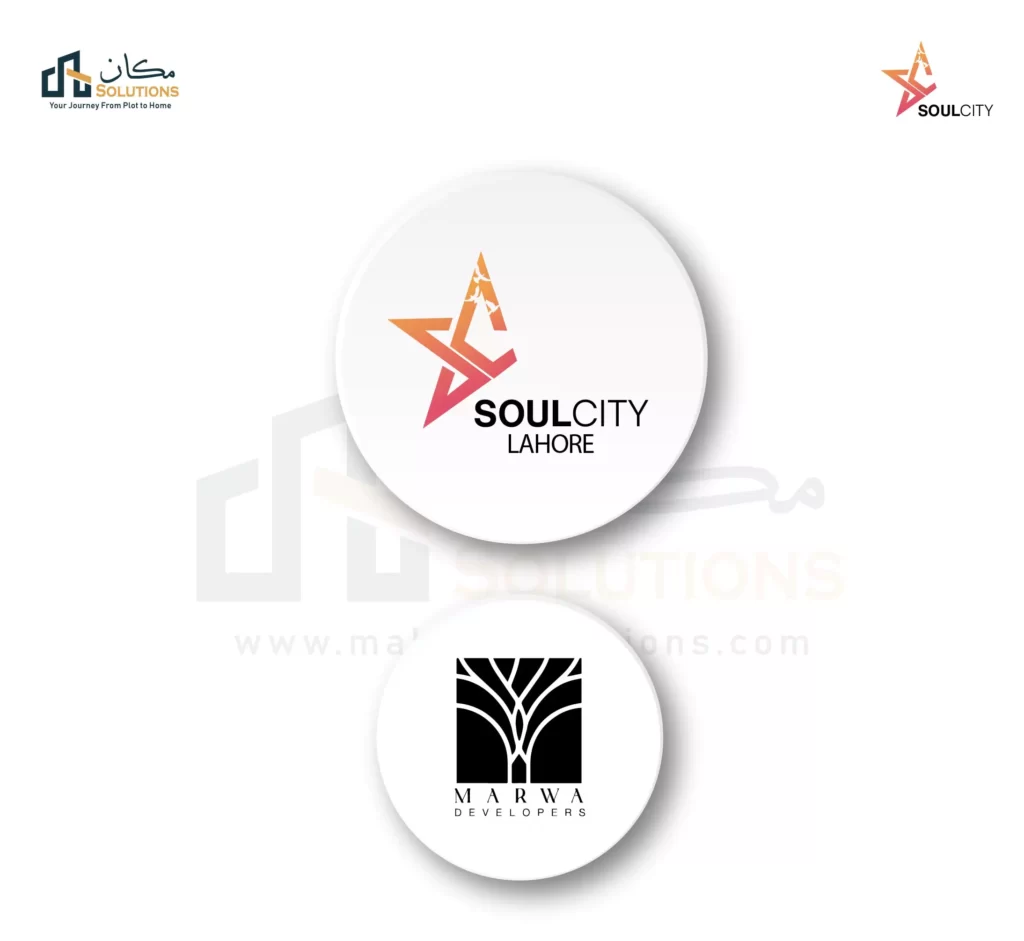 Soul City Lahore Development Status
---
The main boulevard and roads are being developed at a smooth rate in accordance with Soul City latest development updates. There is also the construction of a green belt on the left and right sides of the main boulevard.
Soul City Lahore Latest News
---
The plot booking procedure is still open, which allows the clients to book their properties. Moreover, development work will be completed very soon in accordance with the Soul City Housing Scheme latest updates.
Facilities & Amenities
---
This residential project includes fabulous amenities and facilities to offer a magnificent lifestyle to residents. Every block in this housing scheme has excellent services to ensure an eco-friendly environment.
We are going to discuss some of the top-notch facilities which are available in society.
Community Center & Club
There is a top-notch community center and club in the residential project to allow the residents to play outdoor and indoor sports. You can play golf, swimming pools, bowling, tennis, cricket, and snooker.
Educational Institutes
The developers are keen to include world-class educational institutes in society. There is a new branch of the National School to enable the students to get an international standard education in the presence of qualified teaching staff.
Healthcare Services
The developers have a mission of constructing a brilliant hospital in the heart of society to offer fabulous healthcare services to patients. The qualified medical staff will be able to ensure the best treatment 24/7 in the presence of the latest medical equipment.
Mosques
The developers know the importance of Muslims' religious needs. They are developing a top-quality grand mosque in the residential project to enable the Muslim community to offer religious duties easily. There will be a mosque in every block of society.
High-Alert Security
There are CCTV cameras with the latest technology to monitor the safety of residents within society. Moreover, the qualified security staff also ensures high-end security for residents with the latest equipment.
Water, Gas, and Electricity
The developers are aimed to supply gas, water, and electricity to every plot of block in society. There is an underground tanker for water storage to store the rainwater easily. Moreover, they have a vision of developing a dam to collect and use water.
The management is also focused on supplying gas and electricity without any breakdown. Therefore, the residents will be able to access electricity and gas smoothly without facing any issues.
Botanical Garden
There is a botanical garden in Soul City to improve the natural beauty of society. This garden in the heart of society consists of garden herbs, an organic food market, and unique and beautiful plants.
The nurseries in the garden are places for the growth and cultivation of flowers and plants.
Latest Infrastructure for Development
The experienced team of developers is dedicated to utilizing modern infrastructure to develop this society. Therefore, Soul City has become the prominent landmark of a new civilization in the country.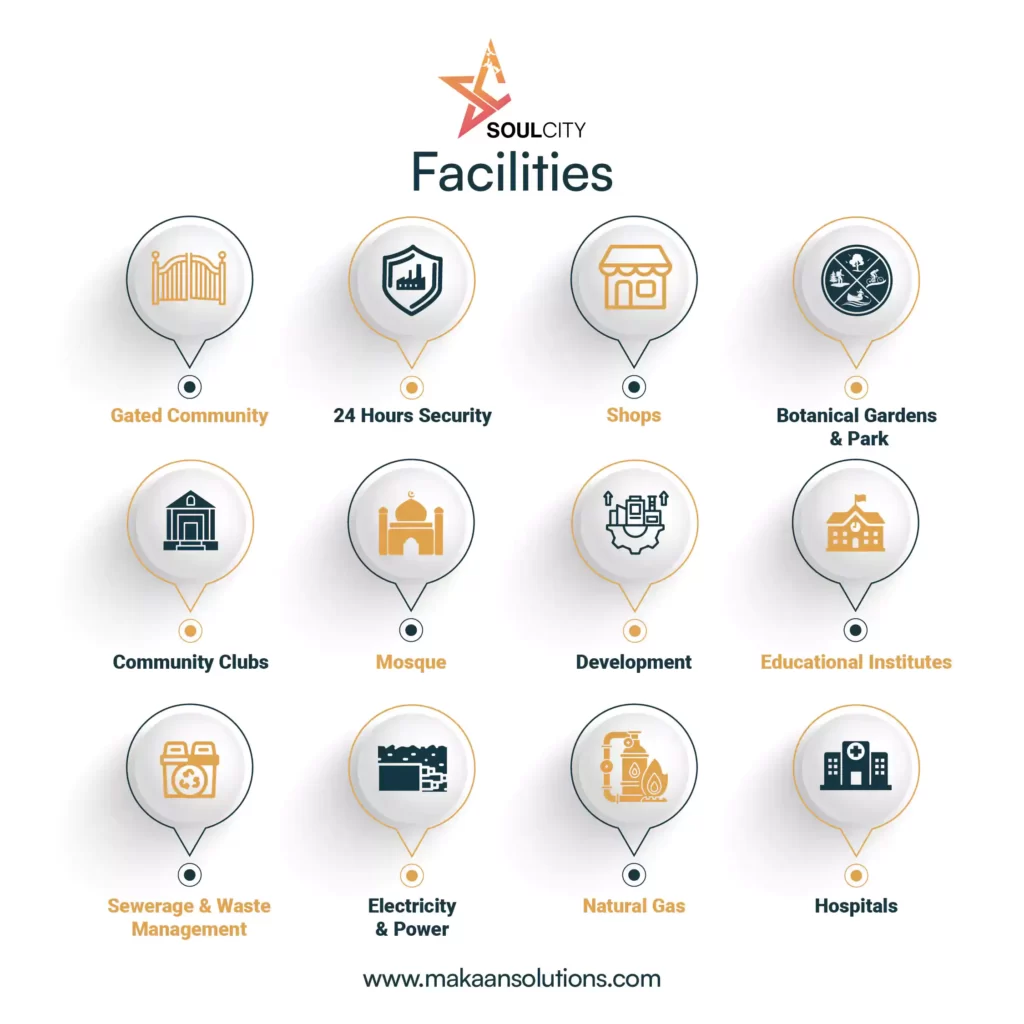 Pros & Cons
---
The pros and cons of reserving a property in Soul City are mentioned below:
| Pros: | Cons: |
| --- | --- |
| Ideal location to allow customers from different cities to visit society. | This residential project is a little away from the center of Lahore. |
| The affordable payment plan enables every Pakistani to book a plot. | |
| A legally approved housing scheme to become a secure project for customers. | |
| A master-planned housing project to include the different plot categories | |
| Reliable developers develop society in accordance with modern development standards. | |
| The international infrastructure offers a luxurious lifestyle. | |
| The availability of modern amenities and facilities ensures comfort in residents' lives. | |
Conclusion
---
Soul City Lahore is a planned housing scheme on Halloki Interchange to offer several plots at a pocket-friendly payment plan. Therefore, you can easily own your plot with the help of Makaan Solutions. Our team also helps our customers to purchase properties in Capital Smart City Islamabad and Lahore Smart City.
FAQs
---
What is the Soul City Lahore 5 Marla plot price?
The total price of 5 Marla plots is 3,695,000 with a down payment of 646,620.
What is the payment plan of Soul City?
The total prices of 3 Marla, 5 Marla, 10 Marla, and 1 Kanal plot are 2,695,000, 3,695,000, 6,995,000, and 12,495,000.
Where is Soul City Housing Scheme located in Lahore?
Soul City is located in Tehsil Model Town near Halloki Interchange to offer smooth and fast access from nearby places.
How to invest in Soul City Housing Scheme?
You can invest in Soul City with the help of Makaan Solutions to attain the maximum profit.
Why purchase Soul City 3 Marla residential plot?
The middle-class people of Pakistan with limited budgets can own their properties because of the reasonable plot prices.
Is Soul City Lahore LDA approved?
Yes, Soul City is a NOC-approved housing society that includes an inventory of residential and commercial plots.
Who is the owner of Soul City Lahore?
Marwa Developers and Builders are developing this fabulous housing project in Lahore.