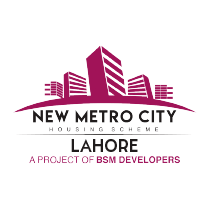 New Metro City Lahore
New Metro City Lahore is an exceptional addition to the landscape of Lahore. It is an upcoming project being developed by veteran real estate development company BSM Developers. This housing society is going to be approved by PHATA shortly. Therefore, it is the right time to familiarize yourself with it so you can invest timely.
New Metro City Lahore Introduction
---
New Metro City Lahore is an upcoming project by BSM Developers. The success of previous projects of New Metro City in significant cities in Pakistan has led to the development of this project.
New Metro City Gujar Khan is a recent project by the same developers that has been quite a success in the real estate sector nationwide.
BSM Developers have already delivered a premium housing project, Gwadar Golf City. The team behind this real estate development company excels at building the best projects possible. This new project in Lahore is the perfect opportunity for investors and buyers who only invest in authentic housing societies.
New Metro City Lahore Location
---
The location of New Metro City Lahore has been decided by the developers. The developers have yet to announce the location to the public. However, the place of this development will be premium based on the locations of previous projects.
New Metro City will redefine Lahore's landscape.
The location of New Metro City Lahore in a prime spot in the Lahore city will be ideal for quality infrastructure. BSM developers' previous projects prove why this new development will significantly impact the whole town.
The accessibility of this housing society will enable Lahoris to travel within and outside the city conveniently.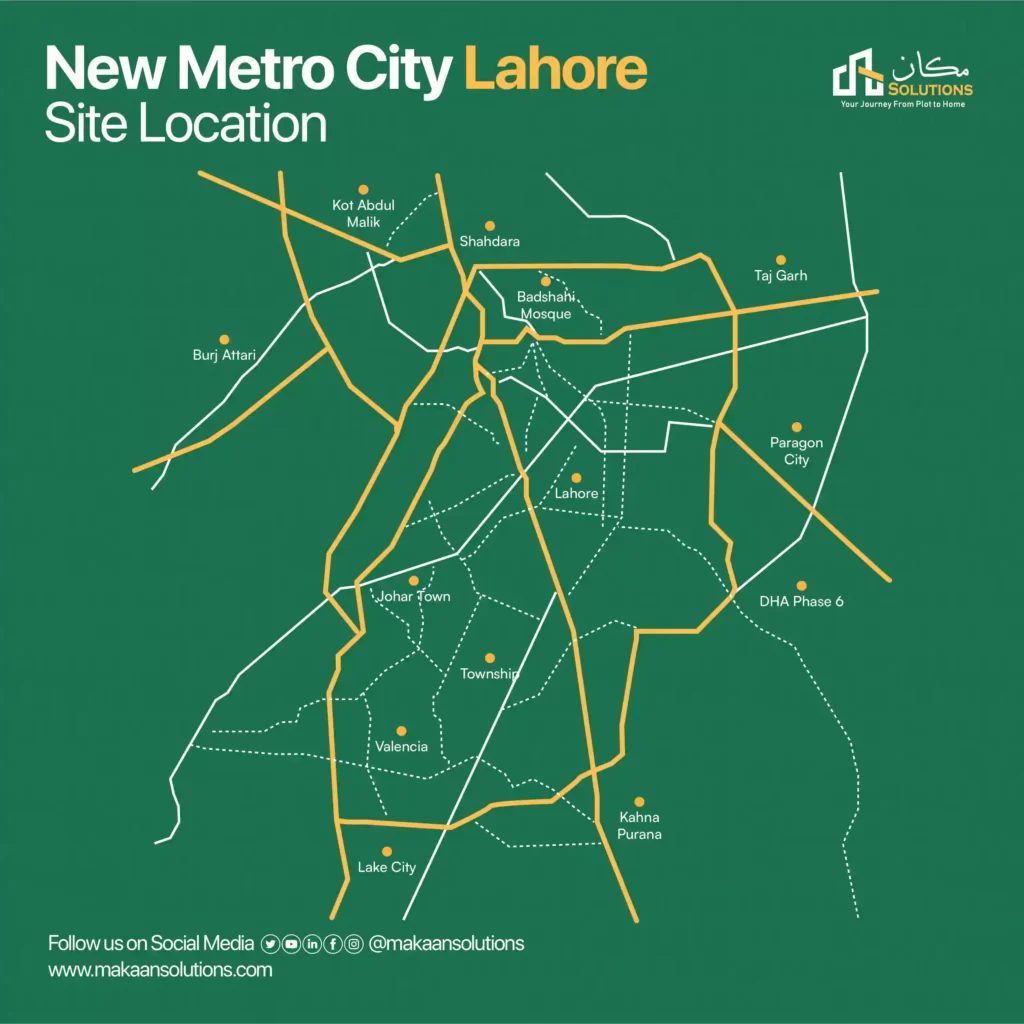 New Metro City Lahore Master Plan
---
New Metro City Lahore's master plan is currently being finalized. The professional team of BSM Developers has worked tirelessly to craft the master plans for all their projects meticulously.
For instance, previous master plans of this team include commercial and residential zones with designated areas for premium developments.
The details of the master plan of this housing scheme are as follows:
Distinct category blocks
Commercial plots in each block
Residential plots in each block
Different size residential plots: 3 Marla to 1 Kanal
Designated areas for mosques
Designated areas for schools
Designated areas for theme parks
Designated area for commercial zone: high-rise buildings & apartment complexes
Designated area for shopping centers & malls
This comprehensive master plan is why you should invest before it is too late. Make this new housing scheme your priority if you are a real estate investor/buyer.
New Metro City Lahore NOC & Legal Status:
The NOC approval of New Metro City Lahore is currently under review. PHATA is going to approve this project soon. The legal status of this development has yet to be confirmed. However, the developers have an excellent track record of getting NOC approval ahead of time.
New Metro City Lahore Owners & Developers
---
Bilal Steel Mills (BSM) Developers is the main owner and developer of this establishment. Bilal Bashir Malik is the CEO of BSM Developers. He is the grandson of Malik Riaz, a real estate tycoon. Therefore, the developer of this society is quite renowned and comes from a legacy of excellence in real estate in Pakistan.
Other projects of the developer include:
New Metro City Lahore Payment Plan
---
The payment plan of New Metro City Lahore hasn't been announced yet. However, keep in mind that the payment plan will be pretty comprehensive. There will be several ideal options to choose from in the project.
The residential plots payment plan will likely be announced before the commercial plots payment plan. Most buyers invest in residential plots of housing societies since they are always in high demand due to rapid urbanization in Pakistan.
Affordability of New Metro City: A Unique Feature
New Metro City's affordable packages trump every other feature of competitor societies. This new project aims to deliver premium amenities & facilities at reasonable and affordable prices.
As we have seen before, former projects in different cities are competitive in prices compared to others in their respective vicinity.
The city of Lahore will get this new development very soon, and the people will have the opportunity of their lifetime.
How to book a plot in this society:
Booking a plot in this society is relatively easy since it has few requirements. The essential documents needed for the booking include:
CNIC Copy
NICOP Copy (if applied)
2 Passport-sized Photos
CNIC Copy of 'Next to Kin'
Booking & Processing Fee Payment Receipt
You have to contact Makaan Solutions to get information about the launch date of this project so you can book a plot as early as possible.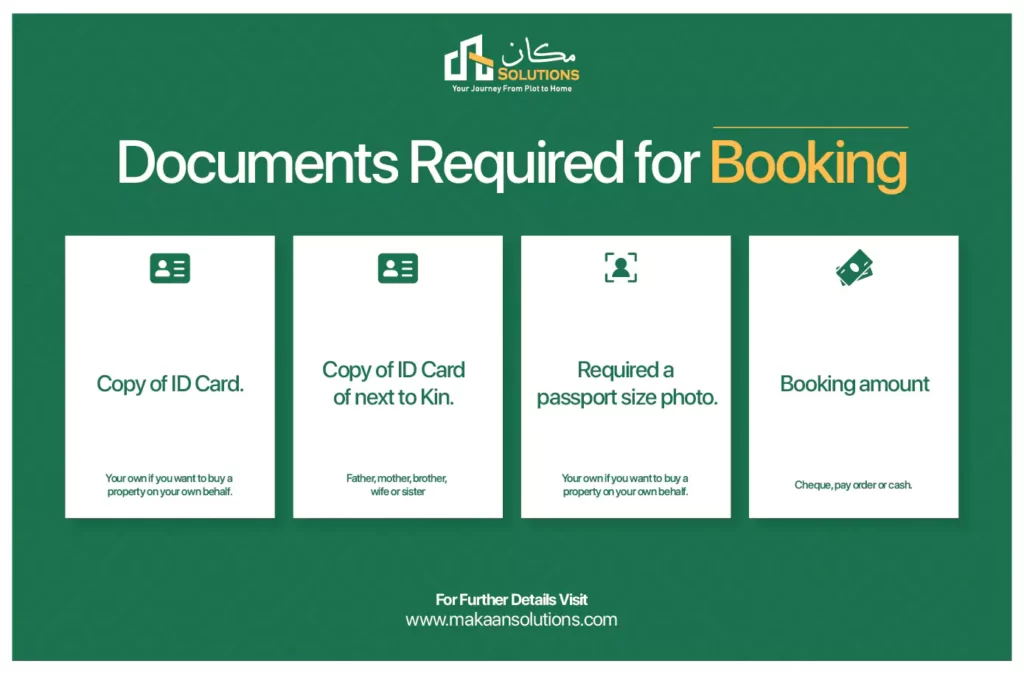 Amenities and facilities that make gold look dull
---
New Metro City Lahore will not glitter. It will shine in the landscape of Lahore. The amenities & facilities can make or break a housing scheme. The availability of facilities ensures that prospective buyers that their future will be safe & secure.
The unique and luxurious amenities of New Metro City are on par with major projects of Lahore. Eastern Housing Lahore also shares the same amenities as this housing society in Lahore.
Here are some of the best amenities planned for the project in Lahore:
Gated Community
The primary features of this establishment are its security & gated community. There is a dire need for gated communities in Pakistan due to a lack of security in open neighborhoods. More people are moving to such places to ensure the safety of their families.
Therefore, this housing scheme will be a game-changer for Lahoris.
Mosques
There won't be just one but multiple mosques in New Metro City Lahore to facilitate inhabitants of each block. Numerous mosques mean ample space for everyone to offer congregational prayers.
Theme Park
The theme park is going to be a significant development on the premises of this housing society, aiming to attract tourists & visitors. This theme park is being designed by expert architects & engineers.
Educational Zone
Each project of BSM Developers has an educational zone, which is quite visionary. In this zone, several educational institutes will be dedicated to cater to the educational needs of the residents.
Commercial Zone
The commercial zone will have high-rise buildings for offices and apartment complexes. This zone will be the backbone of New Metro City Lahore. This commercial zone has the potential to make the prices of the plots go through the roof.
Shopping Centers
A shopping center is a significant facility for the residents since they won't have to leave the premises to shop. These shopping centers will have considerable international shopping brands.
Moreover, there are going to be fine-dine & fast-food restaurants as well.
Perfect Mixed-Use Development
A mixed-use development includes both residential & commercial plots, offering multiple amenities at once. This establishment is also a mixed-use development that has the potential to generate a significant amount of economic activity inside the premises.
The demand for such developments is increasing in Pakistan, resulting in a great ROI in the long run.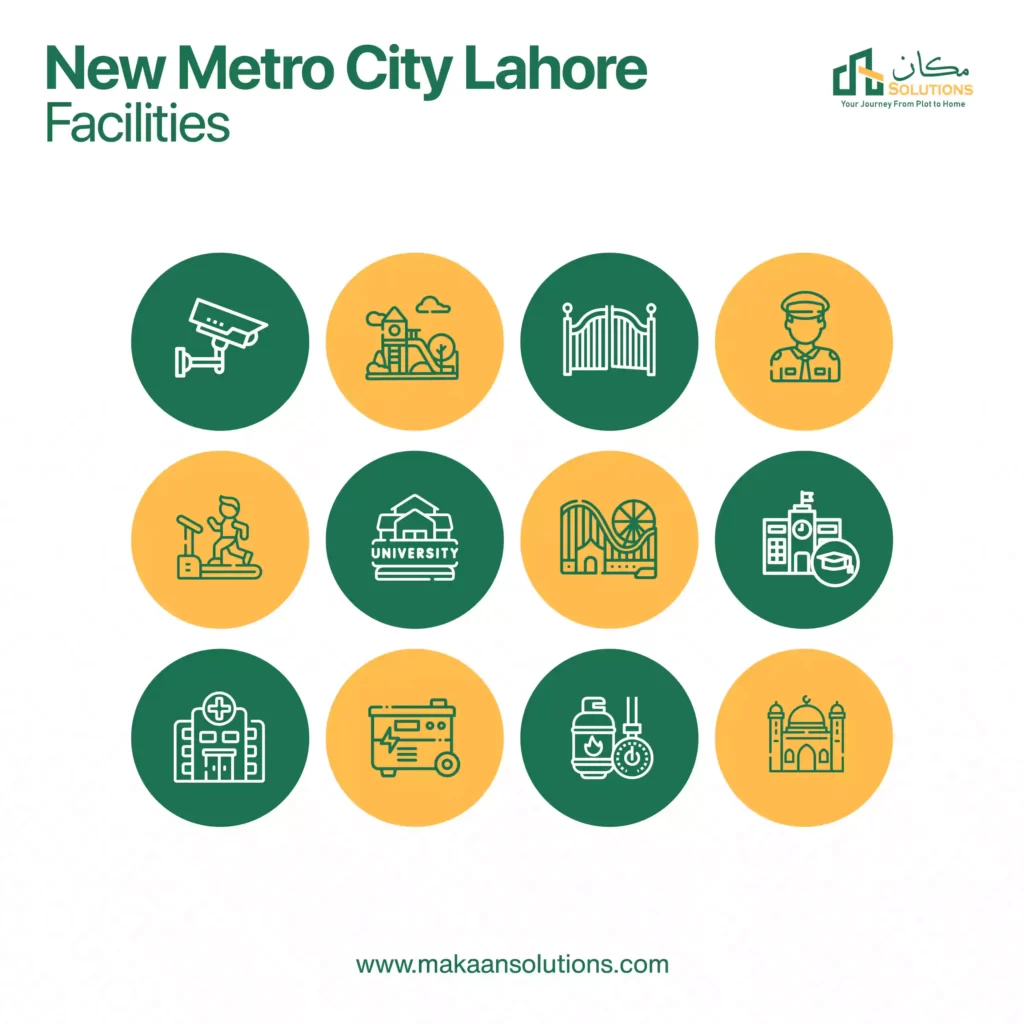 Conclusion
---
New Metro City Lahore is a complete package for people looking for optimal yet luxurious housing in Lahore. The booking is unavailable currently, but you can expect the latest updates about this project soon. However, if you want to explore more premium housing societies but don't reside in Lahore, consider Capital Smart City. It is also a promising housing scheme aiming to be one of the best nationwide. Time is crucial, so invest wisely, timely & decisively.
[elfsight_whatsapp_chat id="1″]