Marina Sports City
Marina Sports City Lahore is being developed to become the most luxurious sports town in the country. The infamous development company, SURBANA JURONG, designs the master plan of this housing society. It is NOC-approved by LDA and offers affordable payment plans with world-class amenities.
Marina Sports City: introduction
---
Marina Sports City Residencia is home to world-class sports facilities and residences. Marina Sports City is a new flagship block in Al Noor Orchard. It is a premium development project by Al Jalil Developers (AJD). This sports city aims to host international and national sporting events when it is completed.
The residential plots of this housing society will include 3, 5, 10 & 20 Marla plots with a 5-year payment plan. However, the commercial plot sizes and payment plans have not been announced. This project is still in its initial phases, making it a very practical option for investment.
Marina Sports City Location
---
The location of Marina Sports City is right on the main Sharaqpur Road, Lahore. It is located near the M2 Motorway and Faizpur Interchange. This project is next to Al Qayyum Garden and Al Jalil Garden. The location of this housing society is very accessible for intercity and intracity travel.
The developers have built this establishment to connect it with major landmarks in Lahore. There will be sporting events held in this sports city. Therefore, the location of this society is very prime.
Accessibility & Nearby Landmarks:
M2 Motorway is a 10-minute drive
Parklane City Lahore is a 15-minute drive
Shahdara is a 25-minute drive
Johar Town is a 33-minute drive
Thokar Niaz Baig is a 39-minute drive
Jinnah Hospital is a 40-minute drive
Lahore Ring Road is a 41-minute drive
Lahore Wildlife Park is a 47-minute drive
UET is a 48-minute drive
Allama Iqbal International Airport is a 55-minute drive
The list of accessibility & nearby landmarks includes hospitals, universities, major housing societies, and an international airport. The location of this establishment is second to none, making it a prime investment option.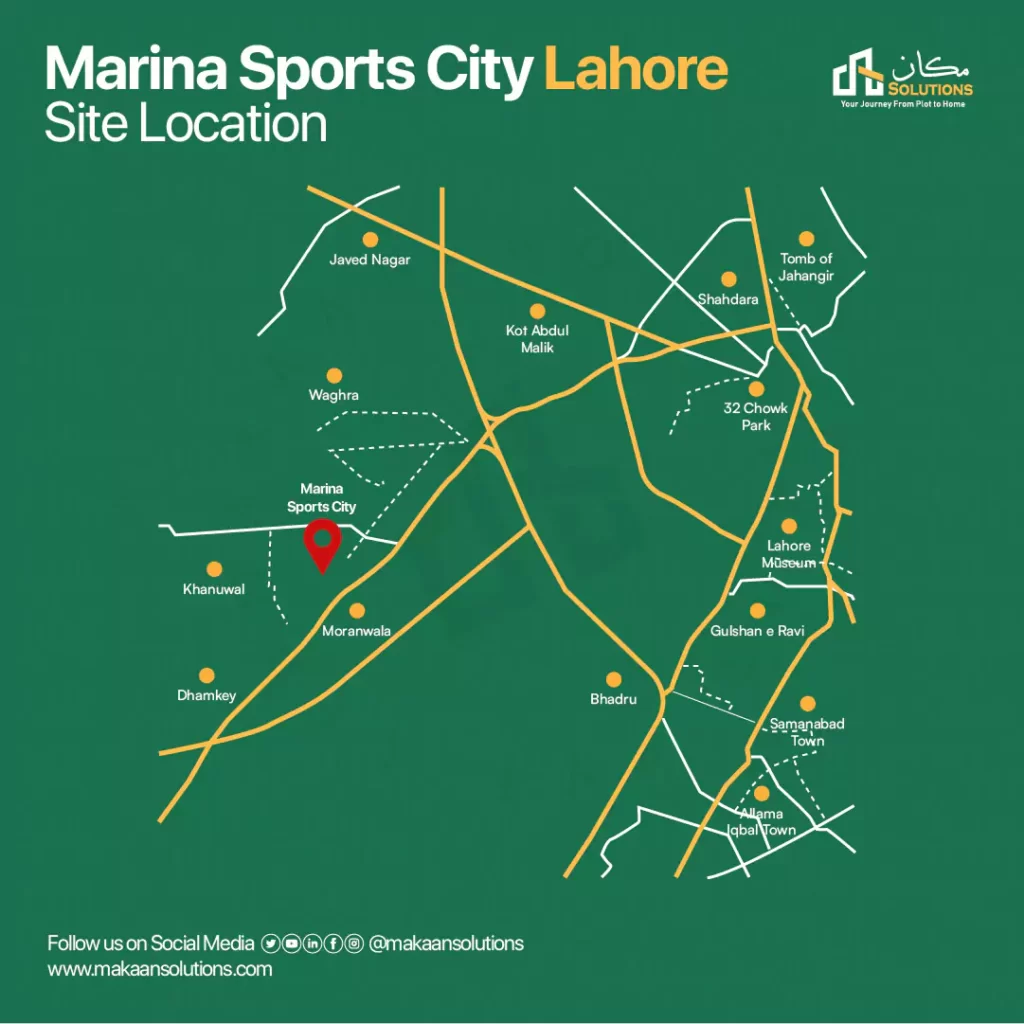 Marina Sports City Map
---
The location of Marina Sports is on the main Lahore-Jaranwalla or Sharaqpur Road, and it is visible on Google Maps. The exact map location is given below for your better understanding.
Marina Sports City Master Plan
---
Marina Sports City's master plan is designed and planned by the Singaporean Company SURBANA JURONG. It is an urban development company that has designed cities and international housing societies. This company also designs Capital Smart City Islamabad. Therefore, you can expect this society to be well-designed by international standards.
The master plan of this sports city includes Stadiums, Parks, and Residential & Commercial Blocks.
However, commercial plot sizes have yet to be announced.
Residential Plot Sizes:
3 Marla
5 Marla
10 Marla
1 Kanal
Stadiums & Clubs:
Qalandars Cricket Stadium
Football Field
Grand Marina Sports Club
Hockey Futsal
Basketball Courts
Tennis Courts
Paintball Arena
Indoor Sports Complex
There are different blocks in this sports city, and huge areas are reserved specifically for stadiums and sports complexes. It is a mega project when it comes down to its design and master plan.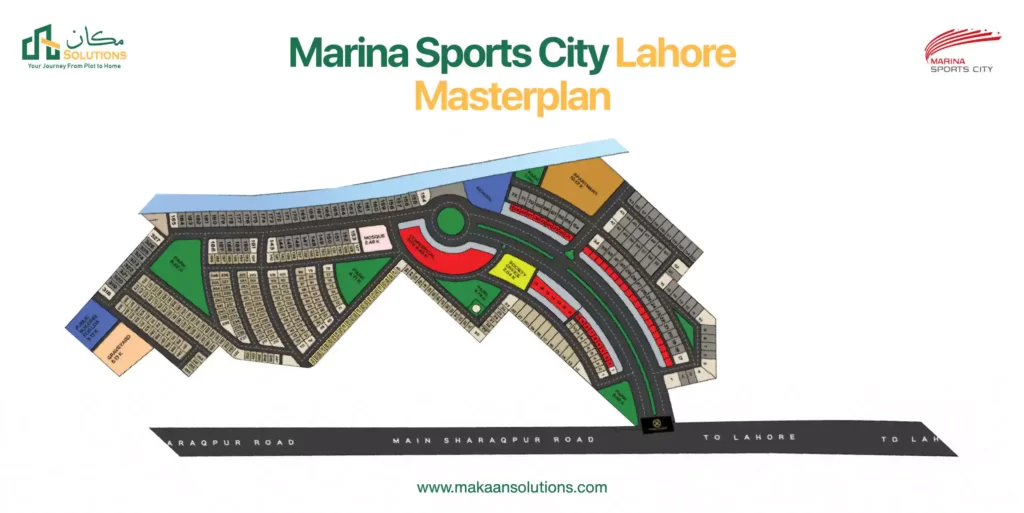 Marina Sports City NOC & Legal Status
---
This project is approved by the Lahore Development Authority (LDA). Al Jalil Developers have partnered with the Pakistan Super League (PSL) team Lahore Qalandars to build a grand cricket stadium here. It is going to be the home ground of Lahore Qalandars. This major effort by the developers substantiates the legal status of this housing society. Moreover, this major development is a positive sign for ROI.
Marina Sports City Developers
---
This project has been developed by renowned Al Jalil Developers (AJD). Al Jalil Developers are known for their premium projects. Some of their most successful projects include Al Jalil Garden, Lahore Entertainment City, and Al Noor Orchard Housing Society.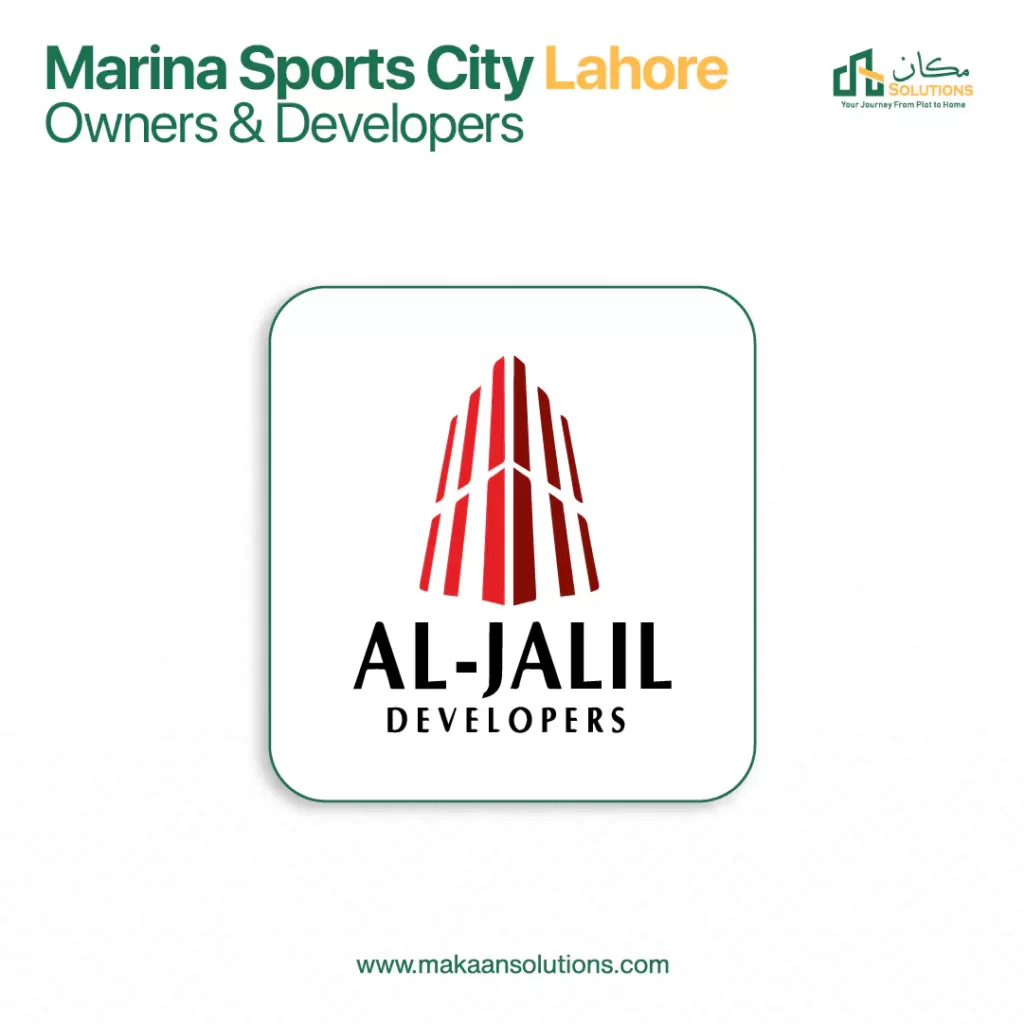 Marina Sports City Payment Plan
---
Marina Sports City is offering a surprisingly affordable payment plan. The payment plan starts as low as 11,000 per month with 5-year installments. This is one of the most affordable payment plans you will come across at such a prime location in Lahore. The payment plan includes residential 3, 5, 10 & 20 Marla plots.
Moreover, the plan is very transparent, with no hidden charges. Al Jalil Developers have a positive track record in providing premium installment plans to investors. Marina Sports City's new rates are now available.
However, commercial plots are not available for sale right now. So, you should be expecting an update regarding this.
Residential Plots Payment Plan
| Plot Size | 3 Marla | 5 Marla | 10 Marla | 1 Kanal |
| --- | --- | --- | --- | --- |
| On Booking | 175,000 | 250,000 | 450,000 | 750,000 |
| On Confirmation | 175,000 | 250,000 | 450,000 | 750,000 |
| Balloting (within 18 months) | 350,000 | 450,000 | 800,000 | 1,500,000 |
| On Possession | 200,000 | 300,000 | 650,000 | 900,000 |
| 6 Half Yearly Installments | 50,000 | 75,000 | 125,000 | 225,000 |
| Installments (Per Month X 50) | 11,000 | 15,000 | 28,000 | 45,000 |
| Total Price | 1,750,000 | 2,450,000 | 4,500,000 | 7,500,000 |
Note:
The Plot/Property prices are exclusive of development charges
10% discount on full payment
The developers have included every important charge in this installment plan. If you want to invest here, you can choose any one of the packages which suits you well.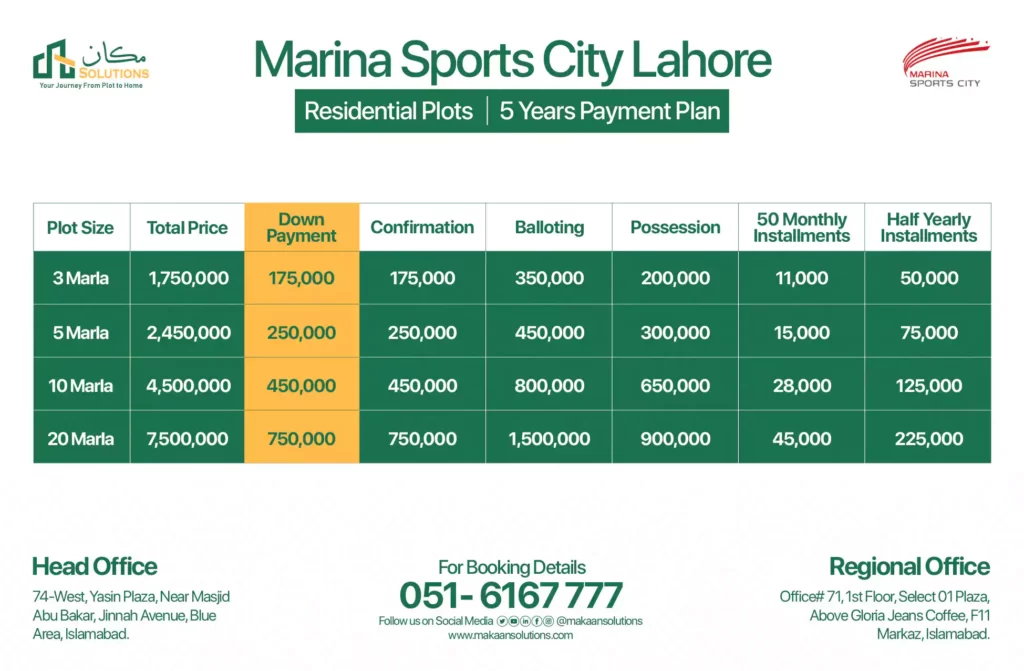 Marina Sports City Booking Procedure:
---
The booking is open now for investors. You can book a residential plot in this housing society. You can contact Makaan Solutions to get more details about this project. However, you will need some important documents for booking.
Essential papers required for booking are as follows:
Standard Passport-size Photographs
CNIC OR Passport Photocopy
Photocopy of NICOP (if applied)
Payment receipt or online payment screenshot (down payment)
This user-friendly and easy booking procedure is very important if you're about to invest here.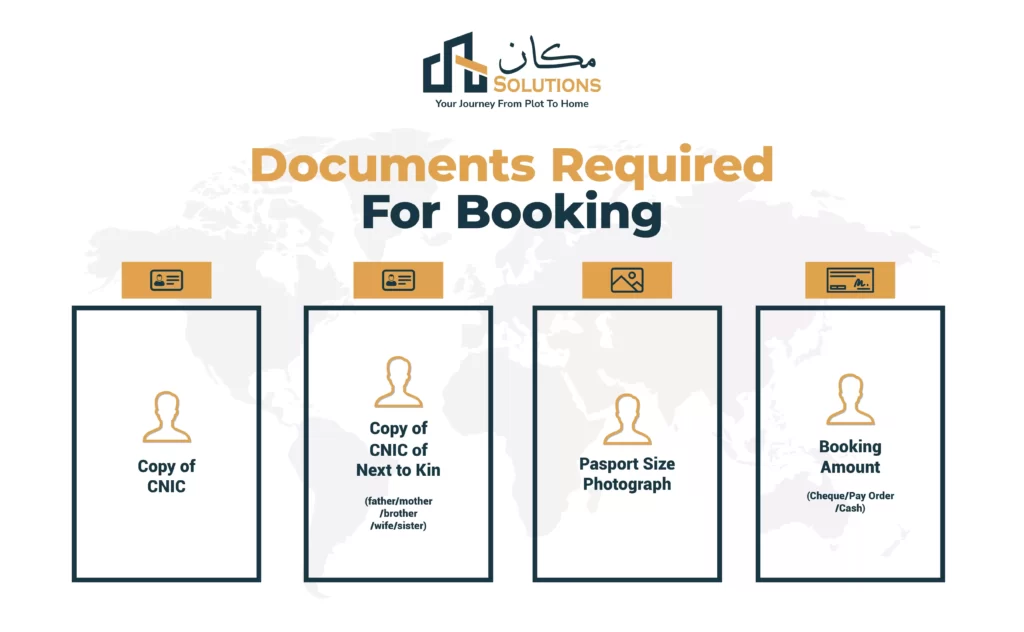 Marina Sports City Amenities
---
The sports facilities of this project have the potential to make it the most luxurious sports city in Pakistan. This city's residents can access world-class fitness clubs & gymnasiums. Therefore, it can provide the healthiest environment in the country. The prime location is premium quality, but you will also get more amenities.
Some of the best amenities are as follows:
Grand Marina Sports Club:
This sports club will have compounds for indoor sports and e-sports. Moreover, it will include a hockey club, a soccer club, and action sports.
This establishment also includes premium apartments, swimming pools, and theatres.
Sports University:
This sports university will be the first of its kind in Pakistan.
Emergency Healthcare Center:
For any medical emergency, this will be the most important amenity. The residents won't have to leave the premises for their medical needs. A fitness rehab center will also be a part of this healthcare center.
Sports-themed Parks:
These parks will be part of the daily life of the residents. These parks will be utilized for jogging, hanging out, outdoor working out, and family picnics.
The sports-themed parks are designed to promote sports activity among young kids.
Cricket Stadium:
This stadium will be the home ground of Lahore Qalandars. This cricket stadium will also be used for international cricket matches. You won't have to leave town to see a live match.
24/7 Security
This society's residential sector will be fully guarded for 24 hours. CCTV cameras will be monitoring the whole premises. Moreover, there will be security petrol on-premises as well.
UFC GYM
This is one of the most advanced fitness gyms in the world. The UFC gym is a big part of this housing society. The residents will be able to visit this gym daily.
Door Step Maintenance Services
The residents will be facilitated with maintenance services on their doorstep. It will be very important for keeping your house or apartment well-maintained.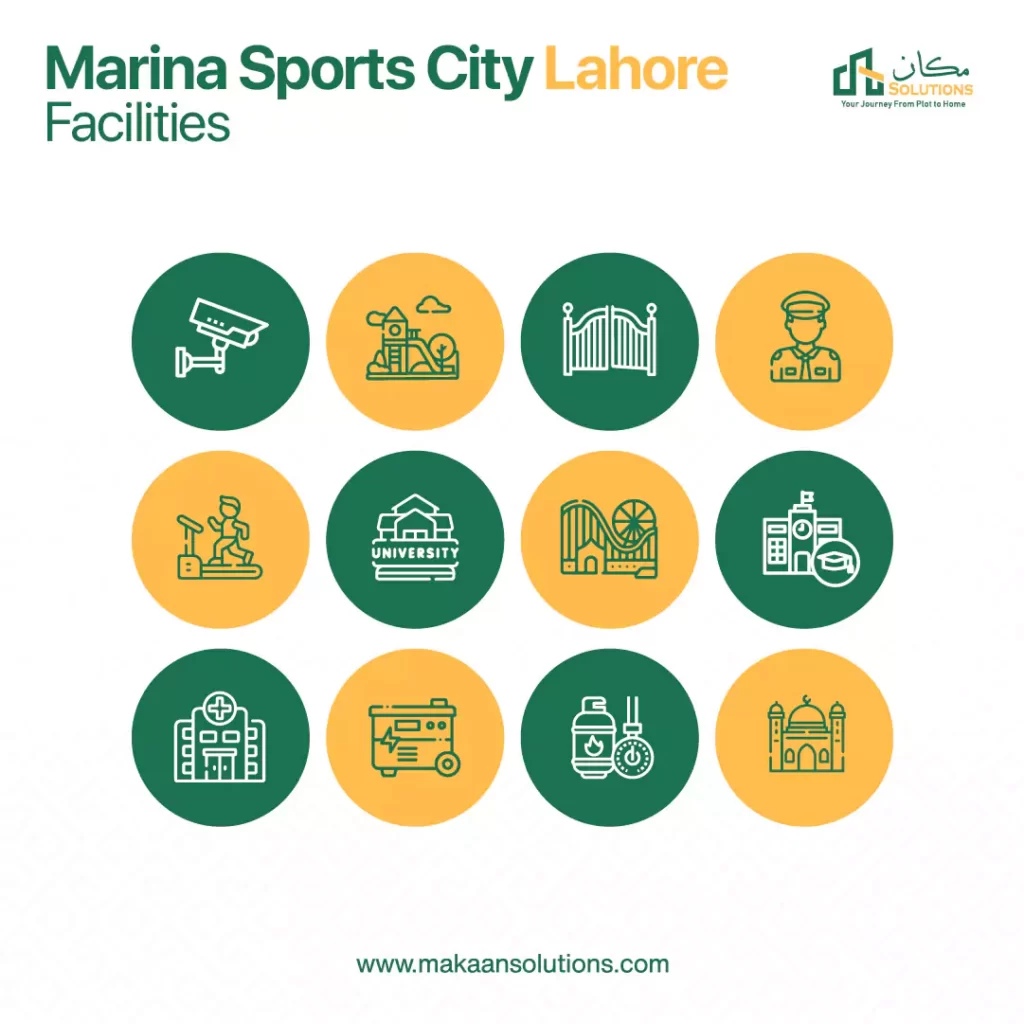 These are some of the best amenities at Marina Sports City Residencia. However, other amenities include basketball courts, paintball arenas, volleyball courts, Go Kart, tennis courts, drag race tracks, and E-Tag Entry.
Conclusion:
---
Marina Sports City is a perfect town for sports, entertainment, and luxury living. This detailed analysis shows a promising future for this residential society. Therefore, it is a golden opportunity for you if you are looking for a luxurious sports city in Lahore. If you are looking for a similarly luxurious project outside of Lahore, consider New City Paradise for your investment.

[elfsight_whatsapp_chat id="1″]