Islamabad Pearl Enclave
Islamabad Pearl Enclave is a new residential housing project with an ideal location on Islamabad-Lahore Motorway near Thalian Interchange to offer easy access to the joint cities. The pre-launched payment plan of Pearl Enclave is very affordable for the available residential and commercial plots.
Islamabad Pearl Enclave Introduction
---
Islamabad Pearl Enclave is the best housing project launched in 2022 to bring new opportunities for commercial and residential plots. This housing scheme is situated in the phenomenal surroundings of Islamabad. This is the first-ever Solar Trees housing scheme to overcome the problem of load-shedding. Therefore, it has become the load-shedding-free society in Islamabad.
Pearl Enclave Islamabad is an environment-friendly project with an elegant electricity system to ensure a magnificent lifestyle. Therefore, this is an attractive solar housing scheme in Islamabad for the people of the twin cities. You can reserve your property in this new housing project as it is in the initial phase.
Islamabad Pearl Enclave Location
---
Location of Islamabad Pearl Enclave is towards the expansion of the capital city. It is located on M-2 Motorway near Thalian Interchange to offer flexible access to potential customers. You can also travel on Rawalpindi Ring Road to reach your plot in this society from Rawalpindi and Islamabad. Moreover, you can also use the route of the M-2 Motorway and Hakla to visit this residential Pearl Enclave Housing Society.
The location of this phenomenal housing project is close to Widn Pipelines and Katti Pahari. You can reach the society from the nearby landmarks as Pearl Enclave Housing Scheme owns a specific services road for fast access. You can also travel on GT Road as well as Kashmir Highway to reach this residential project.
Nearby Landmarks
Avalon City
Faisal Town Phase 2
Islamabad Golf City
Nova City Islamabad
Rudn Enclave Islamabad
Access Points
Thalian Interchange is 3 minutes away
Capital Smart City Interchange is 4 minutes away
GT Road is 10 minutes away
New Islamabad International Airport is 15 minutes away
Kashmir Highway is 25 minutes away
Faizabad is 30 minutes away
Zero Point is 38 minutes away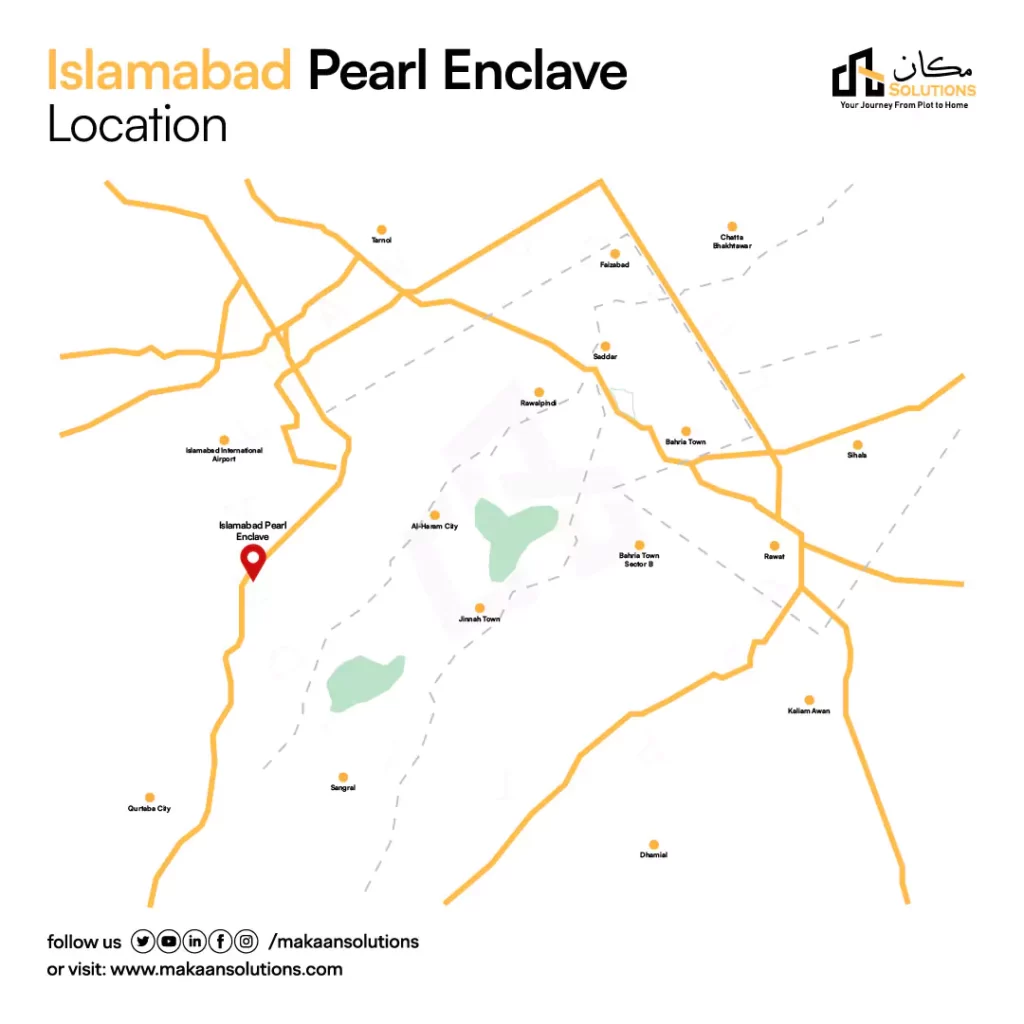 Islamabad Pearl Enclave Payment Plan
---
Payment plan of Islamabad Pearl Enclave lets you know about the rate list of available residential and commercial plots. The management has launched the payment schedule for only residential properties as society is in the initial stage. However, the management will launch the payment plan for the commercial plots in the upcoming days.
The management has announced reasonable plot rates in Islamabad Pearl Enclave for the available categories of residential plots. You can book your residential plot in this society by paying a 20% down payment. After that, you need to follow the monthly and half-yearly installment plans. You have to make a 15% payment at the time of possession. There are residential plots for sale in Islamabad Pearl Enclave at the pre-launch price.
5 Marla plot
---
5 marla plots are for sale at pre-launch rates:
The total price of a 5 marla plot in Islamabad Pearl Enclave is 1,800,000
20% down payment is 360,000
36 monthly installments of 20,500 per month
6 half-yearly installments of 72,000 per year
15% possession payment is 270,000
8 Marla plot
---
There are 8 marla plots for sale at a pre-launch price list:
The total payment of an 8 marla plot is 2,500,000
20% down payment is 500,000
36 monthly installments of 28,472 per month
6 half-yearly installments of 100,000 per year
15% possession payment is 375,000
10 Marla plot
---
The pre-launch price of 10 marla plots is mentioned below:
The total payment of a 10 marla plot is 3,000,000
20% down payment is 600,000
36 monthly installments of 34,167 per month
6 half-yearly installments of 120,000 per year
15% possession payment is 450,000
1 Kanal plot
---
1 Kanal plot payment plan is listed below:
The total payment of a 1 Kanal plot is 5,800,000
20% down payment is 1,160,000
36 monthly installments of 66,056 per month
6 half-yearly installments of 232,000 per year
15% possession payment is 870,000
Important Notice
10% extra charges for corner and park-facing plots
5000 per marla charges for in-house plots insurance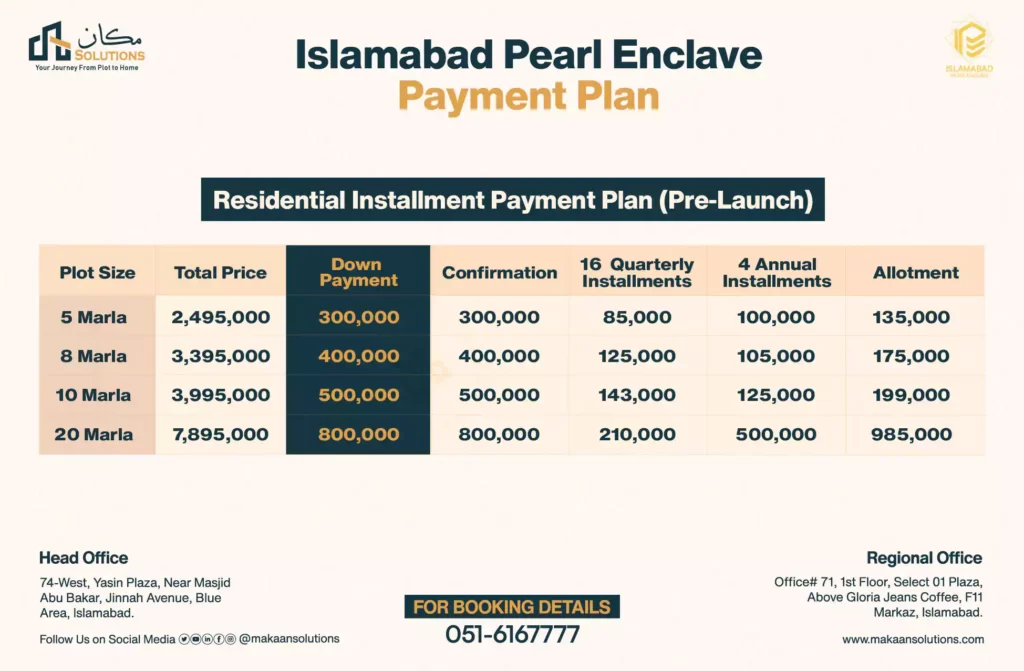 How to Book a Plot in Islamabad Pearl Enclave?
---
Islamabad Pearl Enclave booking procedure is available for potential customers who want to own valuable properties at the pre-launch rates. It has become easy for you to reserve a property in a transparent way due to the usage of modern technology in real estate. Therefore, you can book your plot manually as well as online with the premium services of Makaan Solutions. Let's have a look at the smooth steps for booking plots in Islamabad Pearl Enclave:
Download and fill out the Islamabad Pearl Enclave application form
Add the necessary documents to the application form
Pay the down payment and attach the payment receipt
Submit the application form for the confirmation of your plot
Necessary Documents
The necessary documents for the reservation of a plot are listed down:
Customer's duplications of CNIC
Next to Kin's duplications of CNIC
Customer's passport-size pictures
NICOP for overseas customers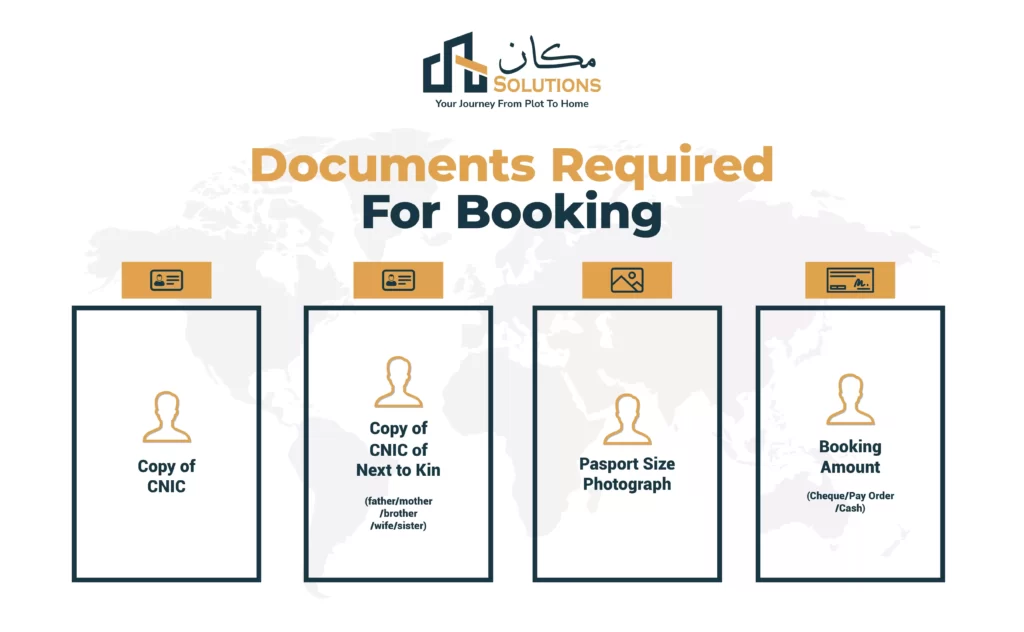 Benefits of Investment
---
The attractive benefits are the basic reasons to invest in Islamabad Pearl Enclave that have got the customers' attention globally. The perks of buying properties in this project are mentioned below:
Financial Independence 
The first perk of buying a plot in this residential project is financial independence. You can own a property in this society that can help you in your difficult times, such as an increasing rate of inflation.
Valuable Property 
A plot in this society has become the most valuable property as the plot rates increase gradually. Let's invest in Islamabad Pearl Enclave to remain calm in times of financial crisis because the value of your property is boosting every day.
Passive Earning
Everyone always tries for more earning streams. You can also get a source of income besides a job and a business by reserving a plot in this housing scheme.You can make money by renting your property.
High ROI
Return on investment is the most lucrative benefit for the investors who make a quick investment in Islamabad Pearl Enclave by purchasing the plots at the pre-launch prices. The prices of plots keep evaluating with the passage of time and development to ensure the highest ROI.
Islamabad Pearl Enclave NOC Status 
---
NOC status of Islamabad is still in the process as the management has already shared all documents of the society with the relevant authorities of government. The legal status of Pearl Enclave Society will be approved soon to get the customers' trust. The people have started to purchase their plots in society as they know that management will get the No-Objection Certification in the near future.
Total Area
The total area of Islamabad Pearl Enclave is more than 3500 Kanal.
Islamabad Pearl Enclave Master Plan 
---
Master plan of Islamabad Pearl Enclave shows that the society consists of more than 3500 Kanal to offer magnificent commercial and residential plots. The layout plan indicates that the housing society is the 1st Solar Trees Housing Scheme in Islamabad. The residential plots are part of the master plan. However, the commercial plots will be available on the layout plan in the near future.
Residential Plot Sizes 
The following plots are available in society:
5 Marla
8 Marla
10 Marla
1 Kanal
Islamabad Pearl Enclave Owner & Developers 
---
Developers of Islamabad Pearl Enclave are D Associates that are being led by Mr Shahid Khan Dasti. Arshad Khan Dasti, Haris Khan, and Sajjad Khan Dasti are also part of D Associates to develop this excellent project. D Associates is a new real estate development company, but leadership is well-known in the real estate market with an experience of more than twenty years.
Owners of Islamabad Pearl Enclave are also D Associates, as they have a magnificent experience in business planning, finances, management, and entrepreneurship. They're utilizing their knowledge and experience in the real estate industry to develop this project within a given deadline to facilitate the customers.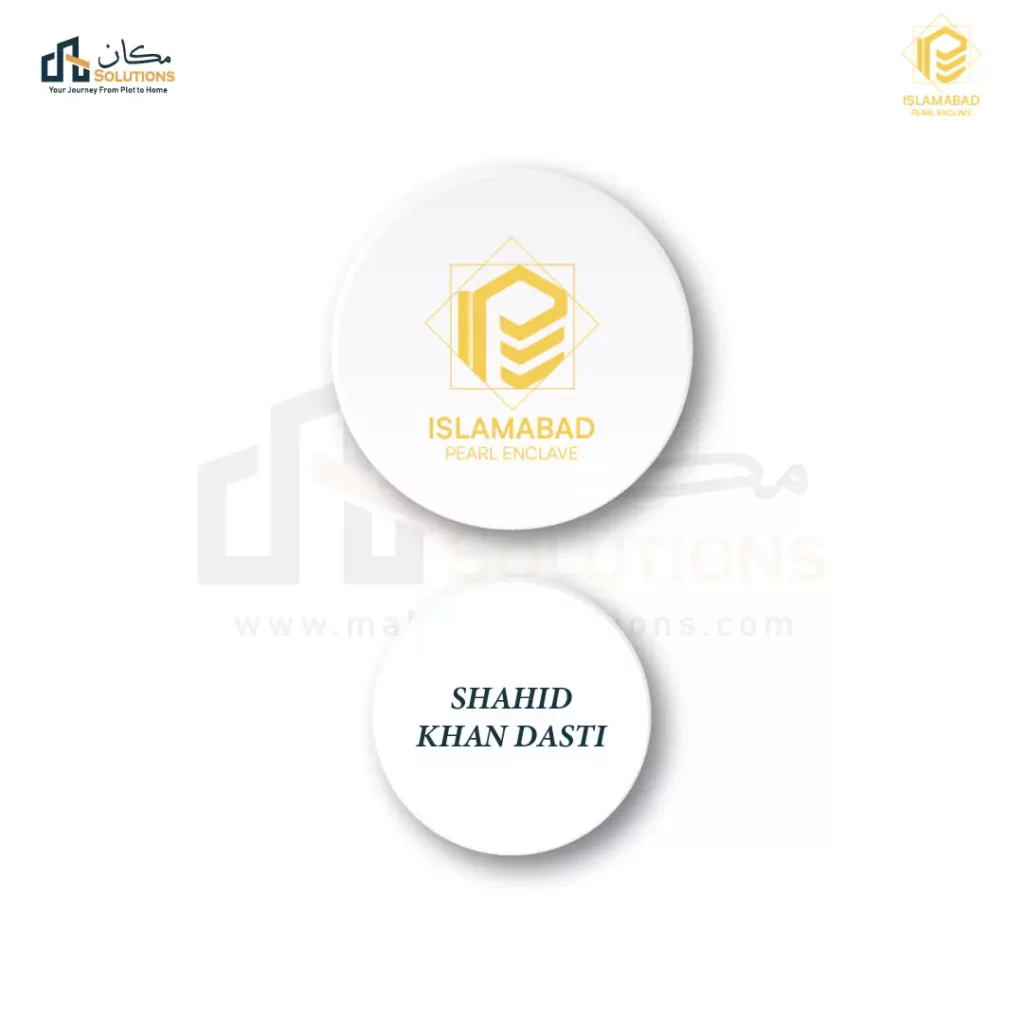 Islamabad Plots with Numbers
---
Pearl Enclave in Islamabad also provides physical plots with numbers instead of files that enable you to locate your reserved plot in society easily. Therefore, it is the most in-demand society because it offers on-ground plots as compared to housing societies that sell only the files.
Islamabad Pearl Enclave Insurance Policy
---
Insurance policy in Islamabad Pearl Enclave is being introduced by the management. You will become eligible for this policy after the six installments that bind the society to give plots without any further installment in case of any mishap, such as an accident or death.
Islamabad Pearl Enclave Development Status
---
The development work in Pearl Enclave Islamabad has been started to deliver the project on time. The pruning and leveling of land are in the final phase. Moreover, the construction of the main gate, roads, and main boulevard has been started in the society.
Facilities & Amenities 
---
The management is on a vision to include magnificent amenities and facilities for the residents within the society. The purpose of introducing the facilities and amenities is to bring comfort into the customers' lives.
Solar Trees 
The availability of solar trees in society ensures that every resident experiences a load-shedding-free lifestyle. Therefore, you're going to use the electricity without facing any challenges of breakdown.
Adventure Club
The presence of an adventure club in this residential project enables the residents to take part in different adventure activities. This adventure club allows you to take your activities to the next level in a safe environment.
Shuttle Service
The society is a little away from the main landmarks of Islamabad and Rawalpindi to offer an eco-friendly environment to the residents. However, you have no need to worry about traveling to cities as management is focused on introducing a shuttle service to ensure the best transportation system.
Rescue Service
The management is very keen to facilitate the residents. Therefore, they have added the best rescue services 24/7 to take the patients quickly to the healthcare centers.
Golf Club 
The presence of a prominent golf course in this residential project ensures that you enjoy a peaceful playing experience in the beautiful greenery of society.
Sports Complex
The availability of a sports complex within society ensures that you can easily enjoy your favorite sports, such as cricket, football, and volleyball.
Education & Healthcare
The developers are committed to constructing hospitals that include modern medical facilities for the residents with world-class educational institutes to ensure international-standard education.
Electricity, Gas & Water
The basic facilities of gas and electricity are also being fulfilled by the management to ensure that you live peacefully with access to these basic amenities. Moreover, the water filtration plant also ensures that residents can enjoy the purified water without any problems.
Security
This is a gated community in the presence of high-qualified security staff and CCTV cameras. The residents can enjoy a peaceful environment in this highly secure housing society.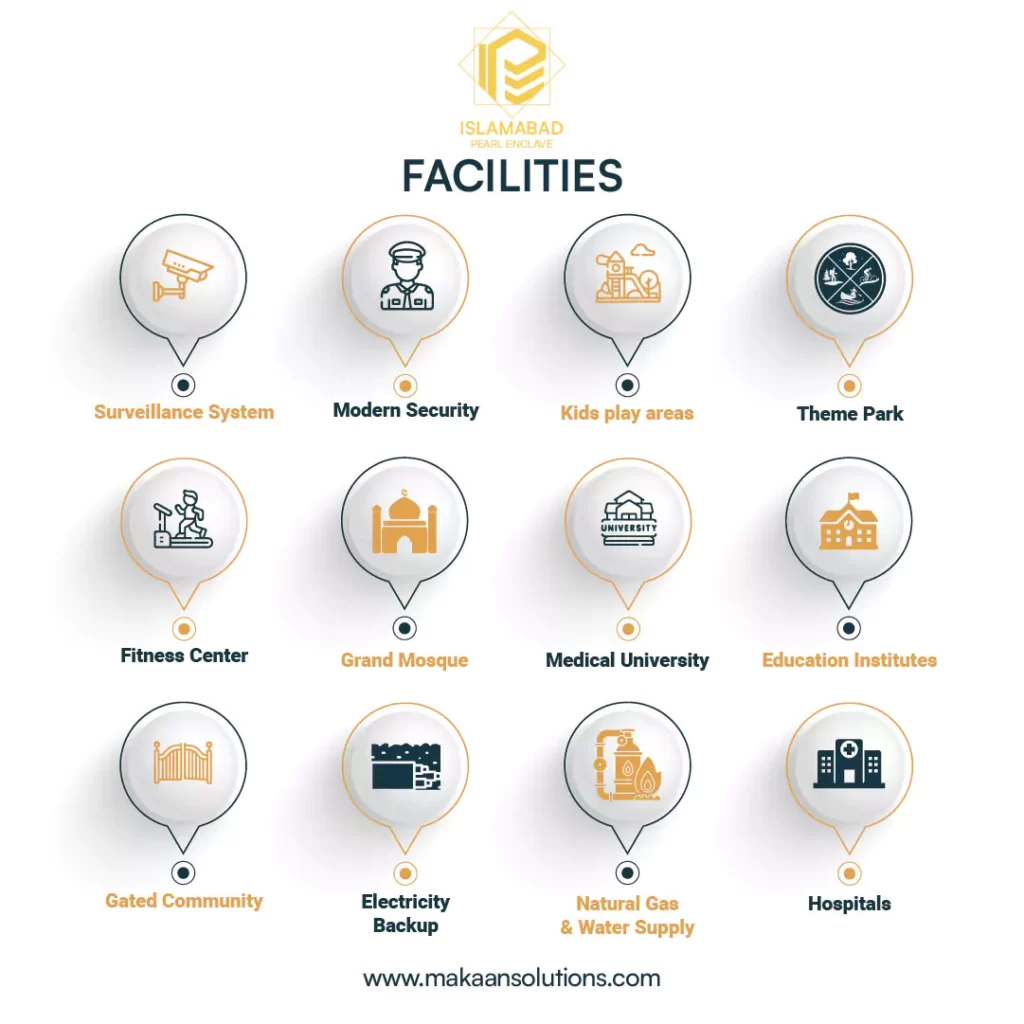 Pros & Cons
---
Pros
Experienced developers
Reasonable payment plan
Ideal location
Phenomenal master plan
Modern facilities and amenities
Easy booking process
Cons
Conclusion 
---
Islamabad Pearl Enclave is another new project in Islamabad to fulfill commercial and residential needs. This society has a premium location with a reasonable payment schedule to ensure exceptional living standards. You can reserve your property in Pearl Enclave with the help of Makaan Solutions. We also offer magnificent services to customers who are interested in purchasing their plots in Sialkot Motorway City and New City Paradise.

[elfsight_whatsapp_chat id="1″]