Eastern Housing Multan
Eastern Housing Multan is a complete housing scheme being offered with exceptional amenities at a prime location near Multan Cantonment. This is NOC-approved by the Multan Development Authority. EHM is a mega development aiming to elevate the residential sector of Multan. This is a first-of-its-kind project in the city.
Eastern Housing Multan introduction
---
Eastern Housing Multan (EHM) is a new flagship project in the City of Saints. After the success of Eastern Housing Lahore, EHM is the latest society by MAS Group. It is designed uniquely than their last development (Eastern Housing Lahore) since it includes 7 zones instead of blocks.
The main objective behind this establishment is to provide affordable housing with luxurious amenities.
This project has recently been launched in August 2023 by the developers. Investors and buyers are now welcome to make a purchase in this premium development.
Eastern Housing Multan Location
---
Eastern Housing Multan is built at a convenient location near Multan Road. This housing society is located on the main Hamidpur Road connecting Askari Bypass & Multan Road. It is in close proximity to Multan Cantonment. This location is known for easy access to universities, colleges, hospitals, housing societies, and high-quality restaurants.
The location of EHM is promising for investors since it is going to be bombarded with more buyers as this project gains momentum. Therefore, you've to be quicker than others to get a plot in this excellent location. The landscape surrounding this establishment is as scenic as most beautiful projects in Multan such as Royal Orchard Multan.
Accessibility & Nearby Landmarks:
Victoria Memorial Hospital is a 7-minute drive
Pearl-Continental Hotel is an 8-minute drive
Tawakal Town is an 11-minute drive
Multan University of Science & Technology is a 16-minute drive
Multan Cantonment is a 17-minute drive
Multan International Airport is a 22-minute drive
Fatima Jinnah Town is a 25-minute drive
City Railway Station is a 26-minute drive
Multan International Cricket Stadium is a 29-minute drive
Adams Housing Multan is a 41-minute drive
There are a lot of other residential towns in this area as well. It is proof that Eastern Housing Multan is in a great vicinity. If you compare the amenities of EHM with others, you will easily pick this housing society over any other.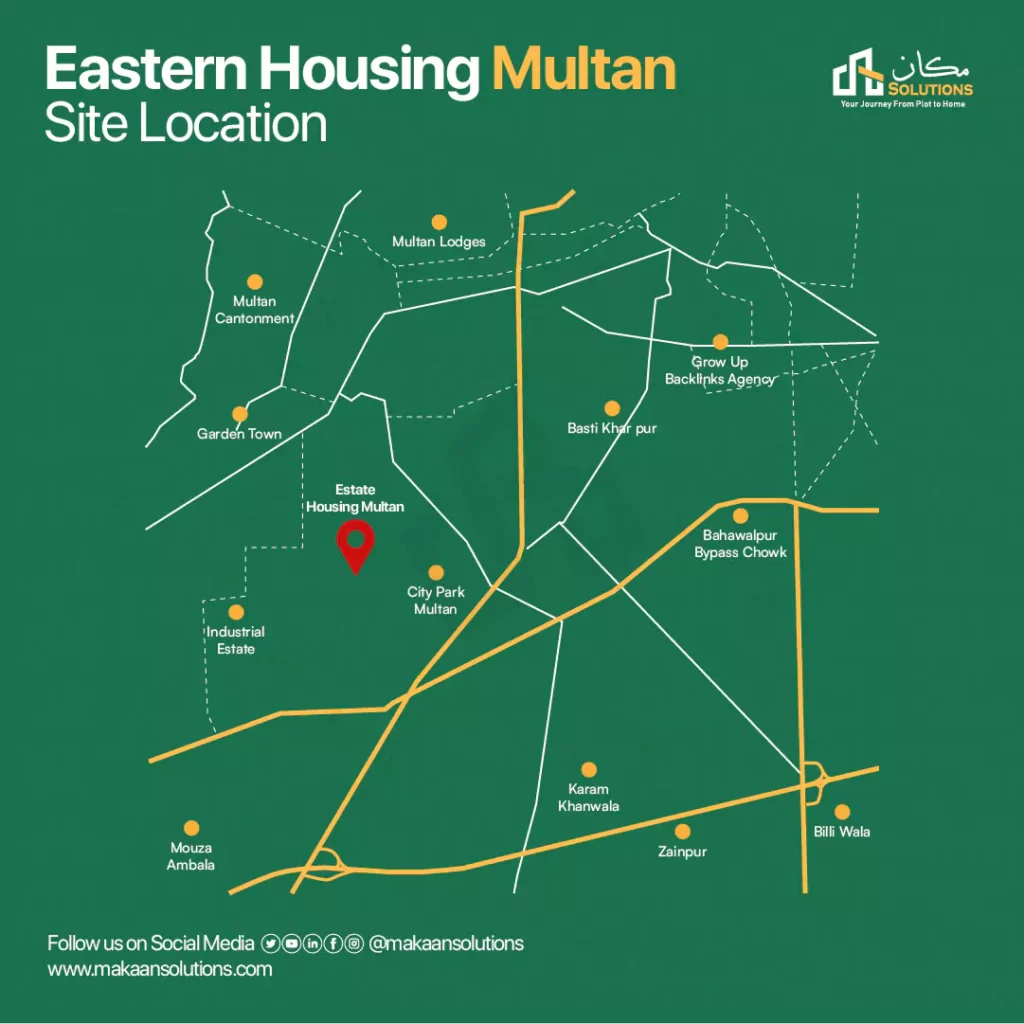 Eastern Housing Multan Map
---
The EHM map is available on Google Maps. However, we have attached the exact map location below for your convenience.
Eastern Housing Multan Master Plan
---
The master plan of Eastern Housing Multan is grand and marvelous. This project doesn't have mere blocks, it has 7 gigantic zones. There are commercial and residential plots that will attract potential investors.
The excellent thing about the master plan is that it is designed by a team that has a great track record. The chairman of MAS Group has impeccable experience in building projects for the World Bank & Asian Development Bank.
The detailed master plan is as follows:
7 Zones:
Health Zone
Education Zone
Entertainment Zone
IT Zone
Sports Zone
Cultural Zone
Commercial Business District
Residential Plot Sizes:
3 Marla
5 Marla
7 Marla
10 Marla
However, the commercial plot sizes have not been announced yet, and developers will announce them very soon since there is a high demand for them. You can expect new updates very soon.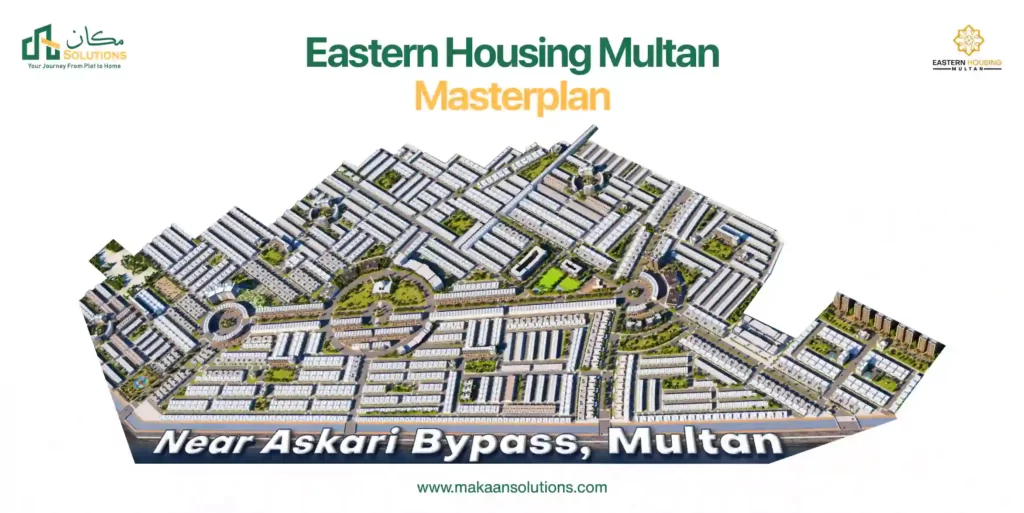 Eastern Housing Multan NOC & Legal Status:
---
This society is NOC-approved by the Multan Development Authority (MDA). The whole establishment amasses over 117 acres, and all of the land has already been approved.
Eastern Housing Multan Developers & Owners
---
MAS Group is the main developer and owner of the project. Mian Wamiq Anwer is the chairman of MAS Group. This development group is a veteran of the real estate sector. Moreover, they have made so many great projects a reality. These projects include MGI, NESPAK, PEPAC, and Indus Associates.
The credibility of developers speaks for themselves. Hence, the investors have great trust in the success of this project.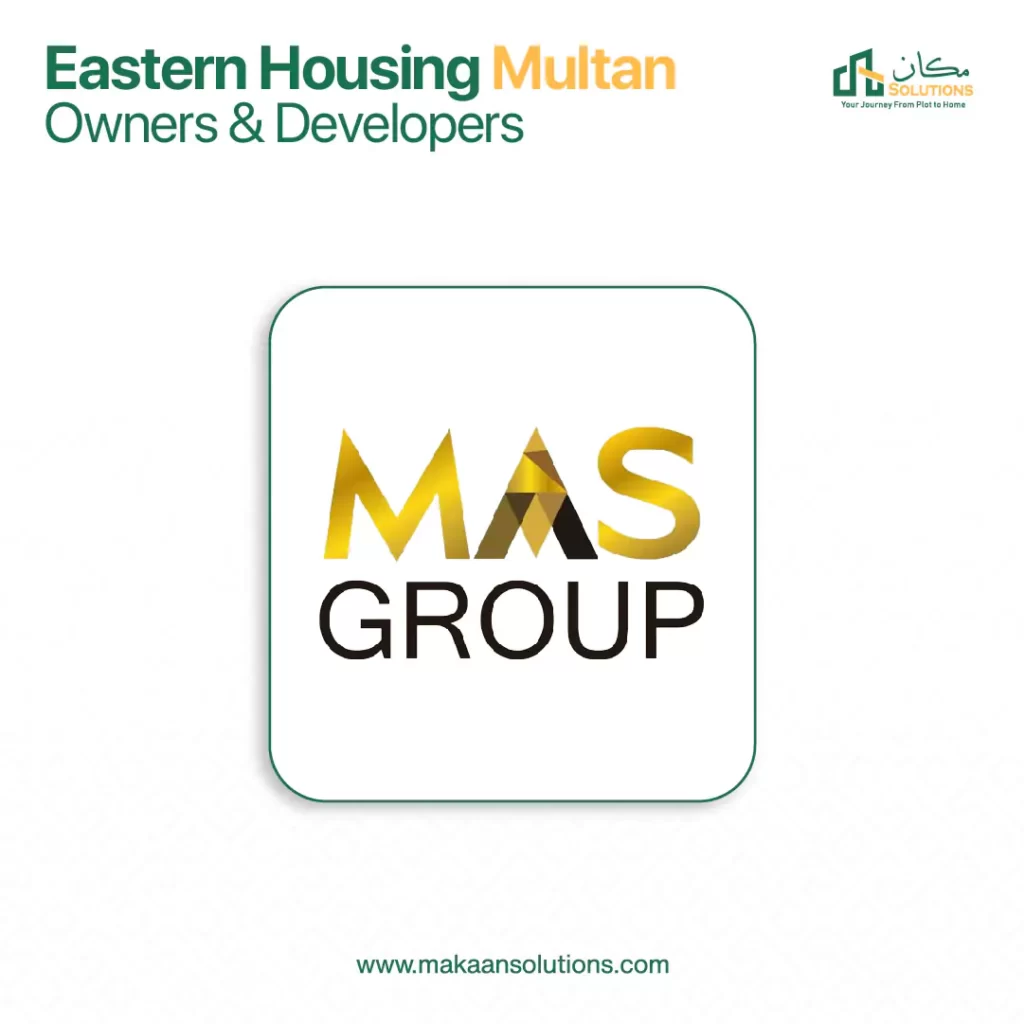 Eastern Housing Multan Payment Plan
---
The prices of plots in EHM are really affordable. The monthly installments start as low as 9,850. The current payment plan is available with 4-year installments. The down payment is only 20%. Other housing societies in the vicinity are not as affordable. This project is meant to appeal to low-income, middle-income, and high-income earners.
The perks being offered with such reasonable prices are astonishingly unbeatable by any competitor.
A detailed payment plan for residential plots is as follows:
Residential Plots Payment Plan
---
| Plot Size | 3 Marla | 5 Marla | 7 Marla | 10 Marla |
| --- | --- | --- | --- | --- |
| Down Payment | 315,000 | 500,000 | 665,000 | 900,000 |
| 48 Monthly Installments | 9,850 | 15,625 | 20,800 | 28,125 |
| Half Yearly Payments | 98,450 | 156,250 | 207,800 | 281,250 |
| Total Cost | 1,575,000 | 2,500,000 | 3,325,000 | 4,500,000 |
This payment plan is incredibly practical if you want to invest in one of the best locations in Multan. At this price, you will get amenities that are not even available in major housing projects in the whole of Pakistan.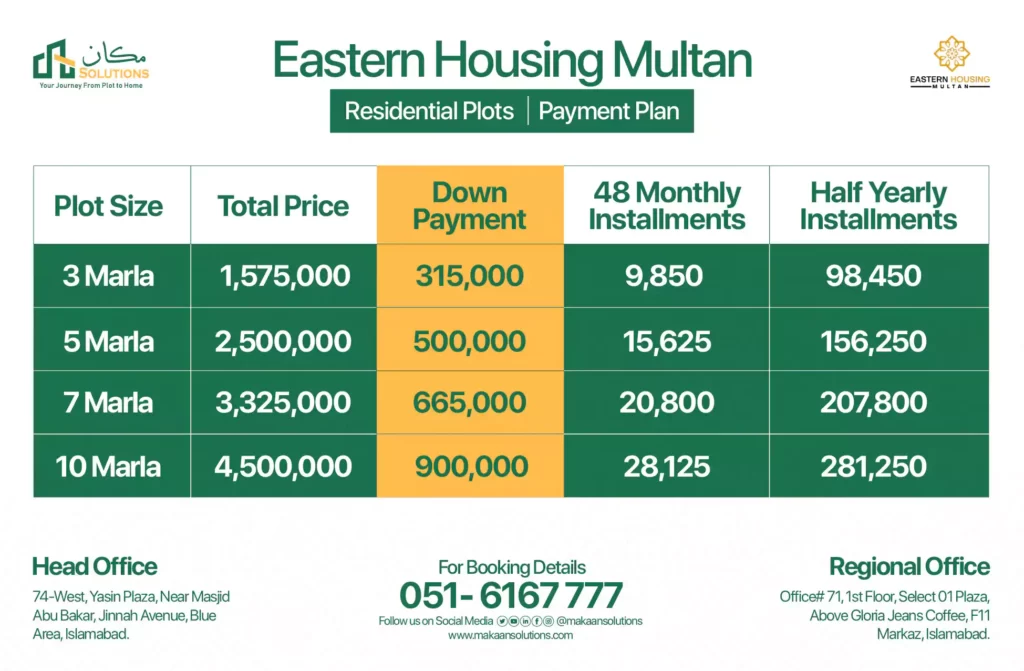 Eastern Housing Multan Booking Procedure
---
The booking for residential plots is now available, and commercial plots will be announced very soon. You can contact Makaan Solutions to get information about currently available plots.
Just like most other projects, you will need rudimentary documents for booking.
Essential documents are as follows:
Standard Passport-size Photographs
CNIC OR Passport Photocopy
Photocopy of NICOP (if applied)
Payment receipt or online payment screenshot (down payment)
The professional team behind this project has made the booking very user-friendly and convenient.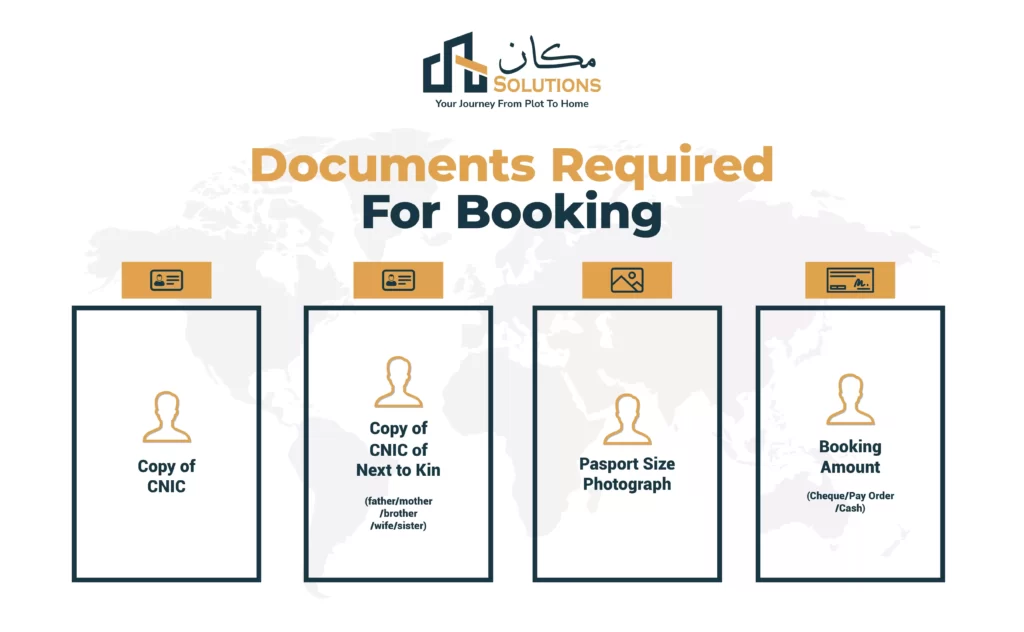 Eastern Housing Multan Amenities
---
The amenities of this establishment are second to none in Multan. The whole society contains 7 zones for different purposes. Each of these zones is designed and built by expert engineers, architects, and urban planners. These sectors of this housing society will facilitate the residents in every way possible.
The details about the rest of the zones are as follows:
Health Zone
The Health Zone is meant for hospitals, clinics, pharmacies, healthcare centers, and medical buildings.
Any sort of medical emergency will be dealt with by professional medical teams.
Education Zone
It is designed to become an education hub consisting of international schools and educational institutions. The developers have made sure that no resident has to leave the premises in order to get their kids to schools or colleges.
Sports Zone
The sports zone includes Basketball Courts, an Indoor Sports Arena, Outdoor Sports Fields, a Horse Riding Club, a Bowling Alley, a Shooting Range, Fitness Clubs & Gym.
Entertainment Zone
This zone is particularly built for theatres, cinemas, and various other recreational activities. This area will be a major attraction point for kids and families since there are going to be theme parks as well.
IT Zone
A vast number of tech companies are already interested in building their offices here. You will be getting a lot of benefits from this development.
Cultural Zone
The culture zone is designed perfectly to preserve the traditions of the City of Saints (Multan). Cultural & religious events are going to be organized here to promote culture. Moreover, the kids will be able to learn about diversity and traditions.
This zone will be a focal point for visitors around the country. Furthermore, it is going to be a special place for foreign tourists who want to learn more about the rich culture of Pakistan & Punjab.
Commercial Business District
Since it is a mega project, a whole commercial business district is designed to cater to the needs of the residents. A commercial hub inside the residential society will change the real estate projects in Multan. The ambitious step being taken by MAS Group is a very positive sign for investors.
This commercial district will include apartment complexes, high-rise buildings for offices, international shopping brands, restaurants, cafes, shopping centers, community centers, and bazaars.
Other amenities include 24/7 electricity backup, 24/7 security, a grand mosque, parks and gardens.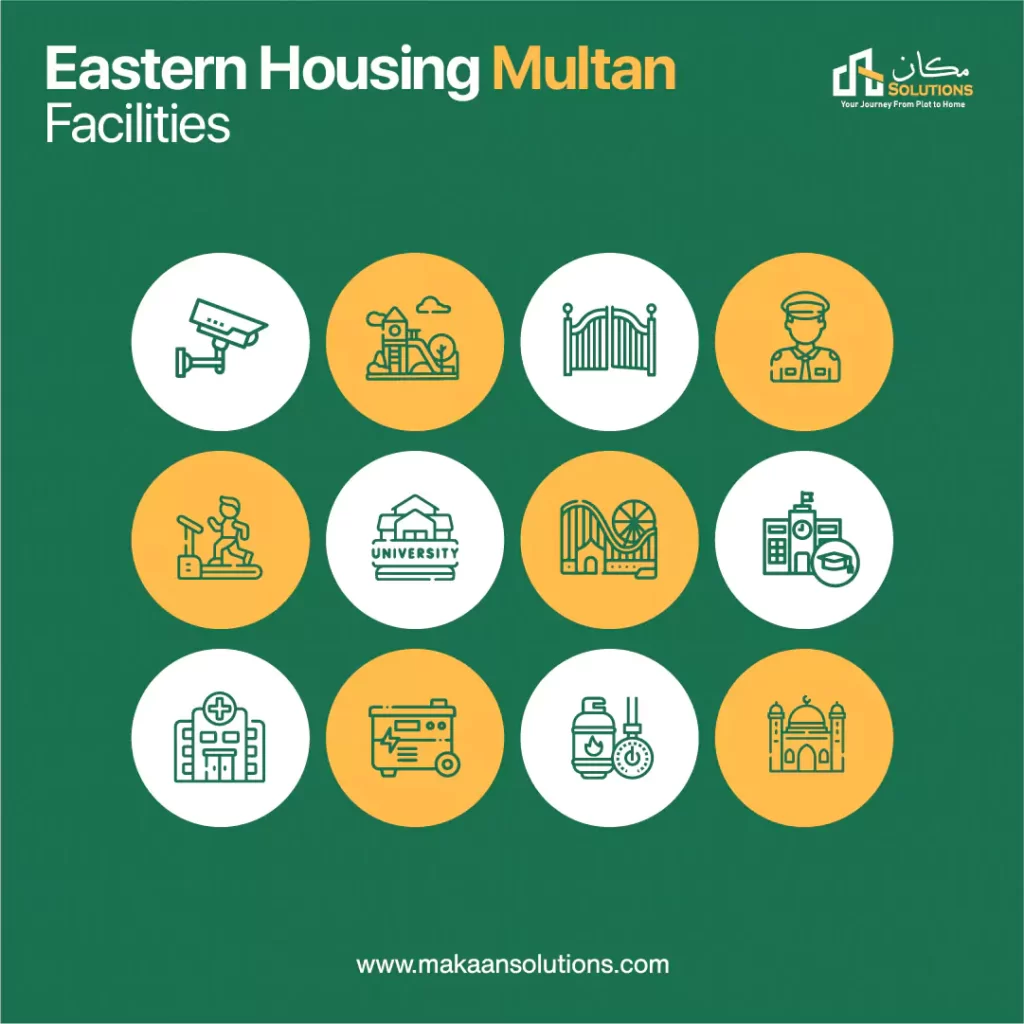 Conclusion
---
This comprehensive study of this project is very important for you if you are about to invest in Multan real estate. This analysis shows how important this housing scheme is for new investors and buyers. The prime location, affordability, amenities, and security are the main reasons why this is the perfect place for you and your family.
However, if you are willing to explore more options outside of Multan, check out Capital Smart City Islamabad. It shares the same characteristics as Eastern Housing Multan.

[elfsight_whatsapp_chat id="1″]