Royal Orchard Multan
Royal Orchard Multan is a NOC approved residential housing project by HRL Private Limited. This society facilitates everyone who wants to invest in this royal project by providing a reasonable installment plan. Contact Makaan Solutions to reserve your plot in Royal Orchard under the consultancy of our experienced team.
Royal Orchard Multan: introduction
---
Royal Orchard Multan is a beautiful housing scheme in the land of saints. The Multan Development Authority (MDA) has approved the NOC for this housing project, which consists of 4,000 Kanal. Habib Rafiq Private Limited has developed this housing society on the Multan Bypass. Royal Orchard Phase 1 and Royal Orchard Phase 2 are available phases of this society with luxurious facilities.
It is not a stretch to say that Royal Orchard is considered to be the crown jewel of Multan. The project is on the way to the final goal of achieving an exclusive Royal-class living experience for the residents of Multan. The location, affordability, and top-of-the-line amenities are the major attributes of this housing community. It is one of the best housing projects in Multan.
Royal Orchard Multan Owners and Developers
---
The owners and developers of Royal Orchard Multan are Habib Rafiq Pvt. Ltd and the Royal Developers. They have the incredible experience of developing housing societies across Pakistan. The skillful engineers and architects are part of the development team for this housing society. It is essential to know that Royal Developers is a sub-group of Habib Rafiq Limited. Therefore, the infrastructure for Royal Orchard Multan is developed by an experienced team.
Royal Orchard Multan NOC
---
MDA approved the NOC of Royal Orchard Multan. Therefore, it is a legally-approved housing society in Multan. Therefore, it attracts potential investors and end-users with the best return on investment and facilities.
Royal Orchard Multan Location
---
The location of Royal Orchard Multan is on the Multan Northern Bypass. In this way, this housing society offers splendid accessibility to the customers. Therefore, this housing project has become the best place for investment in Multan. The premium location away from the main city offers an eco-friendly environment to the residents and investors.
Access Points:
Royal Orchard Multan access points are given below:
Multan Public School Road is just one minute away
Bosan Road is two minutes away
M A Jinnah Road is four minutes away
BZU is fifteen minutes away
High Court Bar is twenty-five minutes away
Nearby Places:
The nearby places of Royal Orchard Multan are given below:
Bakhtawar Amin Hospital
Multan Public School
Bahauddin Zakariya University
DHA Multan
Buch Villas
WAPDA Town
Pak Arab Fertilizer
Nishtar Hospital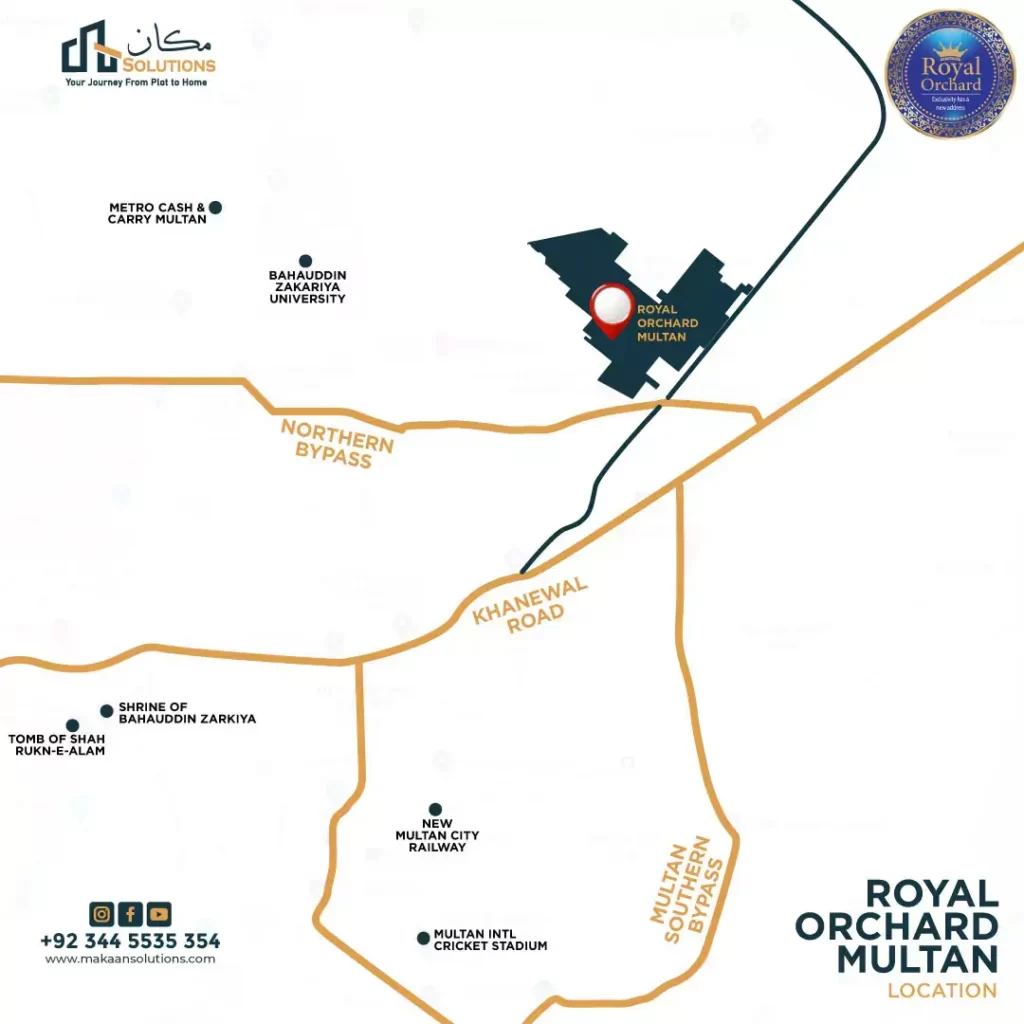 Royal Orchard Multan Map
---
Google map of Royal Orchard is given below:

Royal Orchard Multan Master Plan
---
The experienced team has designed the master plan for Royal Orchard Multan to offer a modern lifestyle in the fast-growing city of South Punjab. The master makes sure to provide all facilities to residents to make a productive and healthy community. There are different blocks in a society where different plots are being offered.
Royal Orchard Multan Blocks
---
Let's have a look at the available blocks in the Royal Orchard housing society of Multan:
Block A
Block B
Block C
Block D
Block E
Block F
Block G
Residential Plots
The following residential plots are available in the best housing project in Multan:
5 Marla
10 Marla
12 Marla
1 Kanal
2 Kanal
Commercial Plots
The management has offered the following commercial plots in Royal Orchard:
2 Marla
4 Marla
6 Marla
8 Marla
10 Marla
Royal Orchard Multan Villas
---
There are more than 250 villas in the society that are known as Royal Villas, Royal Homes, and Nova Homes. Magnum Opus and Interior Design is a famous architecture firm in Lahore that has designed villas.
The residential villas for sale in Royal Orchard Multan in the following plots sizes:
There will be three bedrooms along with the first and second floor in 5 Marla villa. Moreover, 10 Marla villas include four bedrooms on the first and second floors. 1 Kanal villa consists of 5 bedrooms with first and second floor.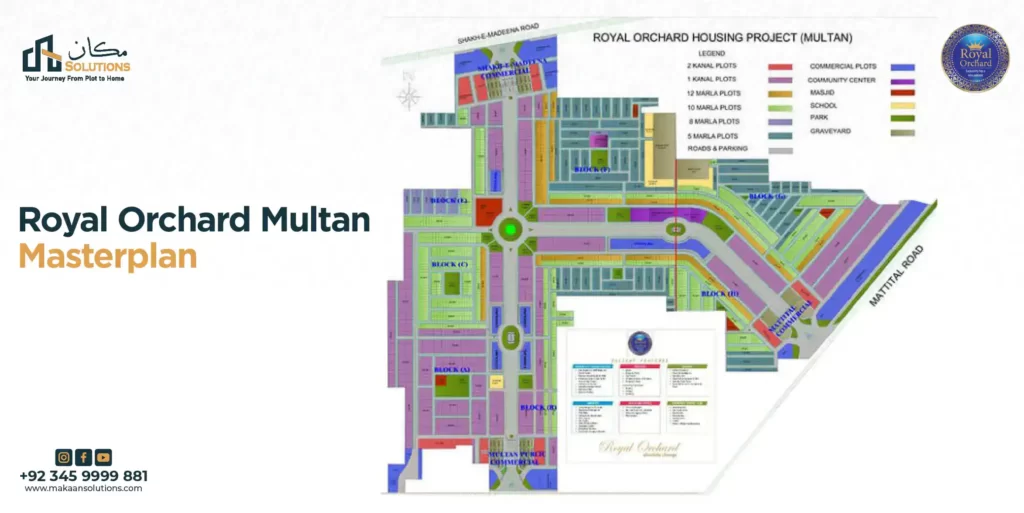 Royal Orchard Multan Payment Plan
---
The payment plan of Royal Orchard Multan is developed to help the middle-class community of Multan enjoy high living standards in a peaceful environment. Moreover, the management has also introduced an installment plan to help people who can't afford the full payment at once.
Royal Orchard Multan Residential Plots Payment Plan
---
The residential plots for sale in Royal Orchard enable people who are interested in upgrading their living standards. Therefore, it is time to view the payment plan for the different residential plots in the different blocks.
Block A Payment Plan:
---
The payment schedule is as follow:
10 Marla Plot
10 Marla plots for sale in Royal Orchard Block A at a price of 4,700,000-5,200,000
1 Kanal Plot
1 Kanal plot for sale in Royal Orchard Block A at a price of 8,000,000-8,500,000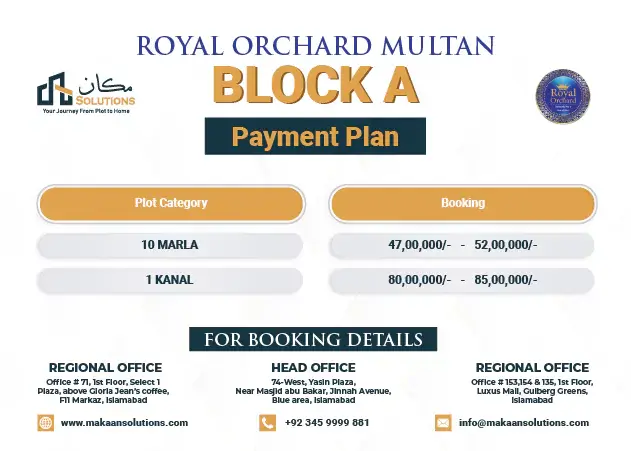 Block B Payment Plan:
---
The payment schedule is as follow:
5 Marla Plot
5 Marla plots for sale in Royal Orchard Block B at a price of 5,000,000-5,300,000
1 Kanal plot
1 Kanal plot for sale in Royal Orchard Block B at a price of 9,000,000-11,000,000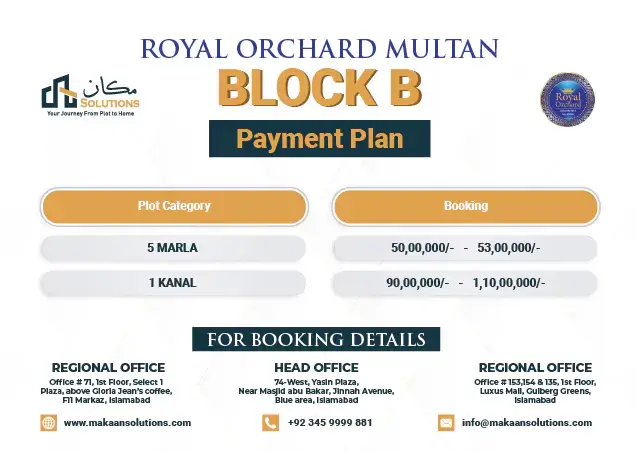 Block C Payment Plan:
---
The payment plan for Block C:
10 Marla plot
10 Marla plots for sale in Royal Orchard Block C at a price of 5,200,000-6,000,000
12 Marla plot
12 Marla plots for sale in Royal Orchard Block C at a price of 5,800,000-6,500,000
1 Kanal plot
1 Kanal plot for sale in Royal Orchard Block C at a price of 8,700,000-10,000,000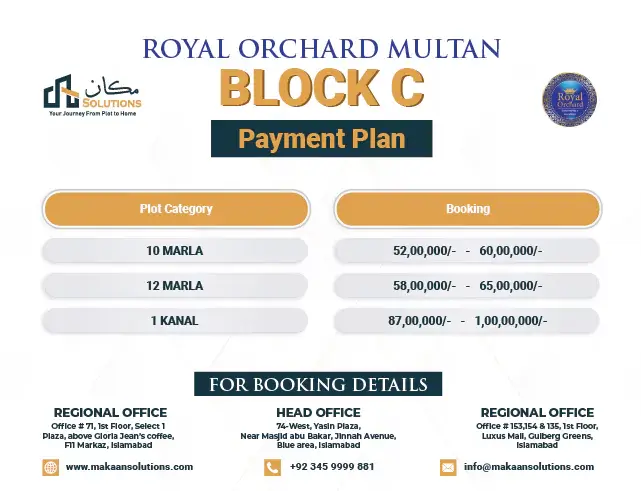 Block D Payment Plan:
---
The payment plan for Block D is given below:
5 Marla plot
5 Marla plots for sale in Royal Orchard Block D at a price of 2,900,000-3,200,000
10 Marla plot
10 Marla plots for sale in Royal Orchard Block D at a price of 4,600,000-4,900,000
1 Kanal plot
1 Kanal plot for sale in Royal Orchard Block D at a price of 8,000,000-9,000,000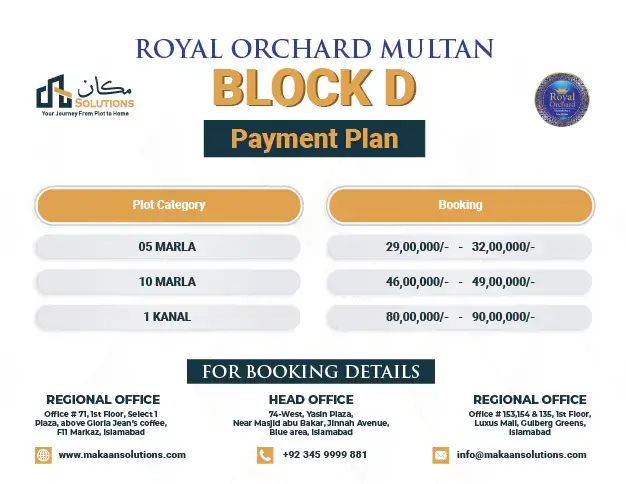 Royal Orchard Multan Commercial Plots Payment Plan
---
Commercial plots for sale in Royal Orchard to give a new innovation to the business area in Multan. Therefore, these commercial plots have a great value in Royal Orchard.
100 Square Yards
100 sq Yard commercial plots for sale in Royal Orchard:
The total price for a plot is 10,000,000
Booking payment is 1,000,000
The confirmation payment is 1,000,000
Eight quarterly payments of 1,000,000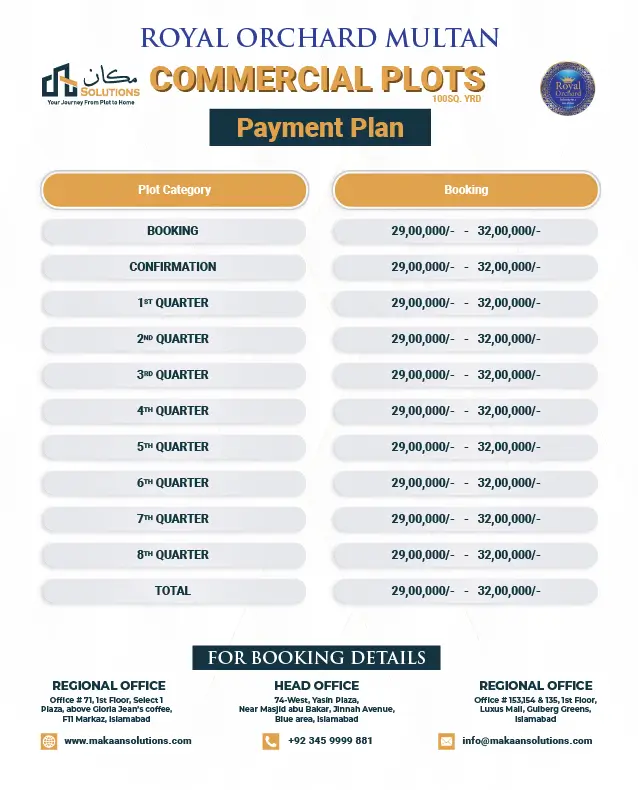 How to book a plot in Royal Orchard Multan?
---
It is necessary to know about the current booking procedure to easily purchase your plot. The management has kept a simple Royal Orchard Multan booking procedure for the customers. However, you can also contact Makaan Solutions for the booking process.
The steps for booking a plot are given below:
Fill out the application form for plot booking
Attach the customer's photographs
Copies of the buyer's CNIC
Attach the copies of paid down payment
Required Documentation for Plot Booking:
The documents are necessary to buy the plots in a transparent and trustworthy way. Therefore, the essential documents to own a property in Royal Orchard:
Passport-size Photographs
CNIC Copies
CNIC Copies of Next to Kin
NICOP for Overseas Customers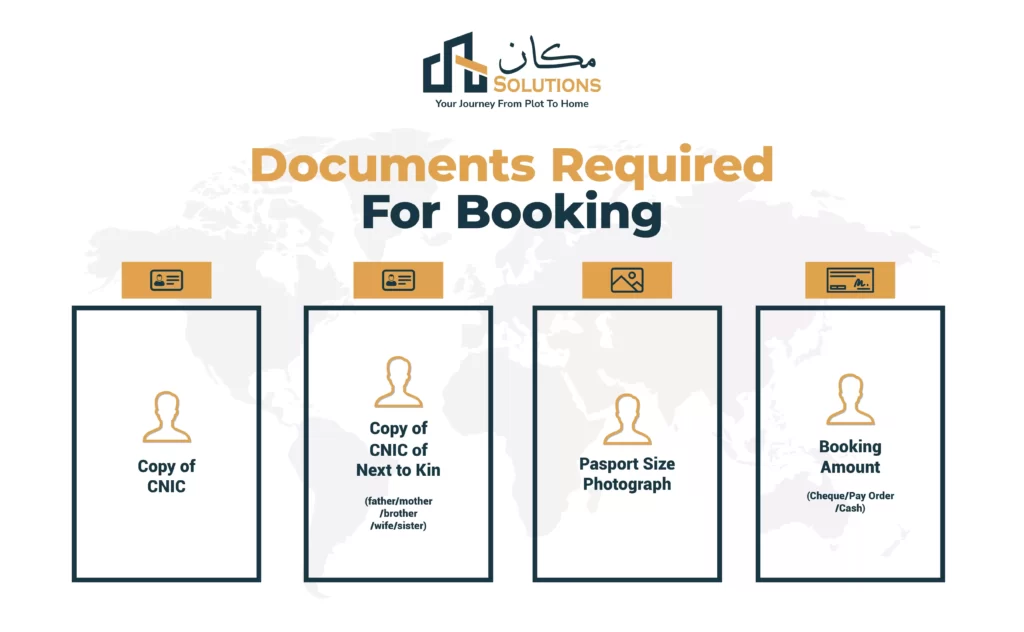 Benefits of Investment in Royal Orchard Multan
---
Investment in the real estate market is among the highest-profit businesses alongside other businesses. It is a great investment with huge return potential. There are multiple benefits to investing in Royal Orchard. The most significant advantages include the following:
Financial Security
You can invest your extra money to build a valuable asset for financial security. Then, it is the industry that can help keep the value of an investment up and not decline.
Secure Revenue
It is a secure revenue from investing in property with a quick profit. One can buy a house or develop it, purchase an existing property, and lease it either annually or monthly. In addition, the rental value is increasing yearly by a percentage.
Manageable
When an investment in this housing society has been made, you don't need to take care of it every day. However, you must check your property regularly to ensure the safety from encroachers.
Passive Income
When you purchase a plot, the passive income of rent can be earned. Investors purchase a property that is developed to lease it out. Therefore, it is a reliable source of income throughout the year.
Non-depreciable Asset
It is a kind of business that will increase value once it is properly managed. The value of property always increases. When a housing project is launched in close vicinity, then its value can increase dramatically.
Facilities & Amenities
The facilities and amenities are part of a high-end society which could be described as a full residential development.
They have also reserved a space for the parks and green spaces. This housing society is considered the most lavish community that has all modern conveniences and facilities.
The primary goal of the owners was to provide the best quality and luxurious living standards. For this reason, an extensive land area is devoted to the main theme park, where youngsters and elders can have fun without concerns in their minds. The facilities in Royal Orchard Multan are in the following order:
Eco-Friendly
Society will offer an environmentally-friendly lifestyle. The environment offers a splendid experience for the residents.
Health Facilities
The management has included healthcare facilities for the residents of this society. The developers have a plan for modern, high-tech hospitals and international clinics. The emergency department will be open 24 hours a day, and medical staff and staff will be available all day long.
Education Complex
There are the best education institutes for children. It is also a major priority for residents to manage a specific area for the development of a world-class education complex.
Business & Commercial Hub
The management of this housing society has considered all the requirements for commercial purposes. Within these areas, residents can meet all their needs of the commercial sector within the community.
Grand Mosque
The owners have considered the various needs of their residents, including religious requirements. The management is planning to build a magnificent mosque. The mosque includes modern technology for the great infrastructure.
Water Resources
Society has taken into consideration the water needs of the residents. Reservoirs for water will be constructed to store a substantial amount of water that can be utilized by the residents to perform routine tasks.
Graveyard
It is an integral element of every society. Therefore people can choose to interment their deceased relatives and ask for their eternal happiness.
Community Center
To keep residents engaged, communities will serve as a beacon for social interaction. They can enjoy social activities too.
Secure Community
A sense of security is essential for a safe housing society. A gated community will ensure safety. The entire community will be enclosed by a wall that is a secure system that can guarantee the highest level of security.
High-quality Road Infrastructure
Roads and the rest of the infrastructures are designed using a high level of professionalism and technology to ensure the best development.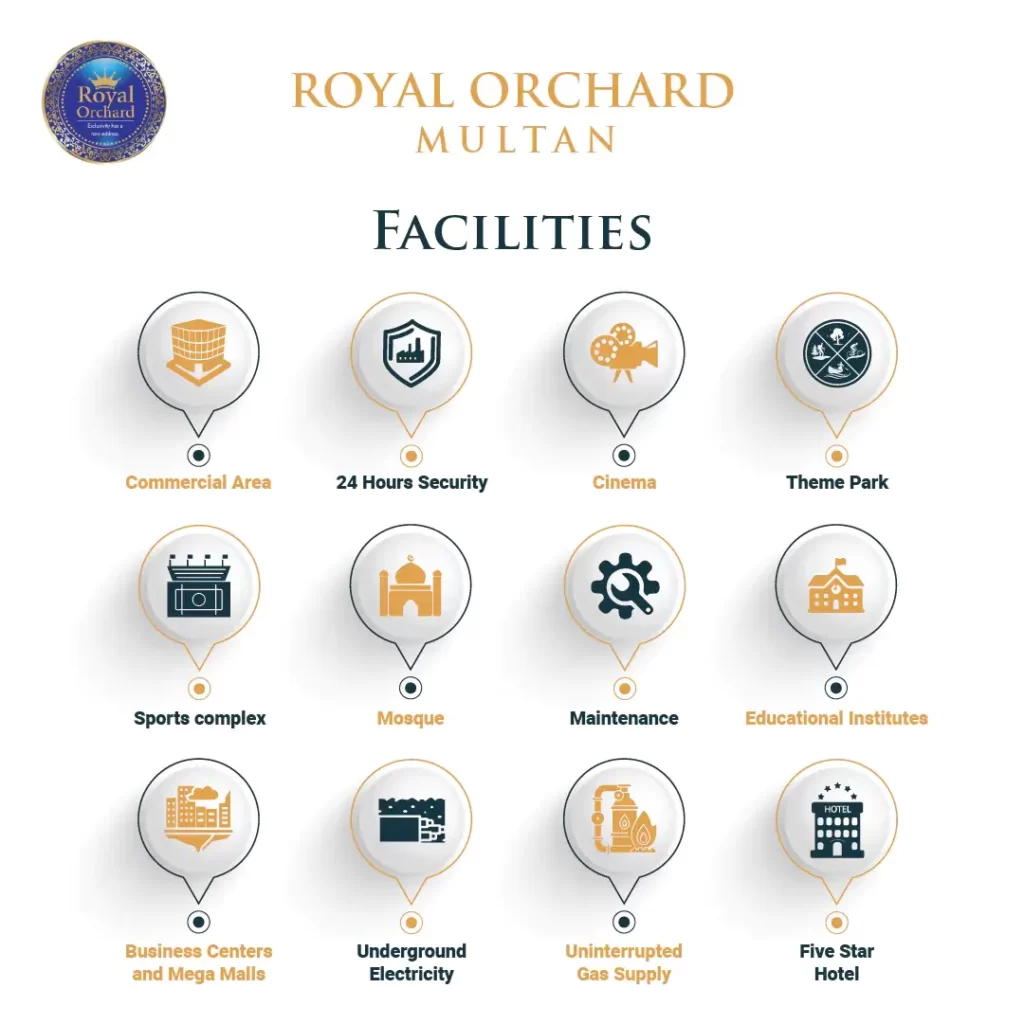 Pros & Cons:
---
Let's check out the pros and cons before booking your plot:
| Pros | Cons |
| --- | --- |
| Reliable Developers | Away from the center of Multan city |
| Legal housing society | |
| Premium Location | |
| Eco-friendly Environment | |
| Reasonable Prices | |
| Basic Facilities | |
| Gated Society | |
Development Status
---
The society's main entrance is now undergoing final construction. The building and landscaping projects are moving rather quickly. The Royal Orchard Multan development is taking shape as a network of roads, parks, and community spaces are constructed.
This project should have all of its work done before the deadline. Model homes, mosques, and a few other architectural buildings are already in various stages of construction.
The developer has also finished more than 90% of the work in Blocks A, B, C, & D and is now actively carpeting the roads. So, anyone wanting to migrate to Royal Orchard may purchase one of these villas, which are available with a flexible payment plan
Final Thoughts
---
Royal Orchard Multan ensures luxurious facilities at the doorstep of every customer who has booked a plot in the society. It is not too late to book your plot with assistance from the experienced team at Makaan Solutions. Our real estate firm facilitates customers with quality real estate services in different housing projects such as New Metro City Gujar Khan, Lahore Smart City, Capital Smart City, and Blue World City.
FAQs of Royal Orchard Multan
---
How many other initiatives does Royal Orchard have other than Multan?

Royal Orchard has 2 other projects;
– Royal Orchard Sahiwal
– Royal Orchard Sargodha

Does society have affordable housing?

Yes, there isn't a single doubt because of the affordable installment plans. The management was instrumental in striking the right mix between luxury and cost. The best prices in Multan may be found at Royal Orchard.

Is there a chance to make a high-yield investment in this society?

Yes, the installment plans are reasonable for families even people with low backgrounds are motivated to make substantial investments. Increasing the chances of rising investment returns as a result.

What differentiates Royal Orchard Multan from other housing schemes?

The Royal Orchard is built specifically to provide people with an amazing standard of living at a reasonable price. This residential fantasy in the center of Multan was designed and developed by architects, a team of engineers, and other employees who provided.

What is the travel time between Royal Orchard Multan and Multan International Airport?

It takes just 9 minutes to get to Multan International Airport by car.