Eastern Housing Lahore
Eastern Housing Lahore is an LDA-approved project developed by MAS Group. It is a game-changer development built on Lahore Ring Road near Quaid-e-Azam Interchange. It is an affordable housing project meant to elevate eastern living standards.
Eastern Housing Lahore introduction
---
Eastern Housing Lahore is where the modern urban infrastructure meets the magical East. It is an eco-sustainable housing project built to provide affordable housing in a convenient location. This project has been developed by MAS Group, which has a legacy of excellence in the real estate sector.
Eastern Housing Society is built on the Lahore Ring Road near Quaid-e-Azam Interchange. 300+ houses already occupy this establishment, and 100+ houses are under construction. The society has been developing in phases, and plots are available for sale currently.
Investors have already made profits on their initial investments in this project. There is a high demand among real estate investors for this society. Therefore, there is still an opportunity for you to get ahead of others.
Eastern Housing Lahore Location
---
Eastern Housing is built next to the infamous Wahga Town on the main Lahore Ring Road. It is minutes away from Quaid-e-Azam Interchange. This location is convenient, and it makes this housing society far more valuable than its competitors.
The location near Lahore Ring Road assures many investors and buyers. Moreover, the landscape surrounding Eastern Housing Lahore is ideal for keeping the environment green and clean.
Accessibility & Nearby Landmarks:
Orange Line Trainstation is a 5-minute drive
Quaid-e-Azam Interchange is a 6-minute drive
Manawan Hospital is an 8-minute drive
Lahore Press Club Housing Scheme is a 12-minute drive
DHA Phase 8 is a 17-minute drive
Allama Iqbal International Airport is a 17-minute drive
UET is an 18-minute drive
Shalamar Hospital is an 18-minute drive
Androon Lahore is a 23-minute drive
Gaddafi Stadium is a 27-minute drive
Accessibility & nearby landmarks show that the developers have been extremely foresighted in procuring this valuable piece of land. The location of this society is as premium as one of the mega projects such as Park Lane City or Jazac City Lahore.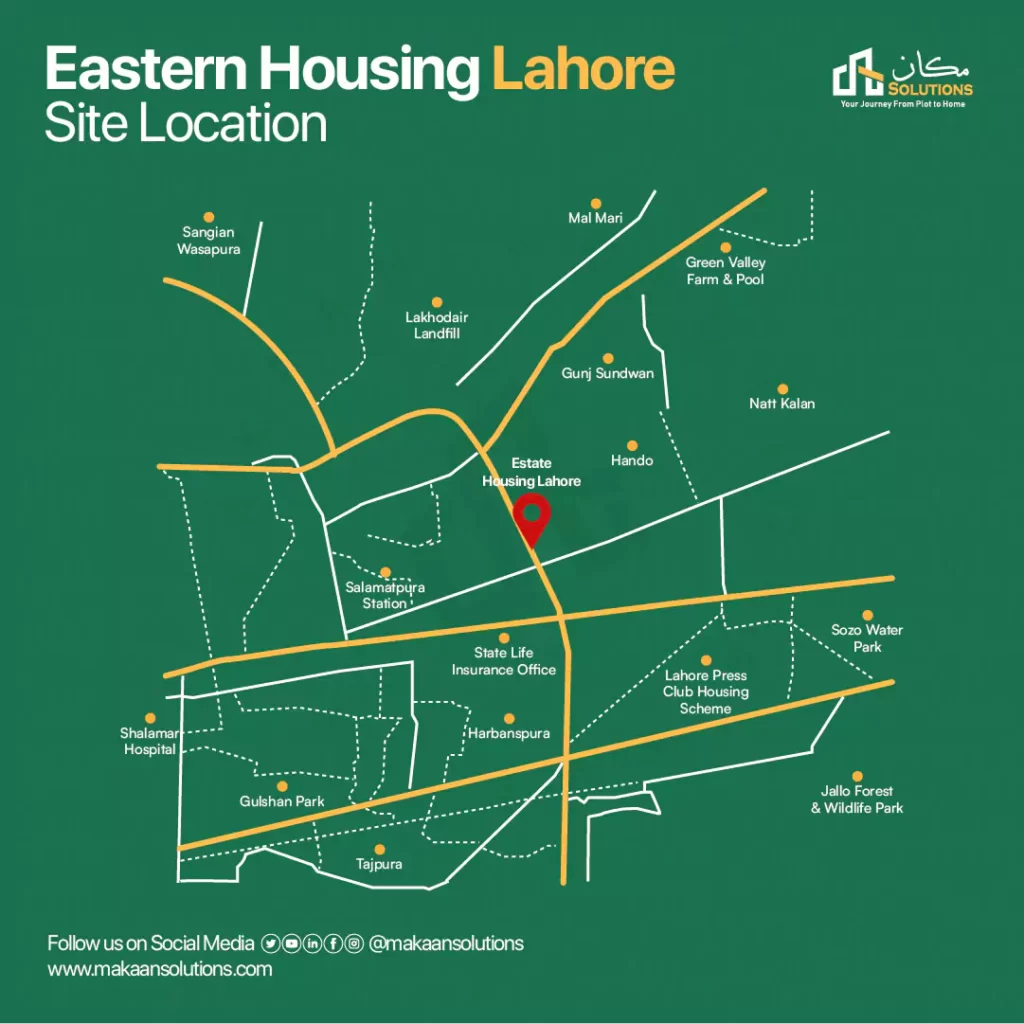 Eastern Housing Lahore Map:
---
ou can locate this society on Google Maps with ease. However, for your better understanding, the map location is given below.
Eastern Housing Lahore Master Plan
---
The master plan of Eastern Housing Lahore includes residential and commercial plots. However, it is named "Eastern Housing" and offers plots for businesses to facilitate the residents. The commercial plots are the cornerstone of this establishment due to the prime location.
The master plan consists of four blocks depicting this development's essence. It is truly a work of a genius how the developers have gotten the best urban planners to design this master plan marvelously.
Blocks
Baber Block
Mughal Block
Turk Block
East Bay Commercial Block
Residential Plot Sizes:
Commercial Plot Sizes:
The developers have 10 Marla residential plot sizes in the works as well. However, there has not been any new announcement about it. These plot sizes are designed to provide affordable packages to buyers. Furthermore, the master plan is designed to maintain an eco-friendly environment with optimal plot sizes.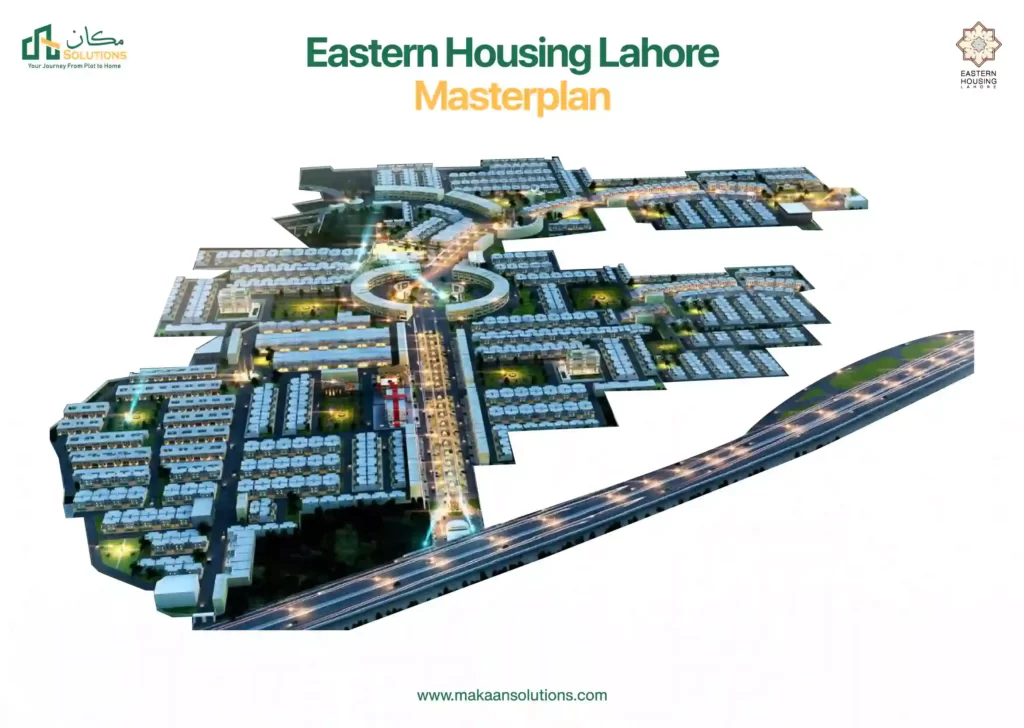 Eastern Housing Lahore NOC & Legal Status
---
This housing society is NOC-approved by the Lahore Development (LDA). The legal status has enabled this establishment to procure electricity, water, and gas supply. 300+ families already reside here, which is also a great sign for you if you want to build a house here.
Eastern Housing Lahore Developers & Owners
---
This project has been developed by MAS Group. The ownership belongs to the same group as well. Mian Wamiq Anwer is the chairman. He has an exceptional experience as a master planner. He has worked for the World Bank & Asian Development Bank. Moreover, he was hired as a sub-consultant for PEPAC, GHK (UK), and NESPAK.
The team behind this project is incredible, with a great track record. Therefore, you can expect Eastern Housing to succeed like major projects such as New City Paradise.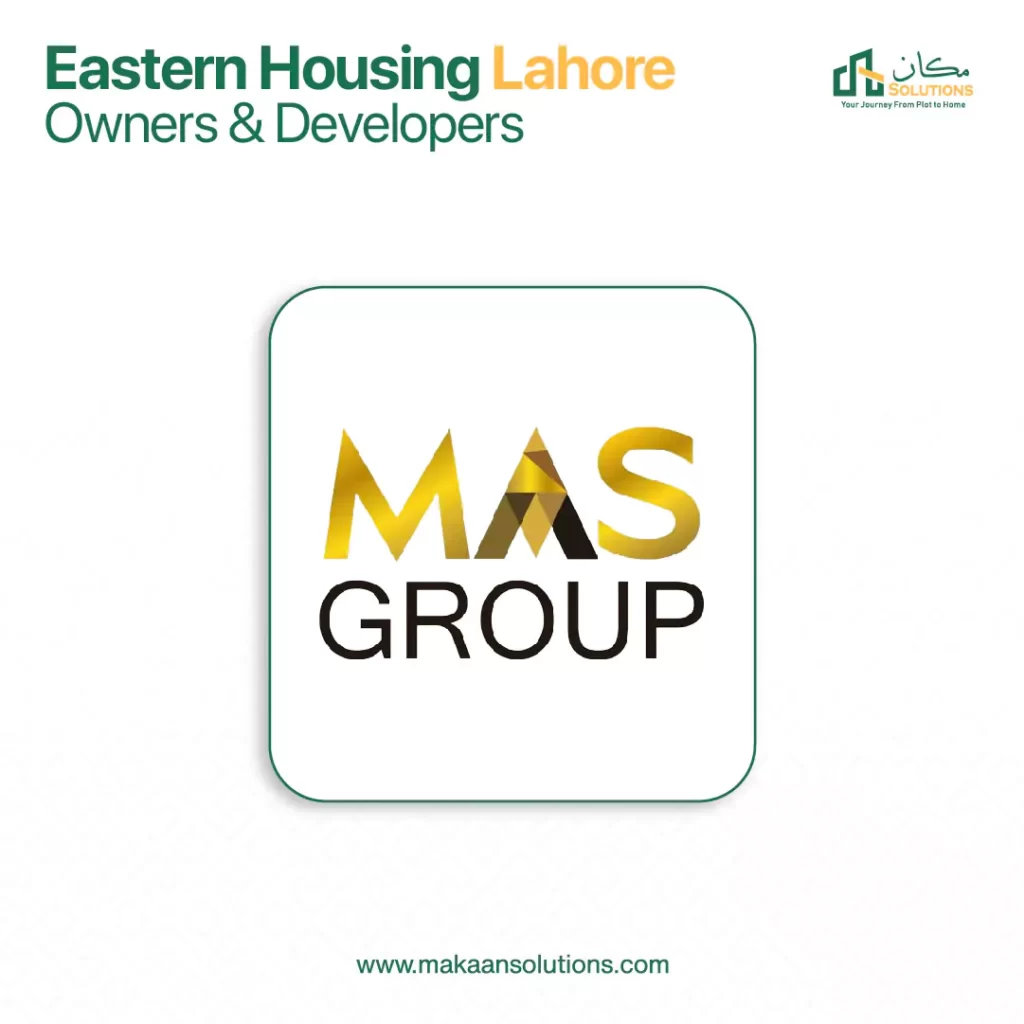 Eastern Housing Lahore Payment Plan
---
The developers are adamant about providing the most reasonable and practical payment plans. Therefore, you can book a residential plot with a 30% down payment. The commercial plot's down payment is 20%. However, if you pay a 50% down payment, you will get the possession within a year.
There are payment plans available for commercial and residential plots. 3, 4, and 5 Marla residential plots can be purchased with a 3.5-year Payment Plan.
The commercial plots of 2, 4, and 5 Marla are available with 1 Year payment plan right now.
Payment plans in detail are as follows:
Residential Plots Payment Plan
---
| | | | |
| --- | --- | --- | --- |
| Plot Size | 3 Marla | 4 Marla | 5 Marla |
| On Booking | 427,500 | 555,000 | 675,000 |
| 35 Monthly Installments | 19,256 | 25,000 | 30,405 |
| 7 Half Yearly Installments | 213,750 | 277,500 | 337,500 |
| On Allocation | 252,290 | 327,500 | 398,325 |
| Total Cost | 2,850,000 | 3,700,000 | 4,500,000 |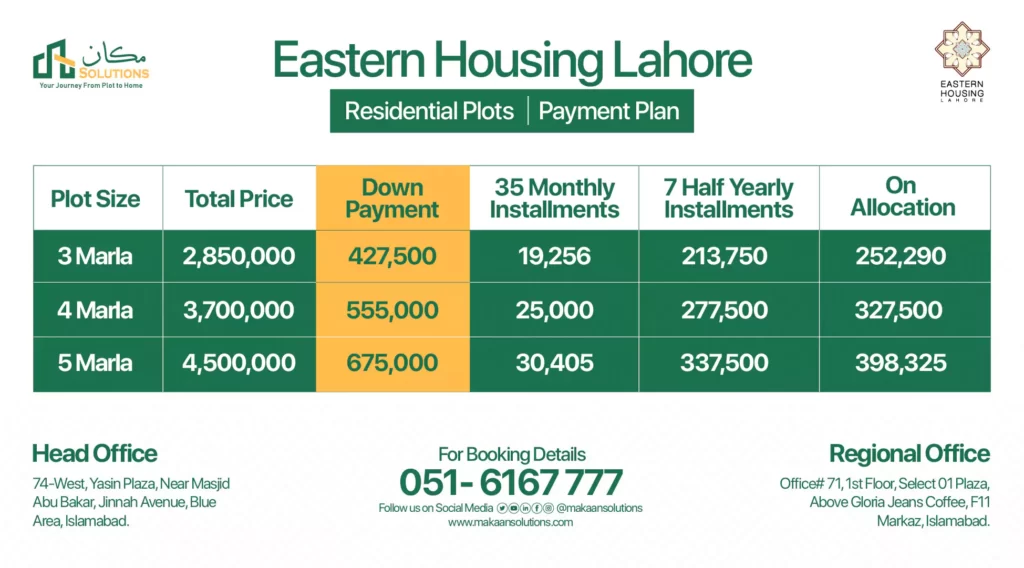 Commercial Plots Payment Plan
---
| Plot Size | 2 Marla | 4 Marla | 5 Marla |
| --- | --- | --- | --- |
| On Booking | 880,000 | 2,000,000 | 2,350,000 |
| On Confirmation | 880,000 | 2,000,000 | 2,350,000 |
| 9 Monthly Installments | 110,000 | 250,000 | 293,750 |
| Half Yearly Installments | 880,000 | 2,000,000 | 2,350,000 |
| Year End Payment | 880,000 | 2,000,000 | 2,350,000 |
| Total Cost | 4,400,000 | 10,000,000 | 11,750,000 |
Note:
10% discount on full payment
The payment plans reflect transparency. These plot prices are relatively affordable if you compare them with others in this prime location.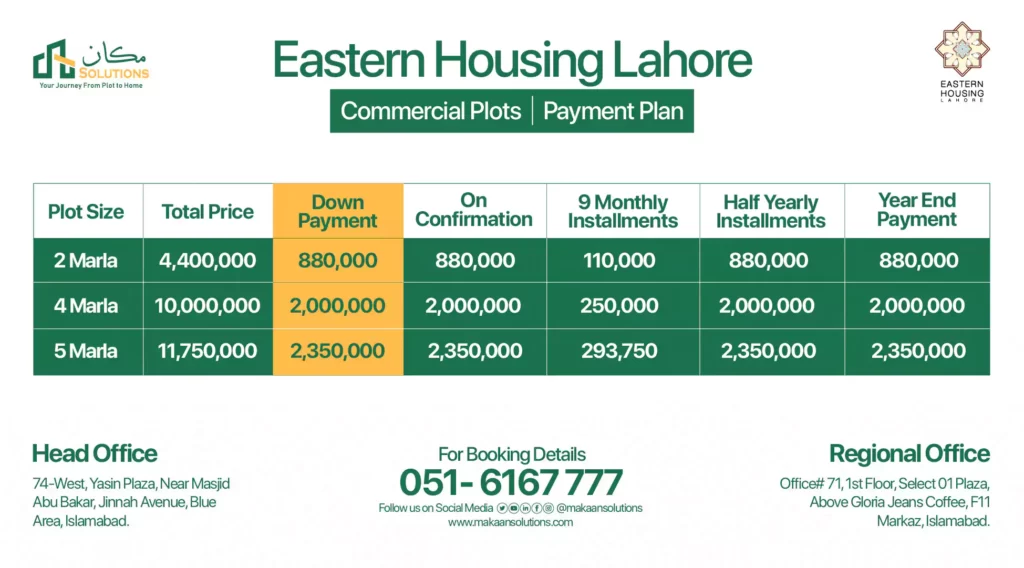 Eastern Housing Lahore Booking Procedure
---
The booking for plots is open now. You can contact Makaan Solutions for more information on booking and buying procedures. However, you will need some important documents to buy land here.
Essential documents are as follows:
Standard Passport-size Photographs
CNIC OR Passport Photocopy
Photocopy of NICOP (if applied)
Payment receipt or online payment screenshot (down payment)
Most buyers have claimed the booking procedure to be very user-friendly and easy.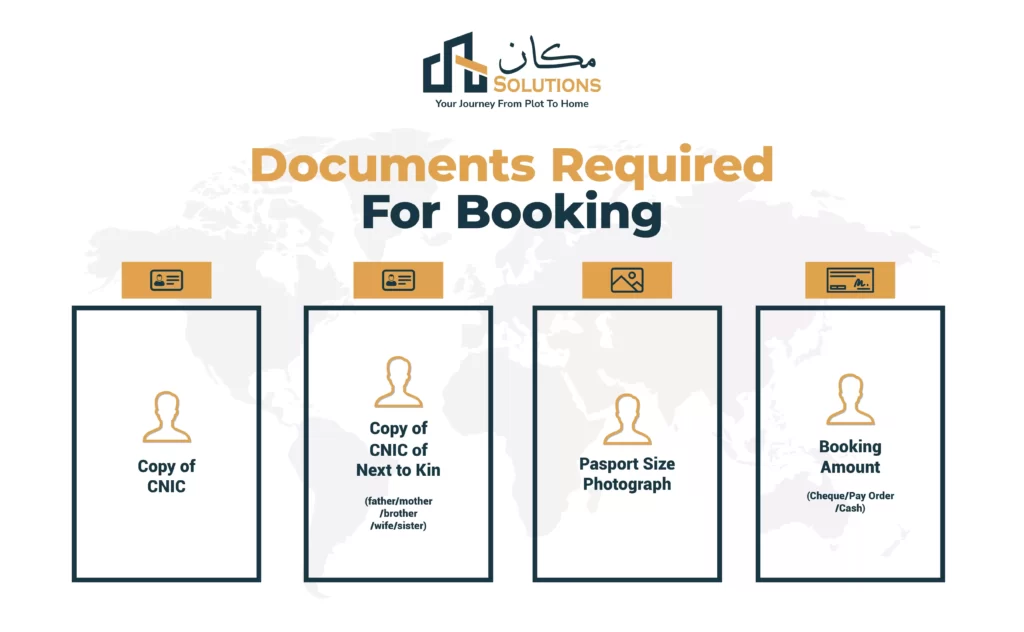 Eastern Housing Lahore Amenities
---
The main objective behind this project has been to elevate eastern living standards by bringing modern facilities & amenities. The developers have made it possible to avail the facilities available only in the west & developed countries.
There is a long list of amenities that you can find here. As mentioned above, the premium location is one of the best luxuries of Eastern Housing.
Some of the best amenities & facilities are as follows:
24/7 Electricity Backup
The electricity backup for the residents is a unique amenity often neglected by most developers. In this society, you will get uninterrupted electricity 24/7.
Central Park
A huge central park will be a marvel inside the premises. Moreover, each block inside the premises will get a separate park for kids and families. These parks will be great for picnics and get-togethers.
Sports Complex
The sports complex will include indoor games, courts, a gym, and a fitness center. This complex will be a part of the daily lives of the residents. It is going to be built by international standards.
Grand Mosque & Islamic Center
The grand mosque will be used for congregational prayers. The Islamic center will serve as a community center where religious events will be organized. It will be a great source of unity and community building.
Sasta Bazaar
This bazaar will be used to facilitate residents to buy daily use products. There will be vendors who will deliver fresh vegetables and fruits daily. You won't have to leave the premises to avail fresh produce.
Food Courts
The family dinners and having fun with friends will be convenient due to these high-end food courts. International fast-food chains, restaurants, and cafes will be part of this establishment.
Hospital
The best doctors and medical teams will be part of this hospital and will help you in any medical emergency or need. The developers have designed this hospital to rival the best hospitals in the whole city.
This is one of the best facilities in this housing society.
School
This school is going to be of international standard. It is meant to educate the generation that will be raised here. Moreover, there will be libraries for children and grown-ups as well.
Zoo
A small zoo is also part of this establishment, which will be a major attraction point for kids.
These amenities are well-thought-out and well-planned since developers have had expert urban planners with them during the whole process.
Conclusion
---
This detailed analysis of Eastern Housing Lahore makes a strong case that this community is a well-rounded package. Even if you are not living in Lahore, this place is worth a visit. You will be amazed to witness the incredible design of this establishment. Moreover, the prime location and amenities will be lucrative for investment. If you are not willing to move to Lahore, consider Saffron City Islamabad, which is as luxurious and well-designed.

[elfsight_whatsapp_chat id="1″]