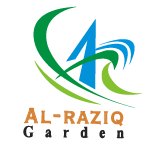 Al Raziq Garden Lahore
Al Raziq Garden Lahore is a TMA-approved housing society by Al-Raziq Developers with a premium location on Jaranwala Road near AbdulHakeem-Lahore Motorway to ensure easy accessibility from the different famous places of Lahore. This master-planned housing scheme has a flexible installment plan for the available plots.
Al Raziq Garden Lahore Introduction
---
Al Raziq Garden Lahore is the newest housing society near Al-Noor Orchard Lahore to bring more opportunities for potential customers to reserve their residential and commercial properties. This housing scheme has gained significant value because of its ideal location and easy-to-pay installment plan. Therefore, middle-class people can easily own their valuable plots in this modern residential project in Lahore.
Al Raziq Garden in Lahore is a master-planned housing society with legal approval from the Tehsil Municipalization Authority. This secure housing society ensures that your property is safe. Al Raziq Garden plots are for sale to enable you to become an owner of a valuable property.
Al Raziq Garden Lahore Location
---
The location of Al Raziq Garden Lahore is on the main Jaranwala-Lahore Road for the easiest access from Lahore and Sheikhupura. You can also use the Sharaqpur Road to visit this phenomenal housing society. This housing society is located near the AbdulHakeem-Lahore Motorway, which allows you to visit your property easily from different cities. Customers from various cities can travel on the M-2 Motorway to reach this housing scheme.
Al Raziq Garden is near Lahore Ring Road, which ensures that residents can easily reach the various locations of Lahore city. Moreover, this housing society is situated a few minutes away from Lahore Road for fast access. Sagian Wala Bypass Road also ensures brilliant accessibility for the residents.
Nearby Landmarks
Al Haram City Lahore
Allama Iqbal Town
Badami Bagh
Badshahi Mosque
Gulshan-e-Ravi Lahore
Samanabad Town
Shah Alam Market
Accessibility
10 minutes away from Islamabad-Lahore Motorway
14 minutes away from Anarkali Bazaar
15 minutes away from Lahore Ring Road
16 minutes from Urdu Bazaar
20 minutes away from Minar e Pakistan
38 minutes away from Allama Iqbal International Airport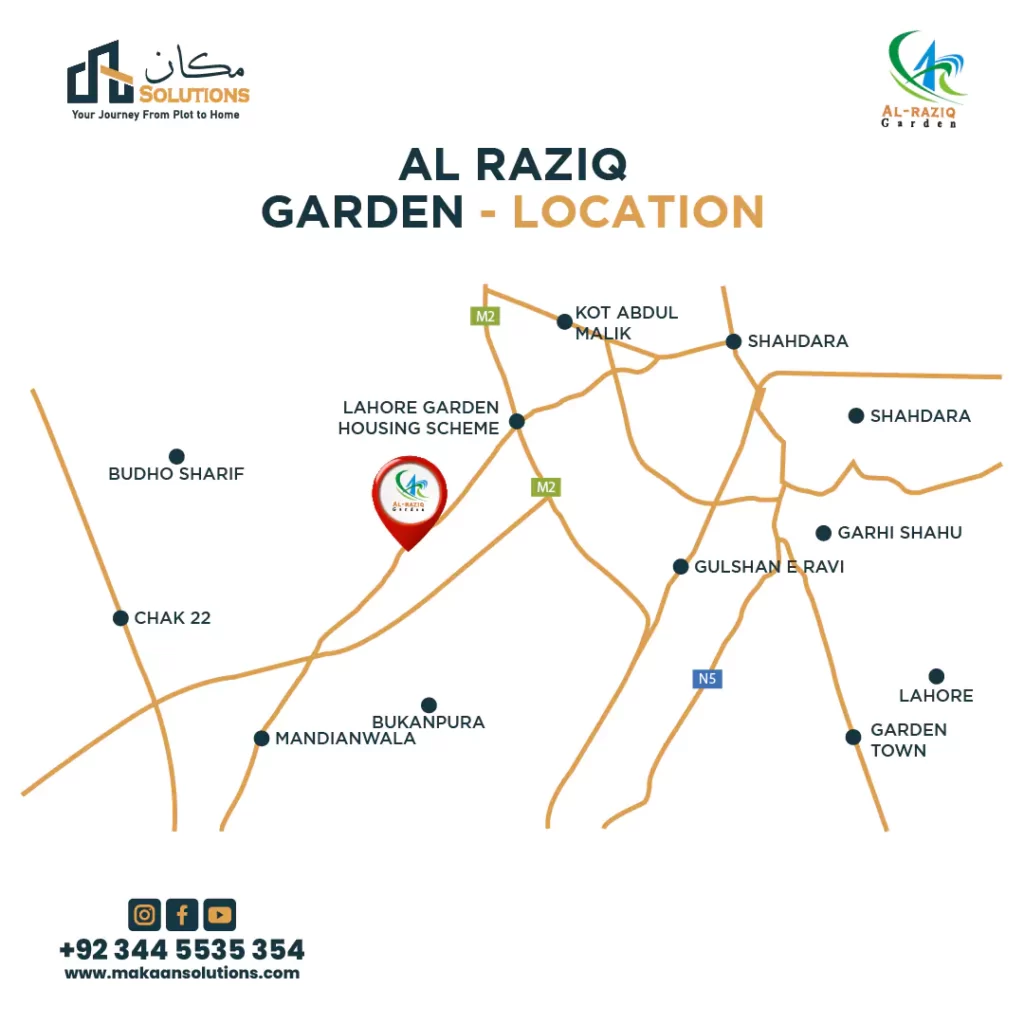 Al Raziq Garden Lahore Payment Plan
---
Payment plan of Al Raziq Garden Lahore is very economical for people who want the best place to build their homes for a luxurious lifestyle. You can own your plot in this society with a reasonable down payment. Moreover, you will be handed over a 60-monthly installment plan that is easily payable within your budget.
There are Al Raziq Garden houses for sale at reasonable prices to give an opportunity to those customers who don't want to go through the process of buying and constructing the plot. Therefore, you can also buy your house in this new housing society of Lahore.
Residential Plots Installment Plan
---
There are residential plots for sale in Al Raziq Garden Lahore to allow you to develop a home in accordance with your specifications. The payment schedule for the residential plots is mentioned below:
3 Marla
The down payment for 3 marla plot is 150,000
60 monthly installments are 7,500
The total payment is 920,000
5 Marla
The down payment for 5 marla plot is 200,000
60 monthly installments are 9,700
The total payment is 1,302,000
10 Marla
The down payment for 10 marla plot is 350,000
60 monthly installments are 19,500
The total payment is 2,520,000
1 Kanal
The down payment for 10 marla plot is 700,000
60 monthly installments are 35,000
The total payment is 4,400,000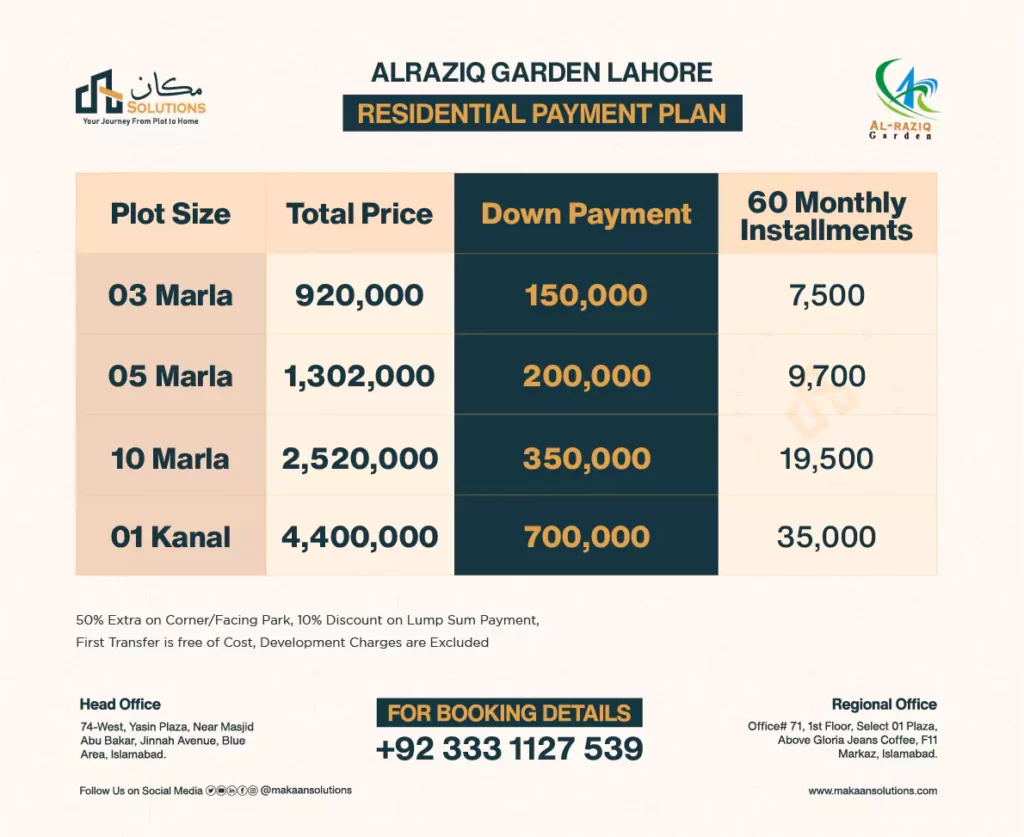 Residential Plots Block G Installment Plan
---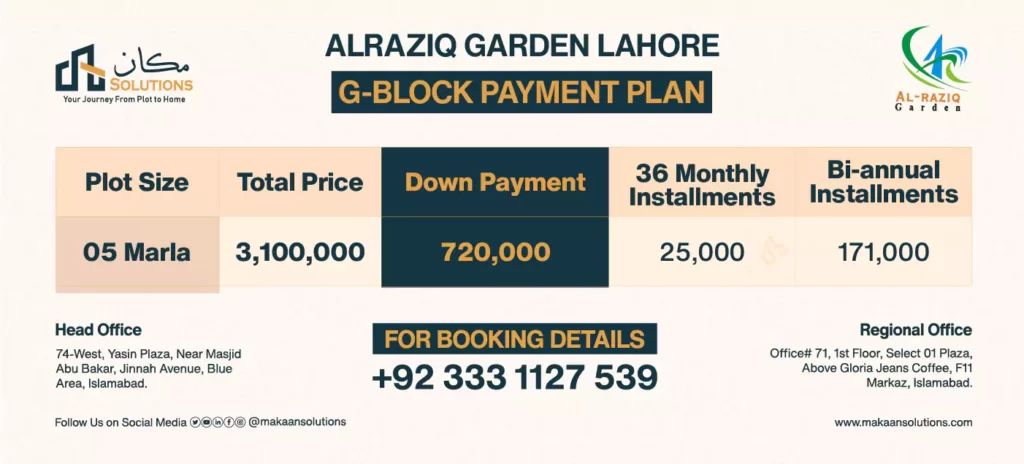 Residential Plots Block H Installment Plan
---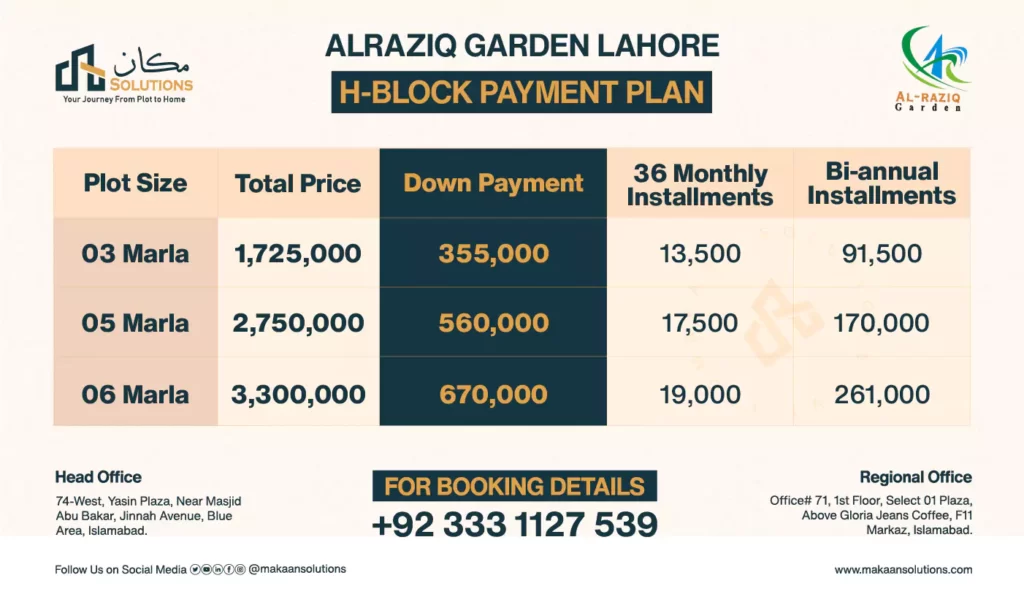 Residential Plots Block I Installment Plan
---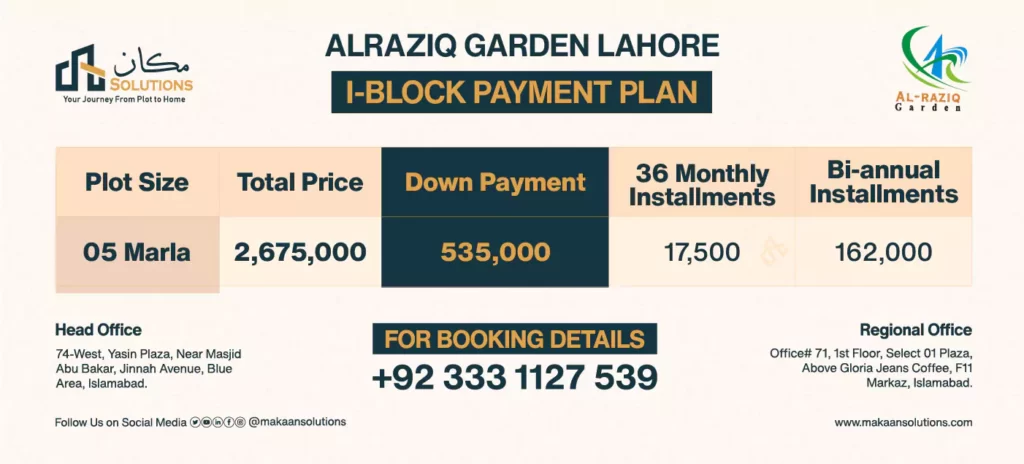 Residential Plots Block I Installment Plan
---
How to Book a Plot in Al Raziq Garden Lahore?
---
Al Raziq Garden booking procedure has been very smooth for customers who are new to the property. You can also get the services of Makaan Solutions to reserve your property whether you are a local or overseas Pakistani. Our experienced sales team has mentioned the quick steps for plot booking:
Fill out the Al Raziq Garden application form
Attach the required documents
Make the down payment on your plot
Attach the receipt of your paid payment
Required Documents
The essential documents for booking a plot are as follows:
Client's 2 copies of CNIC
Client 2 pictures in passport-size
Next to Kin's 2 copies of CNIC
NICOP of the overseas customers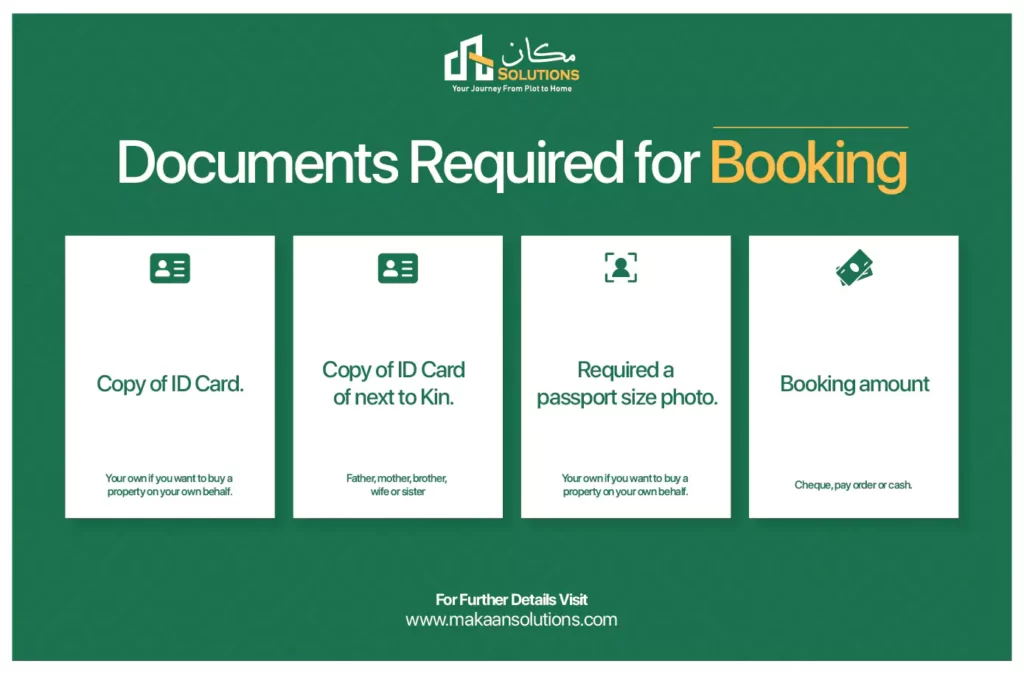 Benefits of Investment in Al Raziq Garden Lahore
---
There are many benefits of investing in Al Raziq Garden Lahore that has caught the attention of several investors. These benefits have motivated potential customers to purchase their plots in this housing society.
High ROI
The property in this housing scheme ensures magnificent profit for you. You can also invest to earn a good amount of profit by purchasing valuable property in the housing scheme. There are expectations of high ROI on short-term and long-term investments.
Passive Income
A property in this fast-growing housing scheme in Lahore also makes sure that you have a source of passive income. You can reserve a plot in this society to earn money over time. It is best to rent your property in this housing scheme to earn a monthly rental income.
Financial Security
You can experience financial independence by owning a plot in this best housing society of Lahore. The reservation of plots in this society ensures exceptional financial freedom for the investors. It has become a magnificent approach to having financial security in the current era of high inflation.
Valuable Property
The commercial and residential plots in this marvelous society have become the most valuable properties for customers. The properties are at an affordable rate in the ideal location for ensuring satisfaction for the customers.
Al Raziq Garden Lahore Master Plan
---
Master plan of Al Raziq Garden Sharaqpur Road is designed by an excellent team of designers who are promised to execute the phenomenal architecture for this residential project. The master plan of the Al Rizq housing scheme shows the presentation of several blocks to facilitate the residents in an efficient way.
Al Raziq Garden blocks include residential as well as commercial plots to ensure several options for end-users and investors. The availability of residential plots in different sizes ensures that you own a plot within your budget.
Blocks
Block A
Block B
Block C
Block D
Block E
Residential Plots
3 Marla
4 Marla
5 Marla
6 Marla
8 Marla
9 Marla
10 Marla
12 Marla
16 Marla
1 Kanal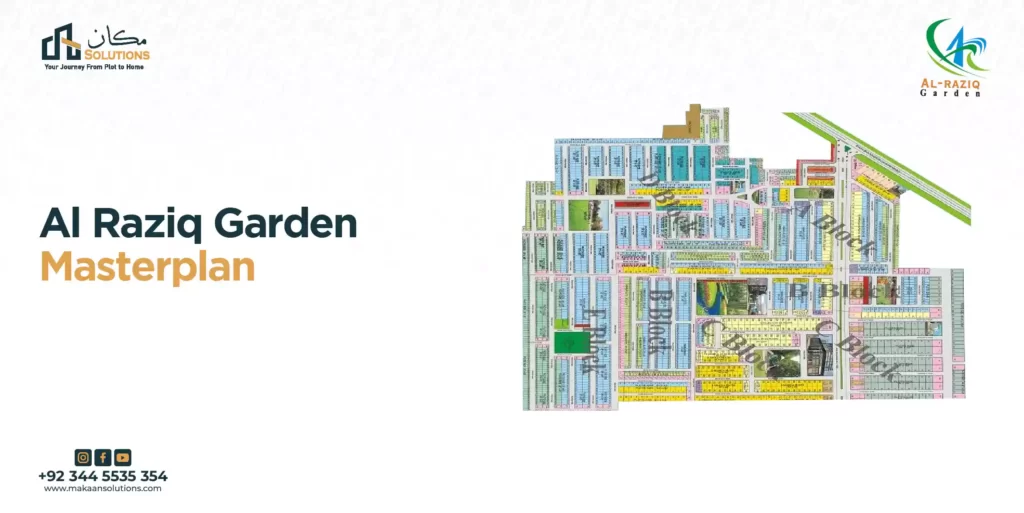 Al Raziq Garden Lahore NOC Status
---
NOC of Al Raziq Garden Lahore is issued by TMA Lahore to ensure a secure place for purchasing properties. This TMA-approved housing society has enabled international and local investors to make their investments for a high profit. People buy their plots in this legally approved residential project because they know the value of a NOC-approved society.
Al Raziq Garden Lahore Owner & Developers
---
Developers of Al Raziq Garden are Al Raziq developers under the supervision of Bismillah Developers, who are known for the exceptional development of housing societies. They started this residential project with a vision to offer the best residential options to customers.
Owners of Al Raziq Garden are devoted to offering the plots at a reasonable price to benefit middle-class people. Their team includes experienced civil engineers to develop this housing society brilliantly.
Other Projects by Bismillah Developers:
A well-qualified team of developers has been involved in these projects: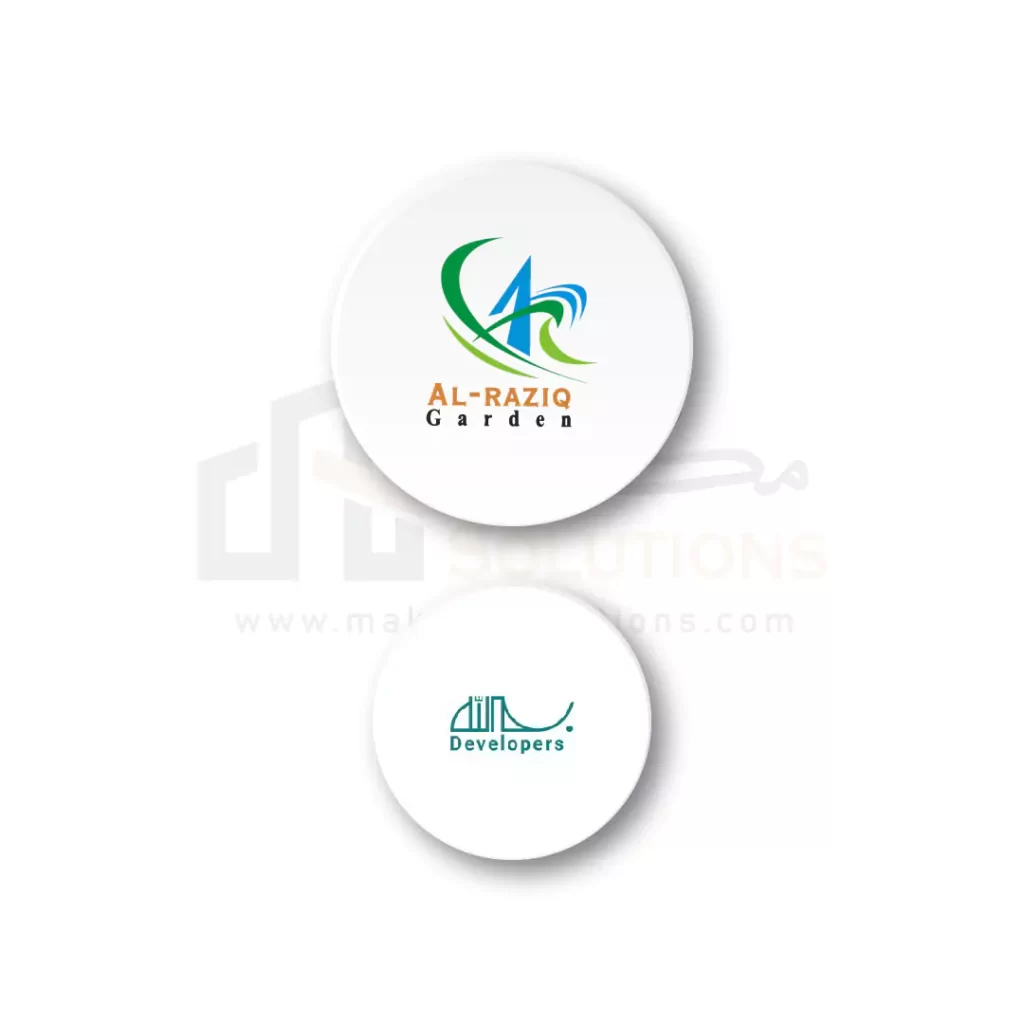 Al Raziq Garden Lahore Development Status
---
Development status of Al Raziq Garden Lahore shows that developers have been devoted to developing society efficiently. It is a fantastic update for the customers that Block A, B, C, and D are fully developed. Moreover, the developers are working on Block E to complete it as soon as possible.
Al Raziq Garden Lahore Latest News
---
Latest updates of Al Raziq Garden Lahore indicate that several plots are available for sale in this housing society. Moreover, several residents are already residing in this residential project.
Facilities & Amenities
---
The availability of world-class facilities differentiates this housing scheme from other residential projects. This residential project was started with a mission of providing world-class facilities for middle-class people. The developers have shown great dedication by doing phenomenal development work to offer magnificent services to the residents.
Grand Mosque
A grand mosque is a basic facility for the Muslim community. Therefore, the experienced developers have constructed the grand mosque to ensure that the customers can offer their religious duties within Al Raziq society. You can perform your religious tasks in this grand mosque.
Healthcare
The developers have considered the best service of healthcare within the society for the residents. They have developed a modern hospital with advanced medical equipment to deal with every medical emergency with 24/7 services. You can get exceptional medical treatment in the presence of this world-class hospital.
Education
The owners and developers know the importance of education for a community that can play a significant role in the process of the country. Therefore, they have included the best educational institutes, such as schools and colleges, to ensure world-class education standards for the residents within the society. These educational institutes make sure that students can proceed their careers after graduation.
Parks & Playgrounds
A green area has immense value in this housing society for middle-class people. The developers have worked days and nights to include the playgrounds and parks in this brilliant housing society. These playgrounds are the best place for residents to play their favorite sports in their free time. Moreover, the parks enable the residents to refresh themselves after a hectic day.
Water Resources
The developers know the value of water for residents' lives. They have used modern technology to provide filtered water to residents. The supply of purified water is available for every plot in this society without any challenges. Therefore, you will be able to utilize filtered water in your daily life.
Electricity & Gas
Gas and electricity are the most necessary facilities for daily life. Therefore, the developers have used the underground system for the supply of these facilities to the residents. You can use these facilities without facing any problems. The management also has power backup to deal with any breakdown.
Commercial Hub
The developers have included a commercial hub to ensure that residents can fulfill their shopping requirements within the premises of the Al Raziq Housing Scheme. This commercial hub in society consists of several well-known brands to ensure that residents get the best products at an economical rate.
Security
The developers of this society have considered world-class security for the residents. The high-level security of this residential project includes a well-trained security staff with advanced security equipment to ensure the ultimate safety of the residents. The presence of CCTV cameras in every block shows the developers' dedication to ultimate security.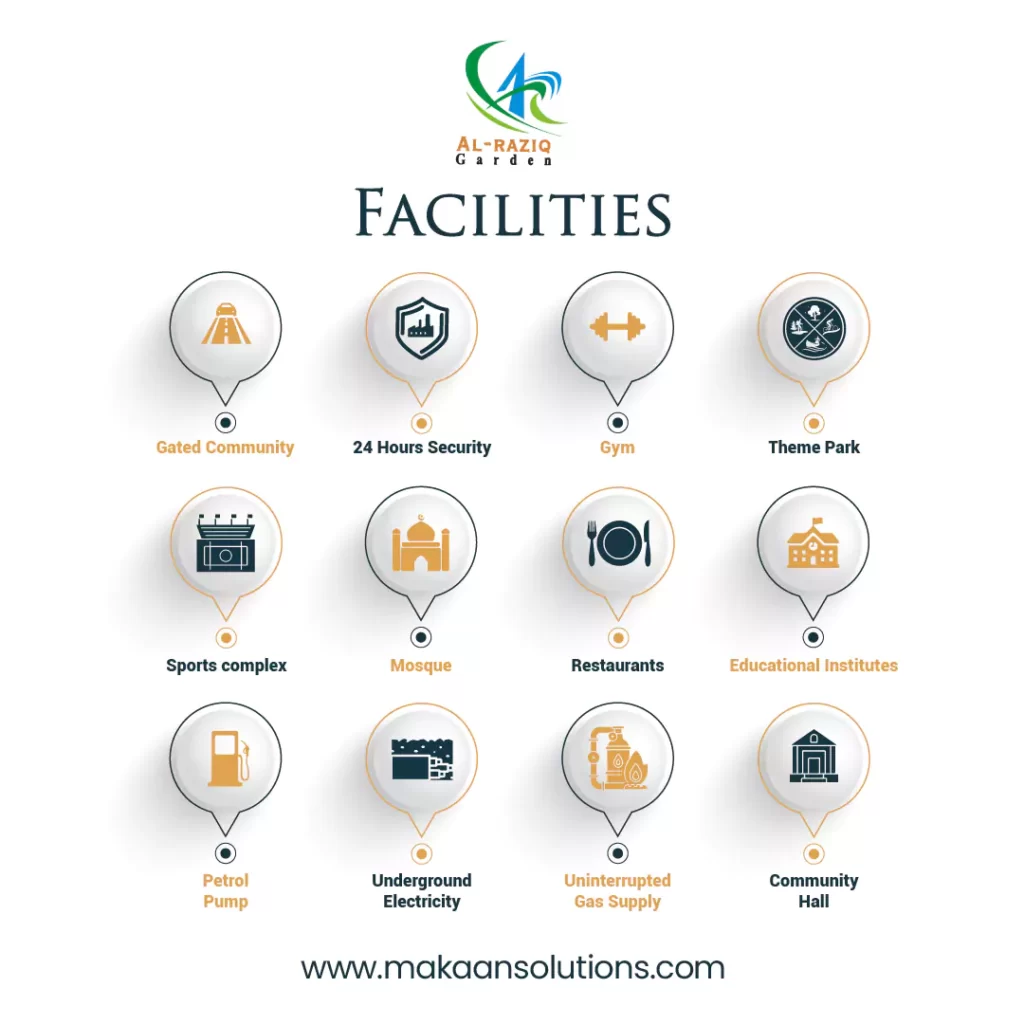 Pros & Cons
---
Pros:
Reliable developers
Legal status
Ideal location
Affordable payment plan
Exceptional master plan
Modern architecture
Rapid development work
Providence of facilities
Cons:
A little away from the center of Lahore
Conclusion
---
Al Raziq Garden Lahore is a well-developed housing scheme that has become the best option for middle-class people because of the reasonable plot rates. The ideal location of society ensures that residents enjoy an eco-friendly environment. You can reserve your plot in this residential project with the assistance of Makaan Solutions. Our experienced team also helps customers reserve their properties in Etihad Town Lahore, Kings Town Lahore, and Lahore Smart City.
[elfsight_whatsapp_chat id="1″]