Risala Agro Farms
Islamabad
Risala Properties Private Limited has launched a new housing development, Risala Agro Farms, which offers plots in a variety of sizes with a flexible payment schedule. This allows customers to own property with manageable down payments and installment plans. Book your plot in this new housing society today with the assistance of Makaan Solutions!
Risala Agro Farms Islamabad
---
Risala Agro Farms offers a breathtaking opportunity for nature lovers to experience a luxurious and posh lifestyle. This farmhouse project offers a peaceful and eco-friendly living environment surrounded by nature.
Risala Agro Farms is an innovative residential project located on the outskirts of Islamabad, providing residents with a one-of-a-kind living experience in a serene and eco-friendly environment. At Risala Agro Farmhouses, you can experience an exceptional lifestyle surrounded by nature. If you appreciate a comfortable, eco-friendly environment, this is the perfect project for you. Get ready to live your dream in a lush and posh setting that combines luxury with a natural setting. Whether you're living abroad, this is an opportunity to invest in a brighter future for yourself and your family.
Risala Agro Farms is a pure agro farm that sets up a breeding program for breeding healthy livestock and bringing the freshest and organic products to the doorsteps of consumers. The farm is focused on breeding high-quality livestock and producing eco-friendly and nutritious products for people who are conscious about their health and the environment. The farm aims to bring a positive change in conventional breeding and farming practices and to promote a sustainable lifestyle.
The goal of Risala Agro Farms is to bring about positive change in traditional breeding and farming methods, promoting a sustainable way of life. This cost-effective project showcases modern farmhouses with botanical gardens and home-grown vegetables and fruits, allowing residents to live a luxurious yet peaceful life with access to all necessary amenities such as educational institutions, healthcare facilities, resorts, a mosque, sports and health clubs, a golf course, playgrounds, daycares, and essential utilities like gas, water, and electricity.
The aim is to bring the dream of peaceful and tranquil living to fruition. The development has been crafted with a focus on energy efficiency and community living, making it an ideal choice for those seeking a cozy and environmentally conscious place to reside.
Owners and Developers of Risala Agro Farms
---
Owner and developers of Risala Agro Farms are Risala Properties Private Limited with sights on creating a lush and environmentally-friendly community in a desirable area of Punjab. The owners and developers are working for a true epitome of opulent yet serene living. A remarkable project has been established by a well-respected and skilled real estate firm with a successful history of constructing top-notch housing projects in Pakistan.
The developers have a vision of providing their residents with an exceptional living experience and are unwavering in their pursuit of ensuring the success of the development. The experienced and dedicated team behind Risala Farms is committed to delivering the best possible living experience to its residents.
With a proven track record of delivering high-quality housing developments in Pakistan, the company is dedicated to ensuring the success of this project. Invest in your future today and become a part of this exclusive community.
Legal Status of Risala Agro Farms Islamabad: NOC
---
NOC status ensures a secure living experience for its residents. Risala Farms, is a premier residential project that offers high-quality farmhouses set amidst lush green surroundings.
The project has applied for a NOC (No Objection Certificate) from the local authorities and is confident of obtaining its legal status soon. Developers are taking all necessary steps to obtain the NOC of Risala Agro Farms and achieve legal status, which will further solidify its reputation as a reliable and trustworthy provider of fresh, high-quality living standards.
This demonstrates the developer's commitment to ensuring that the project meets all relevant regulations and policies for safety, health, and environmental protection. Residents can look forward to an idyllic lifestyle surrounded by nature and all the amenities they need.
Risala Agro Farms Location
---
Location of Risala Agro Farms Islamabad is located in Gharibwal, Ganda Kass, the heart of the city, making it easily accessible from all major areas of the city. The project is in close proximity to some of the city's most important landmarks, such as the Islamabad International Airport, major hospitals, schools, and universities. This prime location makes it the ideal choice for families and individuals who value convenience and accessibility.
The Islamabad International Airport is the gateway to the Twin Cities and is situated 64 km west of the Twin Cities, near the Kashmir Highway and Motorway Interchange. Risala Farms has been built in a prime location that is just 54 km away from the capital city's international airport. The Chakri Interchange, which links to many parts of Islamabad and Rawalpindi, is located 22 km away from the farms, making it a highly advantageous location for residents. This convenient proximity to transportation hubs provides residents of Risala Agro Farms with easy access to the rest of the city.
Landmarks
---
Risala Farms development is situated near several significant landmarks and facilities, as well as other housing communities. This makes it a preferred choice for residents and investors who seek the convenience of city living along with the peace and tranquility of a rural environment.
Kashmir Highway
M2 Motorway
Chakri Interchange
Qurtaba City
CPEC Route
Access Points
Risala Agro Farm Islamabad is conveniently located with multiple entry points from major roads and highways, providing easy access from all parts of Islamabad. This accessibility makes it an ideal location for residents who need to commute to and from the city, as well as other destinations.
15 KM away from Rawalpindi Ring Road
25 km away from M-2 Motorway
64 km west of the Twin Cities
22 km away from Chakri Interchange
12 minutes drive from Rawalpindi Cadet College
28 km away from Srinagar Highway
54 km drive from New Islamabad International Airport
This convenient proximity to transportation hubs makes this project a highly advantageous location for residents.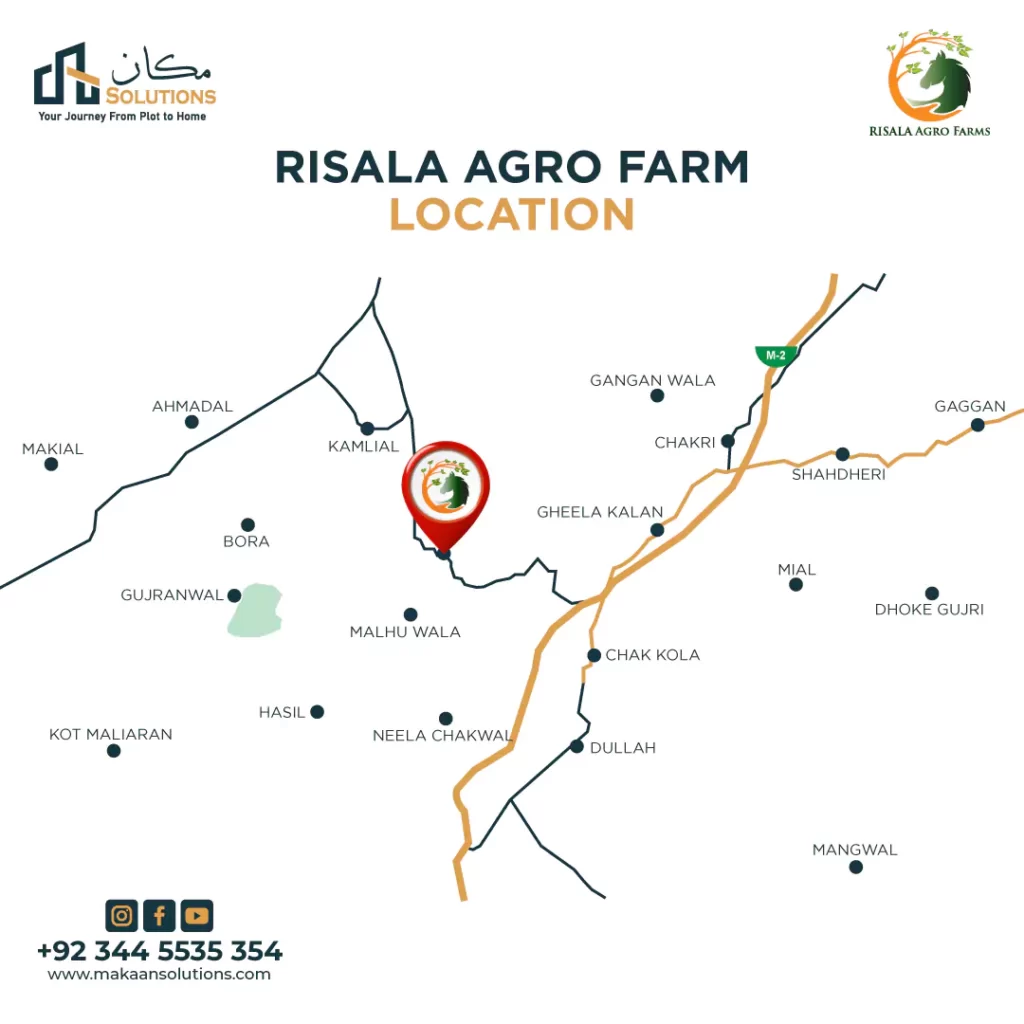 Google Map
---
Google map of Risala Agro Farms is available online, providing interested buyers with a clear and detailed view of the location and surrounding area. This makes it easy for buyers to get a feel for the location and to determine whether it is the right choice for their needs.

Master Plan of Risala Agro Farms
---
Master plan for Risala Agro Farm has been meticulously planned and expertly crafted, incorporating common spaces, recreational amenities, and community gardens. The aim of this master plan is to encourage community living and enhance the quality of life for residents.
FarmHouses Plot Sizes
---
According to available information from the official portal, the available plots for sale in Risala Agro Forms include the following:
4 Kanals
8 Kanals
12 Kanals
16 Kanals
20 Kanals
Total Land
---
Total land area of Risala Agro Farms is over 2000 kanals. Investors have the option to select from a range of plot sizes, including 4 Kanals, 8 kanals, 12 kanals, 16 kanals, and 20 kanals, to best suit their needs. They are cordially invited to pick the plan that best fits their requirements.
Risala Agro Farms Payment Plan
---
Payment plan of Risala Agro Farms in Islamabad provides customers an affordable and comfortable payment plan for its buyers. With a range of options available, buyers can choose a plan that fits their financial situation and meets their specific needs. The payment plan is transparent, secure, and easy to understand, making the process of purchasing a plot at Risala Farms an enjoyable experience for everyone.
A housing project by Risala Properties Private Limited offers various payment options and plot sizes to fit the needs and budgets of its customers. Upon making a down payment, it's important to note that taxes are not included and will be applicable according to the laws of the land. Additionally, management development charges are separate and will be paid alongside the possession fee. The down payment required is 25% of the total price, and the possession fee is 15% of the total price.
The management offers discounts for full or half payments, as well as for government servants, military personnel, and overseas individuals. Premium plots, such as corner plots or plots facing parks or boulevards, come with a 10% added charge to the base price.
Customers have the option to pay in full or choose a flexible installment plan, with 12 quarterly payments, based on the size of the property. The monthly payment and total cost of the property over the 12 quarters are provided for convenience.
4 Kanal (2000 sq.yds)
4 Kanal farm houses
The total price is 72,000,000 rupees
The down payment is 1,800,000 rupees
The monthly installment is 120,000 rupees
Per quarter installment is 360,000 rupees
The possession payment is 1,080,000 rupees
12 quarterly installments are 4,320,000 rupees
8 Kanal (4000 sq.yds)
8 Kanal farm houses
The total price is 13,200,000 rupees
The down payment is 3,300,000 rupees
The monthly installment is 220,000 rupees
Per quarter installment is 660,000 rupees
The possession payment is 1,980,000 rupees
12 quarterly installments are 7,920,000 rupees
12 Kanal (6000 sq.yds)
12 Kanal farm houses
The total price is 18,000,000 rupees
The down payment is 4,500,000 rupees
The monthly installment is 300,000 rupees
Per quarter installment is 900,000 rupees
The possession payment is 2,700,000 rupees
12 quarterly installments are 10,800,000 rupees
16 Kanal (8000 sq.yds)
16 Kanal farm houses
The total price is 24,000,000 rupees
The down payment is 6,000,000 rupees
The monthly installment is 400,000 rupees
Per quarter installment is 1,200,000 rupees
The possession payment is 3,600,000 rupees
12 quarterly installments are 14,400,000 rupees
20 Kanal (10000 sq.yds)
20 Kanal farm houses
The total price is 30,000,000 rupees
The down payment is 7,500,000 rupees
The monthly installment is 500,000 rupees
Per quarter installment is 1,500,000 rupees
The possession payment is 4,500,000 rupees
12 quarterly installments are 18,000,000 rupees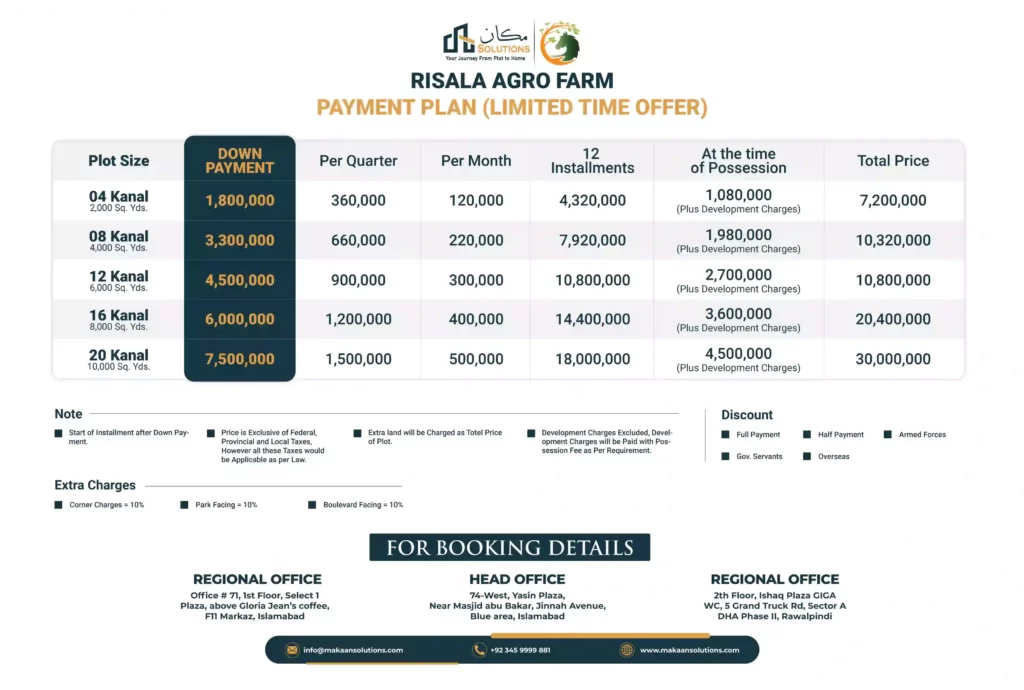 Plot Booking Procedure in Risala Agro Farm Islamabad
---
Want to get a plot in Risala Agro Farms Islamabad? Makaan Solutions can help you. Makaan Solutions is a leading real estate company offering a variety of properties for sale, including Risala Farms. You can book a plot by a visit to their website or calling their customer support team. The team will help you pick the right plot for you based on your needs and budget. After choosing the plot, you can finish the booking online or with the support team. With Makaan Solutions, you don't have to worry about any hassle during the booking process. Book your plot today and start building your dream home.
Guidance for plot booking in this society:
Fill out the application form
Attach copies of the customer's CNIC
Make the initial payment
Submit the booking form along with the required documents
Required Documents
The following documents are essential for booking a plot:
2 copies of the customer's CNIC
2 passport-sized photos of the customer
Two copies of the next of kin's CNIC
NICOP (National Identity Card for Overseas Pakistanis)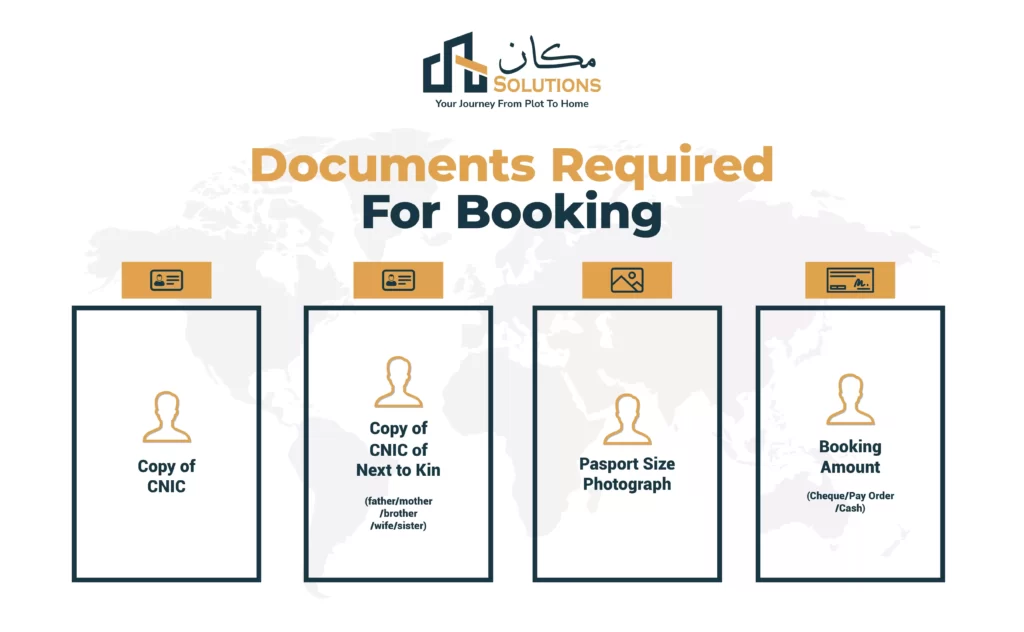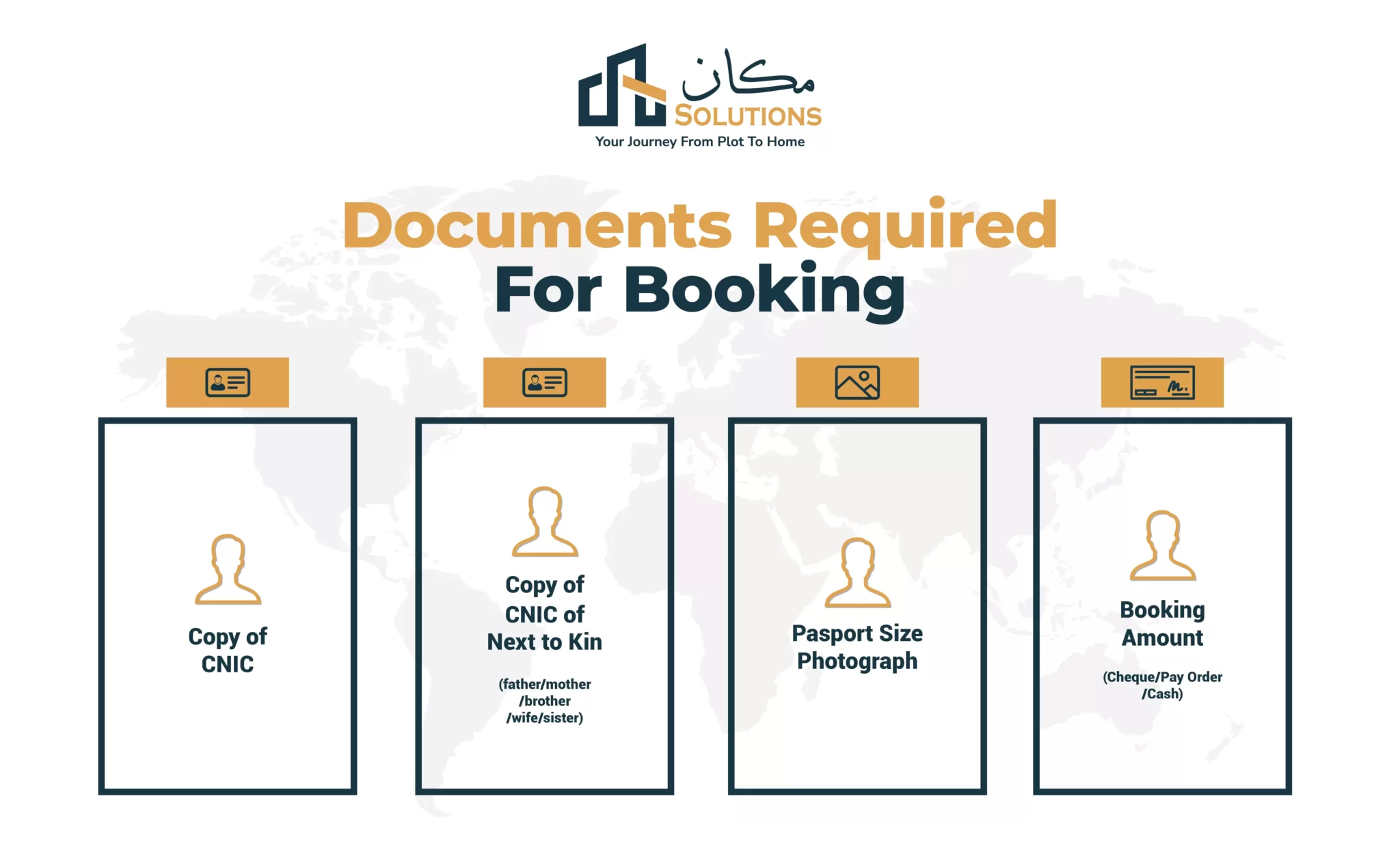 Investment Benefits of Risala Agro Farms: Reasons why to Invest
---
Investing in Risala Agro Farms Islamabad will provide a range of benefits to potential investors. Some of these benefits include:
Affordable Housing
Risala Properties Private Limited is going to offer affordable housing options, making it accessible to a wide range of investors, including national and international.
Valuable Property
Risala Farms Islamabad is situated in an advantageous location with convenient transportation options and is in near proximity to essential amenities, such as shopping malls and educational institutions. Investment in this project will increase in value over time, and its value could increase even more if there are significant private or government projects in the neighbourhood. The location of the project affords residents the opportunity to experience the benefits of both urban and rural living, with convenient access to the city and the peacefulness of a rural lifestyle.
Quality of Life
The project will feature a variety of contemporary amenities and facilities to guarantee residents a superior standard of living. Moreover, the development is designed with energy efficiency and sustainability in mind, making it an eco-friendly option.
Community Living
The development features common areas, recreational facilities, and community gardens, promoting a sense of community and encouraging residents to socialize and engage with one another.
Financial Security and Stable Income
Investing in Risala Farms will provide an extra source of money and preservation of its value, and you don't have to worry about daily maintenance, just ensuring the property is protected from encroachers. Moreover, this society will provide a steady and immediate source of income by renting out developed properties.
Growth Potential
The area surrounding Risala Farmhouses in Islamabad is rapidly developing, making it an attractive investment opportunity for those looking to invest in a growing and sustainable development with strong long-term growth potential.
Facilities & Amenities
---
Construct the home of your dreams with access to all top-notch facilities in Risala Farm Houses.
Some major facilities provided by Risala Properties Private Limited are as follows:
Farmings
Risala Farms is ideal for olive farming and dairy farming due to its similar climate and soil conditions to Potohar.
Golf Club
The Risala Golf Club is dedicated to providing its players with the most magnificent golf course experience. It aims to foster the growth of golf in Pakistan and attract people to the sport. The club also offers premium services to golfers and their families, such as a pro shop for golf essentials, a plush clubhouse with dining and scenic views, and a luxurious pool.
5-Star Hotel
Risala Farms proudly introduces the Risala 5-star hotel, equipped with top-notch amenities such as a state-of-the-art gym, a versatile swimming pool with water slides and flumes, and a spa with varying temperatures.
Risala Riding Club
The Risala Riding Club offers horse-riding tracks and high-quality equestrian equipment. It provides a chance for people to enjoy the open countryside and improve their physical and mental well-being.
Botanical Garden
Take a break from your worries and visit the Risala Botanical Garden for a refreshing experience. It is open to all for a mind-clearing and body-revitalizing visit.
Entertainment Community
The Risala Entertainment Community is open to both residents and visitors of Risala Farms, providing a platform for a healthy and enjoyable lifestyle.
Sports Community
The Risala Sports Community aims to bring out the competitive spirit in sports, offering various clubs for cricket, football, volleyball, tennis, and cycling.
Tent Pegging
Risala Farms is committed to preserving and promoting cultural heritage and will introduce a tent-pegging ground for the sport.
Pros and Cons
---
Every real estate project has its own set of pros and cons, and the same goes for residential projects. It is essential to understand both the benefits and drawbacks of the housing society before making a decision to purchase a property.
The followings are the pros and cons of buying plots in Risala Farms:
| Pros | Cons |
| --- | --- |
| Reputable ownership and development | Located away from the city center |
| Premium society in a prime location | |
| Affordable payment options with installment plans are available | |
| Master planned development with experienced management and planning | |
| A streamlined process for purchasing plots | |
| Potential for high return on investment | |
| Access to world-class facilities | |
Development Updates
---
Development status of Risala Agro Farms is currently in the process of being constructed, with the completion of the development expected in the imminent future. The project is being designed to the highest of standards and will include premium finishes and appliances, guaranteeing that those residing there will experience a comfortable and aesthetically pleasing living environment.
With its strong commitment to sustainable agriculture and rural development, Risala Farms Islamabad will also be well-positioned to play a major role in the growth and success of the agricultural sector in the region in the near future.
Finishing Thoughts
---
Aim of Risala Agro Farms is to create a "Clean and Green Community" that is both innovative and sustainable, offering residents the opportunity to grow their own fruits and vegetables while also enjoying a variety of luxurious amenities right at their doorstep.
Makaan Solution encourages people to reconnect with nature by providing multiple investment opportunities with a healthy, safe, reliable, and high-quality living environment.
MakaanSolutions assists clients in acquiring and disposing of properties in various residential communities, including Gulberg Islamabad, Countryside Farms, Tulip Enclave Islamabad and New City Paradise.
Critical Announcement By Makaan Solutions
---
This data has been compiled from verified sources of Risala Agro Farms for informational and educational purposes. If you experience any issues with your file, you may contact the official management for assistance.
Frequently Asked Questions
---
Why is Risala Farms located outside the central city area?
The location of Risala Farms away from the main city is intentional, as it provides its residents with a serene living environment.
Who is the developer of Risala Agro Farms Islamabad?
Risala Properties Private Limited is the developer of Risala Farm Islamabad and is a reputable and experienced real estate company.
Is Risala Agro Farms Islamabad a good choice for families?
Risala Farm Islamabad offers a range of facilities and benefits that make it a good choice for families, including affordable housing, community living, and recreational facilities. Whether it is a good investment option depends on circumstances and investment goals.
What are Risala Agro Farms Islamabad?
Risala Agro Farm Islamabad is a residential development located on the outskirts of Islamabad, offering affordable and sustainable housing options.
Why is investing in a new residential project a good idea?
Investing in a new housing society provides an opportunity to take advantage of pre-launch pricing, which is often more favorable and flexible for customers.