Pearl Business Center has become a premium commercial space in DHA Islamabad to offer fantastic investment opportunities to potential investors. Defence Housing Authority is famous for offering reliable and best investment opportunities to overseas and local Pakistanis. This new business center in DHA Islamabad also enables the new investors to make a handsome profit by making an investment. 
Pearl Business Center Islamabad is a new premium project in the heart of DHA to ensure a high ROI for investors who always want to grab opportunities of high profitability. You can also purchase your property at the pre-launch rates to earn good money over time. This new commercial space will include the best brands to ensure an excellent shopping experience for the users.
Location of Pearl Business Center in DHA Islamabad.
---
Pearl Business Center location in DHA Phase 1 offers great flexibility with the easiest accessibility for potential investors. You can visit this phenomenal business space from Islamabad and Rawalpindi easily. Moreover, Pearl Business Center is located in the neighborhood of famous housing societies like Bahria Town Rawalpindi and Gulberg Islamabad.
You can access the location of this business center from Faizabad and Blue Area Islamabad by traveling on the main Islamabad Expressway. Moreover, this business center in Defence Housing Authority is just a few minutes away from Rawat. The premium location has ensured the maximum ROI for every investor to earn a good profit ratio.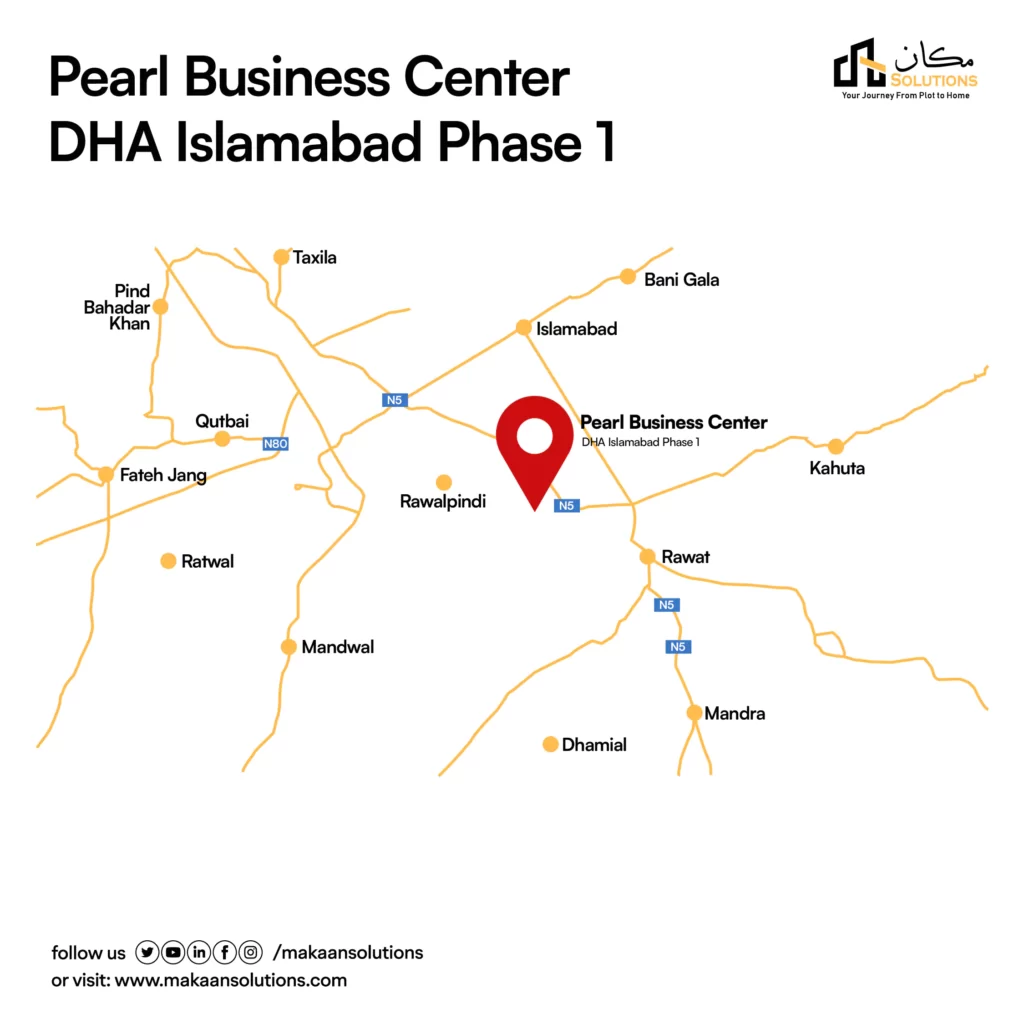 Pearl Business Center Payment Plan Is Very Reasonable For Investors.
---
It is a phenomenal project for profitable investment because of the reasonable rates for the available properties. The developers have ensured affordability for investors who are looking to reserve the properties at affordable prices. Therefore, the payment plan of Pearl Business Center DHA-Islamabad enables you for a profitable investment.
There is a 2-year installment plan for every available property in this commercial space. Moreover, you can book a property by paying only a 30% down payment and have a 10% payment at the time of possession. You need to follow the quarterly installments to get possession of your property.
Best Amenities & Facilities in DHA Pearl Business Center.
---
This commercial project in DHA Islamabad Phase 1 has become a hub for profitable investment to attract several investors globally. There are fabulous facilities and amenities in this commercial project to offer phenomenal profitability for the customers. Therefore, you must check the available services in this commercial project.
Accessibility and Parking:
---
The management has included magnificent parking and accessibility for the customers in this Pearl Commercial Center. There is a broad parking space to ensure a magnificent experience for the visitors and tenants. This commercial project is located near the main roads to offer flexible access to the different landmarks of the twin cities.
Best Office Spaces:
---
Pearl Business Center includes different office spaces, which have become suitable options for different types of businesses. These office spaces ensure the excellent growth of businesses for the different renowned and new brands. Moreover, these offices can fulfil the different requirements of multinational corporations, small businesses, and startups.
Fabulous Architecture:
---
The contemporary architectural design of this commercial project shows an excellent blend of aesthetics and functionality. The stylish and modern designed interior and exterior offer a world-class experience for business.
Meeting and Conference Rooms:
---
The meeting and conference rooms in this business center offer a peaceful environment for networking and collaboration. These spaces are well-developed with advanced technology for the efficient accommodation of large and small gatherings. Therefore, it has become the best place for business workshops, seminars, and meetings.
Professional Management:
---
The management of Pearl Business Center offers professional management for efficient operations with the best customer service. The developers are aimed to maintain high standards for this commercial project with all relevant concerns.
Retail and Dining Options:
---
This commercial project also consists of phenomenal dining and retail options, including world-class restaurants and different shops. Therefore, the developers have ensured the ultimate convenience for the visitors and tenants in the presence of phenomenal services.
Advanced Services:
---
The developers have also made sure to equip this project with advanced facilities to enhance the productivity of businesses. The presence of a high-speed internet connection with power backup ensures the fast growth of businesses. There is centralized air conditioning for the tenants to work seamlessly. The modern technological security system ensures top-notch safety for businesses.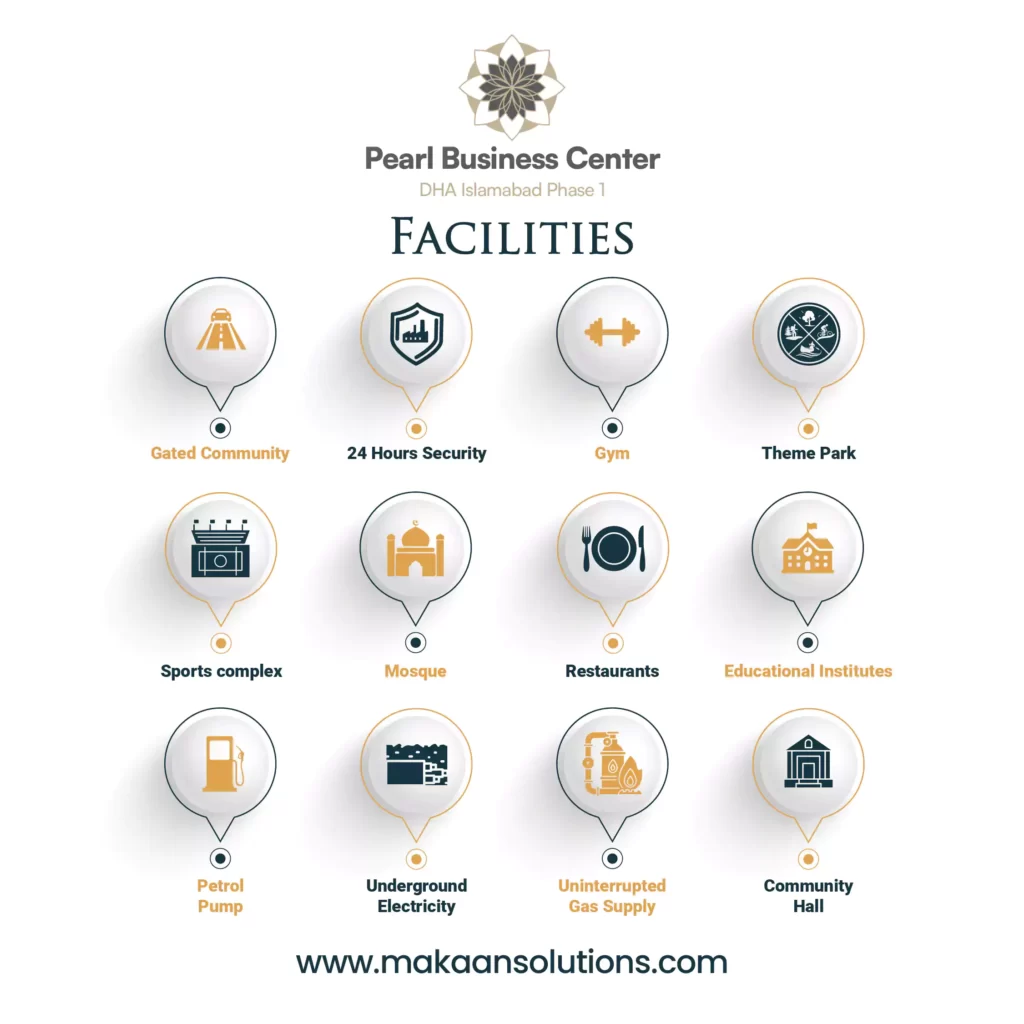 Let's Make Secure Investment In Pearl Business Center With Makaan Solutions!
---
The premium location and affordable payment schedule of this phenomenal commercial project inspired potential clients to make the investments. You can invest in Pearl Business Center with the experienced team of Makaan Solutions to achieve the phenomenal goals of profitability. Our team is ready to guide you with the complete details of this profitable project in DHA Rawalpindi.
This commercial project is the first priority for investors who are searching for different investments to become financially independent. This upcoming commercial project in Phase 1 of DHA Rawalpindi enables the customers to have financial security. Moreover, it is also a great source of passive income for several investors. You can rent your commercial property to earn the rental income.
The most attractive benefit for every investor is the high ROI which urges them to invest in Pearl Business Center. The reason for the high return on investment is the developers' successful record in their previous projects. Therefore, investors are expecting the highest profit by investing in this commercial project.
Final Words
---
Pearl Business Center has been a heaven of facilities for the smooth growth of businesses to offer the highest profits to investors. Therefore, Makaan Solutions is helping customers pre-booking their valuable properties in this upcoming commercial project in the heart of DHA Islamabad. Moreover, you can also invest in the commercial properties of New City Paradise, Lahore Smart City, and Capital Smart City Islamabad to make good profits within a short time period.
Pearl Business Center – DHA Islamabad Phase 1
If you want to know about Pearl Business Center – DHA Islamabad Phase 1 contact Makaan Solutions. Our Sales Executive Officer will provide you with all the latest information. Starting from consultation to choosing the property, and from booking to owning your dream property. For further details, please do not hesitate to contact on the below-given information: