Q-Links came forward to develop a multi-purpose project in Lahore with the name of Q Central Grand Mall & Residences. Mr. Anjum Wattoowho is the leading real estate development company that has a vision and mission of enabling customers to grow their wealth with real estate.
Q Central Mall is going to become a great development project in south Lahore to offer residency and business growth under one umbrella. This business endeavor is magnificently designed by a qualified team to offer phenomenal financial benefits to every investor. Q Central Residences dominate the Lahore real estate market because of the latest infrastructure and architecture.
Q Central Grand Mall Is The Best Building in Bahria Orchard Lahore.
---
Q-Central Grand Mall is the best commercial and residential building in Bahria Orchard Lahore to offer luxurious facilities to the residents and high business growth. Moreover, it will also become the tallest building on Raiwind Road after the completion of construction. The availability of brand-new buildings in Q Central Grand Mall and Residences has brought new dimensions of investment.
Q Central Grand Mall Is A Profitable Project For Investors In Lahore.
---
The profitable investment in Q Central Grand Mall Lahore is ensured because of the premium location on Raiwind Road and a reasonable pre-launch payment plan. There are fabulous facilities and amenities are also available to ensure magnificent profitability for the investors. This 26-floor building offers the highest ROI to every investor who is looking for a profitable investment in Lahore.
Q-Links Are The Developers of Q Central Grand Mall.
---
Q-Links is a growing and trusted real estate developer and builder in Pakistan that promotes brilliant development standards. Moreover, this real estate development company is getting better every day to ensure the quality of development.
Q-Links is bringing a revolution in Bahria Town Karachi and Lahore through international standards for development. The developers ensure the best investment opportunities in Q Central Grand Mall in Lahore.
Let's have a look at the successful projects of Q-Links Developers in Bahria Towns:
Al-Falah Heights Lahore
Broadway Heights Lahore
Gold Souq Lahore
Jasmine Mall Lahore
Jasmine Grand Mall Lahore
Orchard Mall Lahore
Tauheed Heights Lahore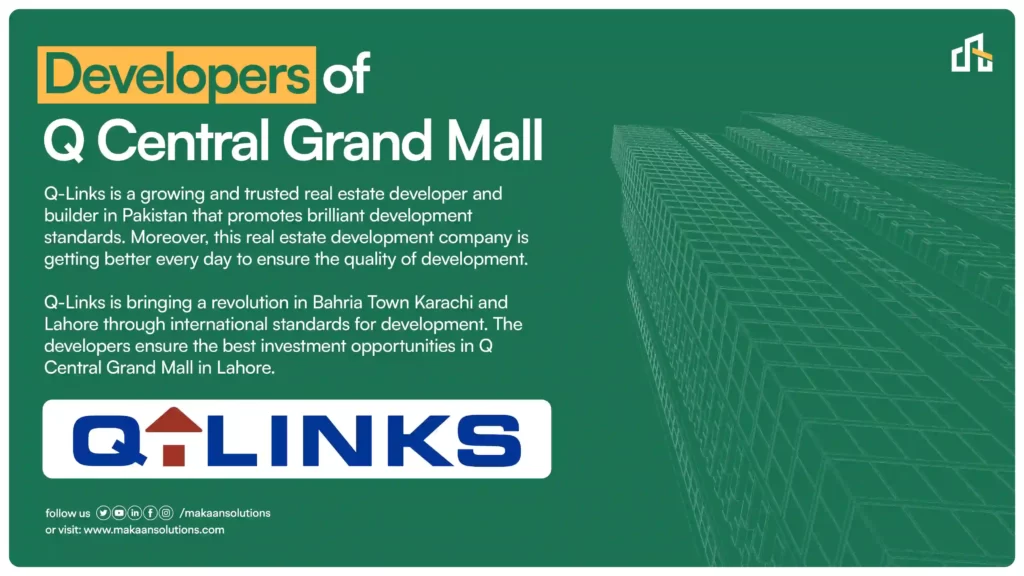 Q Central Grand Mall Location In Bahria Orchard Lahore.
---
Q-Central Grand Mall is located in Bahria Orchard Lahore to ensure the easiest accessibility from the various landmarks of the city. The location of Q Central Grand Mall is on the main Raiwind Road. Therefore, it has become a profitable real estate project in Lahore which is just a few minutes away from Thokar Niaz Baig, Allama Iqbal Airport, and Shah Alam Market Lahore.
It is the most famous project in Bahria Orchard Phase 1, which has the main entrance from Gate 1 and Gate 2. Moreover, it is easily accessible from Jati Umra and Sundar Road to ensure the great growth of investment in this multi-purpose project. The premium location of the project has increased the worth of available properties for investors.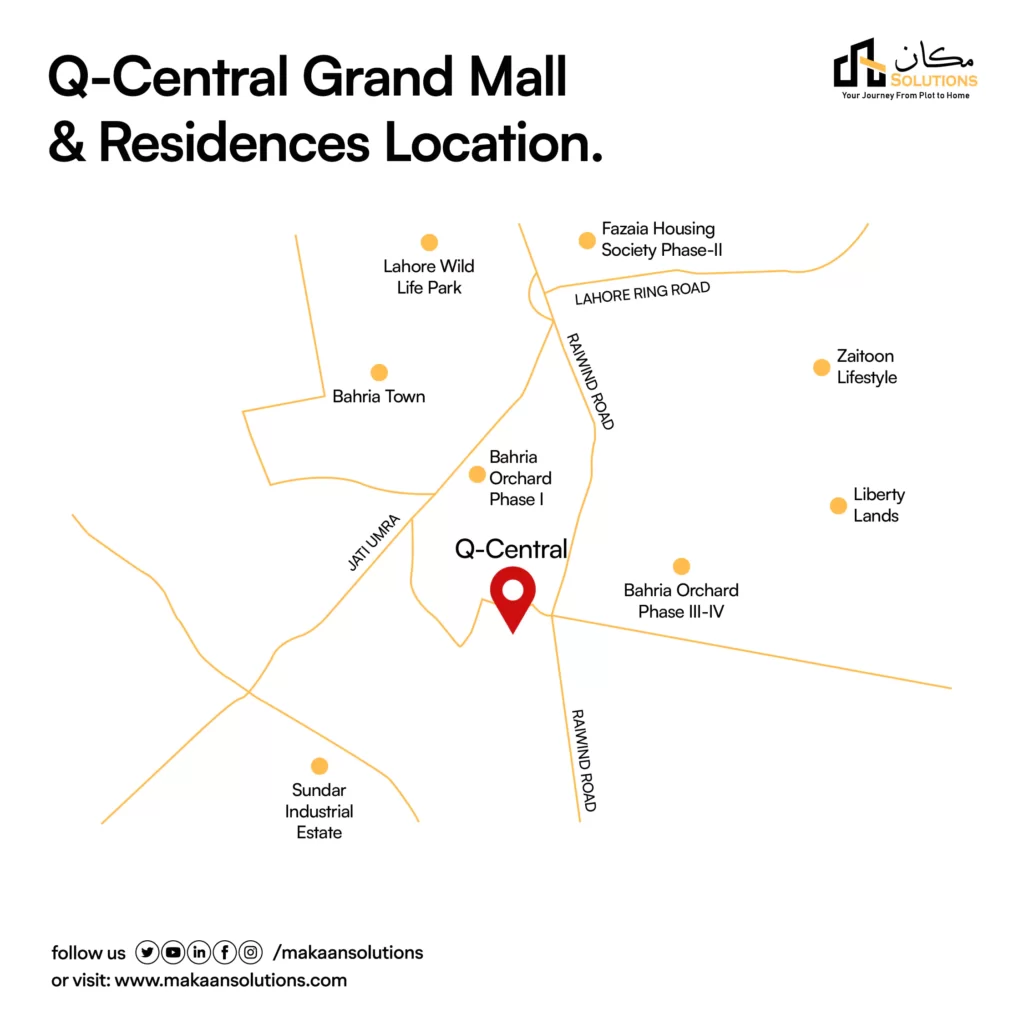 High-Rise Development Project on 13.51 Kanal Area.
---
The total area of Q Central Grand Mall & Residences is 13.51 Kanal to offer an international standard of lifestyle and business opportunities to the clients. There are renowned properties in this project to allow the clients to live in the most beautiful and easily accessible location in Lahore.
It is the tallest mall with a multi-storey building ranging from ground to fifth floor. Moreover, it is a masterpiece project with elegant designs for the infrastructure. Every amenity and facility is available to facilitate the customers in a smooth and brilliant way. It is a gift by Q-Links for the people of Lahore, especially South Lahoriye.
Grand Shopping Mall in Bahria Orchard Lahore Phase 1.
---
7 floors of the project are dedicated to commercial use, which includes more than 100 best brands. There is a playing area, a kids' section, technological shops, and digital electronic shops. The available food court offers a variety of fast-food and dining options to food lovers.
There are also huge event halls to cater to the requirements of commercial events of different brands. The rooftop sky restaurants and bars with the outdoor cafes offer fabulous hospitality and entertainment to the users.
Q-Residences & Hotel Apartments on Raiwind Road.
---
There are two dedicated towers for the residency to offer a phenomenal living experience to the customers. One residential tower is available for Q-hotel apartments to offer world-class hotel services to customers. The second tower of Q Central apartments offers a splendid lifestyle with the availability of 2-bedroom, 3-bedroom, sub-penthouse, and Q-central penthouses.
What Are Available Facilities And Amenities In Q-Central Grand Mall & Residences?
---
This project by Q-Links has brought a win-win condition for the residents and investors in the presence of world-class services for business and an enriched lifestyle.
The distinctive and attractive infrastructure ensures the highest rental income for potential customers.
It is a safe multi-purpose project with foolproof security in the presence of a modern security system and staff.
There is international architecture to boost the value and luxury of this high-rise project.
The users of this famous project can also access the features of Bahria Town Lahore.
The gym consists of all equipment to allow the users to work on their fitness.
There is a swimming pool in Q Residences Lahore to offer the magnificent experience of cool swims in hot weather.
You can have an excellent experience of lunches and dinners on the rooftop sky restaurants and bars.
Snooker Club and Bowling Alley to ensure great entertainment for the users and their families.
Sauna and Spa service for relaxing moments.
Q Central Grand Mall & Residences Payment Plan Is Affordable.
---
There are shops for sale in Q Central Grand Mall with only a down payment of 5%. There are 48 monthly installments fior the available shops and apartments. A significant amount of money is payable at the time of taking the property. However, you need to pay full sums at the confirmation for a few shops.
Final Thoughts
---
Q Central Grand Mall & Residences is a fabulous multi-purpose project in the heart of Lahore to offer phenomenal investment opportunities for local and overseas investors. This prominent project in Bahria Orchard also offers apartments and hotels to people who are looking for a luxurious lifestyle in the presence of international facilities.
You can buy your apartment or shop in Q Central commercial project with the smooth assistance of a qualified team at Makaan Solutions. Moreover, you can also purchase your property in different housing societies like New City Paradise and Lahore Smart City with the help of our experienced team.
Q Central Grand Mall & Residences
If you want to know about Q Central Grand Mall & Residences, contact Makaan Solutions. Our Sales Executive Officer will provide you with all the latest information. Starting from consultation to choosing the property, and from booking to owning your dream property. For further details, please do not hesitate to contact on the below-given information: