Do you want to experience an innovative and creative lifestyle? Dubai Creek Harbour is the new project in the heart of UAE to enable you to be a part of the waterfront community. This project will be the new frontier to ensure contemporary living standards for the residents. Moreover, investors can also invest in this new real estate project in the UAE.
Creek Harbour Dubai is the best project to enable the residents to check the creek views. This is a private, secure project to offer a luxurious lifestyle with a high ROI for the respective customers. It is a private island in Dubai that has become an iconic vista globally. Creek Harbour in Dubai offers a scenic view of Downtown Dubai skylines.
Dubai Creek Harbor includes a creek beach, Island Park, waterfront promenade, and Yacht Club with eighty-one berths. The presence of gourmet restaurants on the waterfront promenade ensures a magnificent experience of food taste along with the elegant view of Dubai Creek and Burj Khalifa.
Location of Dubai Creek Harbour
---
Dubai Creek Harbour location map is between Business Bay and Dubai Downtown on Nad Al Hamar Road. The location of this magnificent real estate project can be accessed through Ras Al Khor Road. You can also use Al Badia Blvd and Festival Blvd to reach this project within a few minutes. This ideal location enables the residents to enjoy a peaceful lifestyle at a slower pace.
This residential project is located on the promenade to enable you to capture beautiful views. Creek Harbour is situated near Creek Beach, which motivates the residents and international tourists to take a boat tour.
Nearby Landmarks
Al Warqa
Business Bay
Ras Al Khor Wildlife Sanctuary
Dubai Festival City
Mirdif
Nad Al Hamar Avenues
Union Coop Al Aweer
Dubai Safari Park
Marhaba Mall
Accessibility
Toyota Services Center is 1 minute away
Nadd Al Hamar Health Center is 2 minutes away
Aswaaq Community Mall is 3 minutes away
Dubai Auto Show is 4 minutes away
Sheikh Mohammed Bin Zayed Road is 5 minutes away
Holiday Inn is 6 minutes away
City Centre Mirdif is 8 minutes away
Dubai International Airport is 9 minutes away
Downtown is 12 minutes away
Dubai Marina is 23 minutes away
Expo 2020 is 32 minutes away
Al Maktoum International Airport is 37 minutes away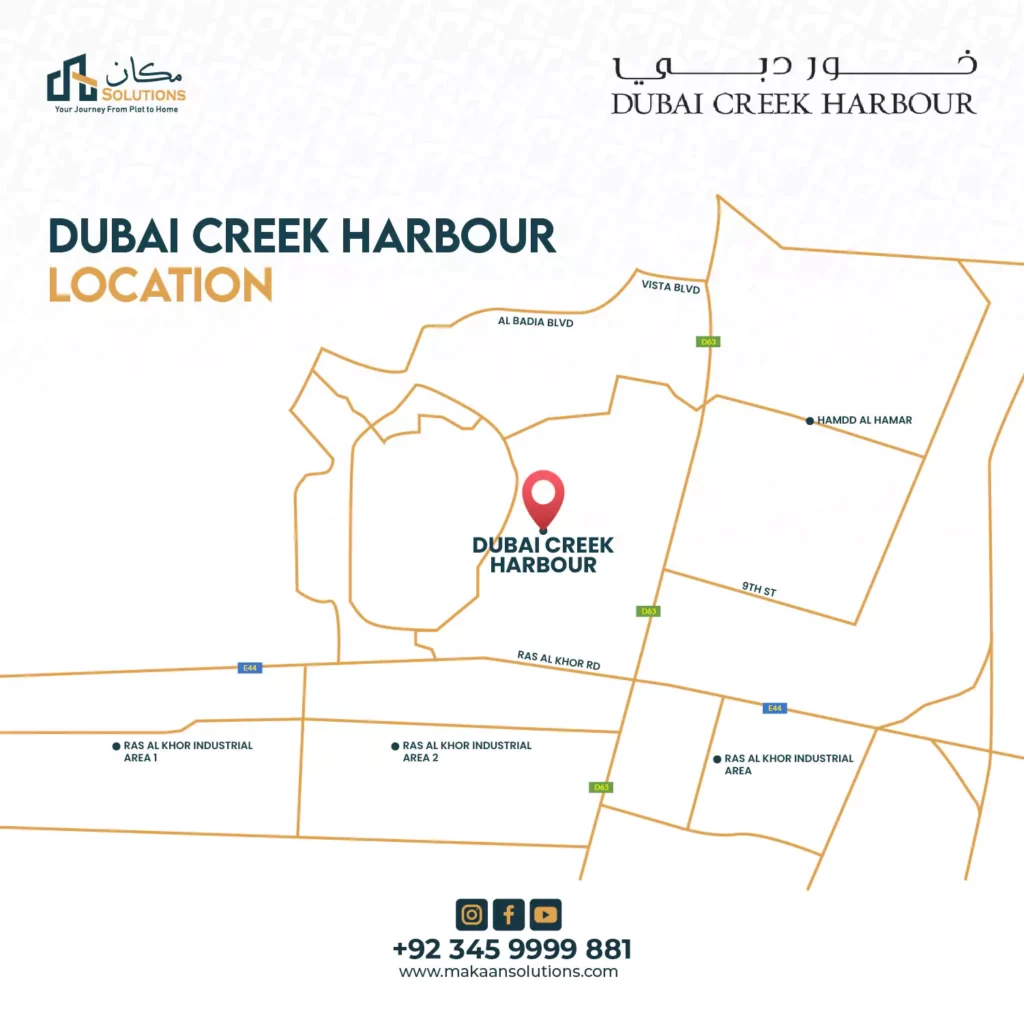 Dubai Creek Harbour Payment Plan
---
There are Dubai Creek Harbour apartments for sale with a 90-10 payment plan that enables you to pay the payment in the form of installments till 2027. The management planned this project with the best prices to hand over the properties to the respective customers in 2027. Therefore, the property prices in Creek Harbour Dubai start from AED 1.6M.
You can also get the apartments at a reasonable rent if you can't afford to buy your apartment. There are apartments for rent in Dubai Creek Harbour that enable you to experience a luxurious lifestyle. Therefore, it is a good chance to reserve your apartment in this 6-tower complex. You must consider the following places because of their reasonable prices:
Creek Rise
Creek Gate
The Cove Dubai Creek Harbour
Harbour Views Dubai Creek Harbour
Creekside 18 Dubai Creek Harbour
Dubai Creek Harbour Properties
---
The available apartments in Creek Harbour Dubai promote international living standards to the residents. As Dubai is home to people from different countries and cultures, this residential project has specified 730,000 square meters for the serviced apartments in 7.3 million square meters of residential space. Interestingly, there is a 700,000 square meters area for parks and open spaces.
These types of properties are available in this project:
Apartment
Penthouse
Townhouse
There are townhouses, penthouses, and apartments for sale in Dubai Creek Harbour six-tower complex in the following bedroom categories:
1-Bedroom
2-Bedroom
3-Bedroom
4-Bedroom
5-Bedroom
Why invest in Dubai Creek Harbour?
---
There are expectations of high ROI on the different available properties in this world-class residential project. You must invest in this magnificent project of UAE because of the following attractions:
Vida Hotel
Central Park
Playing Areas
Icon Bay
The Cove
Safex Star Logistics
High ROI
Passive Income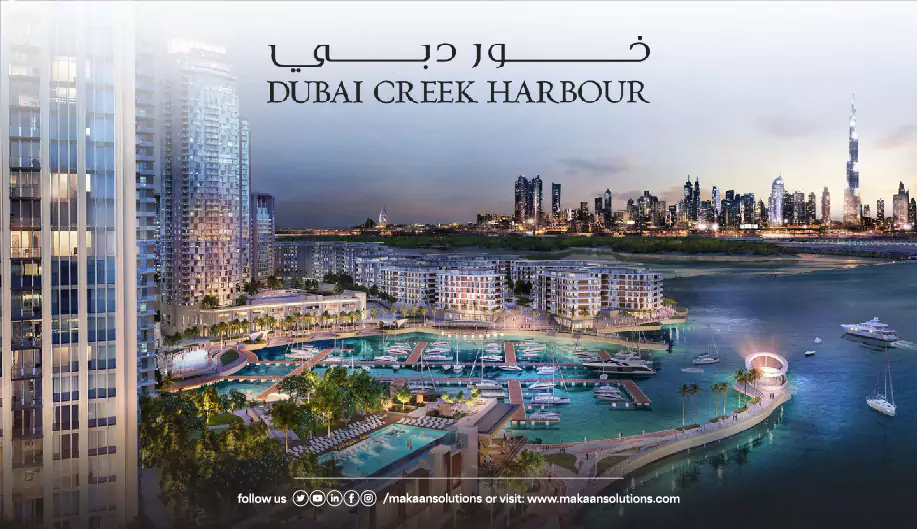 Dubai Creek Harbour Facilities & Amenities
---
This is a world-class real estate project along Dubai Creek to offer exceptional properties to customers. Therefore, customers from different countries have started to invest in this magnificently located project.
Dubai Creek Tower
It will be the tallest tower in world by surpassing the Burj Khalifa. Therefore, this tower has become the masterpiece with a height of 1,340 meters to attract the potential clients towards Dubai Creek project. This tower includes a luxury hotel, observation deck, and phenomenal residential units. The developers have implemented the architectural design similar to lily flower.
Dubai Skyline & Burj Khaifa Views
The special thing about this magnificent project is the elegant view of the Dubai skyline. You can also enjoy the boat tour in the freshwater of Dubai Creek. You can also get a stunning view of Burj Khalifa.
Waterfront View
It has become the best place to live in Dubai because of its waterfront view, to ensure elegant living standards for the foregin tourists. The prime location of waterfront is accessible from Bay Bridge and Creek Bridge.
Retail & Dining Options
Dubai Creek Harbour is the best place for the world-class retail and dinning experience in the beautiful surroundings. There is a 10 million square feet retail district to include more than 900 retail outlets. The luxurious and international brands offer the elegant and magnificent products in the reasonable budgets. The availability of world-class restaurants also ensure the best dining experience for residents.
Entertainment and Attractions
The management offers a wide range of attractions and entertainment in Dubai Creek Harbour. There is a 4.5 km long boardwalk to fofer the world-class experience of cycling, jogging, and leisure walk. This boardwalk enables you to see the mind-blowing views pf Dubai skyline and Dubai Creek.There is also display of the culture by introducing the art galleries and museums.
Public Transportation
This residential project has become famous because of ensuring public transportation for the residents.l Therefore, this project is situated near Union Metro Station. You can use this economical transportation to reach your destination.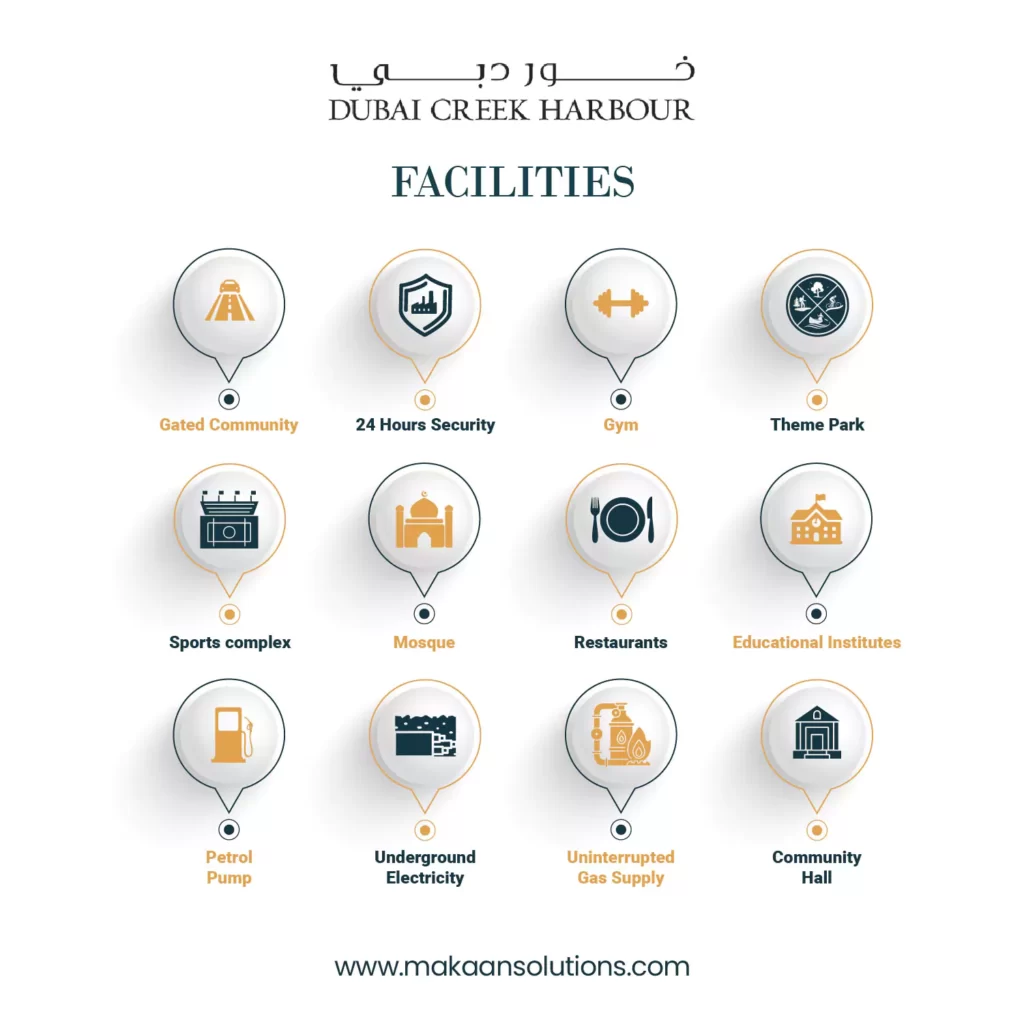 Final Thoughts
---
Dubai Creek Harbour is the finest real estate project that includes distinct types of projects to facilitate customers with distinct backgrounds. The property prices are still reasonable for the potential customers with the highest ROI over time. The available amenities and facilities attract customers to reserve their properties in this project.
You can get the best consultancy services from Makaan Solutions to reserve your valuable properties in this amazing project. We are also helping customers to buy residential properties in Capital Valley Islamabad and Capital Smart City Islamabad.
Dubai Creek Harbour
If you want to know about Dubai Creek Harbour Contact Makaan Solutions. Our Sales Executive Officer will provide you with all the latest information. Starting from consultation to choosing the property, and from booking to owning your dream property. For further details, please do not hesitate to contact us with the below-given information: