Citi Housing Peshawar
Citi Housing Peshawar is a new real estate venture by Amer Malik and Citi Housing Private Limited, which is located near Charsadda Interchange; an easy payment plan for the plots is very reasonable to enable the Pakistanis to own their properties.
Citi Housing Peshawar: introduction
---
Citi Housing Peshawar is an upcoming housing society in Peshawar that is going to introduce "Gold Living Standards ."Therefore, the people of KPK will be able to live in a luxurious residential project in the presence of international amenities and facilities. It will be a world-class housing project like DHA Peshawar and Bahria Town Peshawar.
Citi Housing in Peshawar has become a phenomenal choice for customers because the management of Citi Housing Scheme is focused on carrying on the legacy of excellent development. The developers are going to utilize excellent development standards with modern infrastructure to facilitate the members.
Moreover, Citi Housing is located near Nova City Peshawar to offer smooth accessibility to customers. The new details of this coming soon project will be shared with our users timely.
Citi Housing Peshawar Payment Plan
---
| Plot Size | Total Price | 12 Quarterly Installments |
| --- | --- | --- |
| 5 Marla | 2,295,000 | 153,750 |
| 10 Marla | 4,250,000 | 291,667 |
| 1 Kanal | 7,990,000 | 561,667 |
| 2 Kanal | 14,990,000 | 1,082,500 |
The booking payment for a 5 Marla plot is 450,000.
The booking payment for a 10 Marla plot is 750,000.
The booking payment for a 1 Kanal plot is 1,250,000.
The booking payment for a 2 Kanal plot is 2,000,000.
The payment plan of Citi Housing Peshawar has been launched by the management till date. However, it will be very affordable because the management is on a mission to allow customers with different backgrounds to purchase their plots. The reasonable prices for the available properties allow middle-class and low-income people to purchase the properties easily.
There are plots for sale in Citi Housing Peshawar at the pre-launch payment plan schedule. Moreover, the flexible installment of the society enables the customers to reserve a plot easily with their monthly income. Therefore, local and overseas Pakistanis are booking their plots in this society with a payment plan approval. Citi Housing Peshawar plots for sale are the best properties in Peshawar to buy because of the affordable rates.
The plan for installment payment is very easily to pay though a monthly installment. Moreover, the payment plan list for Citi Housing in Peshawar will be avilable soon. The members need to remember payment plan last date to pay installments on time. You can also check payment plan portal to make an online payment.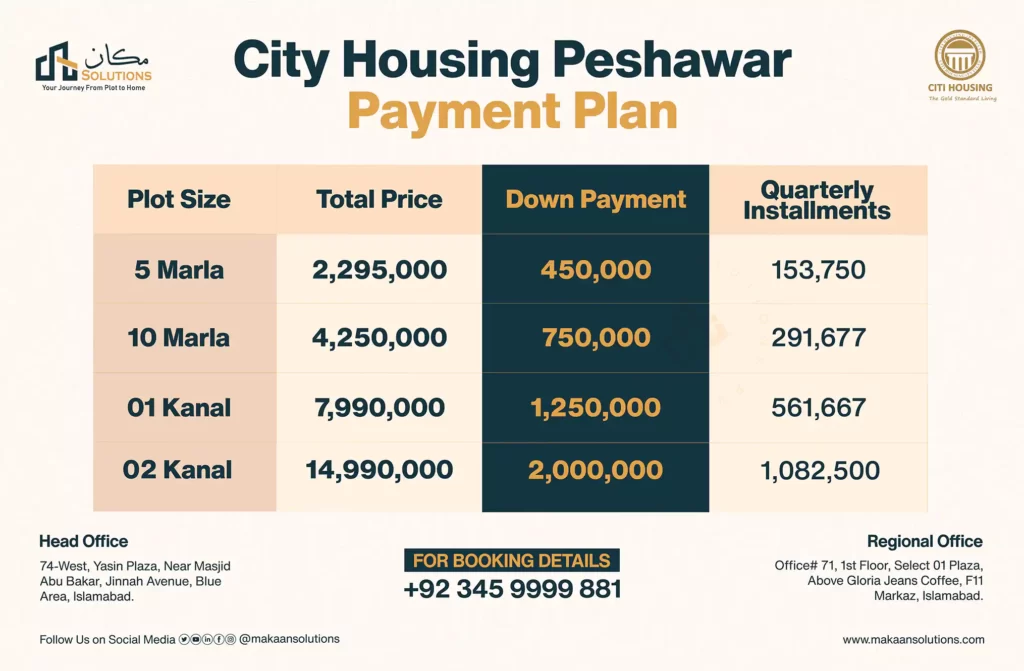 Citi Housing Peshawar Plot Booking Procedure:
---
Download the application form or visit Makaan Solutions to get the form.
Fill out the plot booking form with the required information carefully.
Make the down payment for your plot category.
Attach the receipt of the paid amount to the form.
Attach the necessary documents to the application form.
Submit the application form to the society for your plot reservation.
The Citi Housing Peshawar plot booking process is very smooth that can be followed easily by every person who has decided to buy a plot. The plot booking procedure enables the customers to follow the essential steps to own a property in Citi Housing Scheme Peshawar.
You can get the help of Makaan Solutions to reserve your plot in society. Our experienced team will complete the booking procedure on your behalf.
Required Documents for Plot Reservation
Client's 2 copies of CNIC
Client's 2 passport-size photographs
Nex to Kin's 2 copies of CNIC
NICOP is applicable to overseas clients.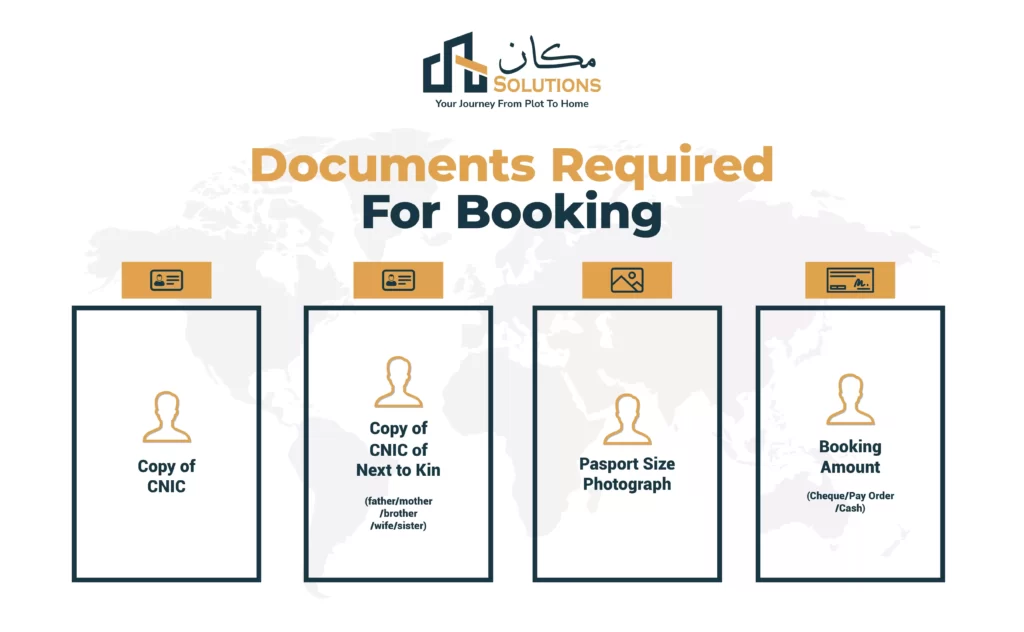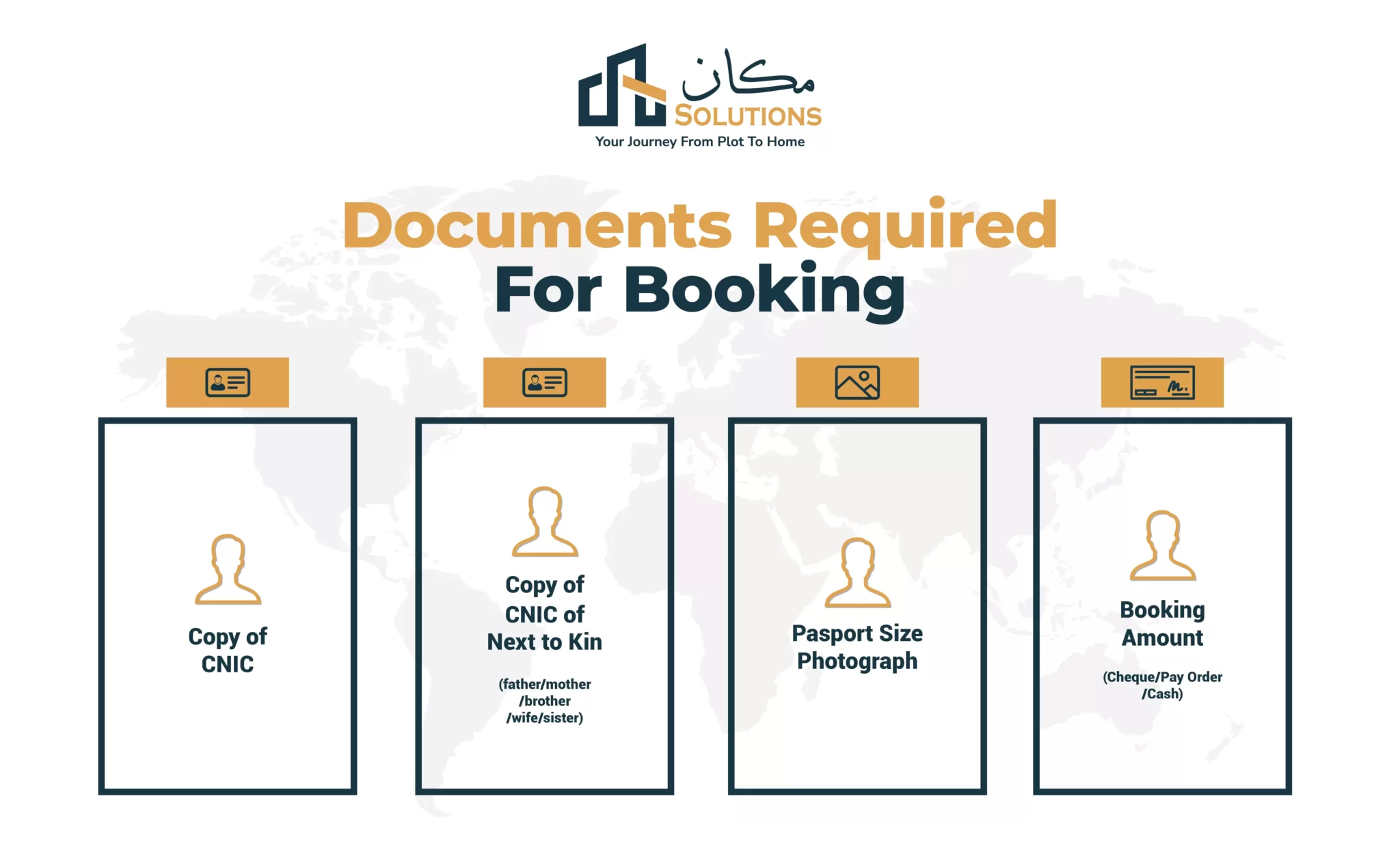 Benefits of Investment in Citi Housing Peshawar
---
There are different reasons to invest in Citi Housing Peshawar. However, the core reason for investing in this new housing project by Amer Malik is the huge profit because of his exceptional records in previous residential projects. The investors have already earned a lot of profit by investing in the other projects of Citi Housing Private Limited. Now, every investor has eyes on this upcoming project.
Best Lifestyle
The residential plots in the society offer splendid living standards to the end-users who are looking to upgrade their lifestyle within Peshawar. Local and overseas Pakistanis can purchase residential properties to offer a better future to their families. Therefore, it is the best time to reserve the residential plots at the pre-launch rates.
High ROI
You can invest in Citi Housing Peshawar because it is a reliable housing project by well-known developers who are offering the maximum profit to investors. The investors have opportunities of purchasing the residential and commercial plots at reasonable prices to make a good amount of money to boost their networths.
Financial Security
The financial conditions in Pakistan are getting worse with every passing day. Therefore, every person is trying to become financially secure to compete with the rising inflation.
The reservation of property in this residential project offers financial independence to the investors. The purpose of investing in Citi Housing Peshawar is the financial security to live a peaceful life.
Passive Income
Everyone in the world is trying to earn passive income through the various available sources. The real estate sector in Pakistan also offers passive income to potential customers.
You can purchase a plot and can rent your property to have a passive income without doing any particular work by making a profitable investment.
Valuable Asset
Every property in this residential project is a valuable asset that is attracting potential customers globally. You can also become the owner of a valuable asset in society by buying your property at an affordable price.
Citi Housing Peshawar plots rates have been very reasonable to enable you to own a valuable asset. You can also buy this new project file on installments.
Citi Housing Peshawar Location:
---
The location of Citi Housing Peshawar is on the Charsadda Interchange near the main GT Road and the M1 Islamabad-Peshawar Motorway. Therefore, Citi Housing has a premium location in Peshawar, which is the capital city of Khyber Pakhtunkhwa.
The Citi Housing location in Peshawar is attracting investors to make a profitable investment in Peshawar. Moreover, its location is also grabbing the end-users attention who are looking to live in the eco-friendly and peaceful environment of Peshawar.
The location of society is from the different routes. Therefore, you can reach this housing easily from Rawalpindi, Swat, Charsadda, and Mardan.
Citi Housing Peshawar Is Near To Following Landmarks:
Nova City Peshawar
DHA Peshawar
Bahria Town Peshawar
New Peshawar Valley
Bacha Khan International Airport
Bacha Khan University
Paradise City Nowshera
Risalpur Air Base
Citi Housing Peshawar access points are mentioned below:
M1 Motorway is 3 minutes away
Mardan Road is 6 minutes away
Charsadda Road is 8 minutes away
Mardan City is 10 minutes away
Charsadda City is 11 minutes away
DHQ Hospital Road is 11 minutes away
Peshawar city is 15 minutes away
GT Road is 17 minutes away
Bacha Khan Airport is 32 minutes away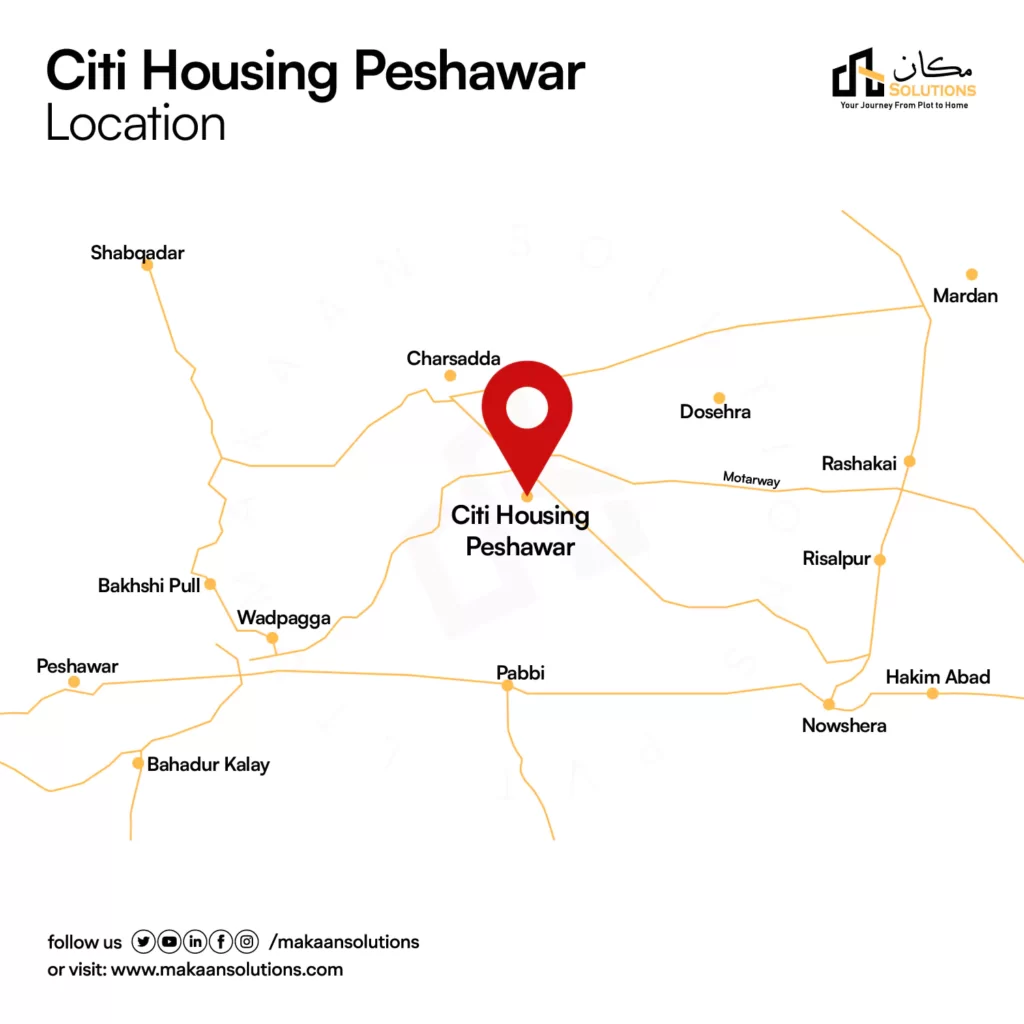 Citi Housing Peshawar Map
---
You can view the Citi Housing Peshawar location map on Google Maps.
Citi Housing Peshawar Master Plan
---
The master plan of Citi Housing Peshawar has been designed yet. A qualified team of designers and architects is collaborating on the well-designed master plan. They have already designed the master plans for previous projects of Citi Housing Private Limited.
The layout plan of Citi Housing Peshawar will include commercial and residential plots. It will become the best master-planned housing development in Peshawar. Moreover, the Citi Housing Peshawar master plan ensures phenomenal business growth in the commercial area of society.
Residential Plots Layout Plan
The layout plan shows the presence of residential plots in the society, which are the ultimate destination for end-users. Citi Housing Peshawar residential plots are available in different sizes to allow the customers to purchase their properties in accordance with their financial power. The residential plot sizes will be available for the potential end-users in these expected sizes.
3 Marla
5 Marla
7 Marla
10 Marla
1 Kanal
Commercial Plots Layout Plan
Citi Housing Peshawar commercial plots have been the top-notch priority for investors who are looking to become valuable members of Citi Housing Scheme Peshawar. Therefore, the new investors are also being encouraged by the management to purchase valuable commercial properties in society. There will be magnificent construction of commercial plots in this new project of Citi Housing. Commercial plots will be available in these sizes:
Citi Housing Peshawar NOC Status
---
The NOC of Citi Housing Peshawar is not approved by any government authority yet. However, it will be approved soon by the Peshawar Development Authority (PDA) because Citi Housing Private Limited is a reliable name in the industry. Citi Housing Peshawar legal status enables customers to purchase residential and commercial plots in a secure way.
The NOC status of Citi Housing in Peshawar has great significance for customers who are thinking of buying properties in society. Therefore, the management forwarded all the necessary documentation to the PDA. The total approved area of this new project in Peshwar will be revealed soon.
Citi Housing Peshawar Developers & Owners
---
The owner of Citi Housing Peshawar is Amer Malik, who has become a famous personality in real estate because of his mission to bring modern living standards to Pakistan. The owner details show that he has an exceptional history of delivering successful housing projects across Pakistan to ensure a comfortable and magnificent living experience.
The developers of Citi Housing Peshawar Citi Housing Private Limited is a very well-known development company in the real estate industry. The developers have a mission of using modern architectural design to facilitate the clients.
Current & Previous Projects by Citi Housing Private Limited
Citi Housing Rawat
Citi Housing Kharian
Citi Housing Gujranwala
Citi Housing Faisalabad
Citi Housing Multan
Citi Housing Sialkot
Citi Housing Jhelum
Citi Housing Peshawar Development Status
---
Citi Housing Peshawar development updates show that management has started to reserve the land in Peshawar. The management of this residential project will be moving the heavy machinery on-site to prune and level of land.
Citi Housing Peshawar Latest News
---
Citi Housing Peshawar latest updates reveal that Citi Housing Private Limited is coming soon to offer phenomenal living standards to customers. Moreover, the pre-launch payment schedule will be launched soon to allow customers to reserve their plots easily.
Facilities & Amenities
---
Customers are always looking for world-class features and services to own a plot in society. Therefore, the management of Citi Housing in Peshawar is offering top-notch amenities and facilities to ensure a better living and investment experience for the customers.
24/7 Security System
Citi Housing is a gated community in Peshawar to allow customers to live peacefully without the issues of security. It is a secure housing project that includes a surveillance system for the customers' safety within society.
Shopping Malls
The commercial area in the housing development includes the shopping malls to ensure a phenomenal shopping experience within Peshawar. The appearance of renowned brands enables the members to purchase the best products at an affordable price.
Educational Institutes
This housing scheme in Peshawar aims to level up educational activities by introducing a world-class education system. There are renowned schools and colleges within the society to allow the residents to acquire an international-standard education for a bright future.
Healthcare Facilities
Healthcare is a basic facility that is necessary to be available within walking distance to deal with different emergency situations. Therefore, the developers have a plan to construct a large building for the hospital.
Theme Parks & Zoo
The availability of eco-friendly parks in society allows the residents to spend their leisure time in a peaceful environment. Moreover, these parks include various services to ensure phenomenal entertainment. The presence of a Zoo in the ideal location of society enables the residents to spend quality time checking out the beautiful creature.
Mini Desert
The Mini Desert is another phenomenal facility in society to allow the residents to experience the adventures of the desert. You can also explore the wonderful desert within Citi Housing Society Peshawar.
Banking Facility
The availability of different banks within the society allows the customer to make transactions easily without moving outside. The presence of ATMs in the residential project allows the users to withdraw money in a secure environment.
Opera Cinema & Gyms
The developers have focused on developing modern gyms and an open cinema in society to facilitate the customers. You can get incredible entertainment by watching your favorite movies on the big screens. Moreover, you can work out to keep yourself fit to become an active member of society.
Underground Electrification
The developers are working on underground electrification to ensure the safety of the residents. Moreover, you will be able to use the electricity without facing the issues of breakdown.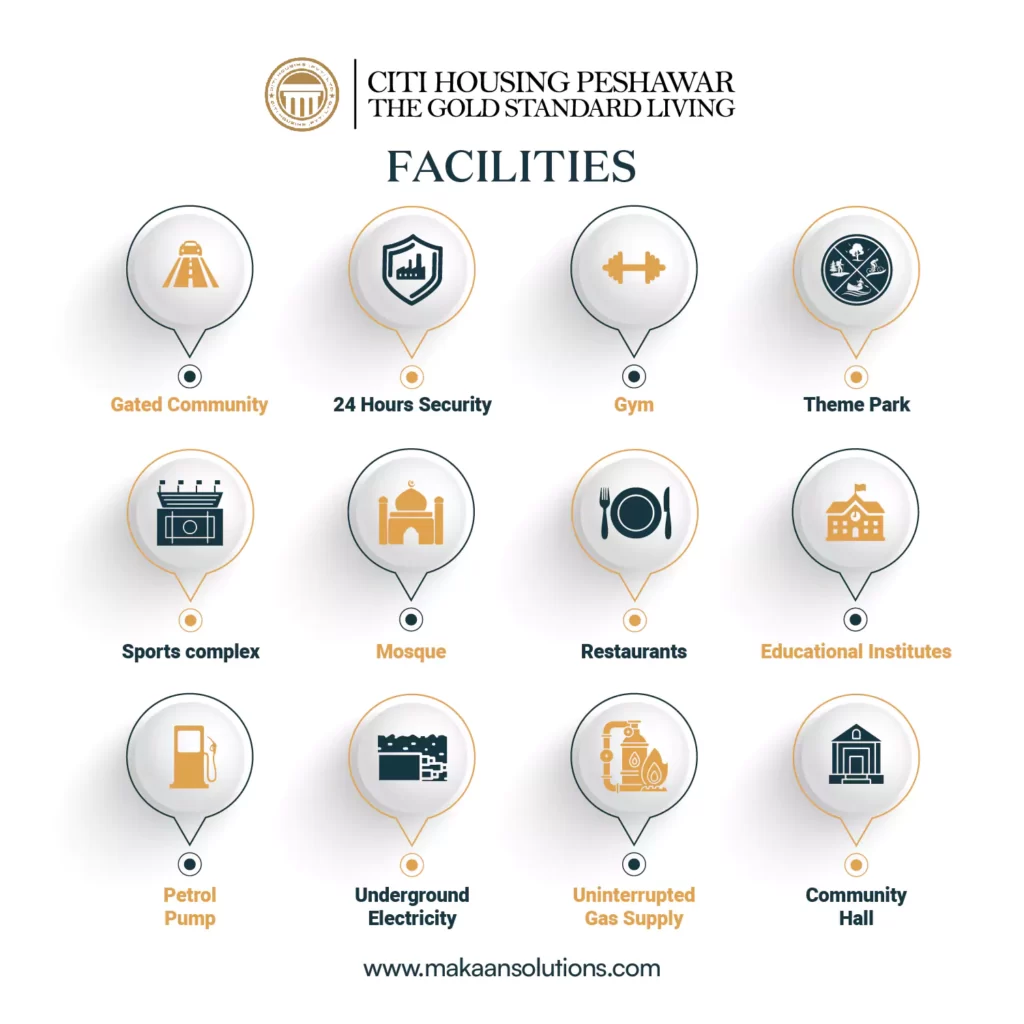 Conclusion
---
Citi Housing Peshawar is a new addition to the top-notch housing societies in Peshawar. You can buy your plot at a reasonable rate with the help of Makaan Solutions. Moreover, our team is assisting our valuable clients in reserving their plots in different housing projects like Blue World City and New City Paradise.
FAQs
---
Where is Citi Housing located in Peshawar?
Citi Housing is located on Charsadda Interchange to ensure phenomenal accessibility for the customers.
Who is the owner of Citi Housing Peshawar?
Amer Malik is the owner of the new housing society in Peshawar.
When will Citi Housing Peshawar be launched?
Citi Housing will be launched soon in Peshawar.
What is the NOC status of Citi Housing in Peshawar?
The NOC status of Citi Housing in Peshawar is under process and will be approved very soon.
How to book a plot in Citi Housing Peshawar?
You can easily book your plot by contacting the experienced team of Makaan Solutions.
Why invest in Citi Housing Peshawar?
You can invest in Citi Housing of Peshawar to get the highest ROI with passive income and financial freedom.