New Peshawar Valley
New Peshawar Valley is a new PDA-approved housing project under the umbrella of the KPK government to offer people a variety of residential and commercial plots at an affordable payment schedule near Hayatabad. You can book a plot in Peshawar Valley with the help of Makaan Solutions.
Introduction
---
The government initiated the New Peshawar Valley housing scheme with the necessary consent from the responsible authorities of KP Province. The world-class construction of the housing scheme will be done in association with a number of private contractors.
The GT Road and Northern Bypass are the best access options according to the New Peshawar map. Moreover, this housing society is also accessible via Peshawar and Nowshera because of its prime location. The premium location in Peshawar also enhances the value of this residential community.
New Peshawar Valley Owners and Developers
---
The current government of Khyber Pakhtunkhwa supervises the development of the housing project. Moreover, developers of New Peshawar Valley are striving to construct an excellent and appealing housing project.
New Peshawar Valley NOC
---
The Peshawar Development Authority (PDA) has officially approved the NOC of New Peshawar Valley. The involvement of the Khyber Pakhtunkhwa government raises the value of this project among investors and end-users.
The total area of New Peshawar Valley is about 186,400 Kanal of land. The developers will use this land, including residential and commercial plots, public buildings, utility spaces, open spaces, Car parking, family parks, cemeteries, and
New Peshawar Valley Location
---
The location of New Peshawar Valley can be easily accessed via Jallozai Shamshatoo Road and BaghBanan Road. Moreover, the residents can easily reach this new housing scheme in Peshawar through Hayatabad Road. It is located in a prime place. To arrive there, you can also take GT Road and the Northern Bypass.
New Peshawar Valley Nearby Places
The following are some nearby landmarks of New Peshawar Valley:
Peshawar City
Civil Hospital Shamshatoo
Garhi Baghbanan
Hayatabad Road
Jalozai Industrial Estate
Bacha Khan International Airport
Shamshatoo Road
University of Engineering & Technology Peshawar Jalozai Campus
New Peshawar Valley Access Points
The New Peshawar Valley accessibility has become easy with the following access points:
Hayatabad is at a drive of 2 minutes
Peshawar Shamshatoo Road is a drive of 4 minutes
Jalozai Shamshatoo is at a drive of 8 minutes
BaghBanan Road is at a drive of 9 minutes
Cherat Road is at a drive of 19 minutes
The UET Jalozai Campus is at a drive of 25 minutes
Peshawar Ring Road is at a drive of 31 minutes
M-1 Motorway is at a drive of 35 minutes
Bacha Khan International Airport is at a drive of 45 minutes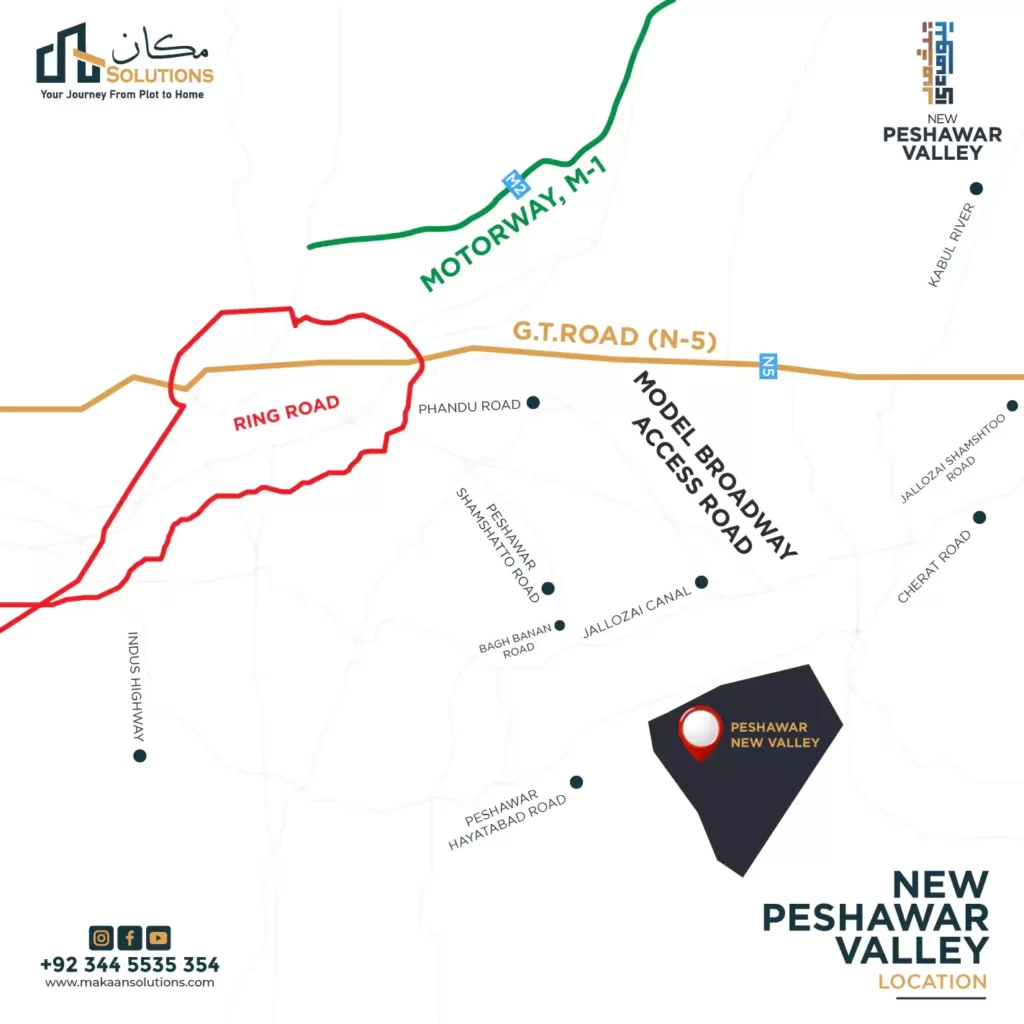 New Peshawar Valley Map:
---
The Google map of New Peshawar Valley enables you to smoothly check the New Peshawar Valley map location.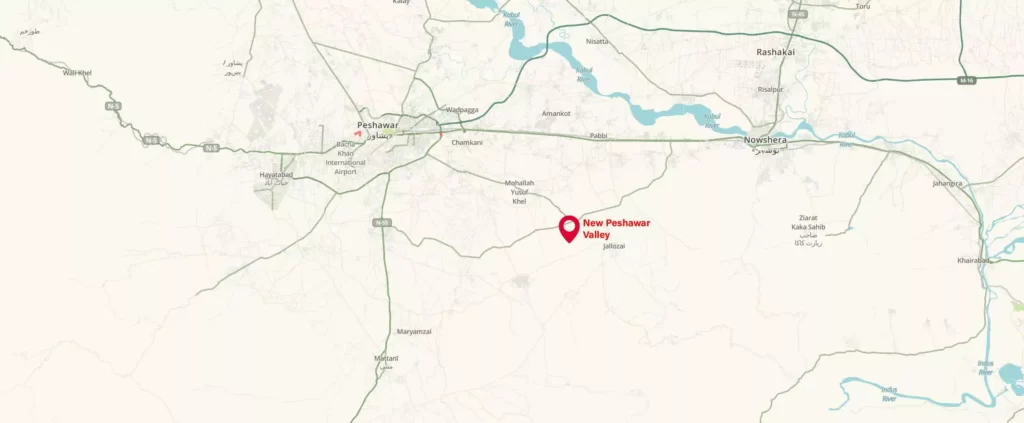 New Peshawar Valley Master Plan
---
A team of specialists has created the master plan for New Peshawar Valley. This new residential project in Peshawar is three and six times larger than Regi Model Town and Hayatabad Peshawar, respectively.
The New Peshawar Valley master plan makes this housing scheme one of Khyber Pakhtunkhwa's most convenient and up-to-date residential societies. The construction takes place on 186,400 Kanal of area.
2% and 7% of the total area are dedicated to funeral purposes and public buildings in society. Moreover, 5% of the land is specified for parking and commercial operations. The developers have also dedicated 16% of the area to open areas and parks.
There is 28% area for the road infrastructure within the society to ensure the excellent flow of traffic within the housing scheme. The management has specified 41% area to build world-class apartments and residential plots. There are 62,056 residential plots in the society, according to the latest news.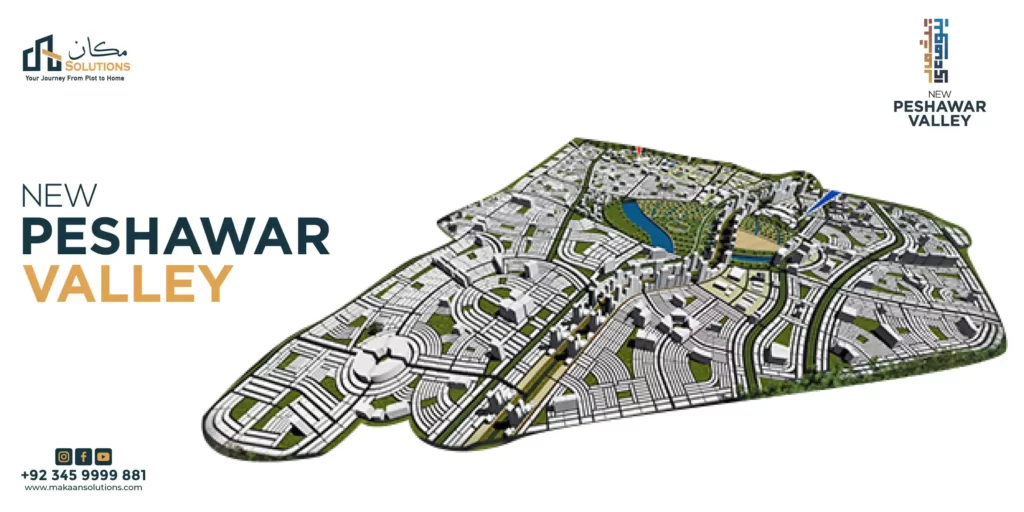 Total Number of Plots:
The total number of 3 marla, 5 marlas, 7 marla, and 10 plots is above 15000, 16000, 2000, and 9526, respectively. Moreover, the available 1 Kanal, 2 Kanal, and 4 Kanal plots are more than 13415, 1000, and 500, respectively.
Available Plots for Sale in New Peshawar Valley
New Peshawar Valley plots are for sale in the following categories:
3 Marla
5 Marla
7 Marla
10 Marla
1 Kanal
2 Kanal
4 Kanal
New Peshawar Valley Payment Plan
---
Both investors and customers will be drawn to the enticing payment plan of New Peshawar Valley. The management has not yet released its official payment schedule. Currently, the housing scheme is at the pre-launch stage. The payment plan is really quite adaptable and offers a variety of choices.
The New Peshawar Valley plot prices are given below:
3 Marla Plot Pre Launch Price 
3 Marla Residential plot for sale in New Peshawar Valley
The Total Payment is 425,000
10% Down Payment is 42,500
5 Marla Plot Pre Launch Price 
5 Marla Residential plot for sale in New Peshawar Valley
The Total Payment is 700,000
10% Down Payment is 70,000
7 Marla Plot Pre Launch Price 
7 Marla Residential plot for sale in New Peshawar Valley
The Total Payment is 900,000
10% Down Payment is 90,000
10 Marla Plot Pre Launch Price 
10 Marla Residential plot for sale in New Peshawar Valley
The Total Payment is 1,300,000
10% Down Payment is 130,000
1 Kanal Plot Pre Launch Price 
1 kanal Residential plot for sale in New Peshawar Valley
The Total Payment is 2,200,00
10% Down Payment is 220,000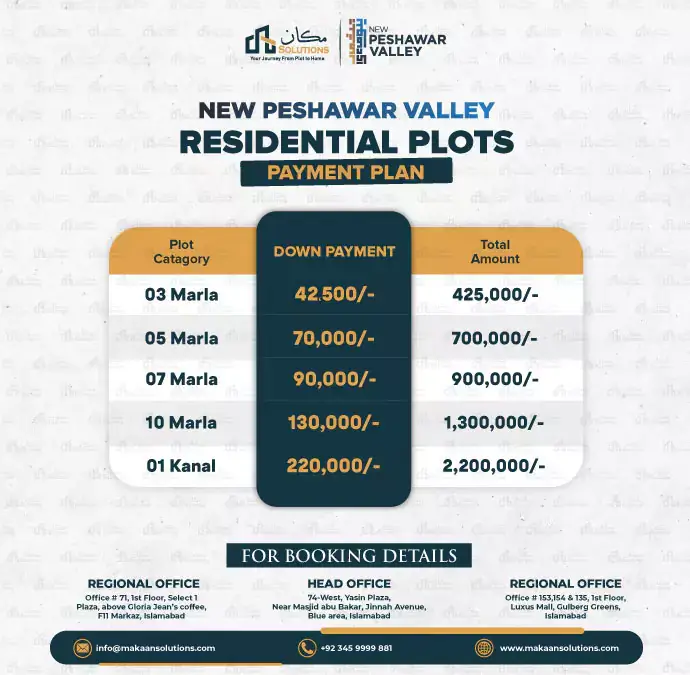 How to Book a Plot in New Peshawar Valley?
---
The easy booking process of Peshawar Valley enables buyers to reserve their plots. Moreover, management has established the following New Peshawar Valley booking procedure as a simple process for buying property:
Fill out the application form to reserve a plot.
Include 2 copies of the Applicant's and Next of Kin's passport-size image
Include2 copies of the applicant's and Next of Kin's CNICs.
Complete the deal for the down payment.
Cash payments are also acceptable.
After submitting the documents, a confirmation receipt will be sent to you.
Within eight to ten working days, get the file.
Required Documents for Plot Booking in New Peshawar Valley
You can get a variety of advantages from the plots for sale in New Peshawar Valley. You must, however, produce the required documents.
The documentation needed to buy the property are as follows:
2 photos in passport size
2 copies of the applicant's and Next of Kin's CNICs.
NICOP for international buyers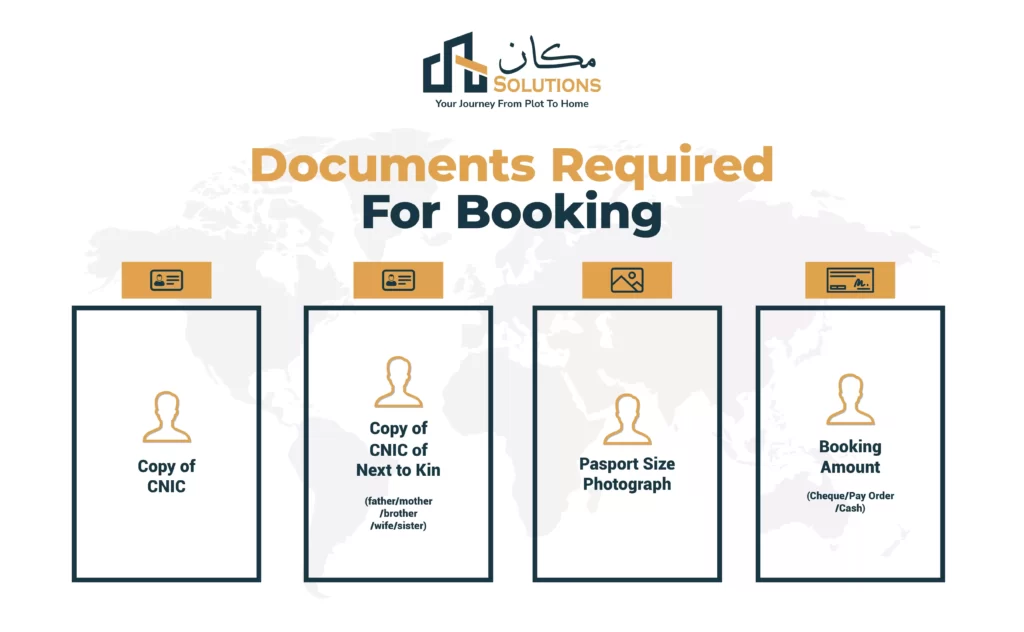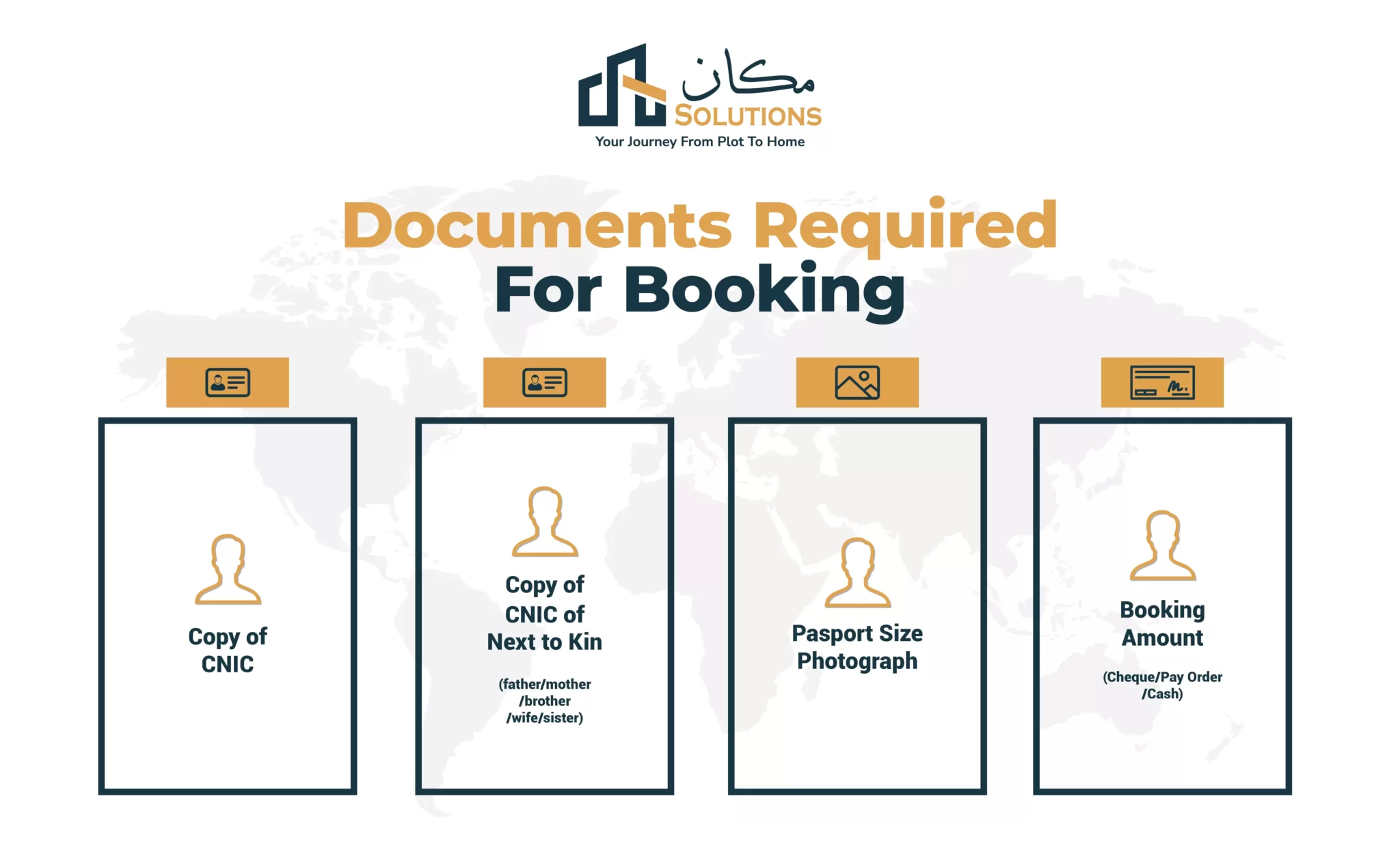 New Peshawar Valley Application Form
Application forms are currently available for download and submission on PDA's official website.
Attach the required documents to the application form:
The colored copies of the applicant's CNIC and general attorney
Include two photos of the client and the general attorney
The Sub-Registrar office has certified a copy of the general power of attorneys
Original sale contract of the applicant
Legal document of the applicant's sale deed from the office of the Sub-Registrar
Attach the most recent Fard-e-Malkiat
Include copies of all Sarkars from the current effect Jamabandi
Attach the NOC or the two DPs' mutual consent.
Attach the Sub-office Registrar's No Encumbrance Certificate
Include the affidavit on 100-rupee stamp paper
Include a copy of your completed application form's payment receipt
New Peshawar Valley Membership Form
You can get more information about the membership form by contacting Makaan Solutions or the society's official administration.
New Peshawar Valley Registration Form
You can contact Makaan Solutions or the official management to find out more about the registration form.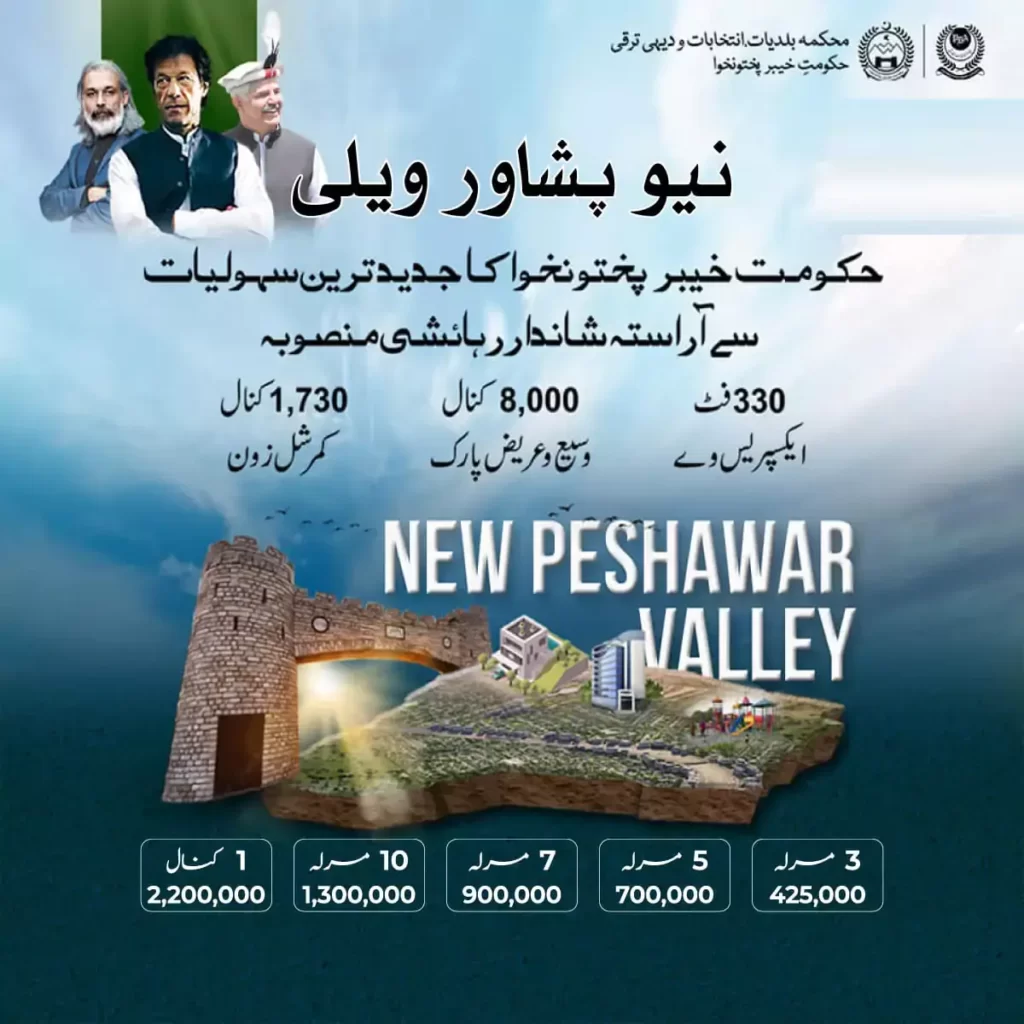 New Peshawar Valley Balloting Results
Please get in touch with the official members of Makaan Solutions for balloting in the New Peshawar Valley.
The balloting results in New Peshawar Valley are available on the official website of the housing society. Moreover, you can get in touch with Makaan Solutions for more information.
New Peshawar Valley Intimation Letter
The official intimation letter is now accessible to clients. This letter is intimate for 25 days.
Benefits of Investment in New Peshawar Valley
---
Among other companies, investing in real estate represents the most profitable option. The investment can result in a wide range of advantages. This is due to its huge potential for investment return. But it's important to remember that it'll only be successful if done correctly.
Here are some of the major benefits of investing in society:
Cost-effective Prices:
Due to its affordable rates, this economic society has quickly become the best residential project, giving investors a terrific time. Investors have the ability to pay a reasonable price and live luxuriously as a result.
Best Services:
The best services are offered to residents in the housing development. You are in a safe setting. Additionally, you have access to hospitals, schools, electricity, gas, filtered water, parks, playgrounds, mosques, retail malls, ATMs, banks, and a variety of other amenities.
Calm Environment
A clean environment and pleasant surroundings are essential for a happy and healthy life. Additionally, it enables inhabitants to spend more time outside. Residents may breathe in the clean air and enjoy the beautiful flora since it is calming and restorative. To guarantee that inhabitants live in a healthy and sustainable environment, the developers have created a reliable drainage system.
Economic stability:
If you have spare cash or a valuable asset and want to keep it in its current condition, investing in this society is your only option.
Stable Revenue:
A financial return on investment could be consistent and immediate. You may buy a piece of land and later develop it. You can now use renting it to generate a monthly income. Every year, the rent goes up by a specific percentage.
Manageable:
Once an investment is made, it ceases to be a living organism that needs daily maintenance. All you have to do is watch out for encroachers taking your land.
Stream of Income:
After purchasing a property, an investor might start to create passive income. Land can be purchased, developed, and rented out by investors to make a consistent income. Moreover, you must check out the New Peshawar Valley file rate.
Valuable Assets:
Due to the fact that real estate investments increase in value every year, they will become a significant asset for you. If a sizable private or public project is launched in the neighborhood, the value might rise.
New Peshawar Valley Development Status
---
All the ideal and flawless living experiences are anticipated to be offered by the new housing project. Additionally, the land leveling and cutting-off processes will soon get underway. It suggests that work will begin right away, according to the New Peshawar Valley development update.
The presence of large machinery nearby suggests that development will soon start. The most significant development will be the planting of trees within the neighborhood, which will bring peace and greenery to the area.
New Peshawar Valley Facilities and Amenities
---
The amenities and facilities are listed below:
Public Infrastructure
Government offices with excellent facilities and security will soon be available in this PDA project.
Commercial Zone
A 5% area has been designated for commercial activity. A large range of commercial plots utilized for stores, outlets, and markets are available in the housing development. There will be everything there, including food items, clothing, technology, stationery, restaurants, and more.
Medical Services
Medical facilities would be available around the clock to handle any emergency. In the housing society, hospitals and healthcare facilities would be ready to assess emergency patients and provide them with prompt care. Within the residential society, there will be OPD, pharmacies, ambulance services, and clinics.
Security
The technological security system ensures the safety of residents within society. Control rooms and CCTV cameras will also be put in place to record any suspicious activity or people in the residential community. Security personnel will watch over everyone entering or exiting the neighborhood.
Educational Establishments
Outstanding educational institutions with highly qualified staff will be available in this society to support the students.
Largest Park in the World
The largest park in the world in this project has 8000 Kanal. The park has walking trails, a lake, a theme park, a forest, a golf course, a circulation area, an adventure arena, and more.
Water Supplies
Reservoirs will be erected as part of the residential project to supply water for daily tasks. Water filtering will also be used to supply the populace with clean drinking water.
System for Water, Sewage & Waste Disposal
A suitable sewage system will be offered by the management. All trash and rubbish will be dumped at legal landfills.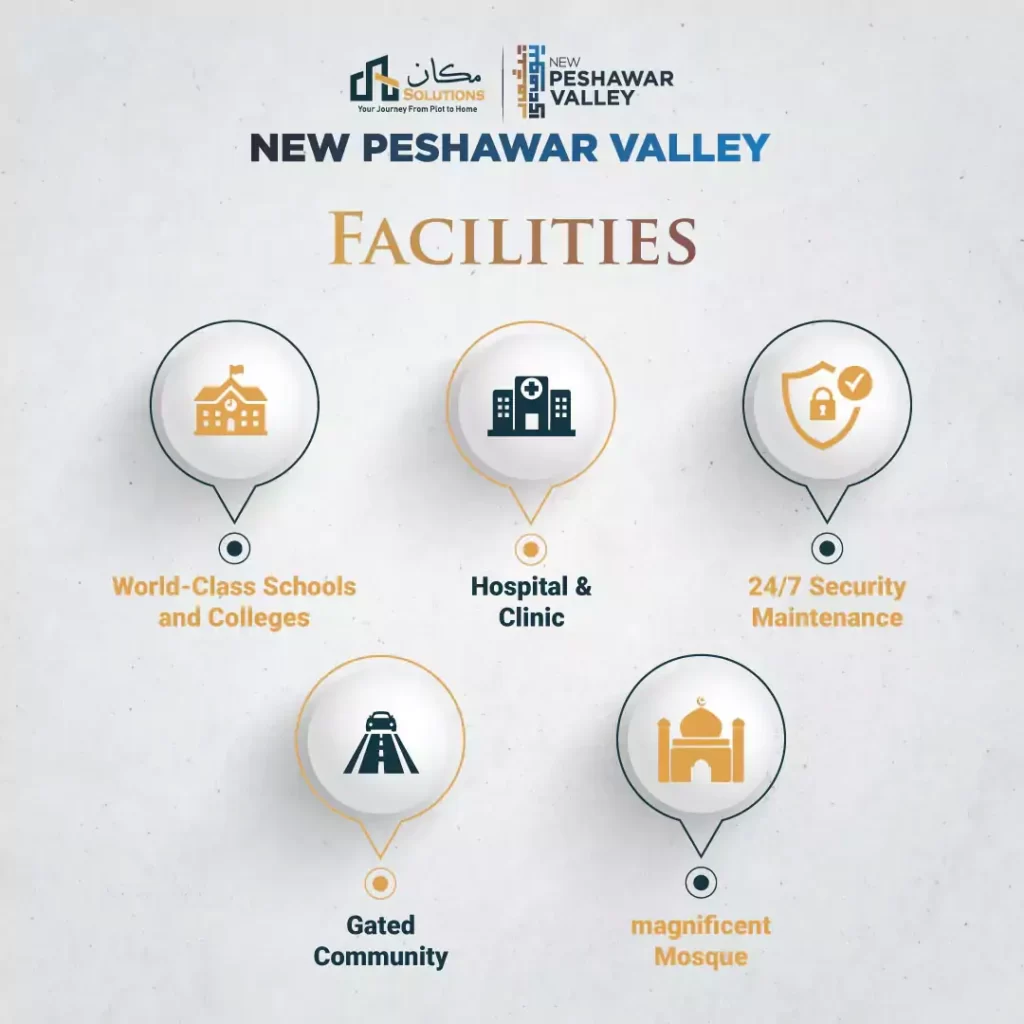 New Peshawar Valley Latest News
---
The Peshawar Development Authority (PDA) Board of Directors (BoD) has formally approved the "Land Record Management Information System" for the housing program to digitize the entire matter, according to the latest news of New Peshawar Valley.
New Peshawar Valley Allotment Certificate
Makaan Solutions advise you to follow us on social media to receive updates on the allotment certificate.
New Peshawar Valley Possession Allotment 
Updated Possession Allotment policies for the plots in this society will be fully disclosed to valued clients.
New Peshawar Valley Pros and Cons
---
Following are the pros and cons of New Peshawar Valley:
| Pros | Cons |
| --- | --- |
| Prime Location | Perception of high prices |
| 24/7 water | |
| 24/7 gas | |
| 24/7 electricity | |
| Security system | |
| Solid waste disposal mechanism | |
| Surveillance systems, CCTV cameras & guards | |
| Peaceful/ healthy/secure environment | |
| Very close to the central locations & other projects | |
| PDA approval of NOC | |
| Basic amenities are available. | |
| A KPK government initiative | |
| Affordable prices | |
Conclusion
---
New Peshawar Valley is a fantastic housing development with top-notch infrastructure that will probably offer great returns in the future. Makaan Solutions advises you to invest in this housing development so that you can live a contented and tranquil life. You can also book your plot in these housing societies; Sialkot Motorway City, Capital Smart City, and Faisal Town Phase 2. Your opportunity to invest will undoubtedly come from these residential housing projects.
FAQs About New Peshawar Valley
---
Is Bahria Town Peshawar adjacent to New Peshawar Valley?
Bahria Town Peshawar is 6km away from this society.
Are there Commercial Plots available in New Peshawar Valley?
The commercial plots will be launched soon.
What is the expected Return on Investment?
There is an expected high ROI on the investment.
What is the plot reselling procedure in New Peshawar Valley?
The documents that are necessary at the time of purchasing will be required at the time of reselling.
How many sectors are expected available in society?
There will be 2 sectors in society in the upcoming days.
How can overseas Pakistanis book their plots in this housing scheme?
Overseas Pakistanis can book their plots easily by providing the necessary documents along with the NICOP.
[elfsight_whatsapp_chat id="1″]