Bahria Town Peshawar new location is on Warsak Road near DHA Peshawar. The new location has increased the value of this new Bahria Town project in the capital of KPK. Moreover, this new housing project has become very valuable just because of its ideal location in Peshawar.
This location allows customers to move easily from the center of Peshawar city to this new project by Malik Riaz. The new location of Bahria Town Peshawar is near the M-1 Motorway to allow potential investors to visit this project easily. Moreover, Bahria Town Peshawar launching date has been confirmed by management. 
Bahria Town Peshawar New Location Map
---
The map location of Bahria Town Peshawar has made it easy for the clients to view the exact location with the help of graphical representation. You can view the location map to view the connected roads for easy access.
Google Maps is a great source of knowing the updated location of Bahria Town Peshawar. It allows you to view Bahria Town Peshawar updated location online by using your tablet or mobile phone. Therefore, you can also follow the directions to reach society easily.
Nearby Landmarks & Places
DHA Peshawar
Peshawar Cantt
Lady Reading Hospital
Citi Housing Peshawar
Nova City Peshawar
Bahria Town has become a famous project in Peshawar because of the nearby societies and familiar places. The nearby landmarks play a magnificent role in boosting the value of BTP.
Accessibility 
Bahria Town Peshawar accessibilities allow the members to access their plots from the different nearby landmarks. The availability of different access points enables you to travel on your desired road to visit your property.
Charsadda Road is 2 minutes away
Saddar Road is 3 minutes away
M-1 Motorway is 4 minutes away
Peshawar Ring Road is also 4 minutes away
Northern Bypass is 5 minutes away
Phandu Road is 6 minutes away
Bacha Khan International Airport is 8 minutes away
GT Road is 10 minutes away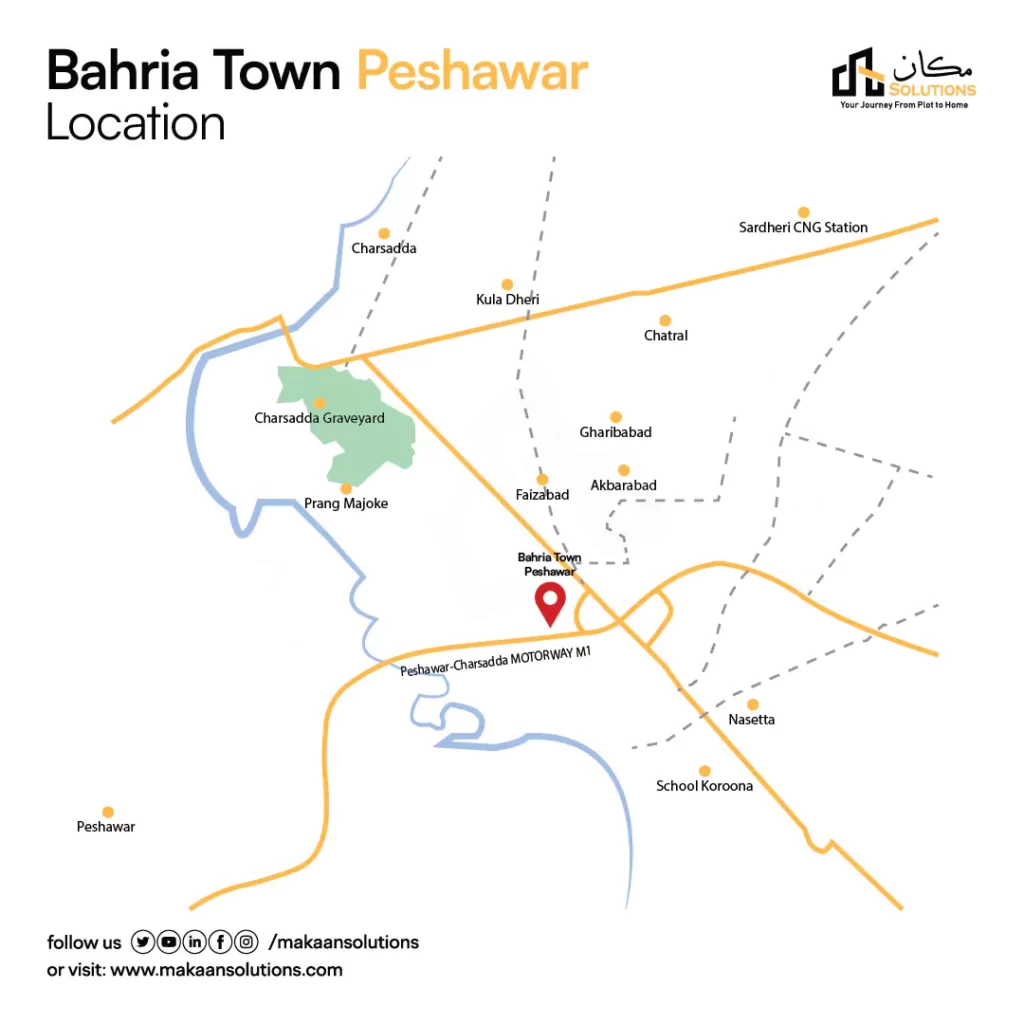 Importance of Bahria Town Peshawar New Location
---
The success of a real estate project depends upon its location. Therefore, Malik Riaz has chosen the hot spot in Peshawar to start Bahria Town. The flexible, accessible location of BTP ensures the highest ROI within a few months.
Eco-Friendly Environment 
The new location of BTP ensures an eco-friendly environment because it is away from the urban area of Peshawar. Therefore, you can enjoy a peaceful living experience in the ideal location of Warsak Road.
Luxurious Lifestyle
The new location of Bahria Town in Peshawar offers a signature lifestyle similar to Bahria Town Lahore, Bahria Town Karachi, and Bahria Town Rawalpindi. The purpose of acquiring land away from the city is to ensure a fabulous living standard for residents.
Investment Potential 
The location always attracts potential investors and also forecasts the return on investment. The management of Bahria Town initiated this new housing project in a premium location in Peshawar to allow you to get maximum ROI.
Property Value
The value of a property is also dependent on the location of society. Malik Riaz is known for choosing premium spots to start his real estate ventures. The value of properties will be increased massively because of the best location in Peshawar.
Future Prospects
---
The value of a property is directly proportional to its location. Therefore, it is expected that the prices of plots will be increased because of the ideal location in the heart of Peshawar. The investors will get a high return on investment within a few months.
Bahria Town has a great history of benefiting potential investors in their projects. Therefore, investors have started to reserve their properties because of Bahria Town new location in Peshawar for a high profitability ratio.
Final Words
---
Bahria Town Peshawar new location has grabbed the investors' attention, who always consider location as a first factor. The management revealed a new location to allow the customers to purchase a plot with a prospect of living or investment with the help of Maak Solutions.
Our experienced team guides the users about the profitable investment opportunities in different housing projects like New Peshawar Valley, Citi Housing Peshawar, and Aiwa City Attock.
Bahria Town Peshawar New Location
If you want to know about Bahria Town Peshawar New Location, contact Makaan Solutions. Our Sales Executive Officer will provide you with all the latest information. Starting from consultation to choosing the property, and from booking to owning your dream property. For further details, please do not hesitate to contact on the below-given information: