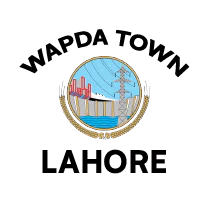 WAPDA Town Lahore
WAPDA Town Lahore is a master-planned housing society with legal approval from the Lahore Development Authority. WAPDA started this housing society in Khayaban-e-Jinnah to enable potential customers to buy plots and houses at reasonable prices. Let's own your plot or home in society with the assistance of Makaan Solutions!
WAPDA Town Lahore Introduction
---
WAPDA Town Lahore is a legal housing society in the ideal location of Khayaban-e-Jinnah. This residential project is in Lahore where plots and houses are for sale.
The developers initiated this housing society to offer commercial and residential plots at an affordable payment plan. The purpose of keeping low plot prices after the launching of society was a step towards facilitating the members.
WAPDA Town Lahore Location
---
The location of WAPDA Town Lahore is on the main Khayaban-e-Jinnah to ensure flexible access from the nearby landmarks. It is located close to Raiwind Road, enabling the members to visit their properties within a few minutes.
WAPDA Town is just a few kilometers away from LDA Avenue Road and Lahore Ring Road to become a valuable society. You can use the routes of Defense Road and College Road to reach this residential project easily.
Nearby Places
DHA Lahore
Muhafiz Town
Nawab Town
Allama Iqbal Town
Johar Town
NFC Society
UET Housing Society
Park-Arab Housing Scheme
Model Town
Garden Town
Accessibility
Pine Avenue is 1 minute away
College Road is 2 minutes away
Defense Road is 4 minutes away
Lahore Ring Road is 6 minutes away
Thokar Niaz Baig is 7 minutes away
N5 National Highway is 8 minutes away
Ferozpur Road is 13 minutes away
Allama Iqbal International Airport is 25 minutes away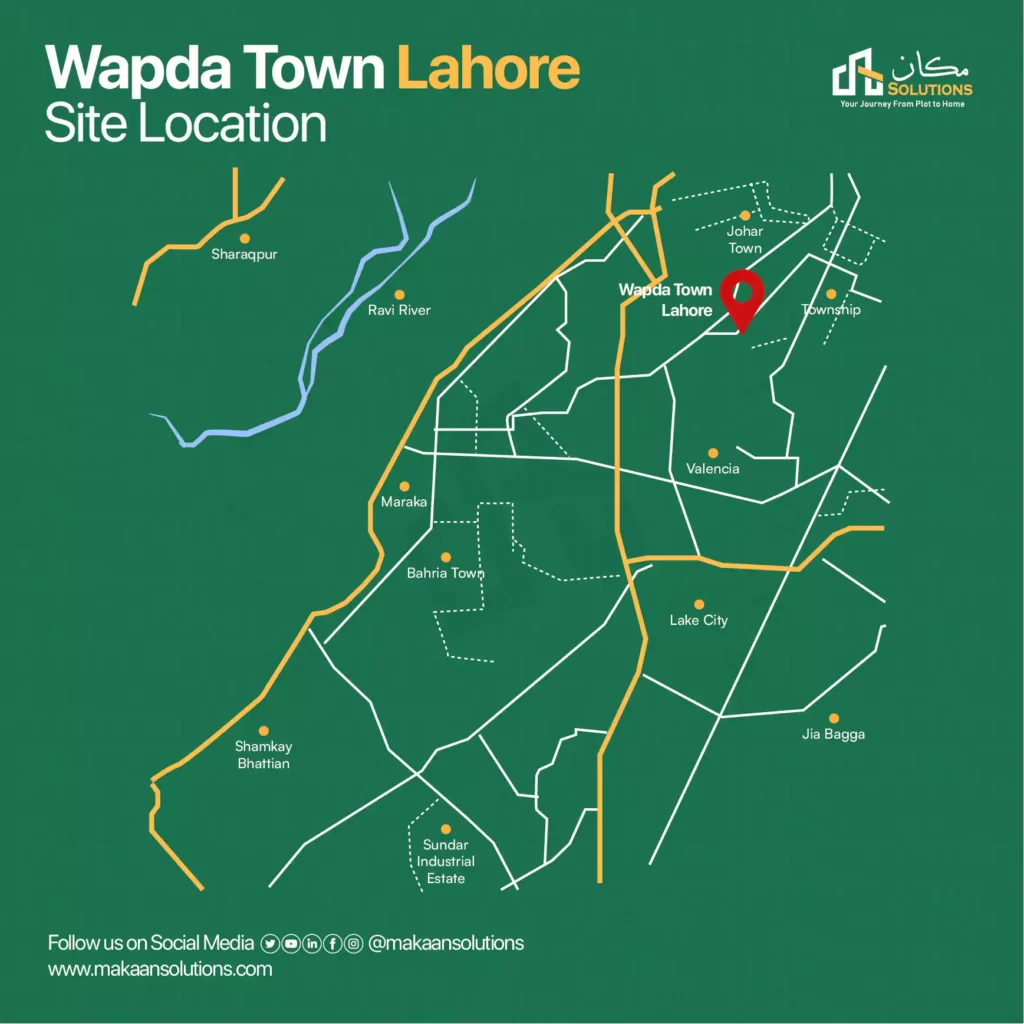 WAPDA Town Lahore Map
---
You can view WAPDA Town on Google Maps easily.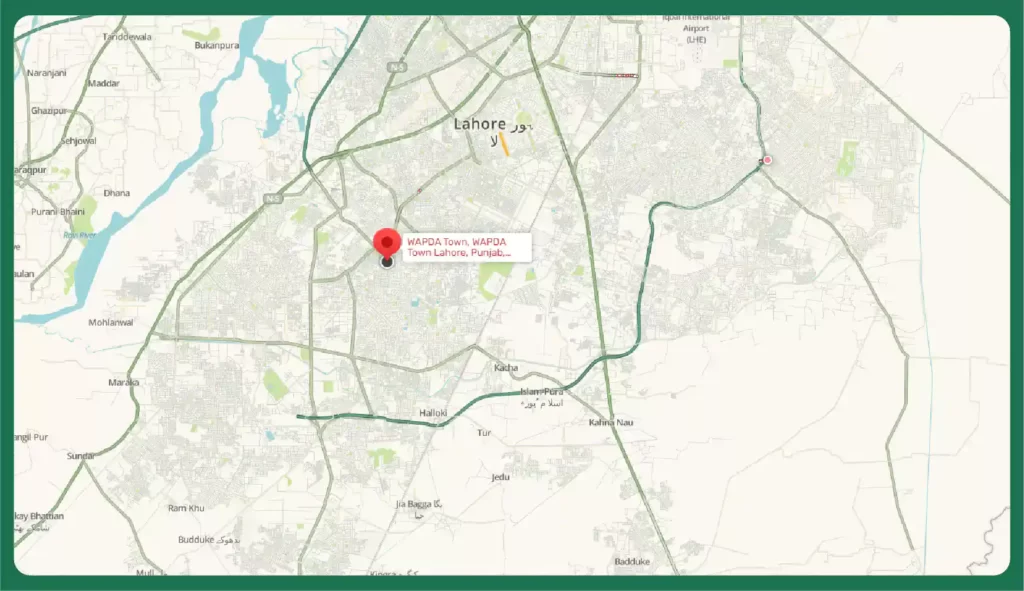 WAPDA Town Lahore Payment Plan
---
| Plot Sizes | Prices |
| --- | --- |
| 5 Marla | 7.5 Lac-1.5 Crore |
| 10 Marla | 1.1-2.2 Crore |
| 1 Kanal | 1.7-2.5 Crore |
| 2 Kanal | 2.7-5.2 Crore |
The payment plan of WAPDA Town Lahore was launched to allow potential customers to purchase valuable residential and commercial plots. There was an installment plan to enable the clients to make payments in monthly and yearly installments.
The plot prices in WAPDA Town were very affordable for middle-class people. However, the plot prices gradually increased with the pace of development work. The increased plot prices ensure the highest return on investment to investors who have invested in this society.
There are different plots and houses for sale in WAPDA Town Lahore at an affordable payment schedule to facilitate every single client.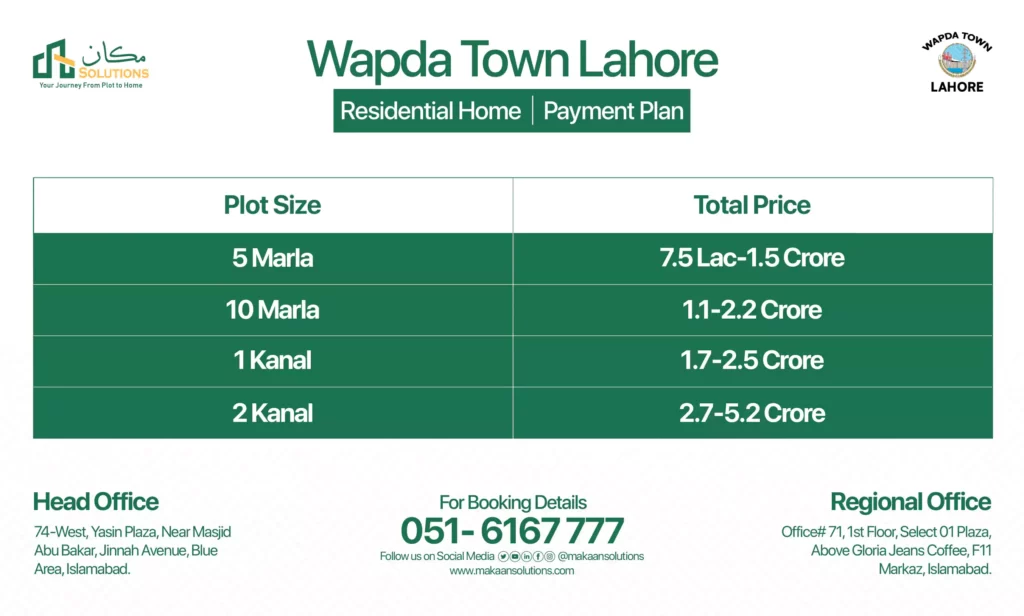 How to Book a Plot in WAPDA Town Lahore?
---
Fill out the application form for WAPDA Town Lahore
Attach the required documents
Attach the receipt after the down payment
Submit the application form to the management
The management of society offered a smooth and flexible plot booking process for customers who are looking to own their properties. The customers followed this booking procedure to book their plots with the help of Makaan Solutions.
However, fresh plot booking has been closed because all plots had been sold out in the different phases of society. Therefore, you need to buy the plots available for resale with recent plot prices.
Required Documents
Client's 2 CNIC copies
Client's 2 passport-size images
Next to Kin's 2 CNIC copies
NICOP
The management initiated the booking procedure for properties with the submission of necessary documents. The customers were required to submit important documents to confirm their properties in this housing scheme.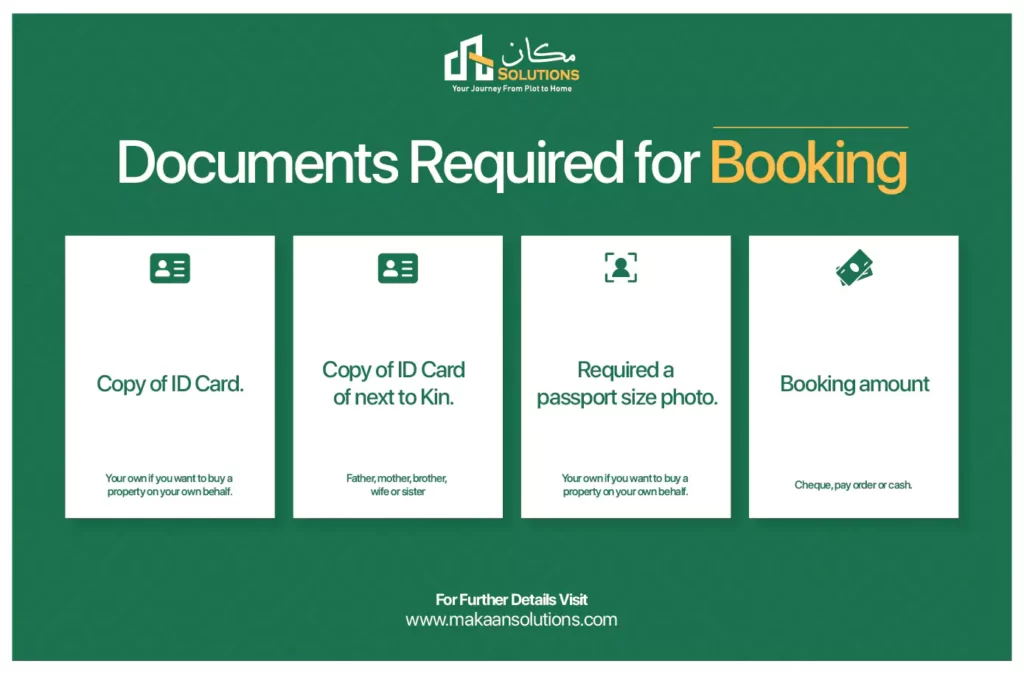 Benefits of Investment in WAPDA Town Lahore
---
There are various benefits of investing in WAPDA Town Lahore to attract potential customers worldwide. The owners and developers collaborated to develop this residential project to offer the maximum advantages to the potential investors.
High ROI
There is a high return on investment for residential and commercial properties to facilitate investors looking for a high profit ratio in the real estate industry. Therefore, you can invest quickly in this world-class housing project for maximum ROI.
Financial Independence
The properties in this housing scheme allow local and overseas clients to attain financial freedom. It is your turn to own your property with the prospect of financial security during the different financial challenges.
Passive Income
The available properties in this housing project ensure passive income for real estate clients who are looking to earn money without making any significant efforts except buying the properties. Therefore, you can easily rent out your property to make regular money over time.
Valuable Asset
Every residential or commercial property has become a valuable asset for customers who want to survive in different financial conditions in this country. Therefore, you can also invest in WAPDA Town to own the most valuable asset.
WAPDA Town Lahore Master Plan
---
The master plan of WAPDA Town Lahore was designed by the designers in the guidelines of management. They utilized their exceptional skills with years of experience to design the layout plan for this world-class housing project in Lahore.
The master plan for WAPDA Town allows the customers to know about the infrastructure of this housing scheme. This layout plan shows that society is spread over 17,000 Kanals to cater to the customers' requirements for commercial and residential purposes.
Phases:
Phase I
Phase II
Cooperative Housing Society
Blocks:
Block A
Block B
Block D
Block E
Block F
Block G
Block H
Block J
Block K
Block M
Block N
Block P
Block Q
Block R
Residential Plots:
5 Marla
10 Marla
1 Kanal
2 Kanal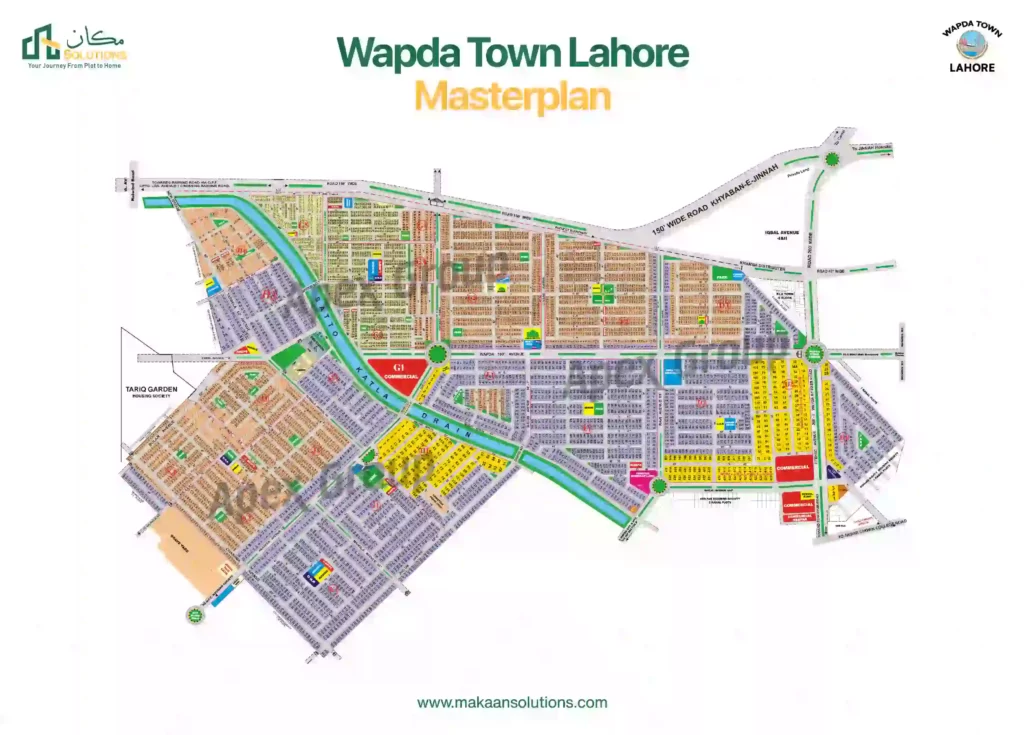 WAPDA Town Lahore NOC Status
---
The NOC status of WAPDA Town Lahore was approved by the management of the Lahore Development Authority (LDA). The legal status of this housing society has attracted several local and overseas customers who want to purchase properties in a secure housing scheme.
It is an LDA-approved housing scheme that allows customers to own properties in the legal society. Therefore, WAPDA has become the top-rated residential project to offer a reasonable payment plan in the presence of all legal documentation.
WAPDA Town Lahore Owners & Developers
---
The owner and developer of WAPDA Town Lahore is the Water and Power Development Authority (WAPDA). The management of society started this world-class housing project to enable the common Pakistanis and employees of WAPDA to live in a peaceful environment.
WAPDA initiated this housing scheme to enable the middle-class community of Pakistan to explore the best amenities and facilities in the elegant location of Lahore. Therefore, it has a successful housing scheme in Lahore.
Other Housing Projects by WAPDA
WAPDA Town Multan
WAPDA Town Faisalabad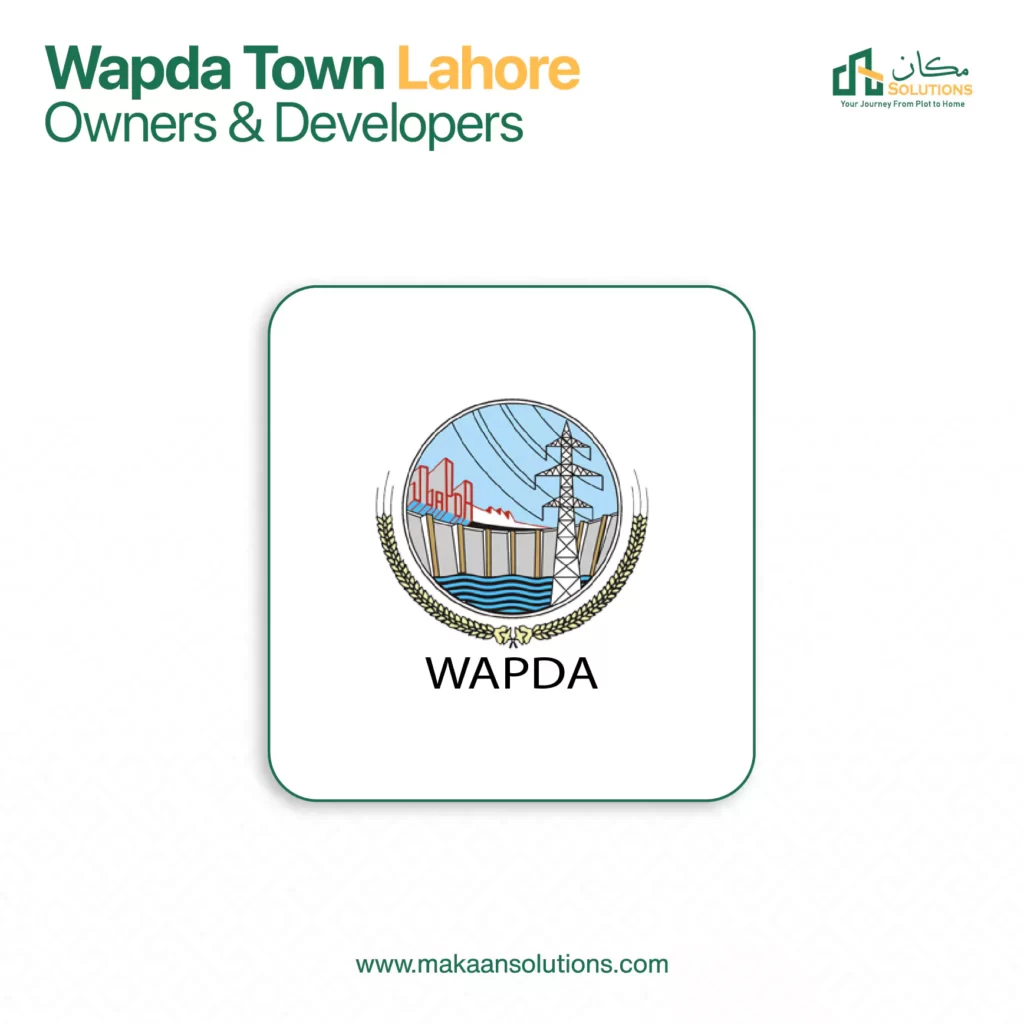 WAPDA Town Lahore Development Status
---
The latest development updates indicate that society is developed to facilitate the customers. The members are already living in this society and enjoying the phenomenal amenities and facilities.
WAPDA Town Lahore Latest News
---
The latest news of WAPDA town reveals that management has fulfilled its commitment to provide services within this walled society.
Facilities & Amenities
---
The management is dedicated to ensuring world-class services for customers who want to live peacefully. There are a lot of amenities and facilities to ensure a comfortable living experience for members. You can explore the available facilities in this residential project.
Grand Mosque
There is a beautiful Jamia Masjid in this elegant housing project to allow Muslims to offer their religious duties easily in the presence of all facilities. The developers have incorporated the modern infrastructure for this grand mosque in this society.
Graveyard
The graveyard has become an integral part of society. It allows the residents to bury their expired loved ones within this housing scheme. Therefore, you will be able to visit the graves easily and pray for eternal life.
Education & Healthcare
The management of society has ensured to include the phenomenal health care and education facilities for the residents. There are world-class hospitals and educational institutes in the presence of technological solutions to serve residents.
Community Center
The presence of a community center in this beautiful housing society allows residents to collaborate with each other to bring positive changes in the community.
Gas, Water, and Electricity
The society knows the importance of basic amenities for residents in this residential project. The developers have included electricity, gas, and water for every plot in this society. There is a smooth supply of these basic amenities to all residents in this housing project.
Security
The management has considered security as a first priority to serve the customers. They have installed a technological security system with the presence of qualified staff to ensure the much-needed safety for every resident.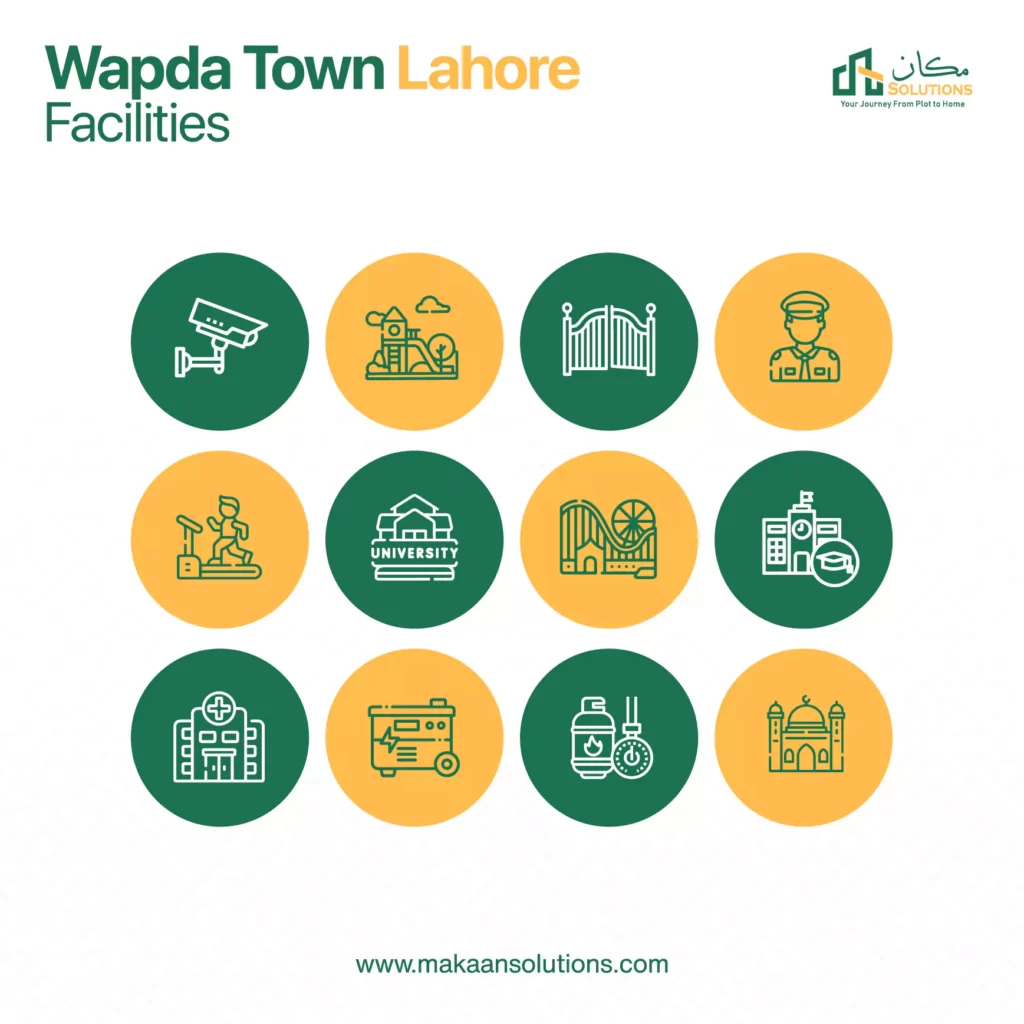 Pros & Cons
---
Pros:
The qualified and experienced developers
The premium location on the ideal spot of Lahore
An affordable payment plan for residential and commercial properties
A legal housing society to ensure secure investment opportunities
A master-planned residential project to include the different plot categories
The presence of world-class amenities and facilities ensures peaceful living standards for residents
Cons:
A little away from the center of city
Conclusion
---
WAPDA Town Lahore has become a trending housing project like Lahore Smart City and Kings Town Lahore. You can get the assistance of Makaan Solutions to own your property in a smooth way. It is recommended to own a residential or commercial property in Capital Smart City.

[elfsight_whatsapp_chat id="1″]