Valencia Town Lahore
Valencia Town Lahore is a master-planned and NOC-approved housing society by Manzoor Ahmed and the Pakistan Employees Cooperative Housing Society (PECHS). It is situated on the main Defence Road close to Raiwind Road and College to offer commercial and residential plots with the houses.
Valencia Town Lahore: Introduction
---
Valencia Town Lahore is a legal housing society on the main Defence Road, which has become a renowned residential project to cater to the customers' requirements for commercial and residential plots. There are different plot categories available for end-users and investors.
The management offers an affordable payment schedule for residential and commercial plots in the premium location. Valencia Town in Lahore is a master-planned housing project to ensure marvellous amenities and facilities.
Valencia Town Location
---
The location of Valencia Town Lahore is on the main Defence Road close to The University of Lahore and Green Acres Housing Society. You can also use the route of Lahore Ring Road and Raiwind Road to access this phenomenal housing project.
It is located close to College Road and Pine Avenue to ensure the easiest access from the nearby places. Valencia Housing Society is just a few kilometers away from Halloki, and Canal Road allows you to visit your property easily.
Nearby Places & Landmarks
Allama Iqbal Town
Green Acres Housing Society
Green Town
Engineer Town
Model Town Lahore
DHA Rahbar
OPF Housing Scheme
Johar Town Lahore
T & T Aabpara Housing Society
Sher Shah Colony
WAPDA Town
Accessibility
Pine Avenue is just 2 minutes away
College Road is 3 minutes away
Raiwind Road is 4 minutes away
Lahore Ring Road is 5 minutes away
Canal Road is 9 minutes away
Ferozpur Road is 12 minutes away
Multan Road is 16 minutes away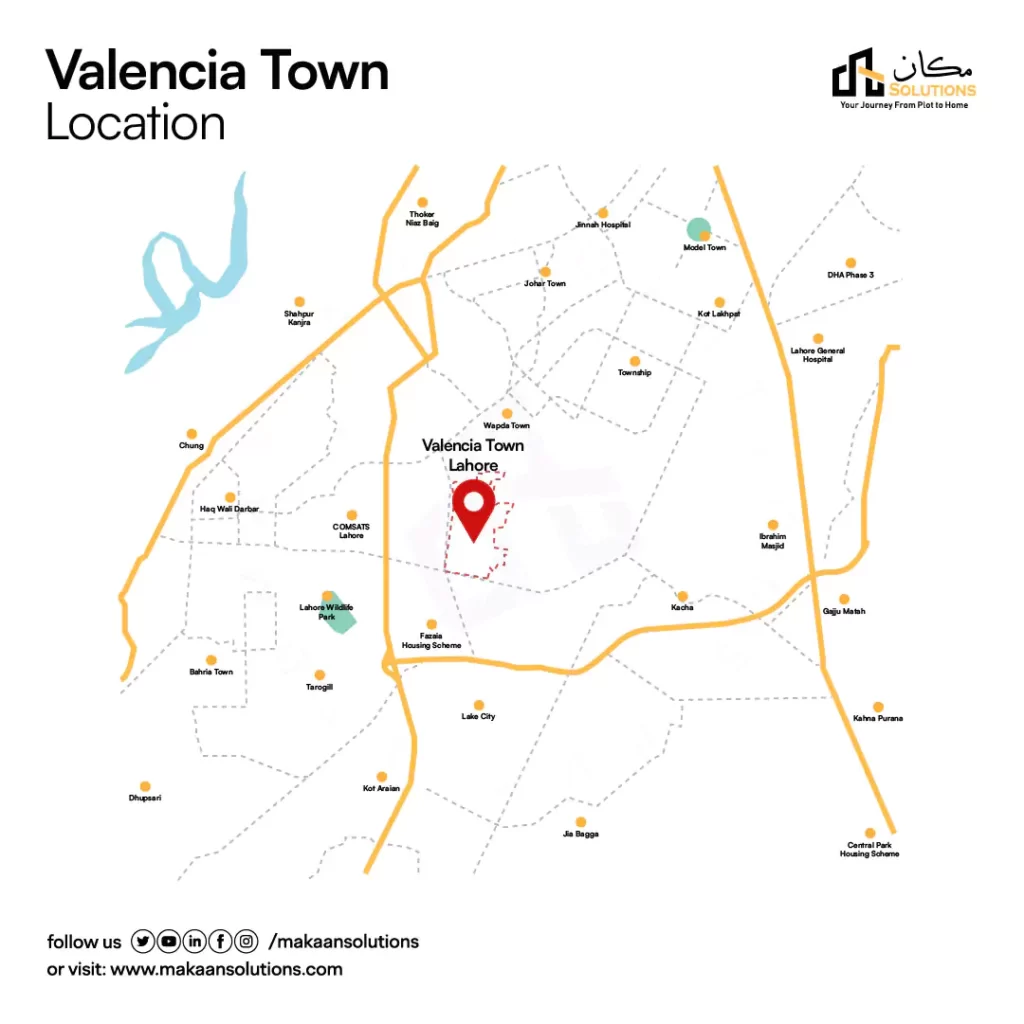 Valencia Town Lahore Map
---
You can view this top-notch housing project on Google Maps.
Valencia Town Payment Plan
---
| Residential Plot | Price |
| --- | --- |
| 5 Marla | 70 Lac-2.5 Crore |
| 7 Marla | 1.64-3.1 Crore |
| 8 Marla | 1.78-3.7 Crore |
| 10 Marla | 1.84-4.2 Crore |
| 12 Marla | 1.94-4.6 Crore |
| 15 Marla | 1.96-5.1 Crore |
| 1 Kanal | 1.94-2.9 Crore |
| 2 Kanal | 2.73-5.12 Crore |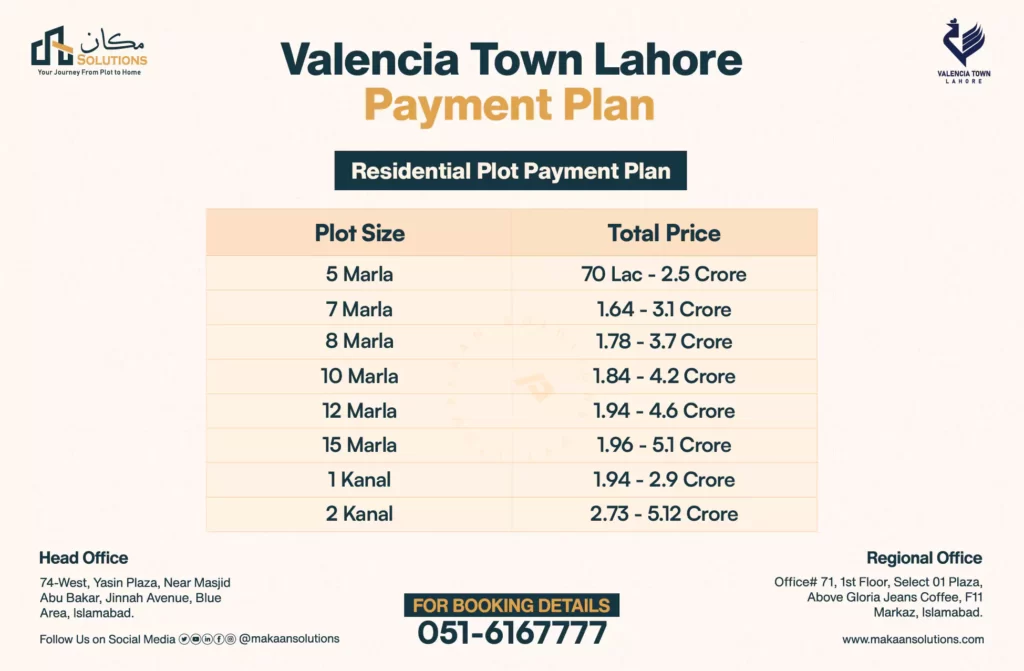 Valencia Town Commercial plot Payment Plan
---
| Commercial Plot | Price |
| --- | --- |
| 4 Marla | 1.94-2.2 Crore |
| 7 Marla | 2.94-4.1 Crore |
| 8 Marla | 1.73-4.3 Crore |
| 9 Marla | 1.73-4.75 Crore |
| 13 Marla | 4.13-7.15 Crore |
| 1 Kanal | 4.73-8.3 Crore |
The payment plan of Valencia Town Lahore has been launched by renowned management to enable Pakistanis to own their properties. There are different plots and houses for sale in the Valencia Housing Scheme to enable overseas and local Pakistanis to purchase their plots.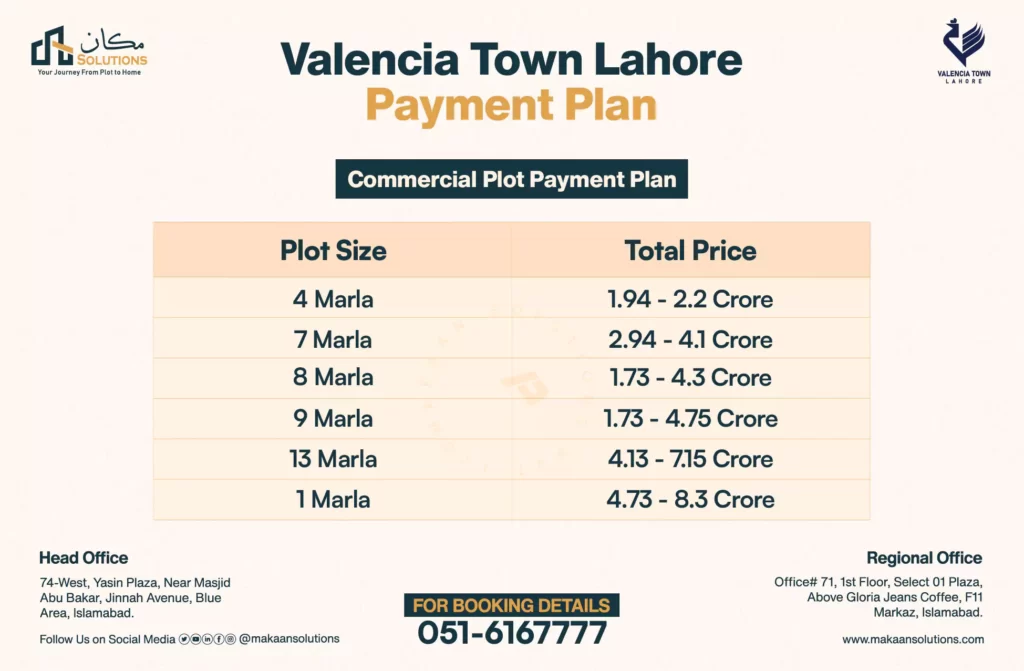 How to Book a Plot in Valencia Town Lahore?
---
Fill out the application form for the Valencia Housing Society
Attach the required documents
Attach the receipt of the down payment
Submit the application form to the management
You are required to follow the necessary steps of the plot booking procedure to own your property in Valencia Housing Society with assistance of Makaan Solutions. These steps for the booking process have been very simple and easy to follow for overseas and local real estate customers.
Required Documents
Buyer's 2 CNIC copies
Buyer's 2 passport-size images
Next to Kin's 2 CNIC copies
NICOP
The required documents are compulsory to proceed with the plot booking process in this exceptional housing society. You need to submit the important documents to the management of Valencia Housing Scheme to own a property.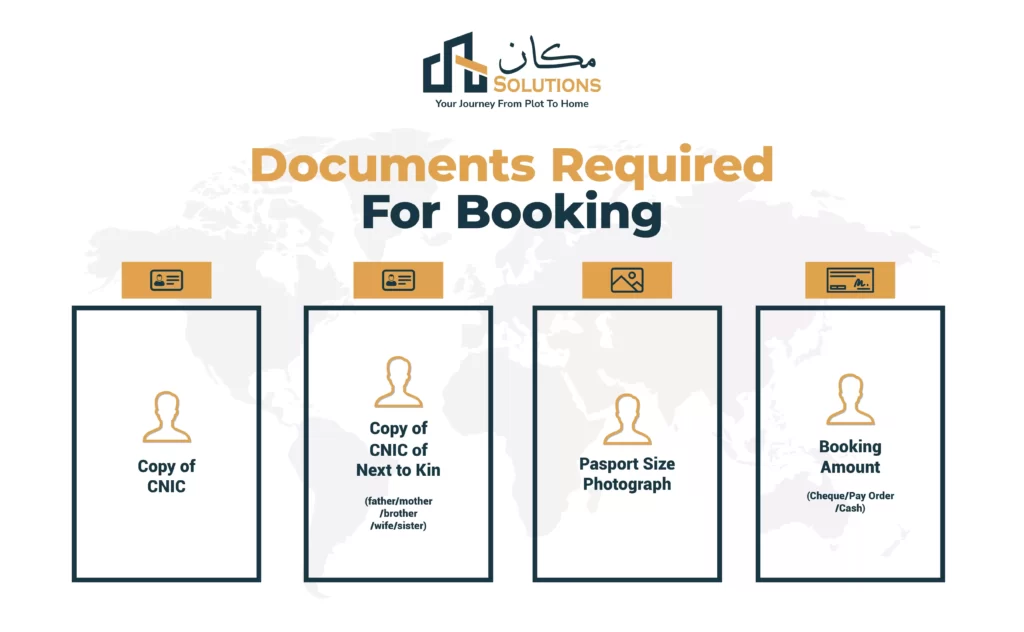 Benefits of Investment in Valencia Town Lahore
---
There are several advantages of investing in Valencia Town, which enable the potential investors to make a profitable investment. You can also invest in Valencia Society Lahore to earn the maximum profit through long-term and short-term investments.
High ROI
Investment in commercial and residential properties is the best source of maximum return on investment. It is crucial to remember that commercial properties ensure more ROI as compared to residential properties for potential investors.
Financial Independence
Property has been the best way to become financially independent by purchasing valuable properties. Your investment in any desired commercial or residential property ensures financial security for local and overseas investors.
Passive Income
The valuable properties in the Valencia Housing Project have become the ultimate source of passive income for potential clients. The users in this residential project are capable of renting out their properties to the tenants to earn a monthly income.
Valuable Asset
This residential project consists of valuable properties to attract overseas and local Pakistanis. Every property has been a great asset for every customer because it will help them to be financially stable in different economic conditions.
Valencia Town Master Plan
---
The master plan of Valencia Town Lahore is magnificently done by experienced designers who have been focused on ensuring modern infrastructure for smooth development. There is a phenomenal architectural design for this top-notch housing project.
The layout plan for the Valencia Housing Scheme shows the availability of several blocks to include the different categories of residential and commercial plots. There are several modern amenities and facilities.
Valencia Town Phases
---
Phase I
Phase II
Phase III
Phase IV
Phase V
Valencia Town Blocks
---
Block A
Block A1
Block A2
Block A3
Block B
Block C
Block C1
Block D
Block E
Block E1
Block F
Block F1
Block G
Block H
Block H1
Block J1
Block K
Block K1
Block L
Block L1
Block M
Block P
Block P1
Valencia Town Residential Plots
---
5 Marla
7 Marla
8 Marla
10 Marla
12 Marla
15 Marla
1 Kanal
2 Kanal
Valencia Town Commercial Plots
---
4 Marla
7 Marla
8 Marla
9 Marla
13 Marla
1 Kanal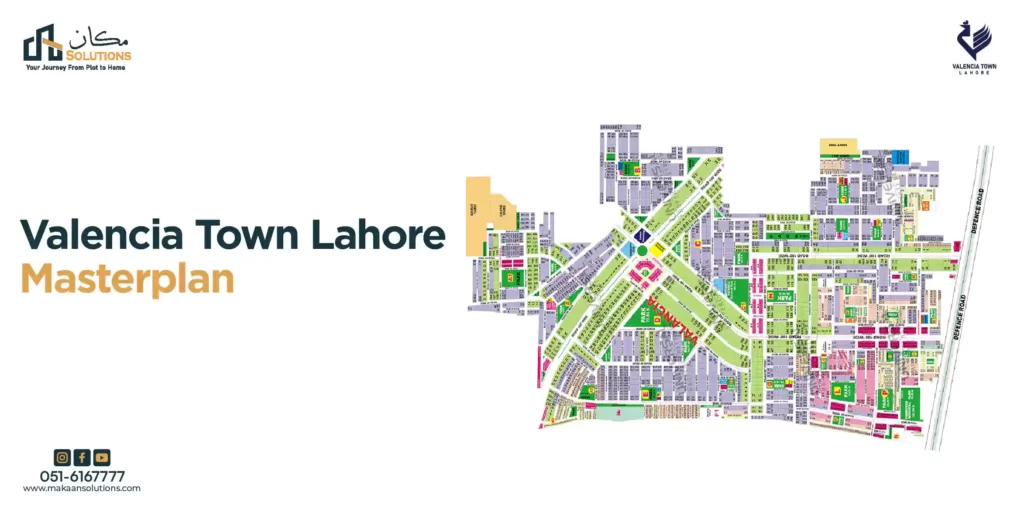 Valencia Town NOC Status
---
The NOC status of Valencia Town Lahore is approved for 8444.05 Kanals by the Lahore Development Authority (LDA). This LDA-approved housing society consists of 4201 residential plots and 130 commercial plots to offer legal properties to clients.
It is an NOC-approved housing society on Defence Road Lahore that offers secure investment opportunities. Their end-users can reserve their properties in this legal housing scheme.
Valencia Town Owner & Developers
---
The owners and developers of Valencia Town Lahore are Manzoor Ahmed and the Pakistan Employees Cooperative Housing Society (PECHS). The owner and developers have collaborated to develop this world-class residential project close to Raiwind Road.
This housing society was developed in accordance with the brilliant infrastructure in 1990 and was fully occupied by the 2000s. There are fabulous green areas with the best landscapes to facilitate the customers with an eco-friendly environment.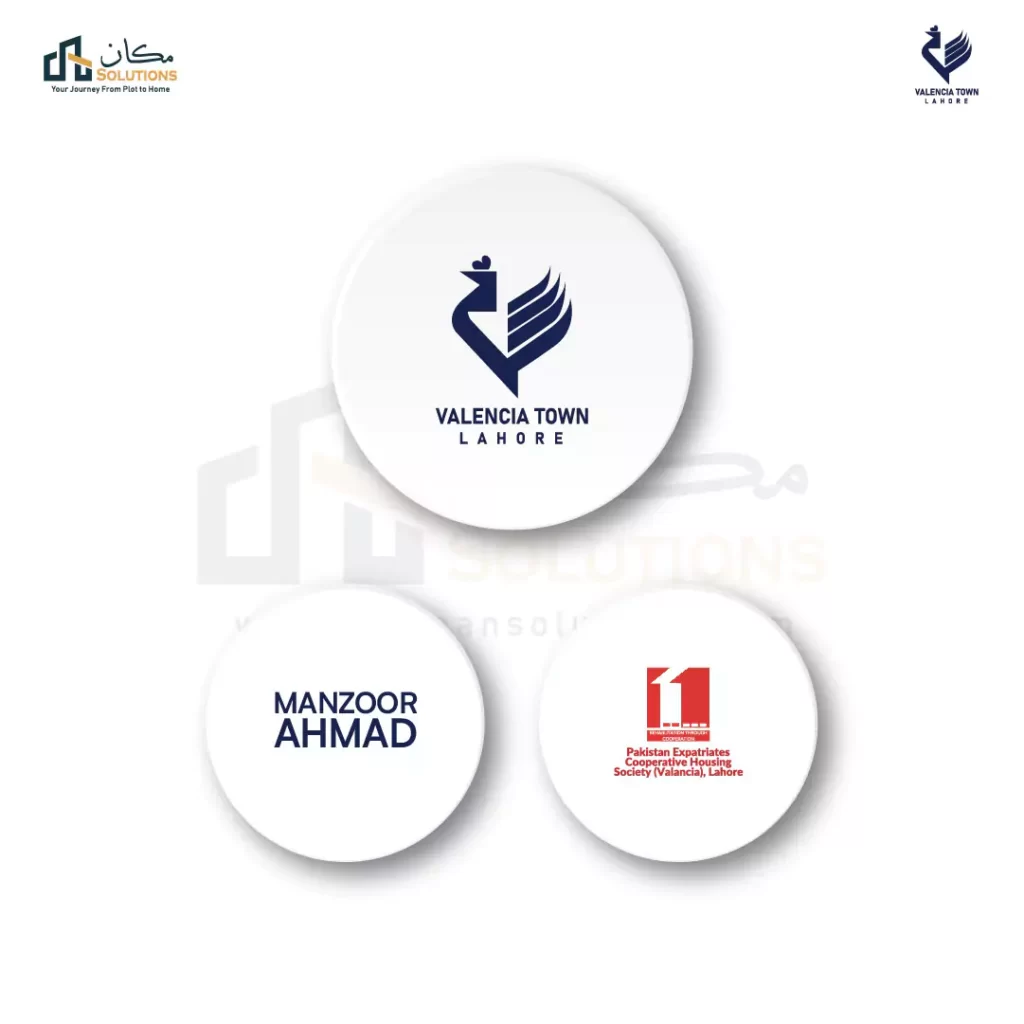 Valencia Town Development Status
---
The development updates show that society is fully developed and users are already living there. It means that residents are enjoying a peaceful lifestyle in the presence of the different amenities and facilities.
Valencia Town Latest News
---
The latest updates show that management is planning to launch a new phase to provide more commercial and residential properties to customers.
Facilities & Amenities
---
The management of society offers phenomenal services to ensure the best living experience for the residents. Therefore, every user must be aware of the available amenities and facilities to be comfortable in society.
Education
This residential project includes world-class schools and colleges to ensure the best education quality for the residents. Every user will be able to get a high-quality education in the presence of a modern syllabus.
Healthcare
The management also prioritized the medical facilities for the users within the boundary wall of society. There is a qualified medical staff with modern equipment to ensure exceptional treatment services for the patients. The hospital remains open 24/7 hours for medical emergencies.
Electricity & Gas
The provision of basic amenities like gas and electricity ensures a comfortable living experience for residents. You can utilize these facilities without facing any challenges because management also has a backup option.
Water Resources
The management installed a water filtration plant in this top-notch project to ensure the top-quality purification of water. The purpose of providing purified water available for users who know the importance of water for a healthy lifestyle is to avoid health problems.
Sports Complex
The management is focused on offering the best playing areas for games and sports to enable the residents to remain fresh and fit. The spacious sports complex enables you to play your favourite game with other players in the peaceful environment of this brilliant housing society.
Parks
The management also included green spaces and parks in this world-class housing project to enable residents to refresh themselves in a pollution-free environment. The parks in this society have become the essential amenities to ensure refreshment for every user.
Graveyard
This residential project also consists of a graveyard to allow the residents to bury their loved ones within the premises of society. Therefore, you can easily visit the graves of your loved ones to pray for their eternal lives.
Security
It is a gated community in the presence of a modern surveillance system. The developers installed the CCTV cameras with the availability of qualified security staff to ensure the phenomenal safety of residents.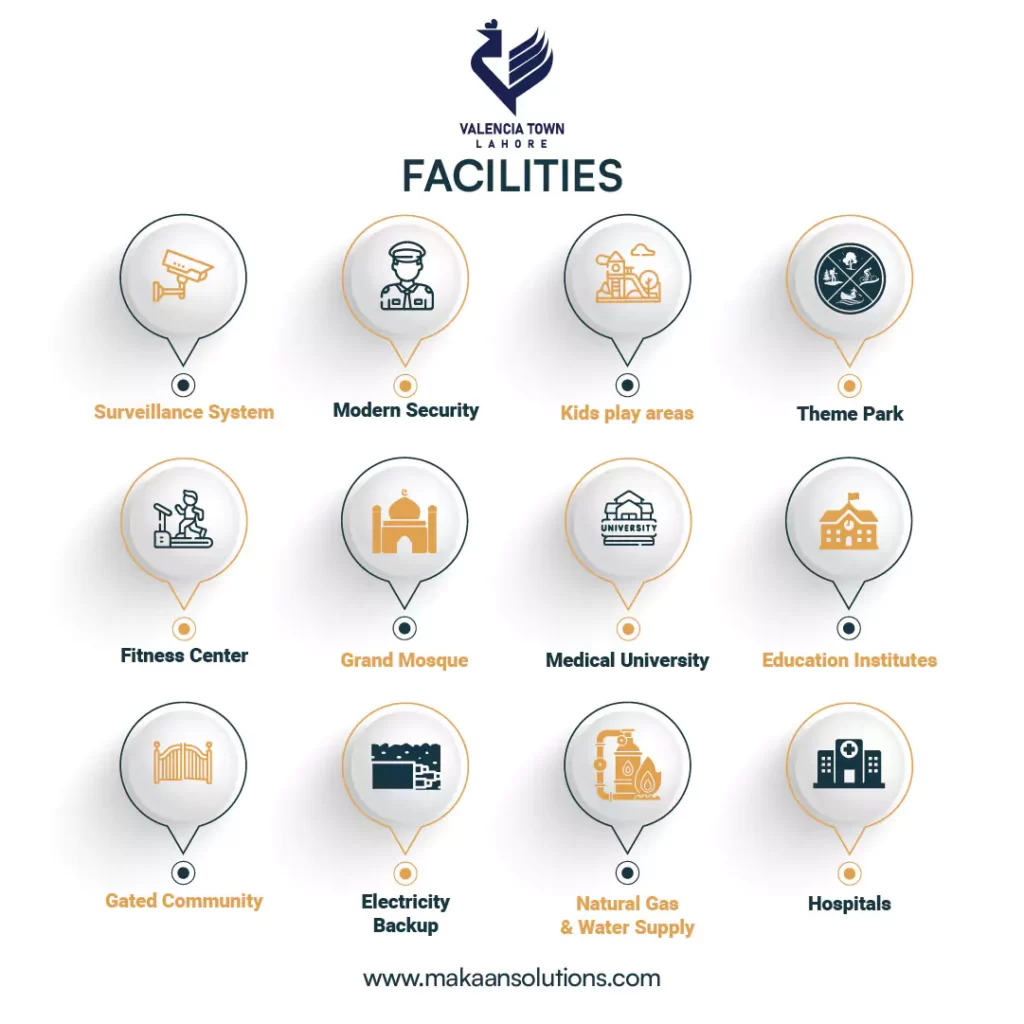 Pros & Cons
---
Pros:
The well-known owner and developer
A legal housing project
A master-planned residential society
An ideal location
A fully developed society in accordance with modern infrastructure
The availability of world-class amenities and facilities
Cons:
The prices of resale plots are high.
Conclusion
---
Valencia Town Lahore is a master-planned housing project with an ideal location. It is an eco-friendly housing project with phenomenal services. You can purchase your property in Lahore Smart City and Kings Town Lahore with the assistance of Makaan Solutions.
[elfsight_whatsapp_chat id="1″]