Lahore Smart City Master Plan Has been launched by society with a zoning map. Lahore Smart City is the 2nd smart city in Pakistan, located right in the heart of Pakistan, Lahore. Habib Rafiq Limited (HRL) and Future Development Holding Limited (FDHL) hard work has been paying off.
New ideas and rapid development have shown the loyalty and dedication of society towards its members. Lahore's smart payment plan has also been made easy by society, so members do not face any issues. Approved NOC under Lahore Development Authority (LDA) has shown diligence thought of society.
Lahore Smart city Location is no doubt one of the top prime locations in Lahore. It also connects society from commercial roads from all sides. As per the management of Lahore smart city, the location of LSC is along the Lahore By-pass Road with easy access from N5 GT Road and Lahore – Islamabad Motorway (M2). A further access point has been discussed ahead.
Society has disclosed the new Lahore smart City master plan 2022, which is the proposed one, but still is showing a high margin of returns. Major districts, access points, and commercial/residential areas have been disclosed. This is the proposed plan and can be revised anytime for now.
Lahore Smart City Master Plan and Access Point
---
With the proposed Lahore Smart city Master Plan 2022, Society has disclosed 4 major access points toward society's location. All these access points have no doubt must uprise the value of Society. Lahore smart society can be accessed from these points:
A- Lahore Eastern Bypass
B- NH45 GT road (underpass near has already been approved)
C- Lahore M11-Lahore Sialkot Motorway
D- Lahore Chak 44 road
Lahore Smart City Districts
---
Management of society has disclosed 32 ones/districts in Lahore Smart City Master Plan 2022. Which zone is commercial or which zone is residential, will be discussed below, for your better understanding.
– Commercial Zones
First, we will discuss commercial ones as disclosed in Lahore Smart City Master Plan 2022. According to that, almost 14 zones, accessed from A point are for commercial purposes.
1. Panda Mart & mix: In the Lahore Smart City Master plan, It is expected to be only for commercial purposes. Some residential apartments building may develop. But now it's not functional and not for sale too. Society may develop it on self-construction.
2. Logistic & Outlet Mall: In the proposed Lahore smart city master plan 2022, this block is expected to be only for commercial purposes. But this is only the proposed Lahore Smart City master plan so a residential apartment may be developed here. A mix of residential and commercial malls will be constructed here of 4,12 and 15 Kanal.
3&4. Lahore Theme Park & Sports District: According to Chief Operating Officer of HRL group and Capital smart city Malik Aslam, the biggest Ferris wheel in Pakistan will be Developed here. This innovation will attract tourists. This block is also not for sale but only for commercial and society self-construction.
5&6. Health & Education District: As per the proposed Lahore smart city master plan, different colleges, hospitals, dispensaries, and universities will be established here. This block is also for commercial purposes and not for sale.
7. Food Tech Valley: The technologies that will be used in this sector will be new to Pakistan, according to Lahore Smart City Master Plan. Firms from Singapore and Dubai are working on it. There will be laboratories used to grow food free of pesticides and chemicals. These technologies do not already exist in Pakistan up till now.
8. Grand Jamia Mosque & Central Park: This portion is the prime location of society as this can be directly accessed from B and C access points. Hope it will relocate to any other place.
9. Cultural Village: It is expected that society will do operations on it on a self-construction basis. Some fields and farms will be developed here. Same for it, it will be for commercial areas and not for sale
10. Central Business District: It will be the biggest commercial area in society. It will be like a Main commercial hub and a G+5 to G+10 high-rise building will be established here.
11. Gate Precinct: Just like above it also be a commercial area, reserved by society and not for sale. International firms may be given projects to established worldwide brands.
12. Global Village: There will be no residential properties here. Different Brands will be disclosed here for commercial purposes only.
13. Lahore Market and Bus terminal: This sector is reserved by society and not for sale. Society will use it to explore it for only commercial purposes. Different innovative ideas will be born here.
14. Silicon Valley Business Park: Habib Rafiq Limited has a plan to use it for commercial purposes.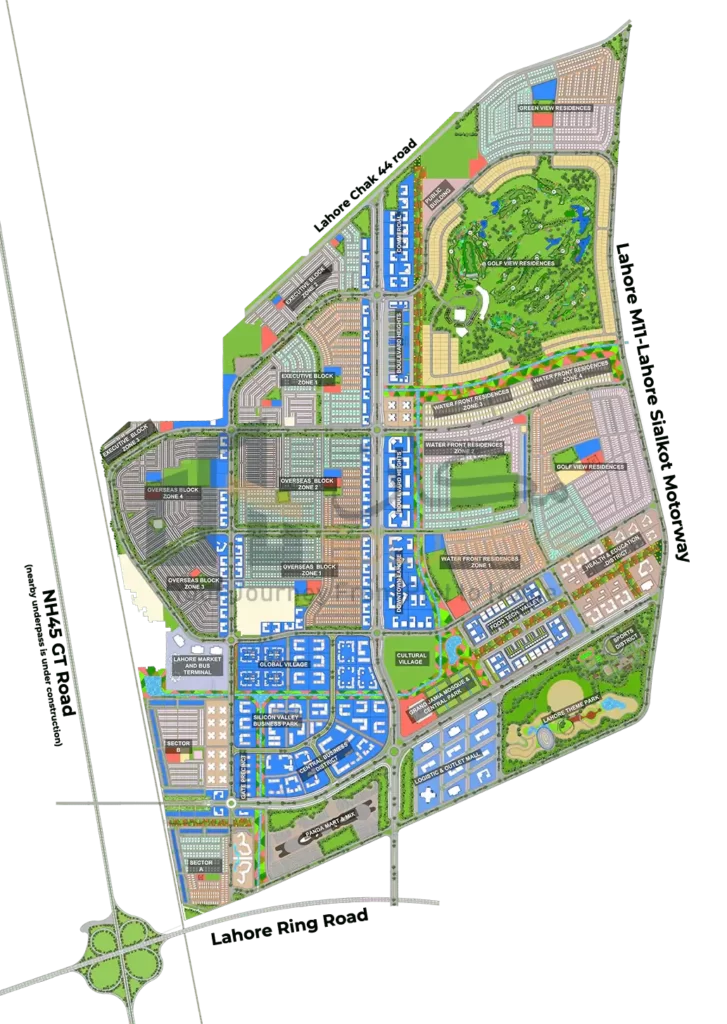 – Residential Zones
15. Golf View Residence: As per the proposed plan, farmhouses, villas, luxury buildings, etc. will be established here. But for now, it's not for sure.
17&18. Waterfront Residence Zone 1 & 2: Best point of this block is that it can directly be accessed from the C access point. But there is already a population living here called Chak no 43., which is immovable property. But just like DHA, this point cannot harm much.
19. Downton Lahore: The streets here are 350 ft long and big high-rise commercial plots will be here to 4,810,12 commercial plots.
20&21. Waterfront one 3&4: New innovative ideas will be launched here related to water & Sozo parks.
21,22,23&24. Overseas Block 1 to 4 (Residential Areas): Overseas 1 can be directly accessed from access point A ring road. There will have 10 marlas to 1 Kanal plot. Most prime location due to easy and feasible accessibility. There is already a population leaving here, which is immovable in 1 block.
There will be plots of 7 marlas (prime location), 10 marlas,12 marla plots, and 1 Kanal. Overseas block 2 can be accessed from the D point. This is the center of society, that's why it's important. Overseas 3 or 4 could have 5 marla plots.
25&26. Executive blocks 1 & 2: Executive Blocks has also a good location due to easy access. Chuk 44 is adjacent to it. Not good as overseas but also, it's not bad. Plots of 5 marla,12 marla and 1 kanal are here.
27&28. Boulevard Heights & Commercial Block: It will be like the Marka-type sector. There will be markets of 8 marlas,10 marla high buildings same as a commercial block.
29. Golf Course: It will be a golf course like the one in Capital smart city Capital Lakeview heights but advanced. The sizes of plots will be 1 Kanal and 2 Kanal.
30. Green view District: This place will focus to promote an eco-friendly environment. More and more trees will be grown here to remove pollution from the air of Lahore.
31&32. Sector A and B: Lahore Smart City sector A and sector B are the most important part of Lahore's smart city. It is the crux of Lahore smart city Master plan 2021. Possession will be given after 4 months of march 2022. Society will provide procession and discount to those members, who will start construction in these areas.
As already mentioned above, this is a proposed plan. It can be revised anytime by Society just like the Capital Smart city master plan. This proposed plan has shown many plus points to invest in it. For booking, consultations, and information contact Makaan Solutions we can help you out in the process.
How many Commercial zones does Lahore smart city have?
According to the proposed Lahore smart city Master Plan 2021, it has 14 commercial zones.
How many Residential zones does Lahore smart city have?
The proposed Lahore smart city Master Plan 2021, has 18 residential zones.
Lahore Smart City Master Plan
If you want to know about Lahore Smart City, contact Makaan Solutions. Our Sales Executive Officer will provide you with all the latest information. Starting from consultation to choosing the property, and from booking to owning your dream property. For further details, please do not hesitate to contact on the below given information: