Lahore Entertainment City
Lahore Entertainment City is the most important project in the Real Estate sector of Pakistan. It's an LDA-approved project developed by Al Jalil Developers. It is the pinnacle of modernity blended with entertainment & serenity. This project is in the pre-launch phase right now. Therefore, this is a golden time to get yourself familiar with this project.
Lahore Entertainment City: Introduction
---
Lahore Entertainment City is the first purpose-built real estate project in Pakistan by Al Jalil developers. It is a flagship project aiming to develop the first entertainment city in the country. It is located on the main GT Road, Muridke, near Narowal Chowk.
The developers have made this a mega-housing project to change the residential sector once and for all. This mega project includes various sectors and blocks built with modern architecture.
This project is going to be a golden goose for early investors. Therefore, it's the right time to put this project on your list.
Lahore Entertainment City Location
---
Lahore Entertainment City is located on the main Muridke and Gujranwala GT Road, and its location is accessible from the Lahore Ring Road & Golden Interchange Bypass. The 250-foot-wide grand entrance of this project is on the main GT Road. This housing society is right next to Supreme City. Moreover, Lahore Smart City is easily accessible from here as well.
This location enables you to have a wide range of options for accessibility. Moreover, this is a perfect location away from the noise and pollution-ridden city area.
Accessibility & Nearby Landmarks:
THQ Hospital is a 7-minute drive
Al Aziz Government Hospital is a 7-minute drive
Ittehad Colony is an 8-minute drive
The Railway Station is a 10-minute drive
Gulberg Colony is a 12-minute drive
NADRA Center is a 10-minute drive
Kala Shah Kaku is a 12-minute drive
Lahore Country Club & Resort is a 15-minute drive
WAPDA Town is a 16-minute drive
Toll Plaza Lahore is a 16-minute drive
UET's New Campus (Lahore Bypass) is a 21-minute drive
GCU, Lahore KSK Campus is a 35-minute drive
Shalimar Garden is a 45-minute drive
Badshahi Mosque is a 50-minute drive
Allama Iqbal International Airport is a 50-minute drive
Lahore Museum is a 55-minute drive
This long list of accessibility and landmarks makes sure that the location of Lahore Entertainment City is as prime as it gets. However, the developers have added a number of amenities inside the premises, so you don't have to leave the housing society.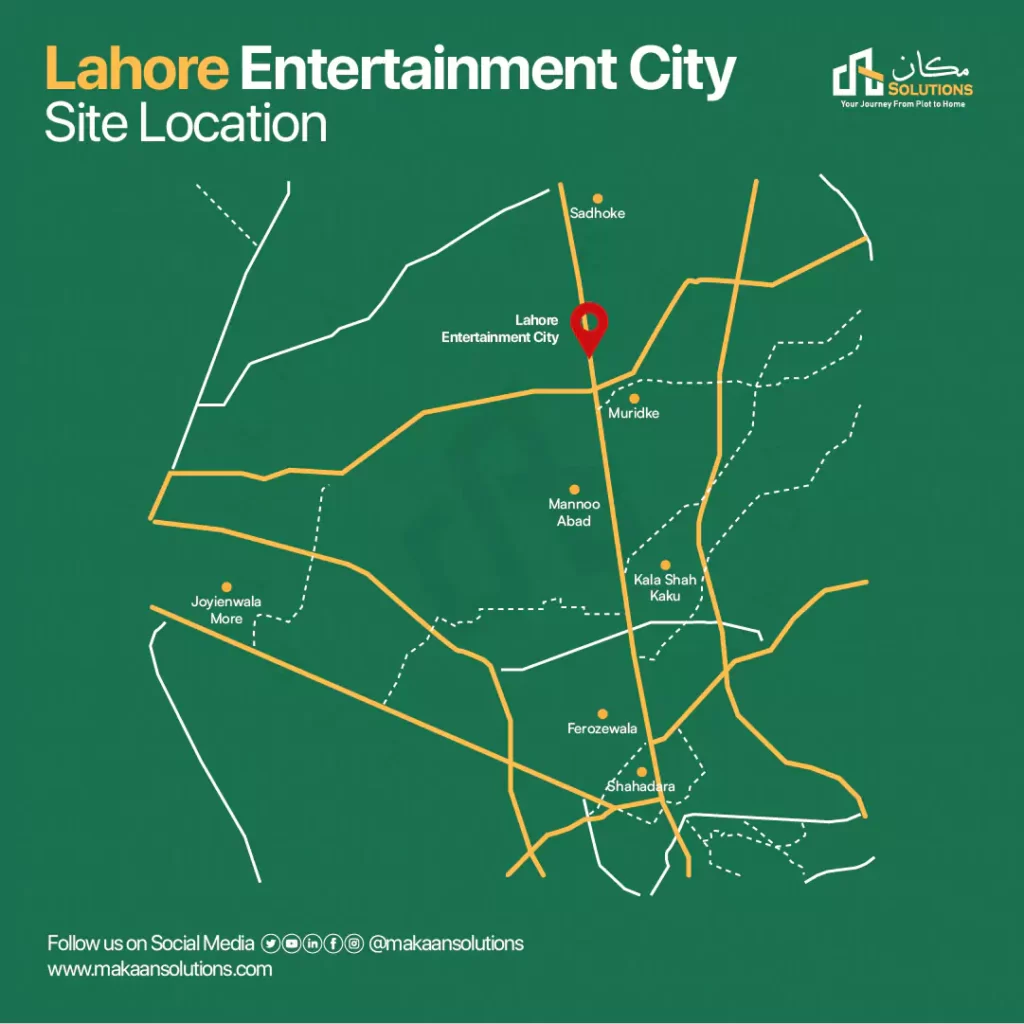 Lahore Entertainment City Map
---
Google Maps shows the location of this upcoming mega project. However, the exact map location is given below for your better understanding.
Lahore Entertainment City Master Plan
---
The master plan of Lahore Entertainment City is very comprehensive. The project includes residential and commercial plots. However, the whole housing project is divided into large sectors and blocks.
Each residential block has a centralized commercial node. A network of roads and streets connects different sectors & blocks. Moreover, there is a transportation system in each sector that has electric cars and bikes.
Details about the whole master plan are as follows:
Sector for Recreational Activities:
This particular sector spans over 80 acres. Here, you will find water slides, roller coasters, Minion Park, and Food Bazaar. There is a theme park in this sector as well. International Consultants have been contracted to design this theme park. You will find the best opportunities for recreational activities here. These amusement parks will be a major attraction point for everyone visiting Lahore. This sector is designed to bring life to entertainment and fun activities.
Sector for Commercial Activities:
This sector amasses over 120 acres. A seven-star hotel will be a part of this sector. This sector is built to be a commercial hub since it will include high-rise buildings for business, shopping, and living. Huge skyscrapers will be developed in this sector. It will be the town center for the whole housing project.
Sector for Entertainment:
In this sector, you will find film studios, art complexes, and theatres. This sector is the main reason why this project is called Entertainment City. You will come across movie stars and celebrities here as well.
Residential Sector:
This sector will be further divided into smaller blocks. There will be different plot sizes available for you to build a home or a farmhouse here.
Residential Plot Sizes:
5 Marla
10 Marla
20 Marla
40 Marla
Here, the developers have designed these plots while keeping the development eco-friendly. Lahore Entertainment City plots for sale are going to be available very soon. These plot sizes are perfect for you to build farmhouses here as well.
Sector for Sports:
Just like any other development of Al Jalil developers, this project also has a huge area for sports centers. This sector will allow the residents to have easy access to world-class gyms, swimming pools, tennis courts, basketball courts, cricket pitches, mini football fields, and much more space for indoor games.
Lahore Entertainment City NOC & Legal Status:
---
This housing project is NOC-approved by the Lahore Development Authority (LDA). Al Jalil Developers (AJD) are known for their authentic and legal developments. Moreover, this project has been endorsed by huge celebrities and personalities. Pakistani actor & entertainer Fahad Mustafa is the brand ambassador. Hence, the credibility of this establishment is something you can count on indefinitely.
Lahore Entertainment City Payment Plan
---
The Lahore Entertainment City payment plan is available with as low as Rs. 200,000 down payment. The payment plans for residential and commercial plots are available with 5-year plans. Lahore Entertainment City's plot prices are very competitive in the market. This entertainment is surprisingly affordable for middle and high-income earners.
Therefore, investing here is very practical and reasonable. In addition, you will have plenty of options for investing in different plot sizes.
The detailed 5-year payment plan for residential plots is as follows:
Residential Plots Payment Plan:
| Plot Size | 3 Marla | 5 Marla | 10 Marla | 1 Kanal |
| --- | --- | --- | --- | --- |
| On Booking | 200,000 | 300,000 | 500,000 | 800,000 |
| On Confirmation | 200,000 | 300,000 | 500,000 | 800,000 |
| On Balloting | 400,000 | 600,000 | 1,000,000 | 1,600,000 |
| Half Yearly (8x) | 37,500 | 56,250 | 125,000 | 250,000 |
| Monthly (50x) | 11,000 | 14,000 | 25,000 | 46,000 |
| Total Cost | 1,650,000 | 2,350,000 | 4,250,000 | 7,500,000 |
Note:
Plot/Property Prices are exclusive of development charges
10% discount on full payment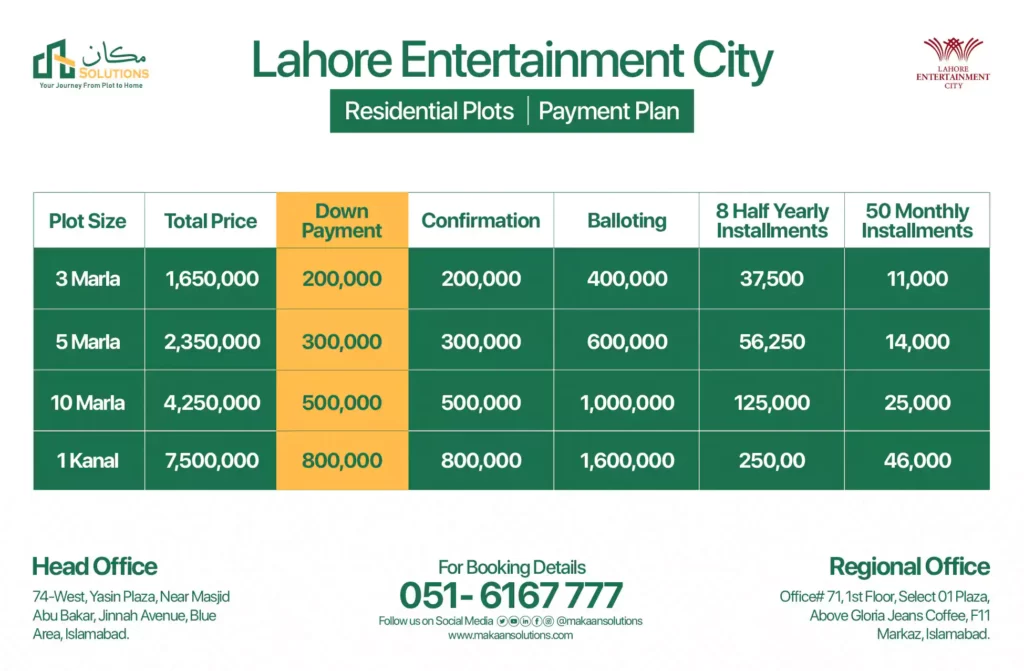 Lahore Entertainment City Booking Procedure
---
This project is in its early stages at this moment. It is in the prelaunch phase right now. The developers are going to announce more updates pretty soon. Check out Makaan Solutions for more details. However, just like any other housing scheme booking, you will need very rudimentary documents for booking a plot here when plots are available for sale.
Some necessary documents are as follows:
Standard Passport-size Photographs
CNIC OR Passport Photocopy
Photocopy of NICOP (if applied)
Payment receipt or online payment screenshot (down payment)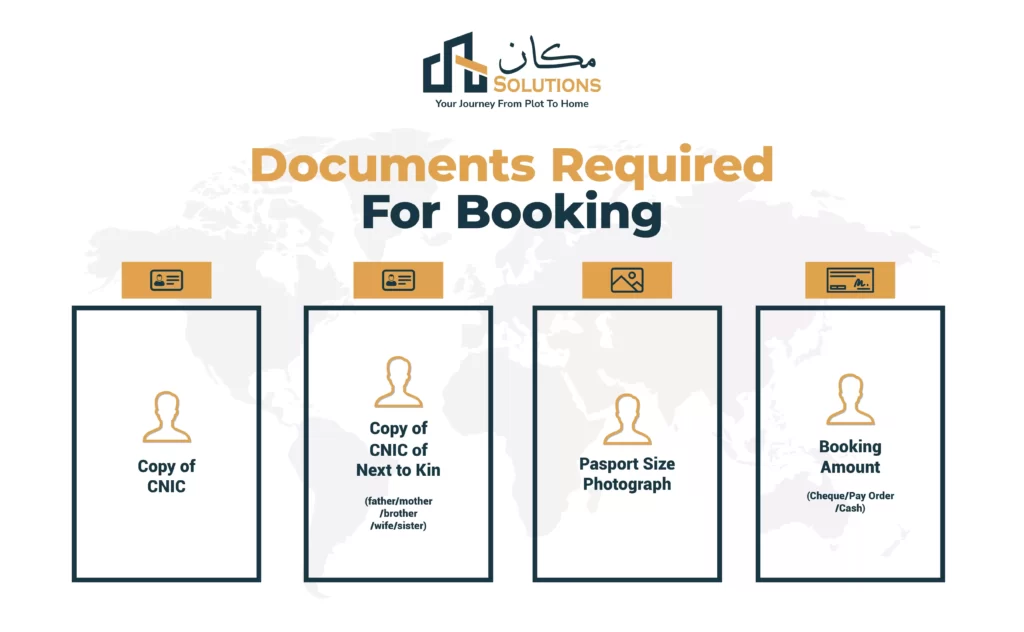 Lahore Entertainment City Amenities
---
Lahore Entertainment City has every amenity you can think of. This establishment is built to provide the best amenities to its residents. The long list of amenities will leave you in awe. Here is a comprehensive list.
Urban Forest
This urban forest consists of networks of green botanical gardens. The design and development of this urban forest is quite complex and stunning. International consultants have come together to make it a reality.
There will be tens of green gardens in this planned forest, which will be part of the life of the residents of this housing society.
Female Sports Center
The female-only sports center will be one of the amenities you won't find in any of the other housing societies. It will provide privacy to ladies who don't want to share a space with strangers.
This sports center will house gyms and fitness clubs as well. There won't be a need for any female resident to leave the premises of the society to get to a female-only gym or sports complex.
Aquatic Center
Now, you don't have to visit Dubai or Abu Dhabi to visit an aquatic center. Very own aquatic center will soon grace the residential sector of Pakistan. This center will include different species of fish. It will be a great attraction point for kids and families. This state-of-the-art aquatic center is going to be built according to international standards.
Five-Star Hotel
A five-star hotel is a must for any luxurious establishment. Hence, you will get one here as well. It will be enough for luxurious dine-ins, corporate meetings, and events.
Film Studios
Have you ever wanted to see your favorite celebrities on film sets? Now, you can visit the film studios and see film shoots. These film studios will bring a huge industry with them. They will promote an enormous commercial activity in the whole establishment.
24/7 Power Backup
If you're living in Lahore Entertainment City, you will not have to worry about power outages and load-shedding. 24/7 power backup will ensure you won't get interrupted by a power outage.
CCTV Monitoring
Every street and corner will be monitored with CCTV to ensure a safe environment for the residents.
Moreover, each street will have automated streetlights.
Free WiFi Spots
There will be free WiFi zones in the whole establishment. These zones will be perfect for enabling electric bikes for transportation as well.
Moreover, free internet will also ensure that this project is high-tech and modern.
Hospital
However, you have easy access to major hospitals outside the premises, and you will still have a hospital for your medical needs inside the premises. This healthcare center will be very important for keeping the housing society well-equipped for any medical emergency.
Cineplex
You won't have to leave the housing society to watch your favorite film now. It will have various theatres for your viewing pleasure.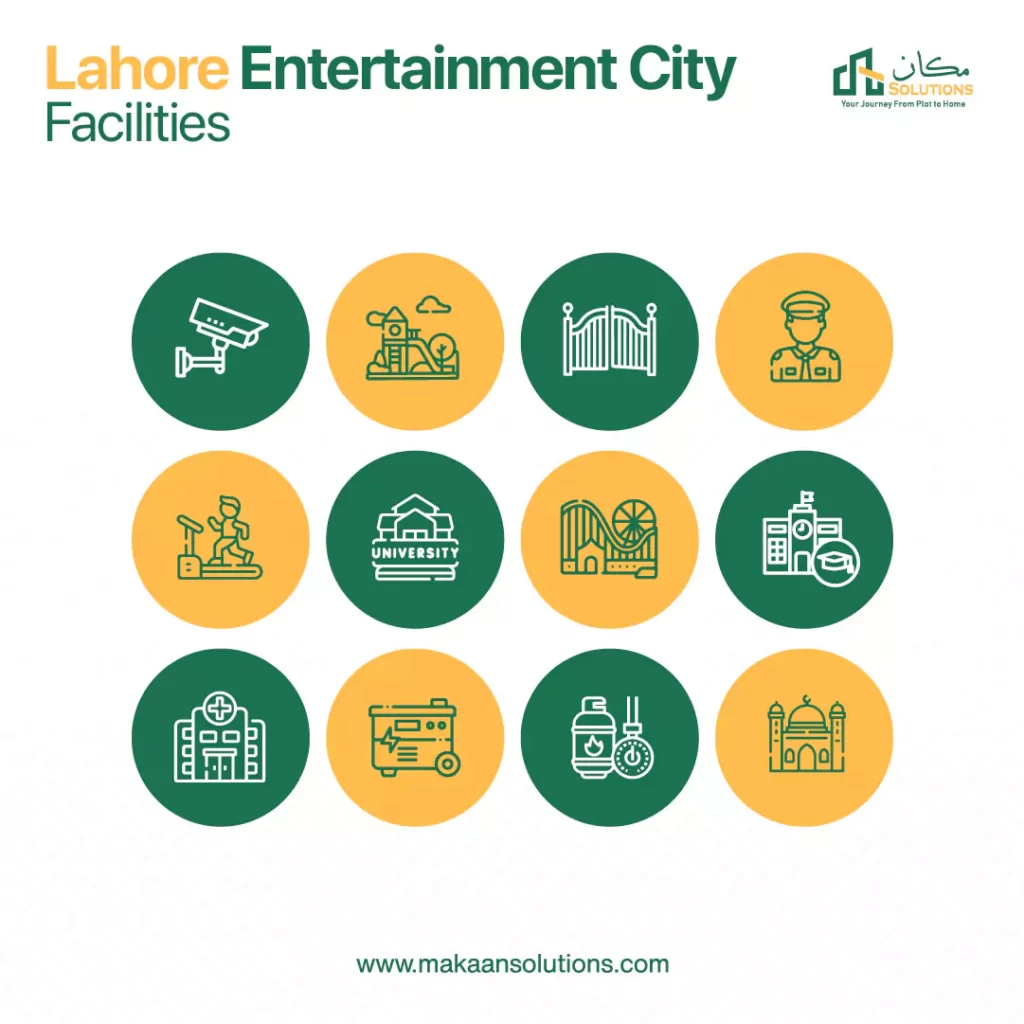 Conclusion
---
Lahore Entertainment City is going to change the residential sector in Pakistan forever. It is not an ordinary project but rather a mega-project. It is the perfect place for entertainment, luxuries, amenities, and residency. Therefore, this project by Al Jalil Developers should be on top of your list if you're about to invest in Real Estate.If you're interested in investing in a premium housing project just like this one but outside of Lahore, check out New City Paradise.

[elfsight_whatsapp_chat id="1″]