Dubai has become the home to several business sectors, including tourism and trade. Therefore, global investors have a significant interest in the Dubai real estate industry to buy and sell properties. The real estate business in Dubai has become the best source of earning a handsome amount of money by helping clients to sell or buy their desired properties. You can also use the best real estate CRM software to manage your business easily.
Dubai real estate business has been flourishing well to attract great entrepreneurs to step into this business to help foreign investors to invest in the Dubai real estate sector. Moreover, end-users can also get the opportunity of purchasing or renting residential properties to enjoy the best residential experience with the help of real estate agents in Dubai.
Comprehensive Guide for Setting Up Real Estate Business in Dubai
---
The government of UAE is also focused on helping potential Dubai real estate agents to set up their businesses to take the real estate industry to the next level. The authorities of the government also offer entrepreneurs from different countries to get visas easily with initiatives of tax exemptions and business-friendly policies. Therefore, real estate entrepreneurs can kick-start a real estate business in Dubai by following these steps:
Business Location
Business Type
Company Name
RERA Certification
Memorandum of Association
Trade License
Dubai Land Department Approval
Office Space
Business Location for Dubai Real Estate Business
---
The first step towards setting up a real estate company in Dubai is to choose the ideal location. There are two locations for starting your real estate marketing business in Dubai; the mainland and a free zone. Both locations include the different features, benefits, limitations, and requirements.
It is crucial to note that mainland provides only 49% ownership, and 51% ownership is given to the holders of Emirates ID. Moreover, the free zone offers 100% ownership to entrepreneurs regardless of Emirates ID. You need to choose a location as an integral part of the Dubai real estate business plan carefully to maximize your profit.
Real Estate Business Types in Dubai
---
The second step after selecting the location of a real estate business in Dubai is to decide the type of business. The types of real estate businesses are mentioned below:
General Partnership
En-Commendam Partnership
Private Shareholding
Public Shareholding
Joint Venture
Professional Company
Limited Liability Company (LLC)
Sole Proprietorship
You need to make a decision on your real estate business type to acquire permissions for your services. Moreover, your business must be based on your goals to facilitate the customers with phenomenal real estate services in Dubai.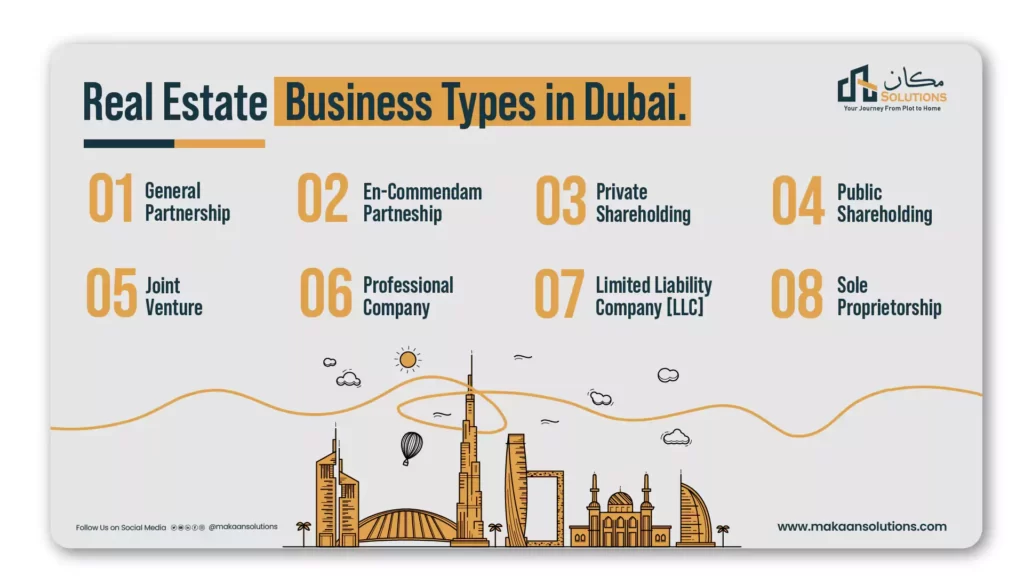 Dubai Real Estate Company Name
---
It is necessary to choose the best available name for your Dubai real estate firm after deciding on the real estate business model. You need to follow the official guideline of the government for the real estate business name in Dubai. It is suggested to add 'real estate' in the business name to make people aware of your business type.
You must interact with the Department of Economic Development to register your company with the desired name. You will get an email on the successful registration of your company as a Dubai real estate business. It is also required to get approval for related documents from Tasheel.
RERA Certification for Real Estate Company
---
You need to apply for the Dubai Real Estate Institute's Certified Training for Real Estate Brokers course (DREI). You have to pass the exam in this course to be recognized as an authorized real estate broker in Dubai for issuance of the license. Moreover, Dubai Police will provide you a Good Conduct Certificate after the completion of this essential course.
Now, you have to contact the Real Estate Regulatory Agency (RERA) to acquire a broker ID to start working as a real estate agent in Dubai. It is essential to renew your real estate license in Dubai every year.
Memorandum of Association in Dubai Real Estate
---
The Memorandum of Association (MoA) has magnificent importance in starting a real estate business in Dubai. MoA must follow protocols of UAE commercial law and the Department of Economic Development (DED). The endorsement of the Memorandum of Association is crucial for starting a real estate marketing company in Dubai.
Trade License for Real Estate Company in Dubai
---
You must forward an application for a trade license after choosing the business model and company name. DED is responsible for allocating a real estate company license on the mainland. Moreover, you have to contact the relevant authorities for license approval for free zones. Trade license for Dubai real estate business also requires a few important documents with the application.
Real estate companies also have to get a professional services license to start brokerage or real estate property management services in Dubai. Therefore, you have to submit applications and documents again for a trade license.
Dubai Land Department Approval
---
You can start real estate brokerage services in Dubai by getting approval from the DLD to start your business. This government authority is responsible for real estate activities in Dubai.
Office Space for Real Estate Business in Dubai
---
You can differentiate your real estate business from the ever-saturating industry by having a physical office space in Dubai. Your real estate office in Dubai will help you to get the customers' trust through physical interaction.
Cost for Real Estate Business in Dubai
---
The expenses of starting the real estate business vary from jurisdiction to jurisdiction and emirates to emirates. The cost of opening an office for a real estate business depends on company size, business type, and location. Let's get the calculations for starting a property business in Dubai.
AED 5,020 RERA charges for each business type
AED 6,300 RERA course fee for non-bachelors
AED 2,500-3,200 RERA course fee for bachelors
AED 15,750 RERA course fee for people without any educational qualification
So, the expected cost of starting a Dubai real estate business is around AED 21,000-22,000. The charge for a brokerage license of an LLC business model is AED 12,950.
Final Words
---
There is a constant boom in the Dubai real estate market. Therefore, it is important to start a real estate business in Dubai to make a lot of money by helping clients in selling and purchasing their properties. Makaan Solutions is also one of the top real estate companies in Pakistan to help customers to buy properties in Capital Smart City and New City Paradise.
How to Start Real Estate Business in Dubai 2023
If you want to know about How to Start Real Estate Business in Dubai 2023 Contact Makaan Solutions. Our Sales Executive Officer will provide you with all the latest information. Starting from consultation to choosing the property, and from booking to owning your dream property. For further details, please do not hesitate to contact us with the below-given information: