FDA City Faisalabad
FDA City Faisalabad is a NOC-approved residential project by the Faisalabad Development Authority with a mission of offering commercial and residential plots at an affordable payment plan. This master-planned society includes the different blocks with plot categories. You can enjoy world-class facilities within this housing scheme.
FDA City Faisalabad: City Within A City
---
FDA City Faisalabad is a new housing society within Faisalabad that is the 3rd largest city of Pakistan. This city of Punjab is known as the largest industrial hub that has a prominent role in economic growth.
FDA City in Faisalabad has become the best place for people who want to stay peacefully in the industrial city. Moreover, this residential project also ensures the highest ROI for investors because of its premium location in the city of industries. Moreover, it is the latest residential project by the government authority to facilitate the customers with secured investments.
FDA City Faisalabad Owners & Developers
---
The management of a housing society includes the owner and developers. The owner retains the rights to owning a housing scheme, while the developers are responsible for developing the society according to the owner's requirements. Therefore, it is necessary for you to know about the reliability of the management for a safe investment.
The owner and developer of FDA City Faisalabad are FDA, which is a government authority. This authority is responsible for the different developments within Faisalabad. The management at the FDA has to monitor the development of houses, residential areas, and commercial areas. This government authority includes three departments:
Traffic Engineering Planning Agency (TEPA)
Water and Sanitation Agency
Urban Development Wing
Projects By FDA
FDA is involved in the different housing societies to benefit the people. We have mentioned a few housing projects by the FDA.
Allama Iqbal Colony
Gulberg Colony
Gulistan Colony
Madina Town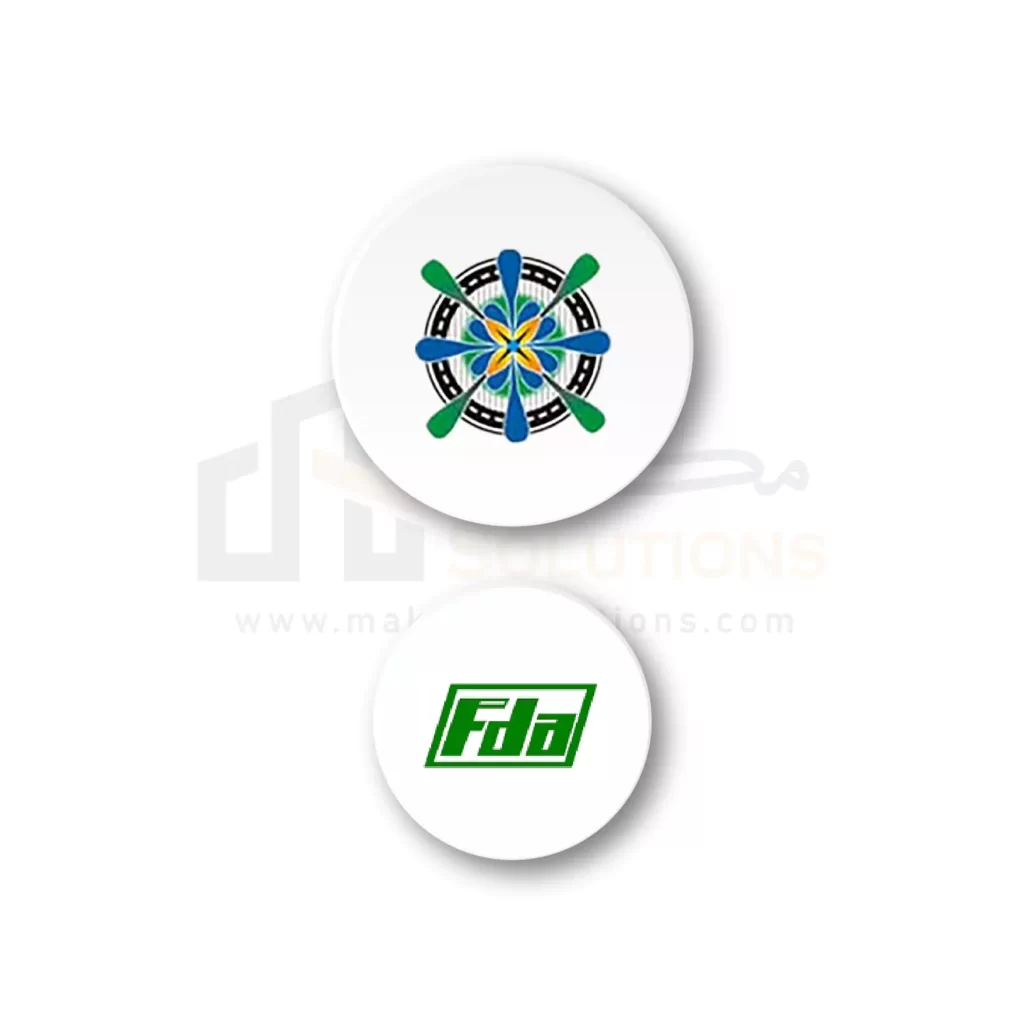 FDA City Faisalabad Location: Sargodha Road
---
The value of properties depends upon the location of the housing society. Therefore, you can't neglect the importance of location for housing schemes. The location of FDA City Faisalabad is considered ideal because it is situated on Sargodha Road. This location enables you to access society from different routes.
FDA City housing scheme is located near the Faisalabad-Multan Motorway to enable people who are traveling towards or from Multan to reach society easily. Moreover, this M4 Motorway is also connected to M2, M3, and M5 for the flexible accessibility for this residential project. This society is also the nearby University of Faisalabad to enable the residents to continue their higher education easily.
Nearby Places
A housing society becomes more valuable because of the famous nearby landmarks. Therefore, we have mentioned the FDA City nearby places for your flexibility.
Al Noor Town Welfare Society
Baab ul Jinnah Housing Society
Citi Housing Faisalabad
Grand City Faisalabad
Motorway City Colony
Motorway Valley
Omega Residencia
Khayaban Gardens
Yousuf Town
Allama Iqbal Open University
University of Faisalabad
Access Points
Accessibility also has a magnificent role in boosting the worth of the housing societies in Faisalabad. Therefore, you must know how to access FDA City.
Almost 3 minutes away from Faisalabad Interchange
Almost 4 minutes away from M-4
Almost 4 minutes away from Industrial Avenue
Almost 5 minutes away from Millat Road
Almost 8 minutes away from Ghona Road
Almost 8 minutes away from Faisalabad Bypass Road
Almost 10 minutes away from Muradabad Road
Almost 11 minutes away from Faisalabad Road
Almost 22 minutes away from Canal Expressway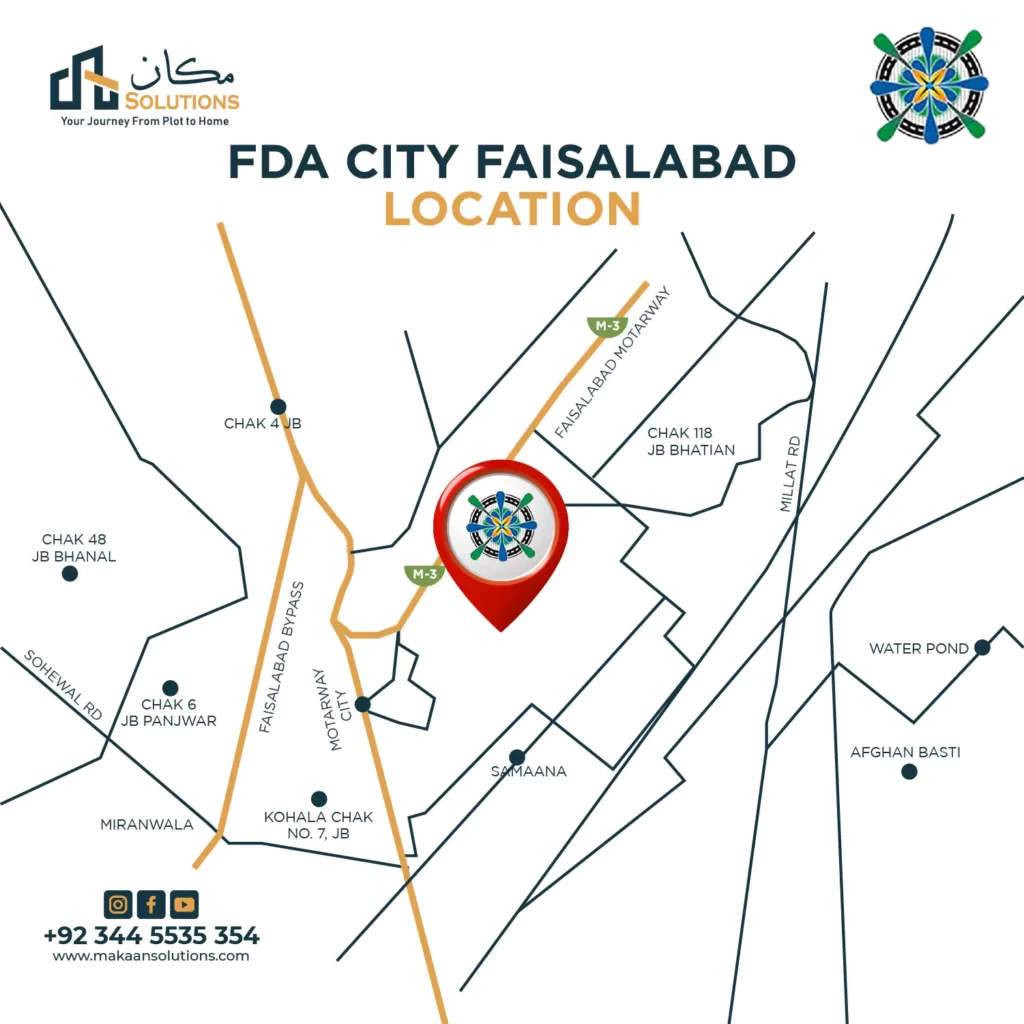 FDA City Map:
---
FDA City Faisalabad map is given below:

FDA City Faisalabad Master Plan
---
The housing societies in Pakistan are planned in distinctive ways according to the mission of the management for the customers. The management hires experienced architects and designers to plan the layout of housing schemes. Therefore, the master plan of FDA City is also evidence of great work by the experienced team.
The management has specified the blocks, residential plots, commercial plots, and ready-made houses in an area of 1,300 acres. FDA City layout plan reveals the exceptional development infrastructure.
FDA City Faisalabad Blocks
---
FDA City Faisalabad block is listed below:
Block A
Block B
Block C
Block D
Block E
Block F
Residential Plots
FDA City Faisalabad residential plots for sale in the following categories:
Houses
FDA City Faisalabad houses for sale in these sizes: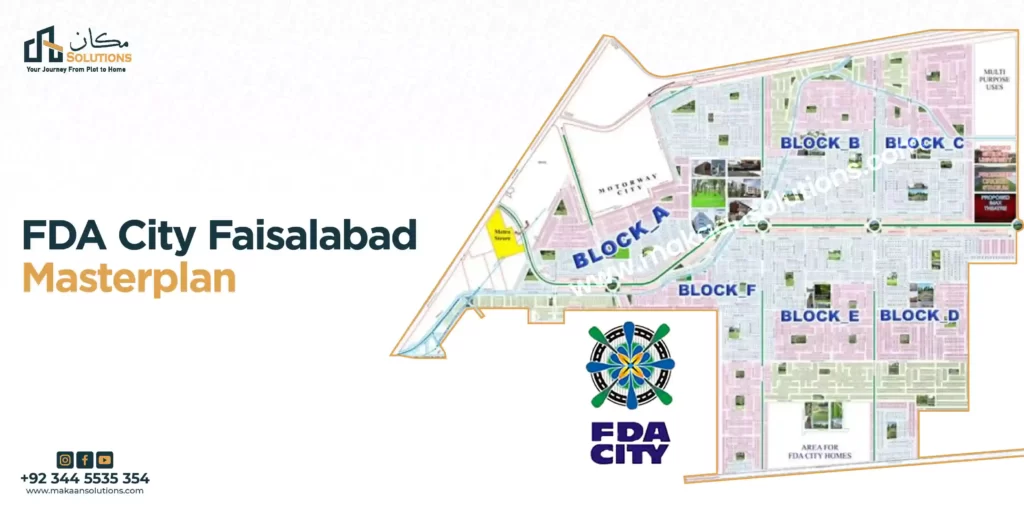 FDA City Faisalabad NOC Status: FDA-Approved Housing Scheme
---
The matter of buying plots is linked to the No Objection Certificate. Therefore, it's your responsibility to check out the NOC of a housing in which you're going to invest your saved money in the era of inflation. The legal status of FDA City is a crucial factor in purchasing a real estate property.
The NOC of FDA City Faisalabad is already approved as it is a project by FDA to offer a secure housing society to the customers. Faisalabad Development Authority is responsible for constructing this housing in a magnificent way with modern infrastructure. The management also gets the NOC approval for the supply of electricity, gas, and water. Therefore, this housing society has become a reliable place to offer the utmost convenience and comfort to you.
Total Area
---
The total area of FDA City Faisalabad is 1,300 acres to build a world-class society.
FDA City Faisalabad Payment Plan
---
It becomes necessary for you to know about the payment plan of FDA City after knowing the location. The payment schedule enables you to analyze your finances for purchasing a property.
The management has kept FDA City Faisalabad plot prices very reasonable to allow the middle-class community to purchase the plots within their limited budget. There are also houses for sale in FDA City Faisalabad at a reasonable price.
FDA City Faisalabad Residential Plots
---
There are residential plots for sale in FDA City Faisalabad to enable you to buy a plot and build a beautiful home in the presence of modern infrastructure for living peacefully. Moreover, the payment plan for FDA City plots for sale becomes easy in the presence of installment plans.
5 Marla plot
There are 5 marla plots for sale in FDA City with a three-year payment schedule:
The total price is 7,500,000
The down payment is 1,500,000
11 installments of 500,000 after every 3 months
The possession charges are 500,000
10 Marla Plot
There are 10 marla plots for sale in FDA City with a three-year payment plan:
The total price is 9,900,000
The down payment is 1,500,000
11 installments of 700,000 after every 3 months
The possession charges are 700,000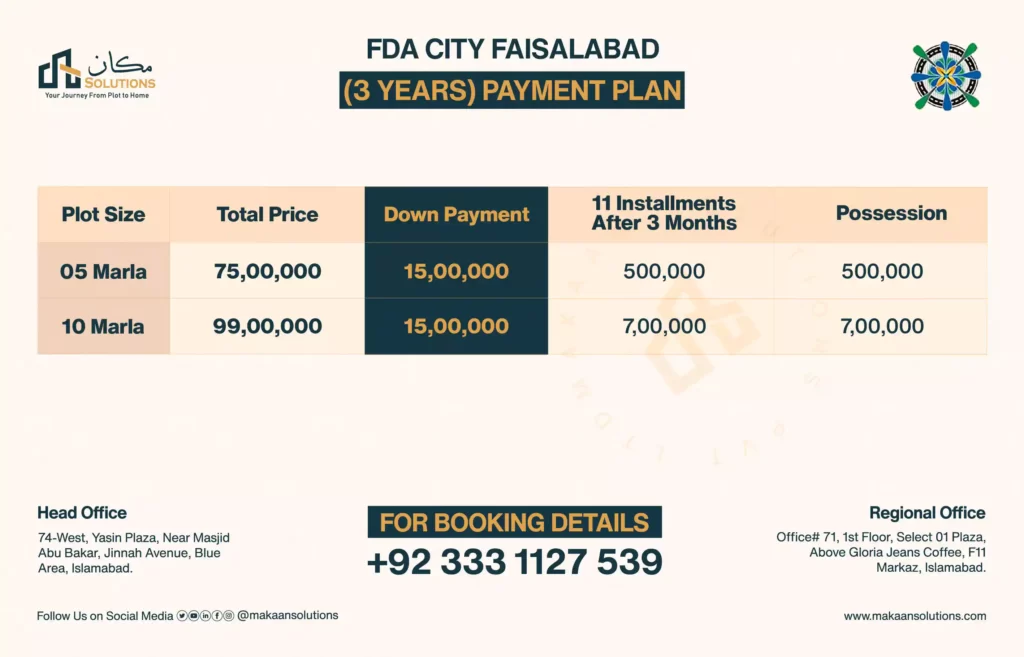 Commercial Plots
---
The commercial area has become the most valuable because of the nearby industries. There are commercial plots for sale in FDA City Faisalabad to allow the investors to earn a significant profit. You must check out the FDA City payment plan before making a profitable investment.
How to Book a Plot in FDA City Faisalabad?
---
Ready to book your plot? It's important for you to know the FDA City booking procedure that is helpful for booking a plot smoothly. The step-by-step FDA City booking process helps you to reserve a plot with the assistance of Makan Solutions.
Fill out FDA City Faisalabad application form
Include the CNIC copies and images of customers
Make the down payment
Submission of form and necessary documents
Required Documents
The booking procedure can't be completed without the submission of required documents alongside the booking form of this housing scheme. These requirements must be submitted to get ownership of your plot.
2 passport-size images of buyer
2 CNIC copies of the buyer
2 CNIC copies of Next to Kin
NICOP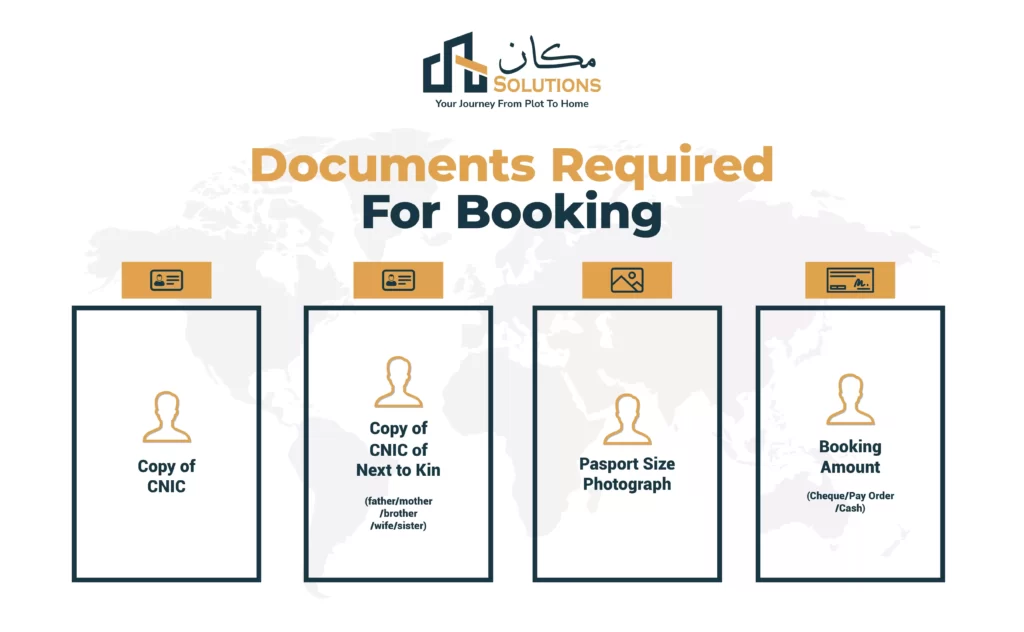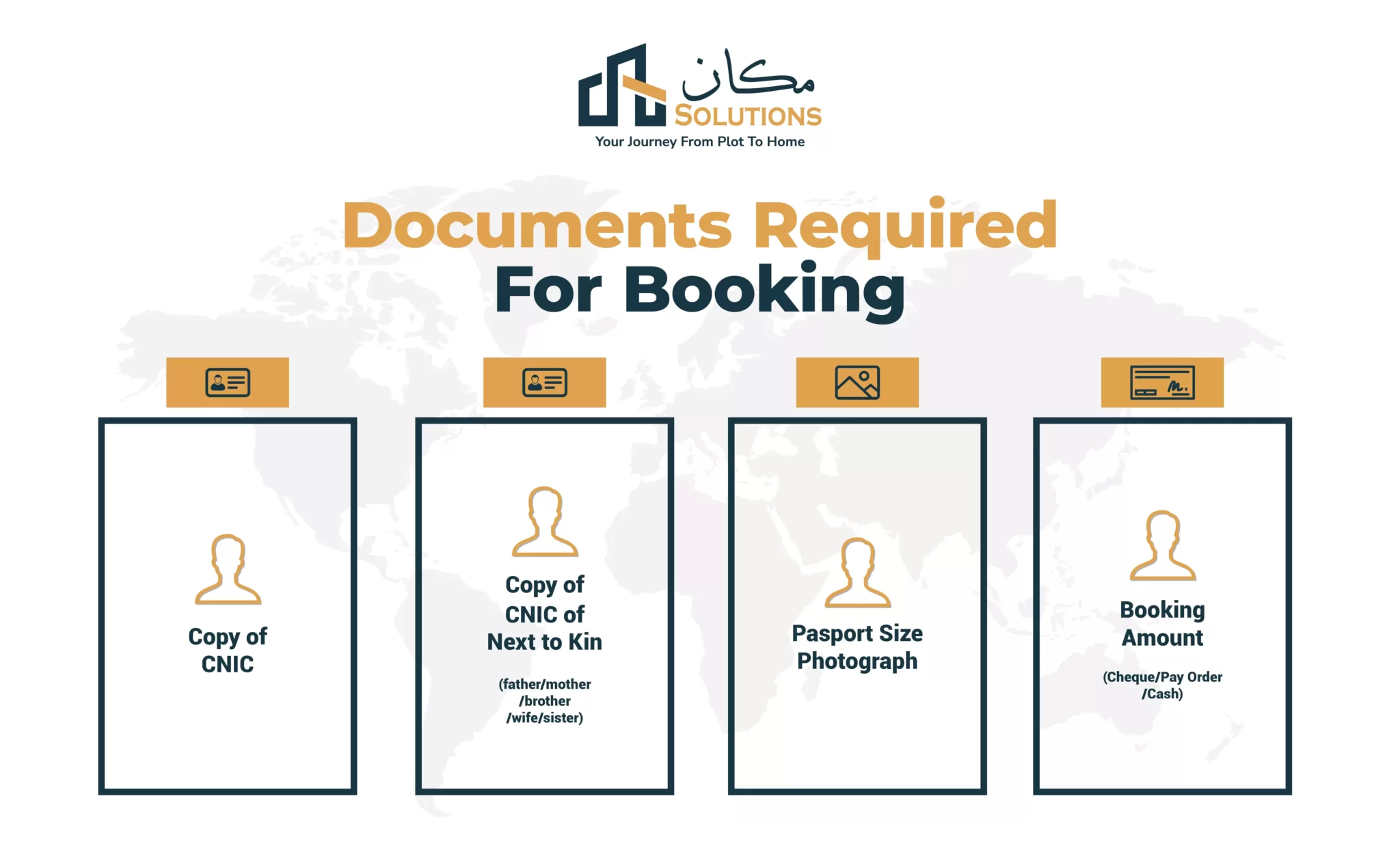 Benefits of Investment in FDA City Faisalabad
---
Every housing society offers different lucrative benefits that motivate potential customers to buy properties as the first priority. Therefore, the management of this housing scheme also offers different benefits that urge you to invest in FDA City Faisalabad.
Stable Earning
Everyone wants to have a stable income, but not everyone knows how to earn continuously without making any prominent effort. You're lucky to earn stably by investing in FDA City Faisalabad.
Financial Independence
Financial security is also a prominent benefit of making an investment in this excellent housing project. The reserved plot in society has become a valuable asset for you because it never lets you get bankrupted.
Non-Depreciable Property
Investment in different businesses goes through ups and downs. However, a real estate property is an asset that becomes valuable with the passage of time rather than losing its actual value.
Facilities & Amenities
---
The housing societies have taken over the traditional living standards of urban areas by providing world-class facilities to the community members to ensure a fantastic lifestyle. The facilities and amenities are the causes behind the people moving from the urban areas to the well-organized housing societies.
Basic Utilities
The basic needs in a residential project include electricity, gas, and water. The management has ensured the smooth supply of these basic utilities without any challenges. It means you will be able to enjoy your lifestyle in the presence of the basic facilities.
Mosques
The availability of mosques in the blocks of housing is necessary for the Muslim community. Therefore, these mosques enable you to offer prayers near your house.
Education
Education has a compulsory role in producing a well-educated community. The availability of educational institutes enables you to get an international standard education within the premises of this society.
Health
The healthcare facility is necessary for every single member of society. The availability of a hospital within the society ensures the medical services for 24/7 to deal with the different types of medical emergencies.
Security
Security is important for the residents' safety within the housing scheme. Therefore, a well-trained staff in the presence of advanced technological equipment ensures ultimate safety.
Food Court
The food court in society fulfills your need for quality and fresh food. Therefore, you don't need to go anywhere in search of tasty food.
Playgrounds & Parks
The parks are the best recreational places that enable the members to relieve their stress in the open air. The presence of green plants brings a natural refreshment for the residents.
Shopping Mall
Shopping has also become a necessary part of everyone's life. This need for shopping is being fulfilled by the development of a world-class shopping mall within society.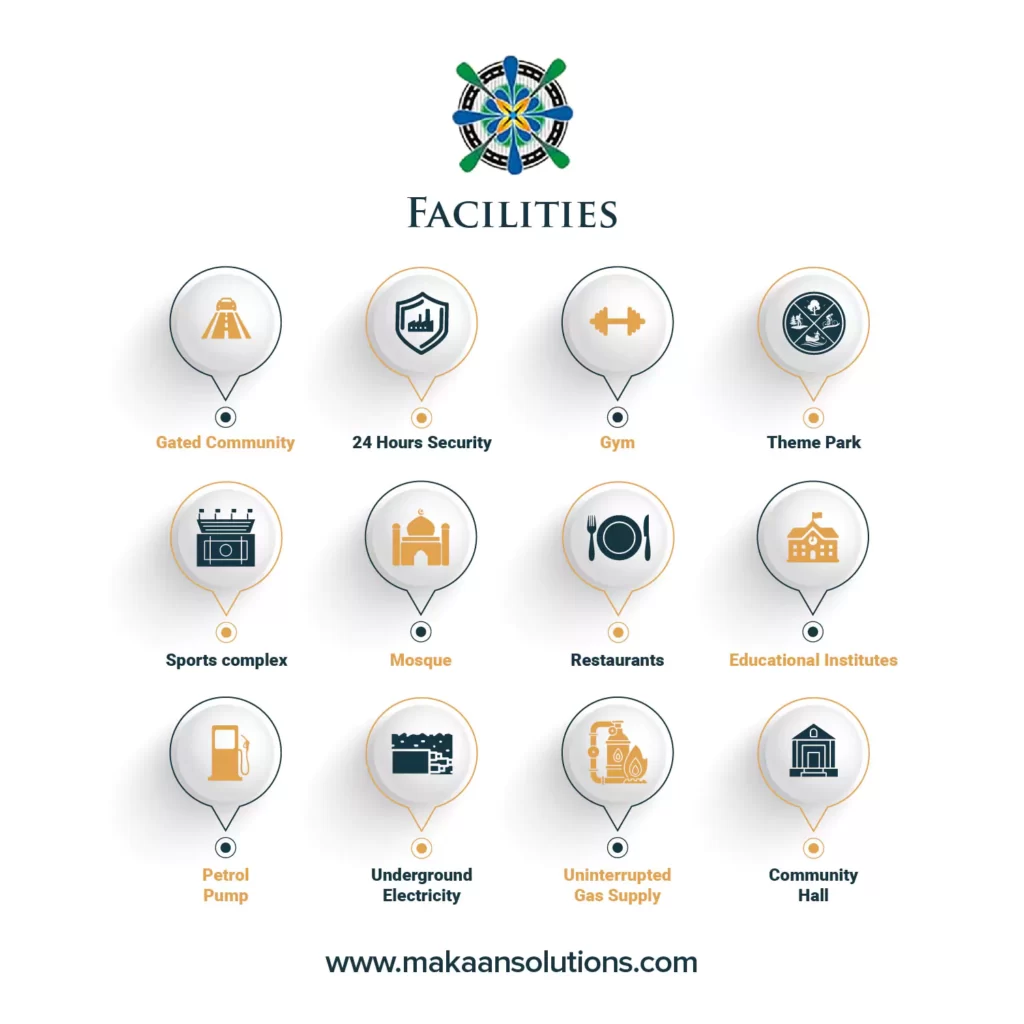 Pros & Cons
---
The pros and cons of buying plots in this housing society are given below:
| Pros: | Cons: |
| --- | --- |
| Trusted management | Perception of high Plot Prices |
| FDA-approved project | |
| Excellent locality | |
| World-class infrastructure | |
| Master-planned society | |
| Flexible installments | |
FDA City Faisalabad Development Status
---
FDA City Faisalabad pictures showcase that developers have already completed 98% of the development work to facilitate society effectively. Moreover, the developers are committed to completing the remaining development work within the upcoming days.
FDA City Faisalabad Latest News
---
Many families have started to live in this society according to FDA City latest updates. Currently, there are plots and houses available for sale in this residential project.
FDA City Faisalabad Balloting Results
---
The balloting for the remaining plots of this housing society enables the customers to get the plot number. However, you need to clear your dues to become eligible for the balloting. Moreover, you can contact the official management or Makaan Solutions to inquire about the balloting results of FDA City.
FDA City Faisalabad Possession Updates
---
The management offers possession to the customers who have the balloted plots. It is important to note that possession enables you to start construction on your plot.
Conclusion
---
FDA City Faisalabad is a modern residential project by Faisal Development Authority which means it is the most reliable for reserving a commercial or residential plot. The premium location of this housing society allows you to access the nearby educational institutes, hospitals, and famous markets easily.
Makaan Solutions is committed to helping customers to reserve their properties in this top-notch society smoothly. You can contact our experienced team to get the proper guidance for investment. Moreover, we also serve customers who want to book their plots in several housing schemes, such as Avalon City islamabad and Sialkot Motorway City.
FAQs of FDA City Faisalabad
---
What are the development charges of FDA City?
The development charges can be inquired from the official management of this residential society.
How to contact the management of FDA City?
You can contact the management through the FDA City contact number and official website.
What are the facilities in FDA City?
The management ensures basic and modern facilities such as a community center, food court, playgrounds, and a shopping mall.
How to pay installments of plots in FDA City?
You can easily pay FDA City installments through online banking services.
Why did the FDA start this residential project near the M-4 Motorway?
The purpose of starting this project near M4 is to enable you to access society easily.
Is FDA City a NOC-approved society?
It is a legal housing society by the Faisalabad Development Authority.