Blue World Trade Center is a significant addition to the Blue World City that is a magnificent gateway for economic growth in the industry of real estate. It also has become the first exchange tower for properties in Pakistan. Therefore, the Trade Center in Blue World City has all fantastic services for the acceleration of business in an effective way.
Table of Contents
Trade Center of Blue World City is another commercial place in Rawalpindi to attract real business and other relevant businesses because of the ideal location. The plan of introducing this Blue World Business Center facilitates local and international business owners with a great marvel of architectural development. Therefore, entrepreneurs will also be available to spend their leisure time apart from business activities.
Blue World Trade Center Location
---
Location of Blue World Trade Center is near Grand Trunk Road. Therefore, this location has a significant role in real estate. The investment in Blue World Trade Center is like a hot cake for the investors because of the location.
This business hub is easily accessible because it is in the vicinity of famous business zones in Islamabad and Rawalpindi. It has become an iconic trading hub like the World Trade Center to raise business standards.
Nearby Places
---
The nearby landmarks of this trade centre are listed below:
Bait-Al-Mandi
Bahria Town Hospital
Beacon House School
Blue World City Head Office
Giga Mall
Silk Mall
Accessibility
---
Blue World City Trade Center can easily be accessed from the following routes with the following estimation of time:
2 minutes away from Bahria Town Hospital
6 minutes away from PC Hotel
8 minutes away from Rawalpindi Railway Station
40 minutes away from International Airport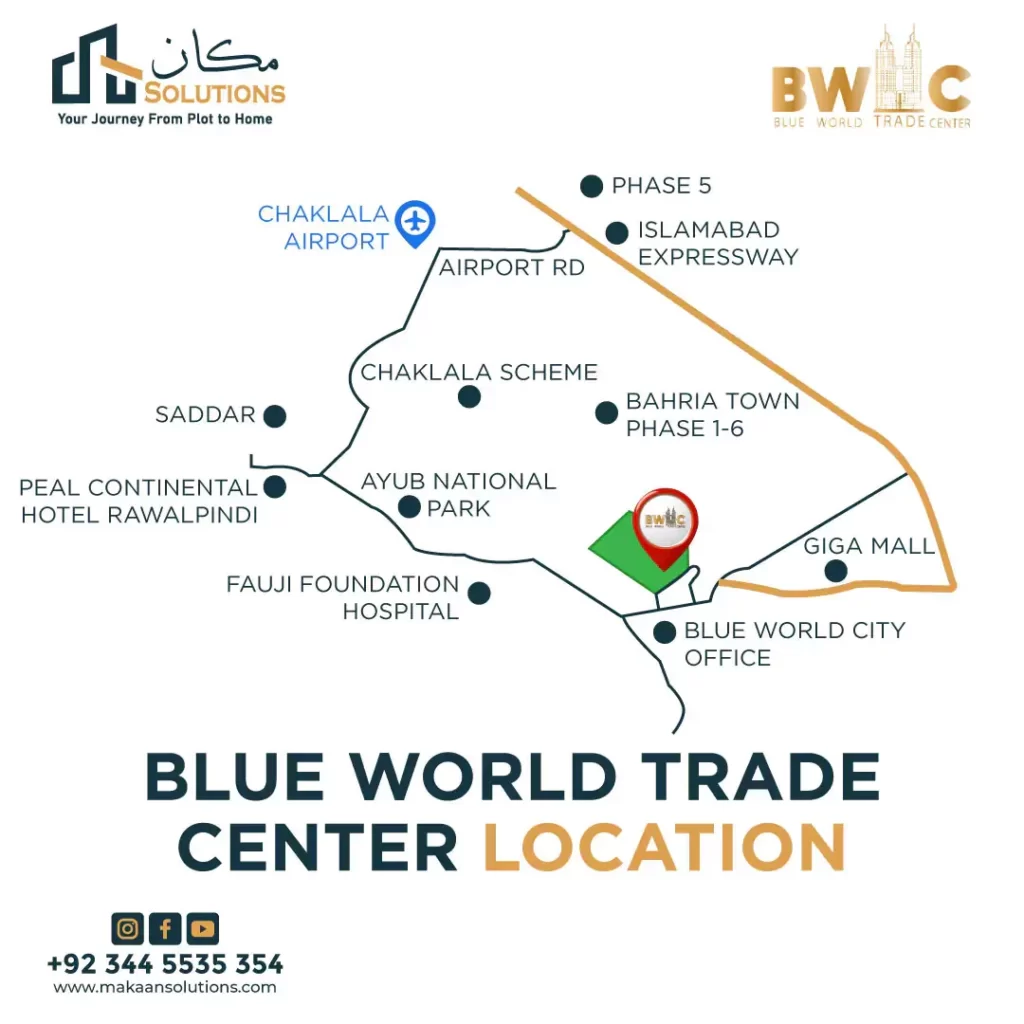 Blue World Trade Center Payment Plan 2023
---
Payment plan of Blue World Trade Center enables potential investors to earn a handsome amount of profit by making their investments. Moreover, the businessmen can reserve their commercial shops on the different floors of this new trade center in Islamabad to expand their businesses.
Installment plan of Blue World City Trade Center allows you to book your shop with a 25% down payment. You have to make a 25% payment on the completion of the grey structure. Moreover, a 10% construction amount and 10% payment is payable on the completion of the floor. 48 monthly installments have made it easy for customers to own valuable commercial properties.
Blue World Trade Center Shopping Mall Payment Plan
---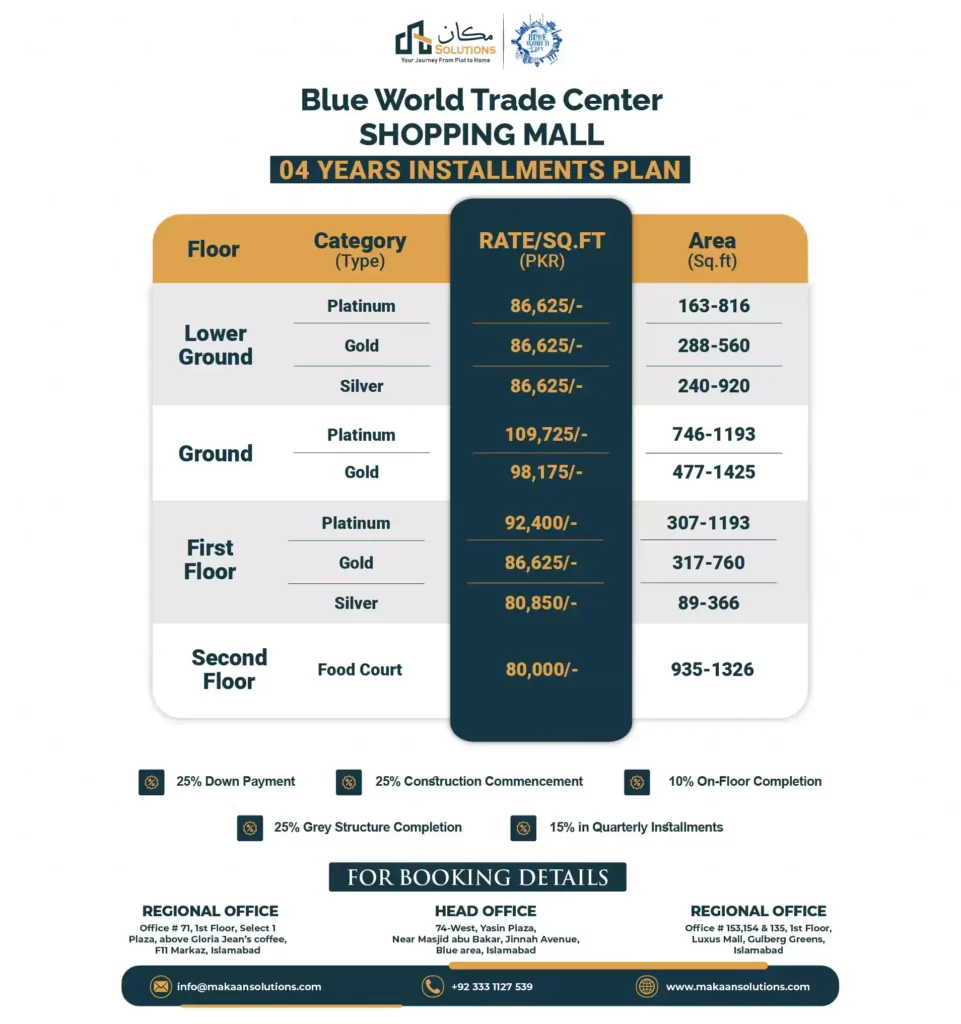 Blue World Trade Center Corporate Offices Payment Plan
---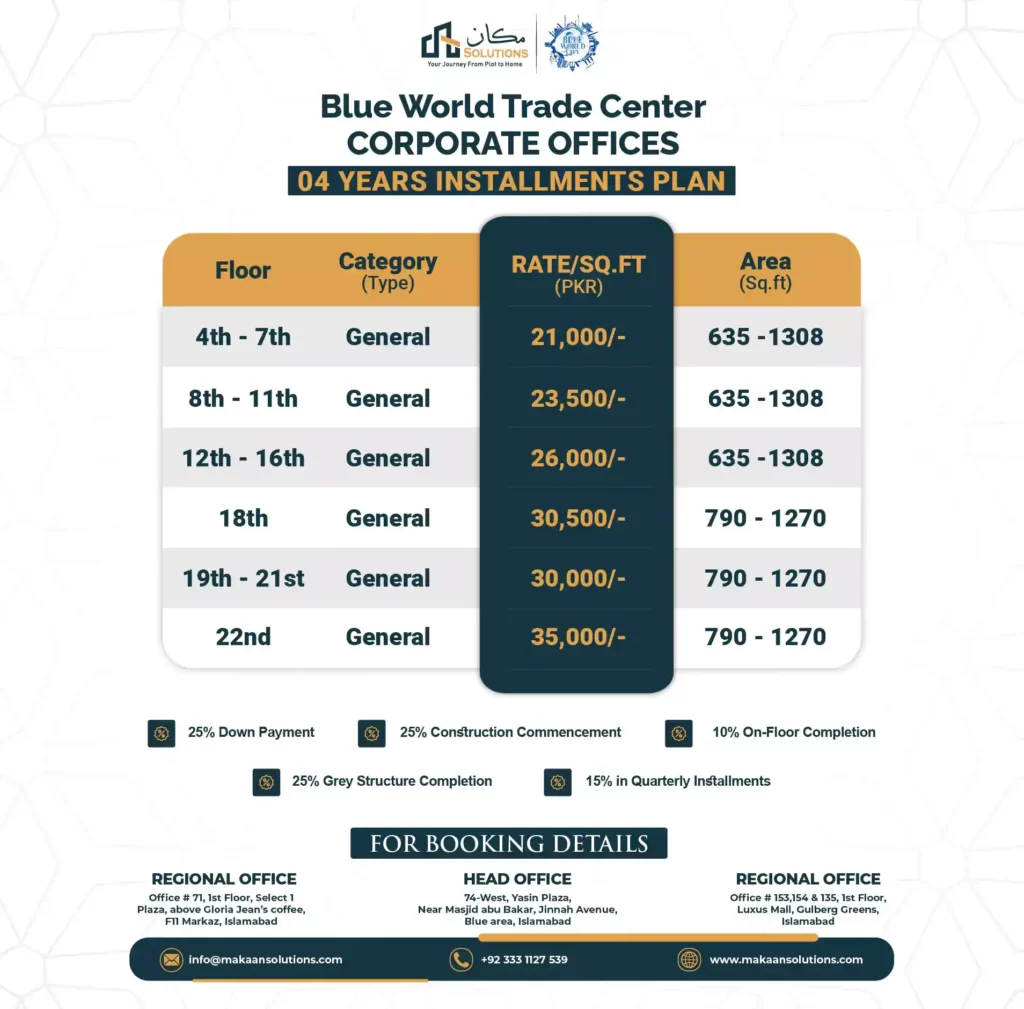 Blue World Trade Center Appartments Payment Plan
---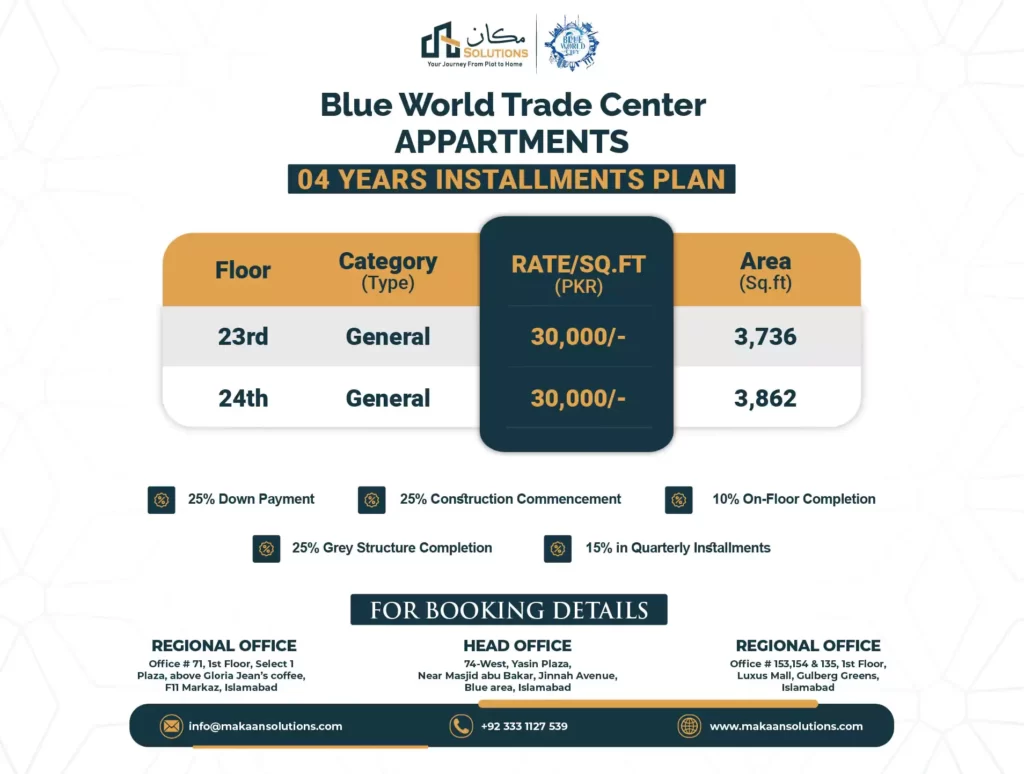 How to Book a Shop in Blue World Trade Center?
---
Blue World Trade Center booking procedure is smooth for potential business tycoons and investors. Therefore, you can reserve your desired shop in this dedicated commercial center with the help of Makaan Solutions. We have mentioned the important steps for your guidance.
Fill out the application form
Attach the essential documents
Make the down payment
Attach the receipt of paid payment
Submit the form
Required Documents
We have listed down the important documents:
Buyer's 2 CNIC duplicates
Buyer's 2 images in the passport-size format
Next to Kin's 2 CNIC duplicates
NICOP for overseas Pakistanis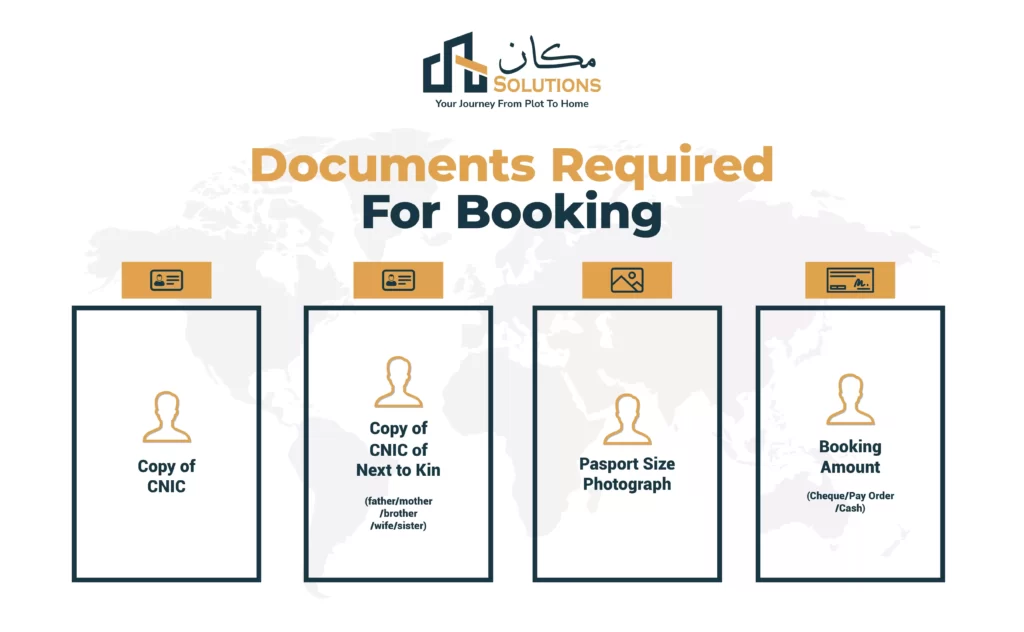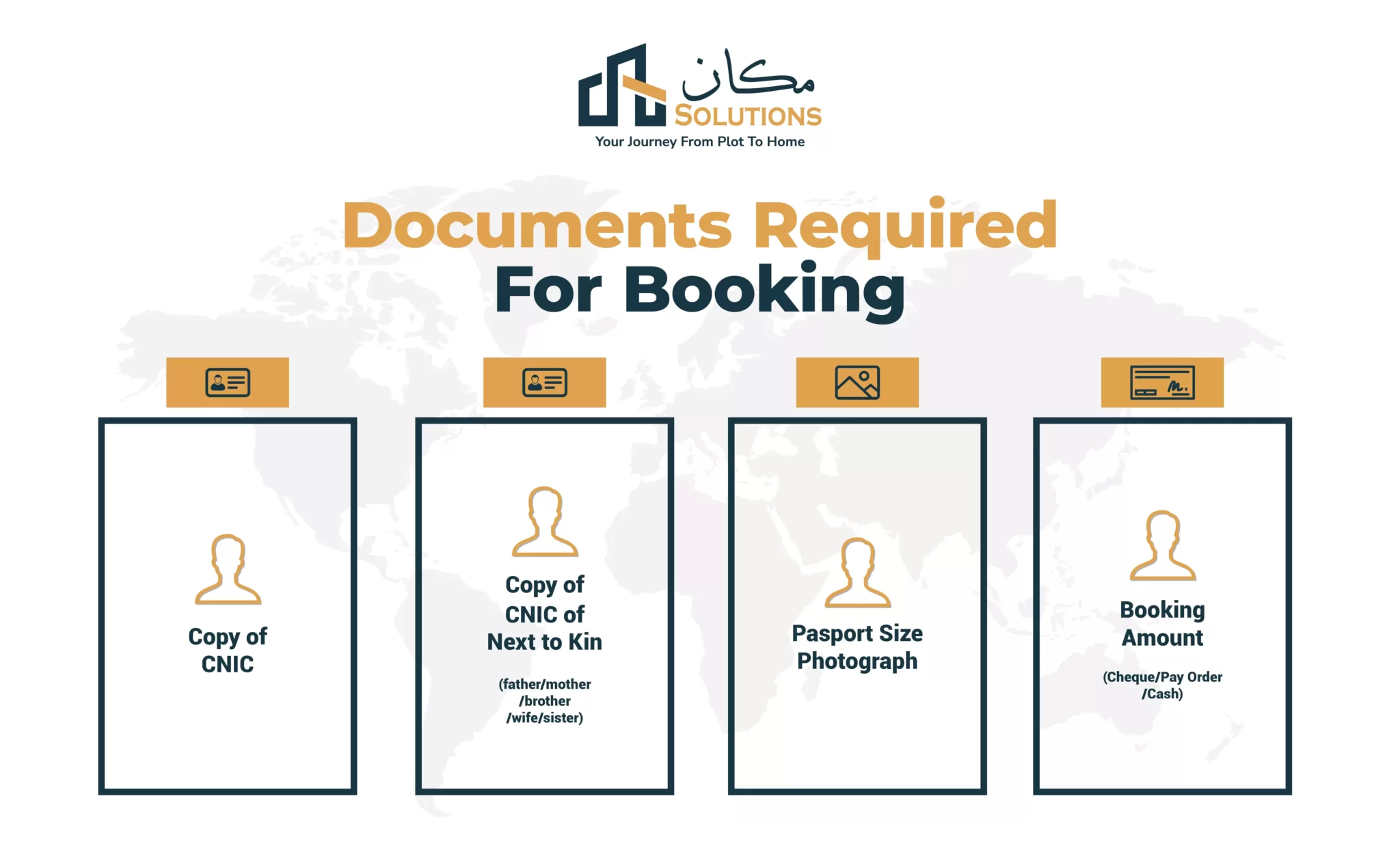 Why invest in Blue World Trade Center?
---
There are different reasons to invest in Blue World Center, due to which several investors have started to invest in this commercial project. You are going to get several benefits of investment in the Blue World Trade Center.
Ideal Location
BWTC is available in the ideal location of society. The investors consider this commercial project in Blue World City as a hot cake because it is located in the neighborhood of famous landmarks like Giga Mall and PC Hotel.
Affordable Prices
The shop prices in this commercial project have been as low as possible to ensure maximum profitability for investors in the era of high inflation. The payment schedule allows every customer to own a shop by paying affordable monthly installments. 
Potential for High ROI
The premium location and a reasonable payment schedule also ensure the high potential for a magnificent ROI. You can buy your shop in BWTC at the pre-launch rates to get the highest returns.
Steady Cash Flow
There are different shops on the different floors this commercial project that ensure steady cash flow for all customers. You can rent your shop in this trade center to earn the monthly rent to avoid any financial crisis.
Short-Term & Long-Term Investment
The floors of BWTC consist of various types of shops that allow you to make short-term and long-term investments. You can get the benefits of long-term investment in the Blue World city. Moreover, short-term investment is also profitable for potential investors.
How is BWTC a good option for business?
---
Blue World City is a famous residential project that has also successfully launched the Waterfront District. The payment plan of Blue World Trade Center is reasonable, due to which several businesses kick start their journey in the heaven of business. It is a good option for businesses due to the flexible plan of installment.
It has become a successful choice for investors because of the reasonable price. The replica of PETRONAS Tower has an affordable payment schedule to enable investors to get a significant yield. Moreover, it's a fact that payment plans can be distinctive for available twenty-three floors depending upon the location.
Blue World Trade Center Master Plan
---
Structural plan of Blue World Trade Center shows that the commercial building consists of 27 storeys with a height of 500 feet. This high-rise building in Blue World City is going to become a hub for different business activities. This commercial center consists of corporate offices, an open food court & restaurants, and shopping malls.
The management has divided the twin towers of Blue World City into the following floors:
Basement
Lower Ground Floor
Ground Floor
1-27 Floors
Layout Plan
Layout plan of Blue World Trade Center shows that developers have specified the available services for every floor to enable the customers to find their desired services easily without visiting all 27 floors.
Basement 1&2: Car Parking
Lower Ground, Ground, and 1st Floors: Commercial Hubs & Shopping Malls
2nd Floor: Head Office of Blue World City
3rd Floor: Services Area
4th Floor: Terrace & Corporate Offices
5th-12th Floors: Corporate Offices
13rd Floor: Executive Chamber & BGC-IGC Head Office
14th-22nd Floors: Corporate Offices
23rd & 24th Floors: Loft Apartments
25th Floor: Services Area
Blue World Trade Center Owners & Developers
---
Developers of Blue World Trade Center are Blue Group of Companies. BGC is a prominent name in Pakistan real estate. They are committed to offering a world-class outlook to this magnificent commercial building. The vision of developers for this commercial project is to give a diverse standard for fast development.
Owner of Blue World Trade Center is Mr. Saad Nazir, who is a well-known personality in the real estate industry because of leading an excellent and well-experienced group of developers to set new development standards.
Projects by BGC
Blue Town Sapphire
Central Park Lahore
PIA Cooperative Housing Society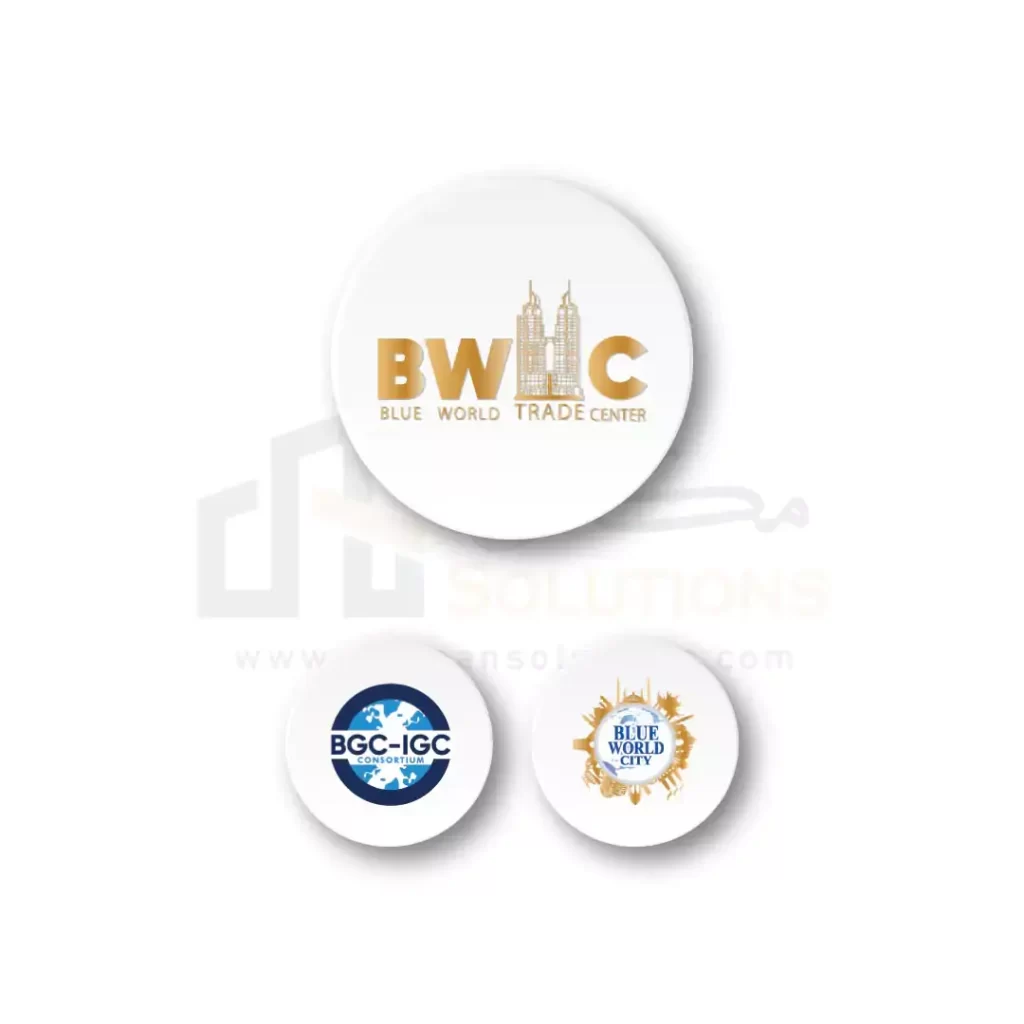 Blue World Trade Center NOC Status
---
NOC of Blue World Trade Center is already approved as it is part of a legal housing society. Therefore, this commercial center is legally approved to ensure secure investment opportunities for investors. You can make an investment in this legal trade center in Blue World City.
Is BWTC a Replica of the Twin Towers?
---
The BWTC is the replica of the twin towers that are internationally based in Kuala Lumpur, which is a famous city in Malaysia. The twin towers are the tallest buildings. The magnificent development of BWTC has made it brilliant in the tall towers on this planet. Its master plan allows you to start your business in this best commercial area. The layout plan of floors enables you to spread your commercial activities. It also instructs you with the entire information to provide the potential investment profitability for investors.
It will be built similarly to the twin towers to improve its appearance. There are luxurious amenities inside this business tower. It will be the most modern business center ever built to be found in Rawalpindi as well as Islamabad.
What are the features of the Blue World Trade Center?
---
The features of BWTC make it the best commercial choice for investors and business owners.
Meeting Rooms:
The meeting rooms are typically utilized for corporate ceremonies and gatherings to grow the business. BWTC offers a variety of boardrooms for commercial enterprises. Moreover, BWTC includes rooms equipped with air conditioning and impressive multimedia tools because nobody wants problems or technical issues when the client is engaged in an event.
Corporate Offices
BWTC offers employees spacious and clean workspaces to boost productivity. The workstations and corporate offices in Blue World Trade Center are easily accessible for business growth. Moreover, the building includes everything for the comfort of employees. The trade center has different employee areas equipped with Wi-Fi and lounges where employees can unwind during breaks.
Elegant Apartments
It's a nice fact that you have all the facilities to bring an amazing residential experience to your residency. There are fully-equipped and furnished apartments in BWTC to fulfill all your needs. The stylishly constructed apartments fulfill residents' needs.
Hotels
There are the best hotels with a premium reputation in BWTC that offer their guests personal benefits, various amenities, and luxurious accommodations. The management has plans to offer guests comfort, style, and luxurious experiences according to the customers' expectations.
Restaurants
The stunning project also comprises exquisite dining establishments and a cafeteria. The business hub includes the services of the best restaurant to enhance the comfort of the residents as well as the business owners.
Blue World Trade Center Development Status
---
Development status of Blue World Trade Center shows that development will be completed very soon because of developers' commitment and exceptional infrastructure strategies.
Blue World Trade Center Latest News
---
There are Loft Apartments for sale in Blue World Trade Center that offer a world-class lifestyle to the concerned customers in accordance with the latest updates. The updated rates have been announced for the available shops and apartments.
Pros & Cons
---
The pros and cons of this trade center have been mentioned:
Pros:
Reliable developers
Premium location in society
Legal commercial project
Modern Infrastructure
Exceptional Development
Excellent floor plans
Cons:
Final Thoughts
---
It's a fact that people struggle to find a premium location that helps them to grow their business in no time. Therefore, this new business project has become the apple of the eye of investors, who are always finding ways to get a huge yield. The booking is open for Blue World Trade Center, which has become easier with the help of leading real estate firm Makaan Solutions. This is the best real estate firm that deals in various residential projects, such as Faisal Town Phase 2 and New City Paradise.
Faqs About Blue World Trade Center
---
Where is Blue World City Trade Center located?
The Trade Center of Blue World City is located near GT Road for magnificent accessibility.
How tall is the Blue World Trade Center?
This trade center consists of 27 storeys to include various commercial services and apartments for a fantastic living experience.
Who is the CEO of Blue World Trade Center?
Mr. Burair Nazir is the CEO of this commercial venture.
What are the updates about Blue World Trade Center jobs?
Jobs in Blue World City Islamabad World Trade Center will be available after the completion of development.
Is the Blue World Trade Center installment plan monthly or yearly?
The monthly installment plan is available for this commercial project.
What is the benefit of investing in Blue World Trade Center?
You will get the highest ROI through long-term and short-term investment in this commercial venture.
How to buy an apartment in the Blue World Trade Center?
You can buy your apartment in this phenomenal trade center with the help of Makaan Solutions.
Blue World Trade Center
If you want to know about Blue World Trade Center Contact Makaan Solutions. Our Sales Executive Officer will provide you with all the latest information. Starting from consultation to choosing the property, and from booking to owning your dream property. For further details, please do not hesitate to contact us with the below-given information: