Are you looking to buy your property in the largest real estate in Dubai? You don't need to look anymore because Arabian Ranches Dubai is the largest secured community in the United Arab Emirates. EMAAR Properties launched this phenomenal project in 2003 by introducing excellent facilities for the residents.
Dubai Arabian Ranches has become the most valuable community in the United Arab Emirates. The initial phase of this world-class project was completed in 2005, and developers kept expanding this project to facilitate more people with magnificent services.
This is a famous project in Dubai because of its high-end facilities in the presence of well-developed grounds and beautiful interiors. Therefore, this project has become the ultimate attraction for foreign investors who are seeking to live and expand their businesses.
Arabian Ranches Dubailand Phases
---
The community of this project has been enjoying the best facilities in the heart of Dubailand as the developers have expanded the whole project over 3 phases. You have the opportunity to reserve your property in the desired phase to enjoy the best lifestyle. Moreover, your property's value will be increased over time to ensure the highest ROI.
Arabian Ranches 1 Dubai
---
It is also known as the first phase of this phenomenal project. EMAAR Properties started this phase in 2003 and completed it in 2005 due the excellent and fast development. The residents of this phase have access to the best amenities, such as a community center. You can experience a lavish lifestyle in this gate phase 1 of the largest residential project in Dubailand. Ranches I consist of 1,650 acres, including communities and a golf course.
Arabian Ranches 2 Dubai 
---
The availability of Arabian Ranches 2 villas for sale are beautiful properties with elegant architecture. This phase was started in 2013 after experiencing the magnificent interest of the users in the first phase. Camelia Arabian Ranches 2 is one of the best communities in Dubailand to own a valuable property. It is crucial to consider the Reem community because of the elegant floor plans. The total area of Ranches II is 367.309 acres, including the different property types.
Arabian Ranches 3 Dubailand
---
Arabian Ranches 3 master plan includes the different sub-communities to ensure magnificent living standards for residents with a high ROI for the investors. The developers initiated this phase in 2019 after the success of the first two phases. This phase also includes the different sub-communities to offer a luxurious lifestyle. Arabian Ranches 3 floor plans to ensure the excellent construction of properties. The new phase of the Ranches project in Dubai includes an area of 7.5 acres.
Arabian Ranches Location Map
---
This project is located within Wadi Al Safa 6 that can be accessed through Sheikh Mohammed Bin Zayed Road and Umm Suqeim Road. You can travel on Al Qudra Road to reach the location of this project. Arabian Ranches 3 location is close to the Global Village to offer the elegant properties. The property prices are going upwards because of neighbors, including Motor City, Damac Hills, Dubai Lifestyle City, Dubai Studio City, Dubai Butterfly Garden, and Hamdan Sports Complex. 
Villas & Townhouses for Sale in Arabian Ranches
---
Townhouses and villas are available for sale and rent in the Ranches community. These available properties are being developed on elegant and modern architecture. Different types of villas and townhouses are available to offer an elegant lifestyle. You can buy a villa or townhouse to experience the marvelous living standards in this society. Arabian Ranches rent is also very reasonable to facilitate the people who have moved to Dubai for their professional careers. There are 4,000 townhouses and villas in Ranches 1, while 1,724 townhomes and villas are for sale in Ranches 2. Moreover, Ranches 3 consists of more than 4,000 villas and townhouses.
Facilities & Amenities 
---
The adorable amenities and facilities are available in this elegant project to bring comfort to the residents' lives. Therefore, you must overview the available facilities in the Ranches Dubai project.
The Ranches Souk
Arabian Ranches 2 Souk is a phenomenal shopping center to include more than 35 retail units on two floors. There are different businesses that are growing well due to the ideal location of this shopping mall.
Ranches Shopping Centre
This is the best shopping center in Ranches 1 to offer a luxurious shopping experience to the users by introducing 20 retail outlets and 1 healthcare center along with a mosque.
Arabian Ranches Golf Club
Nicklaus Design and Ian Baker-Finch jointly designed this 18-hole and 72-par course to offer an elegant golf course experience to the users.
Emirates Equestrian Centre
Andalusian-style Equestrian Center is one of the best commercial projects in Ranches. It is home to several events and services, including horseback trail riding, jumping show, and polo.
Education
The first two phases include the world-class educational system to ensure high-standard education for the residents. Ranches Primary School and Jumeirah English Speaking School enable the students to excel in society effectively because of the National British Curriculum.
Healthcare
There are different hospitals and clinics in Ranches to ensure the best health for residents in the presence of modern medical equipment and well-qualified medical staff.
Community Center
Arabian Ranches Community Center is home to several well-known fast food outlets such as Pizza Hut and Burger King to offer a delicious food experience along with a magnificent shopping experience to the users.
Parks & Playgrounds
There are several playgrounds and parks with climbing, slides, and swing structures. The playgrounds also include the sporting courts for tennis and basketball.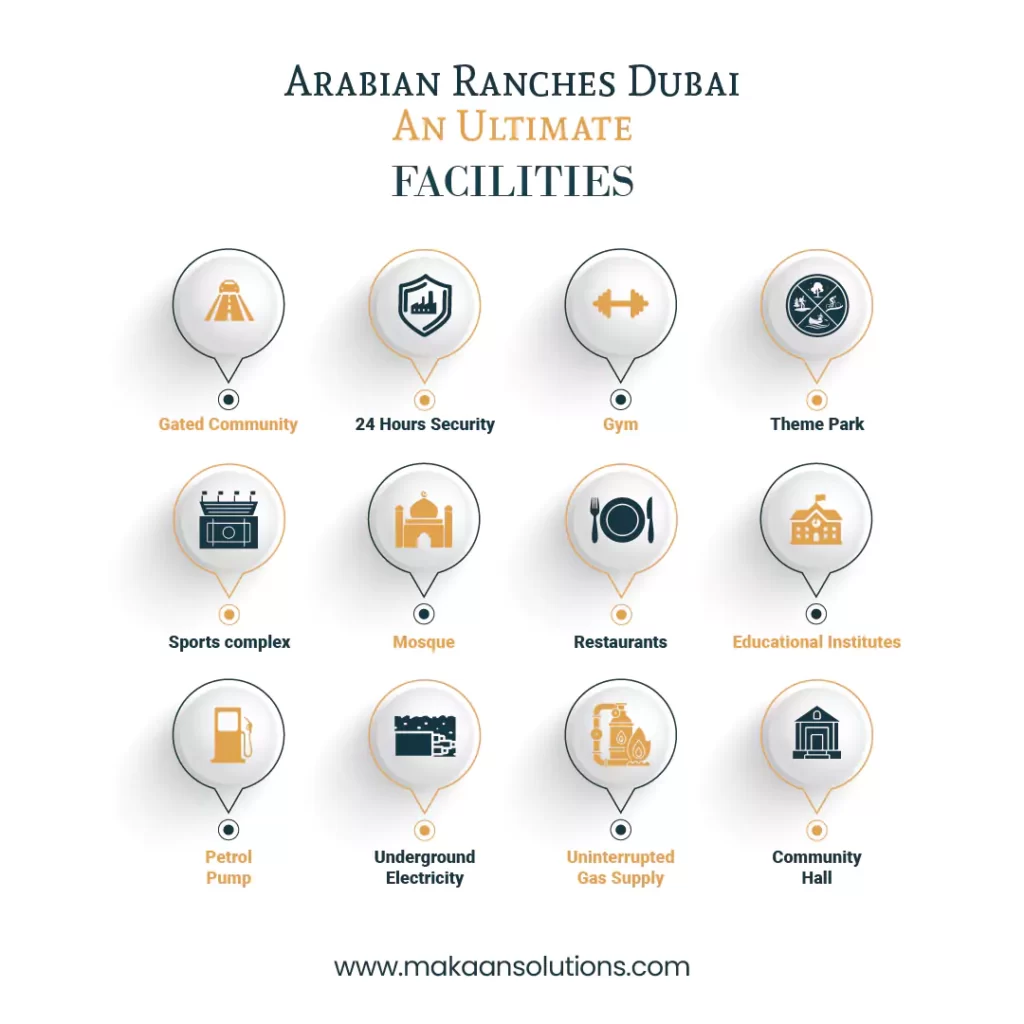 Why invest in Arabian Ranches?
---
There are several reasons for investing in Arabian Ranches that enable you to get a marvelous amount of profit with a short timeline. Let's have a look at the potential factors that have an immense role in high profitability.
Experienced Developers
EMAAR Properties in Dubai is one of the best developers in UAE with a phenomenal record of developing excellent projects. This is an innovative and valuable real estate company in Dubai to develop commercial and residential properties. Therefore, it has become a reliable project for investment in Dubai because it is being developed by EMAAR Properties.
Sub Communities
There are more than 29 sub-communities that offer townhouses and villas in distinct sizes to ensure the best investment opportunities for investors globally. These sub-communities offer the highest return on investment to the customers.
Capital Appreciation
It is one of the most appealing factors in today's Dubai real estate market that attracts new and experienced investors from different countries. This project in Dubailand offers the highest capital gains.
High Rental Value
The project is the perfect place to live for foreign and local users who want to access international facilities at a reasonable price. The premium location with a neighborhood of the best projects ensures a high rental yield for investors.
Conclusion  
---
We have discussed thoroughly the Arabian Ranches project, which has a high potential for investment. Your way to profitable investment has become easier with the high-end services of Makaan Solutions. You can also consider other potential projects such as Business Bay, Avalon City, and Dubai Creek Harbour.
Arabian Ranches Dubai: An Ultimate Guide
If you want to know about Arabian Ranches Dubailand Phases Contact Makaan Solutions. Our Sales Executive Officer will provide you with all the latest information. Starting from consultation to choosing the property, and from booking to owning your dream property. For further details, please do not hesitate to contact us with the below-given information: