There are many reasons that can be a worth full enough to invest in prime valley Islamabad. But few are best enough to get you ready right away. By far, this society has presented the pre-launch rates, so investors are eager to invest in this economical housing society. Why? Let's discuss the major reasons in detail.
Affordable Payment & Installment Plan
---
Prime Valley Islamabad Owners are especially focusing on the payment plan. The main goal of them is to provide an economical and affordable payment & installments Plan. This is rare to find affordable in that region of Islamabad & Rawalpindi. Experienced owners have succeeded to create a good and economical payment plan. This is the most important treason to invest in Prime Valley Islamabad.
Location Accessibility from Islamabad & Rawalpindi
---
Prime Valley Location is another reason to invest in it. Society is located near Chakri road and can be accessed from many important roads and other societies. According to Prime Valley Islamabad Management, the society is located near Moza Sehal near Blue World City. Moreover, important roads like the Srinagar highway, Ring Road Rawalpindi, M-2 Motorway, and New International Islamabad airport can be accessed
Legal Society Under Naya Pakistan Housing Scheme
---
Prime Valley Islamabad is a legal society as per Naya Pakistan Housing Society. Naya Pakistan Housing Scheme is providing quite good results by backing up many housing projects. So, this is also one of the best reasons to invest in Prime Valley Islamabad.
Experienced Owners & Developers
---
Prime Institute of health sciences is the owner of Prime Valley Islamabad. They have worked with many other housing projects too which shows their experienced background of them. For now, they are considering a few developers for the society, and soon their names will share by them
Scope of International Investment
---
Due to experienced owners, premium and accessible location, and legal status under the governmental scheme, there will be international investments. Just like other housing projects near it, international will move towards it too. Owners are also in talking terms with national and international developers and design partners. Soon society will start to provide international features.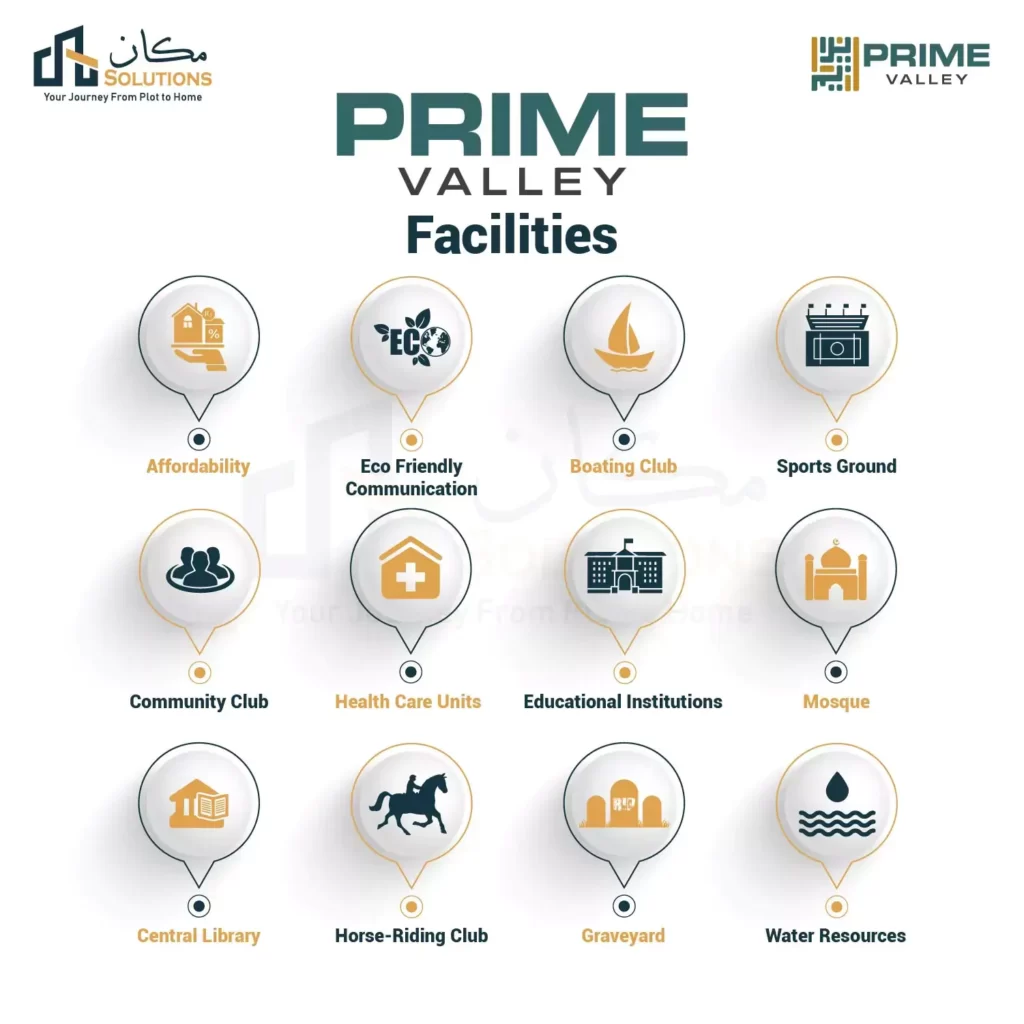 Prime Valley – Most Affordable Society of Islamabad
---
Prime Valley Islamabad comes under the Naya Pakistan Housing scheme, so it is a legal and NOC-approved housing society. It is getting a lot of attention from the public because its payment plan is the most affordable in the region to invest in prime valley Islamabad.
Prime Valley Islamabad Payment Plan & Plot Sizes
---
Prime Valley Payment plan is the main reason for affordable plots and properties here. This payment plan gives real estate and investors a chance to get properties at the most economical prices. This has been designed to provide profit in the long term and for a short time.
Prime Valley Residential Plots
---
Society will have residential plots of different sizes as follows:
5 Marla
10 Marla
1 Kanal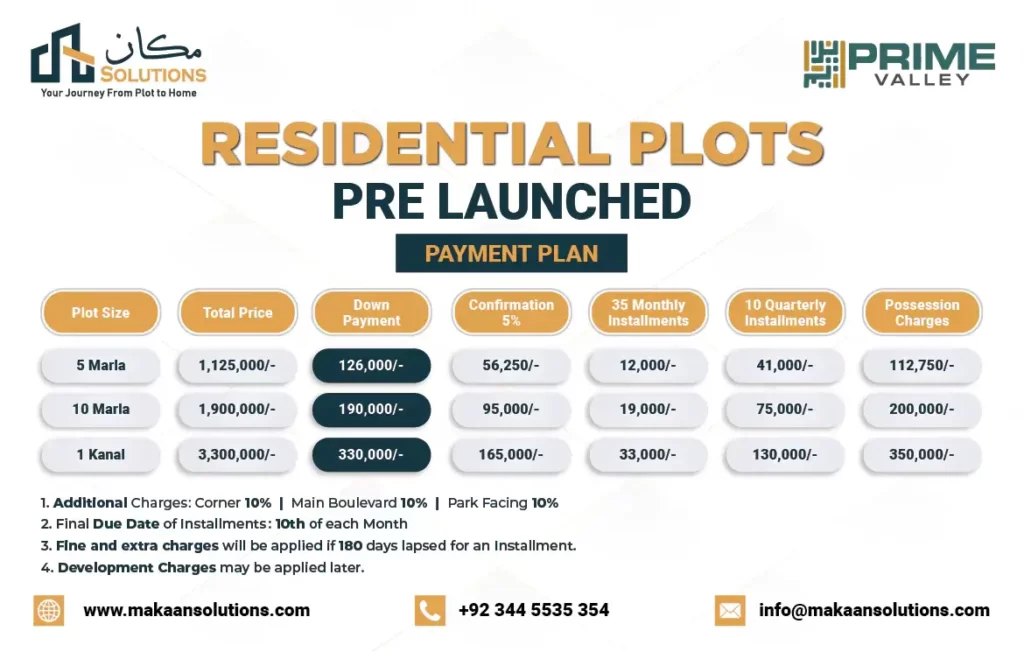 Why Prime Valley is the most affordable Housing project in Islamabad?
---
The Prime Valley Islamabad Housing project is new in this region. But society's primary purpose is to provide affordable properties in Islamabad and Rawalpindi. That's why payment & Installment plan 2023 has been made very cheap and easy. This is proof that owners are not here to gain profit but to provide high- a quality lifestyle with family and friends. Getting this many affordable plots in the commercial area of Islamabad is the only example of Prime Valley Islamabad, and this is the best chance to invest in a prime valley housing project and get a place here before it all sells out.
Makaan Solutions broad research helps keep track of your decisions through every stage of your investment procedure. We aim to ensure your entire investment is safe and provide various solutions to increase your return from real estate investment. For booking and consultations, contact us Now!
Why Invest in Prime Valley Islamabad
If you want to know about Prime Valley Islamabad, contact Makaan Solutions. Our Sales Executive Officer will provide you with all the latest information. Starting from consultation to choosing the property, and from booking to owning your dream property. For further details, please do not hesitate to contact on the below given information: