Prime Valley Location is near Chakri Road Interchange. Chakri Road is a safe approach to nearby areas. Many vital roads and societies are within reach of this society, making the housing project the best investment for the inhabitants of the twin cities. As per the management of Prime Valley location is near Moza Sehal, which is close to the M-2 Islamabad-Lahore Motorway, Blue World City Islamabad and these prime locations make this housing society very accessible, which is a great opportunity for investors to invest in the prime valley and double your investment with zero risk.
Prime Valley Location and map
The ideal Prime Valley location enables easy access to important places like M-2 Motorway, Islamabad International Airport, Capital Smart City, Srinagar Highway, Kingdom Valley, and Ring Road Rawalpindi. So, an excellent reason to invest in the housing project is the location that enables residents to address all important surrounding places.
Naya Pakistan Housing Society presented this housing project in 2022. The background of Naya Pakistan Housing Society is a plus point to buying a plot here, as it has a pretty good experience. Tehsil Municipal Authority (TMA) Rawalpindi has permitted the NOC of Prime Valley housing project. Both the approvals have built up the trust of shareholders and the common public to invest here.
While buying any property, an affordable payment plan with easy installments is always preferable. Like that, Economic residential plots of different sizes; 5 Marla, 10 Marla, 12 Marla, 1 Kanal, and 2 Kanal, are available in Prime Valley Islamabad.
Why location is an important factor in buying a property or plot?
---
Affordable plots with mediocre locations are of no use. Right? Location is as important as other factors while buying a property. Prime Valley location ensures to provide all luxuries and comforts to the residents in every possible way.
1. Easy Access
Before introducing the plan, the management of Prime Valley makes sure an adequately designed road network links the housing society with City Centre. The housing project connects mainly with two roads: The m-2 motorway road and the famous Chakri Road. Chakri Road provides easy and trouble-free access to all nearby areas with a traffic-friendly route.
2. Public Transport
Easy access through public transport is also required to reach. Therefore, Prime Valley has gained one more Point of having accessibility through public transport. Suppose you want to commute from the new intentional airport or M2 Motorway to Rawalpindi Sadar, zero Point, and the inner city, a metro bus is available. It has been assured that Quality living can be provided in Prime Valley with convenient local transport options.
3. Neighbourhood's Popularity
Prime Valley neighborhood is reasonably established and developed as it is not the only housing society there. Various societies like blue world City are also nearby. Many other commercial areas are also nearby, which has increased the worth of the prime valley location. Investors can keep in mind that the prime valley location area will be developed as a region due to its essential landmarks.
4. Development Status
Prime Valley is a well-developed area with modern design, established roads, and a proper security system. Plans to upgrade society are under the microscope to secure a better future for householders. As a region, this area is quite established because of many other famous housing societies and multiple interchanges and public transport. A master plan is also under the eye of professionals to develop a sustainable property to enhance the living standard.
5. Lot Location
Prime Valley will have multiple access points from outside societies. Multiple blocks like overseas, health, executive, education, etc., will be all over the society. Every lot of the society will have its worth and comfort from inside and outside the society. So, it can be said that every part of the society which you will buy can be essential for you. Houses established on a busy road are generally lesser in price. But what about the comfort factor in such areas? It is tough to survive in such noisy and dusty places. Prime Valley location is perfect to live and enjoy a fantastic view, calm and serene sight.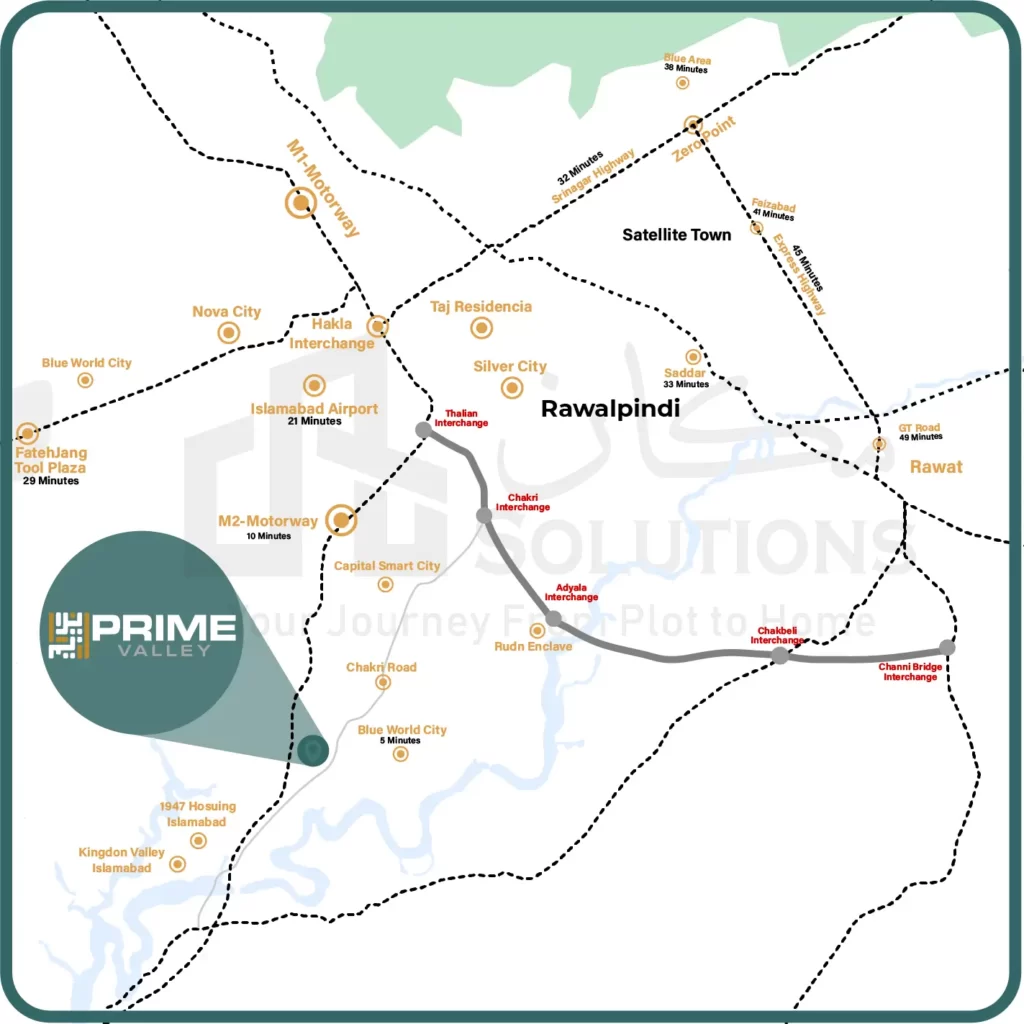 Importance of Prime Valley Location
---
You can change the condition of your house anytime, but you cannot change the location of your home after buying. So, prefer a place with location over any other factor. A supply of essential potentials is present in Prime Valley with affordable plots.
Apart from other factors mentioned above, another plus point considering Prime Valley is effortless access from Sadar. Sadar Bazar Rawalpindi is the heart of twin cities due to available variations. Chakri Road that links Prime Valley passes a route to Sadar. So, you can enjoy the perk of access from Sadar too.
Investment in Prime Valley can be a precious and long-term asset. Its value will increase in the following years due to all the points mentioned above. Prime Valley affordable plots are a huge chance to provide yourself and your generations with a profitable future.
For more information about plots for sale in Islamabad and Rawalpindi, contact Makaan Solutions anytime. You can also tune in to our YouTube channel for detailed video descriptions or the pros and cons of various societies.
Faq's About Prime Valley Location
---
Why Prime Valley Location is Important?
Prime Valley Location is also important because it can be accessed very easily from all the nearest commercial areas and roads i.e. Chakri Road, M-2 Motorway, and Ring Road Rawalpindi.
Prime Valley Location Islamabad
If you want to know about Prime Valley Islamabad, contact Makaan Solutions. Our Sales Executive Officer will provide you with all the latest information. Starting from consultation to choosing the property, and from booking to owning your dream property. For further details, please do not hesitate to contact on the below-given information: