Silver City Rawalpindi is an RDA-approved residential marvel situated in a prime area in Rawalpindi near Girja Road. The housing project offers a luxurious, tranquil lifestyle in Margalla Hills. It is a proud joint venture of Laraib Associate and Developers PVT. LTD and SAREMCO Group. SAREMCO Group and LTD. Rawalpindi City, this housing scheme is among the most impressive that exists in twin cities.
This NOC-approved Society is highly technologically advanced and provides modern living amenities at a reasonable cost. It's a secure gated society that gives residents an atmosphere of safety and security along with active living. This project is attracting the attention of investors since the project is generating significant returns on investment.
Silver City Rawalpindi Developers & Owners
---
This society has been created as a joint venture between Laraib Developers & Associates (PVT) Limited and SAREMCO Group. Both companies are recognized in Pakistan for delivering high-quality projects that are 100% satisfied with their customers. Laraib Developers & Associates (PVT) Limited and SAREMCO Group have a wide portfolio of projects in the real estate sector; therefore, this company has a high chance of prompt and high-quality delivery.
The Silver City Owners and Developers of Silver City are making strenuous efforts to offer an ideal blend of comfort and luxury with affordable.
Silver City Rawalpindi Location & Map
---
This luxurious housing development is situated in a prime site within Rawalpindi, located on Girja Road near Thalian Interchange. The property is accessible from the most prominent attractions of the twin cities.One of the most appealing locations of this housing project is that it is located just 10 minutes from the New International Islamabad Airport. Additionally, Ring Road Rawalpindi will be directly connected to this project for real estate. Additionally, the most prestigious society buildings and landmarks are within walking distance of Silver City Housing Scheme Islamabad.
Silver City Rawalpindi Access Points
12 minutes' drive from Thalian Interchange
19 minutes drive from Srinagar Highway
13 minutes drive from the M2 Motorway
20 minutes away from the M-1 Motorway
15 minutes to Islamabad International Airport
31 minutes drive to Rawalpindi and Kohat Road. Kohat Road
Silver City Rawalpindi NOC
---
Rawalpindi Development Authority has approved the No objection Certificate of Silver City Housing Scheme Islamabad. This statement can be verified from RDA official website.
Silver City Rawalpindi Master Plan 2022
---
According to Silver City Master Plan, the society of Silver City is a well-organized society. The master plan is an amazing masterpiece of aesthetics, art, modern infrastructure and architecture. Just like every society this one has also combination of residential and commercial plots.
Silver City Islamabad Residential Plots
Silver City Islamabad Commercial Plots
Silver City Rawalpindi Price Plan
---
Silver City Rawalpindi Price Plan is inexpensive. The management has paid particular attention to making Silver City payment and instalment plan simple and easy to manage. That's why they've created it in a manner geared towards the commoner's lifestyle requirements.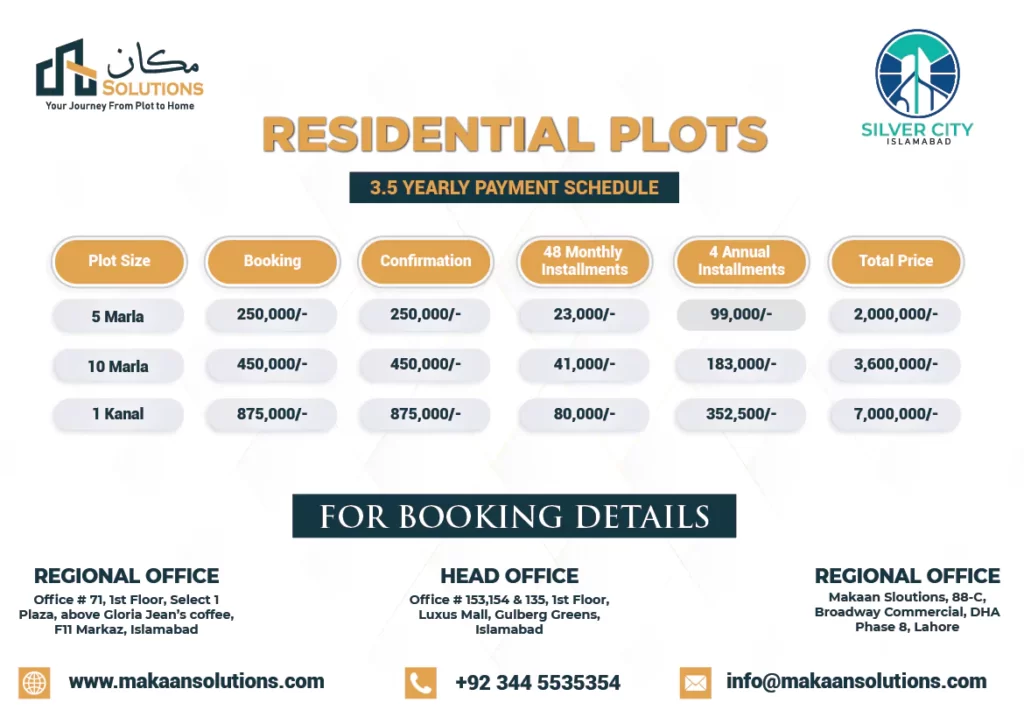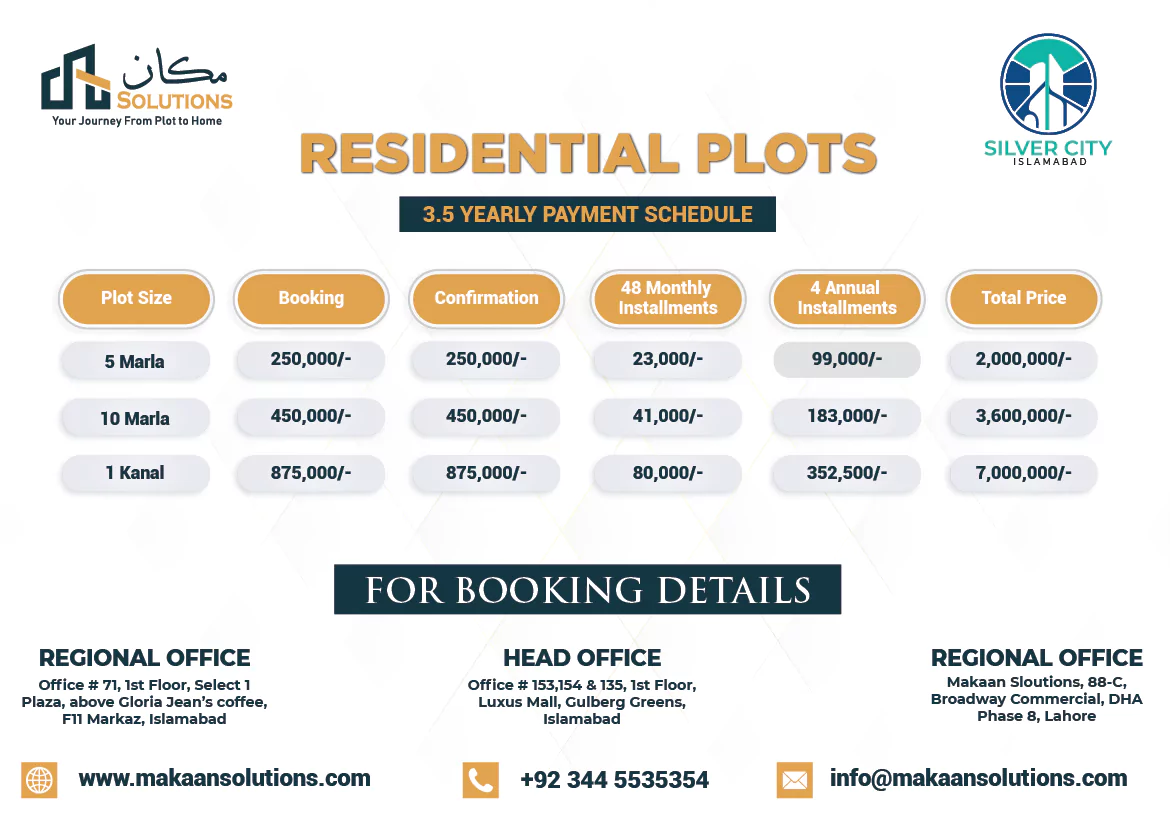 Silver City Islamabad Housing Scheme offers an instalment plan of 3 years. The booking of plots begins with an initial 12.5 percentage booking and 12.5 per cent confirmation. The remainder of the amount must be paid over four monthly payments of 48 months (4 annual installments).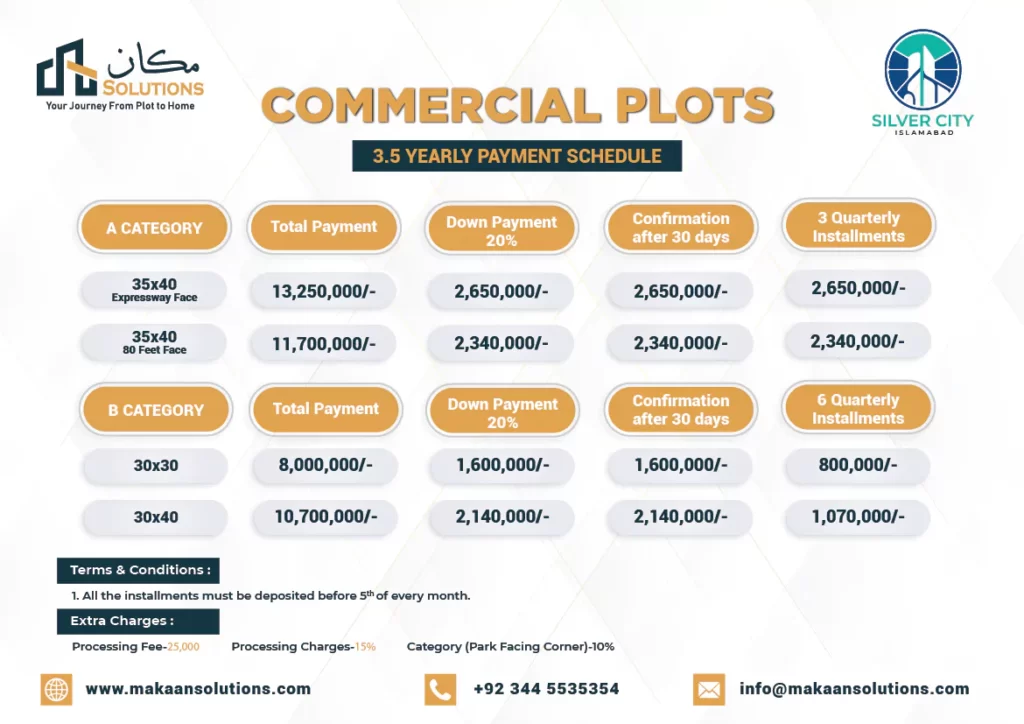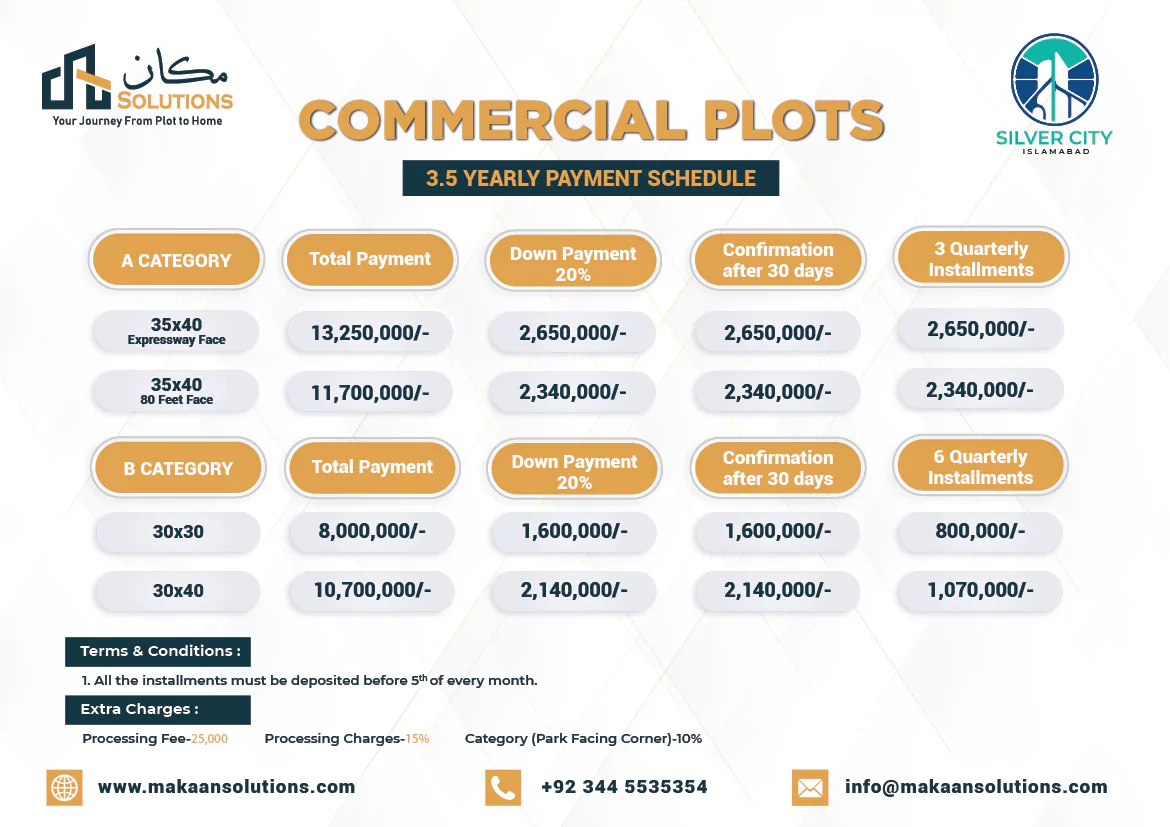 Silver City Rawalpindi Feature & Facilities
Sliver City Rawalpindi has top notch features & Facilities, as discussed below:
Beautiful gate for entry
Club House
Modern Spa
Boundary Wall
Water, Gas, Electricity
World-class infrastructure development
Grand Mosque
Retail Area
24/7 Security
Maintenance
Boundary Wall
Education Complex
Water Resources
Underground Electrification
Waste disposal and sewerage system
Complex for sports
Medical Facilities
---
Silver City Islamabad Booking Procedure
---
It is possible to book residential and commercial plots at Silver City Islamabad with only a 25% down payment. If you are interested in a property for sale, you must pay a down payment and complete your paperwork. These are the required documents to be followed when making a reservation for a plot in this society:
Two passport size pictures
For clients who are located outside of the United States, NICOP will be required
Two copies of national identity cards
Two copies of National Identity Cards for the next of relatives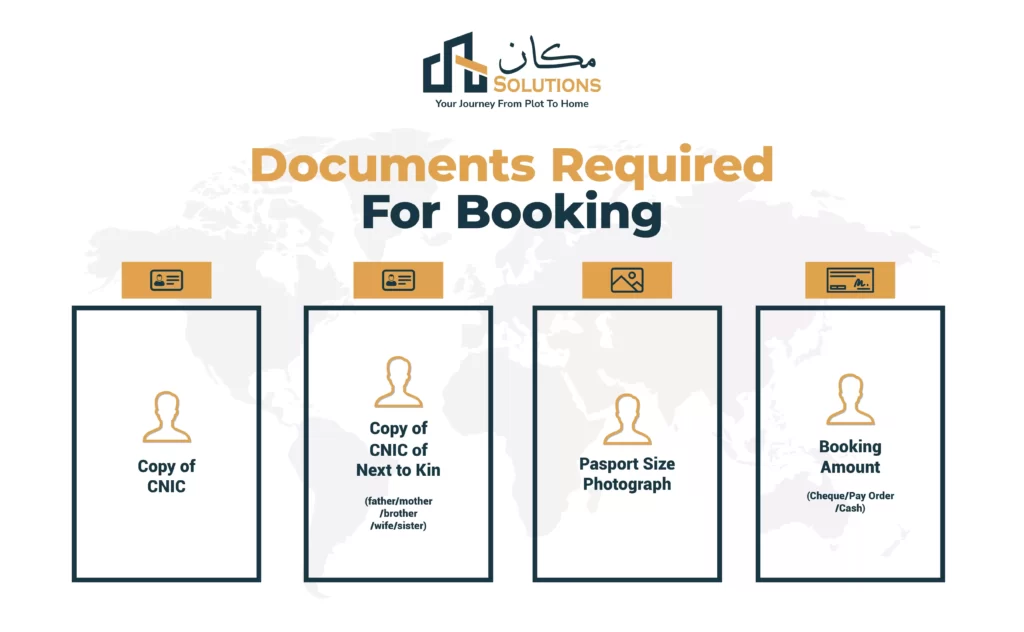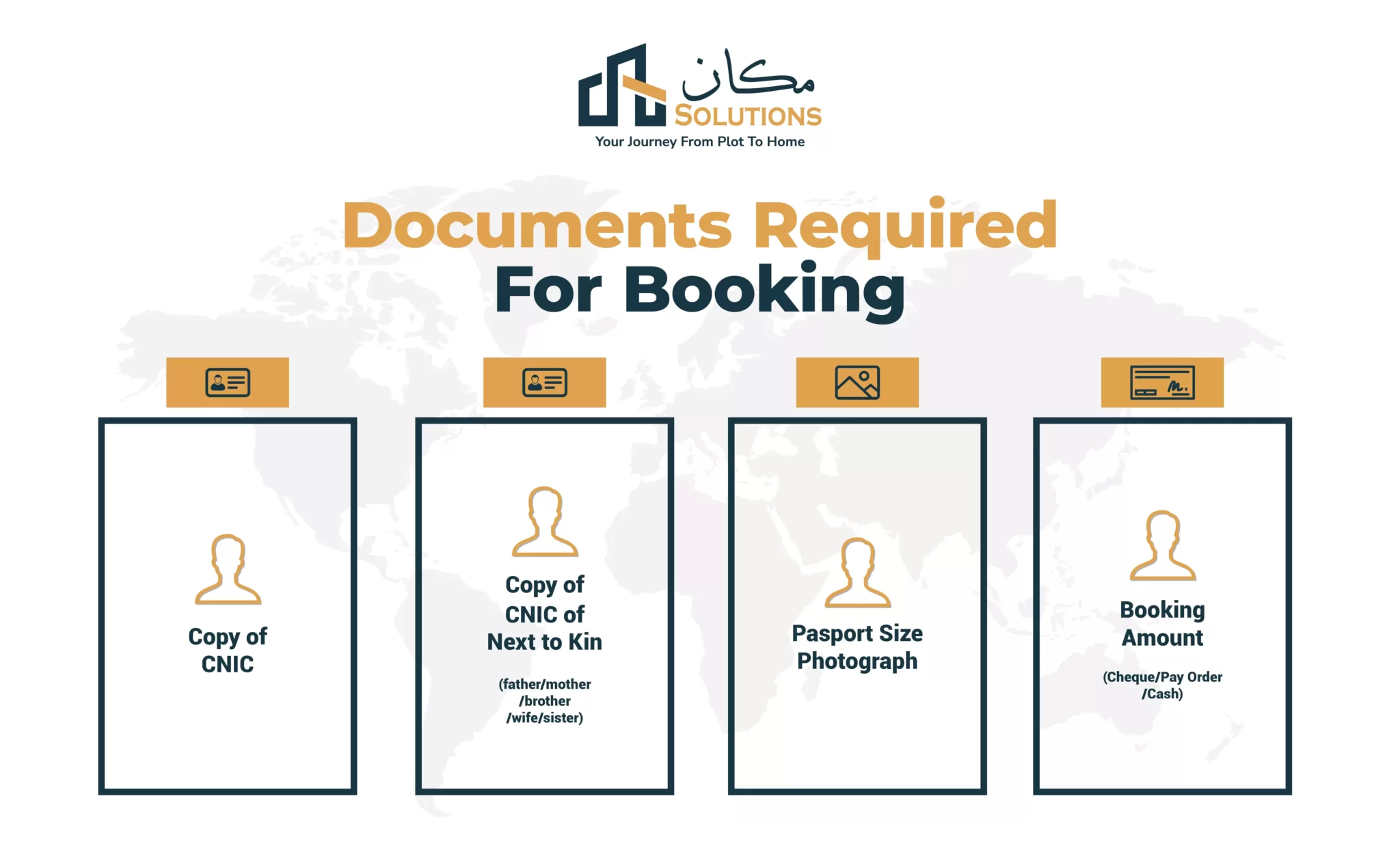 Makaan Solutions broad research helps to keep track of your decisions through every stage of your venture. Makaan Solutions job is to ensure the entire investment's is successful and that you are well. We provide a variety of solutions to increase the return you can get from real estate investment. For booking and consultations contact us Now!
FAQs
---
Which society has the most affordable plots?
Silver City Islamabad plots considered to be have affordable. Its payment plan is inexpenieve with easy installments.
Silver City Housing Scheme Islamabad
If you want to know about Silver City Islamabad, contact Makaan Solutions. Our Sales Executive Officer will provide you with all the latest information. Starting from consultation to choosing the property, and from booking to owning your dream property. For further details, please do not hesitate to contact on the below given information: