Raiwind Road societies have identical importance with the inheritance of culture. The societies on Raiwind Road, like Al-Kabir Town Lahore and Etihad Town Lahore, urge investors to make profitable investments and residency.
The demand for housing societies near Raiwind Road has increased to cater to residential requirements. Therefore, you buy your plot in Raiwind Road housing societies, the LDA-approved societies in Lahore.
List of Housing Societies on Raiwind Road Lahore
---
The list of Raiwind Road societies allows you to experience the best lifestyle and investment in Lahore. Several developers have started their residential projects in the vicinity of Raiwind Road.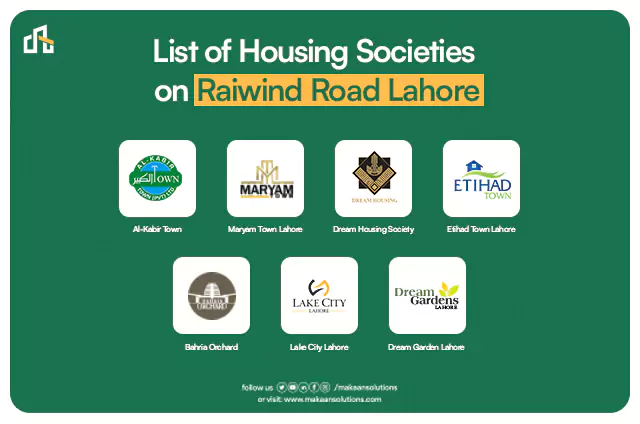 Al-Kabir Town
---
It is an LDA-approved residential society with three phases on Raiwind-Lahore Road. The blocks in Al-Kabir Town Lahore are named A, B, etc. Phase 1 and Phase 2 were launched in 2016 and 2017 respectively. Phase III is also known as Kings Town Lahore.
The main purpose of this housing project is to offer a secure and luxurious environment with the availability of commercial and residential plots. There is a reasonable payment plan with the availability of installments.
Maryam Town
---
It is one of Raiwind Road societies on their main Raiwind Road to ensure fabulous services in the presence of a magnificent master plan. You can easily reach this society from Thokar Niaz Baig through Multan and Canal Road.
It is also known as Al-Kabir Town Lahore Phase 4. The payment plan for Maryam Town Lahore has been very affordable and enables customers to purchase plots. You can easily access the available facilities in a secure environment.
Dream Housing Society
---
Dream Housing Society is one of the top Raiwind Road societies, which allows everyone to purchase a property to enjoy all available facilities. Therefore, you can live comfortably in a peaceful environment.
Dream Housing Society on Raiwind Road Lahore is close to the Ring Road Adda Plot Interchange and famous housing societies like Bahria Orchard and Lake City Lahore. A middle-class person can become an owner through a 4-year installment plan.
Etihad Town
---
Etihad Town is one of the best Raiwind Road societies where dreams for modernity and luxury have come true. This housing scheme on Raiwind Road has two phases to offer residential and commercial plots. Etihad Town Lahore is spread over 2500 Kanals.
The developers offer potential buyers luxurious apartments apart from commercial and residential plots at reasonable prices. Therefore, following the installment plan, you can easily own a desired plot.
Bahria Orchard
---
Bahria Orchard is one of the top-rated housing projects in Lahore that offers international and luxurious lifestyles with business growth. This residential society is just a few kilometers away from Thokar Niaz Baig.
There is a 16-quaterly installment plan for this exceptional housing society. The developers ensure the international education system with phenomenal health facilities. Moreover, the dedicated management is also focusing on the seamless power supply.
Lake City
---
It is a gated community with over 2400 acres on the main Raiwind Road. It is close to Kahayaban-e-Ameen and Fazaia Housing Society. Lake City Lahore is one of the top-rated Raiwind Road societies with 18 sectors, including several blocks.
This fabulous housing scheme on Raiwind Road includes magnificent amenities and facilities in a secure environment. The plot prices in Lake City have been pocket-friendly to facilitate the middle-class people.
Dream Garden
---
Dream Garden Lahore consists of 2 phases to fulfill the commercial and residential needs of people within society. The management is completing the development work in Phase 2 and planning to start Phase 3 in the upcoming days.
This phenomenal housing project is easily accessible from Labor Colony Road, Canal Bank Road, and Defence Road. Therefore, it has become a trending housing society on Raiwind Road for residency and investment.
Final Words
---
Raiwind Road societies have brought new opportunities for buyers to purchase properties with the help of Makaan Solutions. Our team can also assist you in buying your plot in installments in Lahore Smart City.
List of Top 7 Raiwind Road Societies
If you want to know about List of Top 7 Raiwind Road Societies Contact Makaan Solutions. Our Sales Executive Officer will provide you with all the latest information. Starting from consultation to choosing the property, and from booking to owning your dream property. For further details, please do not hesitate to contact us with the below-given information: