Paradise is an exceptionally happy place to live without facing any problems. Paradise Block New Metro City Kharian is also a place of happiness for those searching for a better place to build their dream homes. This block provides an exceptional opportunity for investors and residents to buy a plot at a reasonable price in the beautiful society of Kharian.
Paradise Block is a significant block with fantastic construction and facilities in Kharian. The people of Kharian have the best investment opportunity in this luxurious block. Presently, society is in its initial stage, meaning plots are available at an affordable rate. The economic rate urges people to buy a real estate property in Paradise Block of New Metro City Kharian.
Malik Bilal Bashir is the owner of the society and is a well-known name in real estate property development and marketing. BSM developers is also a company of Malik Bilal, which is doing exceptional development work in this block. They have already done a massive real estate project in Gwadar, known as Gwadar Golf City and Metro city Gujar Khan.
NOC status is vital in any real estate property, especially housing societies in Pakistan. The good news is that society is NOC-approved, which means this block within the society also has a NOC status. Therefore, you can buy your plot confidently without worrying about its legal status.
Paradise Block New Metro City Kharian Location
---
This paradise-style block has a fantastic location between Sector One and Sector Two in New Metro City Kharian. The Purposed Gate House 2 will also be placed near Paradise Block 1. Moreover, the installation of Gate House 2 will boost the importance of this block in this society. The location of this block is near General Enclave, the first block in this fantastic society.
Block location indeed has magnificent importance in any society that attracts potential customers. Therefore, every housing society tries to locate blocks so that every block can easily be accessible from the main boulevard and connected roads. The streets are wide enough to provide excellent flexibility to residents with easy traffic flow. In this way, they don't face any traffic problems in their streets.
This fantastic and modern block is nearest to the general enclave block sector 1 in this society. New Metro City Kharian Paradise Block location is the best for those looking to move to a place where they can enjoy all facilities essential for a modern lifestyle. Therefore, many people are investing in this block due to its luxurious location within New Metro City Kharian.
Paradise Block New Metro City Kharian Master Plan
---
The master plan of Paradise Block New Metro City Kharian deploys excellent residential and commercial plots to attract people who want to buy a property for residency and business purposes. The owners have dedicated a specific land to developing commercial and residential buildings. Moreover, restaurants and parks are also part of this block.
The developers are better known for their quality work in different developments in real estate projects such as Gwadar Golf City and currently working in New Metro City Gujjar Khan. New Metro City Kharian was launched in 2019 and started working correctly after acquiring government authorities' permission.
BSM developers have started to work in this block efficiently. They are using heavy machinery and other resources to speed up the development work in Paradise block New Metro City Kharian. They strictly follow the magnificent development and construction work to fulfill the needs of people with an investment or residence purpose.
You can buy residential plots Paradise Block in these sizes:
5 Marla Plot
7 Marla Plot
8 Marla Plot
10 Marla Plot
14 Marla Plot
1 Kanal Plot
You can buy commercial plots in Paradise Block in these sizes:
4 Marla Plot
5 Marla Plot
6 Marla Plot
8 Marla Plot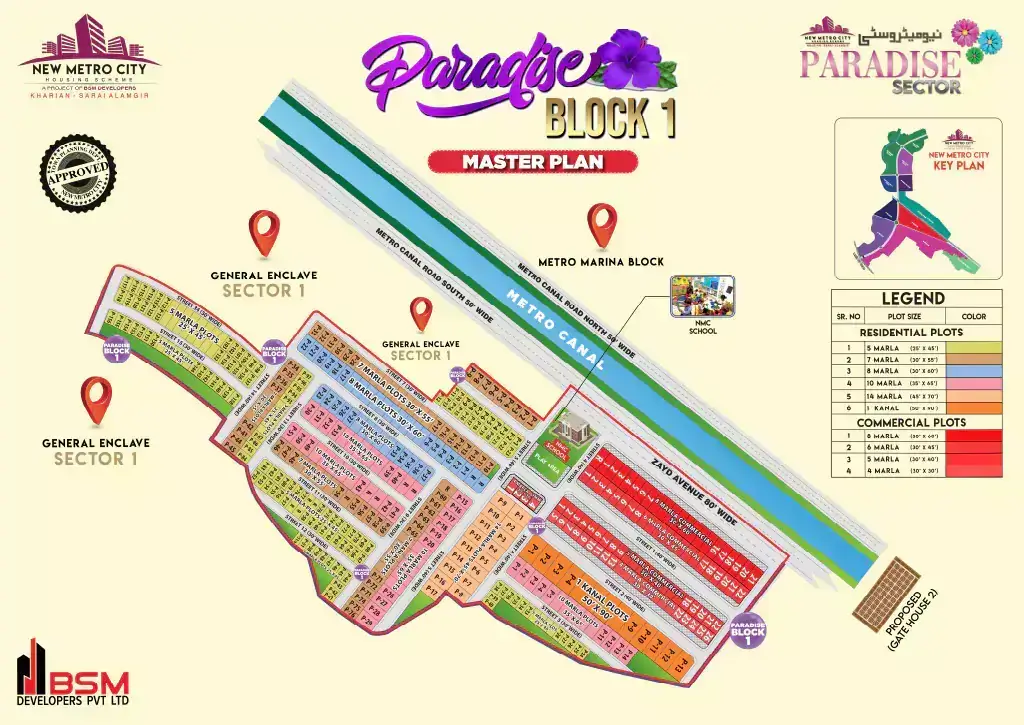 Layout Plan
---
The layout plan for Paradise Block New Metro City Kharian is excellent compared to the layout plan of the general enclave and overseas block. The layout plan shows the well-carpeted streets and roads for the convenience of traffic to facilitate the businesses and residents in this beautiful block.
It is a magnificent block to live and do business to make a good profit. If you also want to earn a good profit on your investment, you get the real estate consultancy service of Makaan Solutions which has thousands of happy clients.
One more thing about the layout plan paradise block near Metro Canal is to facilitate community members with a fantastic canal view. There are 15 streets to connect the residential plots with the commercial properties to enable the community to have shopping flexibility within the society without spending their resources to go outside the society to do shopping.
New Metro City Kharian Paradise Block Facilities
---
– Club House
The development of a clubhouse in the heart of Paradise block is an initiative to connect with like-minded people to share a peaceful place to exchange their ideas. This paradise block clubhouse in New Metro City Kharian will also enable residents to play different games according to their interests. This way, they will be mentally and physically fit for their daily activities.
The residents of this block will be able to use the clubhouse to discuss their points of view about religion, politics, the environment, and any other topic they like to discuss. So, these clubs are necessary for any modern society to connect their people magnificently.
– Electricity
The developers know this block's value in society and do a great job of providing exceptional electricity facilities to their customers. Therefore, residents and business owners will have smooth and continuous electricity to perform their daily life tasks. In this way, they empower their users with a reliable flow of electricity.
They are working tirelessly to install the electrical lines throughout the block most safely and exceptionally. The installment of electricity lines will be completed soon. The owner of society, Malik Bilal Bashir, has a unique approach to providing the connection of electricity to every residential and commercial plot. So, nobody in this block will face any electrical issues.
– Gas
It is a quick wrong approach to ignore the importance of gas availability in residential societies even though gas is essential for commercial buildings for different purposes. In this block, developers are also working hard to provide this necessary facility for every commercial and residential plot. The continuous supply of gas is always a fundamental problem in Pakistan. Luckily, you will not face any issues with the gas supply in this block.
Gas is compulsory for every residential plot for cooking and other uses. In this way, every resident will have a gas connection for their flexibility. Getting a gas connection will also be simple for people because block management aims to facilitate its residents.
– Paradise Garden
Have you ever imagined your garden in Paradise? Of course! The owner and developers are working together to construct a magnificent garden in Paradise Block New Metro City Kharian to provide the best facilities to their residents within this block. It will be the most modern garden in Kharian with the best structure. In this way, this is a tremendous addition to this fantastic block.
This fantastic garden offers children and adults an excellent opportunity for entertainment in a green environment. Moreover, this green environment of the garden ensures every resident's natural and fresh air for breathing. So, a paradise garden will enable you to live a healthy life with significant physical and mental health.
– NMC School
A society without an educational institute has nothing to do with property value because no one likes to buy real estate property in a community with no primary education facility. Everyone, including residents and investors, desires to purchase a plot in a society education facility. Every resident likes to have a home in a block that includes a school because they want to provide their children with primary education.
Having a home in a block near the school is a blessing for residents because it will become difficult to send their children outside society for primary education. Therefore, residents of Paradise Block New Metro City Kharian have an excellent opportunity to educate their children with international standard education.
– Kids Playground
The kids' playground is the best place for residents' children to play different games and sports on their playground. This playground has international standards to facilitate the kids to keep them physically and mentally fit. Interestingly, the playground has an attractive location within paradise block to enable children to play on the ground in a secure environment.
Enjoyment has a significant role in grooming the kids which helps them to grow in a healthy environment. This grassy ground encourages the children to be confident in their lives and face challenges. The winning and losing moments also teach children to be versatile in their lives, whether they succeed or fail on any occasion.
– Shopping Mall
Shopping is the best thing to do for men and women in Pakistan. However, women enjoy shopping more than men because they analyze products in different dimensions before purchasing. Therefore, every society always develops shopping malls within other blocks to enable residents to enjoy an excellent shopping experience.
BSM developers are working to develop a mega shopping mall within the paradise block to enable residents to have an international standard shopping experience. Therefore, residents of this block have a magnificent opportunity to buy beauty products, clothes, shoes, and other products of prominent brands.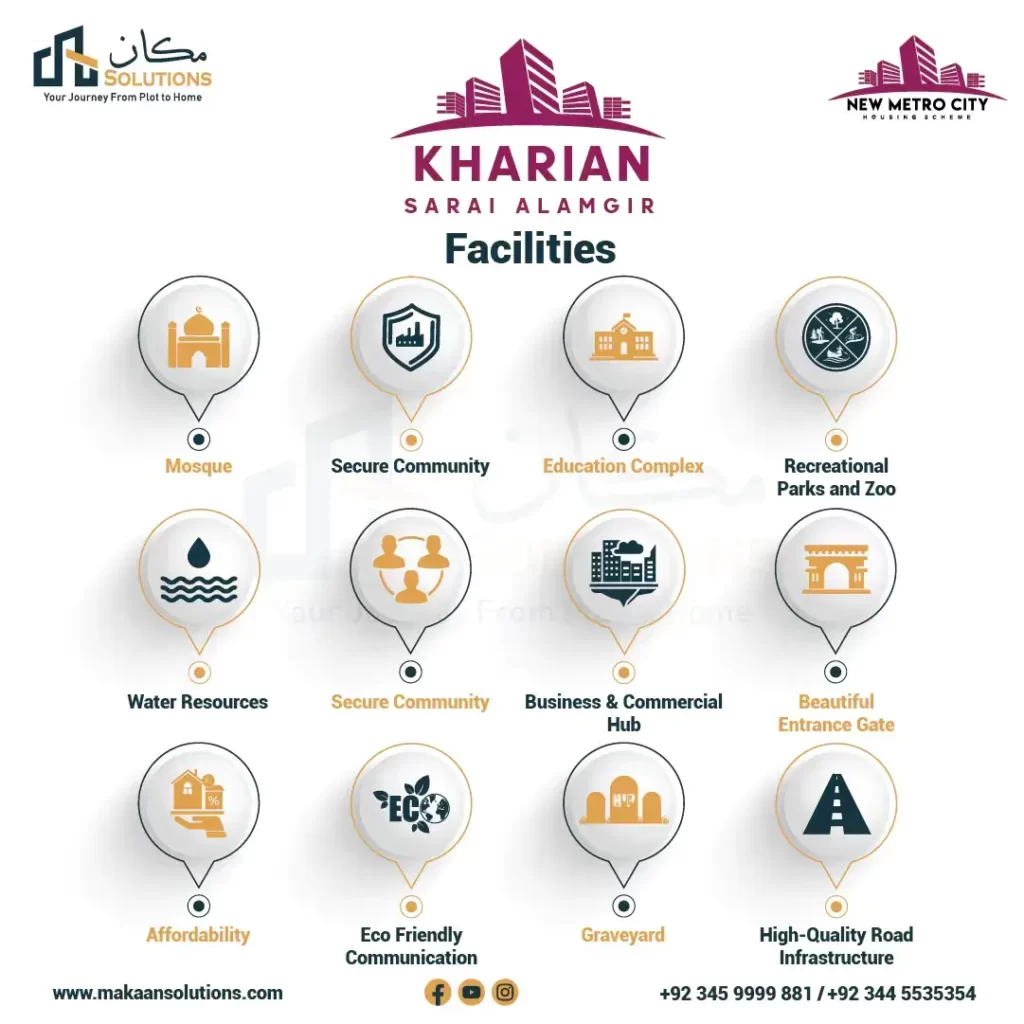 Paradise Block New Metro City Kharian Nearby Blocks
---
These New Metro City Kharian blocks are nearby Paradise Block:
General Enclave Sector 1
Metro Marina Block
Paradise Block Development Work Status
---
Development work has a fantastic role in the price of all plots. This work decides whether property gains or loses value in this paradise block. Therefore, developers give immense importance to development work in every housing society sector.
BSM developers are famous for their superior, excellent quality, and fast development work in their real estate projects. They are doing a magnificent job in this block as their priority. Therefore, development work is going on an incredible and smooth track to produce quality infrastructure.
Conclusion
---
Paradise Block is one of the top-notch blocks in New Metro City Kharian that is surrounded by a natural environment that is eco-friendly for businesses and residents. The owners and developers are pioneers in the real estate market of Pakistan and have already delivered successful projects.
Let's buy your plot in this beautiful block. Paradise Block New Metro City Kharian has a NOC status, prime location, magnificent master plan, payment plan, and flexible installment plan to buy your residential block quickly.
What is the plot rate in Paradise Block New Metro City?
There are different rates for different sizes of residential and commercial plots available in this block. The plot price is very reasonable, and you can check the New Metro City Kharian payment plan
How can I book my plot in Paradise Block?
You can easily book your desired plot at a reasonable price by contacting Makaan Solutions. The experienced real estate team will assist you through every step of buying a plot in Paradise Block.
What are the essential documents to purchase a property in Paradise Block?
When you are booking a plot with Makaan Solutions, you must provide 2 photographs in passport size and 2 copies of CNIC. If you are an overseas Pakistani, you also offer NICOP.
Paradise Block New Metro City Kharian
If you want to know about the Paradise Block New Metro City Kharian, contact Makaan Solutions. Our Sales Executive Officer will provide you with all the latest information. Starting from consultation to choosing the property, and from booking to owning your dream property. For further details, please do not hesitate to contact on the below-given information: