Lakeshore City
Lakeshore City Khanpur is a master-planned housing society by Al-Sadat Group with a premium location on GT Road near the Khanpur Dam Waterfront. It has different blocks to include the plot categories at the reasonable payment plan.
Lakeshore City Khanpur
---
Lakeshore City Khanpur is a serene and secure housing society offering an eye-catching view of Khanpur Dam. This residential project uniquely blends the latest infrastructure, cultural heritage, and elegant beauty.
This new housing society in Khanpur ensures a modern and peaceful living standard in the green surroundings. Al-Sadat Group started this housing project by offering clubhouses, farmhouses, and plot categories.
Lakeshore City Location
---
The location of Lakeshore City is on main GT Road Jabbri. It is situated close to the Khanpur Dam to allow the residents to view the natural water body. This upcoming housing scheme in Khanpur is near Rawalpindi and Islamabad.
It is located close to Khanpur Dam to offer a stunning view of the nearby places. Therefore, it has become the ultimate destination for tourists who want to explore the tourist places of Punjab and KPK.
Nearby Landmarks
Blue World City
Avalon City Islamabad
Top City
Eighteen Islamabad
Access Points
Thalian Interchange is 5 minutes away
M2 Motorway is 7 minutes away
Rawalpindi Ring Road is 10 minutes away
New Islamabad International Airport is 27 minutes away
GT Road is 32 minutes away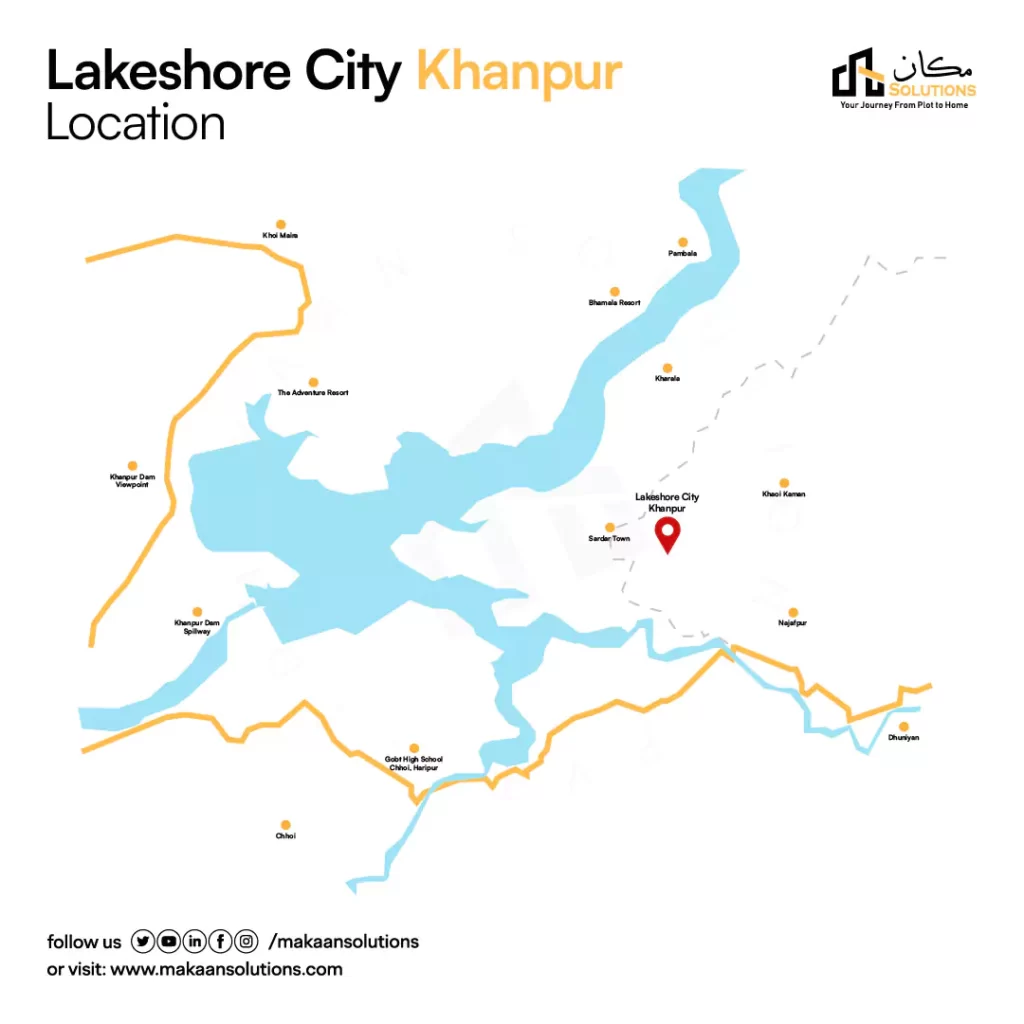 Lakeshore City Map
---
The map of this new housing scheme in Khanpur is viewable on Google Maps.

Lakeshore City Owner & Developers
---
The owners and developers of Lakeshore City are Al Sadat Group, which aims to develop a society that must be affordable for every local and overseas Pakistani. They are introducing a modern lifestyle to the residents with great investment opportunities.
Al-Sadat Group wants to ensure luxurious living standards near the Khanpur Dam Waterfront. It is the first-ever housing project by Al Sadat Group that Syed Sadat Hussain Shah is leading. This housing project was introduced at the start of 2023.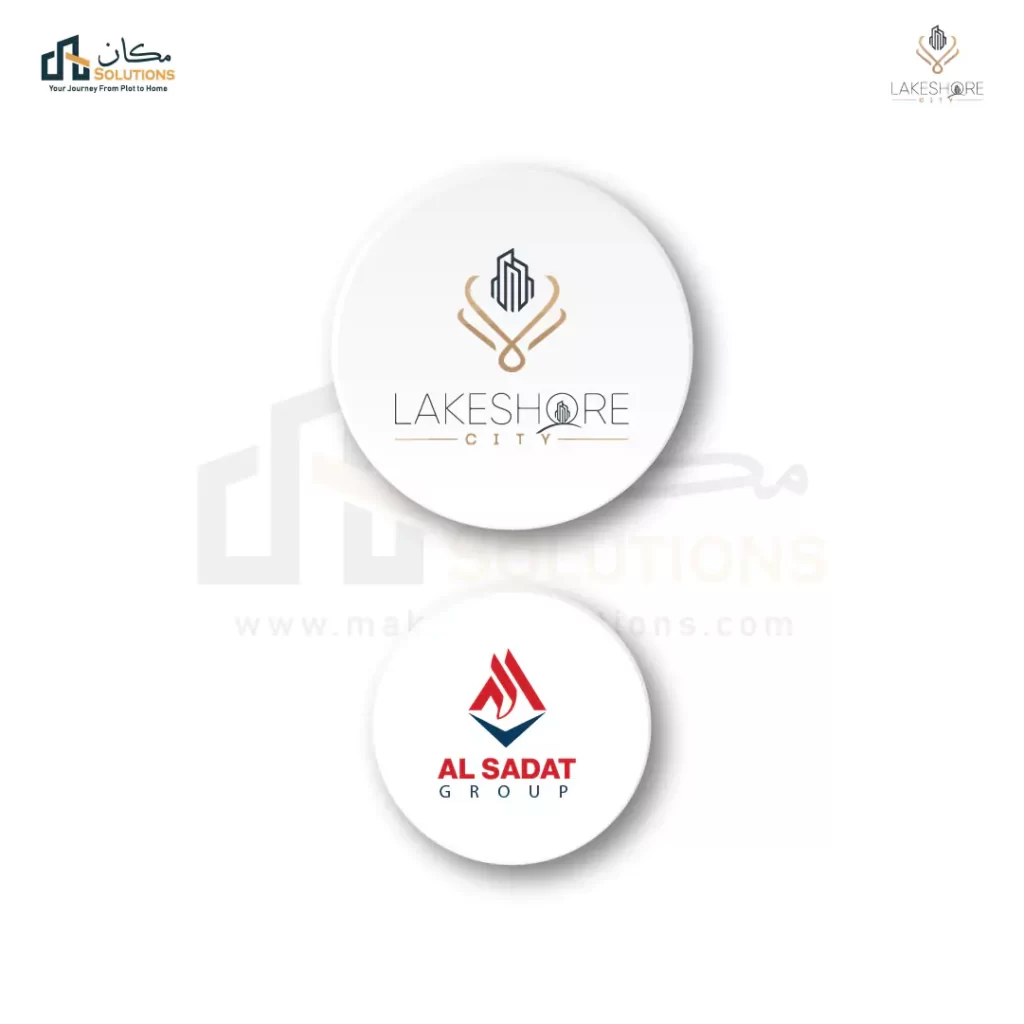 Lakeshore City Payment Plan
---
| Plot Size | Booking Payment | Total Price |
| --- | --- | --- |
| 2 Kanal | 875,000 | 7,000,000 |
| 4 Kanal | 1,687,500 | 13,500,000 |
| 8 Kanal | 3,125,000 | 25,000,000 |
The pre-launch payment plan of Lakeshore City Islamabad is launched for farmhouses by the official management. Therefore, you can purchase your plot by following the monthly and bi-annually installment plan.
2 Kanal Farmhouse Payment Schedule
The confirmation payment is 875,000
30 monthly installments are 75,833
6 bi-annually installments are 379,167
The balloting payment is 700,000
4 Kanal Farm House Payment Schedule
The confirmation payment is 1,687,500
30 monthly installments are 146,250
6 bi-annually installments are 731,250
The balloting payment is 1,350,000
8 Kanal Farmhouse Payment Schedule
The confirmation payment is 3,125,000
30 monthly installments are 270,833
6 bi-annually installments are 1,354,167
The balloting payment is 2,500,000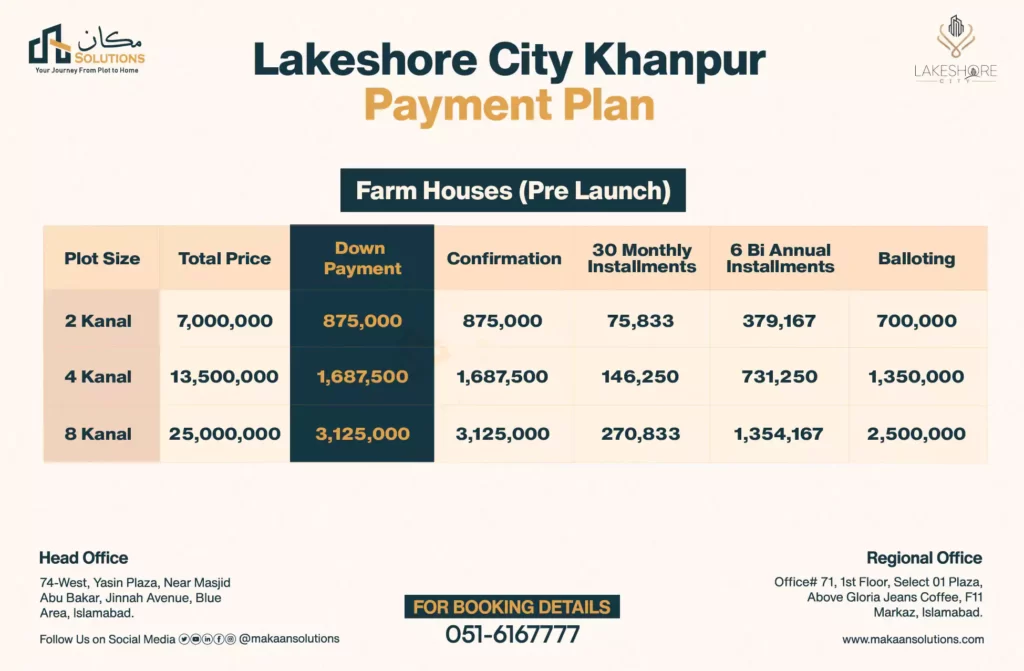 How to Book a Plot in Lakeshore City?
---
Fill out the application form for Lakeshore City
Attach the required documents
Pay the down payment and attach the receipt
Submit the application form
You can easily book your plot by following the crucial steps. These smooth steps enable everyone to reserve a property with the assistance of Makaan Solutions. Therefore, reserving plots in this exceptional residential has become easy for every customer.
Required Documents
Client's 2 CNIC copies
Client's 2 passport-size images
Next to Kin's 2 CNIC copies
NICOP
Every customer interested in booking a plot in this phenomenal society is requested to bring the important documents to confirm the booking. Makaan Solutions can assist you in booking a plot smoothly by submitting the required documents.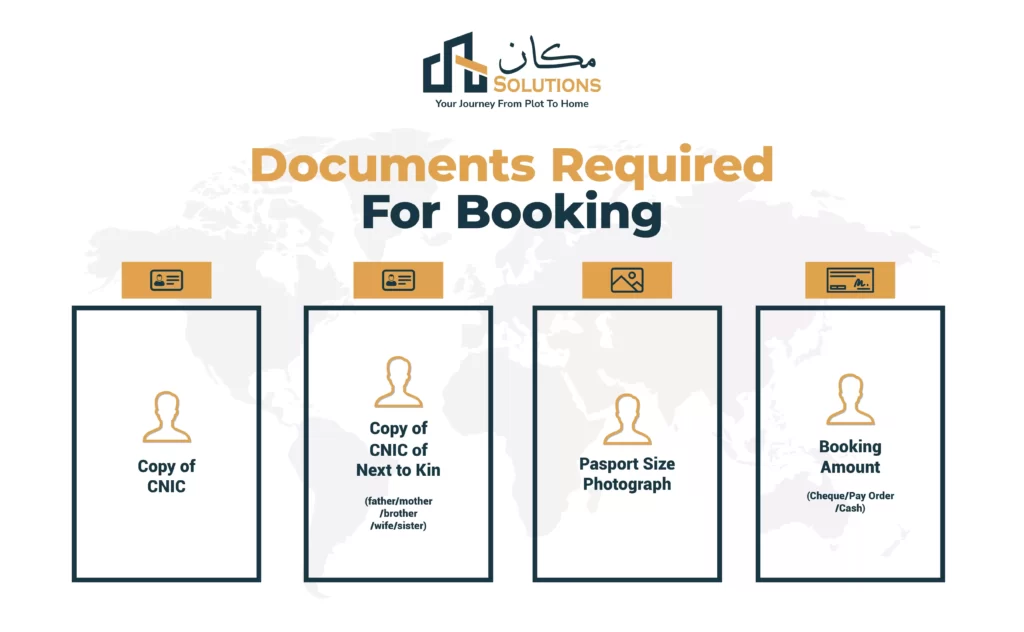 Lakeshore City NOC Status
---
There needs to be more information about the NOC status of Lakeshore City. It is expected that legal status needs to be approved for this society. It is a new housing project that will become an NOC-approved society after submitting documents to the Rawalpindi Development Authority.
This new housing project in Khanpur will become an RDA-approved society. Therefore, it is recommended to every real estate customer to reserve the properties in this new housing society, where rates will be revised after NOC approval.
Benefits of Investment in Lakeshore City
---
There are many perks of investing in Lakeshore City. You can also invest in the properties under your budget to get mind-blowing benefits. Therefore, you need to know about available benefits for the potential investors.
High ROI
The available plots in this housing scheme offer the maximum return on investment to the investors. You can purchase residential and commercial properties at the pre-launch rates to get high profit within a few months.
Financial Independence
The plots in this new residential society are a phenomenal source of financial security for every investor. The valuable properties in this enable the investors to become financially independent by investing in commercial and residential plots.
Passive Income
The availability of plots in the different categories is the best source of passive income. You can easily rent out your reserved property to the tenants to have a source of passive earning. Moreover, the rental income of real estate properties increased by at least 10% yearly.
Valuable Asset
The different plot categories in this fabulous housing society have become valuable assets for customers looking to become financially stable in this era of economic crisis. Therefore, you can easily own a favorite property to deal with the financial issues.
Lakeshore City Master Plan
---
The master plan of Lakeshore City Khanpur is designed by a professional team of designers who have utilized their experience. They have prepared a phenomenal layout plan to include the wide streets and roads for the easiest access.
The layout plan for this upcoming housing project consists of the different plot categories in the beautiful vicinity of Khanpur Dam. This residential society also includes sustainable and modern amenities and facilities for the customers.
Blocks
Lakeshore Club
Lakeshore Farms
Lakeshore Residencia
Plots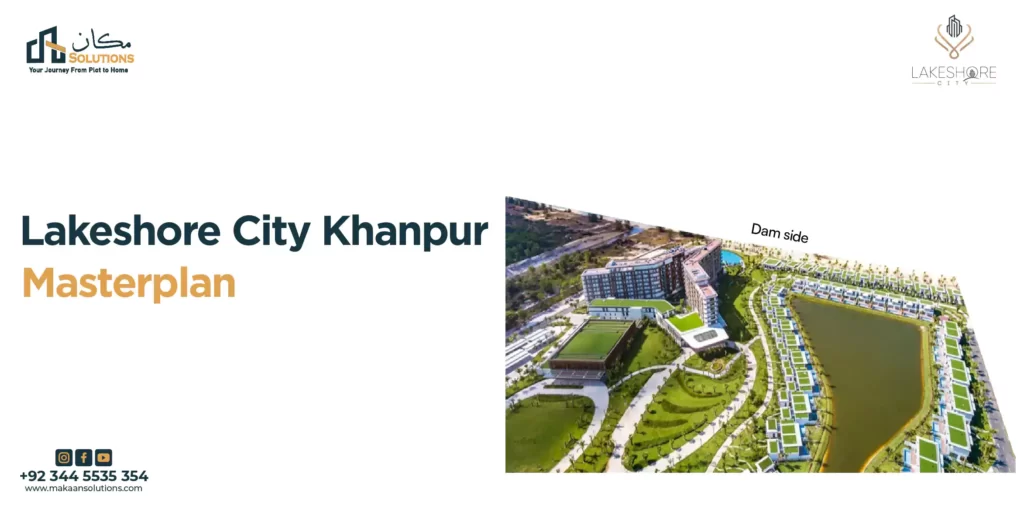 Lakeshore City Development Status
---
The development work is in the initial phase as developers have started to level up land in this society. They are focused on accelerating the development work to complete this residential project as soon as possible.
Lakeshore City Latest News
---
The latest updates show that management has launched a new pre-launched payment plan available temporarily. The management will revise the payment plan after the official launch of the housing society.
Facilities & Amenities
---
The management aims to include world-class services to comfort residents' lives. Therefore, the residents in society will be able to utilize the phenomenal facilities and amenities.
Educational Institutes
The management knows the importance of education for the society. The developers have dedicated the land to constructing world-class educational institutes in this housing scheme. Therefore, you will be able to get an international standard education.
Medical Services
The developers want to ensure modern medical facilities for the residents within the premises of this phenomenal society. The qualified medical staff offers the best medical treatment in the presence of modern medical equipment to patients 24/7.
Shopping Mall
The management is aware of residents' shopping needs. Therefore, the developers are developing a top-quality shopping mall in the heart of this residential society. You can shop for the best products from famous local and international brands at affordable prices.
Playgrounds and Parks
The parks and playgrounds are part of the layout plan for this upcoming housing scheme. The availability of parks ensures the ultimate relaxation in a fresh environment. Playgrounds allow residents to play their favorite sports and games with their friends.
Fitness Center
The fitness center in this housing scheme allows the residents to maintain high health standards through regular workouts. Therefore, you will be able to use the modern equipment of the gym to shape your body exceptionally.
Water, Gas, and Electricity
The management is focusing on providing the basic amenities to the residential project for a comfortable living standard. The seamless supply of electricity and gas ensures a peaceful lifestyle for every resident. There is a facility for filtered water in every plot in this society.
Security
The developers ensure a phenomenal security system with qualified security and trained staff. Moreover, installing a technological security system ensures the supervision of the whole security for residents' safety.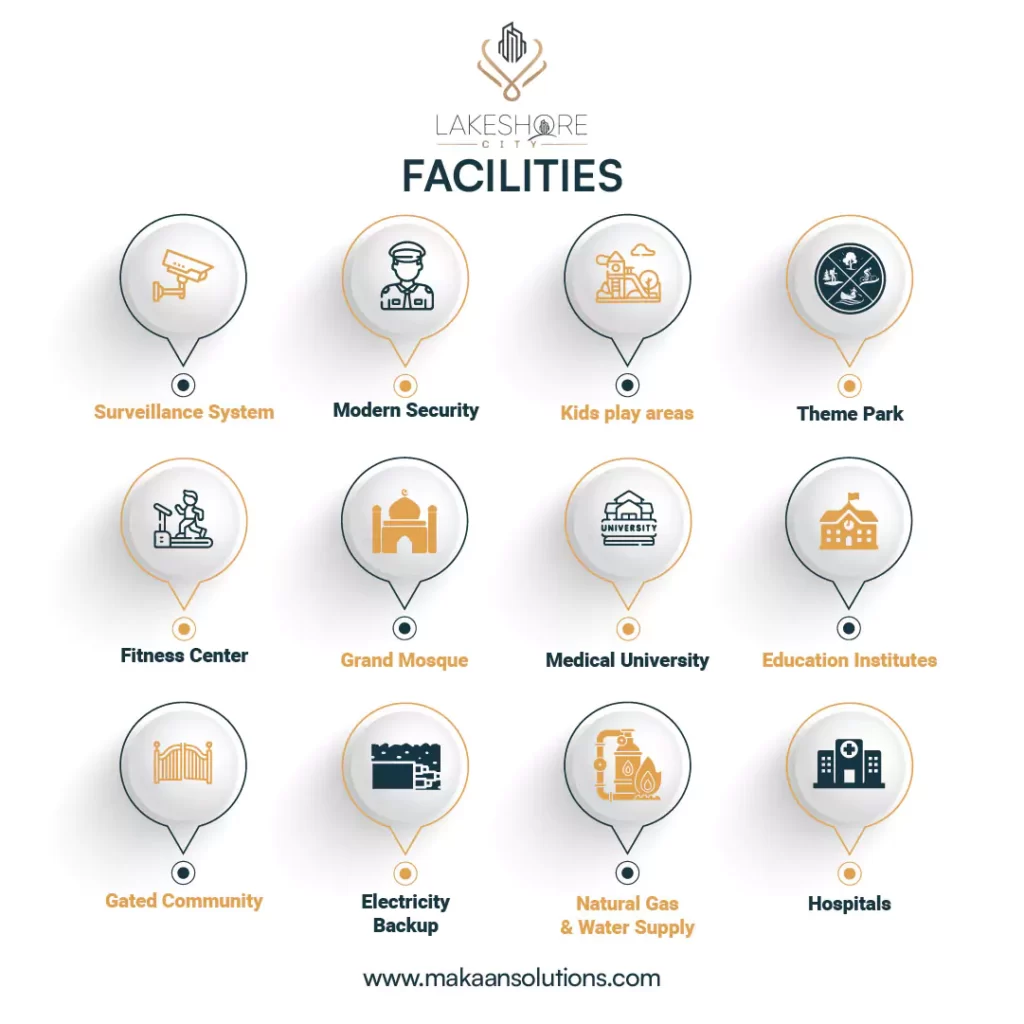 Pros & Cons
---
Pros:
The energetic owners and developers
The premium location ensures the phenomenal views
A master-planned housing project
The affordable installment plan for every plot category
Modern infrastructure for development
The availability of modern amenities and facilities
Cos:
Any government authority does not approve the legal status.
Conclusion
---
Lakeshore City Khanpur is an ideal housing project because of its premium location and reasonable payment plan. It is a master-planned housing society that offers fabulous amenities and facilities to the residents.
You can book your plot in this amazing society with the assistance of Makaan Solutions. Our team also assists you in reserving your property in Avalon City Islamabad and New City Paradise.
FAQs
---
What is Lakeshore City 2 Kanal farmhouse?
The total price of a 2 Kanal farmhouse is 7,000,000.
When will Lakeshore Society be launched?
This residential society will be launched in the upcoming days.
Which block is best in the Lakeshore housing scheme?
Lakeshore Farms is the best block because of the easy access and luxurious facilities.
Why invest in Lakeshore City Khanpur?
You must invest in this housing society because of the ideal location and reasonable payment schedule to offer a high ROI.
What is the legal status of the Lakeshore housing scheme?
 It is a legally unapproved housing project in Khanpur.
Where is Lakeshore City located in Khanpur?
This housing scheme is situated on GT Road in Khanpur.
Who are the developers of the Lakeshore housing project?
Al-Sadat Group is the developer of this upcoming project.