Lahore Smart City designers and developers have made the society rank 2nd smart city in Pakistan. To deliver a masterpiece and notable project, Lahore Smart City is not only designed and developed by different national companies but also by some famous foreign companies.
Lahore Smart City Development and Designer Partner Overview
The values and expertise these designers and development partners will add to this project are no less than a blessing.
Surbana Jurong (Pvt.) Ltd
---
Surbana Jurong is the master planner of Capital Smart City and Lahore Smart City. It is one of the top consultancy firms in Singapore. It started its services in 1960 and, up till now, has done a lot of mega projects all over the world. It was created as the Technical Services Group in Jurong Town Corporation. The Group is powered by organic growth through mergers and partnerships, using heritage and inorganic growth. Each acquisition brings new abilities, skills, and capabilities and expands geographical reach.
Harradine Golf
---
Harradine Golf is an international consultant and designer of Golf Courses. It has supervised, designed, constructed, and re-modeled the construction of over 200 Golf Courses in Europe, Africa, Asia, and the Middle East. Peter Harradine is the founder and owner of this firm, founded in 1920. Capital Smart City and Lahore Smart City have also gotten assistants to construct Golf Courses here.
Cracknell
---
Cracknell is also the designer and development partner of Lahore Smart City. Cracknell came into being in London in 1987. It is a developed and recognized consultant in landscape architecture, planning, and urban designs. Up till now, Cracknel has developed landmarks in the middle east, Europe, and Africa. One of the notable housing projects designed by Cracknell is "Lahore Smart City," situated in Lahore, Pakistan, Asia.
Troon Golf
---
Dana Garmany is the founder and owner of Troon Golf. Troon International deals with almost all clubs in America's region. It comprises four primary brands committed to providing best-in-class hospitality and club management services. Troon has the resources and talent to develop the strategies that allow clients to excel in the competitive world of golf and club operations. Capital And Lahore smart city owners are also getting assistance from Troon Golf.
Smart Technology Solutions
---
Smart Technology Solutions is a Technology Provider consistently exceeds clients' expectations. Their services will cover the Middle East and North Africa. They dominate the IT Services for SMBs regarding the number of satisfied clients. Smart Technology Solutions in the top 10 companies and cultures to work for. Smart Technology Solutions is also providing services to Capital and Lahore Smart City.
Arquivio Architects
---
Arquivio Architects was Founded in 1999 by Ph. architect Daniel Fraile and architect Juanjo Soria. Arquivio architects is an awarded architecture firm with works in several countries. It has developed mainly to small-scale projects with direct branches or partnerships in Dubai, Doha, Riyadh, Cameroun, Equatorial Guinea, Ivory coast, and Lithuania. Capital and Lahore Smart City are also the clients of Arquivio Architects.
DESIGNMEN Consulting Engineers
---
DESIGNMEN Consulting Engineers is a dynamic and fast-growing assemblage of multi-dimensional engineering skills. It was established in 1982, from conceptual planning to detailed engineering design and through the execution stage. DESIGNMEN Consulting Engineers also provides services to only 2 intelligent cities of Pakistan, one in Islamabad and another in Lahore.
NES PAK Engineering Consultancy Organization
---
NESPAK (Pvt.) Limited is Pakistan's premier consultancy organization, renowned all over Asia and Africa. NESPAK is the top engineering consultancy organization in Asia and Africa. NESPAK was established in 1973 as a private limited company by the Government of Pakistan. Its creation aims to create talented engineers to attain self-reliance in engineering consultancy. Lahore Smart City is also getting assistance from NESPAK.
DSA Architects International
---
DSA Architects International is an architectural for creative, sustainable, and innovative design. It offers and delivers full multi-disciplinary consultancy and management services to Africa, the Middle East, Asia & Europe. DSA has a track record of award-winning projects across the globe. DSA Architects International was founded in 1985 by Ridler Shepherd Low Architects (RSL Architects) in Johannesburg, South Africa. Habib Rafiq Limited (HRL) and Future development Holdings Limited (FDHL) are also getting assistance for Capital Smart City and Lahore Smart City.
Consulting Engineers
---
Consulting Engineers Group Ltd. (CEG) is a 2015 certified, multidisciplinary international organization. It provides comprehensive professional consultancy services in the field of civil engineering. CEG believes in offering innovative, value-adding technical solutions and quality services to our clients. It is one of the consulting design partners of Lahore Smart City.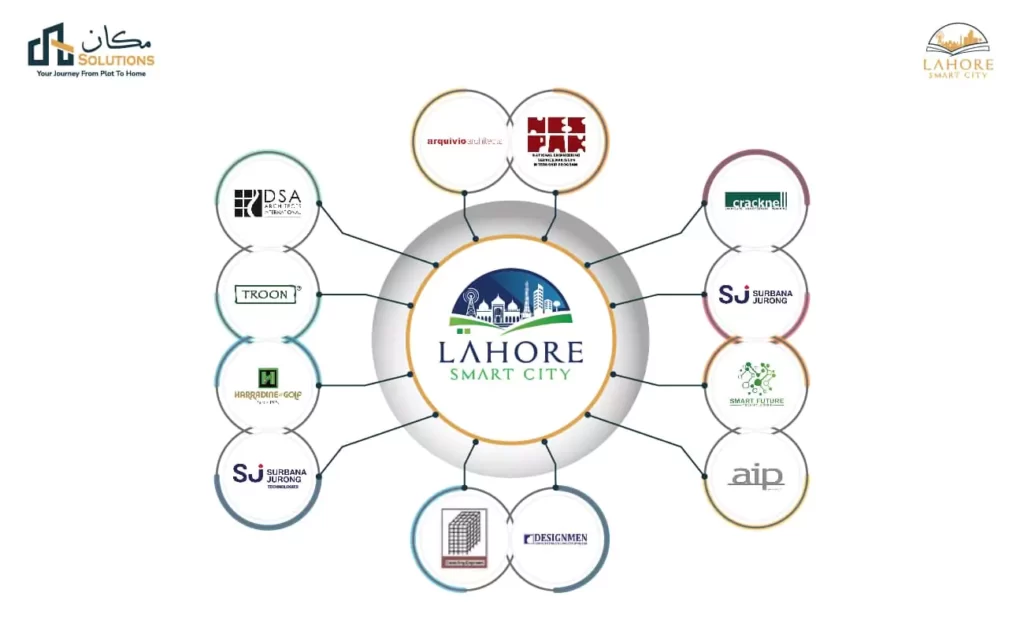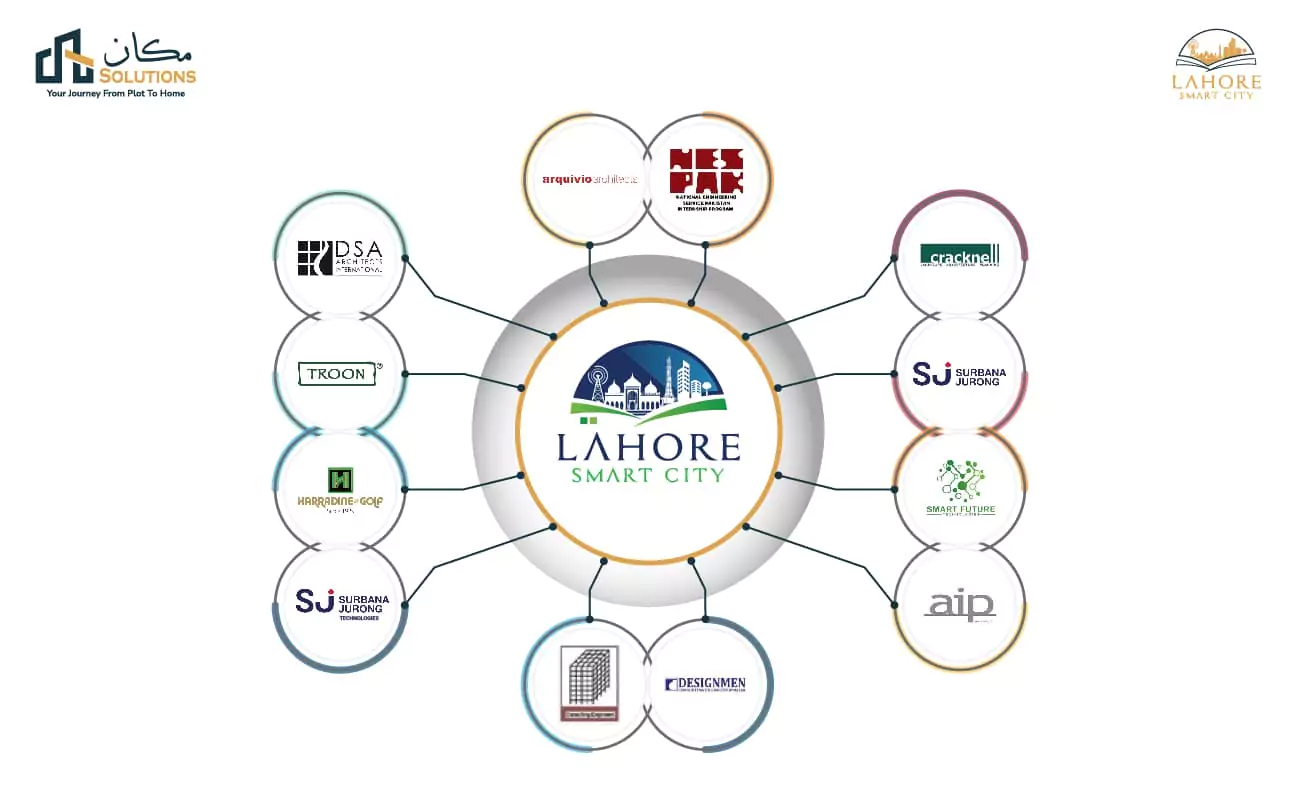 Lahore Smart City Development and Designer Partner
If you want to know about Lahore Smart City, contact Makaan Solutions. Our Sales Executive Officer will provide you with all the latest information. Starting from consultation to choosing the property, and from booking to owning your dream property. For further details, please do not hesitate to contact on the below-given information: