Ideal Farmhouse Karachi is a luxurious and beautiful farmhouse in the ideal location to offer the ultimate enjoyment. This Farmhouse includes phenomenal services to facilitate the customers in a peaceful and luxurious environment at reasonable prices.
You can view the beauty of the Farmhouse by taking a glance at the Ideal Farmhouse pics. The management has a vision of offering different options to cater to the client's requirements in the presence of fabulous services. You can contact management to book this Farmhouse.
Ideal Farmhouse Location
---
Ideal Farmhouse Red is located in Gadap Town Karachi to ensure easy access from the different landmarks. It is situated close to Samzu Park to allow potential clients to reach this Farmhouse within a few minutes.
Ideal Farm House is just a few kilometers away from Aj Siraj Farmhouse. You can travel on Krithar Park Road to reach this top-notch Farmhouse. Moreover, it is in the beautiful and eco-friendly surroundings of Sarina City and Omega Ciy.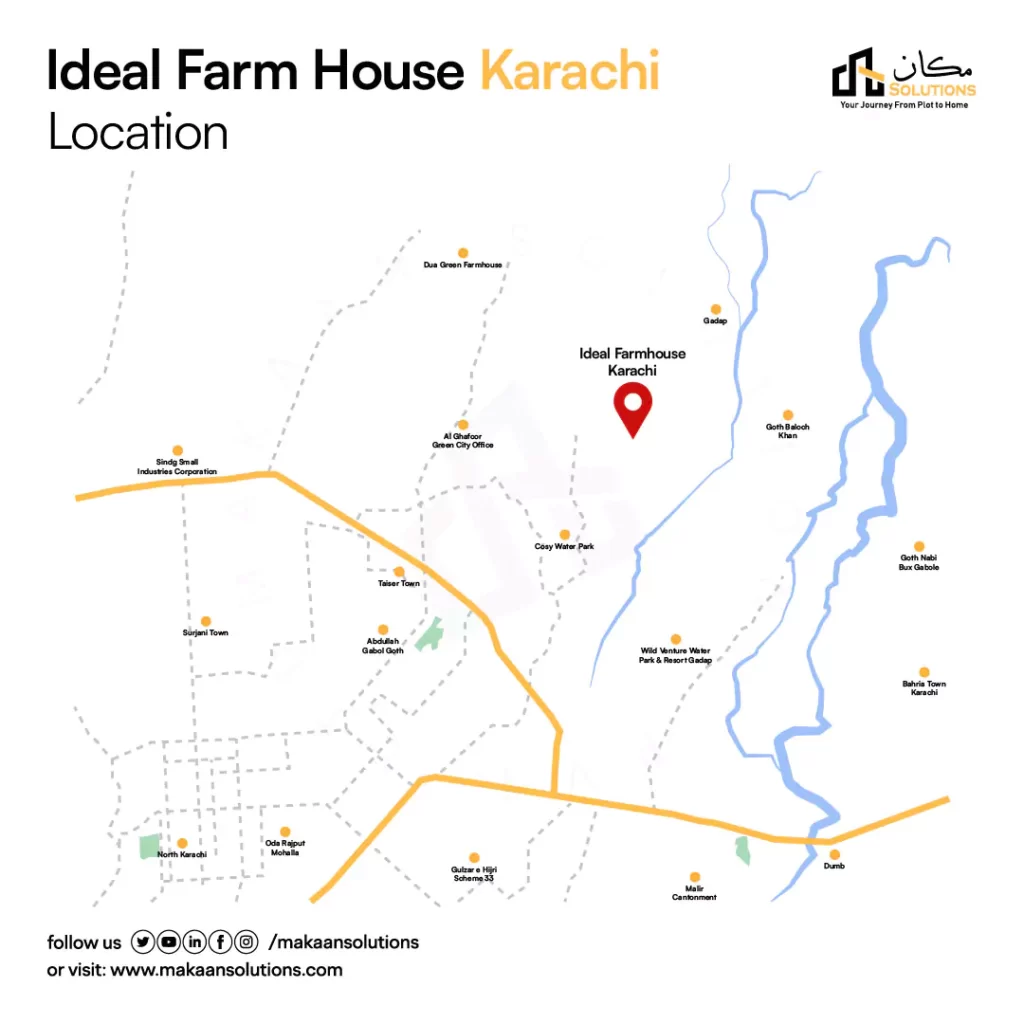 Ideal Farmhouse Price List
---
The management offers reasonable prices for the Ideal Farm House. The purpose of an affordable payment schedule for different phases of this farm. Moreover, the pocket-friendly prices allow potential clients to arrange their events easily.
The price list for Ideal Farm House allows every middle-class person to access the luxurious amenities and facilities. Therefore, management has made sure to offer the best living experience at a reasonable price.
How to Book Ideal Farmhouse?
---
The management simplified the booking process for this farm. It is very easy for the clients to contact management through phone number or email address. Moreover, you can also visit the office of Farmhouse to book this Farmhouse easily.
The easiest booking procedure is an initiative by the management to enable the clients to spend quality time in an eco-friendly and peaceful environment. Therefore, you can book this farm to spend a luxurious time with your friends and family.
Ideal Farmhouse Options
---
Phase Red
Phase Blue
Phase I
Phase II
The management offers different options to potential clients who are looking to enjoy the best services in accordance with customers' budgets. Therefore, the clients choose a phase in accordance with their requirements with the consideration of price.
You can plan your corporate and family events in the different phases of this Farmhouse by knowing the prices and available services. It is a good idea to discuss with your friends and family to reserve this phenomenal Farmhouse.
The management has also launched Ideal Farmhouse Phase 2, which has become another option for potential clients. This phase has been launched to fulfill the increasing demand for Farmhouse in Karachi.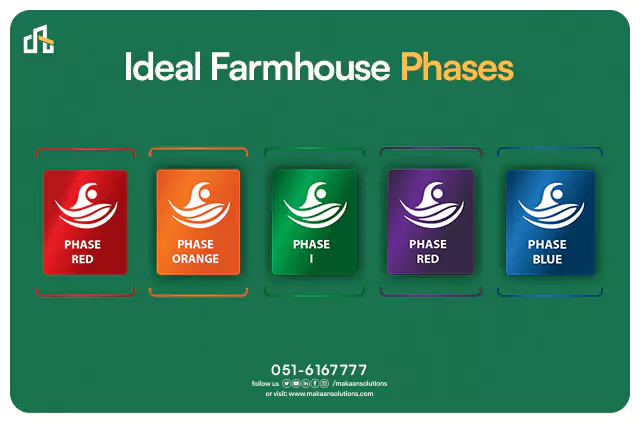 Ideal Farm House Services 
---
The management offers brilliant services to provide a peaceful lifestyle in this exceptional Farmhouse. There are phenomenal amenities and facilities to ensure a phenomenal experience for the users. Some of the top-notch services have been mentioned for the users.
Parking Area
There is a spacious parking area to allow the users to park their vehicles easily without facing any issues. This parking space ensures the ultimate satisfaction for the users.
Rooms with Attached Bathrooms
The management offers furnished and beautiful rooms with attached bathrooms. Therefore, users will be able to experience a luxurious lifestyle in a peaceful environment.
American Style Kitchen
The availability of an American-style kitchen allows the users to get an excellent cooking experience. You will be able to cook your favorite foods to entertain your guests. Moreover, you can also get excellent catering services.
Backup Generator
The management has provided a backup generator that is available to offer a smooth living experience to the customers.
Barbecue Area
The availability of a barbecue area in this Farmhouse allows the potential users to enjoy the BBQ party with their friends and family.
Football Area & Indoor Games
The management has also made sure to include fabulous indoor games and a football area for the users. You will be able to enjoy your favorite games with your friends and family.
Final Thoughts
---
Ideal Farmhouse is a top-rated farm in the heart of Karachi to ensure excellent services for users. The presence of phenomenal facilities allows you to arrange your events at reasonable rates. You can own your farm in Oasis Farms Islamabad with the help of MakaanSolutions.
Ideal Farmhouse
If you want to know about Ideal Farmhouse Contact Makaan Solutions. Our Sales Executive Officer will provide you with all the latest information. Starting from consultation to choosing the property, and from booking to owning your dream property. For further details, please do not hesitate to contact us with the below-given information: