Gadap Town Karachi
Gadap Town Karachi is a legal housing society with NOC approval from the Sindh Building Control Authority with the best location on the Karachi-Hyderabad Motorway to provide accessibility from the different landmarks of the city. You can reserve your property at a reasonable payment plan in this master-planned housing society.
Gadap Town Karachi – Introduction
---
Gadap Town Karachi is a legally approved residential project by SBCA. It is one of the best towns in Karachi that is located on the M-9 Motorway. This town offers luxurious living standards to the residents at economical plot prices. The investment in this town also ensures the best profitability ratio for the investors.
Gadap Town in Karachi has got the attention of residents and investors because of its premium location and legal status. This is one of the biggest towns in Karachi that offers different options of apartments and villas to fulfill the housing needs of the customers. Therefore, you will be able to enjoy the best services to bring ease to your life.
Gadap Town Karachi Location
---
Location of Gadap Town Karachi is on Karachi-Hyderabad Motorway, which ensures flexible accessibility from the different cities. This town is located in the central part of Karachi to ensure easy accessibility from the various parts of this largest city of Pakistan. M-10 Northern Bypass Link is also the nearest access point to reach the housing scheme. Moreover, you can also visit the society from M-10 Northern Bypass.
Gadap Town location is also easily reachable from Gulshan-e-Maymar Road within a few minutes. You can also travel on the Lyari Expressway to reach your property in this town easily. Moreover, you can also reach the society from Hub River Road and M-7 Motorway as it is situated in an easy-to-access location. Therefore, it has become easy for customers to reach this famous town in Karachi easily because of its familiar location.
Nearby Landmarks 
Bahria Town Karachi
Gulshan-e-Iqbal
Gulshan-e-Maymar
Gulzar-e-Scheme 33
New Karachi Town
Shah Faisal Town
New Karachi Town
Jinnah International Airport
Accessibility 
Gulshan-e-Maymar Road is 2 minutes away
M-10 Northern Bypass Link is 3 minutes away
M-10 Northern Bypass is 7 minutes away
Lyari Expressway is 11 minutes away
M-7 Motorway is 13 minutes away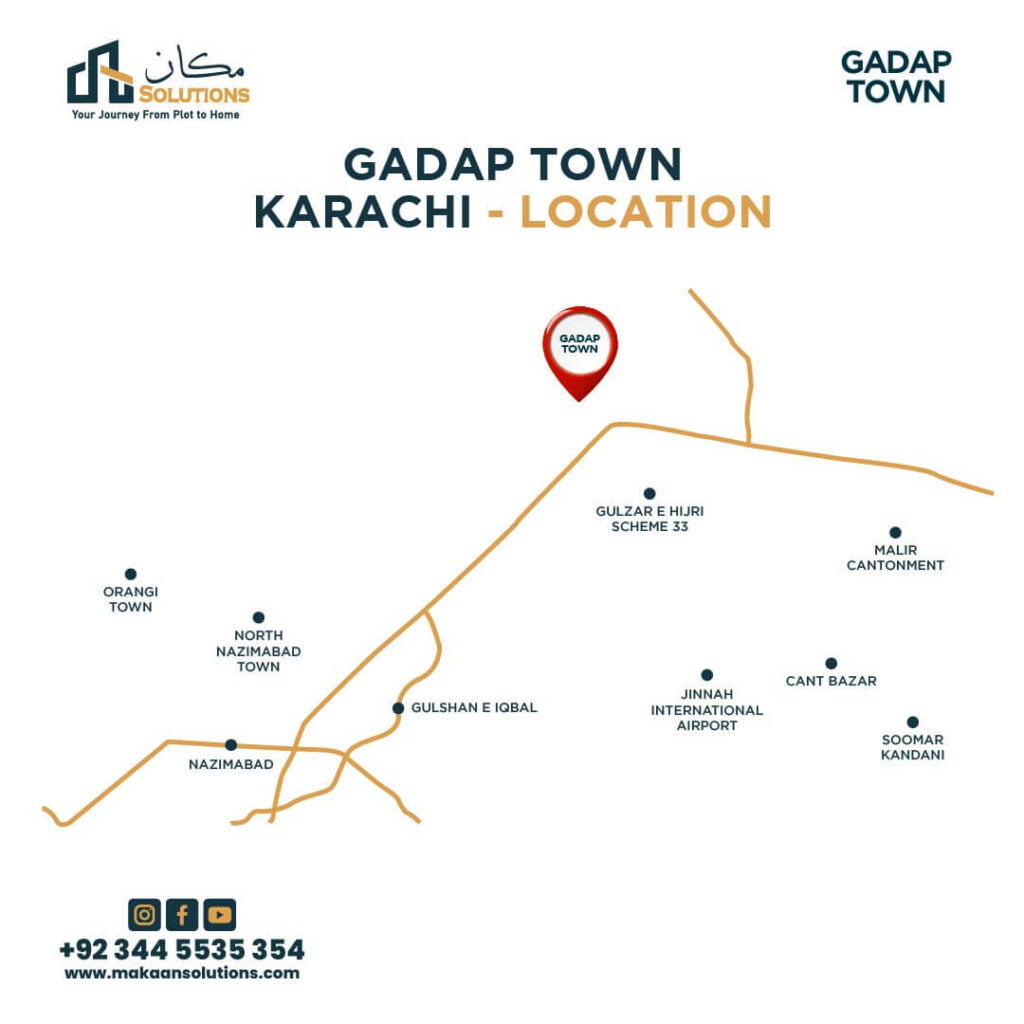 Gadap Town Map
---
You can view the location of this residential project on Google Maps.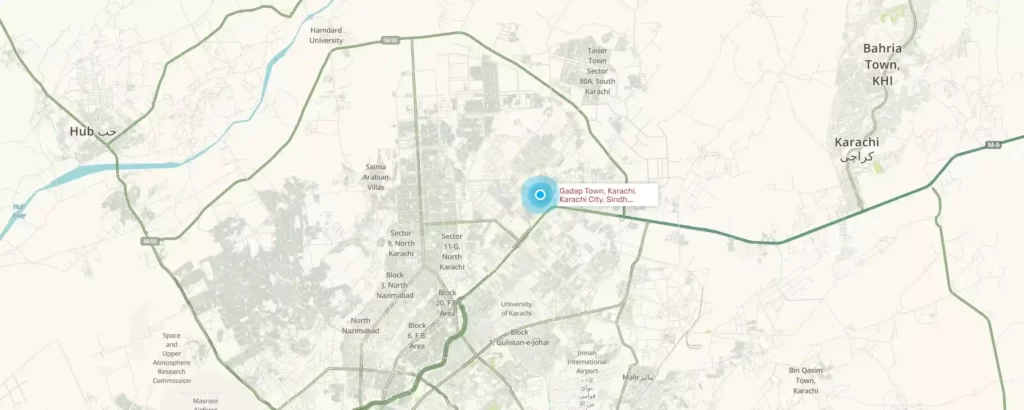 Gadap Town Karachi Payment Plan
---
Payment plan of Gadap Town Karachi was launched by the concerned management to ensure affordable plot prices for potential customers. The management comes forward to enable the customers to purchase valuable properties in this housing society. You can also buy your residential or commercial property the presence of cost-effective prices.
Installation plan of Gadap Town allowed the middle-class people of Karachi to own their elegant properties with minimal booking payment. The customers need to pay monthly installments for the reserved property in this housing scheme. Therefore, you can book your plot at an affordable payment schedule.
There are plots for sale in Gadap Town Karachi with these prices:
The price of 80 square yards is 3,100,000
The price of 120 square yards is 4,800,000
The price of 200 square yards is 6,100,000
The price of 240 square yards is 8,200,000
The price of 400 square yards is 9,500,000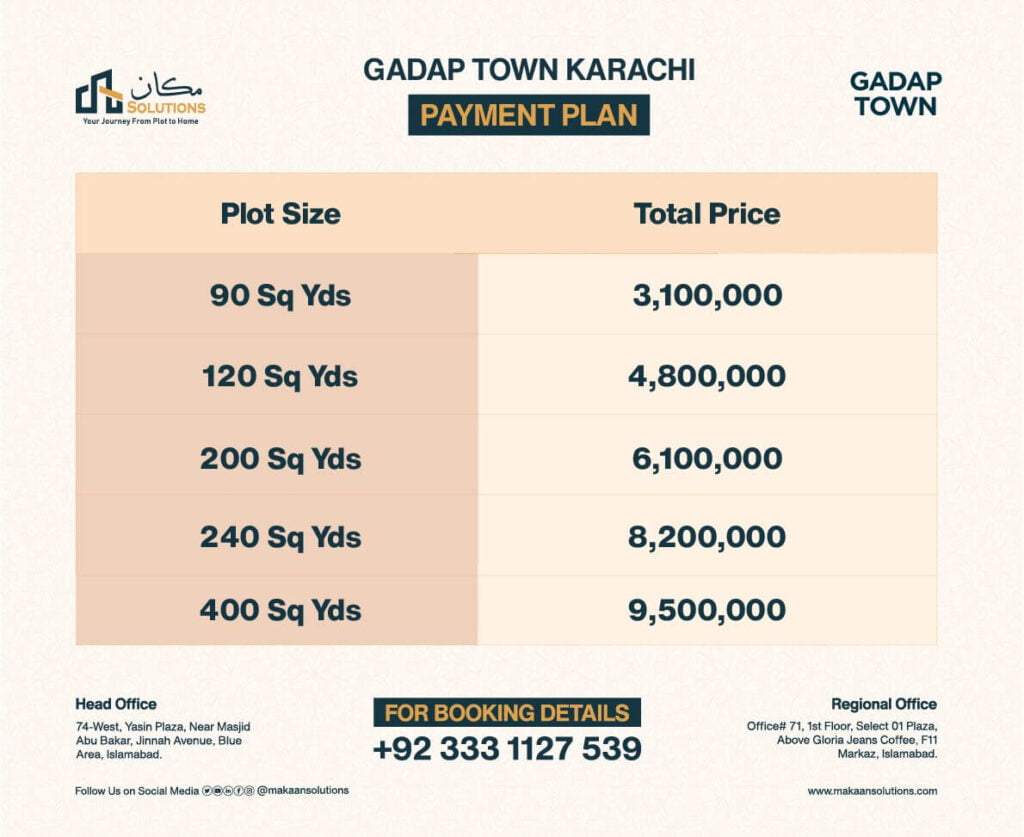 How to Book a Plot in Gadap Town Karachi?
---
Gadap Town booking process allows every customer to book a plot easily through flexible steps. The plot booking procedure is the ultimate step towards owning a property in this fantastic housing society. Moreover, the experienced team of Makaan Solutions for the smooth reservation of your property. Our team has also mentioned the easiest steps for the reservation of a property.
Fill out the application form
Add the necessary documents to the form
Pay the required payment
Add the receipt of paid payment to the form
Submit the form to the management of society
Required Documents
These documents are needed for the confirmation of a property:
2 CNIC copies of the buyer
2 passport-size images of the buyer
2 CNIC copies of Next to Kin
NICOP is required for overseas buyer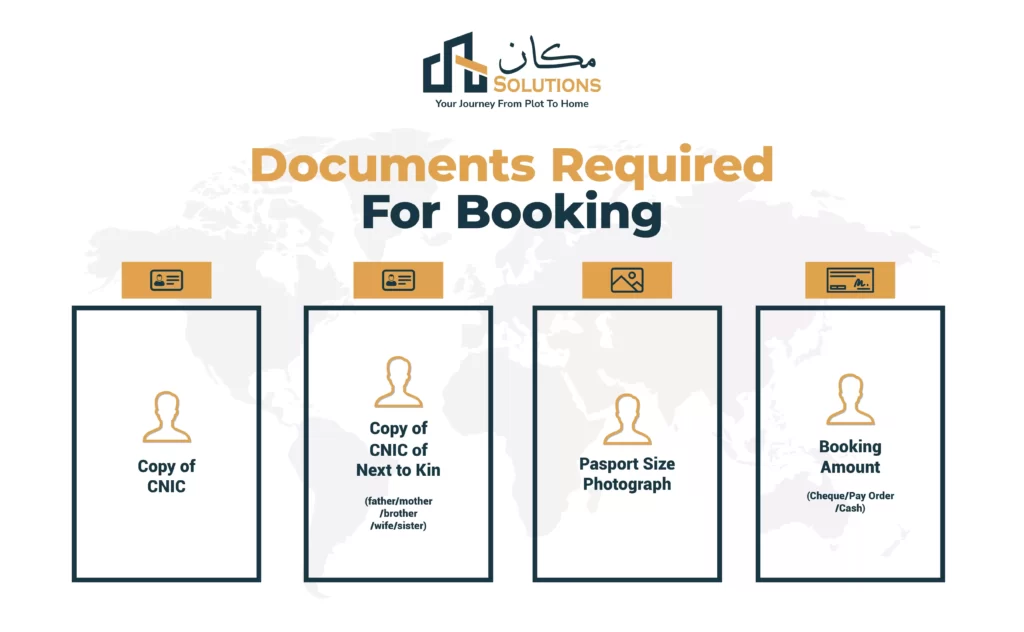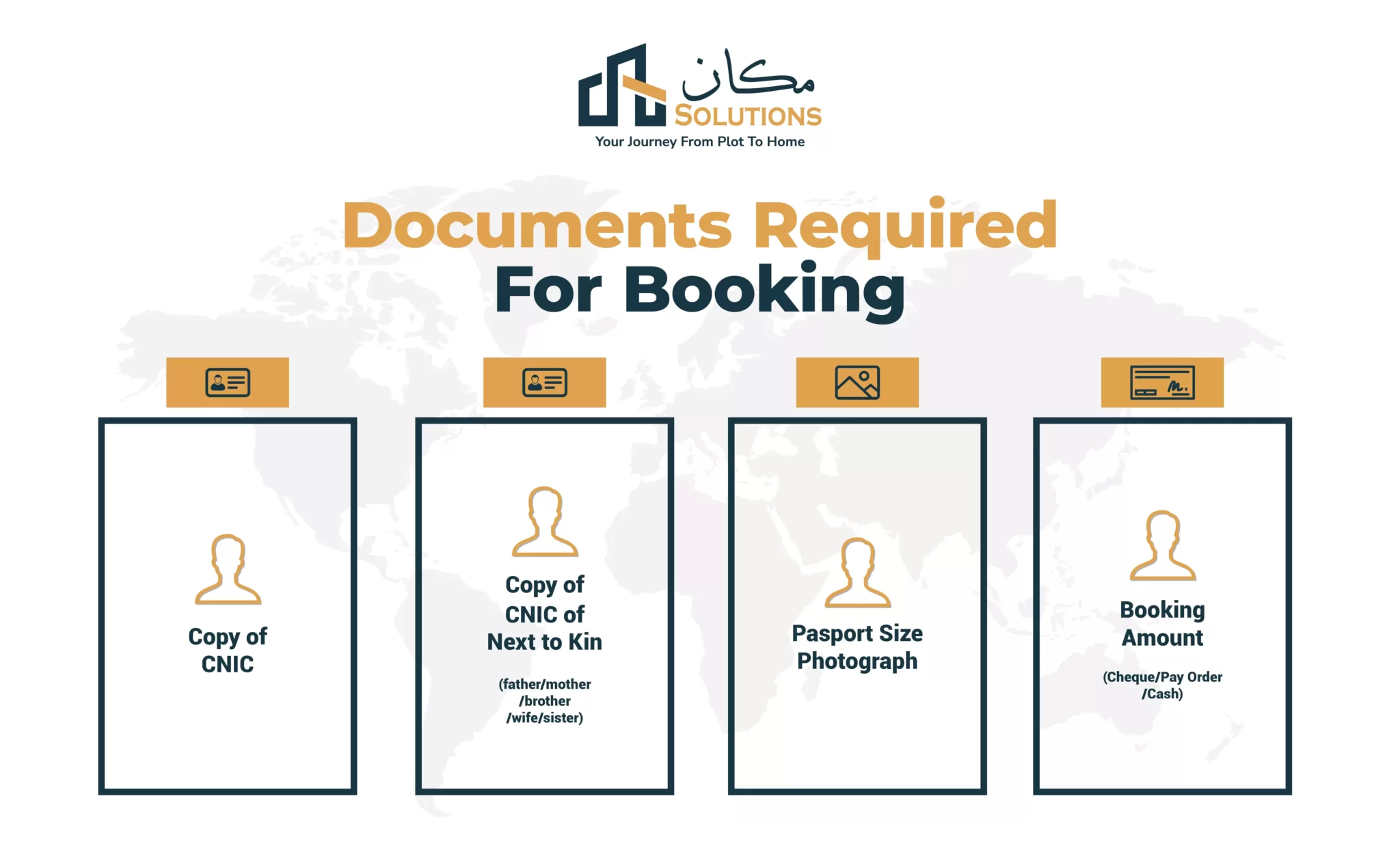 Benefits of Investment in Gadap Town Karachi
---
You can invest in Gadap Town Karachi to attain several benefits. The management ensures world-class services in this residential area to offer the maximum perks to the customers. It is crucial for you to know about the most appealing benefits of investing in this Gadap Karachi.
Maximum Return on Investment 
The incentive for every investment in this residential project is the maximum return on the invested money. It is true that investors have been attracted to this fast-growing town because of the highest ROI.
Passive Income 
You can make a source of passive income by purchasing your property in this famous town of Karachi. You can rent out your plot or house in this town to earn passive income in the form of monthly rent.
Financial Independence 
You can become financially independent by making an investment in this reliable housing project in Karachi. It is a good chance to make short-term or long-term investments to earn a high profit.
Valuable Asset
A commercial or residential property in this housing scheme has become the most valuable asset. The rates of properties are going upward on a daily basis, which brings a huge profit for the investors.
Gadap Town Karachi Master Plan 
---
Master plan of Gadap Town Karachi has been designed by experienced designers who are known for designing exceptional infrastructure for the housing society. The master plan ensures that it has become a well-developed housing society. This housing scheme consists of different plot categories for the customers.
Layout plan of Gadap Town shows that the housing society consists of eight union councils with different categories of residential plots to facilitate customers who want to build their beautiful homes.
Union Councils
Darsano Channo
Gadap
Gujjro
Manghopir
Maymarabad
Murad Memon
Songal
Yusuf Goth
Residential Plots
80 Square Yards
120 Square Yards
240 Square Yards
400 Square Yards
Gadap Town Karachi NOC Status 
---
NOC of Gadap Town is approved by the SBCA, which is a responsible department for the legalization of housing societies. This housing project is started by the government authorities on the land of government to facilitate the middle-class people. Investors take an interest in this residential project because of the government's involvement.
Total Area:
---
This town consists of a 1200 square kilometers area in Karachi to ensure brilliant options for investment and residency.
Gadap Town Karachi Owner & Developers 
---
Developers of Gadap Town Karachi are the government authorities of Karachi which are ensuring more residential options for customers because a lot of people are moving towards Karachi for better living standards.
Owners of Gadap Town are also the government authorities who have reserved a larger area in Karachi for this society. However, it is a less populated housing society to become the best place for investment in Karachi.
Gadap Town Karachi Development Status
---
Development status of Gadap Town shows that it is a magnificently developed housing project in Karachi. This town was developed at a fast speed in accordance with modern infrastructure.
Gadap Town Karachi Latest News
The latest updates show that houses are available for sale and rent in this magnificent town of Karachi.
Facilities & Amenities
---
This town is familiar because of the top-notch amenities and facilities that have brought comfort to residents' lives. Therefore, residents experience the best lifestyle in the presence of magnificent services. You can also own your house or plot to access the marvelous amenities.
Grand Mosque 
The developers have considered the construction of a grand mosque as a first and ultimate priority. This mosque ensures that you can offer your religious duties within this beautiful premises of society.
Educational Institutes 
This town consists of the best colleges and schools that are located within walking distance to make sure that residents get an advanced level of education. These educational institutes offer an international standard of education to residents who want to excel in their professional careers. Moreover, the best universities in Karachi are also located at a distance of a few kilometers.
Healthcare 
The management has considered the international standard of healthcare facilities for the residents. The development of a hospital shows that qualified doctors will be available with advanced medical equipment for the best medical treatment within society. This hospital remains open for 24/7 hours to deal with every medical emergency.
Parks & Playgrounds 
This residential project in the heart of Karachi consists of recreational places. The developers have specified a large area for the playgrounds and parks in this excellent housing society. Therefore, the residents in this town will be able to take fresh breaths in the open-air environment.
Electricity & Gas
The local government that is behind this residential project has considered the basic utilities of gas and electricity. They have made sure to supply these utilities to every plot in this housing project. The residents in this society are able to utilize these necessary utilities without facing any problems.
Filtered Water 
The supply of water has been a problem in Karachi, but you're not going to face this issue because the management of this town supplies filtered water to every plot. You will be able to use the purified water in your daily life. There is no breakdown in the supply of filtered water for the residents.
Shopping Area
The society includes the best commercial area in society to make sure that residents can experience the phenomenal shopping experience within the society. There are world-class brands in the shopping area to ensure that your shopping needs must be fulfilled quickly. Therefore, you don't need to go anywhere outside this town for your shopping needs.
Security 
Safety has been the main concern in this residential project, as the developers have included an advanced security system for the residents. There is an experienced security staff with modern equipment to ensure the magnificent safety of the residents. Therefore, you and your belongings are safe in this residential project.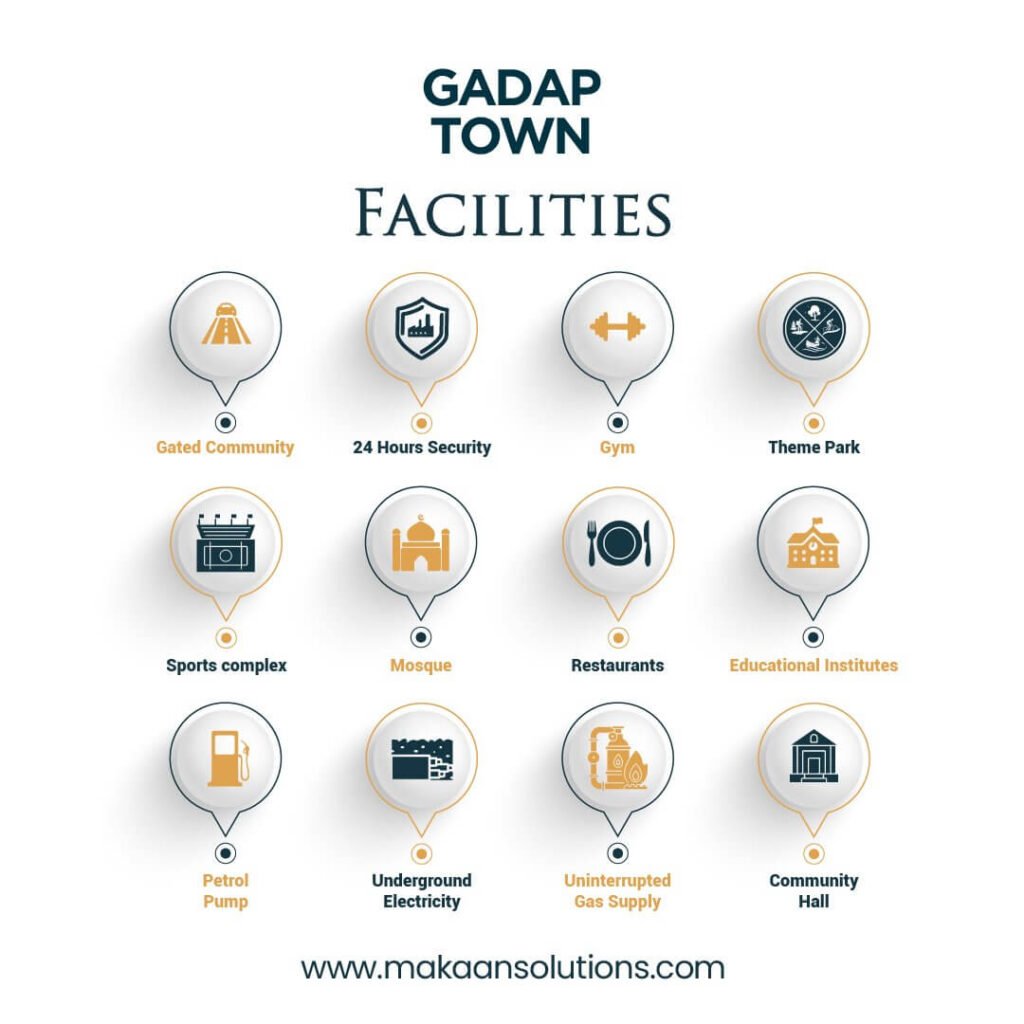 Pros & Cons
---
The benefits and drawbacks of purchasing properties in this residential project are listed below:
| Pros: | Cons: |
| --- | --- |
| Reliable developers | High plot rates |
| Legal housing scheme | |
| Ideal location | |
| Exceptional master plan | |
| Best infrastructure | |
| Wide Streets | |
| Green Belts | |
| Phenomenal development | |
| Hospitals & Educational Institutes | |
Conclusion
---
Gadap Town Karachi is the most appealing residential project because of its ideal location and world-class facilities. The plot prices in this society are being boosted daily because of society's legal status. You can also buy your property in this society with the magnificent services of Makaan Solutions to enjoy a luxurious lifestyle. We also help customers to reserve properties in Bahria Town Karachi, Baldia Town Karachi, and Saadi Town Karachi.
Frequently Asked Questions
---
Which district of Karachi is Gadap Town?
It is located in the Malir District to ensure a world-class lifestyle for the residents.
Which areas are in Gadap Town?
This town includes eight union councils which are Darsanno Channo, Gujjro, Gadap, Manghopir, Maymarabad, Murad Memon, Songal, and Yusuf Goth.
What is the size of Gadap Town?
The total area of this town is around 1200 square meters to ensure fabulous investment options.
What is the population of Gadap Town Karachi?
The population of this town is more than 300,000.
Where is Gadap Town located in Karachi?
This town is located on Karachi-Hyderabad Motorway in the neighborhood of Malir District.
Is Gadap Town a NOC-approved project in Karachi?
This is an SBCA-approved residential project in Karachi to ensure the secure buying and selling of properties.
Who are the developers of Gadap Town?
The local government authorities of Karachi are the developers of this town to provide the best residential experience to the residents.
How to buy a Gadap Town farmhouse?
You can buy a farmhouse in this well-developed town with the exceptional assistance of Makaan Solutions.
What is Gadap Town distance from Karachi?
This residential project is around 60 km away from the city of Karachi.