Gandhara City Islamabad
Gandhara City Islamabad is a top-notch housing project by Gandhara City Private Limited close to M1 Islamabad-Peshawar Motorway and Link Road. There are residential and commercial plots for sale at reasonable prices. Let's book your property today with the help of Makaan Solutions!
Gandhara City Islamabad: introduction
---
Gandhara City is a beautiful housing society in Islamabad to attract customers because of the ideal location and affordable payment plan. This new housing society offers an exceptional blend of modern amenities and facilities.
This housing scheme includes different property types like villas, apartments, and residential plots. The modern infrastructure and development standards ensure a modern lifestyle for the residents within the society.
Gandhara City Location
---
The location of Gandhara City is close to Islamabad Motorway Link Road and M-1 Motorway. Moreover, it is just a few kilometers away from New Islamabad International Airport to offer access to Fateh Jang Road, Rawalpindi, and Islamabad.
It is a new well-planned housing society with a premium location to ensure a high ROI to the investors. The value of properties will be increasing because of the easy-to-access location. Moreover, it is located near Budha Stupa Gandhara Civilization.
This residential project is near:
The access points for this phenomenal housing project are mentioned below:
Thalian is just 10 minutes away
New Islamabad Airport is just 15 minutes away
Saddar Rawalpindi is 20 minutes away
Faizabad is 24 minutes away
Blue Area is 25 minutes away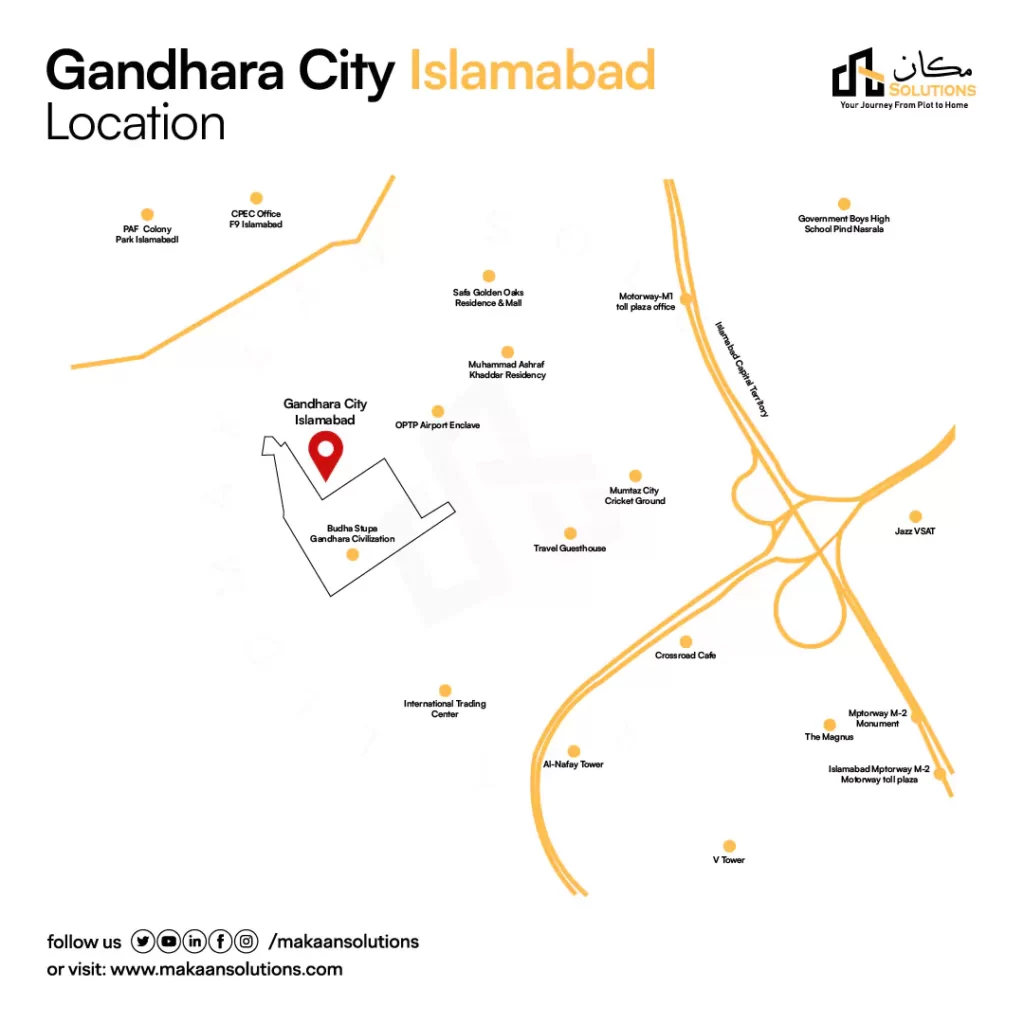 Gandhara City Map
---
The location map of society is available on Google Maps.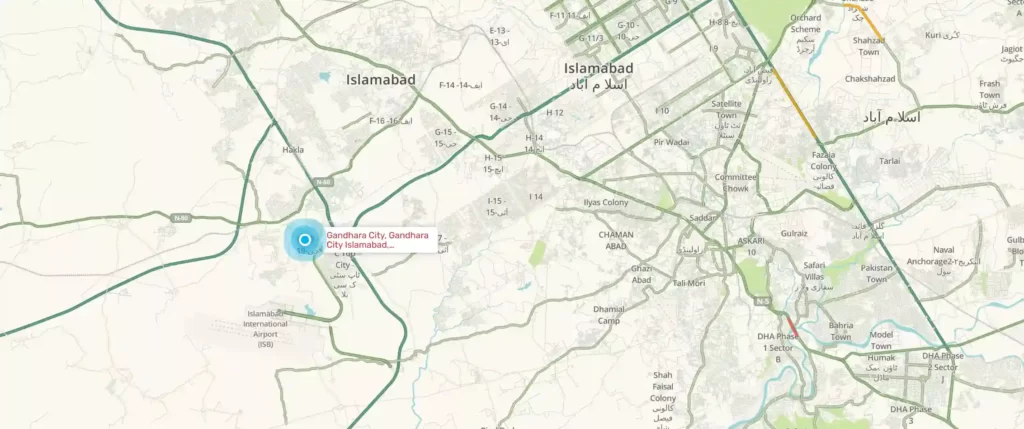 Gandhara City Payment Plan
---
| Residential Plot Sizes (SQ YD) | Price |
| --- | --- |
| 138 | 20.7 Crore |
| 200 | 30 Crore |
| 233 | 34.95 Crore |
| 500 | 75 Crore |
| High-Rise Apartment Sizes (SQ YD) | Price |
| --- | --- |
| 4211 | 10.53 Crore |
| 7236 | 18.09 Crore |
| 7841 | 19.6 Crore |
| 8198 | 20.5 Crore |
| Commercial Plot Size (SQ YD) | Price |
| --- | --- |
| 1131 | 8.48 Crore |
| 1543 | 11.57 Crore |
| 1555 | 11.66 Crore |
| 1803 | 13.52 Crore |
| 2184 | 16.38 Crore |
| 3672 | 27.54 Crore |
The payment plan of Gandhara City Islamabad is launched for residential plots, commercial plots, and apartments by the management. The residential and commercial plots for sale allow you to live in an eco-friendly environment and get good ROI.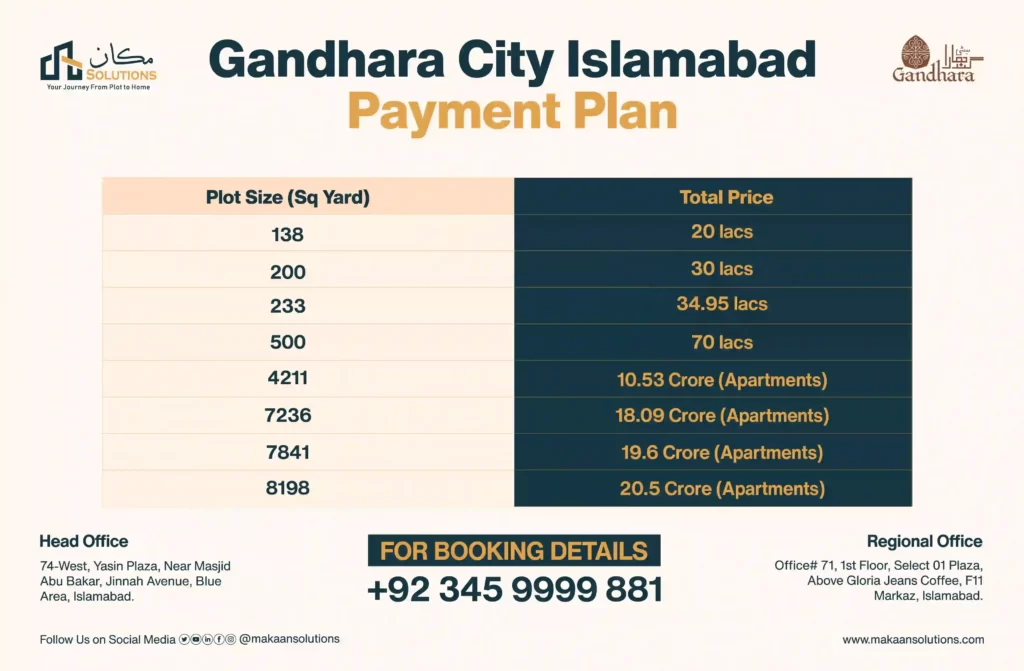 The purpose of launching the payment schedule for the available properties in society is to enable every customer to become an owner of a valuable property. Therefore, you can also reserve your property in this housing society easily.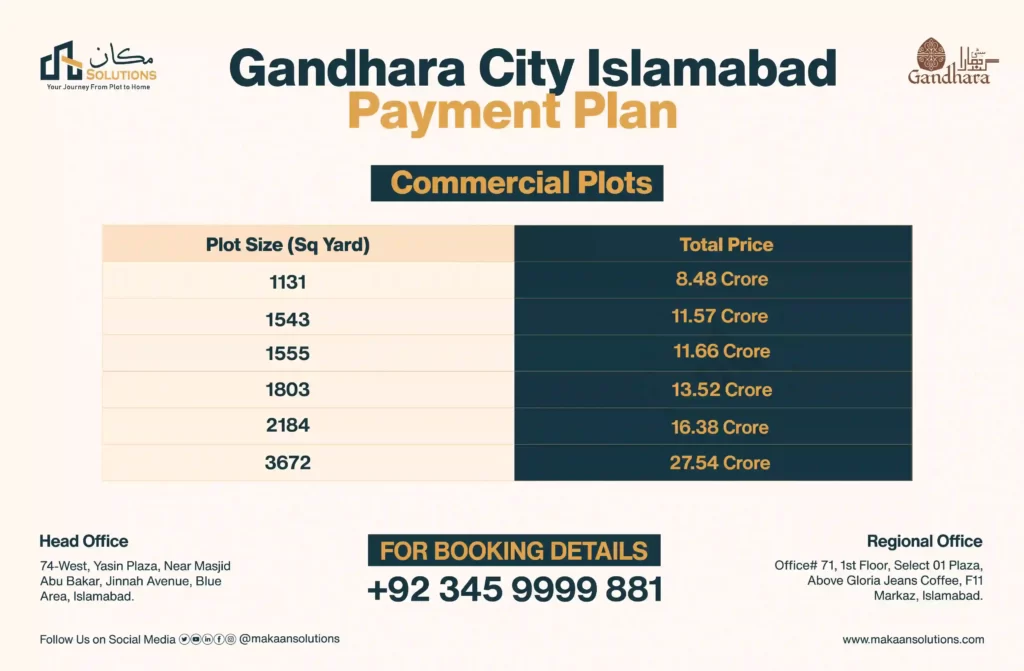 How to Book a Plot in Gandhara City Islamabad
---
Download and fill out the booking form
Attach the necessary documents with the form
Make the payment for your desired plot
Attach the payment receipt with the booking form
Submit the booking form to the management of the society
The plot booking procedure for this modern housing society near Fateh Jang Road allows potential customers to own their properties by following the easy steps. Moreover, you can also contact Makaan Solutions to reserve a plot with the help of an experienced sales team.
Required Documents
Customer's 2 copies of the original CNIC
Customer's 2 passport-size photographs
Next to Kin's 2 copies of the original CNIC
NICOP is applicable to the overseas Pakistanis
The required documents for the booking process have immense importance because you can't reserve a plot without their submission of them. Therefore, you need to come up with the essential documents to book your plot with our smooth services.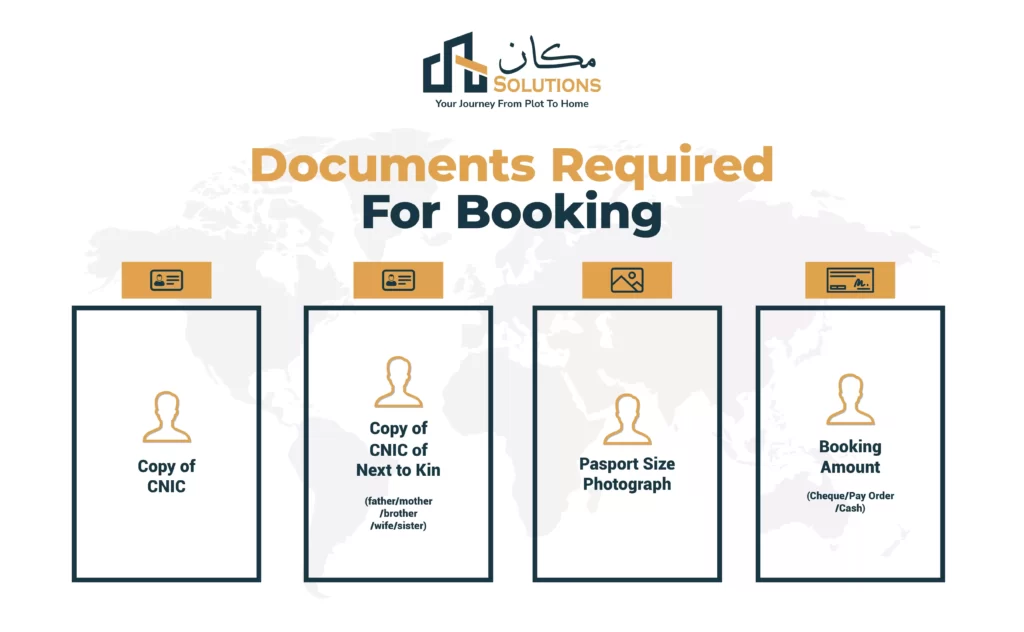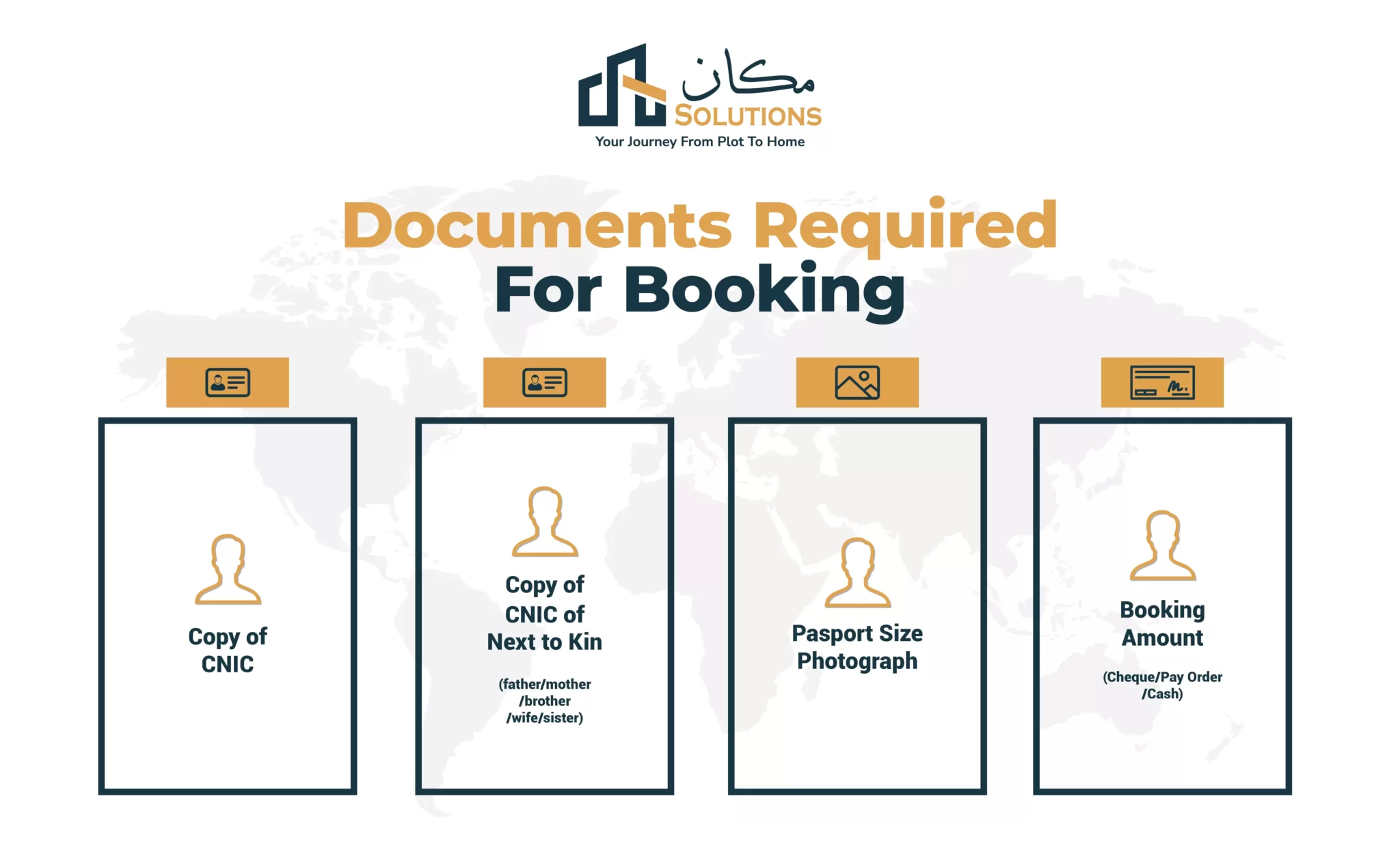 Benefits of Investment in Gandhara City
---
There are different advantages to making investments in this society. You are also going to enjoy the magnificent benefits of investing in society. The following perks of purchasing properties will inspire potential customers to reserve a property.
High ROI
The most lucrative advantage of investment in this amazing housing project is the high return on investment. The premium location and payment plan ensures the maximum profitability of the investment.
Passive Income
Your property in this housing scheme is also a source of passive income for investors. They can easily rent out their properties in this phenomenal residential project to earn a handsome rental income.
Financial Security
The reservation of a plot in society also ensures financial security for potential customers. You can also get financial independence because property rates have been increasing on a daily basis.
Valuable Asset
A plot in this highly profitable society is also a valuable asset for the customers because plot rates are increasing every day because of the ideal location. Therefore, this valuable asset will be a source of relief for you in times of financial problems.
Gandhara City Master Plan
---
The master plan of Gandhara City is designed by an experienced team of designers. This plan ensures the providence of world-class facilities in the Crown of Jewels near the joint cities. Moreover, the infrastructure facilitates the customers with modern living standards.
There are residential plots and commercial complexes in the heart of Sector A. The office buildings and financial squares ensure the best investment opportunities for potential investors.
Residential Plot Sizes:
138 Square Yards
200 Square Yards
233 Square Yards
500 Square Yards
4211 Square Yards
7236 Square Yards
7841 Square Yards
8198 Square Yards
Commercial Plot Sizes:
1131 Square Yards
1543 Square Yards
1555 Square Yards
1803 Square Yards
2184 Square Yards
3672 Square Yards
Gandhara City NOC Status
The NOC of Gandhara City is approved for 393 Kanals by Rawalpindi Development Authority. The legal status of society attracts potential customers to reserve their plots. Moreover, it is a NOC-approved housing society to offer different plot categories.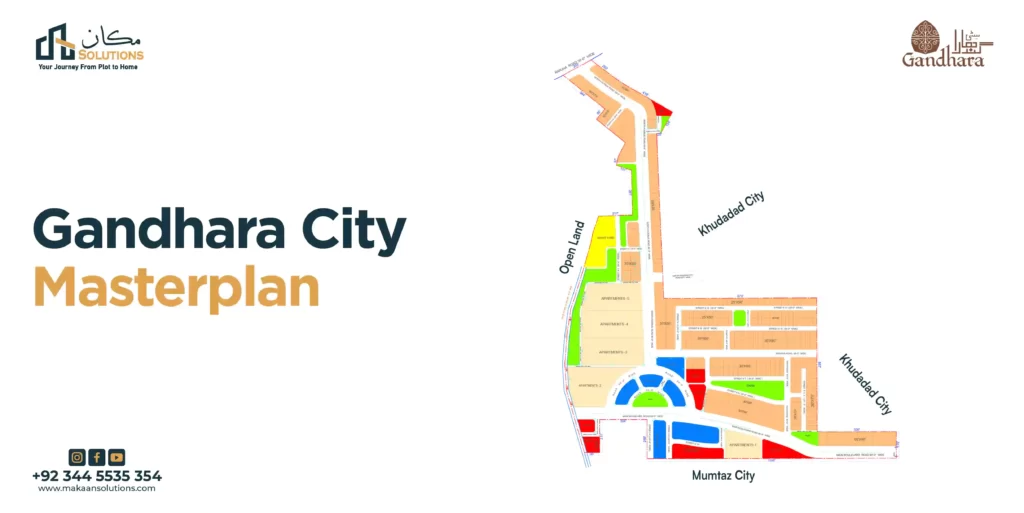 Gandhara City Owner & Developers
---
The owners and developers of this top-notch housing project are Gandhara City Private Limited. They have planned this society to offer new international living standards for the residents within the society.
The developers are focused on implementing modern and trending development standards. They are ensuring sustainability with smooth development to ensure an eco-friendly environment for the residents.
Gandhara City Development Status
---
There is a fast and magnificent development in the residential project to ensure the balloting and possession as soon as possible. The developers are following the efficient infrastructure for phenomenal development in society.
Gandhara City Latest News
---
The management of society is working on the extension of society. They have submitted the necessary documents for legal approval. However, the RDA has not issued any NOC approval for the extension of society.
Facilities & Amenities
---
The management includes brilliant features to offer fabulous services to the residents within the residential project.
Wide and Carpeted Roads
The developers have constructed the carpeted roads to ensure smooth traffic flow. The main boulevard and connected roads offer flexible access for the residents. Therefore, you can easily move to the available amenities.
Security
The developers have installed CCTV cameras to ensure the magnificent safety of the residents within the society. The security guards at the entrance ensure that only authorized persons can enter the society.
Health & Education Facilities
The management offers phenomenal medical services for residents by developing a hospital that includes modern medical facilities. The doctors and nurses will be available 24/7 to facilitate the patients in any case of medical emergency.
The presence of world-class educational institutes such as schools and colleges offers phenomenal educational standards. Therefore, the residents don't need to struggle for the quality of education.
Shopping Mall
There is a modern shopping mall in the heart of society to offer a fabulous shopping experience to the customers. Therefore, it is the best destination for people who are searching for phenomenal products at reasonable prices.
There are different features, such as an entertainment area and food courts alongside the retail stores, to ensure a pleasing experience for the clients. These attraction points within the shopping mall enable families and individuals to enjoy an excellent shopping experience.
Electricity & Gas
The developers offer a smooth supply of gas and electricity within the society to ensure that customers must have a fantastic living experience. Therefore, you will not have any problems related to electricity and gas.
Playgrounds and Parks
The developers have also included playgrounds to allow the residents to enjoy games and sports with their families and friends. There are also parks within the society to allow the residents to spend quality time with their families in the green areas.
Mosque
There is a luxurious and elegant mosque in society to provide a religious-friendly place for Muslims within the housing scheme. This mosque consists of carpets and comfortable prayer mats with different praying areas for male and female Muslims.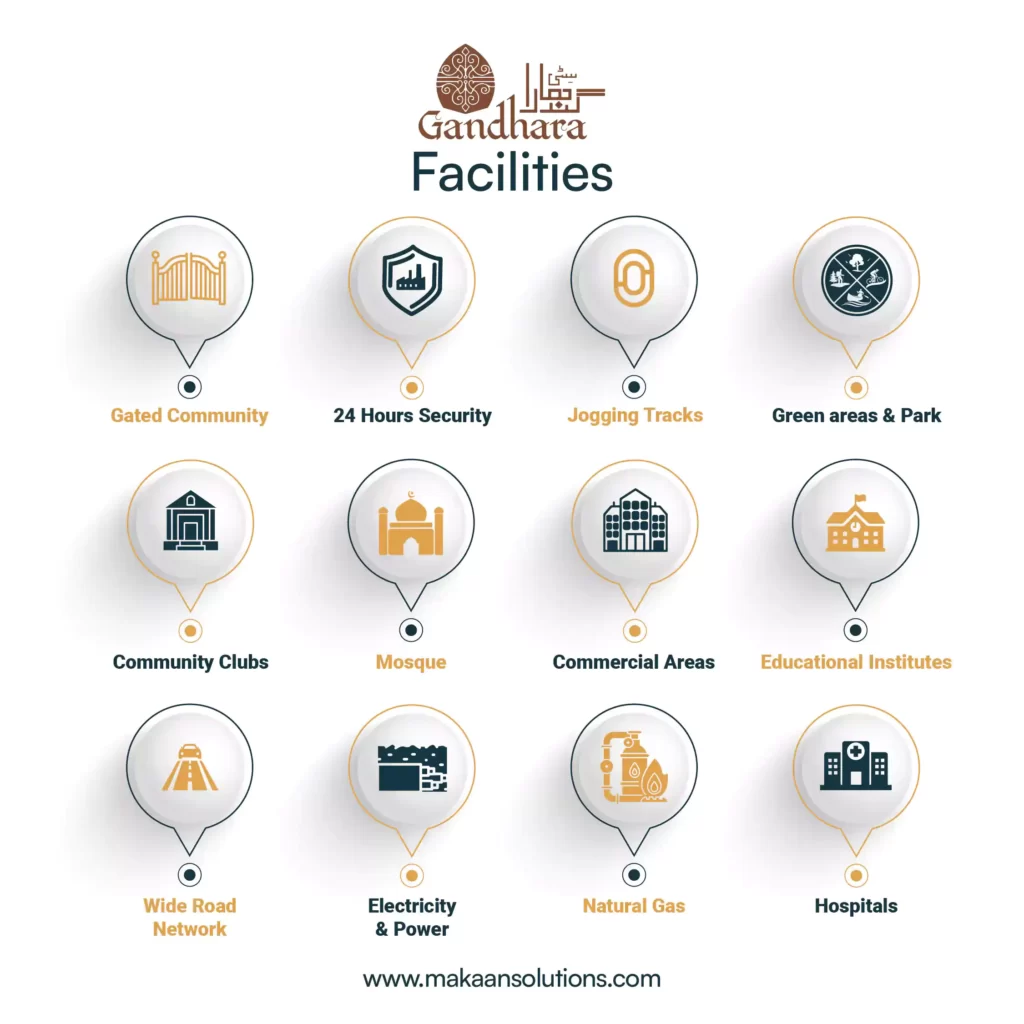 Pros & Cons
---
The advantages and disadvantages of purchasing plots in society are given below:
| Pros: | Cons: |
| --- | --- |
| Ideal location near motorway | The prices of resale plots are relatively higher than other nearby societies |
| NOC-approved society to offer secure investment opportunities | A little away from Islamabad and Rawalpindi |
| Master-planned society to include the commercial and residential plots | |
| Reliable owners and developers | |
| Fast and smooth development to facilitate the customers with the excellent lifestyle | |
| Every amenities and facility is available to serve the residents within the society | |
| Green Belts | |
| Community Center | |
Conclusion
---
Gandhara City Islamabad has become the best residential project in the heart of Gandhara Civilization to offer different categories of commercial and residential plots. You can own a plot with the smooth assistance of Makaan Solutions. We also deal in New City Paradise and Aiwa City Attock.
FAQs
---
What is the legal status of Gandhara City?

It is an RDA-approved housing society.

Where is this society located?

The society is situated close to M1 Motorway.

Who is the owner of Gandhara society?

Gandhara City Private Limited is developing this residential project.

Why invest in Gandhara City?

You can get a high return on investment by investing in this society.

How to buy a plot in Gandhara housing society?

You can buy a plot with the help of Makaan Solutions.