How to become a filer in Pakistan? It is a question that is frequently asked by Pakistanis who want to fulfill the requirements for tax obligations. Therefore, you must know about the proper guide to become a tax filer in Pakistan.
There are several advantages with a minimum 50% exemption for tax filers who file income tax returns than non-filers who get no exemption. Therefore, it is always recommended to become responsible citizens by paying the applied taxes.
How to Become a Tax Filer in Pakistan?
---
You can easily become a tax filer in Pakistan by going through the registration process on the official website of FBR (Federal Board of Revenue). It is important to follow the importance of enjoying the benefits of being a filer in Pakistan.
How to become an active tax filer in Pakistan? You must follow the step-by-step guide to easily pay your taxes, including tax on property in Pakistan.
Tax Filer Eligibility
It is important for you to determine the tax eligibility in Pakistan. Every entity that earns taxable money needs to file the tax in Pakistan. It is suggested to consult with a tax professional to know the tax eligibility. Moreover, you can also check the FBR official website for eligibility criteria.
FBR Registration
How to become a filer in Pakistan online? The online registering yourself as a tax filer through an application form of FBR. You are required to attach the necessary documents like business registration certification or CNIC copy. Moreover, you can follow the online or in-person FBR registration procedure.
National Tax Number (NTN)
FBR assigns an NTN with a unique identifier after the completion of the tax registration process. This National Tax Number has an important role in tax transactions. Therefore, you can file your taxes in a smooth way.
File Tax Returns
You must file taxes regularly in the presence of an FBR report for taxes after getting the NTN. There is a due date for filing the tax, which is normally June of every year. You can file taxes through the tax office or the e-portal of FBR.
Tax Payments
The last step is to pay your owed taxes within time to avoid the challenges like interest charges and penalties. Therefore, you must make payments through available mediums like authorized banks, mobile banking, and online banking.
It is how to become a filer in FBR Pakistan and a useful citizen. 
Benefits for Tax Filers
---
There are several benefits for local and overseas Pakistanis who have become tax files in Pakistan.
Law Compliant:
You can comply with the law by paying taxes to avoid legal actions, including fines and penalties.
Excellent Creditworthiness
When you pay the government, you are ultimately improving your creditworthiness because you will easily get financial opportunities like mortgages and loans.
Government Subsidies
You can get government advantages like tax credits and subsidies by making the tax payment to FBR.
Excellent Credibility
You can boost your credibility with the stakeholders, customers, and business partners by becoming a trustworthy and responsible citizen.
Smooth Tax Record
Tax filers can keep smooth tax records to manage their financial record and make crucial decisions.
Investment & Business Opportunities
You can get better investment and business opportunities by becoming a tax filer in Pakistan. Moreover, you will get easy access to registering a bank account with a license for business.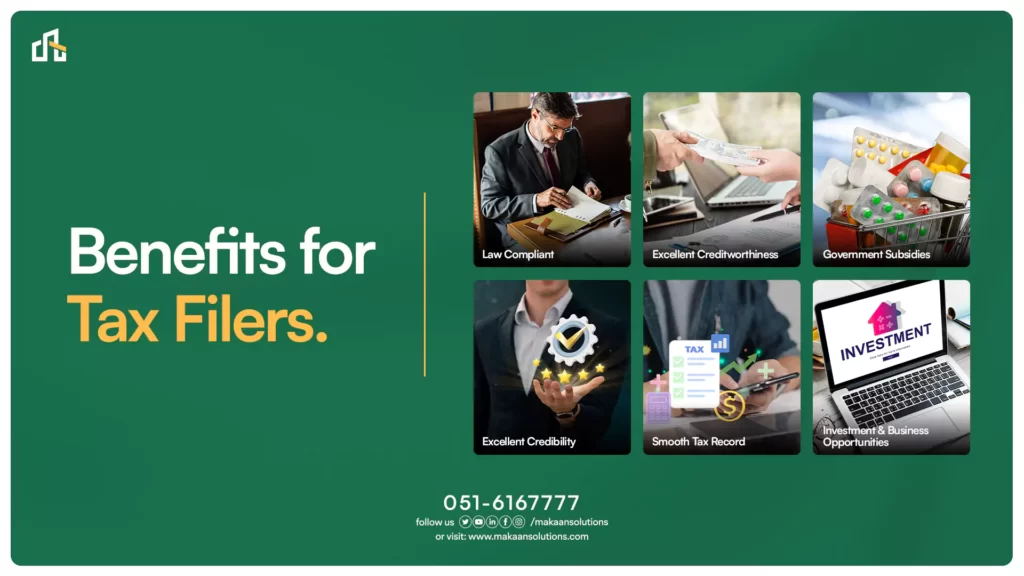 Final Words
---
A tax filer in Pakistan has access to several benefits to utilize the different services in the presence of tax exemption. You can also get bank loans for purchasing properties in Capital Smart City and New City Paradise because of your tax filing record.

How to Become a Filer in Pakistan?
If you want to know about How to Become a Filer in Pakistan?, contact Makaan Solutions. Our Sales Executive Officer will provide you with all the latest information. Starting from consultation to choosing the property, and from booking to owning your dream property. For further details, please do not hesitate to contact on the below-given information: