The government of Pakistan has added a new remittance card in accordance with budget 2023-24. The Diamond Card for Overseas Pakistanis is only for those who are sending more than $50,000 annually as a remittance. This card will bring a lot of incentives for overseas Pakistanis who are working aboard for their families.
The announcement of the Diamond Card for Overseas Pakistanis in the federal budget shows the government's initiative to benefit overseas Pakistanis. This card is a great source of relief for Pakistanis who are sending remittances regularly to Pakistan. Moreover, this card is also a great way of urging overseas Pakistanis to send more money and play their roles in the economic growth of Pakistan.
What are the Benefits of a Diamond Card for Overseas Pakistanis?
---
Overseas Pakistanis have been a great asset for a country that is struggling to have a sustainable and progressive economy. The overseas Pakistanis always send remittances from different foreign countries that also bring stability to the economic growth of our beloved motherland. The perks of the Diamond Card for Overseas Pakistanis allow them to live peacefully and safely.
You are going to enjoy the mind-blowing as an overseas Pakistani because you are playing your role in the stabilization of Pakistan's economy. This Diamond Card is a reward for overseas Pakistanis who are sending their remittances to their families in Pakistan. We are going to discuss the advantages of the Diamond Card for Overseas Pakistanis.
Gratis passport
License for lawful bore
Preferred entrance to Pakistani consulates and embassies
The facility of fast-track immigration at the airports of Pakistan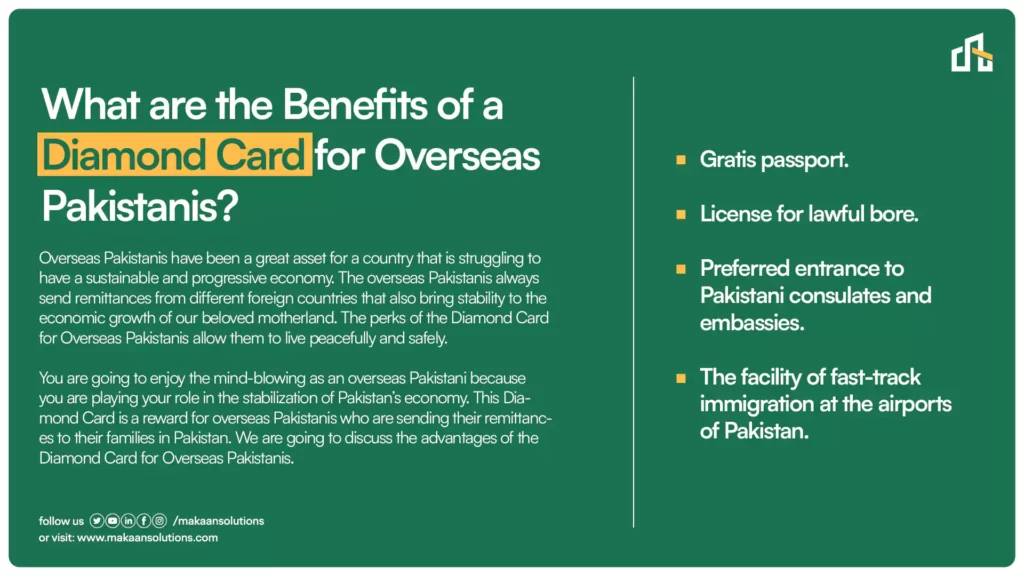 Gratis Passport
---
The finance minister of Pakistan announced the offer of a gratis passport of Pakistan to overseas Pakistanis. This passport is included in the different types of passports in Pakistan, which will be sponsored by the government for overseas Pakistanis who are sending more than $50,000 yearly. Gratis passport in Diamond Card for Overseas Pakistanis allows them to visit Pakistan as well as other countries for their tours.
The benefit of a Gratis passport is that you can visit the country without spending a single penny. This facility is for every Pakistani that is being offered by the Pakistani government to overseas Pakistanis. Moreover, it is a great relief for overseas Pakistanis, which is part of the federal budget for 2023-24.
License for Lawful Weapon
---
Overseas Pakistanis usually face different issues in Pakistan. Therefore, they always fear visiting Pakistan as they face challenges of theft and dangers to their lives. It is decided in the budget to offer the license for a non-prohibited weapon to overseas Pakistanis for the protection of themselves and their belongings. The availability of a Diamond Card for Overseas Pakistanis has been a blessing for them. They will have all legal rights to use the bore against the thieves and other people who seem to be a danger to them and their properties. The purpose of a non-prohibited weapon license for overseas Pakistan is an initiative by the government for their safety as they are valuable citizens of Pakistan.
Preferred Entrance to Pakistani Consulates and Embassies
---
The government is giving preferential access to the consulates and embassies of Pakistanis to overseas Pakistan. The reason for offering dedicated entrance to Pakistani embassies and consulates is a way of enabling overseas Pakistanis to facilitate them with the best services. Therefore, overseas will not face any kind of challenges while visiting the Pakistani embassies and consulates.
It is true that overseas Pakistanis have to visit Paksitani embassies and consulates for different purposes. They also don't want to waste several hours on different matters as they are busy with their jobs and business. Therefore, the decision to have a dedicated entrance is one of the top benefits for overseas Pakistanis in the budget 2023-24.
The Facility of Fast-Track Immigration at the Airports of Pakistan
---
The budget also consists of fast-track immigration for overseas Pakistanis at Pakistanis. It is also one of the most familiar benefits of the Diamond Card for Overseas Pakistanis. Therefore, this facility of fast-tracking will enable overseas Pakistanis to go through a smooth process at the airports. In this way, overseas Pakistanis will be able to move easily from the airports of Pakistan.
Overseas Pakistanis' immigration is a potential benefit for them as they visit their families in Pakistan. This facility will be available at every airport in Pakistan, including New Islamabad International Airport. So, you don't need a significant time period for immigration at the airports. Let's travel hassle-free at your desired airport in Pakistan.
Who is Eligible for Overseas Pakistanis' Diamond Card?
---
The eligibility criteria to get a Diamond Card as an overseas Pakistani is the minimum amount of $50,000 remittance. Therefore, overseas Pakistanis who are depositing remittances of more than $50,000 to Pakistan for different purposes are eligible to get their Diamond Cards from the government. The purpose of mentioning a minimum amount of 50,000 dollars in remittance is to offer several benefits to overseas Pakistanis.
The Diamond Card for Overseas Pakistanis is also an attractive factor for every overseas Pakistani to send huge amounts to Pakistan for sustainable growth of the economy. Moreover, Pakistanis can invest in different industries by sending $50,000 with several benefits. The process for getting a Diamond Card isn't complicated, and eligible overseas Pakistanis can get it easily.
Final Words
---
It is the responsibility of the government to offer the potential benefits to overseas Pakistanis who have a significant role in the fast economic growth of Pakistan. The Diamond Card for Overseas Pakistanis will be a bridge between the government and overseas Pakistanis. Therefore, it is a beneficial step for all overseas Pakistanis who are living in different countries of the world.
It is important to note that Overseas Pakistanis were bounded to pay 2% taxes on purchasing their properties in real estate. The finance minister announced no taxes for overseas Pakistanis who are interested in buying properties in the different housing schemes. You can buy properties in Capital Smart City and Aiwa City Attock with the smooth assistance of Makaan Solutions.
Diamond Card for Overseas Pakistanis
If you want to know about Diamond Card for Overseas Pakistanis Contact Makaan Solutions. Our Sales Executive Officer will provide you with all the latest information. Starting from consultation to choosing the property, and from booking to owning your dream property. For further details, please do not hesitate to contact us with the below-given information: