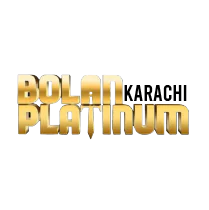 Bolan Platinum Karachi
Bolan Platinum Karachi is a world-class housing project by GFS Builders and Developers, who are well-known developers in Pakistan. It is situated on main Kirthar Road in the vicinity of Northern Bypass to enable customers to buy plots at an affordable payment plan.
Bolan Platinum Karachi Introduction
---
Bolan Platinum Karachi has been another great real estate venture by one and only GFS Builders & Developers. They have initiated this housing society in Karachi to set new standards for luxurious living standards.
GFS Bolan Platinum is the spacious housing society where the smallest is linked with a 35-foot road. The residential and commercial plots are at the pre-launch payment schedule. The developers have started this housing scheme in North Town Residency.
Bolan Platinum Karachi Location
---
The location of Bolan Platinum Karachi is on the main Kirthar Road, close to the Northern Bypass, to ensure easy access from the nearby landmarks. You can reach this housing society by traveling on the M10 Motorway.
Bolan Platinum is located in the ideal spot away from the hustle and bustle of the city to ensure an eco-friendly environment. The ideal location of society also ensures an increase in the value of properties.
Nearby Places
Al-Nafa Garden
Gohar Villas
Al-Ghafoor Green City
Scheme 45
Gulshan-e-Maymar
Snober City
Access Points
Dream World Resort is 1 minute away
M10 Motorway is 3 minutes away
M9 Motorway is 8 minutes away
Malir Link Road is 13 minutes away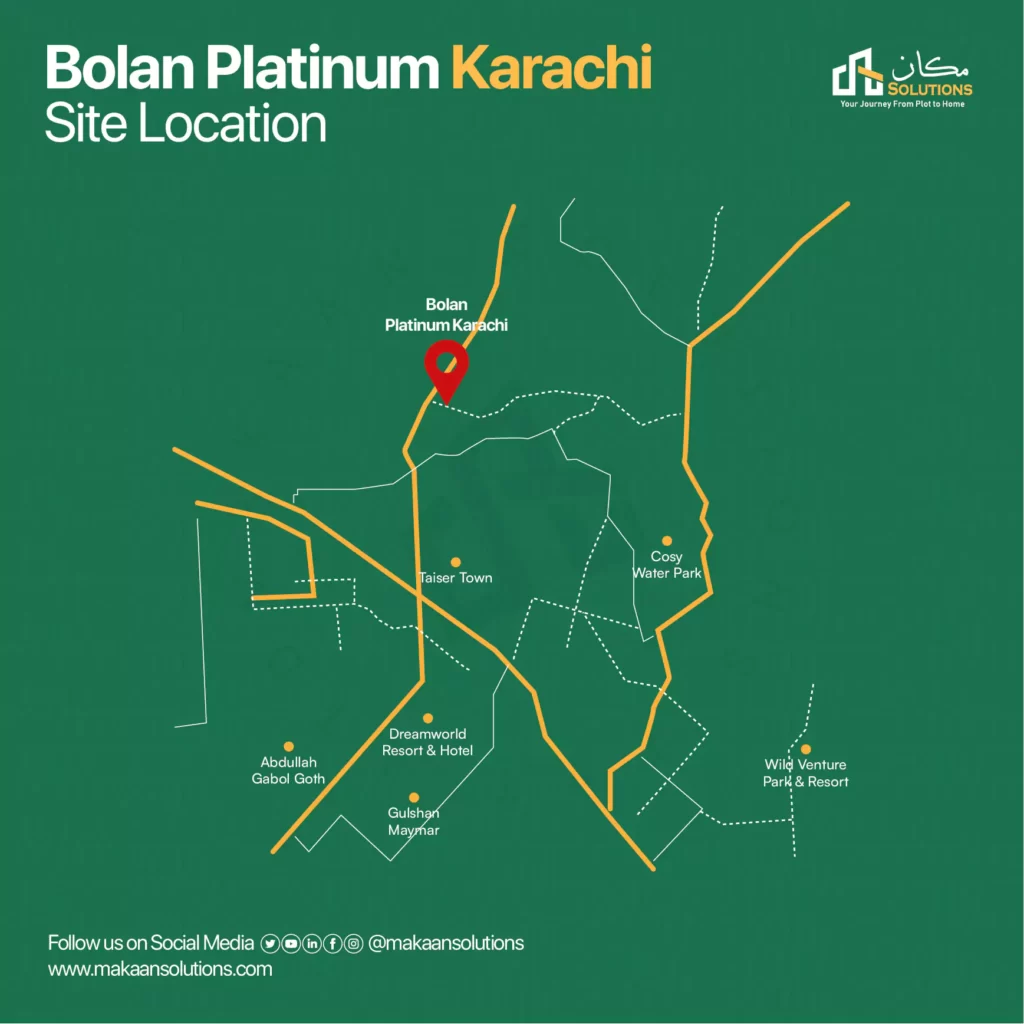 Bolan Platinum Karachi Map
---
You can view Bolan Platinum on Google Maps.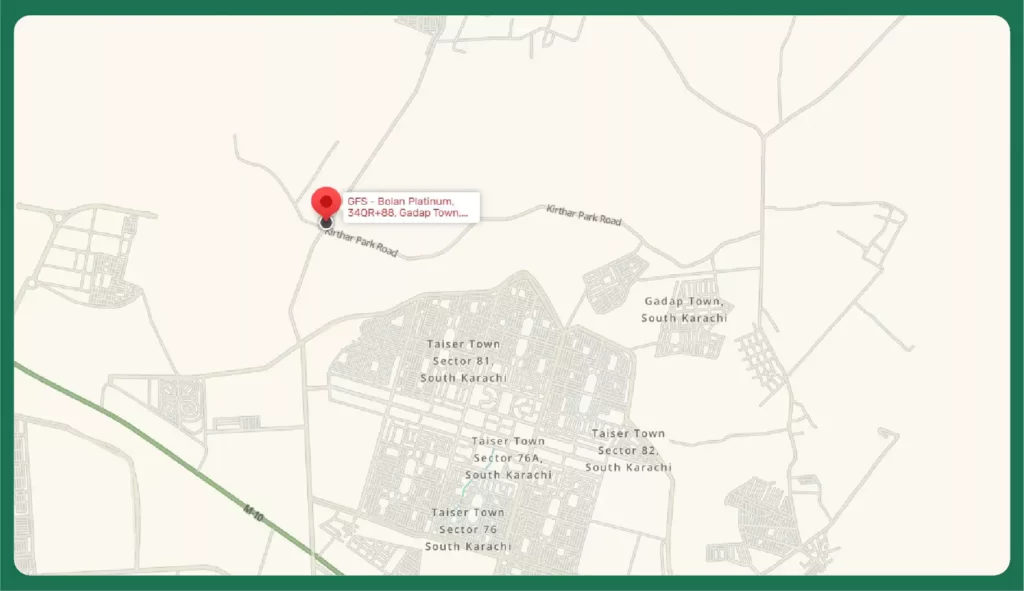 Bolan Platinum Karachi Payment Plan
---
| Plot Size | Booking Payment | Total Price |
| --- | --- | --- |
| 120 Square Yards | 350,000 | 4,000,000 |
The payment plan of Bolan Platinum Karachi has been launched by management to enable customers to know pre-launch plot rates. The booking payment is also very reasonable to enable you to own your plot. Moreover, you have to make confirmation payments for your property.
You must make the allocation payment and payment at the start of work. There is a monthly and half-yearly installment plan to facilitate the customers in the financial crisis. You are also required to make the possession payment.
120 Square Yards Payment Schedule
The confirmation payment is only 300,000
The allocation payment is also 300,000
The payable payment at the start of work is 300,000
There are 48 monthly installments of 3,000*48
8 half-yearly installments are 130,000*8
The possession payment is 270,000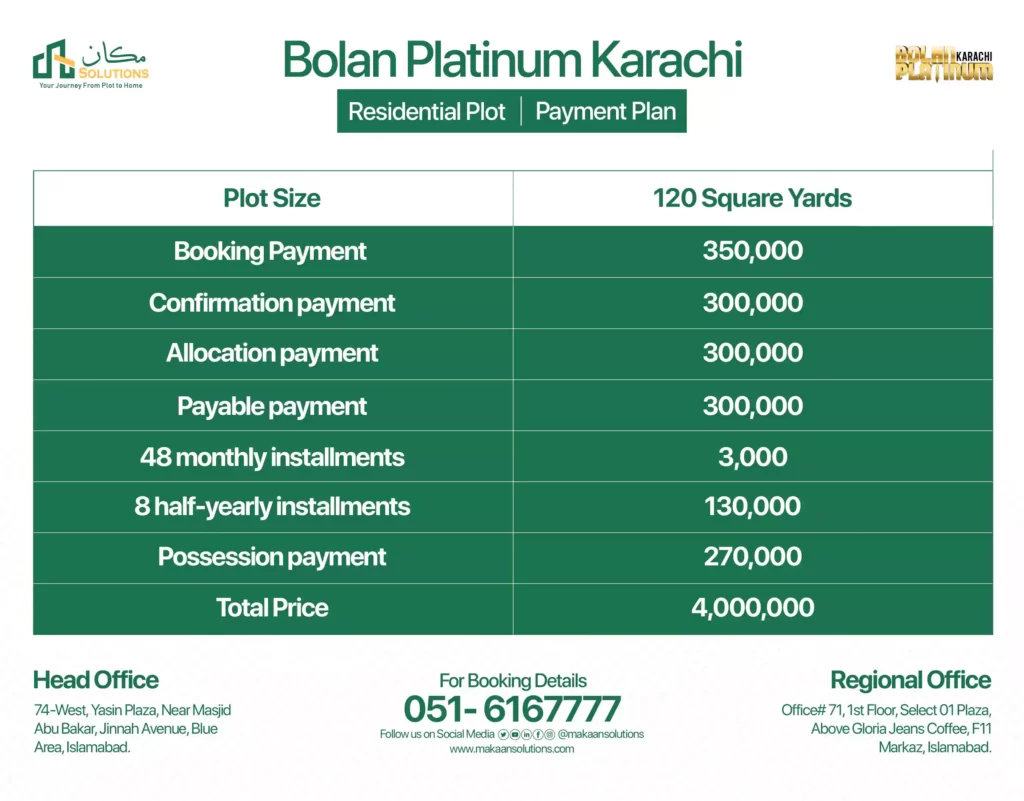 How to Book a Plot in Bolan Platinum Karachi?
---
Fill out the application form for Bolan Platinum Karachi
Attach the required documents
Attach the receipt after the down payment
Submit the application form to the management
The customers need to follow the important steps to own a plot in this world-class real estate project. You can contact Makaan Solutions to get the smooth assistance in booking a plot smoothly.
Required Documents
Buyer's 2 CNIC copies
Buyer's 2 passport-size images
Next to Kin's 2 CNIC copies
NICOP
Every buyer who is interested in reserving a plot in this residential project is requested to submit the necessary documents to confirm their plots. Therefore, you must forward important documents along with the application form.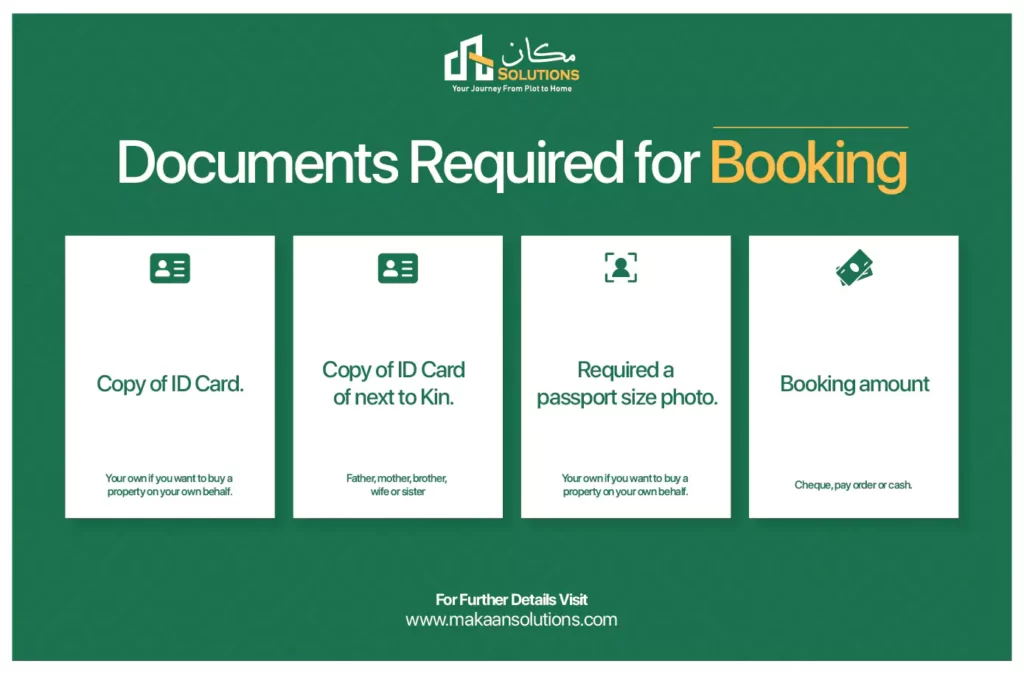 Benefits of Investment in Bolan Platinum Karachi
---
You can get several benefits of investing in Bolan Platinum Karachi. It is a good step to invest in the early days of society because of the pre-launch rates. We are going to discuss the potential perks of investing in this residential project.
High ROI
The commercial and residential properties in this society offer the highest return on investment. However, commercial properties are favorite to ensure the maximum profitability ratio for the investors.
Financial Freedom
The available plots are a great source of financial security for local and overseas customers. You can purchase the available property to become financially independent with the passage of time.
Passive Income
The presence of properties also brings opportunities for passive income for customers who want to rent out their properties. It is crucial to note that rental income will be high because of the ideal location.
Valuable Asset
Every real estate property is always a valuable asset for customers who know the potential of the real estate industry. Therefore, you can also purchase a valuable real estate asset to deal with the different financial situations.
Bolan Platinum Karachi Master Plan
---
The master plan of Bolan Platinum Karachi is designed by an experienced team of designers who are focused to incorporate the latest infrastructure. This master plan has considered all factors to ensure the presence of world-class services in society.
The layout plan for Bolan Platinum has been a helpful resource for potential clients to view the project. The wide roads and streets allow the members to move easily from society to Karachi city and vice versa.
Plot Size
Bolan Platinum Karachi NOC Status
---
The NOCC status of Bolan Platinum is not approved by the relevant government authority. However, It will be approved soon by the authorized government department because management is making efforts to get legal status for this project.
Bolan Platinum Karachi Owner & Developers
---
The owners and developers of Bolan Platinum Karachi are GFS Builders and Developers who are well-known in the real estate industry because of their high development standards. They have a history of delivering the most successful real estate projects in Pakistan.
GFS Builders and Developers have a vision of allowing the people of Karachi to experience international living standards. Moreover, they offer the best ROI to investors who want to make a lot of profit in a short time due to the premium location.
Other Projects by GFS Builders & Developers
Peaceview Apartments
Malir Town Residency
Oxford Villas
Downtown Residency
GFS Mega Twin Tower
Orangi Town Residency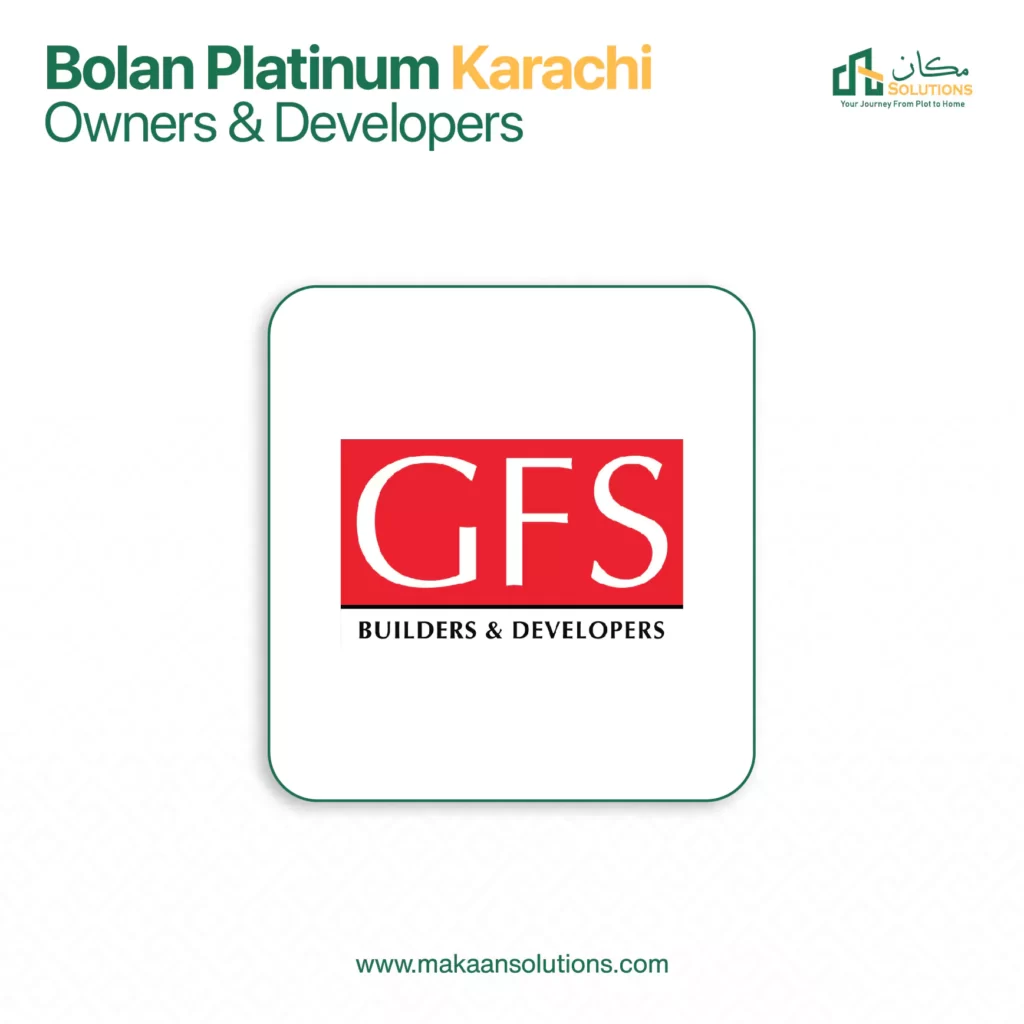 Bolan Platinum Karachi Development Status
---
The latest development updates show that developers are committed to ensuring the incorporation of world-class infrastructure in this residential project. The developers are maintaining magnificent development standards by initiating smooth work.
GFS Builders have pruned and leveled the land of this housing project in the presence of heavy machinery on the site. They want to complete the development of this new project on priority to ensure the balloting and possession on the given deadline.
Bolan Platinum Karachi Latest News
---
The latest news of Bolan Platinum Karachi shows that GFS Builders and Developers are dedicated to developing this housing scheme smoothly in accordance with the modern infrastructure to facilitate the customers.
Facilities & Amenities
---
The management of this housing project is aimed at offering world-class services to the end-users and investors. There is a presence of modern amenities and facilities to ensure peaceful living standards for residents.
Mosque
There is a grand mosque in this housing scheme to allow Muslims to offer their religious duties in a peaceful environment. Therefore, you will not be required to go outside for religious practices.
Education
The management is familiar with the importance of education for residents within this housing scheme. There will be world-class educational institutes in this society to ensure the providence of world-class education to become the useful citizens of the country.
Healthcare
The management is focused on providing international-level healthcare facilities to residents within this housing project. There is a presence of qualified medical staff with advanced equipment to ensure the best treatment services for patients with 24/7 services.
Playground & Park
The recreational places in society, like parks and playgrounds, offer the ultimate relaxation to the residents. The peaceful environment of these recreational places ensures magnificent entertainment for the members.
Gas & Electricity
The management supplies the electricity and gas as a first priority. It is important to note that residents will not face any challenges related to electricity and gas in this society. You will be living comfortably in the presence of these basic services.
Water Resources
The presence of a water filtration plant in this residential project ensures the purification of water. Every resident will get filtered water that can be used for different purposes. Moreover, you will not face a shortage of water.
Club House
The presence of the clubhouse ensures that residents can collaborate with each other in a better way. Therefore, a clubhouse is the best source for sharing your ideas with community members.
Indoor Gym
The presence of an indoor gym in this residential project ensures the best fitness standards for residents. You will be able to maintain your workout routine to remain fit and perform daily activities without facing any problems.
Security
The developers have installed a surveillance system in this housing scheme to ensure the best safety levels for the members of this society. The presence of security staff and CCTV cameras ensures a top-notch security system for residents in this housing society.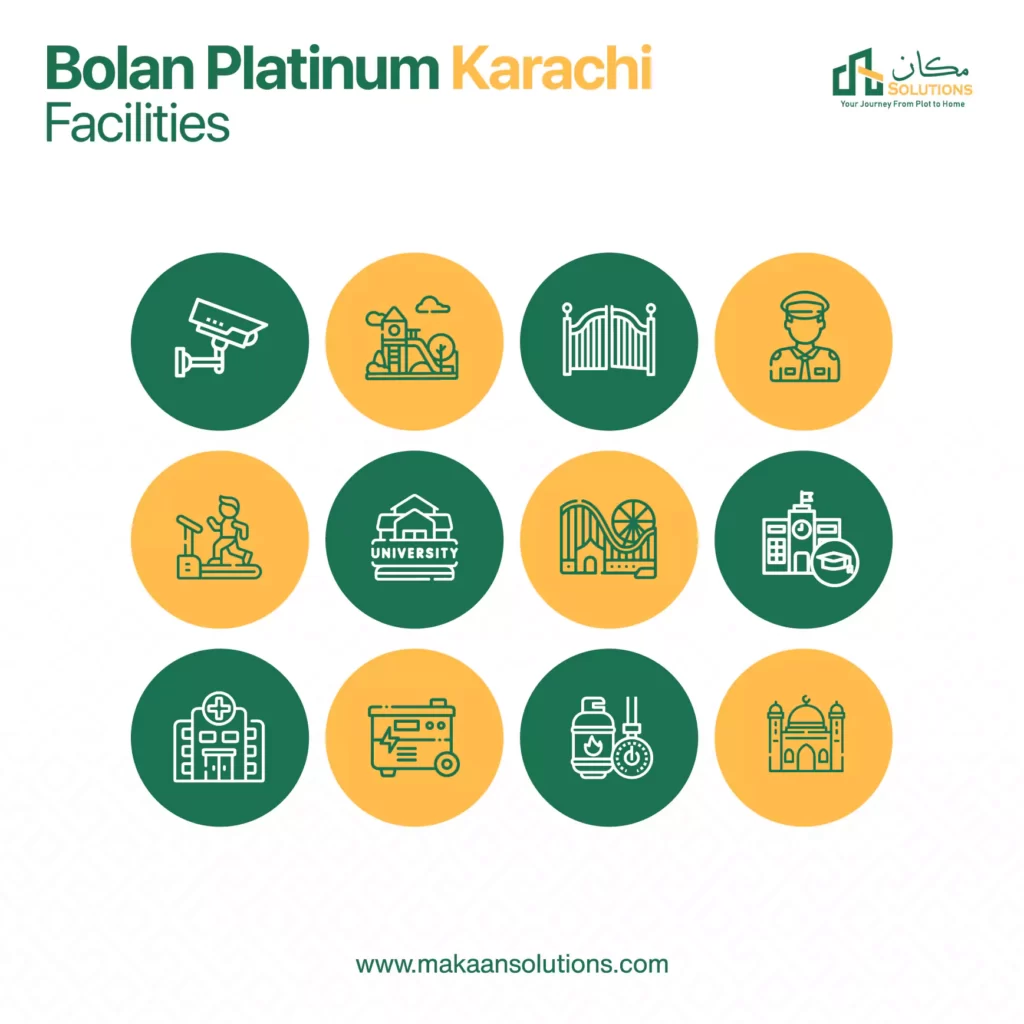 Pros & Cons
---
Pros:
Qualified developers with a record of successful projects
An ideal location in the city of lights
A reasonable payment schedule
A master-planned housing project
The presence of world-class services
Cons:
Legal status is not approved yet
Conclusion
---
Bolan Platinum Karachi is the best housing project located in the ideal place with an affordable payment schedule. You can own your desired plot in this residential project as well as New City Paradise with the smooth assistance of the team at Makaan Solutions.

[elfsight_whatsapp_chat id="1″]