Bin Ahsan Green City
Bin Ahsan Green City emulates a diverse ecological green town. It is established on the main M9 Motorway, which is accessible from across Karachi. The convenient location and budget-friendly payment plan make it a choice for homeowners/investors. This housing society will provide luxurious amenities to all of its residents. Invest today for a better and more comfortable future.
Bin Ahsan Green City Karachi
---
Bin Ahsan Green City encapsulates a green world inside its premises. It is designed to cherish nature in its full glory. It is located on the M9 Motorway. Bin Ahsan Builders and Developers are developing it. The SDA and SBCA approve the NOC of this project.
If you wish to invest here, then an affordable payment plan and reasonable plot sizes will leave you in awe.
Bin Ahsan Green City Location
---
It is situated on the super highway or the M9 Motorway near Bahria Town Karachi 2, Mid Town Karachi, and Gadap Town. It is at the perfect location to be labelled as a suburb, but it has accessibility to major landmarks, healthcare, and education institutes.
Accessibility & Nearby Landmarks:
DHA City Karachi
Jinnah International Airport
Memon Medical Institute Hospital
Super Highway Toll Plaza
Malir Cantonment
ASF City Karachi
Keenjhar Lake
Kirthar National Park Road
Nooriabad
National Farmhouse
Karachi University Employees Cooperative Housing Society
Sindh Employees Housing Scheme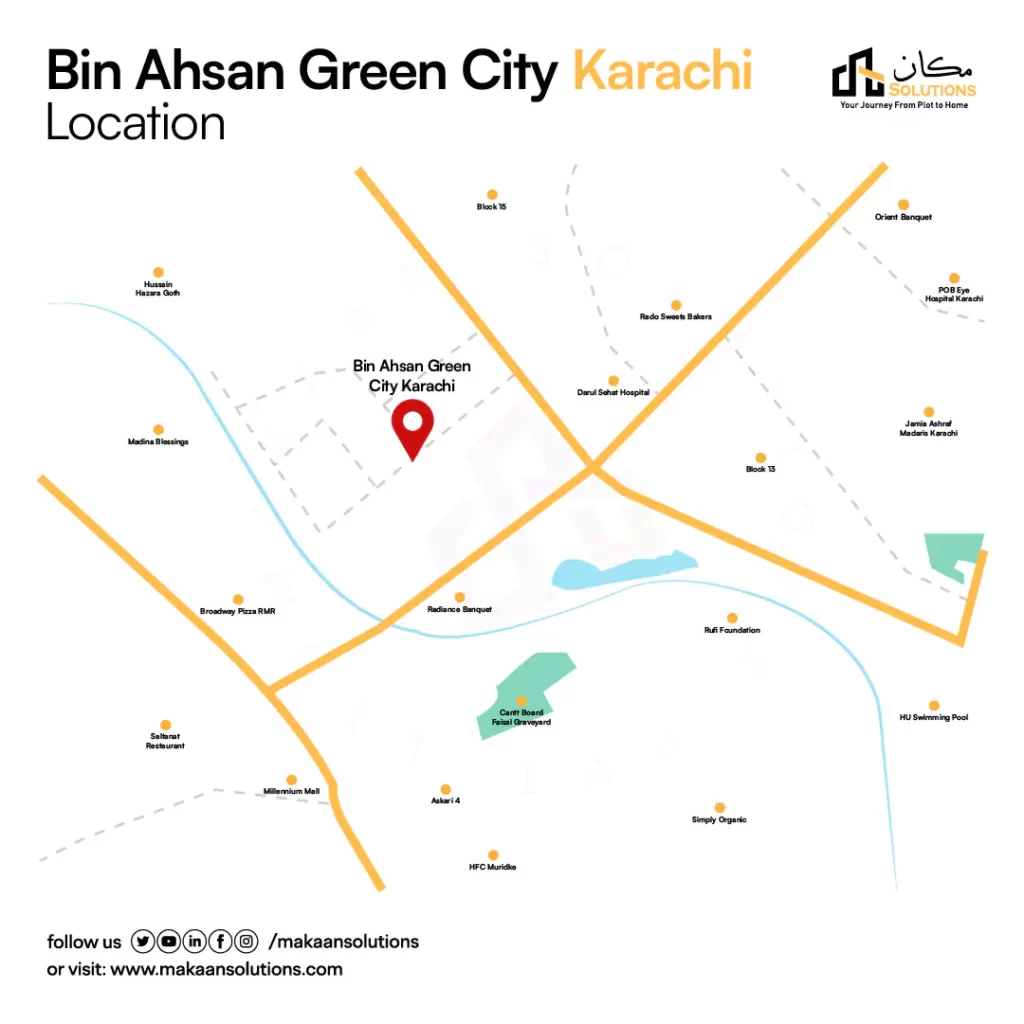 Bin Ahsan Green City Map
---
Bin Ahsan Green City is visible on Google Maps. The exact location map of this housing society in Karachi is given below:

Bin Ahsan Green City Master Plan
---
The master plan of this housing project includes 7 blocks, and each block is designed uniquely from the other. The overall design of this housing society makes it look like an ecologically diverse town.
Residential Plots Sizes:
120 Square Yards
240 Square Yards
Commercial Plot Size:
Blocks:
Block A
Block B1
Block B2
Block C1
Block C2
Block D1
Block D2
Although these sizes seem small, they are quite reasonable for maintaining a green, eco-friendly housing project. The main objective of the developers is to provide a healthy environment for everyone.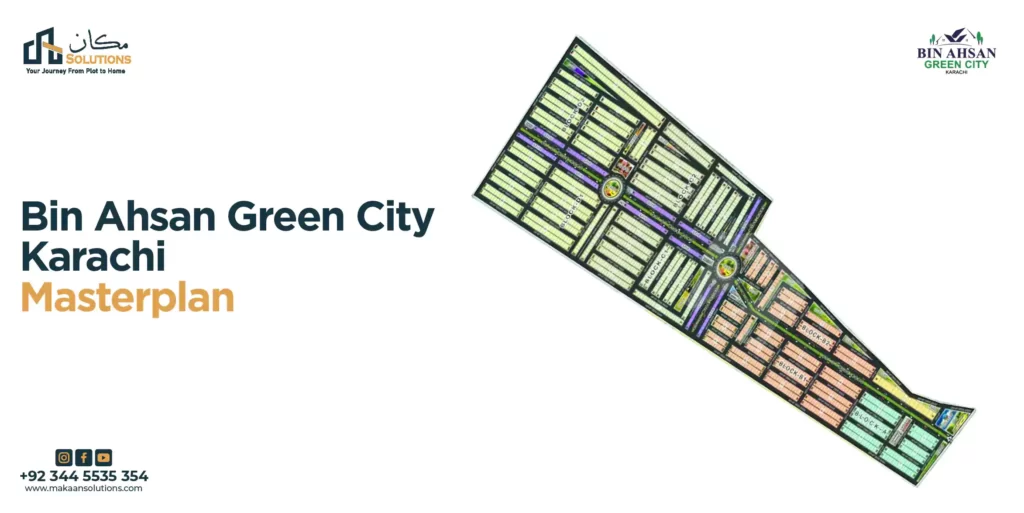 Bin Ahsan Green City NOC & Legal Status
---
Bin Ahsan Developers have obtained NOC approval from the Sindh Development Authority (SDA) and Sindh Building Control Authority (SBCA). This NOC approval makes the decision for investment easier for everyone interested in buying a plot here.
Moreover, the process of procuring electricity, water, and gas supply is also sped up after the approval. Bin Ahsan Green City Phase 1 has dealt with such important issues already.
Bin Ahsan Green City Payment Plan
---
This payment plan is very affordable for all-level investors. You don't need huge sums of cash to buy a plot here, whether residential or commercial. Residential plots for sale in Bin Ahsan Green City are 120 & 240 square yards. These sizes are perfect for a green town since they are designed very practically according to international standards.
Bin Ahsan Green City price list or payment plan for different plot sizes are as follows:
Residential Plots Payment Plan:
---
| | | |
| --- | --- | --- |
| Plot Size | 120 Square Yards | 240 Square Yards |
| On Booking | 80,000 | 160,000 |
| On Allocation | 80,000 | 160,000 |
| On Confirmation | 80,000 | 160,000 |
| On Demarcation | 85,000 | 172,000 |
| Monthly Installments | 8,000 | 16,000 |
| Half Yearly Installments | 25,000 | 50,000 |
| On Possession | 86,000 | 175,000 |
| Total Land Cost | 995,000 | 1,995,000 |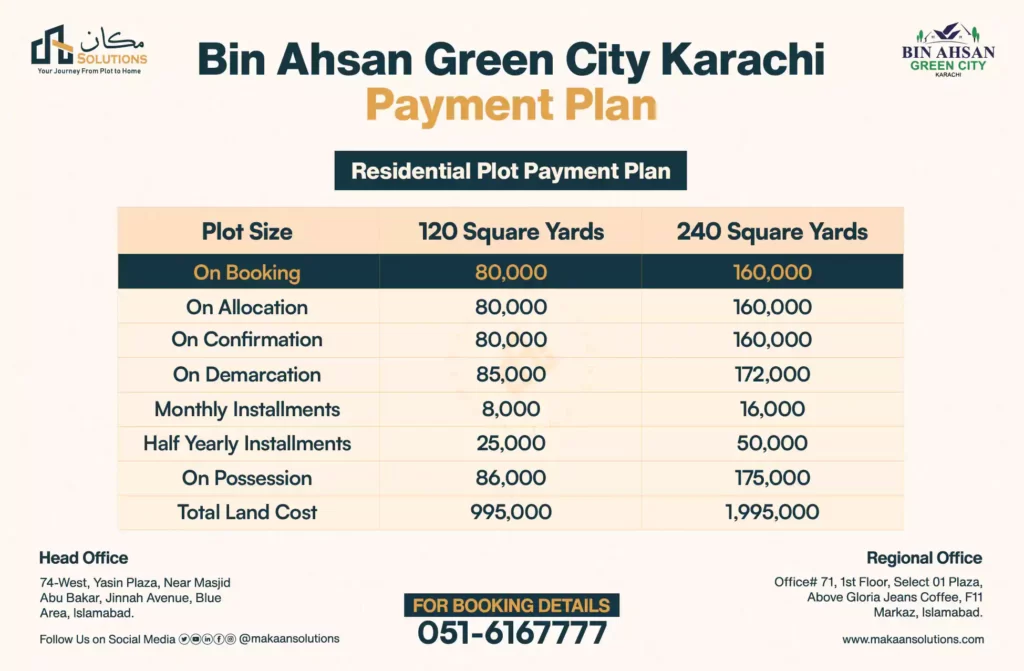 Commercial Plots Payment Plan:
---
| | |
| --- | --- |
| Plot Size | 100 Square Yards |
| On Booking | 150,000 |
| On Allocation | 150,000 |
| On Confirmation | 150,000 |
| On Demarcation | 125,000 |
| Monthly Installments | 15,000 |
| Half Yearly Installments | 50,000 |
| On Possession | 100,000 |
| Total Land Cost | 1,795,000 |
Extra charges of 10% will be charged for the corner, west open, road facing, main boulevard, and park facing.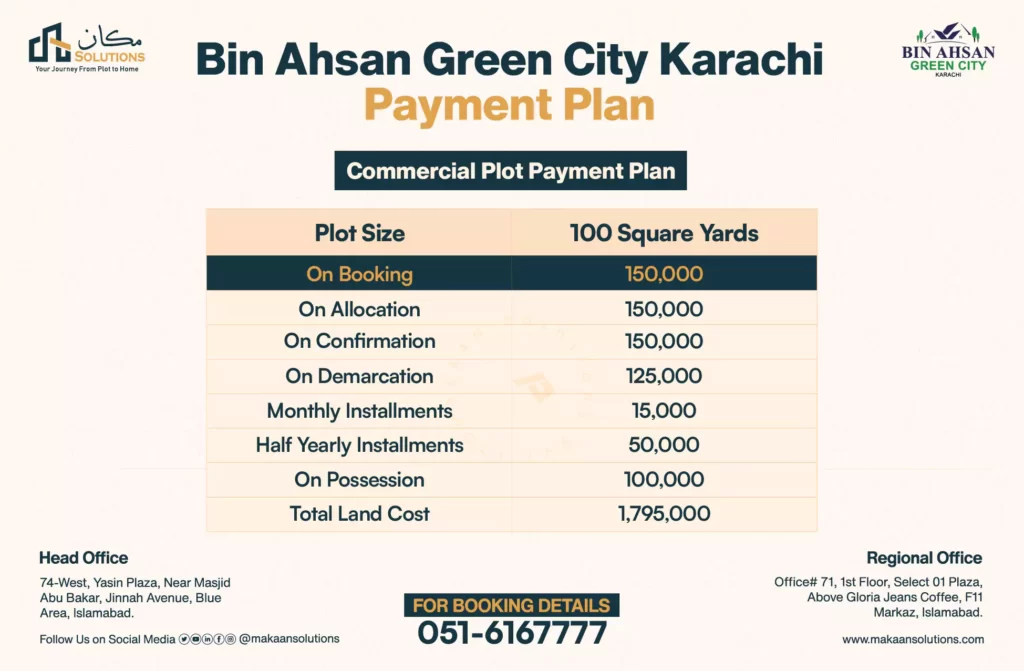 Booking Procedure:
---
You can book a commercial or residential plot in this housing society. Makaan Solutions can assist you in your journey of buying a plot here. You need very rudimentary documents for the booking, they are mentioned below:
Standard Passport-size photographs
CNIC OR Passport Photocopy
Photocopy of NICOP (if applied)
Payment Receipt Photocopy or Online Payment Slip Screenshot
The booking procedure for making a purchase here is very user-friendly.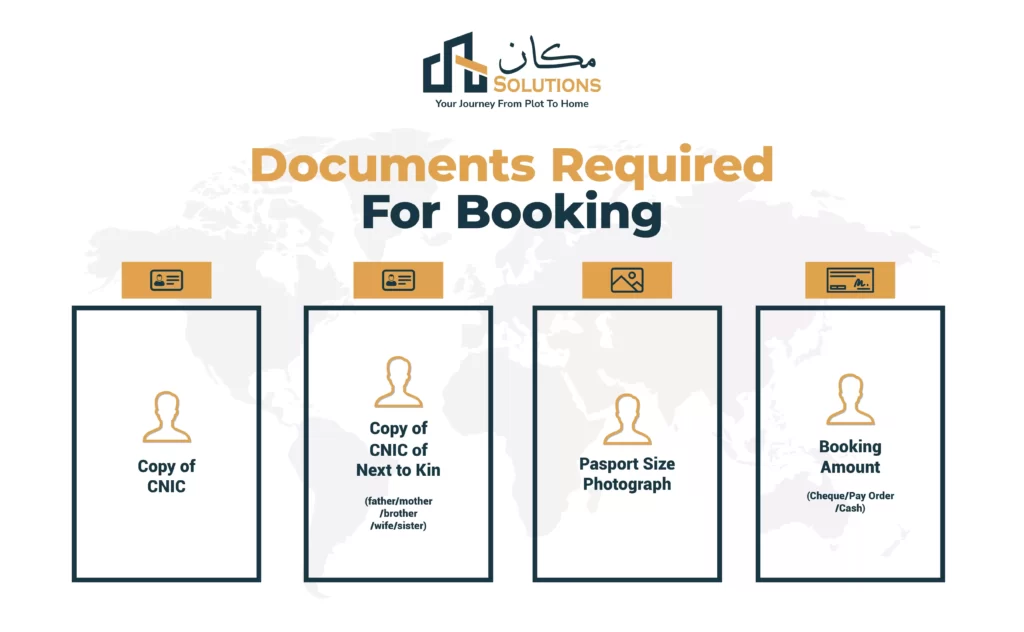 Bin Ahsan Green City Amenities
---
This housing society offers more than a convenient location. It is not only eco-friendly, it is luxurious as well. The developers have made sure that each resident enjoys a high-level lifestyle. Therefore, they have made this and named it a 'Green City'.
Some of the best amenities are as follows:
Botanical Garden
The botanical garden is the most tranquil & serene part of this whole establishment. This garden is supposed to bring something new to the housing project. It ensures tranquillity, health, and happy living.
Community Center
The community center is designed to cater to the needs of the residents. It is supposed to hold the whole community together. It will provide ample space for functions, weddings, parties, and family gatherings.
Commercial Hub
The commercial area is as vibrant as the residential area here. 100 Square Yards commercial plots are a great opportunity for investors who wish to own a business here. This commercial area is already attracting investors who are willing to turn it into a commercial hub.
24/7 Security
It is one of the most important amenities. 24/7 security camera coverage of every corner of the housing society can result in the lowest crime rate and peaceful living for families.
Healthcare Facility
Hospitals, dispensaries, and clinics are part of this planned development. The developers can be considered visionary for keeping healthcare facilities in mind while developing this establishment.
Education Complex
The education complex will house primary, secondary, and elementary schools. Educational institutes inside the premises will be really comfortable for everyone living here.
Sports Complex
The sports complex will be enough for various indoor and outdoor games. It will encourage healthy sports activity among the community here.
Grand Mosque
The congregational prayers will be held in this grand mosque. Moreover, this mosque will play an important role in building character in young kids.
Gated Community
The World Bank report has stated that gated communities in Pakistan are becoming more popular since they provide security to the common person. Here, you will have a safe & secure gated community as well.
24/7 Basic Utilities
24/7 electricity, water, and gas supply will be provided to the community. Fiber optics cable will also be available for the internet connection. All of the wires, cables, pipes, etc will be underground.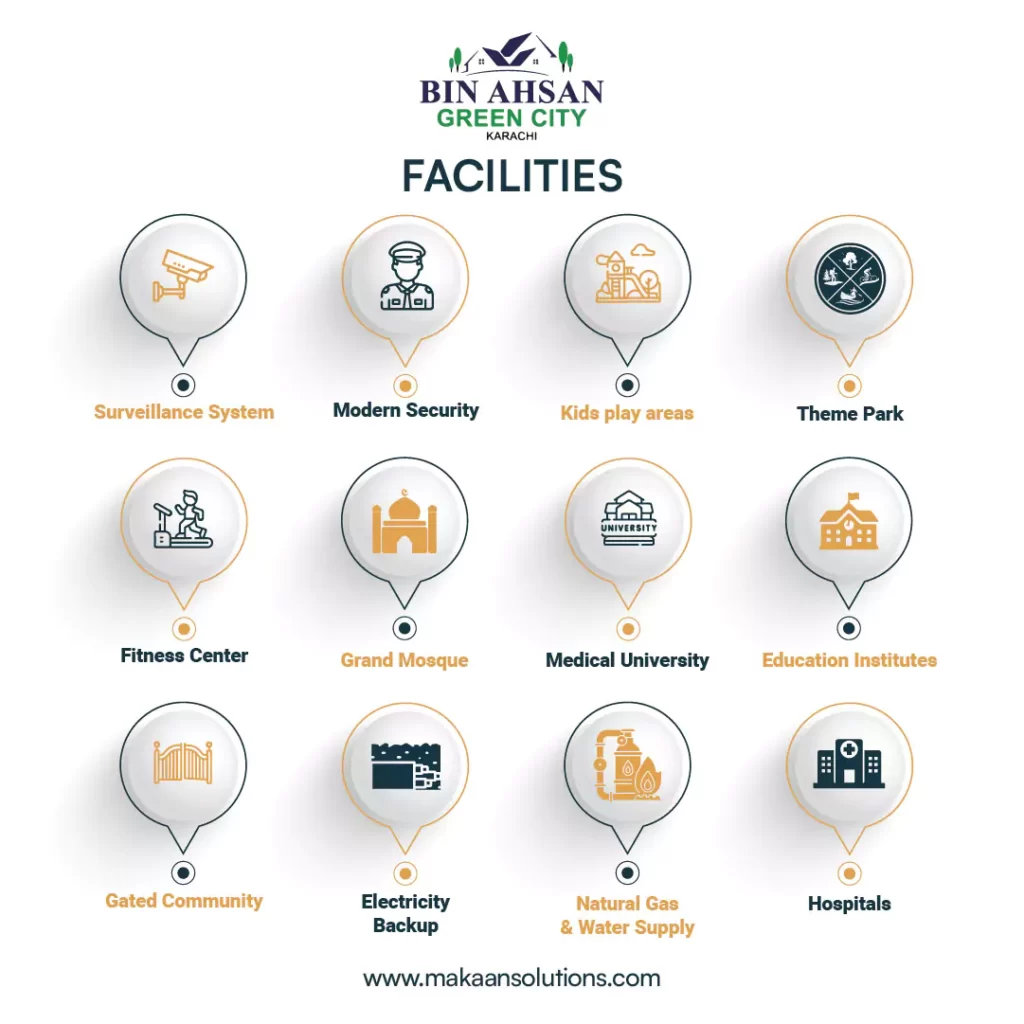 Conclusion
---
A detailed analysis of this housing society paints a clear picture for investors and buyers. This analysis concludes that Bin Ahsan Green City is not only situated in a prime location, but it offers more than others.
It is a well-planned green town, which is literally a breath of fresh air for all Karachites, non-Karachites, and overseas Pakistanis. Moreover, it has the potential to become one of the best Green Towns in Pakistan.
[elfsight_whatsapp_chat id="1″]