The most frequent question of investors when they tend towards property is" whether we should buy a property in recession or in a boom". In fact, it is a crucial task to decide on what is the right time to buy property because your decision might be influenced by a number of factors. Your budget, seasonality, and mortgage rate in 2022.
These factors affect your decision in the property market or other property purchases. However, the fall purchase is the best time to buy a property in the real estate market. Because after the summer, sellers lower their prices and get more motivated to attract buyers.
In comparison to the recession and booming, the market is divided into two major categories Buyer's Market and Seller's Market. According to these two categories, one is the advantageous period for buyers, and the second is the favorable period for sellers.
How Does the Property Market Work?
---
Property Markets work on cycles, and it is just like the economy; if you are looking for the best time to buy a property, then you should know about the periodic fluctuations that are imbalances because of supply and demand. In dept to understand the real estate market of a country, there are four main stages.
Real Estate experts define these four main stages as Recession, Booming, expansion, and recovery. These stages are differentiated by price dynamics, construction volume, and the number of transactions. For real estate investors, it is crucial to understand how it works for better property investment and results.
All the property market cycles and buying power for a property can be affected by internal factors like instability of political situations, war, terrorism, migration, etc. But for potential real estate investors, it is important to know about the Property Market and its cycles. Following is the illustration by the team of Makaan Solutions that will help you to understand this market cycle: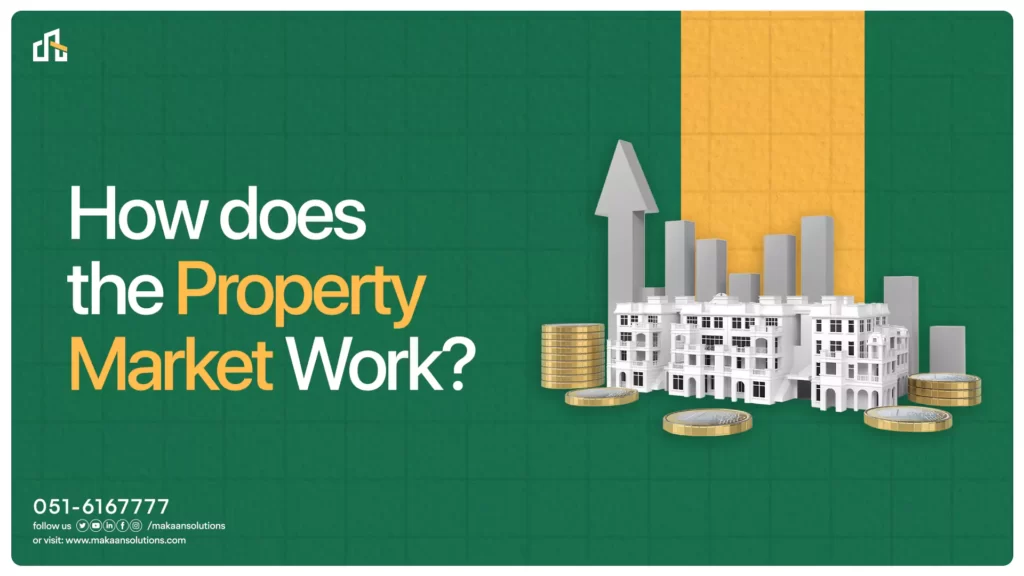 Buying Property in Recession
---
It might be a good idea to buy a property during the recession, but only for those buyers who are financially stable enough. Because inflation goes up and GDP falls in a recession. As a result, the property demand decreases, and there are fewer buyers to compete for the property.
This is the condition if you want to buy any property it will be beneficial for you. To understand that buying a property is a great deal in a recession, you will have to understand the recession first.
What is Recession
---
The term recession has considerable debates, but in simple words, this is the period when an economy experiences negative growth in Gross Domestic Product (GDP) and rate of unemployment (less Income, low consumer buying power, fewer sales).
In such a period, industries' production is less due to low demand. Similarly, people with less buying power and less finance are unable to invest in other markets like the property markets.
Recession and Housing Market
---
The above information suggests that less demand for the property is caused by less competition among buyers for the inventory of homes. The fact is that this period is favorable for buyers; investors with savings and more considerable capital can invest in sellers' markets but only when they hold their property for a time period until demand increases or later, they will have a valuable property in their hands if they do not want to sell it.
Pros and Cons of buying property in a recession
---
The following are the advantages and disadvantages of purchasing a property during a recession in the Property Market.
Pros
Lower Rates: During this period, the federal lowered the interest rates to stimulate the economy, which is good for an individual to get a mortgage loan with lower interest rates.
Less Competition: This period puts people in an unfavorable financial position. People's purchasing power is low, and they cannot buy and afford new homes. Ultimately it is a chance for those who can still afford, can buy property at a low price.
Cons
Fewer Options: This is when prices are low, and due to low demand, many sellers take off their property from the market; as a result, buyers have fewer options to choose from.
Economic Uncertainty: If you have cash in the real estate market in such a period, this may not be ideal because in a recession, economies are unstable, and you would not make any profit on your investment.
Buying Property in booming
---
Investors around the world named it with a unique term, Fear of Missing Out (FOMO), but let us tell you that not in the field of Estate. You are among the luckiest if you have savings and are in the mood to invest, and the real estate industry in your country is in its boom period. In fact, it is time that the Property market can make you a millionaire.
It is a favorable market for sellers, and if you want to invest in this period, then you should know about the strategies to control your risk. But prices are rising, so you would not face any loss if you buy a property in a boom period.
What is Booming
---
The term boom can be defined as; the period when there is an increase in the commercial activities of a country. Inside the country, all the sectors, markets, and industries as a whole economy are in significant growth. Similarly, the property market in the country is also rapidly growing because of the significant growth in GDP. Luckily the boom periods of economies often end from medium to long-term growth and turn into a bubble.
Should you Buy Property in Booming
---
It is the ideal time to invest in the property market. Because in this period, all the sectors of a country grow in a significant way, all the properties and markets becoming popular and gaining substantial value because of the buyer's demand. This is the time when the Monetary Policy of central banks works, and people want to invest their capital.
In the housing market investors are more interested to invest their equity as they know this is the safe way to double their investment in a short time period.
Property Cycle Phases
---
You cannot lose money during the booming property cycle phase; according to a survey, the average increase in value for property owners who make a purchase in the Property market at the start of the pandemic is close to 30%. That is true, but keep the following factors in mind while buying a property.
In this phase, the rent of properties rises, which is defiantly a problem
Maybe you face problems while selling because of high prices
Competition among buyers is high as they know that prices are going up
Real estate firms and real estate agents benefit from the market
Property finance and home loans from banks are easy to obtain
This period and phase help the economy to grow by attracting investors
Pros and Cons of Buying Property in a booming
---
The following are the Pros and Cons of purchasing a property during a boom in the property market.
Pros
Good Profit: Those who invested before could earn a handsome profit
Prices: The prices of the properties are increasing monthly
Bank Loans: Commercial banks are offering different loan programs to buyers, and due to the rapid increase, real estate brings hot news to the media
Increased rental income: Landlords can increase the monthly rents
Cons
Property Selling Issue: You might face problems while selling your property because of the high prices. In simple words, houses stay longer in the market.
Rental Struggles: Due to the high rent, people are struggling to pay their home rent.
Higher Investment: Those looking for cheap investment options can not invest in this period. On the other hand, people who purchase land at higher prices cannot afford construction.
Final Thoughts
---
A recession is a good time to buy a property or make a purchase in the property market, but only if you are financially stable. You can hold your property for a while before selling it or having a valuable property in your hands later.
Buying a property during a boom, on the other hand, is tricky and challenging; it is the time for good business, and people can buy valuable properties because economies are at their peak and in good condition. In fact, this is the period that could lead you to financial success.
What Is The Best Time To Buy Property Recession Or Booming?
If you want to know What Is The Best Time To Buy Property Recession Or Booming? Contact Makaan Solutions. Our Sales Executive Officer will provide you with all the latest information. Starting from consultation to choosing the property, and from booking to owning your dream property. For further details, please do not hesitate to contact us with the below-given information: